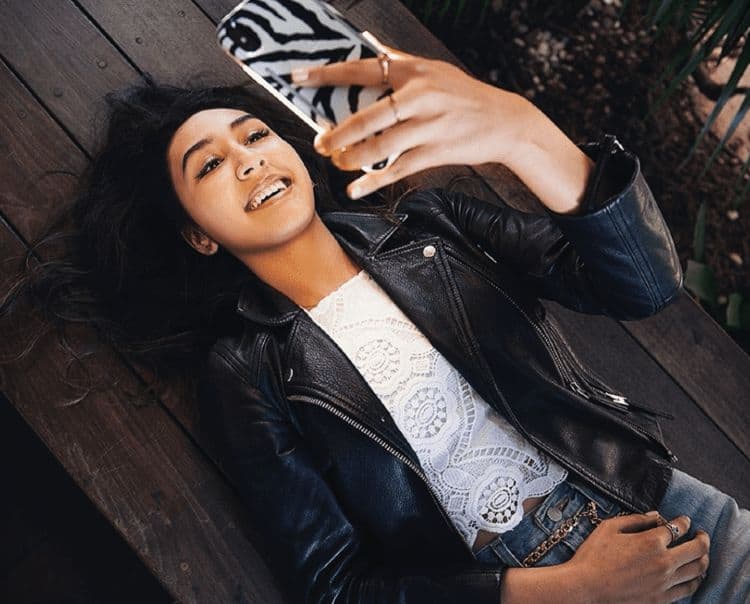 Life is brighter.
That's right.  An exciting illuminated life lit up by LuMee.
You really have to experience it. To see the brilliance of having a professional lighting kit attached to your phone. Set and ready for your next fabulous shot.
Finally, a smartphone cover with a feature, no smartphone photographer will want to miss.
This is truly the smartest and brightest thing that could ever happen to your selfies – wherever you are.
And when a product is so good that the selfie queen herself, Kim Kardashian, can't keep her hands off it – then it's worth paying attention to.
So, what's an influencer without the brightest photos?  And what's a bright photo without LuMee?
After some fun probing, we've dug up all the dazzling details about the LuMee College Rep Influencer Program to bring you a full review.
LuMee.  Camera. Snap.  Influencers, let's roll.
About the LuMee College Rep Influencer Program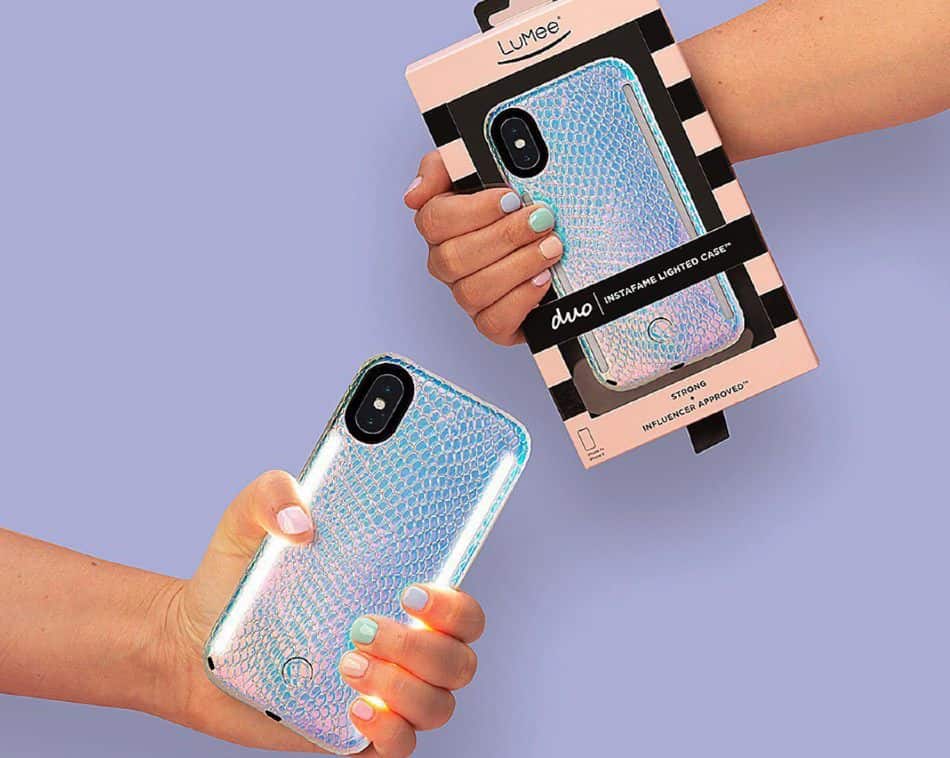 No one knows how to use and enjoy LuMee best than fun-loving students.  So after reviewing, it seems the LuMee College Rep Influencer Program was made for them at heart.
LuMee is looking for students to share the LuMee love with their friends on-campus and also on social media.
From insta-worthy selfies on nights out to fun snaps with your favorite people, promoting LuMee comes so naturally.
What better way to share your action-packed college life and earn some cash while you're at it.
Influencer Responsibilities
As far as online action goes, LuMee influencers will be required to post photos on their social media channels biweekly.
Your influencer duties don't end there.  You'll be expected to share the LuMee love on your campus through various events and promotions.
With the help of your very own unique LuMee discount code, the end goal is to drive sales through the website.
Requirements: LuMee Influencer Program
Be 18+ years.
Officially enrolled as a student.
Must have an active presence on Instagram and Snapchat.
Having reviewed the application form, it seems that the LuMee Influencer Program is only available to student reps in the U.S.A.
It's not officially mentioned that a Facebook presence is mandatory. However, in the application form, it is required to disclose your Facebook handle.
There are no official minimum social media following requirements.
Of course, you must be a lover of LuMee. In your application, you'll be expected to share why you'd like to represent the brand.
Influencer Perks
Cash.  For every website sale made through your custom influencer code, you'll earn a commission.  Commissions are paid directly into your bank account.
Learn.  Influencers, you're not out in the woods alone with LuMee.  You'll get valuable resources on growing your social media channels organically.  Win-win for all, right?
Photo Tips.  Founded by a professional photographer, Allan Shoemake. So it's only fitting that LuMee influencers have the chance to get professional photo tips from the founder himself.  Not only will this make your own photos pop, but you'll truly be able to deliver value to your followers.
Pros: LuMee Influencer Program
Easy to Promote
Let's not beat around the bush and pretend that dollar bills aren't a factor with your influencer gigs.  The great thing about promoting a brand like LuMee is that their products are pretty amazing.  Irresistible, actually. It's hard not to fall in love with LuMee and want one of your very own.
Being easy to promote and totally lovable, sales will be rolling in.  And so will your commissions.
Gain Marketing Experience
If you're a marketing student or you're studying anything related, being a LuMee influencer will earn you valuable marketing experience.  Having a cool brand, like LuMee, on your resume is certainly noteworthy.
Network with Lumee Influencers
Support and inspiration are not far in the LuMee College Rep universe. You'll have the opportunity to network with other LuMee influencers nationwide.  Definitely, a bonus if you're a new kid on the block.
Cons: LuMee Influencer Program
Snapchat Activity Requirement
LuMee influencers are required to have an active presence on Snapchat.  This certainly narrows the funnel amongst influencers that generally hang out on Instagram.  However, I wouldn't rule this program out completely if you don't do Snapchat though.
Why?  Well, in the application form they don't ask for your Snapchat details.  So, if you're really keen on this influencer gig, I'd apply anyway and see how it goes.
Event Activities
Not all social media influencers are socialites in real life.  So if being physically present at events to promote LuMee gives you anxiety, then this may not be for you.  This program is for influencers that have the social personality to promote LuMee on-campus as well as at various activities.
LuMee Products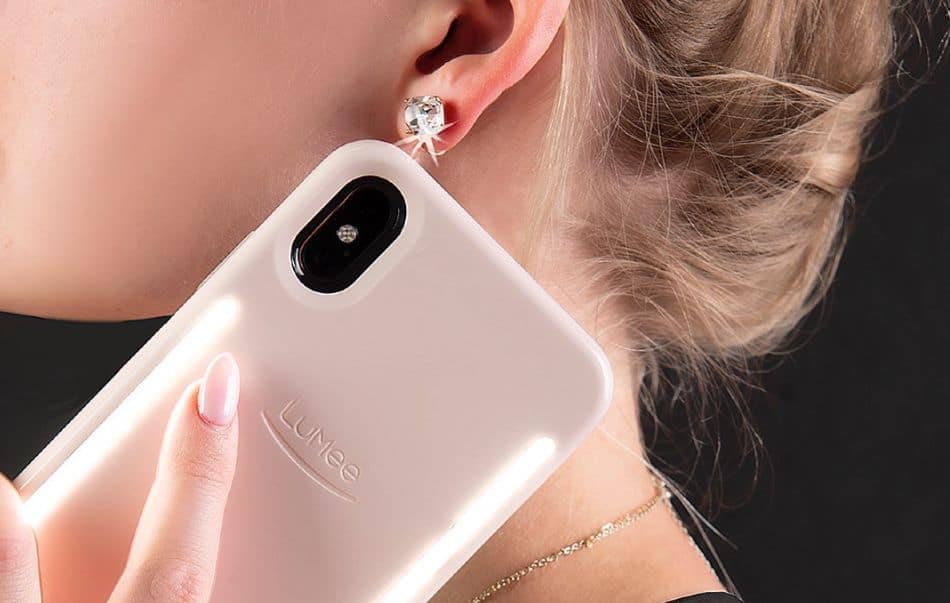 LuMee products are so fab! So much that we couldn't go without dropping a teaser of what you could be promoting as an influencer.
With before and after photos. LuMee does a spectacular job of convincing you that snapping the perfect photo is all about having the perfect lighting.
And because the lighting is everything, LuMee gives you professional studio lighting with your smartphone in your hands.  From the ultimate selfie companion, the LuMee Duo that boasts front and backlights; to the fun-loving club companion, the LuMee Duovibes that lights up to the beat of the music.
Just to take sleekness all the way to the top, LuMee comes in hot on-trend designs.  From the sassy mermaid collection to Kim Kardashian's famous Kimoji collection. There's a LuMee for every photo-taking lover.
Can snapping photos and filming videos get any more lit than this?
Influencer Showcase

The hot LuMee hashtag that influencers are using is #LitbyLuMee.
I must say that before taking a swing into Instagram to check it out myself, I had high expectations. Expecting all the possible exciting influencer LuMee content I was about to discover.
However, I was not as wowed away as I expected to be.
Besides the stunning posts by the official LuMee profile, influencer content could be way more exciting.
So, I think, the hashtag awaits new fun and creative LuMee influencers to light it up.
Apply for the LuMee College Rep Influencer Program
Fun influencers that love to buzz both online and on-campus, the LuMee College Rep Influencer Program could be for you.  I think this is especially for influencers with a creative flair. Those that will reveal their talent all the way to show off all of LuMee's illuminating brilliance.
And seriously, your social media feed can't get any better.
Think you're an influencer match for LuMee?  Then go and become a LuMee College Rep.