Your Instagram bio is more important than you think. People who do not know you might judge you based on how you write your Instagram bio. So pay special attention to it.
This is important for both influencers and brands. However, sadly very few people know how to write a good Instagram bio. Since Insta bios are small with a lot of limitations, brands and influencers often ignore it assuming those who land on the page will go through the content it has to offer.
This does not always hold true because users may first read your bio before they check your content. If they don't like the bio, they will not go ahead and may decide to leave or unfollow your page.
Your Insta bio is your 'first impression' that can contain up to 150 characters. Make sure to use this opportunity in the right manner and make a good first impression on visitors.
The Importance of Writing a Good Instagram Bio
Let's first talk about the importance of your Insta bio.
Treat it as a small introduction to who or what you are.
It should tell your visitors what you have to offer, why they should care about you or your brand, and what you stand for.
While your bio can help you make more sales, it isn't solely a marketing tool.
What to Include in Your Instagram Bio
Instagram allows users to put anything in the bio for as long as it does not exceed the character limit. Still, you have to be careful about what you include in your bio.
Here are a few components to have:
Username
Your username serves as your identity on Insta. Most people will recognize you with your username so make sure to pay special attention to it.
The username serves as the handle and forms your Instagram URL (instagram.com/yourusername).
We suggest that you remain consistent on all social media platforms. For example, Dwayne Johnson uses the name 'TheRock' on all social media accounts instead of his real name. This makes it easier for people to find him.
Your Name
We suggest that you start with your name or your brand's name. It's the best way to introduce yourself. Instagram has a special section for the name where you can enter your real, legal name or your brand name.
Remember that your username and your name are the only parts that the company looks for when it comes to searches. This is why it might be a good idea to use abbreviations of your name or your pet names to ensure people can find you when they search for you.
Look at how Saturday Night Live does it, they don't only use the full name but also the abbreviation (SNL) in the name so that people who search using the term SNL can also find the account.

In addition to this, you can include keywords to explain what you do.
Instagram allows users to include up to 30 characters in this section.
Link to Your Site
Unlike most other platforms out there, Instagram does not allow users to include clickable links in posts. The best (and only) option is to include a URL to your business in the bio.
The good thing is that there are no limitations on how many times you can change the URL. Some brands prefer to place links to specific pages or products instead of the homepage. This can work when you want to promote a specific service, blog, or item.
You can also create a landing page for Instagram users and add a link to it in your bio.
Category
We suggest that you include a category in your bio to ensure people know what you have to offer. This holds true for both influencers and brands.
Choosing a category will leave you more space in your bio as you will not have to repeat this information. However, this section only appears in the bio for mobile users, hence not everyone might be able to see it.
Contact Details
If you have a business profile, the platform will allow you to include a contact button that visitors can use to get in touch with you via email or phone.
Consider adding your physical address as well. It will make it easier for users to find you as Instagram can show the address and directions on a map.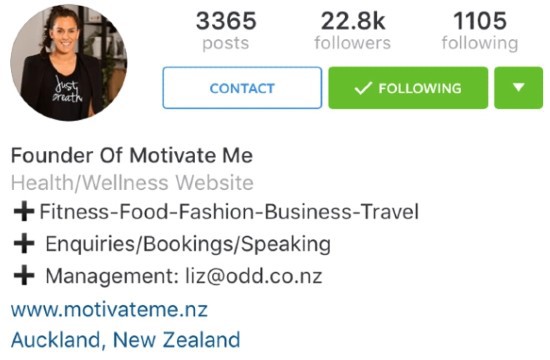 Remember that these buttons may not appear on desktops or laptops.
Verified badge
This can be a little difficult to achieve but it's worth it.
The tiny blue checkmark you see next to some names on Instagram indicates the profile is verified and belongs to the right person. This eradicates the risk of scams or fake identities.
We strongly encourage brands and influencers to try and get verified as it can help you win more followers. Here's how you can get verified on the platform.
You will have to send a bunch of documents to prove your identity and it can take weeks to get the tick so be patient.
Call-to-Action Buttons
Instagram now allows users to take action without moving to a third-party site. You can ask users to book a table, purchase tickets, or buy products right from your Insta profile.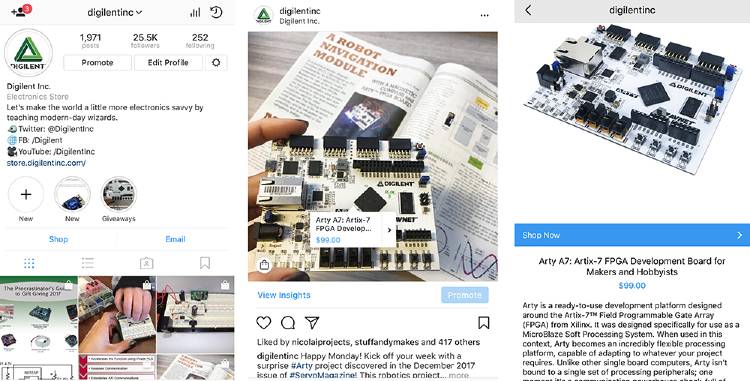 This can be a great tool for brands struggling to make sales. Customers do not like the idea of moving to another website, especially one they cannot trust.
By allowing users to purchase from Instagram, you're offering them more ease.
The Bio
Finally, let's talk about the bio.
You have to be very creative since you must stay within a limit – of 150 characters.
The key lies in saying more in a few words.
Here's how you write a kickass Instagram bio:
Show Some Flavor
Stay away from creating a boring bio and concentrate on showing your personality. A boring bio will push people away even if the content on your profile is impressive.
Your videos or photos only highlight what you do, you will need your bio to tell them who you truly are.
Do not write a robotic bio, be humane and try to strike the right chord with your audiences.
You can include your brand tagline or promise.
Highlight the values you stand for, i.e.: to support the local industry if you're a local business.
Mention your special skills, i.e.: if you are a green business.
If possible and necessary, you can hire a copywriter to write the bio for you.
Add Other Pages
If you have sister concerns on the platform then you can add their handle (clickable) to help visitors find more about you as seen here:

This is an easy way to leverage your visitors and send them to other pages.
Include Hashtags
Hashtags are fun and highly engaging. Brands can use brand-specific hashtags in the bio to encourage people to use them in tagged posts.
This will make it easier to collect user-generated content that you can use to market your brand.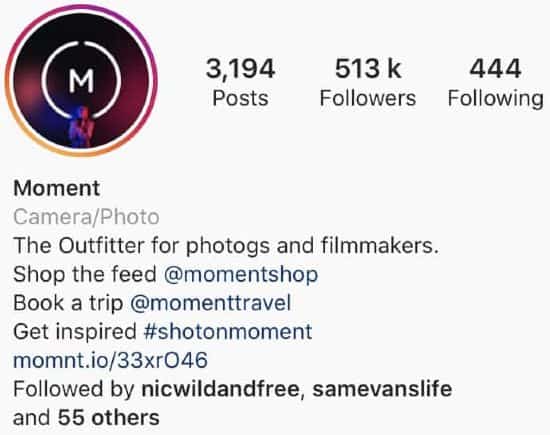 Destination BC uses the hashtag #exploreBC to collect stunning user-generated photos from around the province.

Moment uses this trick quite efficiently. It encourages people to use the #shotonmoment tag that does not only help increase brand awareness but also makes it easier for the brand to find relevant content.
We must mention that while bio hashtags are clickable, they don't appear in results when you search for hashtags. Hence, only include hashtags that are directly related to your business as they will not directly help you win more followers.
Use Some Emojis
Emojis are fun and easy to relate to. Plus, they can be used to highlight emotions without using a lot of words. But, you have to be very careful when choosing emojis. They must go well with the theme of your brand.
If your brand gives a 'serious' message then using the wink emoji, for example, will not do much for you.
Here are some popular emojis to use:
: to highlight your Snapchat handle
: when including your location
: when sharing your email address
: to point out something special such as a clickable link
In addition to this, you can use flags to highlight your country, cameras to indicate you're into photography, and a ring to highlight your marital status.
Use Line Breaks and Spacing
Line spacing and breaks can make your bio look visually appealing.
Most of us do not like to read, we only skim through pages.
Information presented in small chunks is easier to go through and understand.
Look at how this page presents information using bullets. There are no paragraphs or long sentences: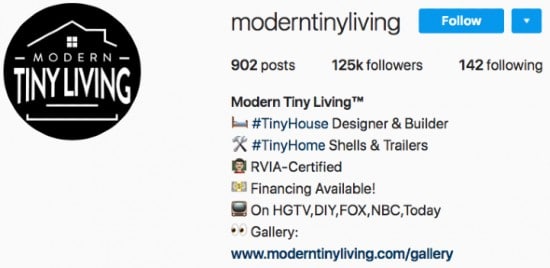 It can be a little tricky to add spacing on a mobile device. We suggest that you write your bio on a laptop so that you face no trouble.
Don't Forget Your Call to Action (CTA)
Merely having a Shop or Call might not be enough, you should consider adding a small CTA in your bio as well.
Your visitors should know exactly what you expect them to do – hire you as a graphic designer, buy your software, etc.
Look at this example, the page is inviting users to go to their page and see what they love:

In order to get good results, make sure to align your CTA with your buttons or a clickable link.
Influencers who wish to get more followers can have a simple 'follow me' CTA in the bio.
How to Write a Kickass Instagram Bio: Conclusion
At Afluencer, we pay a lot of attention to bios when choosing influencers for our platform and we assure you that brands and buyers also pay attention to this factor.
Make sure to follow the tips given in this article so you can create a solid Insta bio for your profile.