Instagram content creators. What sets them apart from the rest? We say it's a combination of their awesome content and the fact that it's delivered on the platform that revolutionized photo and video creativity. Instagram.
As a brand, of course, you want a piece of that Instagram pie. Sure, other competing platforms such as TikTok appeal to the younger generations, but Instagram is still a force to be reckoned with. In fact, when it comes to engagement, Instagram remains one of the strongest of all social streaming services.
Content Creator/Influencer Marketing: Why Engagement Rate Matters
Without getting too technical, the engagement rate is crucial because it affects the reach of an Instagram post. This has something to do with the algorithm. The higher the engagement rate, the wider the reach.
Side note: Engagement rate statistics aren't always easy to come by… unless you've joined us on Afluencer 😉 As long as a content creator has shared their social links with us, you as a brand can view this information in their profiles. Alternatively, you can find Instagram content creators using our engagement rate filter.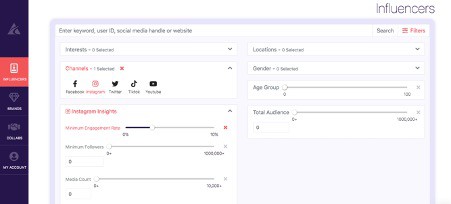 Does all this talk about Instagram and engagement make you wanna say, "I do" to Collabs with Instagram content creators? We're not surprised!
Here's our selection of candidates for your potential Collab match made in Afluencer heaven.
Instagram Content Creators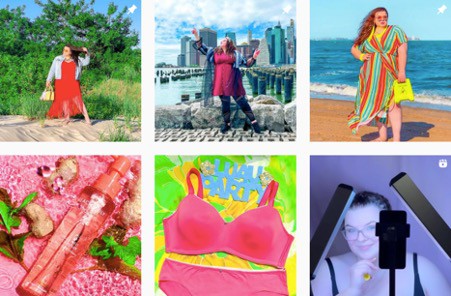 This is Yuliia. She's an Instagram content creator from New York City who sees the world through art… and she's bringing her unique creativity to her content.
Content
Confidence 🗸 art 🗸 creativity 🗸 color 🗸 personality 🗸 informative content 🗸
This is just a snippet of what you can look forward to when you Collab with Yuliia. She's got over 182k followers and has still managed to score a phenomenal engagement rate of 6.8% – she must be doing something right!
Whether she's giving a review or simply sharing a part of her life, Yuliia's captions are always detailed and inviting. While her content is mostly beauty-focused, this Instagram content creator occasionally dabbles in fashion (she loves a statement-making bright outfit). If you're looking for a stand-out Instagram content creator who can deliver when it comes to the two major interests of beauty and fashion, Yuliia is not to be ignored. Plus, she's already Collab'd with other brands – so you already know that she's a pro.
---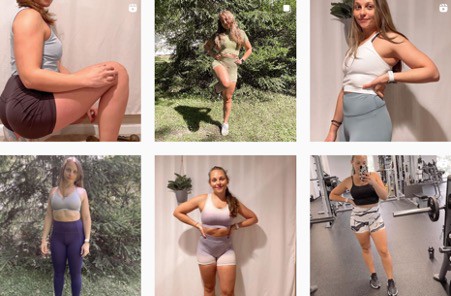 New Jersey, USA brings us, Ashley. She's a darling and she's strong:
Mentally – she's always got a positive mindset
Physically – she loves to live a healthy lifestyle…
Content
… and she's sharing all this with her followers.
As an Instagram content creator, Ashley is refreshingly relatable. She gives the girl next door vibes and gives awesome tips. Her 26.8k followers are spoilt for choice with it comes to health and fitness. Ashely shares great workout routines, workout tips, gym wear inspo, tips for healthy (and delicious) meals, discount codes, and so much more.
She's another Instagram content creator with a sky-high engagement rate. Hers is sitting at 6.4%. What can we say? The people like her! We do too and we're certain you'll have no regrets about Collabbing with Ashley.
We have a feeling Ashley's Instagram content creator game will continue to rise. Oh, and did we mention that she loves a good quote? You find loads of these gems scattered throughout her feed. So, we'll leave one about Collabs (of course) right here:
"Working with others is, in my mind, the future of business. You have a larger audience, more ideas, shared risk, shared workload and you will be getting a portion of something greater than had you done it alone." – Seth Nichol
---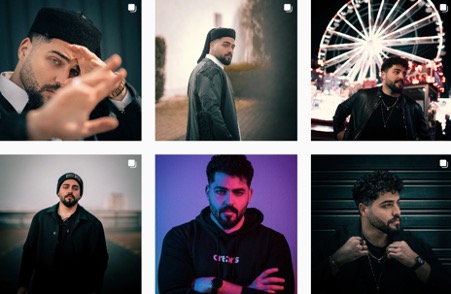 Based between Münster, Germany, and California, USA, Malek is one Instagram content creator who likes to let his images do all the talking…
Content
His captions may be short and sweet but Malek sure knows how to communicate through his stunning photos. It makes sense – he loves photography and is a fashion enthusiast. A picture is worth a thousand words, right? He also has a knack for capturing architecture in an artistic way – expertly blending in for one cohesive look – fashion, photography, and architecture – who knew?
His engagement rate is a superb 4.7%, so you know a Collab with Malek will reach an engaged audience. Bonus fact – of his 183k followers, almost 37% are between the ages of 18 and 24.
So, if you're a brand in the world of fashion and photography and are targeting an audience between those ages, let Malek do what he does best – knock Instagram content out of the park.
You know what to do. Hit that "Invite to Collab" button.
---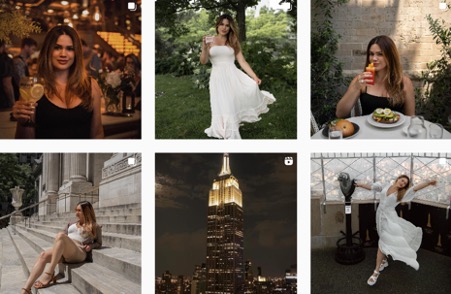 Brazilian-born but based in New York, Paulinne is a force to be reckoned with. She's got a "go get 'em" attitude and is willing to put in the work to achieve her goals.
Content
Can we just say that we love her bio in her Afluencer profile? She tells her story perfectly while giving us a sense of who she is and what you as a brand can expect when you Collab with her.
Over on her Instagram, you and her followers will find fashion-forward content with a bit of beauty, lifestyle, and travel is thrown in there. If you're a brand in any of these 4 industries, Paulinne is a sure bet. Her following is 65.6k strong, and her engagement rate of 3.6% is solid.
This is one Instagram content creator who goes after what she wants and makes it happen.
---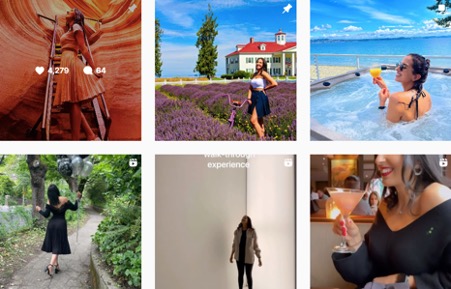 On a mission to inspire others to be the best version of themselves, Sabra, based in Washington DC, USA, created her Instagram page to do just that. She's spreading positivity in people's lives and is devoted to happy and healthy living. Sounds like it's all good vibes over here!
Content
And it sure is. This Instagram content creator focuses on lifestyle and travel to deliver her inspiring messages. You can clearly see Sabra living her best life and can't help but think, "I wanna live my best life too!"

Her personality shines through her content. She's got an excellent sense of humor and conveys that through her captions and Instagram Reels. Speaking of, Sabra provides a good mix of photos and videos – so there is never a dull moment on her feed.
If you're targeting young professionals aged 25-34 (Sabra's highest percentage of followers by age), Sabra is the Instagram content creator to reach out to.
---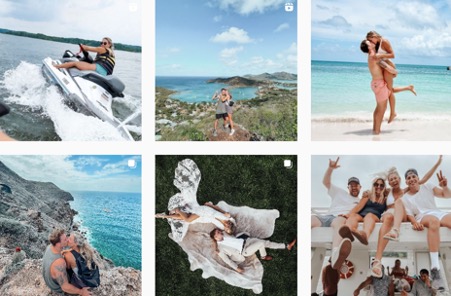 Brie, a twenty-something newlywed, from Indiana, USA, is an Instagram content creator with a passion for fashion and adventure. She also prides herself on her ability to encourage women to embrace their uniqueness and beauty. Although she says that she's still figuring out this whole life thing (who isn't), ladies, I think we can all agree that Brie is on to something 🙂
Content
One glance at Brie's Instagram page, and you cannot help but feel the happiness emanating from her pictures. We're getting loads of smiles, sunshine, beaches, hugs, kisses, and family. You really do get a good dose of adventure and all-around positivity. If that's what you're looking for, there is no way you're leaving Brie's page dissatisfied. Her engagement rate sits at 4.9% – letting you know that her followers are soaking up all these good vibes.
Wholesome content. It's needed. Brie delivers.
---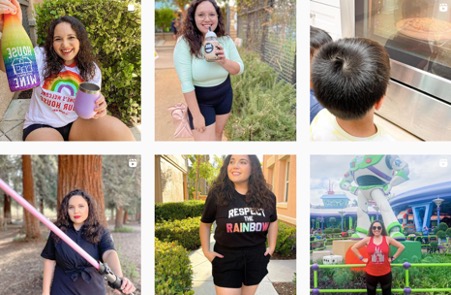 Carolina, a stay-at-home mom and Instagram content creator based in California, USA, is all about family and encouraging moms to be their best selves. She's got 7.9k followers and a good engagement rate of 3.7%. We are fairly certain that Carolina is only just getting started.
Content
This is another content creator whose personality shines through their content. Carolina is always smiling in her photos – her joy is infectious!
Her Instagram page is also very bright and inviting – you can't help but be drawn in. Her content is a seamless blend of family, fashion, beauty, and lifestyle. We love a versatile content creator, especially if you're a brand that specializes in different industries. For example, have you got beauty and fashion products you'd like marketed? Carolina is a perfect fit for both.
She has already partnered with brands such as Fabletics and Universal Studios, and who knows? Your brand could be next in line.
---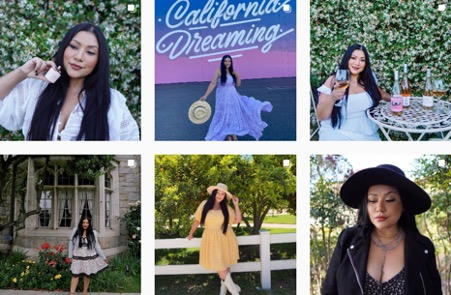 Meet Nelly from California, USA. Her passions lie in fashion, travel, and lifestyle. A business administration and social media marketing graduate, Nelly is already well-versed in the business side of being an Instagram content creator. It helps to Collab with someone who understands your needs as a business.
Content
Nelly's love for fashion and travel jumps right out at you in the best way possible. Of course, she has excellent taste in clothes! When it comes to travel, Nelly loves exploring hidden gems in her own "backyard" of California mostly, as well as throughout America.
In between all that, she shares lifestyle products – giving detailed information to keep her 11k followers in the know. They're loving her posts. Nelly's engagement rate is a fantastic 7.8%! Market access right here.
All her pictures stand out – the travel ones in particular… did anyone just get bitten by a wanderlust bug? Join the club. Invite Nelly for a Collab.
---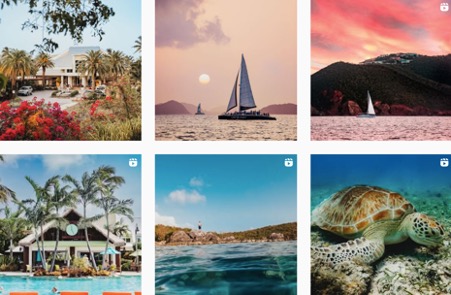 If wanderlust didn't get you before, it will now, thanks to Cole Elder. He's a tour and travel photographer who loves exploring the world of content creation.
Content
Crystal clear water. Romantic sunsets. Palm trees. Wildlife… Cole sure knows how to capture the highlights of any trip. If you need travel inspo, this is the page to visit.
Cole's 29k followers can get to experience photography content from music concerts. From sandy beaches to neon lights… might seem like quite a change. What do we think? We think Cole is so good, his photography skills can be applied anywhere.
If you're looking to Collab with a photographer who does wonders in any setting, Cole should be on your radar. Well.. now he is, so… you're welcome, and be sure to invite him for a Collab.
---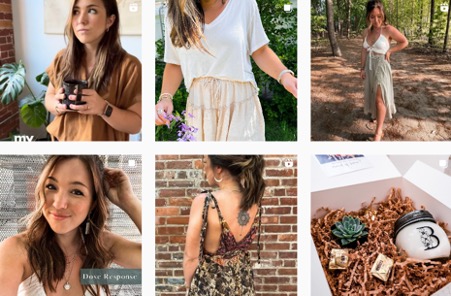 Meet Allie, she has a Ph.D. in Toxicology and loves to share her passion for fashion, science, and travel, just to name a few. More than that, she has a goal to change the narrative of female scientist stereotypes. Allie, we support this goal!
Content
Looking at Allie's Instagram page… she really is doing it all! Science info, fashion tips, and ideas, planning a wedding… When they say to get you a girl "who can do both," they mean a girl like Allie 🙂 And she's inspiring the rest of us along the way.
Her page is warm and bright – naturally, her 5.6k followers want to hang out there… she's got an awesome engagement rate of 3.7%.
This Ecotoxicologist offers a unique perspective on the science girl/girly girl. If you're a brand in the world of science, Allie is definitely one to Collab with as much of her life is relatable to regular folk 🙂
---
Instant Collabs with Instagram Content Creators
There you have it. Instagram content creators have a lot to offer your brand in a unique way that differs from other social media platforms.

What is the fastest way to Collab with them? Sign up with Afluencer and have access to our ever-growing database of content creators; as well as our amazing resources that will help execute your social media marketing strategies with ease.