Many people crave lifestyle change. It's part of the reason social media is so effective: It gives people a chance to imagine other life paths and peek into the daily lives of people living picture-perfect days.
That's where both lifestyle influencers and content creators come in handy for brands.
We've rounded up a few fantastic micro-influencers sharing lifestyle tips and products. With deep dives into life-enriching products and soul-nourishing travel bucket lists, these 6 lifestyle micro-influencers open up worlds of marketing opportunities.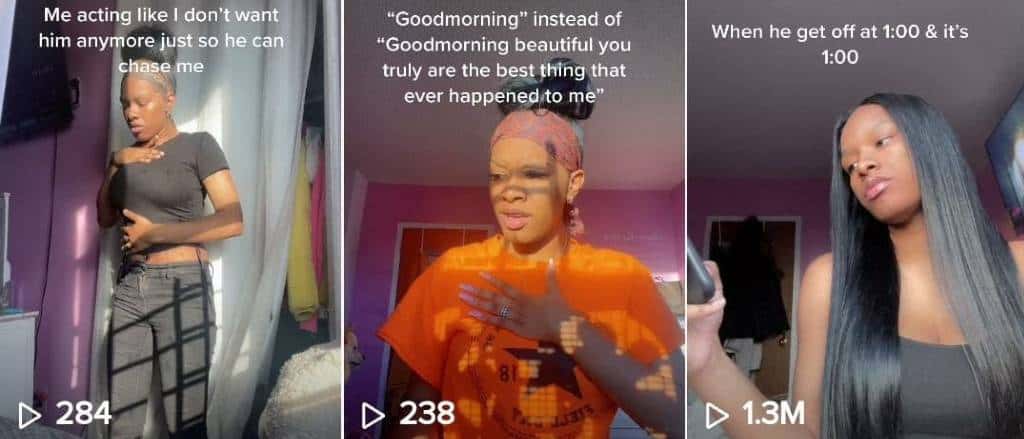 Abby Lin is a 21-year-old African-American lifestyle influencer living in New York. She loves to post about the everyday challenges of being a Gen Z woman in a rapidly evolving world. Her content is relatable, and funny, and also carries a unique undertone.
With a special focus on women's fashion, Abby provides outfit inspiration to her followers looking for creative ways to put together interesting, colorful pieces.
Abby recommends her go-to brands often so her followers can see the versatility of different staple pieces on her TikTok. Here, she shares snippets of her internal mental dialogue dressed in well-put-together outfits.
With 3,900 followers, Abby is certainly an ideal pick for brands catering to African-American women's styles. Abby is also a great pick for brands looking to partner with Gen Z and millennial-focused content creators.
So if you're looking for a lifestyle micro-influencer who is big on fashion, Abby is your best bet.
---

Alexandra (or Alex as she likes to be called) is a digital nomad who travels the world. She is a photographer, digital creator, traveler, and marketing entrepreneur with an impressive list of achievements under her belt. A liberal arts graduate from Harvard University, Alex has amassed over 17,700 followers on her Instagram page in less than six months.
She frequently collaborates with brands and incorporates their product in a scenic setting with an informative caption. What better way to sell a sports bra (Knixwear) than with a sun-showered picture on a hiking trail? Or a pair of white sneakers (Merrell Canada) set against a blanket of red-yellow autumn leaves?
Her Instagram account is a travel diary where she shares her experiences, must-visit places, hotel recommendations, and travel tips with anyone planning their next vacation. So head to her feed and explore the ways in which she can add to your brand image and provide thoughtful lifestyle content through a masterfully created Instagram collaboration.
---

Agus Wibowo is a lifestyle blogger based in Indonesia. On Instagram, he talks about products in varied categories ranging from tech gadgets, to travel, to health, and beyond. He also has a blog called awidiot where he shares detailed reviews of tech products, travel destinations, and health advice.
Agus is at the micro-influencer level but has a steadily growing Instagram account with over 1,200 followers. He not only talks about the features of a product but also shares the ways in which they can have a positive impact on one's lifestyle. Thus, making him a great choice for brands looking for tech-focused lifestyle micro-influencers to work with.
---

Aimee is a UK-based lifestyle blogger and also photographer. She loves to share beauty and makeup tips on her Instagram page with over 1,900 followers. Aimee frequently redirects her viewers to her YouTube channel where she shares unboxing videos, skincare, and makeup routines, as well as product reviews and snippets from her daily life.
Her Instagram aesthetic is eclectic: you'll find uniquely crafted beauty content intertwined with personal experiences and life updates. She takes her followers on a journey to discover varied fashion and beauty products, sharing her unfiltered reviews through creative posts, reels, and videos.
Revolution Pro, Makeup Revolution, and Alya Skin Aus are some of the brands she frequently collaborates with. Her thumbnails feature their products on her skin and she also makes a note about her experience of using them.
---

Alejandra (Alex) Fernandez is a family lifestyle blogger and runs her Instagram account by the name of three little ferns where she shares lifestyle tips, parenting advice, DIY craft videos, and so much more. A proud mom of three and a military spouse, Alex shares her experience of being a military wife, raising her kids, and celebrating small milestones in her daily life.
She currently has 11,400 Instagram followers, and her feed is a mix of Fun DIY craft ideas, life updates, and simple food recipes all pulled together with a touch of authenticity and quirky references to love.
She's a great fit for brands that endorse a healthy family life, quirky mugs, or kids' apparel. So go ahead, and add Alex to your list of awesome micro-influencers for your lifestyle campaign.
---

Alexa is a travel writer, lifestyle influencer, and digital creator based in California. She shares her travel stories, guides, hotel reviews, and vacation tips with fellow globetrotters on her blog called livingbylex. Her Instagram features reviews of the products she swears by, easy recipes, exotic locales, and so much more.
She has over 25,000 Instagram followers and her feed is a travel journal mixed with the occasional product review. Each post is artfully curated and helps her audience travel around the world vicariously through her adventures. Free People and Lattelier are some of the brands that supply the wardrobe for her enviable travel pictures.
Partner with lifestyle micro-influencers today
As people reel from the repercussions caused to their everyday lives by the pandemic, they feel a great need to associate themselves with lifestyle brands that reflect the values that they aspire to incorporate into their lives.
Lifestyle influencers are that models of inspiration that people look up to and wish to emulate aspects of their lifestyle in one way or another. Partner with a lifestyle influencer and see a steady surge in your product sales.
Install the Afluencer app for Shopify and start leveraging the power of influencer marketing. If you are a non-Shopify merchant, then you can register here.