Instagram content creators. What sets them apart from the rest? We say it's a combination of their awesome content and the fact that it's delivered on the platform that revolutionized photo and video creativity. Instagram.
As a brand, of course, you want a piece of that Instagram pie. Sure, other competing platforms such as TikTok appeal to the younger generations, but Instagram is still a force to be reckoned with. In fact, when it comes to engagement, Instagram remains one of the strongest of all social streaming services.
Content Creator/Influencer Marketing: Why Engagement Rate Matters
Without getting too technical, the engagement rate is crucial because it affects the reach of an Instagram post. This has something to do with the algorithm. The higher the engagement rate, the wider the reach.
Side note: Engagement rate statistics aren't always easy to come by… unless you've joined us on Afluencer 😉 As long as a content creator has shared their social links with us, you as a brand can view this information in their profiles. Alternatively, you can find Instagram content creators using our engagement rate filter.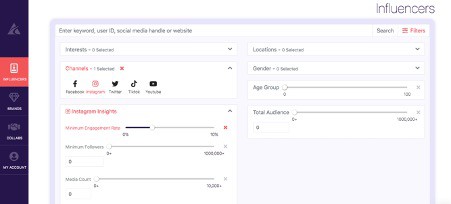 Does all this talk about Instagram and engagement make you wanna say, "I do" to Collabs with Instagram content creators? We're not surprised!
Here's our selection of candidates for your potential Collab match made in Afluencer heaven.
Instagram Content Creators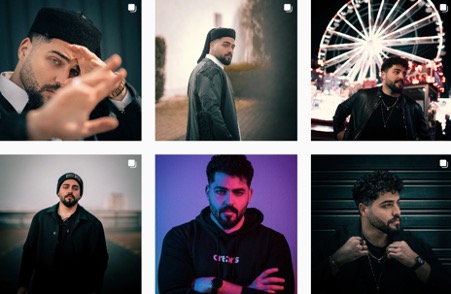 Based between Münster, Germany, and California, USA, Malek is one Instagram content creator who likes to let his images do all the talking…
Content
His captions may be short and sweet but Malek sure knows how to communicate through his stunning photos. It makes sense – he loves photography and is a fashion enthusiast. A picture is worth a thousand words, right? He also has a knack for capturing architecture in an artistic way – expertly blending in for one cohesive look – fashion, photography, and architecture – who knew?
His engagement rate is a superb 4.7%, so you know a Collab with Malek will reach an engaged audience. Bonus fact – of his 183k followers, almost 37% are between the ages of 18 and 24.
So, if you're a brand in the world of fashion and photography and are targeting an audience between those ages, let Malek do what he does best – knock Instagram content out of the park.
You know what to do. Hit that "Invite to Collab" button.
---

Hannah is a talented photographer and Instagram content creator from the picturesque Salt Lake City, Utah. Her journey to becoming a visual storyteller began during her formative years spent in Japan, where she discovered her insatiable passion for travel. Since then, Hannah's love for hiking, backpacking, and exploring the great outdoors has grown.
Content
Prepare to be captivated once you stumble upon Hannah's Instagram page. The breathtaking landscapes, vibrant colors, and unique perspectives she captures with her camera will leave you yearning for adventure. If you haven't already, make sure your passport is ready because after glimpsing at Hannah's work, you'll be itching to embark on your next trip around the globe.
What makes Hannah's content truly extraordinary is the seamless fusion of professional photography and travel storytelling. The result is a magical combination that will ignite your wanderlust and have you searching for flight deals. It's safe to say that a collab with this remarkable Instagram content creator is an experience you won't want to miss.
---

Say hello to Rachael aka Tripping Millennial, your new travel companion on Instagram! This adventurous content creator has hit pause on her corporate career to embark on an awe-inspiring journey across the globe, and lucky for us, she's taking us along for the ride.
Content
The Rachael shares not only breathtaking views but also valuable travel tips and authentic recommendations. Her infectious humor adds a delightful touch to her content, making it an absolute joy to follow her adventures.
Get ready to discover underrated travel destinations, experience moments of pure wonder, and be inspired by the beauty of our world. Consider her Instagram feed your personal travel itinerary, brimming with hidden gems and off-the-beaten-path treasures.
For brands seeking to partner with a talented travel Instagram content creator, Rachael is the perfect match. Don't miss out on the opportunity to work with her and showcase your brand to a highly engaged audience. So, invite her for a collab ASAP, and let the adventure begin!
---

Meet Angela Bacuyani, an incredible Instagram content creator whose heartwarming posts capture the essence of family, travel, Christianity, and home life. Alongside her family, Angela shares their experiences, creating a beautiful blend of relatable and inspiring content.
Content
Tragically, the Bacuyani family has experienced the loss of their beloved daughter, which has deeply influenced their content. With a focus on grief, NICU awareness, and cherishing the moments we have, they remind us of the importance of family and spending quality time together. Remarkably, their posts never leave you feeling sad, but rather leave you feeling uplifted and motivated.
Angela's content encompasses a wide range of topics, but it all seamlessly fits together, creating relatable and engaging stories. Whether they're exploring new destinations, sharing snippets of their faith, or simply celebrating the joys of everyday life, the Bacuyani family captivates their audience with their genuine and heartfelt approach.
Considering the breadth and impact of their content, Collabbing with Angela and her family would be a fantastic opportunity for various brands. Their unique perspective and ability to inspire make them the perfect partners for those seeking to connect with a broader audience and make a positive impact.
---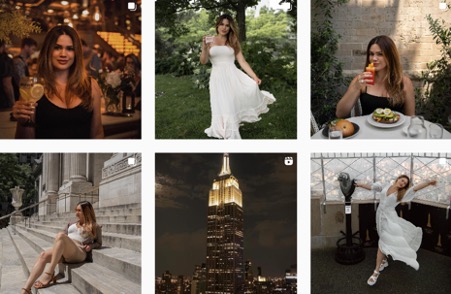 Brazilian-born but based in New York, Paulinne is a force to be reckoned with. She's got a "go get 'em" attitude and is willing to put in the work to achieve her goals.
Content
Can we just say that we love her bio in her Afluencer profile? She tells her story perfectly while giving us a sense of who she is and what you as a brand can expect when you Collab with her.
Over on her Instagram, you and her followers will find fashion-forward content with a bit of beauty, lifestyle, and travel thrown in there. If you're a brand in any of these 4 industries, Paulinne is a sure bet. Her following is 65.6k strong, and her engagement rate of 3.6% is solid.
This is one Instagram content creator who goes after what she wants and makes it happen.
---

Get ready for a virtual trip to Spain alongside the fabulous Reme Rubiales, your new go-to Instagram content creator for daily outfit inspiration! Reme is an absolute pro when it comes to showcasing her love for a natural makeup look and her impeccable style, which effortlessly combines streetwear, trendy fashion, and girl-next-door vibes.
Content
But there's more to Reme's content than just fashion expertise. With incredible photography and her catwalk-worthy poses, she truly knows how to captivate her audience. Whether she's sharing stunning pictures or engaging Reels, Reme's delivery is always on point, making her content creation game a true winner.
Once you start following Reme, it's impossible not to fall in love with her unique blend of style, creativity, and authenticity. Her content will leave you inspired and excited, ready to explore new fashion trends and make them your own. So, buckle up and get ready to embark on a fashion adventure with Reme Rubiales. Trust us, her inspiring content will keep you hooked for a long while!
---

Get ready to meet your next beauty guru! Say hello to Marybeth Riddle, the fabulous Instagram content creator taking the beauty world by storm. Marybeth believes that beauty is all about the experience, and she can't wait to share her exciting journey with us.
Content
Whether you're a skincare fanatic or a makeup enthusiast, Marybeth has got you covered. She's your go-to gal for everything from the essentials like cleansers, moisturizers, and foundation, to the more glamorous side of beauty, including champagne sparkly lipstick, and luxurious serums. Trust us, she knows her stuff!
But what we truly admire about Marybeth is her dedication to helping us feel like the best version of ourselves, with or without makeup. Her passion shines through as she encourages us to embrace our natural beauty and boosts our confidence.
If you haven't Collab'd with Marybeth yet, brace yourself for some major FOMO (Fear Of Missing Out). Don't miss out on the chance to join her vibrant beauty community and have your brand featured with the latest trends and products.
---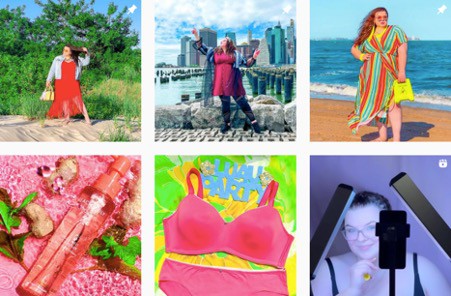 This is Yuliia. She's an Instagram content creator from New York City who sees the world through art… and she's bringing her unique creativity to her content.
Content
Confidence 🗸 art 🗸 creativity 🗸 color 🗸 personality 🗸 informative content 🗸
This is just a snippet of what you can look forward to when you Collab with Yuliia. She's got over 182k followers and has still managed to score a phenomenal engagement rate of 6.8% – she must be doing something right!
Whether she's giving a review or simply sharing a part of her life, Yuliia's captions are always detailed and inviting. While her content is mostly beauty-focused, this Instagram content creator occasionally dabbles in fashion (she loves a statement-making bright outfit). If you're looking for a stand-out Instagram content creator who can deliver when it comes to the two major interests of beauty and fashion, Yuliia is not to be ignored. Plus, she's already Collab'd with other brands – so you already know that she's a pro.
---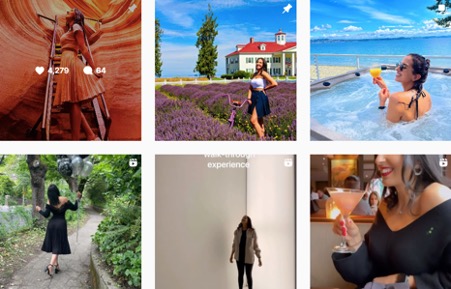 On a mission to inspire others to be the best version of themselves, Sabra, based in Washington DC, USA, created her Instagram page to do just that. She's spreading positivity in people's lives and is devoted to happy and healthy living. Sounds like it's all good vibes over here!
Content
And it sure is. This Instagram content creator focuses on lifestyle and travel to deliver her inspiring messages. You can clearly see Sabra living her best life and can't help but think, "I wanna live my best life too!"

Her personality shines through her content. She's got an excellent sense of humor and conveys that through her captions and Instagram Reels. Speaking of, Sabra provides a good mix of photos and videos – so there is never a dull moment on her feed.
If you're targeting young professionals aged 25-34 (Sabra's highest percentage of followers by age), Sabra is the Instagram content creator to reach out to.
---

Prepare to be captivated by the enchanting voice of Luciana Zogbi, a talented singer and composer who has won the hearts of an ever-growing following on Instagram.
Content
From the moment you hear her soothing voice, you'll find yourself eagerly hanging onto her every word. Luciana's musical prowess knows no bounds, whether she's recording in the studio, shooting a captivating music video, or even serenading her adorable cat.
But there's more to Luciana than just her music. Amongst her captivating tunes, you'll discover inspiring content that will uplift your spirits. Luciana effortlessly exudes a genuine "girl next door" vibe, making her relatable and endearing to her fans.
For brands in the music industry, teaming up with Luciana is a match made in heaven. With her talent and engaging presence on Instagram, she is the perfect content creator to showcase your brand and connect with a dedicated audience.
Get ready to be mesmerized by Luciana Zogbi's musical journey and embark on a delightful experience that will leave you wanting more.
---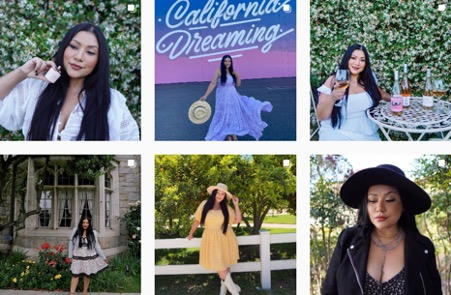 Meet Nelly from California, USA. Her passions lie in fashion, travel, and lifestyle. A business administration and social media marketing graduate, Nelly is already well-versed in the business side of being an Instagram content creator. It helps to Collab with someone who understands your needs as a business.
Content
Nelly's love for fashion and travel jumps right out at you in the best way possible. Of course, she has excellent taste in clothes! When it comes to travel, Nelly loves exploring hidden gems in her own "backyard" of California mostly, as well as throughout America.
In between all that, she shares lifestyle products – giving detailed information to keep her 11k followers in the know. They're loving her posts. Nelly's engagement rate is a fantastic 7.8%! Market access right here.
All her pictures stand out – the travel ones in particular… did anyone just get bitten by a wanderlust bug? Join the club. Invite Nelly for a Collab.
---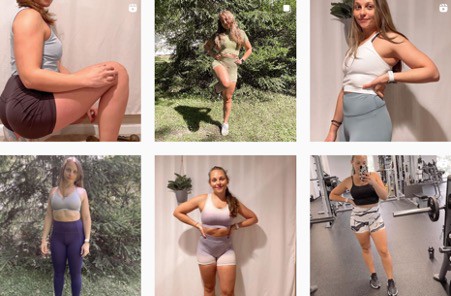 New Jersey, USA brings us, Ashley. She's a darling and she's strong:
Mentally – she's always got a positive mindset
Physically – she loves to live a healthy lifestyle…
Content
… and she's sharing all this with her followers.
As an Instagram content creator, Ashley is refreshingly relatable. She gives the girl next door vibes and gives awesome tips. Her 26.8k followers are spoilt for choice with it comes to health and fitness. Ashely shares great workout routines, workout tips, gym wear inspo, tips for healthy (and delicious) meals, discount codes, and so much more.
She's another Instagram content creator with a sky-high engagement rate. Hers is sitting at 6.4%. What can we say? The people like her! We do too and we're certain you'll have no regrets about Collabbing with Ashley.
We have a feeling Ashley's Instagram content creator game will continue to rise. Oh, and did we mention that she loves a good quote? You find loads of these gems scattered throughout her feed. So, we'll leave one about Collabs (of course) right here:
"Working with others is, in my mind, the future of business. You have a larger audience, more ideas, shared risk, shared workload and you will be getting a portion of something greater than had you done it alone." – Seth Nichol
---

Looking to up your skincare and makeup game? Look no further than Vanessa Collino, the incredible beauty guru hailing from Canada. With her wealth of knowledge and expertise, Vanessa will guide you through the world of beauty, helping you take care of your skin and slay your makeup looks like a pro.
Content
One of the things that set Vanessa apart is her attention to detail. Her product reviews come with detailed captions, providing you with all the information you need to make an informed decision about a particular product. Plus, her images are simply stunning, with top-quality shots that are commercial-worthy.
What makes Vanessa's content even more exciting is her perfect balance of pictures and Instagram Reels. This ensures that her feed never gets monotonous, keeping you engaged and inspired every step of the way.
If you're in the market for a Collab with an Instagram content creator in the beauty niche, Vanessa should be at the top of your list. Her expertise, engaging content, and vibrant personality make her the ultimate beauty content creator to work with.
---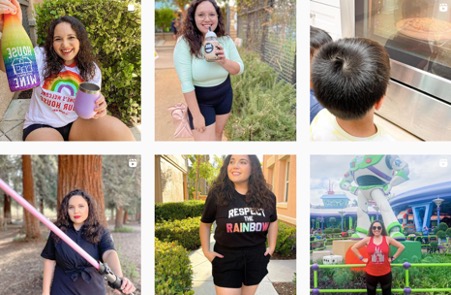 Carolina, a stay-at-home mom and Instagram content creator based in California, USA, is all about family and encouraging moms to be their best selves. She's got 7.9k followers and a good engagement rate of 3.7%. We are fairly certain that Carolina is only just getting started.
Content
This is another content creator whose personality shines through their content. Carolina is always smiling in her photos – her joy is infectious!
Her Instagram page is also very bright and inviting – you can't help but be drawn in. Her content is a seamless blend of family, fashion, beauty, and lifestyle. We love a versatile content creator, especially if you're a brand that specializes in different industries. For example, have you got beauty and fashion products you'd like marketed? Carolina is a perfect fit for both.
She has already partnered with brands such as Fabletics and Universal Studios, and who knows? Your brand could be next in line.
---

We are back in Canada, this time to introduce you to the incredible Instagram content creator, Mehwish! This time, Mehwish takes the spotlight with her fascinating focus on motherhood, travel, lifestyle, and wellness.
Content
Mehwish's carefully chosen niches blend harmoniously, resulting in an Instagram account that is truly exceptional. From the latest trends in home decor to mouthwatering kid-friendly recipes, from skincare tips to uncovering awesome attractions to visit, Mehwish has got all the information you need.
With her magnetic personality and knack for curating engaging content, Mehwish has been capturing the hearts of her followers, leading to a growing fan base and astonishing double-digit engagement rates. It's no surprise that her content creation star is ascending towards the heavens.
So, buckle up and join Mehwish on her virtual exploration of all things fascinating, as she weaves together the realms of motherhood, travel, lifestyle, and wellness into a tapestry of inspiration and delight.
---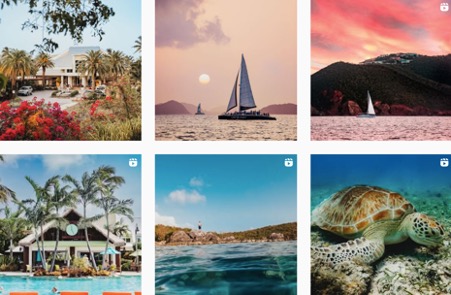 If wanderlust didn't get you before, it will now, thanks to Cole Elder. He's a tour and travel photographer who loves exploring the world of content creation.
Content
Crystal clear water. Romantic sunsets. Palm trees. Wildlife… Cole sure knows how to capture the highlights of any trip. If you need travel inspo, this is the page to visit.
Cole's 29k followers can get to experience photography content from music concerts. From sandy beaches to neon lights… might seem like quite a change. What do we think? We think Cole is so good, his photography skills can be applied anywhere.
If you're looking to Collab with a photographer who does wonders in any setting, Cole should be on your radar. Well.. now he is, so… you're welcome, and be sure to invite him for a Collab.
---

Meet Alwayne, a talented Instagram content creator hailing all the way from Jamaica and now based in sunny Florida! With a passion for gaming that knows no bounds, Alwayne has captured the hearts of his followers with his incredible gaming adventures.
Content
His gaming preferences lean towards racing and indie games with a touch of puzzle elements, making his content both thrilling and mind-bending.
But Alwayne's gaming journey is not a solitary one! He is fortunate enough to have found his perfect match—his wife, Gemila, who shares his love for gaming. Gemila often joins in on the fun, adding an extra layer of excitement to their already captivating content. Hey Gemila, we see you!
His super-engaged followers can expect a treasure trove of gaming content from Alwayne, including mesmerizing play-by-play action, captivating images, and exhilarating highlights of the games he shows us.
For gaming brands looking to Collab with a talented content creator, look no further! Alwayne is the perfect partner to showcase your brand to his dedicated and enthusiastic audience. Get in touch with Alwayne and embark on an exciting gaming journey together!
---
Get ready to smile from ear to ear with Instagram content creator, Valeria Polcova! When you stumble upon her Instagram page, you're instantly transported to a happy place filled with positivity. And that million-dollar smile of hers is infectious!
Content
Valeria is first and foremost a music lover – as she's even competed in The Voice Czech Slovakia and even released a CD. But that's not all—she's also a beauty guru, providing fantastic beauty tips and sharing her favorite looks. Whether you're in need of a makeup tutorial or seeking inspiration for a new style, Valeria has got you covered.
One of the coolest things about Valeria's content is the side-by-side makeup comparisons from different years. It's incredible to witness popular looks over time. With Valeria, you'll find a welcoming and friendly atmosphere that makes you feel like she's your new makeup bestie.
Considering all the smiles, positivity, and beauty expertise she brings to the table, a Collab with Valeria is a must. Join her journey, and let the good vibes and fabulous makeup looks uplift your day!
---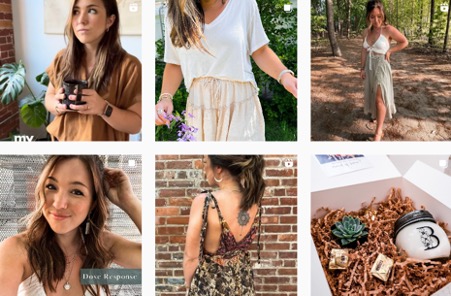 Meet Allie, she has a Ph.D. in Toxicology and loves to share her passion for fashion, science, and travel, just to name a few. More than that, she has a goal to change the narrative of female scientist stereotypes. Allie, we support this goal!
Content
Looking at Allie's Instagram page… she really is doing it all! Science info, fashion tips, and ideas, planning a wedding… When they say to get you a girl "who can do both," they mean a girl like Allie 🙂 And she's inspiring the rest of us along the way.
Her page is warm and bright – naturally, her 5.6k followers want to hang out there… she's got an awesome engagement rate of 3.7%.
This Ecotoxicologist offers a unique perspective on the science girl/girly girl. If you're a brand in the world of science, Allie is definitely one to Collab with as much of her life is relatable to regular folk 🙂
---
Are your taste buds tingling? Well, get ready to satisfy your cravings with Brianna, the sensational Instagram content creator who knows how to handle the heat in the kitchen and deliver mouth-watering meals. Cooking is not just a hobby for Brianna; it's her true passion, and it shines through in every dish she prepares.
Content
With a generous heart, Brianna loves sharing her remarkable recipes with the world, and let me tell you, the world is forever grateful! From the nostalgic embrace of classic comfort food like creamy Mac and cheese to the guilt-free delight of wholesome and nutritious meals, Brianna has got you covered. And don't even get me started on her sweet treats! They look like a symphony of flavors dancing on your tongue.
So, if you're feeling those hunger pangs and looking for some culinary inspiration, head over to Brianna's Instagram page. Follow her for an unforgettable culinary journey! Get ready for her to take your brand's ingredients and embark on a delicious Collab adventure that will leave you craving for more. Bon appétit!
---

Looking to take charge of your mental well-being? Look no further than Jessa, the Instagram content creator, and counselor-in-training who's here to guide you on your journey.
Content
With her relatable content, Jessa serves as a supportive resource for anxious moms, making you feel understood and reminding you that you're not alone in life's challenges.
What sets Jessa apart is her ability to infuse humor into her posts. Laughter truly is the best medicine, and she knows how to sprinkle in that dash of light to brighten your day. Prepare to chuckle while gaining valuable insights into managing your mental health.
But Jessa isn't just about mental health advocacy. She also shares her Christian worldview and offers content on home decor and lifestyle tips & tricks. Look forward to practical advice for everyday living and a range of topics that can enhance your overall well-being.
So, if you're ready to embark on a journey of self-care, laughter, and inspiration, join Jessa on Instagram and let her guide you toward a healthier, happier you.
---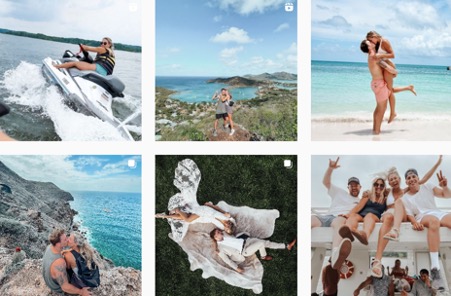 Brie, a twenty-something newlywed, from Indiana, USA, is an Instagram content creator with a passion for fashion and adventure. She also prides herself on her ability to encourage women to embrace their uniqueness and beauty. Although she says that she's still figuring out this whole life thing (who isn't), ladies, I think we can all agree that Brie is on to something 🙂
Content
One glance at Brie's Instagram page, and you cannot help but feel the happiness emanating from her pictures. We're getting loads of smiles, sunshine, beaches, hugs, kisses, and family. You really do get a good dose of adventure and all-around positivity. If that's what you're looking for, there is no way you're leaving Brie's page dissatisfied. Her engagement rate sits at 4.9% – letting you know that her followers are soaking up all these good vibes.
Wholesome content. It's needed. Brie delivers.
---
Instant Collabs with Instagram Content Creators
There you have it. Instagram content creators have a lot to offer your brand in a unique way that differs from other social media platforms.
What is the fastest way to Collab with them? Sign up with Afluencer and have access to our ever-growing database of content creators; as well as our amazing resources that will help execute your social media marketing strategies with ease.