Jake Fellman was an average guy until he started creating content on YouTube in 2020. From September 2020 to this day, his YouTube creator account has been one of the fastest-growing channels on the platform, with over 15 million subscribers (and counting).
The secret behind Jake's success? Producing short-form videos for YouTube Shorts. In his own words:
"Short-form video is 99% content, 1% everything else."
As of 2022, there are at least 51 million creators on YouTube, but only a small percent succeed in making an impact like Jake.
If you want to be one of them, this start-to-finish YouTube guide for creators will help you start and scale your channel with proven tips on starting a channel from scratch and maximizing its ROI.
Why Create Content on YouTube?
First things first: Let's talk about why creators and influencers should focus on YouTube as a distribution channel.
While TikTok's popularity has soared in recent years, YouTube continues to be a reliable channel for distribution. It promises visibility and organic growth to creators repurposing content from different platforms.
What's more: creating content on YouTube has many benefits, such as…
Multi-language Audio to Widen Reach
Multi-language audio is one of YouTube's latest features to let creators add audio tracks in different languages. On top of auto-translated captions, this feature allows you to reach a global audience and deliver content in their native language. The result? Higher reach and increased watch time. Look at this feature in action on MrBeast's YouTube channel: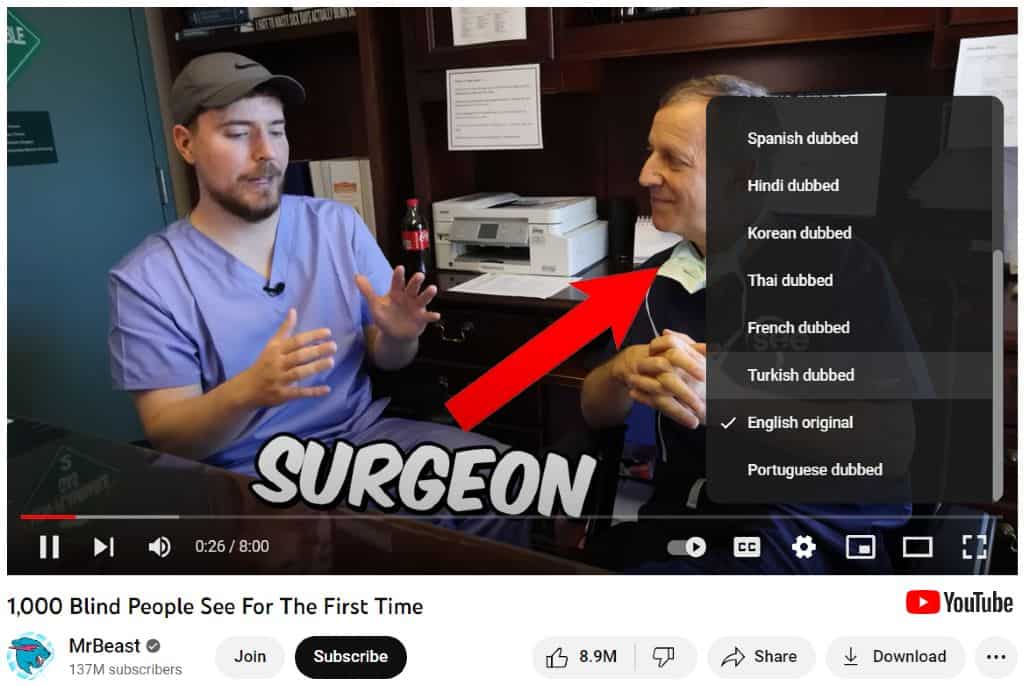 Means to Build & Engage a Community of Followers
Unlike other social media platforms, YouTube has always placed more emphasis on community-building. With memberships, creators can monetize their community and engage better with their subscribers. Many creators are also posting original content to give members exclusive privileges. For example, Swagg's membership offers subscribers a chance to play with the gamer: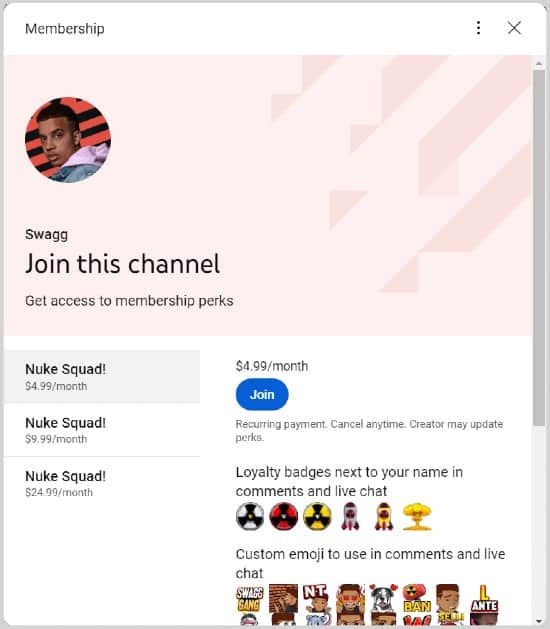 Greater Visibility via YouTube SEO
Another great advantage of creating content on YouTube is the share of traffic you can win by optimizing your channel and videos. Having a YouTube SEO strategy can boost rankings in search results, which means more views and long-term traffic. By capturing traffic for several strategic keywords, you can gradually level up your performance with higher watch time, more subscribers, and greater engagement.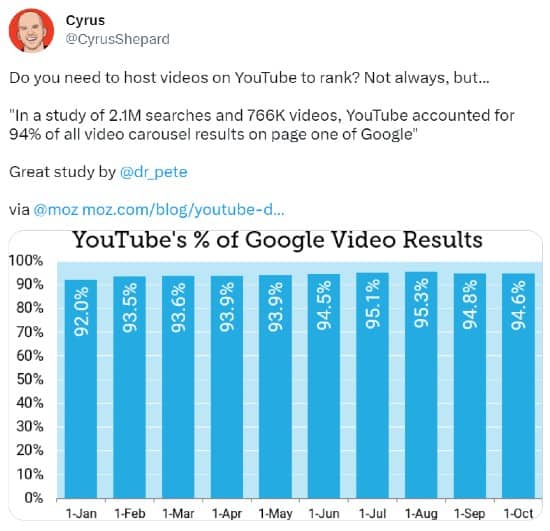 Increased Revenue as a Casual Creator with Shorts
Creators can replicate Jake Fellman's success on YouTube by posting Shorts, which are a section dedicated to short-form video content on the app. This is an opportunity to distribute content from Instagram and TikTok to get more views and boost engagement. In fact, the number of channels uploaded to Shorts daily on YouTube grew by over 80% in 2022. Muaaz, a YouTube creator and strategist, predicts the potential of Shorts for creators: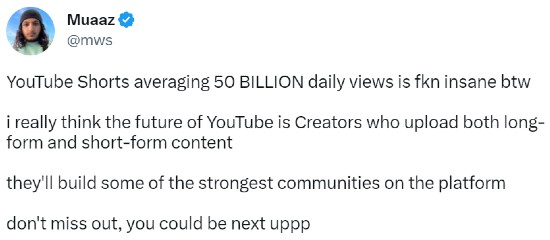 Enjoy More Monetization Options to Maximize Earnings
YouTube has expanded its monetization capabilities for creators in many ways. Your earning potential goes beyond ads with additional avenues like subscriptions, shopping, and digital goods. Jin Yong-jin, a South Korean creator, multiplied his revenue by adding over 30,000 members to his channel in seven months.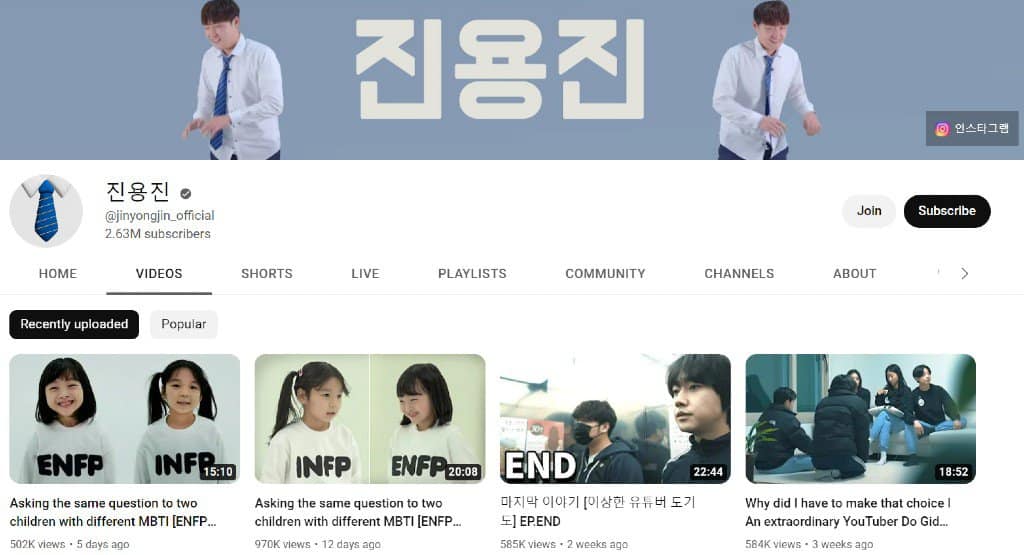 One thing is clear: YouTube can help you level up your creator business by building a deeper connection with your audience and increasing your earning potential. Wondering how to get started on the platform? Next, we'll share a fail-proof framework.
How to Start Your YouTube Channel: A Quick and Actionable Guide
There's no shortage of advice on how to start a YouTube channel. But with so many varying tips and best practices for starting your channel, it can get overwhelming when you're trying to filter the right advice and create your action plan.
We did the legwork for you to create this short and actionable guide on starting a YouTube channel with only the most essential steps. Let's dive in.
1. Determine your niche and build a foundational strategy
The first piece of the puzzle is finding topics you're passionate about and creating a strategy around them.
To succeed as a YouTube creator, you need to consistently publish niche content with unique insights and appeal. So, if you pick a niche randomly—or worse—don't pick one at all, you're setting yourself up for failure.
"When it comes to being a creator, the quality of your content is just as important as the quantity. Far too many people advise just to post six times a day, but that doesn't mean anything if the quality of what you are doing isn't up to par. Quality matters in terms of storytelling, editing choices, and even the length of a video."

Chris Lawrence, YouTube Creator
Picking a niche requires research and self-analysis. You need to know the competition and visibility for any niche you choose. Here are five questions to consider when finalizing your niche:
How much do you already know about [your niche]?
What other creators are already producing content in [your niche]?
How will you position yourself to differentiate your channel from others?
Will you enjoy creating unique content and sourcing insights for [your niche]?
What's the traffic volume for some of the most and least popular keywords in [your niche]?
With this prep work, you can decide the best option for your channel. Try experimenting with multiple inter-related niches and then picking the best-performing one.
Once you've narrowed down your niche, focus on setting the groundwork for your channel. This means performing market and audience research to guide your content strategy in the next steps. This initial research will prepare you to create high-quality content targeted at your ideal viewers.
2. Outline goals and benchmarks for your channel
Creating a YouTube channel is a lot like going on a road trip. Without an itinerary of where you're headed, you might get lost in the middle of the journey.
For YouTube creators, an itinerary includes a set of goals, milestones, and metrics that will help evaluate success. This roadmap helps creators plan content to help achieve those goals and prevents them from going off track and delaying their growth targets.
"My first 30 days, I posted a video every single day on YouTube. This was back in 2020, before Shorts. Each video was around two to eight minutes long. It was a ton of work, but 'putting in the reps' was wildly helpful to learn what worked. For YouTube particularly, I think if you base your topics on SEO keyword research, it's a no-brainer to help you start ranking. Quality will come. Perfection is what kills 99% of new channels, in my opinion."

Dara Denney, YouTube expert
Here are a few best practices to determine the goals, milestones, and metrics for your YouTube channel:
Look at your direct competitors and map their growth to set basic benchmarks for yourself.
Create a big-picture vision for your channel to define where you want your channel to be in a few years.
Break down this big picture into realistic and time-bound goals—these can be a set of quarterly or yearly goals.
Go deeper to establish smaller milestones and timelines for every goal to ensure you have a clear game plan for achieving these goals.
Do a risk analysis and survey fellow creators to identify potential challenges you might face and create a mitigation plan.
Select relevant metrics for every goal and set a review workflow to monitor your progress.
Remember: goal-setting isn't a one-and-done process. You have to revisit your goals and milestones as you move forward and modify them to push harder instead of becoming comfortable.
3. Design an airtight content strategy and start creating
When you know your target audience and core topics, chalk out an in-depth content strategy to create meaningful content.
Listing your preferred topics for an entire week or month at once and batch-creating content can help you maintain a steady momentum and stick to your publishing schedule without breaking a sweat. That's the mantra Matt Gray follows for publishing content across platforms, including YouTube.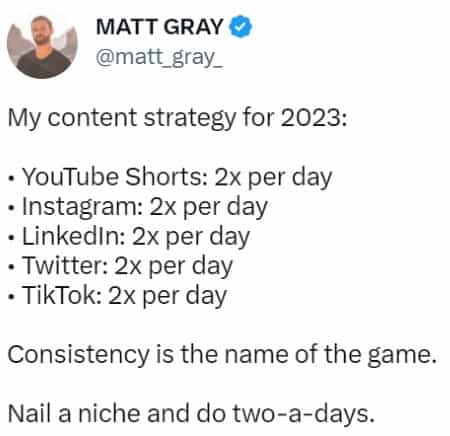 Follow these actionable tips on creating your YouTube content strategy:
Define your core content pillars and list the main goals for each video—educate, inspire, and entertain.
Outline the guiding principles for your content based on what you want to achieve with your channel—build awareness, create a community, maximize revenue, and more.
Decide and divide your topics into these categories:
Hero: massive events or announcements you post about once or twice a year. These are headliners and capture attention on a massive scale.
Hub: the episodic content you post regularly. This aligns with your audience's main interests and keeps them engaged.
Help: these are helpful videos with high search volumes. They aim to attract more traffic by delivering value.
Create a distribution plan to maximize visibility for your content by sharing it on different channels in other formats.
Put simply, a content strategy prevents you from shooting in the dark. It encourages consistency and streamlines your content creation and distribution workflows.
"I try to leverage other platforms like my blog, email, and Instagram to share my new YouTube videos. I use my Community tab (although not consistently) to tease a new video and spark conversations. It's also wise to try to answer each reply, as it helps build community."

Elna Cain, YouTube Creator
4. Create, verify, and optimize your YouTube account
Now that you've created a fail-proof roadmap for your YouTube channel, it's time to create an account and get the ball rolling.
Sign up on the platform or log into an existing account. Go to the menu on the right and hit the Create channel option. Follow the prompts to set up your account and then customize the layout. Add your branding to the channel with a profile photo, banner, about section, and more. You can also customize your channel's URL when you collect 100+ subscribers.
Once these basic details are in order, focus on verifying your account. Note that account verification isn't the same as the verification badge you receive on crossing 100k followers.
Verify your YouTube channel to prove the validity of your contact information to upload custom thumbnails, long videos, live streams, and more.
The final step is about optimizing your YouTube account for a search-friendly presence. While we'll discuss the nuances of YouTube SEO in detail shortly, you can start with these tips:
Create a channel trailer to give new visitors quick context about your content.
Create custom thumbnails with overlay text and your branding to attract more viewers.
Wono, a YouTube strategist, stresses the importance of custom thumbnails and titles…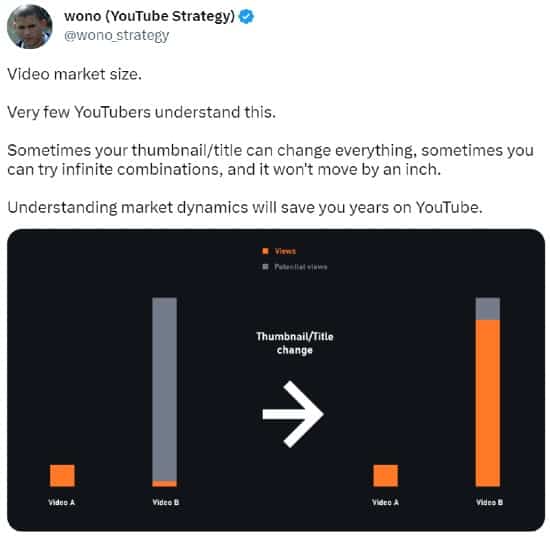 Design topic-based playlists to club together videos on the same themes for a longer watch time.
Choose the most popular keywords in your niche and add them to your channel description.
With that, you've finally started your journey as a YouTube content creator. But it's not over yet.
5. Monitor performance to see what resonates with your audience
The final step in starting your YouTube channel is tracking your progress. Winning new subscribers and watching the numbers on your analytics dashboard grow feels great. But if you want to sustain and scale this growth, you have to consistently track performance and see what's working and what's not.
"Compelling video thumbnails oftenresult in more views. Create ones that are compelling (not clickbaity) but enough to catch someone's eye while they're scrolling and. I use Canva, so I also make sure that any words or font contrast well with the thumbnail to make it pop."

Josh, Host of of The Wild West Extravaganza
As a best practice, choose metrics relevant to your goals and monitor this data to analyze your progress. Besides checking the numbers on the Youtube Creator Studio Analytics, you can:
Add trackable links to your video descriptions.
Split-test different video thumbnails to see what format performs best.
Ask customers if they heard about you via YouTube.
Keep an eye on referral traffic sources from other platforms.
Use social listening tools to see who's mentioning your YouTube channel.
Use this five-step framework to set up your brand-new YouTube channel and diversify your presence as a creator. If you're already posting content on the platform but struggling to increase visibility, the next sections are for you.
How to Increase YouTube Views: 4 Best Practices
Ask any YouTube creator why they stopped creating content on the app, and you'll likely get the same answer: not getting enough views on their videos.
Creators can easily feel discouraged when they don't attract enough viewers to their content. Imagine hours of hard work and creative effort resulting in hardly 500 views. So, we curated these hands-on tips to help you increase YouTube views and watch your channel thrive.
1. Optimize your content for YouTube SEO
SEO isn't the silver bullet, but for YouTube, it's the closest thing to one. Optimizing your content and channel for search can win you higher rankings in relevant searches and increase your visibility.
Here are a few tips to make your content more SEO-focused:
Perform keyword research using tools like Ahrefs and Semrush to identify high-volume keywords with a good reach.
Decide topics and content formats for your shortlisted keywords and incorporate each keyword in the video title, description, tags, file name, and thumbnail.
Add transcriptions and captions to your video to help the algorithms understand your content easily.
Create timestamps for the ease of watching your videos and engaging your viewers.
Selectively add CTAs to encourage viewers to perform the next steps and maximize engagement.
Tap into the power of the world's second-largest search engine to drive more traffic to your channel and add more subscribers.
2. Implement audience engagement tactics
Your engagement rate can make or break your YouTube channel's success. It tells the algorithm whether subscribers enjoy your content or not.
Here's our best advice to ensure you're engaging your audience effectively and giving them content worth consuming:
Hop on the viral trends bandwagon and put your personal spin on it to attract more viewers.
Design catchy and appealing thumbnails supported by intriguing copy to get more eyeballs.
Create short-form videos and repurpose original content into Shorts to maximize engagement.
Regularly interact with your audience through live streams and incentivize engagement through giveaways.
Use techniques like pattern interrupt—a change in the visual style and tone in a video to refocus viewers' attention—in your content to avoid boring your viewers.
Remember: the more seamless the viewing experience, the higher engagement levels you can achieve.
3. Maximize watch time with topic-wise playlists
Watch time is a crucial ranking metric on YouTube. It measures the total time users spend on your channel. Rather than calculating the watch time for individual videos, it counts the collective time spent watching multiple videos from your channel.
If people stick around for a long time, it's a positive indicator of high engagement levels on your channel. As a result, this can bump up your rankings and increase views.
Grouping videos on similar topics or themes is a surefire way to maximize watch time. This allows visitors to consume content and watch multiple videos seamlessly. For example, a finance content creator, Eric Andrews, has designed these topic-wise playlists to educate his audience on different subjects.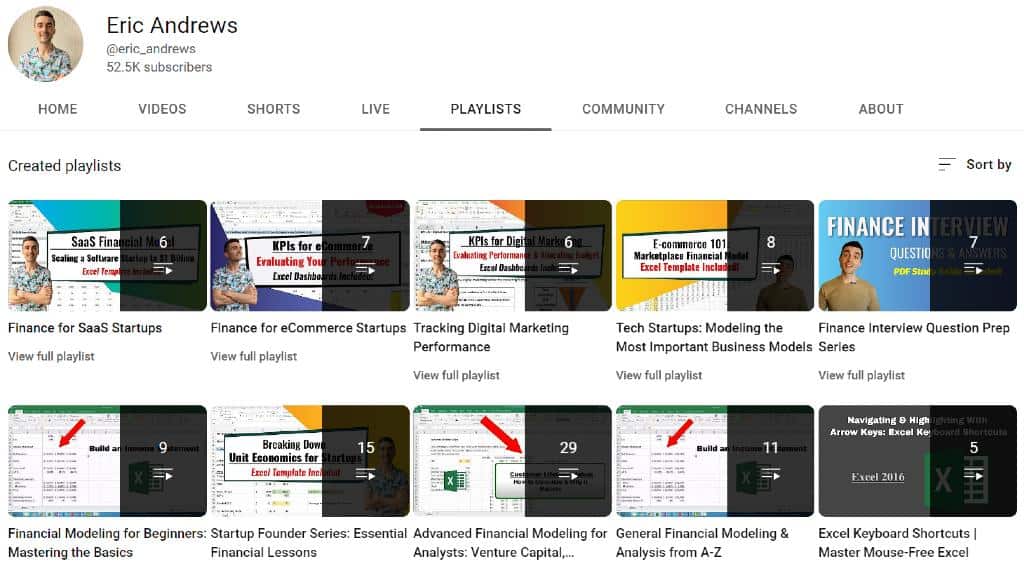 4. Create a distribution strategy to promote videos
One area where most YouTube creators drop the ball is distributing their videos properly. A solid distribution strategy can spread your content across multiple sites and reach diverse audiences, leading to even more views.
Design a steady pipeline to promote every new video on your channel. You can repurpose it into a carousel for Instagram and LinkedIn, a Twitter thread, an email, a blog, and so much more. Choose the most feasible options and then create different spokes to distribute your original video.
Here's a great example from freelance writer and creator, Colleen Welsch. She runs a YouTube channel named The Freelance Writer's Guide and promotes every video on her newsletter and also her Instagram feed.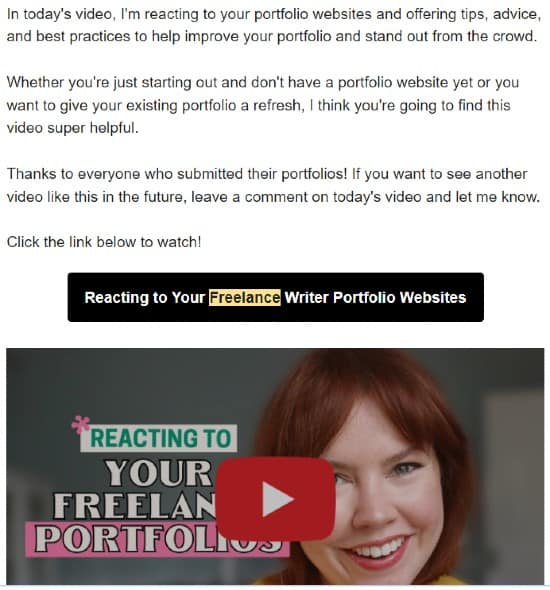 How to Win More Subscribers for Your YouTube Channel
You're getting great views on every video, the watch time is increasing steadily, and the engagement rate shows promise. Now, the bigger question is: how to scale these numbers and grow your channel?
The short answer: adding more subscribers
Getting more views is easy if you optimize your content and promote it well. But getting more subscribers is a long-term process to build enough credibility for yourself and win viewers' interest. Here are four solid ways to do this for your channel:
Make your channel appealing to new visitors
What happens when a user lands on your channel for the first time? They'll either get confused/bored and leave the page or explore different sections and watch your content. If you want the latter (duh!), then you have to design your channel to appeal to these first-time visitors.
One way to do this is by cleaning and organizing your channel. Do regular housekeeping to delete fluff content, re-write descriptions, and create more intriguing thumbnails.
Your channel trailer also plays a critical role here. It has to be compelling enough to hook your viewers and hold their attention till the end. Besides, it should give them convincing reasons to watch more videos and hit the subscribe button.
Invest time and money to improve content quality
Let's face it, you might be losing your viewers to your competitors because their videos are of better quality. Improving quality doesn't necessarily mean buying expensive equipment for your video setup. You can level up your content quality by:
Sourcing unique and fresh ideas to educate/entertain your audience.
Editing your videos for a more professional look and feel with tools like VEED and Filmora.
Creating timestamps to break down the content into skippable sections.
Talking to your target viewers about their preferred content and adjusting your video creation process to match these preferences.
Create irresistible calls-to-action (CTAs) to increase subscriptions
Adding CTAs is a fairly common tactic to add more subscribers. But not every creator uses this tactic properly. You can overwhelm viewers with too many CTAs, confuse them with unclear phrasing, or create zero impact with generic lines.
To hit the right spot with your CTAs, create multiple variations and run A/B tests. This will tell you the overall performance of each CTA and rank all the versions based on their impact.
For example, Max Müller adds a simple CTA in the description of his videos for viewers who want to learn more about the topic.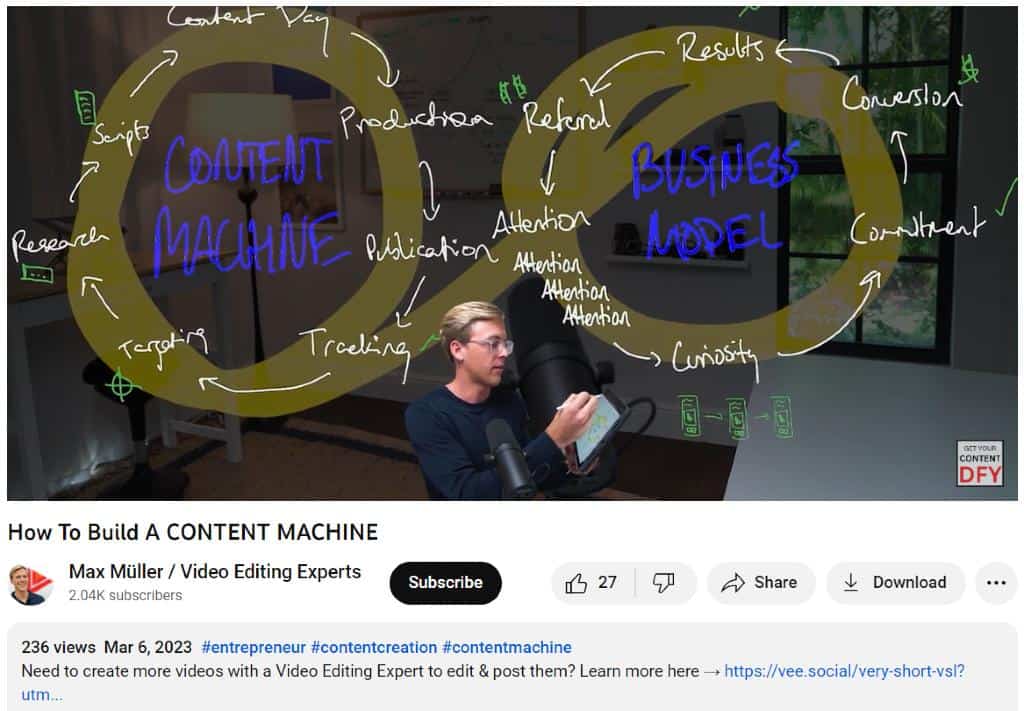 Promote your channel among relevant audiences
Distributing your content can increase views on individual videos. But promoting your channel is a great way to get more visitors to your account and convert them into subscribers.
Reach the right audience by promoting your channel in niche communities. You can also partner with fellow creators to tap into their network for promotion. Besides, don't forget to use your own network to share glimpses from your YouTube channel.
Here's how Kaleena Stroud, a copywriter, and creator, promoted her YouTube in a community of content marketers on Slack.

Measure & Scale your YouTube Channel with 7 Metrics
We've said this before, and we'll say it again: tracking your progress is non-negotiable for success on any platform. But when it comes to YouTube, you might get confused by too many KPIs—which ones to track and how to analyze the numbers?
To eliminate this confusion, we created this list of seven essential YouTube metrics to measure your performance:
Watch time: The total time people spend on your channel watching multiple videos. The YouTube algorithm prioritizes channels with higher watch time in the search results. The Watch Time metric will show you the time for individual videos and also a ranking of all videos based on this value.
Engagement: Includes multiple metrics such as views, likes, comments, shares, subscribers, and more. It measures viewers' interactions with each video and determines the content's ranking accordingly. It also includes the average view duration to indicate whether viewers like the content.
Traffic Sources: Records the traffic coming from external channels. It tells you where users found your channel or video. This metric is crucial to shaping your content distribution strategy to double down on channels driving a large chunk of the total traffic.
Subscriber Growth: This metric tracks the increase or decrease in your subscribers. It also gives you more insight into your subscribers, covering parameters like location, age, gender, and more.
Click-Through Rate (CTR): Calculates the percentage of people clicking on your video. It's a good metric to test the effectiveness of your thumbnails and titles. A higher CTR means more people resonated with the thumbnail/title and wanted to watch the video.
Audience Retention: Indicates how many people watch your video or drop off. The rate is available for every second of the video so that you can get granular insights into the retention and drop-off rates.
Playlist Engagement: Engagement rate for individual playlists. You can learn which topics or themes resonate more with your audience and differentiate the top-performing playlists from the rest. If your engagement rate for playlists is poor, change your approach to increase retention.
Get Ready to Build Your YouTube Empire
Done right, YouTube can unlock the gateway to a stronger community and more revenue for creators. But while most creators start on a strong note, they lose momentum, and their YouTube channel takes a backseat.
So, we created this start-to-finish guide to help creators like you launch their YouTube channel and sustain its growth in the long haul. Remember to be patient and put in consistent effort to see your channel thrive!
Once you've built an impressive channel, set up your Afluencer profile to secure brand partnerships and earn more.