At a time when users are bombarded with ads wherever they go, buyers are more likely to shop from brands with personalized marketing campaigns, and 75% of shoppers agree.
So, how exactly can brands personalize their marketing efforts and establish a bond with their target audience? The short answer: by working with creators.
Creators have become one of the most effective means to help brands reach their buyers, communicate their value propositions, and drive conversions. But how do creators achieve all this, and how do brands work with such content creators?
In this start-to-finish guide, we'll walk you through the concept of the creator economy and explain the role of creators in the modern marketing mix.
What is the creator economy?
The creator economy is the mix of social, economic, and technological infrastructure that enables Creators to monetize their content using digital tools like Twitter, Substack, Podia, and more. It's the intersection of creative talent, technology, and economic growth.
As of 2022, the creator economy market size was estimated at $104 billion, with over 300 million creators building their thriving businesses worldwide.
Creators produce content in different formats, build an audience on one or more channels, and monetize their efforts using technology. The creator economy is rooted in digital platforms that empower these creators to create, refine, publish, and monetize content. It's a new wave of economic growth with creative talent and activity at its core.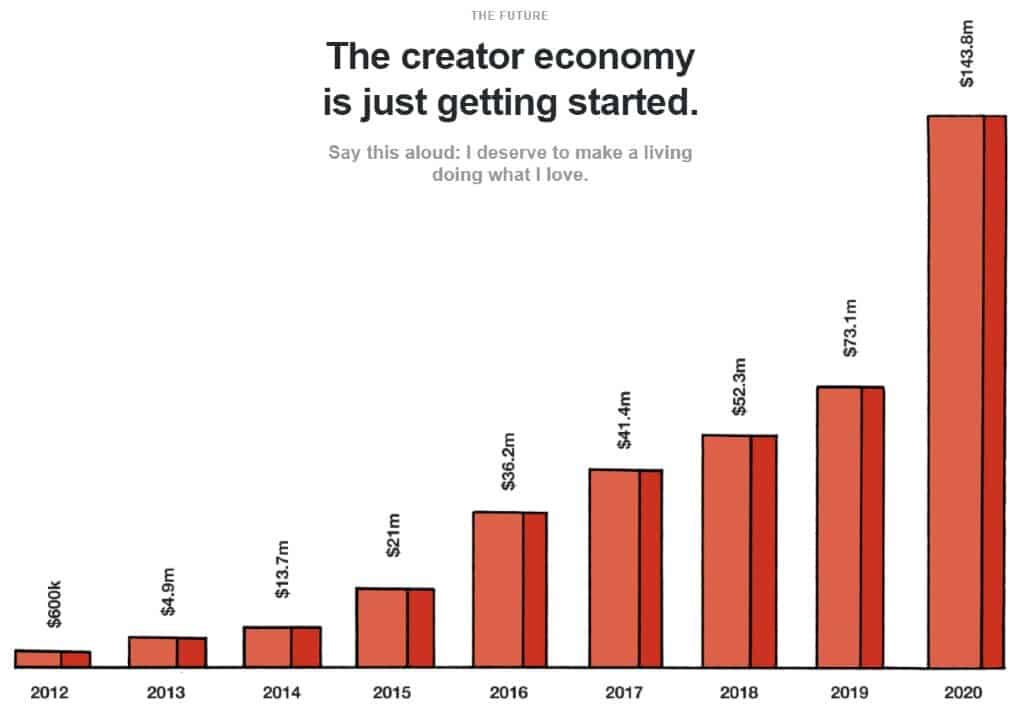 How has the creator economy evolved?
The creator economy is rooted in using creative talent to build a business and make a living. It's a byproduct of technological growth in our times. With easy access to the internet, advanced gadgets, and powerful tools, anyone can become a content creator with the right mindset and skills.
But how did we come here? And what led to the rise of creatorship? Let's trace back our steps to understanding the evolution of the creator economy.
Birth of social media
With the increasing use of social media platforms, people started building their digital identities and online communities. These platforms created new communication channels for users to interact with each other, affecting people's social behaviors and preferences.
Origin of the role of influencers
As social media grew, the concept of "influencers" started taking shape. Anyone with a large following could influence their audience into taking certain actions or performing specific tasks. Influencers could monetize their influence to partner with brands looking to reach their target audience.
The idea of monetizing your identity on social media became a big hit with the newer generations, leading to an increase in macro and micro-influencers.
Rise of creators and creator-owned businesses
While not everyone could make it as an influencer, people continued to create content for different motivations, like expressing themselves, exploring their passions, having a side hustle, and several other ideas.
This growing number of content creators also won the support of social media companies. Almost every platform now has its creator program to fund and encourage Creators to produce great content (more on this later). This growth of creator-owned businesses has now become the concept of the creator economy.
Who are the creators?
Creators produce content in different formats, niches, and styles for a specific audience, distributed through various channels. A creator makes original content to educate, entertain, or intrigue their audience.
Instagram head Adam Mosseri defines a creator as someone whose personality is their brand and who uses platforms like Instagram to turn their passion into a living. They generate new ideas, push boundaries, and drive culture.
But with the rapidly growing number of creator economy startups, creators have become business owners. Their identity is a brand, and their content is the primary offering. They can also use this brand to sell their own products, Collab with other brands, and monetize it in many different ways.
How are creators different from influencers?
People often blur the line between creators and influencers, using these terms interchangeably. While their roles have several similarities, creators and influencers are starkly different. Let's break down these differences here:
Purpose: Influencers post content to maintain a social profile, keep their audience engaged, and nudge people to perform different actions (like buying from a brand). On the other hand, creators publish content to build a stronger rapport with their audience and share their expertise. Their goal isn't always to influence buying decisions.
Content focus: Influencers aim to publish high-quality, picture-perfect content to share glimpses of their lives. Creators, however, post content that might not always be of the highest quality. Their focus is primarily on showing their talents and engaging their audiences.
Partnerships: The biggest benefit of working with influencers is the massive reach brands can achieve through their followers. On the flip side, creators promise more organic brand consideration by reaching a hyper-engaged audience. Their followers trust their recommendations and would willingly buy from promoted brands.
All things considered, creators and influencers are two mutually exclusive roles with a few overlaps in their work.
How does the creator economy work?
The creator economy involves many players, like creators, platforms, audiences, technical support, brands, and more. Let's break down every component of the creator ecosystem to understand how this economy functions.
Creators: These are the people who create content and build a personal brand with a decent following across one or more channels.
Creator managers: These are the people who connect creators with the right brands and companies for different monetary opportunities. They help creators build their networks and manage their commitments with different partners.
Technical support: Producing content involves many technical nuances. To create and publish quality content, creators need technical help—like video editing tools, photography equipment, and editing guidance.
Brands and partners: Once they've built a solid audience, Creators rely on Brand Collaborations to monetize this audience. These brands partner with creators to reach an engaged audience, generate buzz about their brand, and drive conversions.
Digital platforms: Every creator has their tech stack to produce and publish content seamlessly. This stack includes multiple tools they use in their content ideation and creation process. It also includes all the media channels where creators build their brand identity.
Here's what the creator economy market map looks like. This map covers all the tools and platforms creators can use for different needs.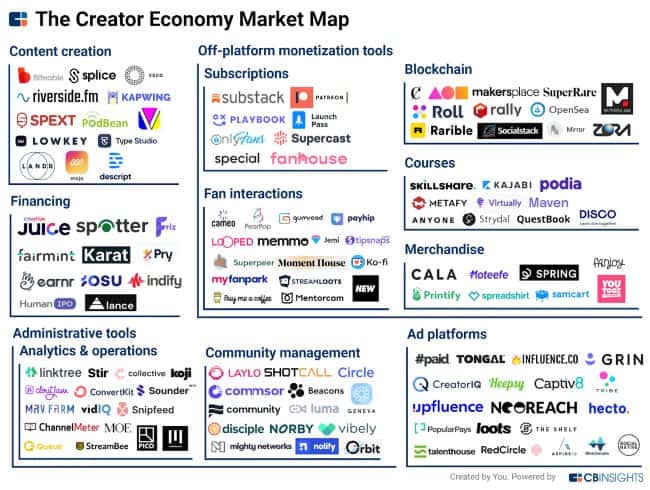 How do creators make money?
Creators have various avenues to monetize their brands and create revenue streams. Once they've honed their craft and established a strong presence on a chosen platform, they can double down on their content creation efforts and make money in many ways.
Here are the five most popular ways creators make money online:
1. Brand sponsorship
Many companies want to tap into a creator's authentic bond with their audience for promotional marketing. That explains why brand deals made up more than 77% of the surveyed creators' earnings in 2021 alone.
These brand sponsorships can take many forms—like a paid promotional post on social media, a sponsored video, a paid newsletter edition, or a sponsored live stream. Creators are paid to talk about these brands and positively nudge their audience toward a purchase.
"Allow the creator to have the freedom to pitch in his or her own way. It's more authentic and will convert better." –Matt Ragland, Creator Advisor
For example, Plan Canada International sponsored an Instagram reel by Shania, a Canada-based content creator, to promote the brand organically. The reel covers the theme of 10 things Shania would tell her younger self for a campaign around Plan Canada's 10th anniversary.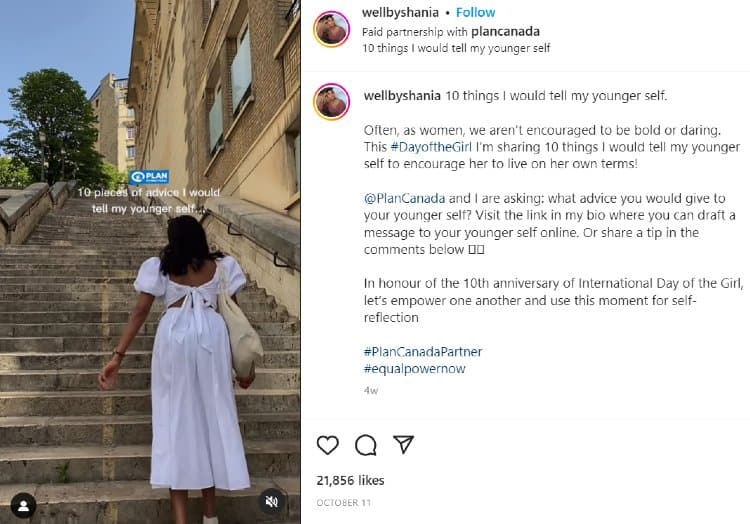 2. Affiliate marketing
Creators can also work as affiliates and earn money through commissions. This works for any business—SaaS-based, e-commerce, brick-and-mortar, service-based, or any other brand type.
Besides directly signing up with these brands' affiliate programs, creators can join popular affiliate networks like Amazon Associates, ClickBank, and ShareASale.
"Negotiate a payment plan that is mutually beneficial where everyone wins, and that fosters an ongoing and positive long-term relationship." –Ashley Cummings, Freelance Writer
Creators can easily break into affiliate marketing—here's a great example. Cely De Rosas, a fashion content creator on Instagram, is affiliated with Lane 201. She can drive more sales for the brand using a personalized coupon code. She's also used relevant brand hashtags to maximize the reach and get more conversions through her coupon.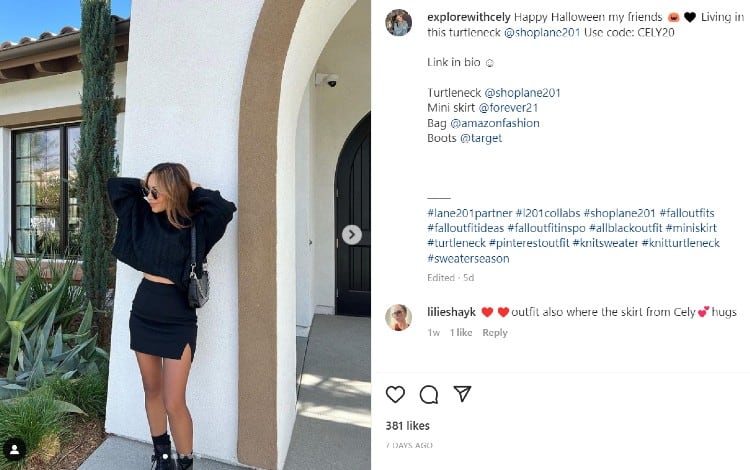 3. Direct sales
Selling your products and monetizing fan engagement are two of the most effective methods to earn big bucks as a creator. Here's how creators use these means to make money:
Fan interaction: Creators can earn well by interacting with their fans through 1:1 calls, recorded videos, Q&A sessions, or other types of engagement. For example, Twitch users can pay streamers to request anything, and YouTube users can join creators' paid channel memberships to access exclusive content.

Here's what YouTube's paid membership option looks like for standard users. Creators can create several tiers within this membership to offer different benefits to their community members.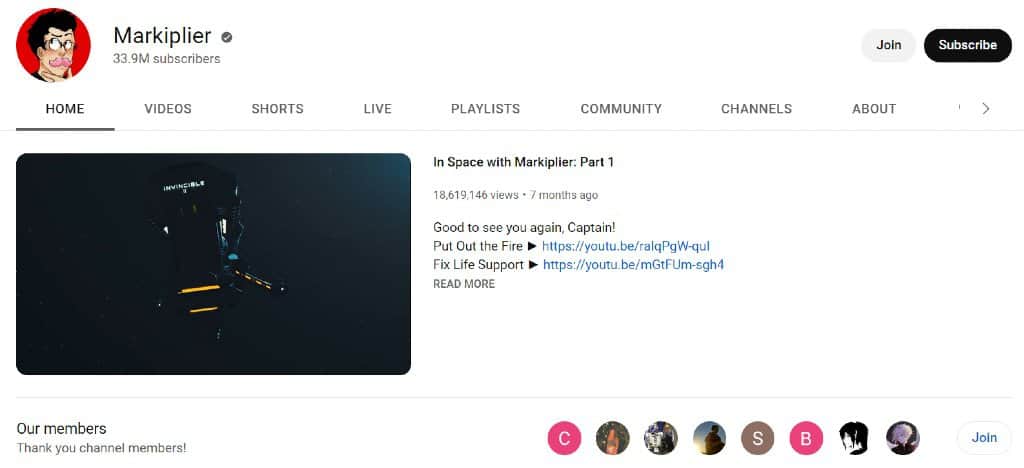 Digital products: Since creators already have a decent audience who trust their expertise, they can create and sell their products. Platforms like Podia, Thinkific, Gumroad, and others simplify the process of selling a digital product.

For example, Charles Miller, a writer, and creator, sells his course on Gumroad in two different formats: one with just the course and another with the course and community access.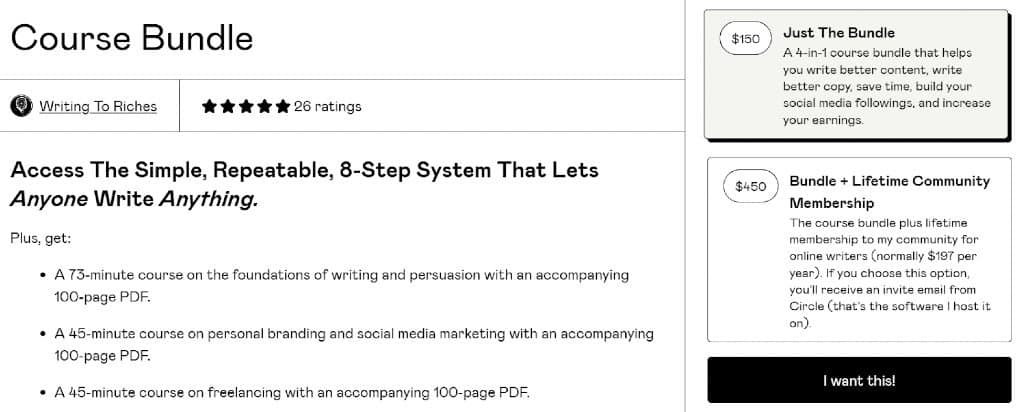 The bottom line: Creators can monetize their audience and skills to make direct sales and earn more revenue over time.
4. Subscriptions and memberships
Selling subscriptions takes the idea of selling fan interaction to the next level. It's when creators charge their audience for some exclusive content that's not available for free on their social profiles. The element of exclusivity encourages loyal fans to pay for this content or membership.
While platforms like Substack, Twitch, and YouTube already had the option to sell subscriptions, Instagram and Twitter allow creators to sell paid memberships now.
According to creator economy statistics, the largest share of the revenue for Patreon members came from subscriptions on the website. This shows how powerful paid memberships can be for creators to scale their earnings.
5. Direct platform funding
Every media platform wants to retain marquee talent by directly funding the top creators. Most of these channels have a dedicated Creator Fund to invest in quality content creators and maximize user engagement. For example, Meta's Creator Fund is spending $1 billion based on different parameters on Instagram and Facebook.
This platform funding has become another major source of earnings for many successful creators. Now, they can diversify their content and build a strong audience across platforms to multiply their earning potential.
Role of social media platforms in the creator economy
The changing media landscape has played a huge role in the growth of the creator economy market size. Social media platforms are fuelling creative talent by introducing creator-friendly features, more nuanced tracking analytics, and funds to monetize their content.
Here's how different social media platforms have contributed to the rise of the creator economy:
1. YouTube
While YouTube was one of the earliest avenues for creators to express themselves and build an audience, it didn't have enough monetization options. For the longest time, ads were the only way a YouTube creator could earn through their content.
But with the YouTube Partner Program (YPP), the video-sharing app offers creators varied options for the platform's resources and monetization opportunities. As a part of the YPP, creators get access to:
Support teams: to help creators get the best out of YouTube, troubleshoot any issues, and get valuable tips.
Copyright match tool: to avoid copyright violations and identify videos violating your copyrighted content.
Monetization features: like super chat, channel memberships, music licenses, super thanks, ad revenue, and more.
Through YPP, YouTube supports its creators to gain more monetary value from the platform and continue building their community.
2. Instagram
Instagram has launched a series of features to help creators produce unique content in different formats and engage with their audience. With the Instagram for Creators program, Meta guides content creators to do more on IG and maximize their creatorship value.
Instagram for Creators offers multiple sources of earning, such as:
Branded content: to have paid partnerships with your chosen brands.
Badges: go live and ask viewers to buy badges to support you.
Shopping: sell merchandise directly on Instagram with a personalized storefront.
Bonuses: hit milestones with your activity and engagement to earn bonuses.
Subscriptions: convert followers into paid subscribers with access to exclusive content.
Besides this program, creators can also use IG for affiliate marketing and direct sales through their audience.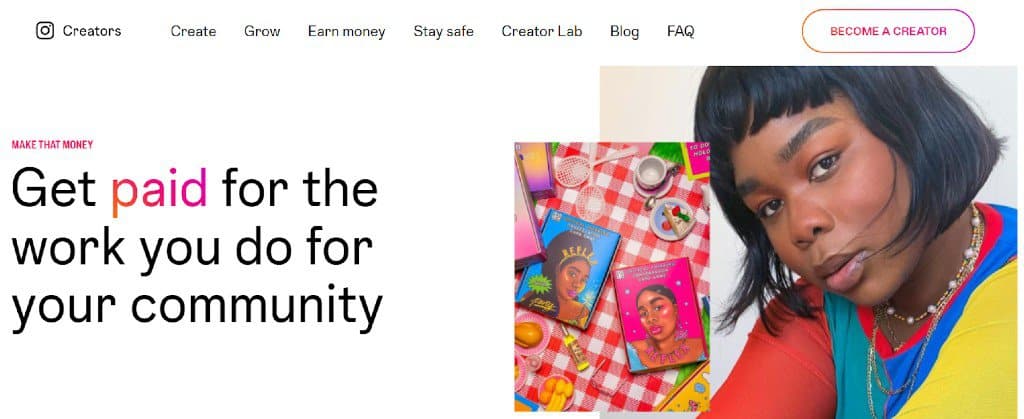 3. Twitch
Twitch Partner Program is designed specifically for different types of streamers using Twitch to build their creator economy companies and go beyond affiliate sales. The program empowers all kinds of creators—gaming, music, art, and more—to establish a strong audience and monetize it once they meet the eligibility criteria.
Creators in this program can earn money through:
Bit badges and Cheermotes
The program also allows creators to customize their channels according to their brand features. So, they can create custom emoticons, badges, user badges, and similar design elements.
4. TikTok
TikTok Creator Next program is another fund to support creators on TikTok through multiple rewards and earning opportunities. Qualified creators can earn through their TikTok content through:
LIVE gifts: to get gifts from fans during live streams that can be turned into coins.
Tips: to collect direct money from fans through a virtual tip jar.
TikTok's Creator Program incentivizes content creators at different levels to keep publishing quality content and building their audience.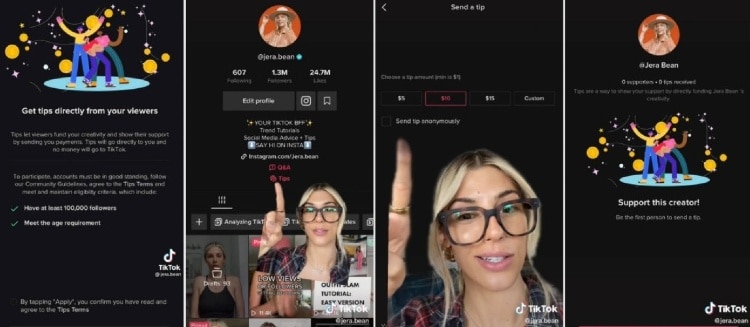 5 best practices for brands to leverage the creator economy
Kettle + Fire is an e-commerce brand that sells cooking broths. On their Instagram page, you'll find many reels and posts created in Collaboration with food creators. These posts cover various themes, like the benefits of bone broths, recipes using bone broths, and product reviews.
By Collaborating with such niche creators, Kettle + Fire expand its reach to a broader audience and get more eyes to its IG content.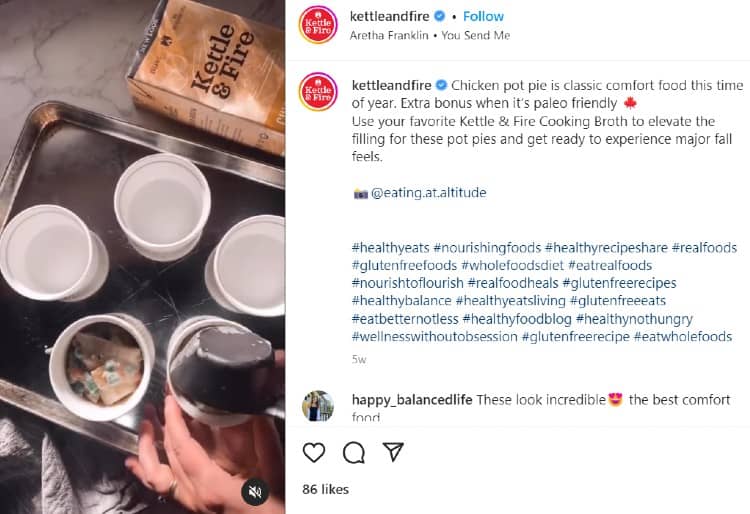 But Kettle + Fire is just one example of brands getting great ROI by tapping into the creator economy. If you want to join the list and embrace the benefits of creator marketing for your business, here are five proven practices of working with creators:
1. Define your campaign goals and budget
First things first: establish why you want to launch a campaign with creators. Brainstorm and discuss with your team your main goals for working with creators. Some potential goals can be to:
Boost brand recognition
Establish credibility
Break into a new market
Get more eyes on your business profile
Build hype around a big news
Make sure you're crystal clear on your goals for any creator marketing campaign and don't shift gears once the campaign is underway. With enough clarity on where you're headed, you can communicate your expectations better and decide on the right metrics to evaluate the creators' performance.
Once you've selected the goals for your campaign, spend some extra time to finalize its budget. This will ensure you stay within your financial limits to hire and manage creators.
2. Create a meaningful content strategy
When you have a list of goals, it's time to lay down a content strategy for achieving those targets. A content strategy ideally defines the channels you want to target, the content formats and themes you want to cover, and the number of posts you want to publish.
Your content strategy will also define the deliverables you get from the creators. For example, if you've decided to create five IG reels and five TikTok videos, you can find the right creators from tools like Afluencer and give them a definite set of deliverables to work on.
Do your research to create this content strategy. Look at what your competitors are doing and how different brands have tapped into every platform for creator Collabs.
3. Explore different ways of working with creators
Now that you have your goals, budget, and content strategy, you can focus on outlining unique ways of partnering with creators.
As a part of a Brand Collab, a creator can:
Make a sponsored post promoting your business
Co-host a live stream on any social media platform
Act as an affiliate and offer a discount code
Post educational content or reviews about your brand
Don't stick to what everyone is doing. Experiment with your chosen creators in every campaign and analyze what drives the best ROI.
4. Partner with multiple creators from your niche
Diversify your campaigns by working with multiple creators with unique styles and varied audiences. Find niche-focused creators from a database tool like Afluencer in a few easy steps. Set filters for different factors to identify your perfect candidates, like channels, location, languages, and more.
Once you confirm their interest in working with your brand, send them a detailed brief with a list of campaign goals, brand values, deliverables, timelines, and payment terms.
After the campaign goes live, track every creator's performance to see who's producing great results. Keep the good ones in your roster for future prospects.
5. Work with a creator management agency
Directly working with creators can be a hassle for many brands. The paperwork and micro-management can become too much to handle. An easier alternative to this situation is hiring a creator management agency.
Such an agency would understand your requirements and hire the best-suited creators for the campaign. They'll be responsible for all communication and management with the creators. With their experience in the industry, these agencies can find you the ideal creators and make your marketing campaigns a breeze.
Let creators do the talking for you
The creator economy is only growing bigger and better. It's introduced a paradigm shift in how users consume content and brands market themselves.
Businesses can partner with creators to build a more authentic connection with their target buyers. To start working with creators, you first need to identify your best-performing social media channel—where most of your customers hang out. The next step is to find brand-fit creators who can educate or entertain your audience.
When choosing creators for any campaign, pick a diverse mix instead of creating uniform content. Give them the creative freedom to interact with their followers in their style and hit your campaign goals!