Get ready. Get set. And post your collab on Afluencer.
Thousands of influencers are waiting.  Ready to connect.  Ready to whip out those hashtags and hot posts?  And ready to promote your brand.
All that's needed is for you to drop a hot collab offer through our newly released Afluencer app.
In this Getting Started Guide, we'll walk you through all the steps on how to get your collab posted on Afluencer:
So let's jump straight into it.
1. Complete Your Brand Profile First
First things first, you'll need to get your brand profile completed before posting a collab on Afluencer (skip on to the next step if you've already done this).
What is your brand all about? What products or services do you sell? And where can influencers check your brand out?
Make it easy for influencers to answer these questions through your brand profile.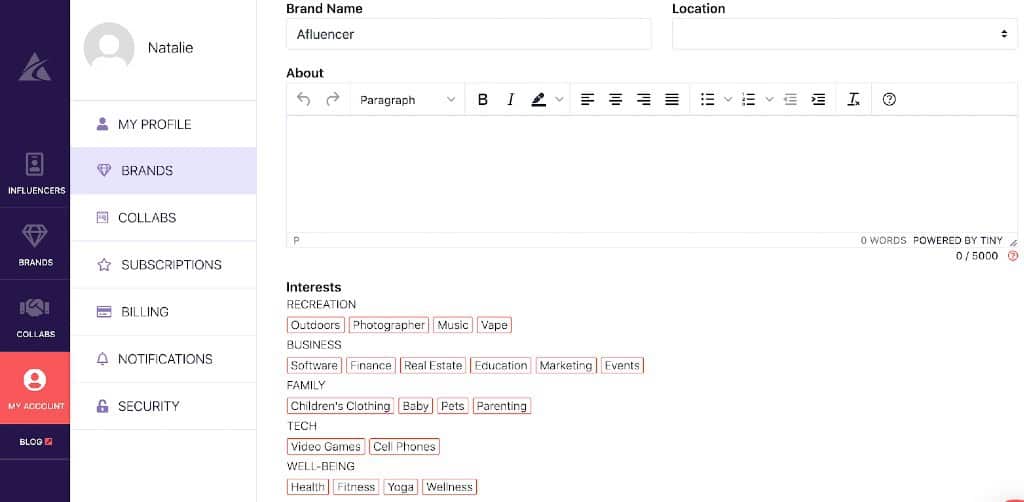 Log into your Afluencer account here (If you don't already have an account, then you can sign up here).
Click on My Account > Brands > Create a Brand.
Upload your Profile Photo (ideally your logo) & Cover Photo (a showcase of your products).
Fill in your Brand Name.
Enter your Location.
In the About section, provide information about your brand and also the kinds of products or services you sell.
Select your Category Interests relevant to your brand.
Link your brand's social media accounts.
Remember to hit the Save button.
To see your brand profile, click on View Profile at the top of the page.
2. Create a Collab
And now for the fun stuff. Creating a collab on your Afluencer account!
First things first, sign in to your brand account right here.
Click on My Account > Collabs > Create a Collab

Enter your Collab Name – a catchy title that attracts your target influencers. You could mention your niche and the type of products your brand would like promoted.
Select Brand (the brands you've registered on Afluencer will appear here, so select the brand you'd like to link this collab to) and hit Create.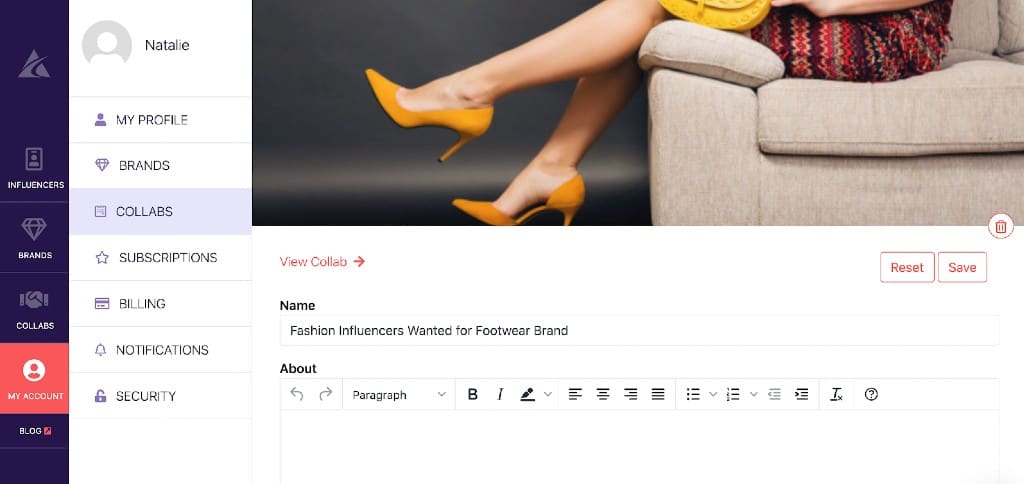 Upload a Cover Photo for your collab. Take this opportunity to display your brand's products or services – so influencers can see what they could potentially be promoting if they collaborate with your brand.
Fill in the About section. Consider this your pitch to influencers. Before you can get influencers to promote your brand, you need to win them over first. Highlight all the appealing things about your products. Make your target influencers excited to collaborate with your brand.
The great news for premium members is that you can use the brand feature coverage created by our team in this section.
Should you have detailed requirements and influencer deliverables for your collab, you can also include them in the About section.
Do you want influencers to create product flat lays? Should influencers create videos? Should they write a blog post? How many pieces of content do you require them to publish? In the About section of your Afluencer collab details, you should highlight the key expectations you have of your influencers as well as entice them with all the benefits of collaborating with you.
3. Influencer Criteria
In this section of your collab details, you'll need to set the minimum requirements of the ideal influencers you want to partner with on Afluencer. Be careful not to overshoot reasonable criteria as you run the risk of losing potential influencer fits. And on the flip side, if you don't set essential criteria you could be mismatched with the wrong influencers.
Keep influencer criteria as practical as possible.
Remember that the goal of setting influencer criteria is to match your brand with the right influencers in order to create successful collaboration partnerships.

Locations
Here's where you can recruit influencers based on their location.  You can leave it blank to set it as worldwide, or you can select specific countries.  The influencer location you set essentially should be in line with your target customer location.  Keep in mind your shipping destination capabilities as well as limitations on products in certain states or countries.
In other words, your influencer location should be the same as your customer location.

Interests
Select the influencer interest categories that match your brand's products or services.  Most of the time, this can be pretty straightforward, especially when selecting primary categories.  However, do consider the possible secondary categories that could compliment your target audience's reach.
Note: The Interests selection is limited to free users.  Upgrade your account to enable more categories.

Channels
Select all the social media channels that you require influencers to be active on. More social platform integrations are being added to this list. If there's a particular platform currently not on the list that is important to your collaboration, you can highlight this influencer requirement in the About section.

Minimum Reach
Here's where you can set the minimum number of followers you require influencers to have. Are you looking to reach nano influencers, micro-influencers, mid-tier influencers, macro-influencers, or mega-influencers?
Not sure?
Here's a short summary of the types of influencers and their benefits:
Nano-influencers (1,000-10,000 followers). These influencers are new and experimental with their content creation. Their audience is small, however, they may have high engagement rates. Nano-influencers are generally the most affordable group to collaborate with.
Micro-influencers (10,000-100,000 followers). These influencers have a growing following around a particular interest and have developed a relationship with their community of followers. Engagement rates with micro-influencers tend to be very good making them favorable to work with for brand collaborations. These influencers are cost-effective to work with.
Mid-tier influencers (100,000-500,000 followers). These influencers have more experience up their sleeve – from their content creation capabilities to their brand collaboration portfolio. Whatever their niche, they have a strong and growing audience around it. Mid-tier influencers give brands an opportunity to reach large audiences, thus making them an affordable alternative to macro-influencers.
Macro-influencers (500,000-1M followers).  Want to reach larger audiences?  Then collaborate with macro-influencers.  These influencers have established content creation capabilities, and professional collaboration skills, and have developed a reputation in the industry.  These influencers are in demand and you'll more than likely need to offer competitive perks to collaborate with them.
Mega-influencers (1M+ followers). Determined to get your brand in front of as many people as possible? Then you need to go big with mega-influencers. Their potential reach is millions and these influencers come with the most expensive rate cards. They're popular, may even be celebrities, and are very selective with the brands they choose to work with.
A general rule of thumb regarding influencers:
The greater the number of followers, the more experience the influencer has, and so the more money you can expect to pay them per post.
While on the flip side, the smaller the following, the higher the influencer engagement rates as they are more accessible and they're even more affordable.
Age Group
Select the audience age group preference of your influencers. Again, keep in mind the age group of your brand's target customer reach.
Gender
Select the applicable gender categories that best represent your brand's potential customer base.
4. Influencer Perks
The influencer criteria you set determine how you choose your influencers.  Meanwhile, the influencer perks you offer determine how influencers choose your brand.
A great reward package will attract quality influencers to apply for your collab. So try to offer top perks to get top influencers.

Pay-per post. Select the budget range of what you're willing to pay per post. This is a favorable reward method to attract influencers with quality audiences. The higher your budget, the better-skilled influencers with sizeable audiences you'll attract.

Commission.  Would you like to reward influencers with commissions on sales?  Then try setting a percentage or a fixed amount as your commission offer.  This method is an ideal offer for nano-influencers.
Alternatively, you can offer both pay-per-post and commissions as your influencer incentive package.
Do you offer influencers other perks?
Highlight all the rewards on offer in the About section of your collab details.
5. Matching Mode

Here's where you can set up how the Afluencer system will permit influencer applications for your collab.
Select "only users who match the selected criteria can apply" provided that you have well-defined your influencer requirements. Influencers that do not match your criteria will not be permitted to apply.
If you'd like to manually sift through applications at your discretion, then you can select "anyone can apply" to open your collab up to any influencer.
NOTE: PRIVATE VS PUBLIC COLLABS
Brands have the option to set their collab as Private or Public.
A Private Collab is invite-only where brands can invite influencers to apply directly.
A Public Collab is visible on the Afluencer platform and is promoted to all qualified Afluencers on the Brand's behalf.
6. Publish Collab

Great news! Your collab is now only a click away from going live.
All you need to do is set it to Active and hit the Save button.
Your collab will then be published and visible to our Afluencer network of influencers searching for collab opportunities. And if you're a premium member, then your collab will get priority coverage throughout the Afluencer network.
Not ready to go live?
If you're not ready for action just yet, you can set it to Inactive and hit the Save button. You can find all your existing collabs available for you to edit under My Account > Collabs.

7. Next Steps
Congratulations!  If you've activated your collab, then it is now LIVE and ready to start receiving applications from influencers on our Afluencer platform!
View Influencer Applications
You'll be notified via email as and when influencers apply for your collab.
View applications under My Account > Collabs. Select the collab and click on Applications.
Here you'll be able to view and manage all influencer applications. Decline or approve applications, or engage with influencers directly to discuss the collab further.
Invite Influencers to Your Collab
If you'd like to fast-track all the action, then you can personally invite influencers to apply for your collab. To do this, make sure you are signed in to your Afluencer account and then click on Influencers. Browse and filter through influencers as you like, select the influencer profile you're interested in, and hit the Invite to Collab button.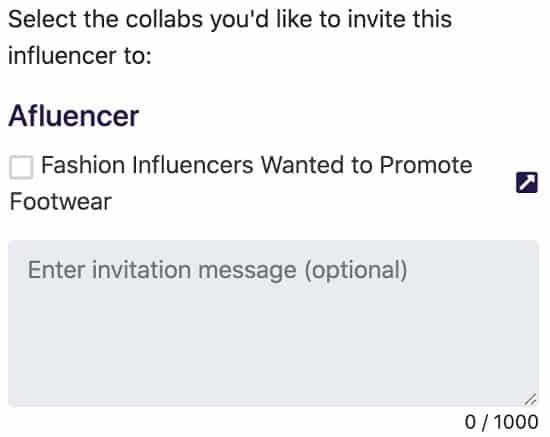 Select the collab you'd like to invite the influencer to and you can also include a custom invitation message.
The influencer will receive a notification of your invitation and if they're interested in your collab they will apply.
Note: Free members have limited daily influencer invitations (1 influencer per day). Upgrade your account to access more influencers.
Premium Brands on Afluencer
Due to the high number of collabs posted on the Afluencer platform daily, we offer priority visibility and reach to our premium members. Premium members will enjoy boosted coverage throughout our network with priority category listings, increased collab capabilities, as well as increased access to influencer applications and influencer invitations.
A premium account is ideal for brands looking to level up their influencer marketing efforts with superior coverage.  View available offers here or under My Account > Subscriptions.
Need Help Posting Your Collab on Afluencer?
If you need further help with posting your collab on Afluencer or have any questions, then you can contact our support team.