It's 2023 and your goal is to land at least 1 brand collaboration this year. It's a solid resolution by the way – totally achievable. So, you've done your research and realized that Afluencer is the place to be… we like the way you think 😉
What better way is there to get selected for collaborations, land awesome brand deals, or maybe even score a feature on Afluencer (look at you making the big time)? At Afluencer, we understand that when you first get started, getting a brand to see you can sometimes be tricky. On our platform, brands can spot you faster than you can say "like and subscribe" and soon you'll be rolling in that Collab money.
Why Sign Up with Afluencer – A Recap
Just as a reminder, here's why signing up with Afluencer is a good idea:
Brands are looking for influencers and vice versa. We make it easier for you two to find each other… call us the Tinder of influencer marketing. You'll have access to all kinds of brands from the moment you get started with Afluencer, helping ensure that everyone can secure a deal.
Our database consists of thousands of brands and influencers and continues to grow. Everyone is welcome. We've got brands and influencers from every corner of the globe.
You don't need to have thousands of followers to sign up with us. You can start from zero and eventually grow your influence with us. We feature influencers often and you could just be one of them.
In order to easily find brands and campaigns, you need to be able to know how to do exactly that! The design of our app and website ensures easy navigation. Among our many features, we've also got filters to narrow down your searches.
Top-Quality Customer Support
From our newsletters to custom emails and so much more, we make it our top priority to make sure you get all the help and info you need. We're also reachable via live chat, email, phone, and social media.
Launching Your Afluencer Profile
Right, let's get to it.
1. Sign Up, Create, and Complete Your Profile
If you haven't yet, sign up as an Influencer. Just follow the steps – we like to keep things super simple and straightforward 🙂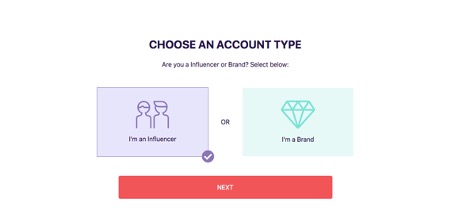 Once you've signed up and created your profile with some of your basic deets, it's super important that you Complete Your Profile.
List your location (must include your city)
Select your interests
Upload your avatar
The whole point is to make it easy for brands to find you. Having all your info in one place is a great way to do this. It will also make it easier to start collaborating with brands on Afluencer (deets on how to do that down below).
As an influencer, it's crucial that brands are able to view your work with ease. Afluencer allows you to put links to your socials on your profile, as well as provide important information that brands are looking for, such as your engagement rate. Brands will also be able to see which social media channels you're on at a glance.
If you're posting content on Instagram, Facebook, YouTube, Twitter, and TikTok, get connecting!
We often get asked by influencers first getting started on our platform if they can connect Instagram directly with Afluencer. You do have to connect with Facebook first (sorry, these are their rules as owners of IG).
Fortunately, you can connect IG with FB (and then with Afluencer) in three quick steps:
A. Go to Instagram and follow these steps to make sure you have a Business or Creator account.
B. While on Instagram, follow these steps to connect your IG posts to your FB page.
C. Then you can connect FB (and IG) to Afluencer via My Account – Social Media.
Click "Continue as…" your name and follow Facebook's prompts to connect.
Another huge plus benefit of connecting your socials like Instagram when you get started with Afluencer is that this allows us to verify your information for Brands. This makes you eligible for more Brand Collabs (a good thing!)
Here's some inspiration to connect your socials… take a look at Olga's profile and all the info available that brands are just waiting to soak up…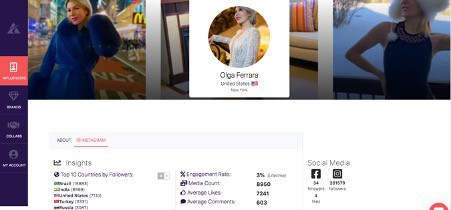 Aka the Money Maker! Here you'll find all sorts of brands looking for all sorts of influencers. All of the opportunities listed here will have full details such as what type of influencer the brand is looking for, which social media channels they're interested in, the minimum number of followers required, age group, and how much they're paying, to name a few.
Scroll through to find programs of interest and ones which you qualify for. Click View. Take a more in-depth look, and if you're still keen, scroll down to the bottom and click "I am Interested".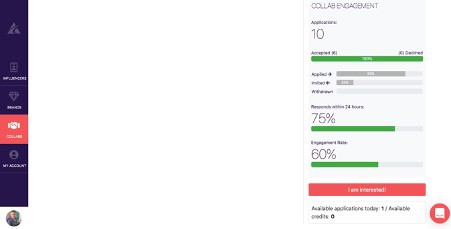 BONUS TIPS
If you really want to stand out from the crowd, you know, be a little extra, here are some other tips to really make the most of your Afluencer profile.
4. Add a Little Flair
Zhuzh up your "about" section, add important and relevant keywords such as fitness, beauty, or wellness depending on your niche. You'll find more great info on getting started with Afluencer in this awesome piece on Optimizing your Profile.
5. Accepted to a Collab? Message the Brand!
First off, congratulations! Affirm your commitment to the partnership and send the Brand a nice message. Simply go to My Account – My Collabs. You'll see a green envelope icon. Click on it to open a chat window with our awesome brand rep.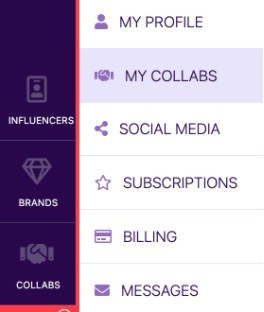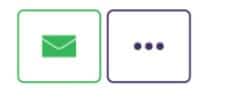 5. Tag the Brand
Once you've completed your part in the Collab, tag the Brand and send them a message with the link to the post, story, etc. This will let them know where to find it, show them that it's done, and is a great way to 'end' the Collab. Staying on top of comms with the Brand will inspire confidence and hey, it could be the start of a long-term Collab! Hello, repeat business!
Getting Started with Afluencer: More Like Skyrocket Your Influence!
As you explore our website and App and get more acquainted with all our features, you'll soon find why Afluencer is a must-have in any serious influencer's arsenal. Remember that it's important to stay on top of your profile – update it as you grow and evolve, and stay active on it.
We're also constantly adding new features to improve our service so stay tuned for updates!
Follow all these tips and that goal of securing at least 1 brand collaboration in 2023 will soon be achieved and surpassed. Here's to crushing the influencer game!
Wanna start earning money as soon as you've set up your profile with us? Review Afluencer and get a $25 Amazon gift card! All you've gotta do is give a detailed, balanced, complete review. We'd appreciate your feedback 🙂 Getting started with Afluencer – you've really got nothing to lose… 😉