Next stop, Italy! Here you'll find multi-talented Italian influencers who seem to instinctively know how to create feeds that are pleasing to the eye. Beauty, fashion, music, lifestyle, travel, and so much more! There must be something in the water… whatever it is, you will certainly want these guys on your team.
Now let's get Collabing!
We're headed to Italy so that should already conjure up beautiful Mediterranean scenery in your mind… Let's kick things off with an Italian travel influencer whose IG page looks exactly like that and more…

A creative as far back as she can remember, Federica Sbordone is an Italian influencer and YouTuber based in Rome. She certainly loves a good brand Collab and is always sure to give a personal touch and honest opinion.
Content
Although she has content across Facebook, Instagram, Twitter, and YouTube, her primary medium is Instagram. This is where her 33.7k followers can find content on beauty, fashion, and lifestyle. She's got everything from makeup tutorials to hair care products, fashion discount codes to wish-I-was-there travel pics. She has had great success with brands in industries related to her content, so you really can't go wrong with Federica.
Also, her Instagram page looks very warm, no matter the season. It's like a little happy place.
---

Amateur Photographer. Blog writer. Content Creator. Beauty and Fashion Influencer. Future Collab Partner 😉 Erika wears a few hats and she wears them well. Being under 5'2", she considers herself petite and has a goal to help women of the same stature make the most of this characteristic, turning it into a quality they love.
Content
This Italian influencer has her 37k+ followers covered when it comes to beauty and fashion. Erika loves a great bikini pic (who doesn't) and is always in one cute outfit or another. She makes sure to share where she got them from and also lets us in on any discounts (good deals are always welcome)! She is also sure to provide plenty of skincare and makeup content – the 2 go hand-in-hand of course!
Her captions are always full of detail – whether she's providing product benefits or sharing what makes her happy. There is clearly a desire to authentically connect with her audience and that's probably what we love most about Erika. Collab gold right here.
---

Viviana is an Italian influencer and lifestyle blogger with Italy at heart.
Content
Another one #djkhaledvoice.
This feed is simply gorgeous. Sophisticated. Polished. 100% Italian-inspired. From skincare to makeup, fashion to travel, and face masks to lifestyle, Viviana's content is always perfectly executed. Almost as if it's wrapped with a bow and delivered by the Content Concierge wearing white gloves. It's the finer things in life.
Unlike many other influencers, Viviana herself rarely makes an appearance in her content except through her captions. You'll find either products or models in her images. This leads us to believe that Viviana is all about the product and the message.
Her captions are in Italian and her content celebrates all that is Italian. If you're looking for Italian influencers who put their people and products first, then this could be the Collab of your dreams.
---

Representing Cameroon and Italy is soccer referee, Paul Nanfah. He's based in Italy… and if sports is your thing, then you've come to the right place!
Content
As if soccer wasn't thrilling enough, Paul brings an incredible sense of humor to the sport that will make you fall in love with it (and him) even more. You can look forward to a constant flow of entertaining Reels (in Italian), as well as a look into bits of his life. Altogether, Paul's Instagram page is one you will want to follow.
Oh and guess what? You can also find Paul on YouTube where he currently has almost 230k subscribers. This is one influencer you certainly don't want to miss out on.
Collabs
Paul Nanfah's career as an influencer is set to continue skyrocketing. His Instagram engagement rate is high and steady, and there is always great content to be made in the world of sports. No red cards here. This is a gold mine of content yet to be explored.
---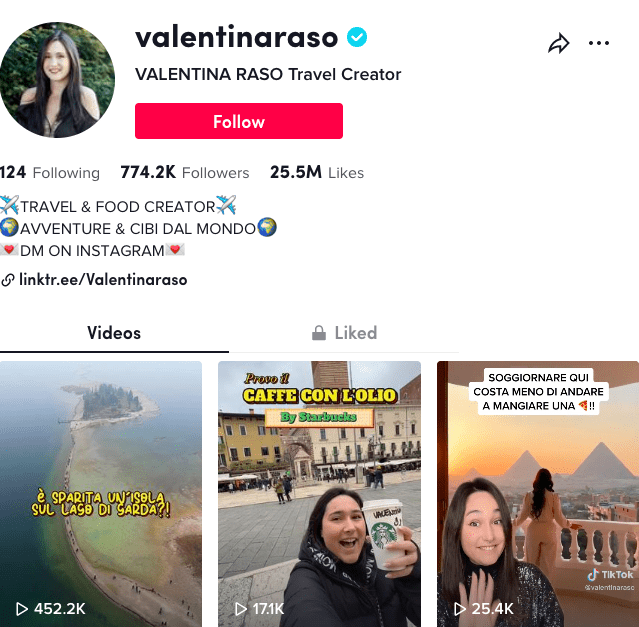 Meet Marketing and Advertising Communication grad, Content Creator/Influencer, and Social Media Manager – Valentina. This Italian travel influencer has a goal – to take you beyond the usual travel itinerary and instead BLOW YOUR MIND with spectacular places, experiences, and traditions.
Content
Where do we begin? Let's head over to her verified TikTok account where you will find videos that ignite that possibly long-dead wanderlust in you (queue "where is my passport" thoughts). You don't need to understand Italian to know that what she's showing you is totally amazing… and yes, her content is in Italian.
Over on Instagram, you will find a whole lot of travel-inspiring Reels and pictures. Her captions are almost always detailed – ensuring that you have all the deets you need. Here too, her content is in Italian. So you have come to the right place if you're looking for Italian influencers specializing in travel.
Collabs
We love Valentina's upbeat and enthusiastic delivery of content and we have no doubt that you will too. You know what to do to get her on your team.
---

This Italian influencer is a dog lover with a passion for both fashion and beauty. On Insta, she's got over 25.1k followers and a great engagement rate of 3.2%.
Content
Let's talk about her fashion posts because they really are to die for. Her outfits look as if they've been put together with minimal effort, 'coz she's just cool like that, but still appears fashion-magazine-worthy. Rosy has also teamed up with fashion brands. You certainly don't want to miss out on this!
Her beauty posts are just as inspired, serving us makeup looks we didn't know we needed. FYI blue eyeshadow has been elevated from what it was in the 80s and now looks amazing!
Her many followers can also enjoy a peek into Rosy's life – her boyfriend features frequently, as well as her two Siberian huskies. We live this combo of glam and real life.
---

Last but certainly not least in our round-up of Italian influencers is Nico Senatore. How does he bring out his creative side? By sharing his love for music, men's fashion, and so much more.
Content
Off the bat, his love for fashion is clear. Nico keeps it simple with the basics brought to life with well-placed color. As a singer, the content surrounding music is also big on his Instagram page. He makes sure to tell his 16.9k followers when a new song cover is out. Who doesn't love a good song cover?!
Nico has worked with brands in both the tech and fashion niches, and we have a feeling he's only getting started. If you're looking to Collab with Italian influencers on the rise, then get in touch with Nico.
---

Meet Gabriela Iacomi. She's based in Venice, Italy is a model and also loves being behind the camera, even calling her camera an extension of her arm and heart.
Content
Whether she is in front of the camera or behind it, this Italian influencer's content is a work of art. She's another influencer who has expertly blended her job and her passions to create amazing content. Her focus is fashion, beauty, and lifestyle content. Sometimes she posts GRWMs, makeup tips, fashion tips, product reviews, her doing her thing as a professional model, and so much more. What's not to love?
We also love that although she is a model, her content is relatable and can be useful to almost anyone.
Collabs
You don't need an eagle eye to spot the many brands Gabriela has worked with and tagged in her posts. She is already a Collab pro – could your brand be next?
---

Cirque du Sol-HEY EVERYONE! Meet circus artist, Estefania Giorio. She is also an actress, model, dancer, and fitness athlete.
Content
If you've never been to the circus, you have your front-row ticket right here! This Italian influencer takes us along as she soars through the air, backflips with ease, and balances upside down with no problem at all. She really is a spectacle to behold.
When she's not showing us her circus artistry, Estefania lets us take a look at her dance moves, some exercise routines, fitness dances, and peaks into her career as a model. Also, she's sometimes at home… Just chillin' like the rest of us. After seeing her accomplish all sorts of amazing physical feats, it's certainly nice to see her just being regular like the rest of us!
Collabs
Sometimes, as a brand, you're looking for a very specific influencer in a rarely appearing niche – such as a circus artist. Well, here is your needle in a haystack.
---

A Neapolitan living in Milan, Anna Pernice is a pro blogger who loves sharing content on her passions – travel, fashion, beauty, and food. She's also qualified in Communication Sciences.
Content
And boy does she have communication down to a science. Through her content, you feel transported to wherever she is – despite the fact that her captions are always in Italian. This is great because she's really targeting an Italian audience.
No matter where she is, you can always expect to see her in a cute outfit, providing the travel fashion inspo we didn't know we needed.
She's got over 76k followers across Facebook, Instagram, and Twitter. In fact, on her list of top 10 countries by followers, Italy is leading the pack by a mile. If this is the demographic you're after, then Anna could be the Collab Partner you're looking for.
---

Suhrya, like many of us, finds it easier to express her thoughts via the written word than verbally – hence why she's got a blog over at suhrya.com. What started off as a lipstick review blog ended up being a place to share her love for beauty, travel, and so much more.
Content
Chilled vibes. That's what we get here. Yet in an elevated sort of way, not in a couch potato type of way. There are lots of scenic shots from her trips around Italy, and of Suhrya just being Suhrya. Even her captions are chilled. Simple. Social media can be hectic at times and this Italian influencer's pages are a reminder to slow down, enjoy life, and just… well, chill.
However, don't be misled. Chill does not mean she does nothing all day. She's partnered with many brands over the years and hopes to continue to do so in the future. She has a total of 14.2k followers across both FB and IG and is poised to keep growing.
---

Maho, a Japanese creator living in Italy, has a passion for travel, healthy eating, and fitness. Like many of us, she loves to eat (though I speak for myself that if I'm traveling and fully indulging in the cuisine of the area, I probably won't be exercising LOL).
Content
Just looking at Maho's Instagram page makes us all want to check and make sure our passports are valid so we can plan our next trip! Can we take a moment to appreciate how STUNNING Italy looks?! Thanks, Maho.
Maho also travels around other countries in Europe #jealous and again – all absolutely gorgeous. We're talking panoramic sea views, amazing architecture, cultural highlights, unique sites, and of course FOOOOOD glorious FOOOOOD. Maho really does keep knocking us out with amazing content. Her captions are in English, so if you need to brush up on your Italian, fear not… you can still enjoy her content.
Collabs
The great thing about Maho's content is that the opportunity for Collabs is plentiful. Travel alone offers brands in many related niches the chance to partner up with Maho – from food to architecture, fashion to family, lifestyle to home decor, and so much more. There really is no reason not to partner up with this Italian influencer.
---

Calling all romance novel lovers! If you aren't following Cristina Bruni, you sure are missing out. She is also a lifestyle influencer…
Content
Romance novels meet lifestyle content… and we have to say, what a match! A lot of the images she posts on her Instagram account, @cristina.bruni, have a romantic touch to them, which obviously feeds in perfectly to her career as a romance novelist. Generally speaking, her Instagram account is dedicated to her passion for lifestyle content – interior design, beauty, health, fashion, and more.
On her Facebook page, you can find content about her novels: updates, announcements, previews, and so much more.
We also love that she often posts in both English and Italian – allowing her to appeal to both her Italian and international followers.
We also love her separation of content from Facebook to Instagram and how she uses each platform for what they are best suited to. Naturally, you MUST follow her on both so as to not miss out on anything!
---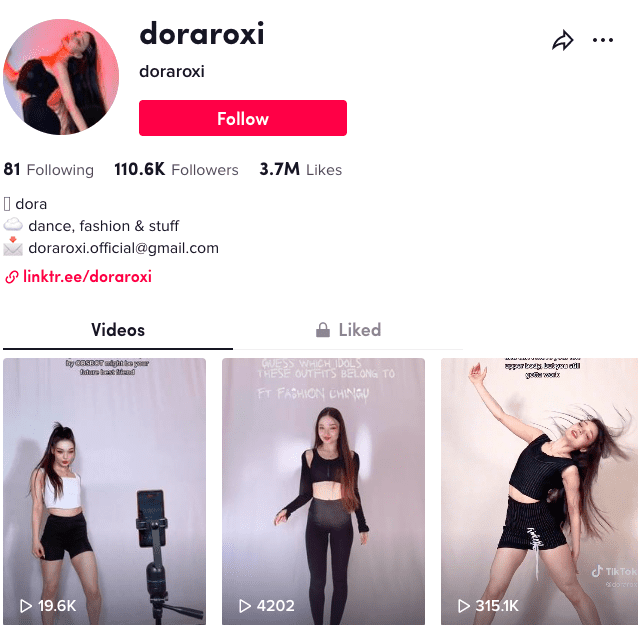 Her name is Dora and she's got even better moves than Jagger. That's right, this dance influencer based in Italy is on a mission to inspire others to be unapologetically themselves while sharing her passion for dance, beauty, and fashion.
Content
Do you need an instant pick-me-up? Dora's content will have you smiling and dancing along in no time. No matter which style of dance she's grooving to, Dora always brings 100% plus her extraordinary personality. The result? A dance sequence you can't stop watching.
When she's not dancing (and, to be honest, even when she is), Dora's fashion content will make you want to redo your entire wardrobe. How can one person look so cool in so many styles?
Where can you find Dora? On Instagram, TikTok, and also YouTube where she currently has 52k, 110k, and 47k followers, respectively. With such excellent content and a sky-high engagement rate, these figures are bound to rise, and the Collab opportunities… well, they're going to be knocking down her door.
Don't want to miss out on a partnership with this Italian influencer? Then invite Dora for a Collab today!
---
Federica is an Italian influencer and a huge fan of cosplay. As such, her online world revolves around beauty, fashion, and makeup.
Content
To venture into the world of cosplay, your fashion, beauty, and makeup skills really have to be on point… and boy does Federica have some skill. When she's in cosplay mode, she transforms into a new character every time. From pirate to fairy to Hogwarts student and more, Federica shows us her world and draws us in… and we love it!
When she's not in cosplay, this influencer continues to give us top-quality looks. In addition, she takes us on her travel adventures, shows us glimpses into her life and takes us on trips to some of her favorite restaurants #foodie.
Collabs
Some of Federica's cosplay outfits are gifted from various brands. So she has already captured the eyes of potential Collab partners. Do you want your brand to be next in line? Then invite Federica to Collab.
---

If you are looking to get glammed up, look no further than this makeup artist, Alessia Orrù. She may be based in Sardinia, Italy, but we sure are glad she's decided to share her skills online for the world to see.
Content
The eyes are the windows to the soul… so they say. No harm in dressing up those windows hey? Alessia's forte is definitely showcasing the eyes. Look at her Instagram page – it's all in the eyes. She has the ability to transform an everyday look into a work of art – something not all makeup artists are capable of. Way to go, Alessia!
Whether you need a classy look for the office, a super glammed-up look for a party or event, or even a look that makes a statement, this Italian influencer has got you covered.
Collabs
If you are a brand looking for a super-talented makeup artist with a unique approach to their skill, then Alessia Orrù is one of the Italian influencers you need to get on your team for a Collab.
---

"Wondering dreamer in love with life and travel". We love the sound of Ilaria! On top of being an Italian influencer, she's also a blogger, copywriter, and social media manager. Another influencer wearing many hats.
Content
What is it about Italian influencers having consistently amazing-looking feeds? You can't help but feel captivated – as if you've been whisked away on one of Ilaria's adventures. She certainly does a good job of exploring all that Italy has to offer – showing her followers the hidden gems in the small towns of Italy.
Her captions, all in Italian, are very detailed and provide even more insight into her travels, as well as some personal lessons such as gratitude. Tell you what, we're grateful for Ilaria and her content!
Ilaria is inviting us all to be infected by her joy and inspired by her travels. We certainly are. So hit that Invite to Collab button!
---

This Italian influencer, Gian Luca, has been a travel blogger since 2010. His passion for travel has not faded as he still enjoys taking us on his adventures and sharing in all the feels and thrills of exploring different places.
Content
Gian Luca has been in the travel blogging game for some time now. So he knows his niche well.
You can find him on both Facebook and Instagram. If you're interested in reading his blogs (trust us, you will not be disappointed), then check out his Facebook page where he shares links to his blog posts.
Over on Instagram, you will find the visual complements to his written adventures. @viaggiaescopri has a great mix of both pictures and videos. When you put the visuals of Instagram together with his amazing writing, it makes for one amazing travel experience. You may have just bought your ticket right along with this Italian influencer!
Collabs
Gian Luca has racked up years of experience and has honed his skills to near perfection while growing his influence. What more could you want in a Collab partner?
---

Alessia is a 23-year-old Milan-based independent artist and professional in the music industry working as a vocalist, vocal producer, and writer. Besides music, she's also into fashion (sportswear in particular), makeup, travel, and gluten-free food.
Content
A few things Alessia is particular about include:
✓ How her feed looks – it's gotta look good
✓ Captions – they should be interesting
✓ Collaborations – she only partners with brands and artists she likes, respects, and believes in. Authenticity.
And boy is she ticking these things off. Other bits of content to look forward to including new music, fashion posts (and discount codes – thanks, Alessia), and her just doing her thing. She's got a quirky personality that shines through her content. As we've said before, we love influencers who are unapologetically themselves and stick out from the crowd. More authenticity points!
Alessia already has many roles to play in her career – shall we add an Italian influencer and your next Collab partner to the list? 😉
---

A classical dancer turned fitness instructor turned fashion journalist from Rome and a self-proclaimed storyteller. Italian Francesca is representing the over 40s but is just as successful as any of the younger influencers in her chosen categories of beauty, fashion, and lifestyle. Yaaasss Fran! We love it!
Content
A look at Francesca's Afluencer profile will tell you she knows what she likes and puts a lot of thought into her content. She loves trending fashion but isn't a slave to it and she loves putting different pieces together to come up with her own unique style. Something her followers can emulate and put their own spin on as well! On her Instagram page, you won't only find fashion but beauty tips and skincare products.
Another thing about her content – it's very opinionated. We love that. With her engagement rate sitting at a fantastic 6.7%, we're sure all 31.8k of her followers feel the same.
---
Our final thoughts (after a lot of Google Translate): Wow, what a round-up! These Italian influencers have a lot of things going on – playing many roles but getting ish done! And can we also just take a moment to appreciate the aesthetics of their Instagram feeds? They've all somehow managed to perfect the art of being authentic, true Italians, and still manage to play the influencer game to perfection.
Ciao Italia!