Empowering. Full life transformation. Multimedia journalism. Gaming. Irresistible everyday home and lifestyle inspiration. Whole-being wellness. Inspiring women's health and wellness. Passionate fitness and a balanced lifestyle.
Brought to you by these amazing lifestyle influencers, this is all the inspo you need to brighten up your life.
And for brands looking for lifestyle influencers to whip up inspiring campaigns, you've got to connect with them.
Here are 17 top influencers with uplifting lifestyle content that you can connect with in 2022:
Now let's catch a breath of fresh air with our featured lifestyle influencers!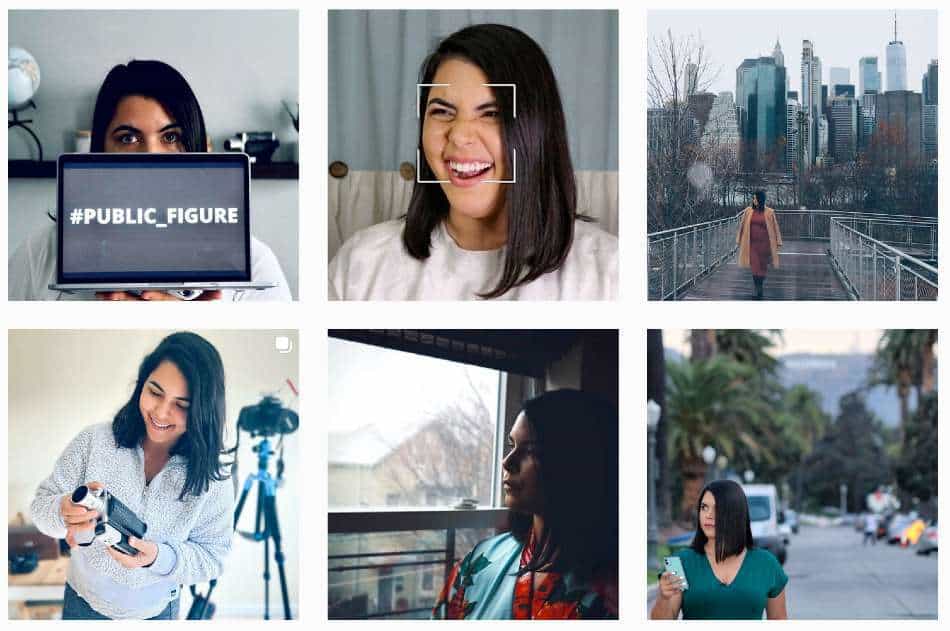 Based in New York, Gabriela Milian is a passionate multimedia journalist, media strategist, and lifestyle enthusiast. And it's no surprise that she has a striking content appeal right off the bat.
Her professional English and Spanish TV reporting background have seen her featured on major networks such as ABC News, NBC News, CNN, and Telemundo.
Yeah, if there's a content creator to keep a close eye on, it's got to be Gabriela.
Content
Her bright and bubbly social media presence together with her natural on-camera talent is an instant attention grabber.
Be sure to catch her hot "Media Monday" series on Instagram where every week she hosts a live chat with a media expert in the industry.
From valuable nuggets on journalism and TV reporting, real talk about her challenges with putting her goals first, her auditioning experiences, to her personal journey—Gabriela's catchy Instagram images are always captioned with valuable stories and insights into her life.
Her talented journalism skills certainly make way for a valuable impact on social media.
YouTube
While she may be newly committed to her YouTube channel, she clearly is a rising video creator (no surprise—right?).
Some of her recent videos include "3 Most Common Beginner Mistakes People Make On-Camera", and "TV Makeup".
She's confident, credible, and shares immense value in her videos.
Collabs
Beauty, makeup, lifestyle, food, education, photography, wellness, and more. Brands looking for persuasive lifestyle influencers, Gabriela Milian is only a collaboration away.
---

Building a community of positivity is micro-influencer Chelsea Gonsalves from New York, USA.
She is full of talent. Chelsea is a writer, actress, and content creator with a love for beauty, fashion, and wellness.
With a passion for developing good habits and self-discipline, Chelsea is super inspiring and it doesn't take long before you discover just how motivating her life really is.
Content
Let's start with her Instagram bio that reads "I am magic. I know I am magic and no one can stop my magical ass. PERIOD."
Sassy and full of confidence. We love it.
Chelsea openly shares her journey of losing 113lbs recently. And just for the record, "I also wanted to make it clear that I was and remain a confident person". And her timeline of before and after photos, all exude self-love just to prove her statement true.
Her weight-loss journey is an amazing source of inspo, but more so the body positivity that she is passionate about sharing.
From self-care Sundays with facial clay mask treats and vibrant manicures, to bright smiles and artsy vibes at theaters—Chelsea's world is a pleasure to follow.
Her Instagram followers make up mostly 25 to 34-year-old females and her profile has a good engagement rate of 2.3%.
Collabs
For a positive wellness and lifestyle brand collab, Chelsea Gonsalves is an ideal influencer to partner with.
---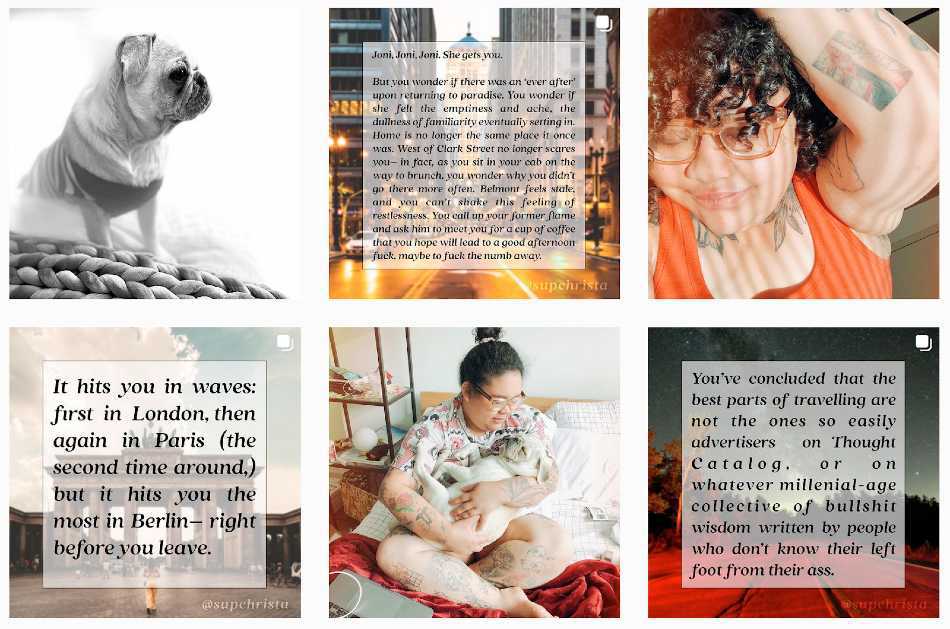 Based in New York, Christa Lei is a striking QTBIPOC identified Filipinx feminist, self-taught astrologer, and a loving dog mommy.
Boldly identifying as a "fat feminist", Christa is shamelessly body-confident and self-expressive—being an inspiring source of mind, body, and spiritual wellness.
Christa is also passionate about "reducing systemic racism and disparities within healthcare" and she's also an advocate for animal welfare.
Content
Intriguing. Christa's Instagram profile is nothing short of emotion-stirring with her poetic captions and gripping stories.
Hands down, she's a pretty incredible writer. With every single post, Christa soulfully oozes everything she represents.
"I'm just testing the algorithm now to see if it hates queer, fat BIPOC bodies."
From tales of her backpacking adventures, messages of gratitude, warm snuggles with her dog, colorful embracing body tattoos, cosmic slumber tarot card readings, to sharing her personal struggles—Christa is an empowering source for her followers.
"Am I cute?
Yeah.
Are you?
Also yes."
Christa's posts are full of soul with words that tug at the heart.
On her website, she shares more about her astrology and reiki passions.
Collabs
Christa is an ideal match primarily for lifestyle, health, and wellness brands looking for micro-influencers, but also for any brand that would like to reach her niche audience.
---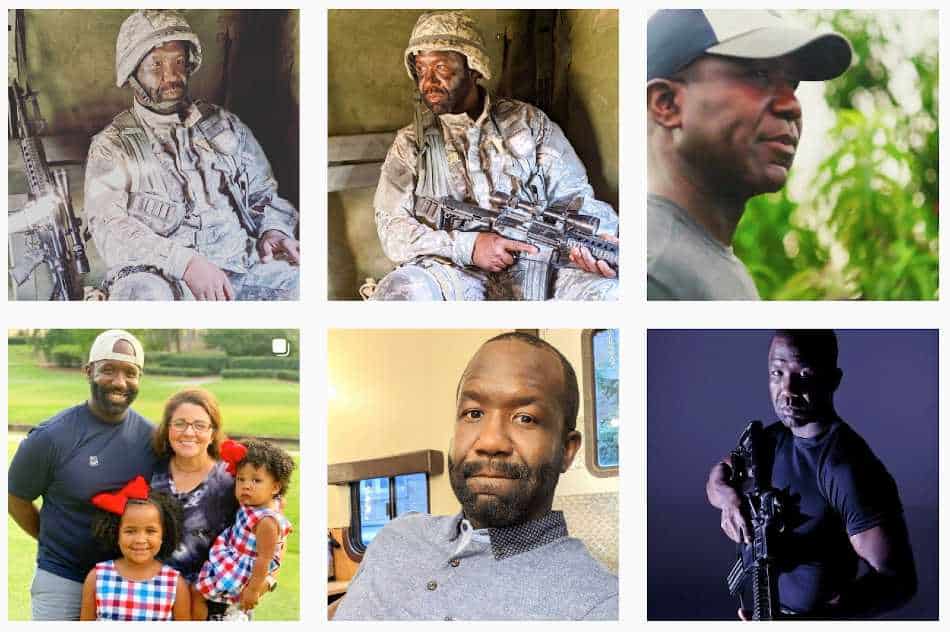 Based in California, USA, Bradford Haynes is a former pro baseball player turned actor. You may have already seen him on your screens because he has featured on major network TV series and films.
Some of his films on Amazon Prime include "Five Blocks Away" and "Best Summer Ever".
Bradford is also an admirable family man—being husband and father of two beautiful girls.
Content
On his Instagram profile, Bradford's followers are charmed into his fascinating world of films. From moments captured between takes, film release updates, to heart-warming family posts—Bradford shares both on-screen and off-screen highlights of his real life.
His posts are often coupled with entertaining captions, great stories, and some charming wit. Yeah, Bradford's talents shine through his social media content too.
What is notable about his profile is that Bradford does have a community of actors that follow him. This is evident by the convo highlights in his comments section.
Collab
With a portfolio of films, endorsement deals with Fortune 500 companies, as well as commercial and print features, Bradford's influence is certainly a valuable match for brands looking to reach his audience of followers.
---

Simon Kamau is an African digital marketer and lifestyle social media influencer with a primary audience on Twitter.
Content
Lightheartedness and "just funny vibes" are how he rolls on his social media profiles.
Simon's social media presence on Facebook, Instagram, Twitter, and TikTok is a gallery of funny and entertaining videos curated from all over the internet—making him a pleasant source of a good chuckle as his posts pop up on your feed.
He has built most of his following on his Twitter profile with over 19,200 followers. And it's no surprise as you'll notice how active and engaging Simon is with his Twitter community.
From a professional standpoint, Simon has a committed career in digital marketing with over five years of experience in creating content and working on marketing campaigns.
His goal is to deliver quality work and service as fast as possible.
Collab
Simon Kamau is a lifestyle micro-influencer that would make an ideal fit for brands looking to reach his audience—particularly on Twitter.
For detailed demographics of his following, do check out his social media account insights on his Afluencer profile.
---

Based in Tennessee, USA, Amy and her sister are an interior design duo with a focus on "intentional design for everyday life".
Content
If you need design inspo for your home, @cityhillhome is the place to be. This interior design influencer has a gift for creating spaces that are simple yet sophisticated; elevated and chic yet homely in the best way. They're clearly big on family—including their own family often on their feed.
Followers of this duo can also look forward to behind-the-scenes clips, as well as tips and questions to ask yourself when designing a space. We love the authenticity of Amy and Katie's content—perhaps it's thanks to the combo of family and helping to create homes, or maybe it's the well-placed and very relatable humor in their captions. Whatever it is, we love it.
Collabs
So. Much. Opportunity. Here. Brands in interior design and real estate (obviously) definitely shouldn't miss out on the chance to Collab with this team of lifestyle influencers. Brands in other industries too can also find their angle in. We got a feeling (woo-hoo) that these ladies' influence is only going to get bigger.
---

What happens when you have a teacher with her lovable hound, plus some riveting reading lists, sprinkled with floral love, and a whole lot of happiness on social media? You get Kelly C from Virginia, USA—a mind, body, and soul enthusiast. She's also a passionate reader and published author.
Oh, and if happiness could be a fashion statement—Kelly is that, too!
Content
Kelly's micro-influencer Instagram profile is an organic gallery of her healthy feel-good lifestyle.
Whether she's snapping a selfie with her dog, sharing some of her teacher celebrations, inspiring you with books she's reading, posing in the prettiest floral pumps, participating in social movements like #fallfornature, singing along to some Taylor Swift karaoke, or spreading some happy vibes—Kelly is a source of blossoming energy that will brighten you up any day.
Feeling cold and blue? Kelly says she's "working on convincing myself that summer is a state of mind rather than a season" and you can't help but be motivated to do the same.
She's passionate about social justice too. "I just believe in kindness to others and kindness to yourself" — Kelly C.
And if ever you need a self-care nudge, Kelly will give you a much-needed reminder "You have to put on your own mask before helping someone else with their mask".
Just in case you want deeper insights into Kelly's thoughts on wellbeing, check into her blog and feed your soul with posts like "Aren't All Endings Just Another Beginning" and her "Things I Wish I Had Known" series.
Collabs
If you're a brand looking to reach her audience, Kelly is a lovely lifestyle influencer to collaborate with.
---

Addicted to skincare and in love with her fur babies, Jasmin Everson is a rising lifestyle influencer based in Michigan, USA, that will inspire you every day.
Jasmin is also a stay-at-home mom—to two deaf rescue dogs. Yes, her social media bio is intriguing and yet ever so authentic, post after post.
And you may just be encouraged to make environmentally-friendly purchases as Jasmin shares her commitment to decreasing her carbon footprint.
Content
Between dogs, skincare, sustainability, and her loveable personality, you're bound to have something in common with Jasmin.
She's a natural at sharing her favorite products: like dog supplements captioned with adorable statements like "love is a four-legged word", a cosmetic fridge to keep your products fresh, or a scroll-stopping yellow "Nature is Dope" hoodie—dropped with coupon codes you won't resist.
Don't underestimate Jasmin's micro-following because her engagement rate currently sits at an amazing 6%. How does she do it? She's got a flair for keeping her community buzzing with brilliant posts like "you have to pick ONE skincare brand to use for the rest of your life… What is it?". And you bet her followers love to respond to her posts.
If you love skincare and beauty as much as she does, then you'll appreciate her product reviews "very refreshing… soaks into skin…" that will inspire you to try it out for yourself—if not give you FOMO.
Collabs
Jasmin's profile is bubbling with brand collabs. And if your campaign needs inspiring lifestyle influencers, then you can be assured that you're in great hands should you collaborate with Jasmin.
---

Based in California, USA, Destiny Villarreal is all the inspo you need to live a sustainable and intentional lifestyle.
Vegetarian is her diet and beachside yoga is one of her favorite feel-good things to do—hashtag #wellnessenthusiast.
Don't be misled by her modest follower numbers (we're confident that this is only the beginning of an amazing creator). Destiny is an up-and-coming sustainable lifestyle influencer with an authentic voice and a passion for creating truly inspiring content for people that share the same interests.
Content
From easy video recipes on making healthy homemade granola, promoting eco-friendly products, to sharing zero-waste habits—Destiny's Instagram feed is packed with high-quality and high-value content on living a sustainable life.
Followers will be instantly inspired to air our their clothes as she does to reduce water and energy consumption, use package-free soap bars because they last longer and are friendly to the environment. Or even pack simple things like a mason jar when going on vacation for easy shakes on the go.
Destiny inspires this lifestyle not only with her amazing tips but also with her lovely personality.
And of course, when you're not doing beach yoga why not do some yoga with goats? Because Destiny does.
Living life through her feed certainly feels uplifting.
Collabs
Sustainable, ethical, and local business brands—Destiny Villarreal is your earth-loving influencer to collaborate with.
---

From Belgium, Gabriela Vaduva is what a beautiful, fun, outgoing, healthy lifestyle looks like.
Her love for life, fitness, and wellness plus her easy-going and always positive attitude makes her such a pleasure to follow.
Content
At first sight, Gabriela has a gorgeous model-like attractive aesthetic and her beautiful spread of Instagram images keep you scrolling for more.
Her sleek black signature fashion style is especially notable—simple but sassy enough to make a statement that you can't resist admiring. Snapped by charming picturesque canals, her vibe is full of beauty.
From fun TikTok skits, attractive city portraits, to healthy dinner and Netflix times with delicious meals like veggies and mini veggie burgers—Gabriela's beautiful healthy lifestyle is nothing short of good energy.
And of course, her IG wouldn't be complete without her uplifting and inspiring quotes.
"You are growing into consciousness and my wish for you is that you feel no need to constrict yourself to make other people comfortable".
Collabs
Gabriela is a stunning match for beauty, skincare, lifestyle, fitness, and wellness brands looking to collab with micro-influencers.
---

Based in Pennsylvania, USA, Tina Martyniuk is an English, Russian, and Ukrainian-speaking travel and lifestyle Instagram blogger.
Content
At first sight, Tina appears to be the average lovely everyday woman. But in her niche audience of followers, she's an inspiring influence to Russians with interests in the USA lifestyle.
Her posts are organic, high-quality, and very informative to her Russian-speaking community. From local travel snaps in Pennsylvania to iconic sights like the Rockefeller Center New York and the Statue of Liberty—Tina's high-engagement posts are proof of her influence in this niche.
While most of her Instagram content is in Russian, Tina does share the odd English caption.
"Feeling beautiful during warm spring days" with smiles and yellow flowers in her hair.
Chasing waterfalls, sharing useful videos about her trips, and the pleasant appearance of cats on Tina's Instagram feed are some of her content highlights.
Helping Russian-speaking followers discover a new lifestyle in the USA, Tina is a trusted source to this niche community.
Collabs
Lifestyle and travel brands that want to reach Tina's audience—Tina is a pleasant micro-influencer match that will turn up a valuable collaboration.
---

Straight out of Alabama, USA, Kyle Corley is a fun-loving streamer that is all about doing what he loves: gaming with his fans.
Content
Catch this rising nerdy nano-influencer on Instagram with all his streaming updates as well as all the latest stuff to drop on the Twitch scene.
Speaking of Twitch, his 500+ follower profile is where all his gaming action goes down. This is where fans and followers engage with Kyle's committed passion. Yup, daily streaming kinda passion. His brand name "Night Life Gaming" is how he rolls.
Some of his recent gaming streams include Warzone, Roblox, and Call of Duty.
Want to know when to catch him live next? Check out his streaming schedule on his website.
And what's a cool streamer without cool TikTok vids? Kyle is spreading his influence on multiple platforms. And you've got to just love Kyle's pleasant and fun personality online.
Kyle does share little bits into his personal life, which makes him even more relatable to his followers.
Collabs
What has Kyle been promoting? Nerd merch. So he's totally your guy if you've been on the hunt for influencers to promote lifestyle-inspired products and services.
---
Katrina Julia – @katrinajuliafit – Coach, Creator and Entrepreneur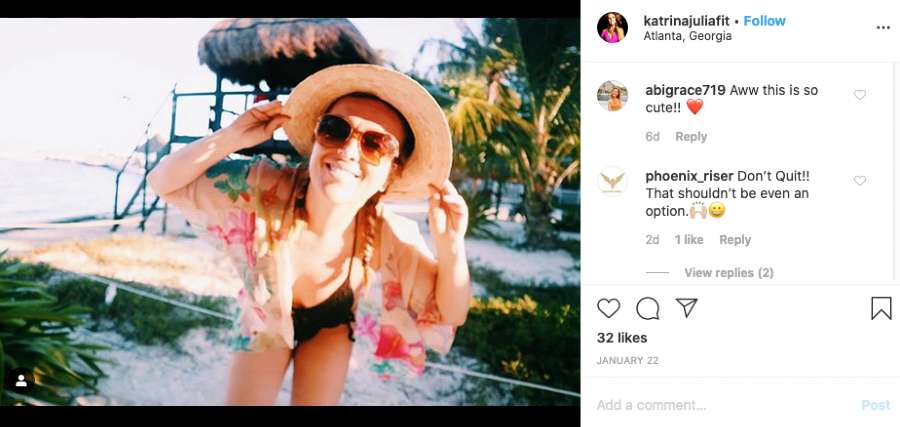 Need a 360-degree lifestyle transformation?
Katrina Julia is the lifestyle entrepreneur that will inspire you to create the health, wealth, and business that you desire.
Katrina is a transformation coach and creator of Fit Life Creation – a lifestyle community designed to equip her followers to succeed in their transformation journey.
She has built a community of followers that are enthusiastic about changing their lives. On her personal IG profile, she shares a wealth of video content. With topics such as how to create courses, how to create content like a boss, how influencers do marketing, and how to build a lifestyle brand.
Katrina keeps it real as she shares highlights of her travels – recently to Mexico and Bulgaria. Of course, giving her followers some wellness inspo along the way – like cycling through your travel adventures as a great way to meet your fitness goals.
Being a speaker, author, athlete, host, videographer, philanthropist, and an amazing community creator – Katrina is certainly an inspiring social butterfly that will pull all her skills out to create uplifting social campaigns.
---
Alexandria McMillion – @alexandriamcmillion – Home & Lifestyle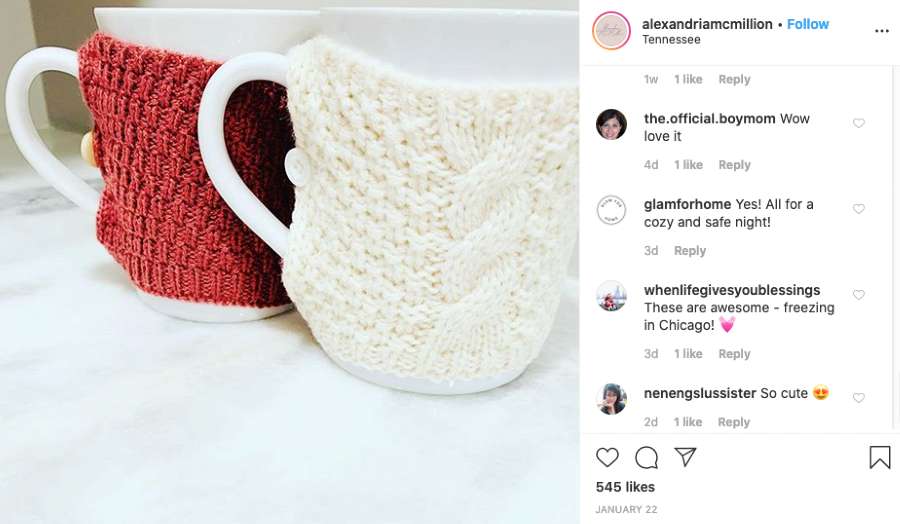 Alexandria McMillion is your influencer that shares irresistible everyday home and lifestyle inspo.
In her words, she's a "small-town girl sharing her small-town world" – and she couldn't make the small-town life any more welcoming.
Because who wouldn't want to cozy up with her this winter over a cuppa coffee in the cutest sweater mugs?
"Aww these are so cute, I want one for my mug", one of her many engaged followers respond.
And speaking of followers, her social media engagement rate is rocket high. 19.49% high. 'Cause, what more do you expect when Alexandria is so authentic with everything she shares.
From homeware finds, to ideas on changing up bathroom items, to organizing her home, to her style favs and the occasional sweet treats.
Yup, this is certainly the sweet life of Alexandria. A personality that feels as close as a friend with a lifestyle charm that is as warm as her heart.
Alexandria makes a simple life feel pretty lovely – something we all need, don't we?
---
Brianna Amendola – @balancingwithbri – Health & Wellness Influencer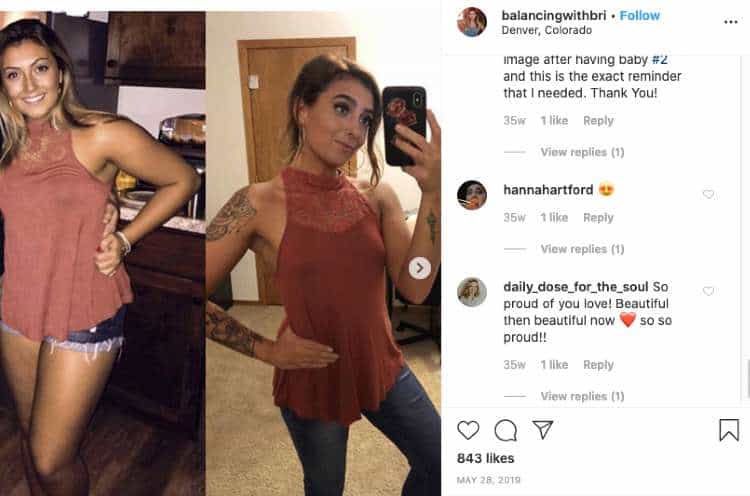 Brianna Amendola is all about inspiring whole-being wellness.
It's through her journey with Autoimmune Disease that she became passionate about health and wellness and helping others reveal their full potential.
On her website, you'll learn more about her challenging health history and discover how she can help you along your transformation journey.
She'll inspire you to uplift your mind, body, and life with her insightful posts. From creating valuable awareness like "unlearning is just as important as learning" to pep talks like "don't ever keep yourself in a box letting limiting beliefs rule how you live your life. You can achieve so much when you throw the whole damn box away".
Get influencer-inspired by her yoga lifestyle, learning the importance of diet and exercise to books and before and after images.
And Brianna will also keep it real with posts on topics such as OCD, depression, and anxiety.
She's an inspiring source of realness and wellness.
---
Fercci – @askfercci – Positive Dose of Health & Wellness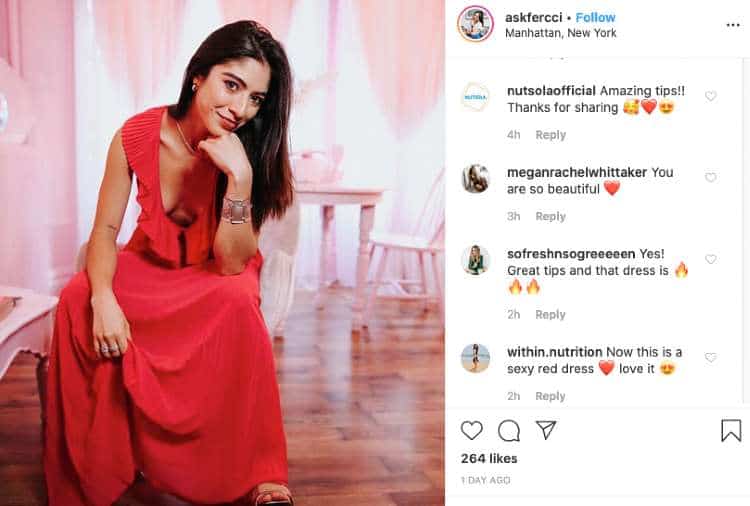 Fercci is an admired influencer who is all about living a "balanced BS-free lifestyle".  While in the process, inspiring women to self-discover around their own health and wellness.
Fercci will give you a dose of daily positivity. And she'll also keep you intrigued with her hot topic posts and fascinating experiences.
"Let's talk about sexual confidence… Measuring ourselves to unrealistic standards can make us insecure yet one of the sexiest things someone can have is sexual confidence… So what to do about it?"
Yeah, you're going to have to indulge in her engaging content for yourself.
And then on her new YouTube channel, she'll keep you even more hooked with videos like "trying reiki for the first time" where you'll learn about what Reiki is and what chakras are all about.
She'll keep you consumed with very riveting topics.
Then head on over to Fercci's blog where she posts on all things wellness.  From skin care, weight loss, training, cleansing diets, and more.
---
Alexis – @alexisrau3 – Fitness & Lifestyle Influencer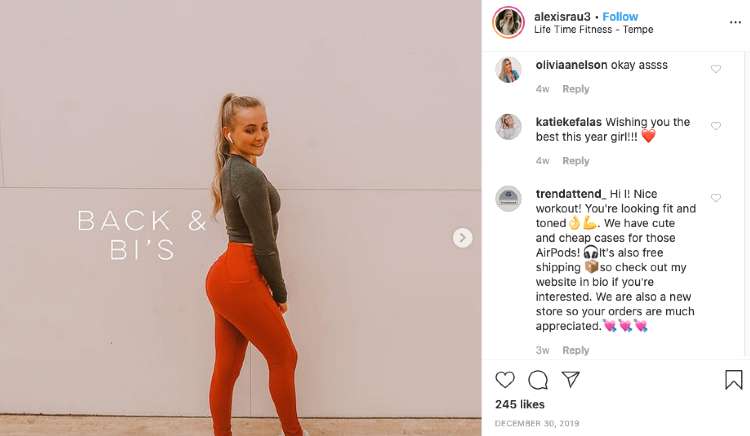 Alexis is a fitness lover that is all about living a passionate lifestyle of balance.
She's gorgeous. Her body is hashtag fitness goals. She's newly married and is starting this exciting chapter of life.
For followers that resonate with this season of life, Alexis is absolutely lovable.
On her Instagram influencer profile, she shares clever content pieces to intro her passionate workout vids and you can't help but admire her fitness apparel in the process.
Her pure passion for this lifestyle is evident as she surprises her followers with stories about how she and her husband went to the gym every day on their honeymoon – just because working out makes them feel great.
"Awesome, makes me want to stay fit and get more motivated" – is how she inspires followers.
Hop on to her YouTube channel where she shares more about her personal life – from moving, workouts to her first home.
From her sunkissed images, motivating workout videos to her inspiring personality – Alexis is a pleasure to follow.
Followers can happily shop for this influencer's lifestyle favs on her Amazon shop.
---
It Doesn't Stop There With Our Lifestyle Influencers
One of the top reasons our influencers (lifestyle and other niches) love Afluencer is because of featured articles like this one. We really get to know our influencer members. Then we release our top writers to go to town on their write-ups. So when you connect with any of the creative influencers on our platform, you can rest assured that we have already approved their influencer profiles.
No need to worry about fake influencers or those who aren't suited for promoting your brand, products, or services. We match you up with the perfect influencer who knows how to market your brand.
So if you're looking to partner with amazing lifestyle influencers, then you're just a couple of quick steps away from doing just that!
Simply click on the link above to begin the registration process with us. Don't worry, the sign-up form is quick and painless. And we have also been highly praised for how quickly we respond to applications. Make sure to check which monthly plan would suit you best.
If you have trouble deciding, no problem! Reach out to us and we will happily offer guidance and answer any questions you may have.
Remember, it doesn't matter if you're looking for lifestyle influencers or pet lovers to promote your biz, we have expert creators working in a wide range of fields.