Buzzing? Yes. These dance and music influencers have awesome engagement rates. They have hot moves and hot tunes. They're brilliant content creators. And their followers are obsessed!
From the USA, Germany, and Argentina to the Philippines, Canada, and The United Kingdom. We have 8 explosive dance and music influencers you will want to promote your brand to their followers:
Techno. Upbeat. Electronic grooves. Rock. And pop. What more could your social media feed need?
So are you buzzing to tune into these explosive music influencers?

Straight outta Ohio, USA, is creative influencer, Tiffany Williams.  She's a performer, singer, songwriter, lyricist, painter, actress, model, and photographer.  If there's an influencer that embodies content creation, it's got to be Tiffany.
Content
This talented mid-tier influencer is certainly a diverse creator that keeps her followers captivated with her many creative passions.
At first sight, Tiffany's Instagram feed is a showcase of her entertainment lifestyle.  From shopping for outfits, dressing up for events, and nights out, to studio photoshoots, and even sharing some of her paintings like her abstract "Venom vs Carnage" piece.
Her style is a sassy vibe you won't miss as she drops hot outfit selfies on her feed. Her followers love it with comments like "I need them boots" and "where did you get that dress from".
From her entertainment lifestyle posts to her entertaining TikTok videos with her girlfriends, Tiffany keeps her content rolling and keeps her followers scrolling with the buzz around her lifestyle.
Collabs
Tiffany Williams is an entertainment influencer that would make a great collab for brands looking to reach her audience.
---

Based in Tennessee, USA, Meghan Linsey is a pro at juggling her many talents. She's a singer, songwriter, social media influencer, public speaker, and advocate. Meghan certainly is an influencer full of talents.
Content
From red carpets to crystal clear blue waters; high fashion to laid-back style; bright smiles to breakdowns; and of course music, celebrities, causes, and life in general — our influencer, Meghan covers it all. With over 180k followers across 3 platforms, how does she keep everyone entertained?
Firstly, while she generally reposts the same content across Instagram, Facebook, and Twitter (as a committed creator does), she does switch things up a bit on each platform, providing some variety of detail that is exclusively unique. Meghan's content remains consistent, post after post—as anticipated by an experienced influencer.
Secondly, her content is all very authentic whether she's glammed up, on stage, or alone with messy hair. One way she conveys this is through her thoughtful captions. With a pretty good engagement rate of 2%, it is evident that she has built a community of followers that love her content.
Collabs
Given that she's in the music industry, you can be sure Meghan is no stranger to great Collabs. Besides collaborations in the music industry, you can also find partnerships with brands in tech on her Instagram profile.
Oh, and if her name rings any bells it's probably because Meghan was a runner-up on NBC's The Voice and was #1 on one of the Billboard Music Charts. She's clearly no stranger to accomplishing things. A Collab with your brand could be on her next list of achievements!
---

Based in the USA, Kristin Mcquaid is a badass choreographer and creative director that will be popping your Instagram feed with moves.
We've got to love dancers and the lively energy they bring to social media. And of course, Kristin is so fab that her choreo is splashed on TikTok through her dancers.
For the lovers of dance, Kristin will fire up your passion with all her content.
"Creating is my biggest passion. I am so thankful to get to do what I love." – Kristin sentimentally shares.
And her love for dance does not go unnoticed.
From student classes, group sessions, epic events, entertaining social media challenges, and even personal family moments – Kristin's Instagram is dazzling with pizzazz.
Her followers adore her and comment, like "You're the best Kristin!!!  We love you!".
Over on her growing YouTube channel, Kristin shares event videos, highlights, classes, and enough choreography content to keep you dancing all day long.
Kristin has promoted #fearlesslyme statement hoodies recently – which couldn't be a better style match for her social media aesthetic.
So you want dance influencers to back up your music campaign? Then give Kristin a shout.
---
Ave – @ave_djane – Music Influencer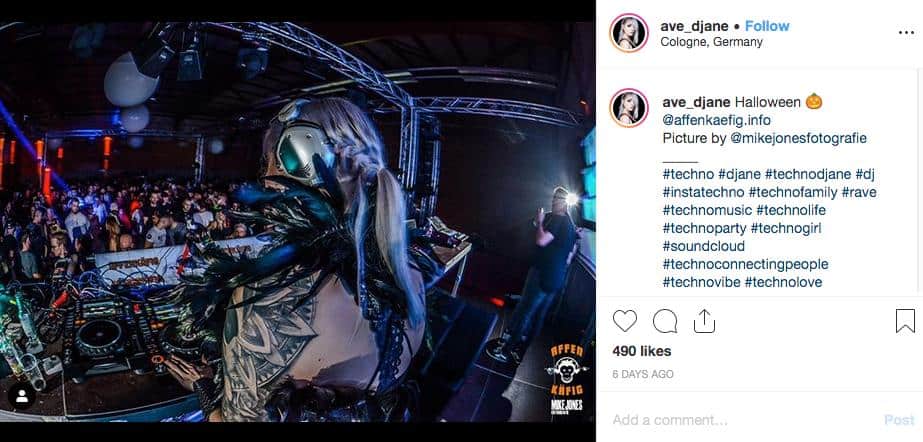 Before we bring out our big music guns with this list, we're dropping some Afluencer love to our wildcard micro-influencer, sassy DJ Ave.
She may be a micro-influencer but she's deserving of your attention.
Based in Germany, Ave is a techno DJ hitting clubs in Germany as well as across Europe.
Her magnetic music attracts her European growing audience with her influence climbing up.
On Soundcloud, Ave's audience makes up 6k+ followers.
Her badass, but pretty black-and-white image on social media makes her profile catchy and super likable to the young adult audience.
On Instagram, if she's not sharing the little bits of her everyday life, then Ave is promoting her upcoming events, appearances, and festivals.
Ave is all the professionalism you could need from a micro-influencer. Her sleek website is where she promotes her music, merchandise and showcases her previous appearances. And this is enough to assure you that she takes her music and influence seriously.
With a lovable sass, an impressive engagement rate, sleek content, and a friendly personality – Ave is the rising DJ girl that you certainly must connect with.
So if you're looking for music influencers who know how to drop the beat and get the dance floor wild, then Ave is your girl!
---
Niana Guerrero – @nianaguerrero – Social Media Sensation
Niana Guerrero is your young social media star.
Star? Well, when a 13-year old girl from the Philippines hits 7+ million followers on Instagram and 8+ million subscribers on her Youtube channel – you bet she's a bright star.
Her social media influencer fame was founded on the music content she creates with her older brother, Ranz.
According to her bio, she's all about music and laughter. And well, let's just say her 44million views "when Despacito comes on" Youtube video is all the music and humor her young audience adores.
Niana's social media is splashed with catchy entertainment, music, and dance content.
One particular creative post that is highly noteworthy, is a fun upbeat lipstick video ad she posted on her Instagram feed. The blend of music and quirky humor to produce this ad is nothing short of brilliant.
Niana is a natural entertainer with a charming sweet personality.
With her brother, they have created a fun #welit fashion brand.
On her own or with her brother, Niana's content is absolutely lovable.
If you're looking to connect to the young teen and pre-teen audience, then your search for dance & music influencers stops at Niana.
---
Johnny Orlando – @johnnyorlando – Singer/ Songwriter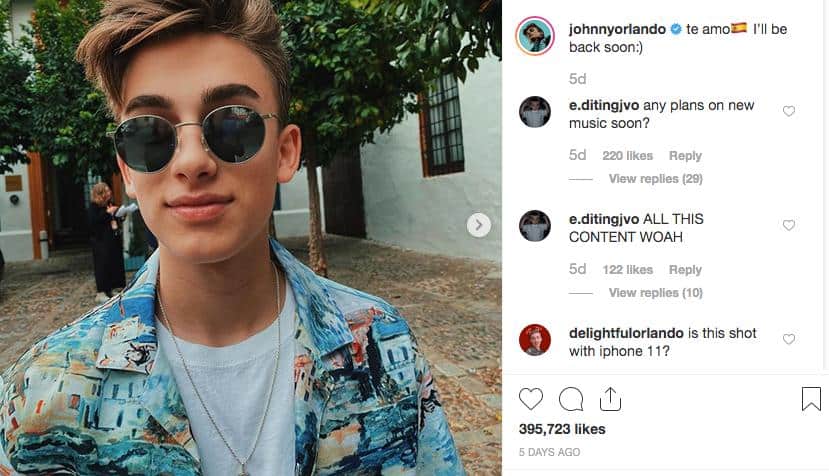 Johnny Orlando is your 16-year-old danceable electronic grooves singer and songwriter.
From Canada but now based in Los Angeles, Johnny joins the other rising music influencers on Spotify, Apple Music, Amazon Music, Youtube Musica, Deezer, and TIDAL.
Yup, as far as his music career goes, he's pretty serious and organized.
In case you needed further convincing, Johnny has achieved over 150 million streams of his music in just 3 years.  And of course, then, it's no surprise to discover that he's an award winner of the 2019 MTV Europe Music Awards for Best Canadian Act.
Yeah, he certainly has stardom and influence written all over him.
Johnny has produced many covers of popular hits, with his most viewed cover on Youtube being "Stitches by Shawn Mendes".
Speaking of Youtube, his channel has a massive 4 million subscribers.
On Instagram, Johnny is your ordinary cool boy with a relatable personality – so extra stars for Johnny.
With awesome beats and an engaged teen audience, Johnny's hot music content splashed all over his social media is more than enough to get you hooked.
---
Valentin Oliva – @wos.ds3 – Music Influencer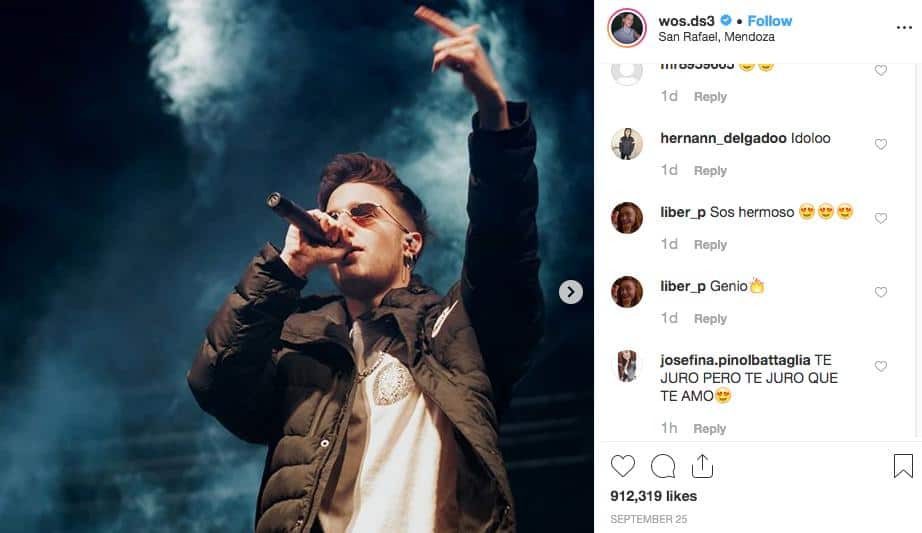 Valentin Oliva is your rocking rising rockstar. If you heard rock music then you're tuning in right.
From Argentina, Valentin is buzzing all over the entertainment scene and he keeps his highly engaged Spanish audience rocking.
An engagement rate of 23%+ speaks volumes.
That's a whopping 10 times more than the average engagement rate for most influencers.
We cover many influencers here at Afluencer and an engagement rate this high is super rare. So much eye-popping and jaw-dropping.
He's a freestyler at FMS Argentina, and it's certainly no surprise that he's created a well-built presence through his exposure there.
Whether he's promoting his music, out with the boys, recording in the studio, or performing at gigs, Valentin does not leave his followers out.
He's hot on Instagram, hot on Spotify, and hot on his 2+ million subscriber Youtube channel.
If you're looking for influencers that dig rock music, speak Spanish, and just make you want to dance, then Valentin is your man!
---
Lewis Capaldi – @lewiscapaldi – Singer/ Songwriter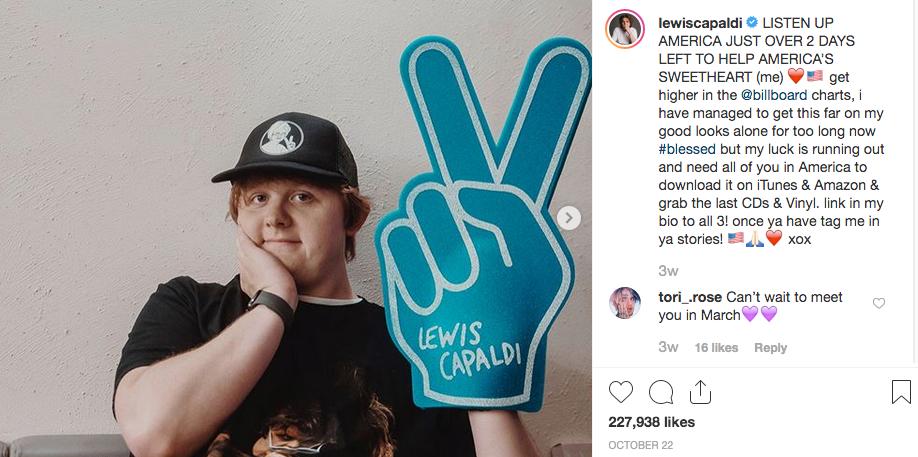 From the United Kingdom, Lewis Capaldi is your overnight global phenomenon as far as folk-rock and pop music goes.
Yeah, when his newly released "Someone You Loved" climbed to the top of the UK charts and made it to the top 100 global Spotify list, then he has certainly reached stardom.
Lewis is a singer and songwriter with music on Amazon Music, Deezer, and Youtube Music.
Did I mention that he's only 23 years old?
His fame is evident by his 1+ million subscriber Youtube channel that boasts his latest music hit with a massive 75 million views.
But Lewis likes to keep it real. So you'll catch some raw videos of him sharing his thoughts about his sudden success and how he "won't let it change" him and how he's committed to staying humble.
If you're looking for music influencers who eat fame for breakfast, then get on your dance shoes and invite Lewis to collab.