Need your brand to hit big numbers with a macro-influencer? Just ten million or so followers should do it. Not too much to ask for, right?
Right here, we're dropping a handful of big entertainment influencers that come packaged with pretty large engagement rates – proving that macro-influencers can tick all the important boxes when it comes to reaching large audiences.
These big stars are actors, singers, and dancers and offer global entertainment – most surely an epic influencer Collab opportunity for your brand.
Here they are:
There's no going home here, so let's go big then.
Karol Sevilla – @karolsevillaofc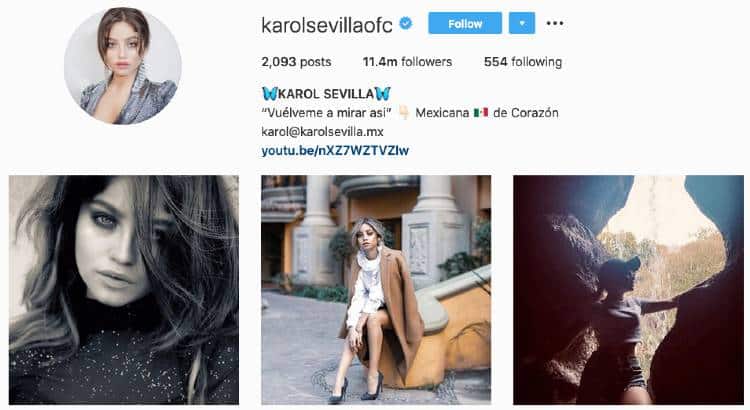 Karol Sevilla is a bubbly Mexican sensation with a talent-rich profile.

This 20-year-old star is a singer, songwriter, actress as well as a buzzing YouTuber.
While she may appear young and sweet, she has a pretty accomplished profile for her age. She debuted her acting career at six years of age on a Mexican TV series, featured on musicals such as The Wizard of Oz, and then found international reputation through a role on Soy Luna, of Disney Channel Latin America.
Her latest award achievements include winning the Nickelodeon Mexico Kid's Choice Awards in the Favorite Actress category. So, she's pretty big.
What is Karol up to now?
Well, if she's not entertaining through her 8-million+ subscriber YouTube channel, then she's releasing new music. Latin pop, dance-pop, teen pop, and also pop-rock. Influencers take note—this multi-talented star leaves no stone unturned as far as her entertainment talents are concerned. I have a feeling that she's only just getting started.
Speaking of her YouTube channel, Karol Sevilla certainly knows how to keep her followers glued with her humored personality and eye-popping appeal. Catch her playing games with her friends, decorating cupcakes with her mom, making tacos, or creating fun challenges with her brother.
Moving on over to her Instagram profile, you'll notice her evolving into a blossoming woman. With 11+ million followers on Instagram, Karol Sevilla has a raving 3+% engagement rate – which is certainly uncommon for a macro-influencer. But this is THE outstanding Karol Sevilla we're talking about.
If you're a brand and would love to collaborate with Karol Sevilla, then this is your big opportunity to tap into the young Spanish-speaking audience. Thanks to her diverse content creation abilities, there are collab possibilities for brands in various niches.
---
Salice Rose – @salicerose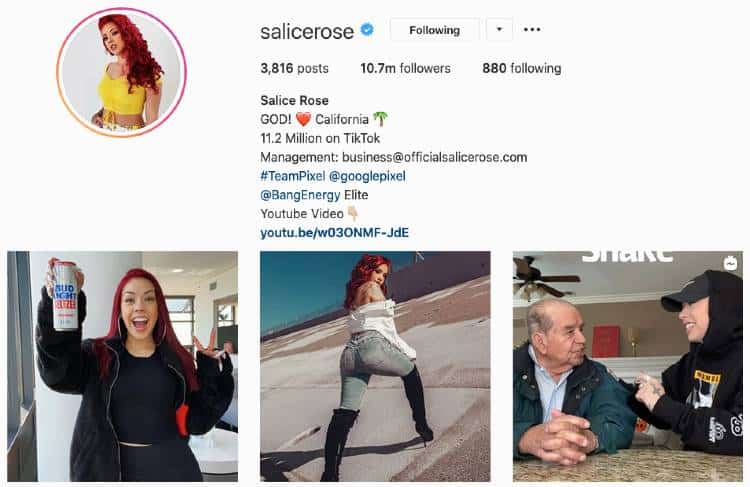 It's not every day that you find an influencer that is popping up on Instagram, YouTube, AND TikTok.
But Salice Rose is your high-energy badass influencer that's giving all-out entertainment on social media.
With the amazing bright appeal she has, it's difficult not to scroll without noticing her on your Instagram feed – where she's either dropping meme videos, sassy pictures, and lots of funny content.
Lifestyle, hair, food, tattoos, dance, and her edgy style is what you'll find in the world of Salice Rose – all with her big personality on the show.
On her 2+ million subscriber YouTube channel, you'll find videos like "how to get over a breakup", "a day in my life", "become a mom for a day", and she's even open about her bisexual orientation in some videos too.
And because she's practically a social media rockstar, she's buzzing on TikTok with 11+ million followers.
Nothing small here.
Salice Rose keeps it real and has the millennial audience at heart with her relatable everyday life content.
She happens to be bilingual Peruvian/American – in case you're a brand looking to tap into those niche audiences.
Eager to connect with sassy entertainment influencers like Salice? Then go and invite Salice for a Collab.
---
Malū – @malutrevejo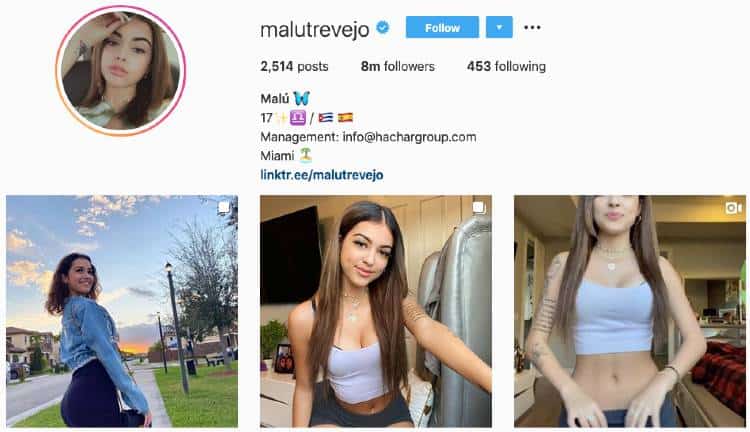 Sweetheart and fresh-faced Malū is a Spanish-singing musician based in Miami.
Born in Cuba, Malū made her influencer fame through her videos on the social media website musical.ly (now TikTok). It looks like she took her original profile down but I'm glad to report she's now back on TikTok.
Her Instagram profile is aesthetically attractive with her sweet nature and fun personality sparkling all over her feed.
Malū's content appears organic, making her pleasantly relatable to her followers.
Whether she's dropping her self-made dance videos at home or flirting in gorgeous outfit selfies, loving her is irresistible as she entertains her followers all so naturally.
Over on her 1.2+ million subscriber YouTube channel, you'll find all her music releases – a show of her professional musical talent.
Collaborating with Malū is a great opportunity for brands wanting to work with entertainment influencers who can help them reach young pop culture audiences.
---
Nora Fatehi – @norafatehi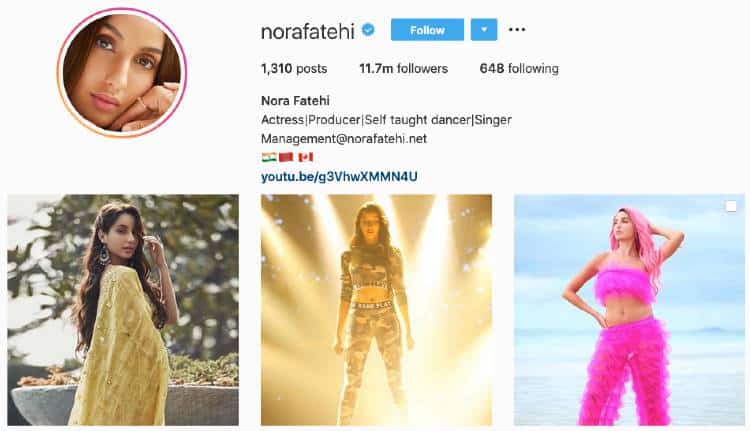 Based in India, Nora Fatehi is a popular sensation with all-around entertainment talent.
She's an actress, producer, singer, and self-taught dancer – all-in-all, she's a stunning urban Bollywood performer.
And to get a taste of her amazing dance talent, head on over to her Instagram profile where she drops hot choreo videos as well as concert previews that will keep you glued to her feed.
Nora Fatehi is sophisticated and yet has an attractive urban appeal.
For more content about the influencer world of Nora, check out her entertainment channel where she drops her exclusive music videos – nothing short of wow if you ask me. Dropping music in international genres, Nora Fatehi is one big fascinating entertainer.
---
Hot Girl Meg (Megan Thee Stallion) – @theestallion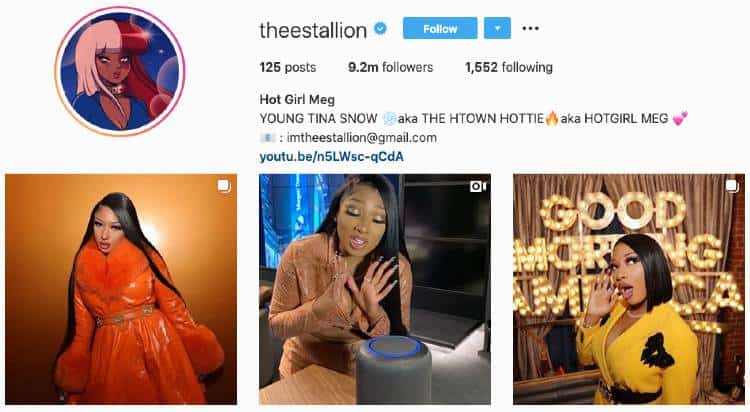 Hot Girl Meg or Megan Thee Stallion or Tina Snow – depending on which alter ego name you know her as – is your badass American rapper.
An inspiration to upcoming influencers, Meg has the entertainment scene lit with her head-turning statement personality, performances, and style.
Her climb up the popularity scale has been fast, having dropped her first mixtape in 2016. Then becoming the first female rapper to sign up with 300 entertainment.
Catch her in all her sassiness on Instagram, where she takes her followers behind and in front of the scenes of her performances.
Over on her YouTube channel is where you'll catch her music releases as well as some fun lifestyle music-inspired videos that warm up the hearts of her followers making her "such a breath of fresh air".
---