Once you go TikTok, you never go back.
You just can't resist swiping down to the next video. Then the next. And the next. And somehow it's 3.21 am and nothing interests you more than watching the next video.
TikTok is user engagement on steroids.
It's over for you as soon as you tap into this sensational micro-vlogging app.
Don't say I didn't warn you.
Be prepared to get lost in hours of entertainment, brought to you by incredibly talented video stars.
Yes, seriously talented. Because fame on TikTok is evidence of well-crafted and well-executed content.
TikTok separates the goats from the sheep as far as content creators go.
Where talent, skill, and great personalities are what will get you to fame. And believe it or not, not all celebrities qualify on the TikTok influencer's big stage.
If you're not interesting or entertaining enough, the TikTok universe simply won't like your content or follow your profile – even if you're a celebrity in real life.
TikTok is truly where brilliant content creators are rewarded. And this is exactly what the internet needed.
You've got to experience it for yourself.
From health, fitness, travel, and keto to hair and beauty – here are the big TikTok influencers to watch out for in 2023 that are buzzing the internet with their sensational content:
Ready to dive into the TikTok world of influencers?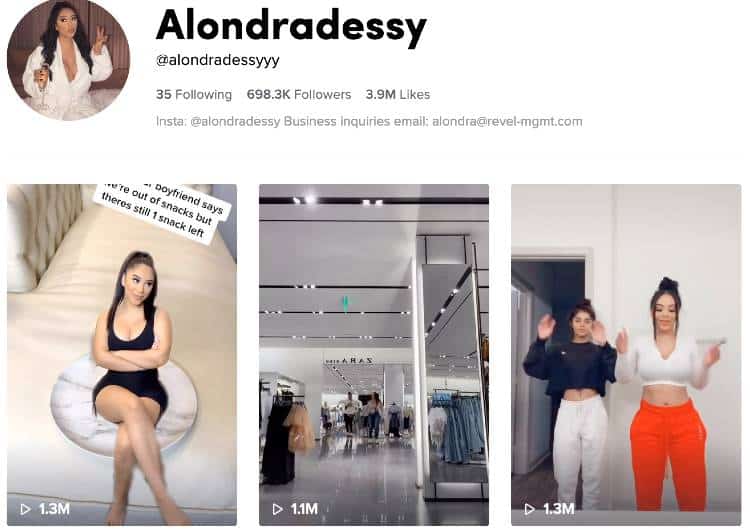 Alondra is a pop culture fashion and beauty macro-influencer making big moves all over social media.
Let's start with her rising 698k follower TikTok profile. Alondra is mostly dancing it up to hot challenges and beats – always on fleek of course.
But we're just getting started.
Well, because her original influence is rooted in her super large 1.9 million followers Instagram profile.
Alondra's makeup talent with her insta-fabulous beauty plus her sassy style with her curves makes her as attention-grabbing as she is. From her catchy pics to her transforming makeup videos, Alondra's influence is outstanding. We're talking about an engagement rate of 22%+. For a macro-influencer, this is quite rare.
Neon green outfits, dazzling dresses, seductive swimwear, and lingerie – striking Alondra has her followers dazzled post after post.
There's more. Followers can indulge more in her personal life on her 886k subscriber YouTube channel. Alondra is a content star, creating on all the buzzing social channels.
As far as collabs go, Alondra promotes a range of beauty and fashion brands, including her own eyelash extension line.
If you're a brand looking for talented TikTok influencers to reach a massive audience, Alondra is your girl.
---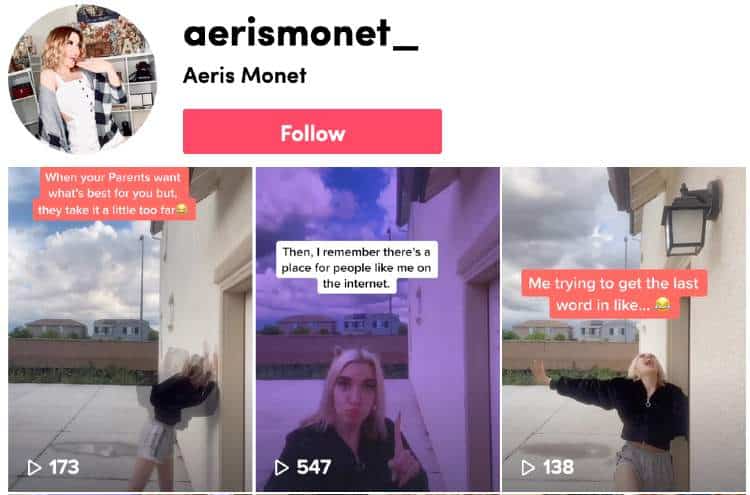 Everything that's hot on TikTok is all happening on Aeris Monet's profile.
In her words "I survived because the fire inside me burned brighter than the fire around me". Aeris is a badass girl that won't pop up without being noticed, especially on your TikTok For You feed.
Between her catchy look, her pop-culture style, and the quirky bits about her life like the retro arcade games that are lined up in her living room – you can't help but scroll and scroll through her videos out of fascination and curiosity.
From the West Coast, Aeris is a young multi-talented social entertainer and she's certainly caught the TikTok bug. Creating several TikToks daily organized in visual themes, she is erupting on the platform with comedy, dances, trends, duets, challenges, and entertaining skits – maintaining relatability amongst her followers. And judging by the buzzing comments, she has a growing engaging audience building up.
Speaking of engagement, she also has a growing Instagram account with a super 12.89% engagement rate. Here, Aeris shares a spread of outfit looks and hairstyle selfies.
Aeris is an energetic all-around content creator that shows commitment to building her audience.
Some of Aeris' brand collabs include Sojovision, Steve Madden, and BB Dakota.
---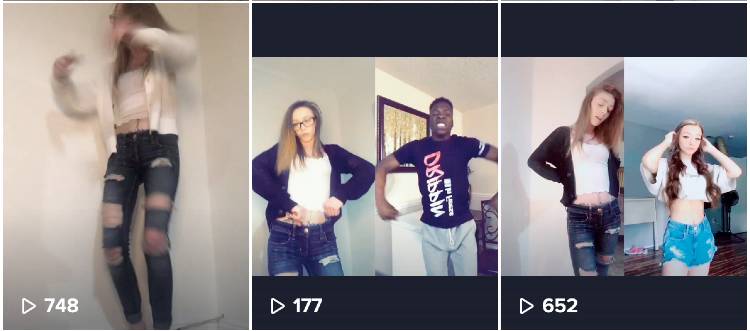 Based in Los Angeles, Haylie is a growing enthusiastic dance TikTok influencer.
Music and dance trends are all happening on Haylie's profile. And as her username suggests, she's rolling out videos daily. Many videos, actually. Some days, Haylie posts as many as six content pieces. She's indeed committed to her growth in the dance entertainment space on the TikTok platform.
With an awesome mix of hip-hop vibes in her dance videos, Haylie's followers are entertained even more as she creates duets with other popular accounts. A creative strategy to reach an even larger audience.
As far as her aesthetic goes, she's a crop top, ripped jeans, and sweats kind of girl. Oh and let's not forget to mention her hot nails that steal the spotlight now and again in her videos.
Her music interest plus her style make her relatable to the pop culture audience in the TikTok space.
For brands looking to reach this buzzing trendy audience, Haylie is your girl.
---
4. Anna Rose – TikTok Model & Dancer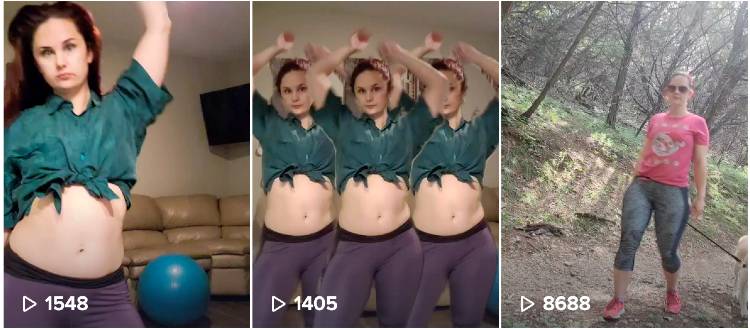 From the USA, Anna Rose is a fun-loving dance TikTok'er.
She's also a model and recently qualified in the quarter-final of MAXIM Cover Girl.
Content
With a pretty face, beautiful long red locks, an athletic figure, and a bright personality, Anna is a delightful entertainer with a contagious love for dance.
She'll inspire you to dance by the coastline, soak in stunning landscape views, take a dip by the river, break it down in your living room, and even pump it up while weightlifting.
With a lifestyle so active and a passion for the outdoors, you'll mostly catch Anna experiencing it all in activewear.
Between her fun pop and modern jazz dance moves, her hot playlist, her energetic spirit, her soulful motivational pep talks, and her spectacular retreats to nature – Anna has an amazing upbeat influence on her followers.
She feels like that fun feel-good friend that everyone needs.
Collabs
With an audience built around her dance moves and uplifting vibes, Anna would make a fitting influencer match for brands in the wellness and fitness industries.
---
5. Health & Fitness Influencer: David Templer – @temp_tation

From the U.K., David Templer has really set the tone for hilarious cooking videos.
After hanging out on his TikTok influencer profile, I am really not interested in watching any other cooking vids. He is hysterical. His dramatic exaggerated humor will get you hooked. I don't know but watching him throw food all over the place is amusing.
And learning how to make a simple chicken fajita gnocchi cannot get any more hilarious than this.
He does have health and fitness vibes going on in his content, too. So when he drops a vid like how to make an easy "fake-away" to inspire you to ditch the takeaway temptation, you know you have to follow him.
And of course, you'll catch him participating in fun challenges and trends, like catchy magic illusions.
Because his sense of humor is just next-level, he has created his own brand of novelty Santa swimwear called Banter Santer. Made from recycled plastic from the ocean. His passion for recycling can't go unnoticed as you'll stumble upon one of his funny vids about recycled products.
Oh, and you can find him on Instagram, too – where his profile is more focused on fitness content.
---
6. TikTok Travel Influencer: Angela Giakas – @angelagiakas

My goal on the daily is to find awesome influencers to showcase. So, I naturally get super excited when I find gems to write up about and share with you. But there's a downside to my discoveries. I can't help but get hooked on their content.
Especially when I discover outstanding TikTok influencers like Angela. Angela is from Australia but travels the world.
Her travel content will grip you like nothing you've ever experienced.
A charming reveal of a hot bath with volcano views on the horizon in Japan.
A sweet video of color-popping deserts in South Korea.
Or let her take your heart to Turkey with a whimsical scene of hot air balloons popping in the sky. And to captivate you, even more, her video of a wild sunset in Turkey will wow you away. It's not every day you're swarmed by a flock of birds in the most beautiful way ever imagined.
After watching that, you'd want your own wild bird sunset in Turkey moment. #thingstodointurkey.
With visually appealing travel content like this, it's no surprise that Angela has an influence on Instagram, too.
I got clicking through her social profiles where I eventually landed on her beautifully presented website, Sunday Chapter. Here, she shares her love for travel, fashion, and beauty. And you can also shop for items from her looks.
At this point, she has pretty much captured your heart away.
---
7. Keto Health Influencer: Mrs. Boss Sauce – @mrsbosssauce

When you find a TikTok star that's 36 years old, she deserves to be talked about.
Johnna from America, known as Mrs. Boss Sauce online, is who I'm talking about.
TikTok is ruled by the young Generation Z influencers, your 13 to 24-year-olds. If you don't fall into that age bracket, it's difficult to adapt or even understand the TikTok culture. But Johnna is doing it and doing it so well.
With TikTok likes of over 1.2 million even though her follower count is growing, this proves just how she knows how to buzz the TikTok universe.
She's a Keto Coach who shares her journey with super cool vids like her blue ice berry shake that pretty much went viral. Hot music, cool food hacks, and a lot of keto love are how she rolls on her TikTok.
Oh, and you'll love it when she drops a vid like her unmarked sale items from Walmart where she bought a bag full of cosmetics for just 10 bucks.
Did I mention that she's a mom? I'm still so amazed at how she's totally rocking TikTok.
Johnna also has a growing influence on Instagram and Youtube.
---
8. TikTok Fitness Influencer: Scott Boersen – @scott.boersen

Once you get to Scott's TikTok profile, you're really just amazed at the level of humor and entertainment that exists on this platform of influencers.
From Australia, Scott will keep you entertained and giggled up all day long – video after video.
He takes the seriousness out of fitness and makes it entertaining with all his light-hearted content.
His memes like your pre-gym session vs when candy goes on sale are enough to get you chuckling away with your friends. From bounce videos to drone videos, you just want to hang out and have fun with Scott, too.
And when you get to his grinding sandwich video, you really appreciate the creative effort he puts into keeping his audience entertained.
---
9. Hair & Beauty TikTok Influencer: Divya Sandhu – @officialdivya1

As soon as I discovered cool beauty tutorials on TikTok from Official Divya, I had to cover her.
Why? Well, you don't get to see many of these kinds of videos on this platform.
But Official Divya from India does it so well. From hair to makeup to skincare – she even promotes coupon codes on her videos.
Her profile is very forthcoming on promotional content, but it works.
With over one million followers and 23+ million likes, you bet she is great at promoting beauty products and the TikTok universe certainly approves.
She showcases beauty products while keeping her audience entertained.
Worried about TikTok getting banned? Check out this article ➤ TikTok Ban: What it Means for Influencer Marketing