I have a confession to make. I fell victim to the side effects of some of the world's most entrancing beauty & makeup influencers.
My mission to gather all the goodies on these influencers for you quickly turned into hours of consuming their content.
They hypnotized me.
So much that I accidentally found myself at a drugstore buying lipstick I convinced myself that I can't go another day without.
This is how powerful they are.  But they deliver extremely valuable content that you'd be missing out on if you don't follow them.
Beauty brands and enthusiasts, I present to you 5 of the world's most highly compelling beauty and makeup influencers that you've got to connect with:
NikkieTutorials – @nikkietutorials
Chloe Morello – @chloemorello
Danielle – @daniellemarcan
ELOISE XO – @makeupby_elliee
Renée – @gothamista
Let's check them out.
NikkieTutorials – @nikkietutorials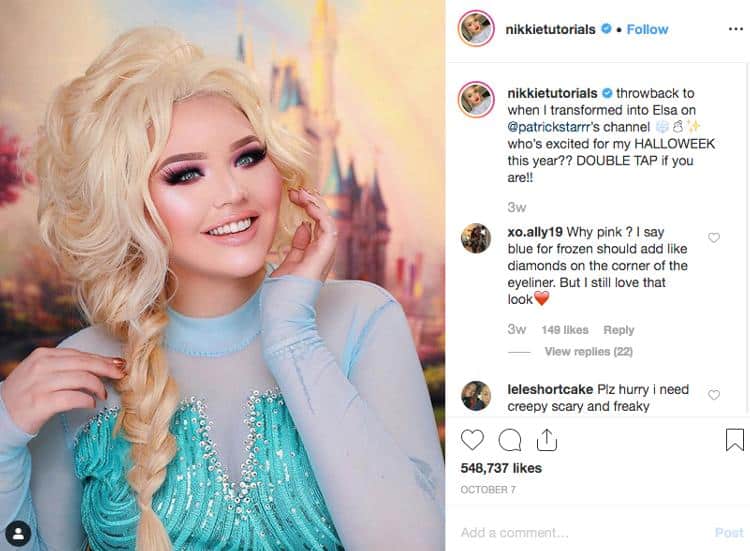 Outstanding globally recognized makeup artist.
If your world revolves around beauty and makeup, then you absolutely cannot be missing in action from this influencers' follower list.
From The Netherlands but with a very impressive American accent, Nikkie is your lovable down-to-earth girl with well-refined makeup art skills.
In the online space, Nikkie is a makeup star.
Her influence exploded on the internet with her viral "power of makeup" video series where she does transformative half-face makeup looks.
Her signature video series is so big that she's had a-list celebs like Kim Kardashian featured in her videos.
Yup, she's a big deal. A big 12-million followers kinda deal.
Her 12-million subscriber Youtube channel rocks just as much as her Instagram account.  Her biggest video hit yet is her "the power of makeup" video which drew in over 40 million views.
Some of her big-name paid partnerships include Allure.
Did I mention that her makeup artistry is outstanding?
Chloe Morello – @chloemorello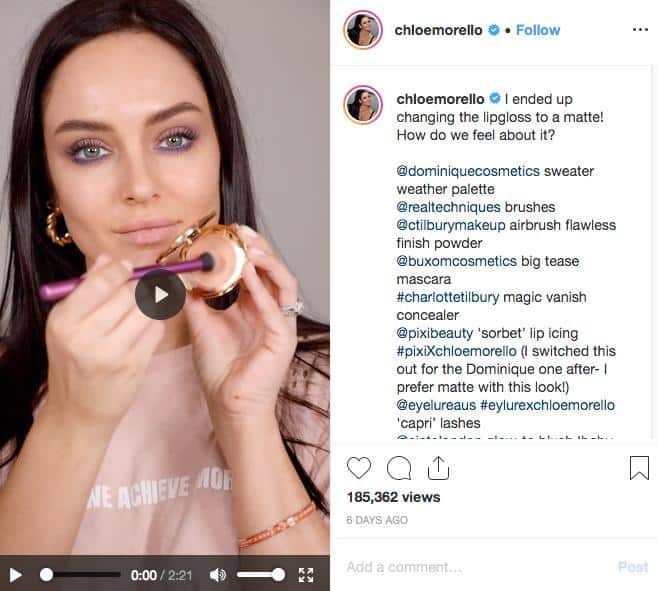 Funny everyday makeup enthusiast, Chloe Morella.
From Australia but currently based in Los Angeles, Chloe will inspire you to glow with some good laughs in the process.
She'll help you brighten up your Mondays with red lipstick. She'll dare you with the smokiest colorful eyes and somehow still keep the whole look somewhat natural.
And what's beauty without skincare? Chloe is also your skincare bae.
You'll find her glowing on her 2.71 million subscriber Youtube channel where she shares some of her routines and tips. Her top makeup video yet is her "16 best makeup and beauty hacks 2017" with 12 million views.
Chloe's realistic vibes come through as she shares behind scenes all the glam of being a vlogger and influencer.
Her paid partnerships include big-name brands like Lancome.  Catch our influencer at beauty and makeup events as she also does meet and greets with her fans.
Danielle – @daniellemarcan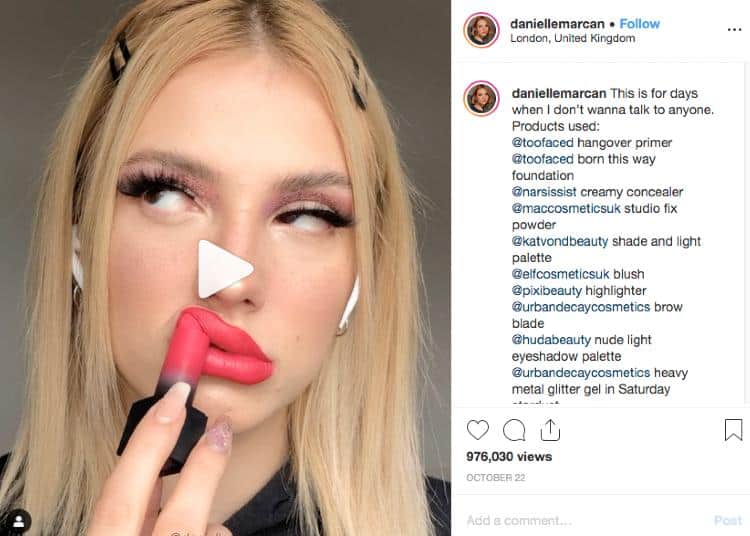 Playful eye-rolling unconventional natural beauty guru, Danielle.
All it takes is watching one of her makeup videos to capture your attention.
Danielle's quirky personality makes her content stand out – beyond the ordinary makeup vids that are flying all over the internet.
Even though she doesn't have a presence on Youtube, her Instagram profile is packed with makeup videos.
You certainly get a feel of natural looks with mostly nude lips from her feed as she doesn't go over the top. However, she'll turn up the dramatic eyes with the occasional bold lips.
Whether she's making a statement with her makeup looks or her playful attitude, she knows how to buzz her audience with loads of organic content – boasting an outstanding engagement rate of over 10%.
Danielle features a wide range of products in her looks, delivering short and sweet quality video content.
ELOISE XO – @makeupby_elliee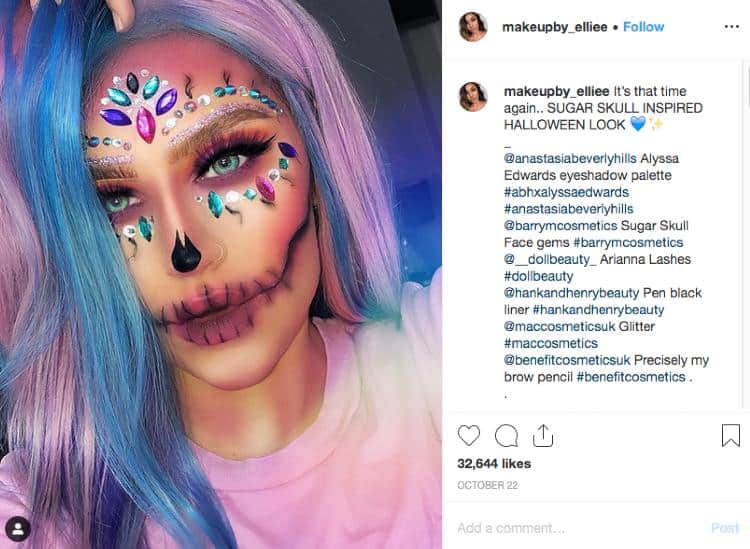 Super catchy makeup girl, Eloise.
In Dubai, Eloise is the beauty & makeup influencer that you just can't get enough of.
In fact, before we go any further, let me warn you. Her Instagram profile is addictive. Creative video teasers are splashed everywhere and you can't help but click through to watch her videos.
Like you can't help but wonder what that gooey purple stuff is on the makeup brush. Until you hit the play button and she impresses you with an interesting face mask.
She certainly delivers on expectations all the way.
Her quick makeup look videos feature some interesting products.  "That's so cool" kinda product. Like the instant brow tattoos and the teeth whitening strips.  At this point, these products would be in your shopping basket already.
Without her makeup on, Eloise is a sweet inviting girl. As she works her makeup magic and transforms her face, she becomes this dramatic statement. You're literally wowed – in a great way, of course.
From big bold eyes with shimmering shadows to plump nude lips – Eloise knows how to keep her followers fascinated.
On her growing Youtube channel, you'll find some of her top videos like "full face of fake vs real makeup" which is a pretty valuable review.
Renée – @gothamista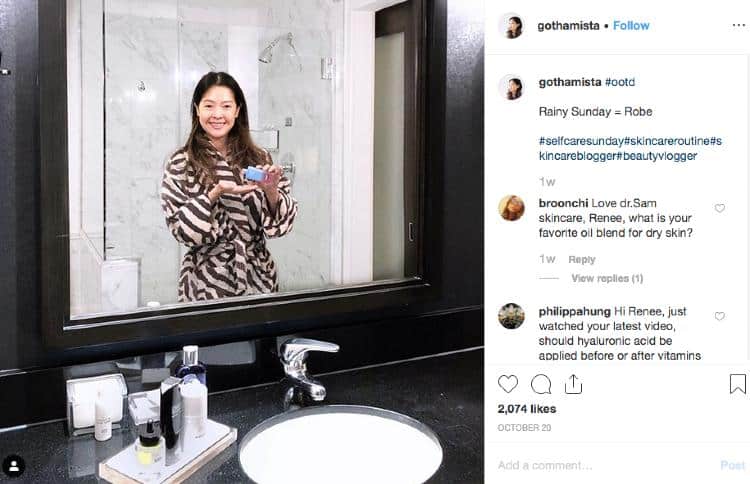 Well-seasoned mature makeup and skincare enthusiast, Renée.
In New York, Renée is your must-follow makeup influencer if you're looking for valuable insights into all things beauty.
Her authority on her 525k subscriber Youtube channel is notable.  Hitting 1.8 million views, her top video yet is "face oils – what's best for your skin type".
After consuming her content, you feel like you've attended a valuable lesson in beauty. One definitely feels a sense of "she's a credible authority" in the beauty space.
Her sophisticated maturity plus all of the valuable content she shares makes her the expert you'd want to stay connected to.
Did I mention how lovely her product flat lays are?  Oh, and she also manages a beautiful beauty blog, too.