From an event marketer, business coach, mom-boss, and entrepreneur, to an online marketing trainer – these business influencers are content stars and inspo sources.
They've built audiences around their expertise, passion, and business lifestyle. You've gotta follow them.
And if you're a brand, then you've got to connect with them for Collabs.
Check out these buzzing business influencers:
Let's talk business!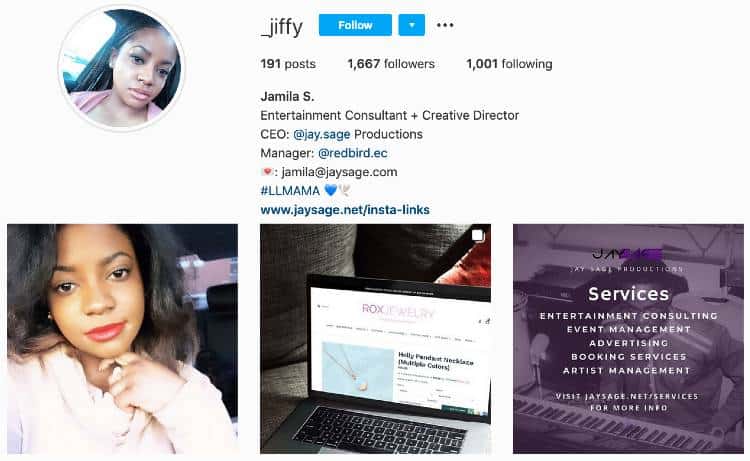 From Dallas, influencer Jamila Sherman is a busy event business bee.
She's an entertainment consultant, creative director, and CEO of Jay Sage Productions – a business that focuses on creating and promoting events as well as elevating the careers of creatives.
Her work involves entertainment consulting, event management, advertising, booking services, and more.
On her Instagram profile, Jamila takes her followers along with her through her work and activities. From showcases of her creations like her business series "How I Made My First Million" to the various events and festivals that she's involved in.
Jamila has both an online and an offline influential presence. Evident in the various local events she promotes on her social media. And the responses like "we loved it" dropped in her comments.
And because events rock her world on a daily, Jamila publishes regular monthly Dallas event guides on her blog. She's also active in the music industry so you'll catch her sharing music gigs too.
With an audience built around her event work, Jamilia is your go-to business influencer for event collabs. Especially if you're looking to target the Dallas demographic. And she certainly ticks the boxes for offline collab work too.
---
John Kapos – @chocolatejohnny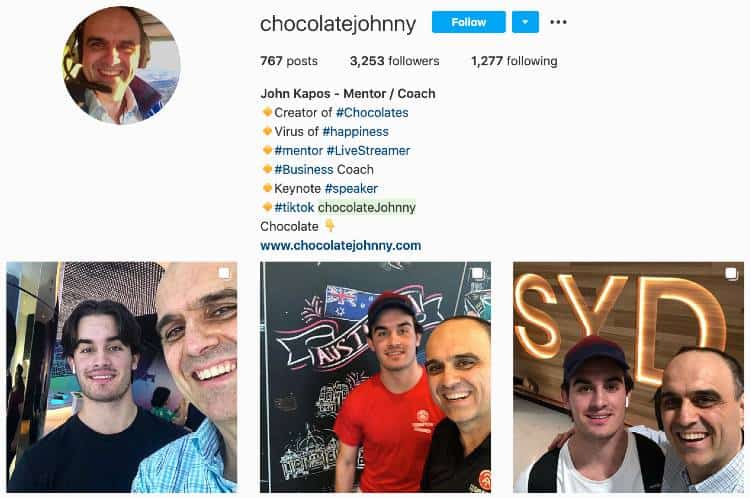 John Kapos is a small business coach from Australia – one of the influencers that you no doubt want to keep close.
Before I go any further, John is not the typical "business mentor" like the many others that spam the internet. He's actually pretty delightful to follow.
But first, his back story. He's a 3rd generation chocolatier and was an early adapter of the internet space. So the two things that make his world go round are chocolate and the internet.
John is all about helping small businesses, notably brick and mortar stores, make use of social media. And John is all talk and action because he's all over the internet with his content and execution.
You'll find him regularly live-streaming on Periscope as well as dropping content on Instagram, Facebook, and Twitter. That's not all folks. John is even buzzing on TikTok. I'm impressed.
What's his content all about? Well, John takes his followers along with him to entrepreneurship events, shares the experience, and inspires them to take action like "create your first YouTube video" for their own businesses.
He's also a keynote speaker with valuable thoughts to share like "I'm not a brand, I'm just Chocolate Johnny trying to be excellent and unforgettable at what I do as best as I can".
If you're looking to connect with business influencers – you can't go wrong with John Kapos.
---
Lolita Carrico – @lolitacarrico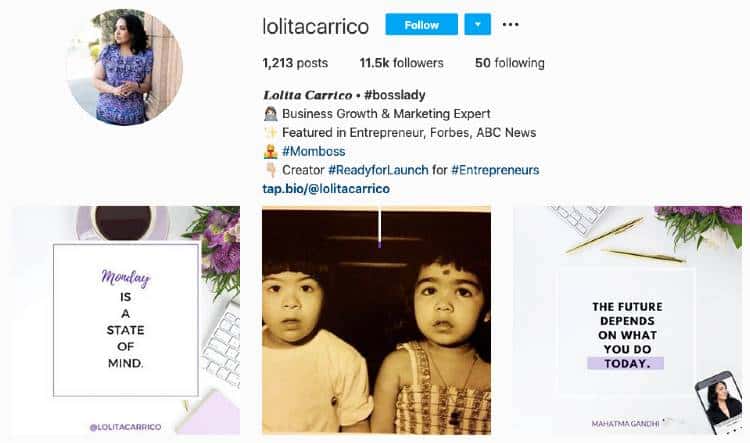 For extra special motivation for all the women out there, Lolita Carrico is the #bosslady #momboss to follow.
Based in the USA, influencer Lolita helps businesses launch and grow. She's also a marketing expert, and creator of #ReadyforLaunch for Entrepreneurs, and she has created a collection of courses to help businesses.
Oh and she's even featured on Entrepreneur, Forbes, and ABC News.
For business owners, Lolita is the much-needed motivation on your Instagram feed. Because we all need to "start the week right" and hear messages like "if you're facing obstacles, it's not permanent" to keep going.
She drops quotes and messages that will uplift her followers along their journey.
"The world needs this, keep spreading the positivity", a comment dropped by one of her followers.
And if you need more, she has launched a new YouTube channel with videos like "working from home: 4 tips to make it easier", "maximizing your Linkedin presence" and "should I join a co-working space".
---
Garrett Atkins – @garretteatkins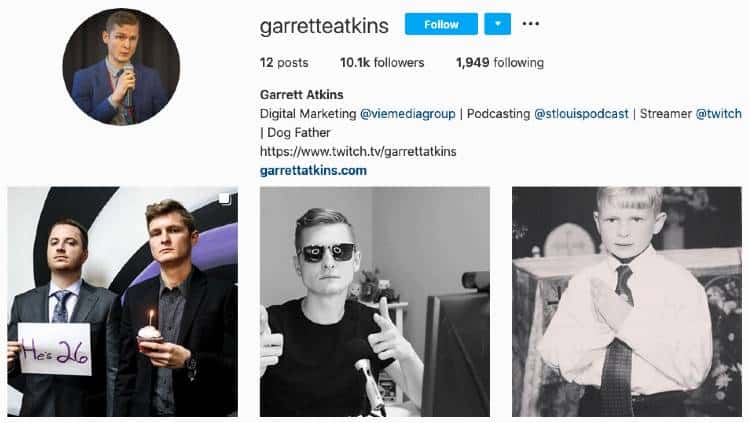 For every entrepreneur beginning their journey, there's an influencer like Garrett Atkins to lift them up.
Garrett is the founder of his very own digital marketing agency, VIE Media. He's a podcaster and also an affiliate live-streaming gaming enthusiast.
His business serves startups, small businesses as well as Fortune 1000 brands.
Garrett's social media content is all about documenting his journey with compelling stories. He also inspires his followers with messages like "the most important thing is that you start and the second most important thing is that you keep going, and keep it consistent".
Garrett's Instagram influencer profile is professionally presented and here's where he shares his entrepreneur experiences like how he started his business the day he had a car wreck. Quite inspiring.
On his Twitter profile, he shares more of his podcast and gaming content with a few brand promos.
Garrett is worth the follow, video play, and every caption read. While he may not go overboard with posts, when he does his content is worth your attention.
---
Tanya Aliza – @tanyaaliza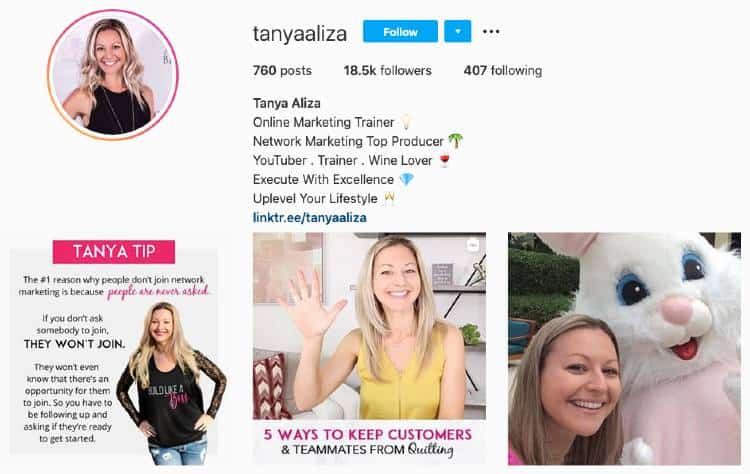 From the USA, Tanya Aliza is a network marketing top producer and she's also an online marketing trainer.
Tanya is passionate about helping people create success while designing a lifestyle they love.
And her social media is amped up with her video content – from quotes, behavior statistics, and strategies to useful tips.
Her 74k subscriber YouTube channel is powered with videos like "how I enroll 2-5 new customers each week", "keep customers + teammates from quitting", and so much more.
All her YouTube videos have a complimenting post on her blog and all her content distributes effectively through her Instagram, Twitter, and Linkedin profiles.
Tanya is a committed creator with a well-presented aesthetic, delivering value throughout her presence.
Prospective businesses would definitely value Tanya's content delivery skills in influencer collaboration projects.