How many times have you scrolled through TikTok or Instagram, watching content from influencers, and thought, "I could do that"? Probably more often than you'd like.
If you've been dreaming of making it big as an influencer, there's never been a better time to start. Business Insider reports micro-influencers can make as much as $5,000 a month as brands increasingly turn to smaller-scale influencers to cultivate more authentic and meaningful relationships with their audiences.
But here's the catch: becoming a successful micro-influencer takes more than just snapping a few photos and posting them on social media. It takes consistency, dedication, and hustle to stand out in a saturated space.
Feeling intimidated? We've got you covered. Read our start-to-finish guide on how to become a micro-influencer and start a profitable business.
What is a Micro-Influencer?
A micro-influencer is a social media personality with 1,000 and 100K followers. Micro-influencers create content on specific themes to build a niche audience and often go on to promote related products.
Even though their reach and influence are smaller than macro and mega influencers, micro-influencer marketing often delivers a higher return on investment for brands because these creators are close with their followers and have a greater sense of rapport than do larger-scale influencers.
One example of a successful micro-influencer is Pamela Soluri, a fashion influencer with over 70K followers on Instagram. She partners with beauty and fashion brands like MyBeautyBox, FEMME LUXE, Pixi, and more. Her content covers themes around her outfits, fashion advice, and beauty routines.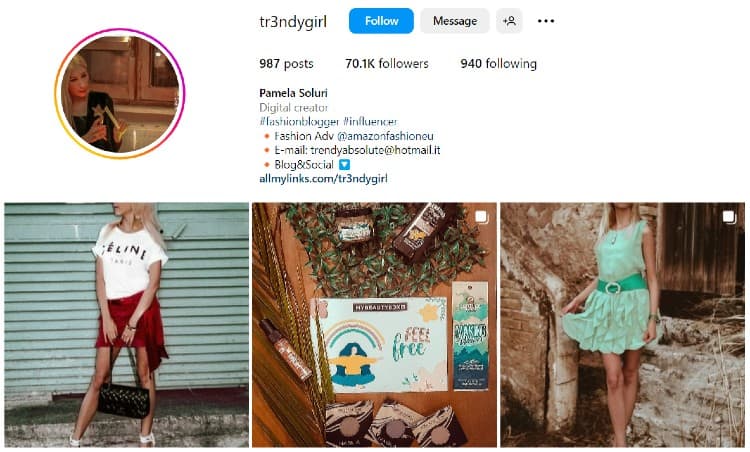 What Does A Micro-Influencer Do?
Here are a few tasks and activities that micro-influencers take up:
Creating engaging content to entertain and educate their audience.
Designing and optimizing their content strategy to stay ahead of the algorithm.
Monetizing their content through affiliate marketing, merchandise selling, and other avenues.
Using social media analytics and other tools to get a pulse of their followers and adapt their strategy.
Collaborating with brands to promote their products or services through different formats of content.
How Many Subscribers Do You Need To Be A Micro-Influencer?
You need anywhere between 1000 and 100,000 followers to become a micro-influencer. Users with less than 10,000 followers can also be considered nano-influencers, but brands consider the 1000-100K range as the benchmark for defining a micro-influencer.
How Much Does A Micro-Influencer Make On Average?
A micro-influencer makes $1,420 per month on average, according to the HypeAuditor 2021 Influencer Income Survey. Influencer Marketing Hub reports that micro-influencers charge between $100 and $500 per post on different platforms, while the Creator Rates Report indicates that micro-influencers charge $200-$1,000 as their baseline fees.
A Complete Playbook on How to Become a Micro-Influencer
Maybe you're ready to take the first step toward your micro-influencer business, but you feel intimidated by so much competition on every platform. Will anyone even follow me? Will I ever cross the 10,000 follower mark?
If self-doubt and confusion are holding you back, this is the only guide you need to create an airtight plan and build your career as a successful micro-influencer.
1. Determine what you're passionate about
Most influencer profiles fail to take off because their content is scattered and disconnected. You have to create content around a few related themes for people to associate you with a certain type of content—entertaining or insightful.
So, start by defining themes you're passionate about. Since you have to create a lot of content around these themes, it's always a good idea to pick the ones you enjoy or specialize in.
For example, Kryss DeSandre started her journey as a fitness micro-influencer because she was a certified personal trainer. She decided to share her expertise as a trainer through Instagram content and motivate her audience to live a healthy life.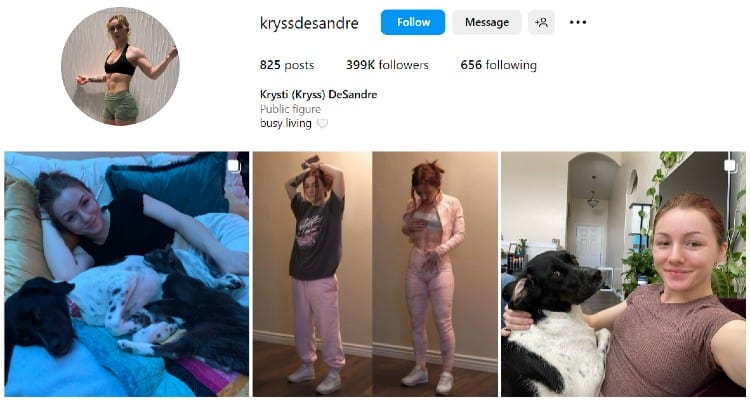 Like Kryss, your first task is figuring out what drives you and identifying topics you love discussing. This step will lead you to your niche. Here are a few actionable tips for finding the perfect niche once you've discovered your passion:
Research the competition on multiple platforms and check out other influencers' profiles in the same niche.
Experiment with a few themes to see what performs the best, and keep evolving your choice of topics.
Find topics that align well with your personality to keep your content as genuine and engaging as possible.
Defining your niche will guide all the next steps—your content strategy, branding, formats, and types of brands you collaborate with.
2. Find the ideal platform for your audience
Once you've narrowed your niche, it's time to learn everything about your target audience. At the end of the day, your performance as an influencer relies heavily on how well you understand your audience.
A niche and hyper-engaged audience is one of the biggest differentiators for micro-influencers. So, if you want to build a standout profile, find and familiarize yourself with your target audience early on.
Start by analyzing similar influencers in your niche to identify the type of users engaging with their content. Create a basic profile of the people you want to reach. Define the ideal age, location, purpose, and lifestyle for your ideal followers.
This research will also help you pick the ideal platform for your micro-influencer business. Instead of juggling multiple platforms, start creating content consistently on a single channel and diversify your presence gradually. Learn where your target followers hang out the most and design a strategy focused on that platform.
Pro tip: Once you've decided on your niche and ideal platform, sign up and optimize your Afluencer profile with all the necessary details. You can get offers from brands in your niche and collaborate on exciting projects.
3. Create content in your unique style
Content creation is one of the most important parts of your role as a micro-influencer. Many aspiring influencers often give up too soon because they can't publish content consistently. This is why your content creation process can make or break the deal for you.
Here are four best practices to create content that resonates with your audience and follow a good posting schedule:
○ Design a content plan
Posting content every day isn't for everyone. Some days you'll feel uninspired, and other days might feel tiring. Several roadblocks can break your momentum and put a jarring halt to your posting schedule.
An effective way to avoid this situation (when it inevitably comes) is to create a detailed content plan. Outline your core content pillars, post ideas, inspiration, timelines, and other details. This will help you organize your content creation workflow and keep you ahead of the curve.
○ Curate content for creative inspiration
A creative block is your worst enemy as a micro-influencer. It's difficult for influencers to get out of a rut once their creative instincts hit the wall. Content curation is a great technique to never run out of ideas and fuel your creativity anytime.
Curation is sourcing and saving great content that inspires you. This can be in any format—like a section of a book, newsletter edition, blog, or similar. You're essentially finding unique ideas from multiple sources to create similar or contrary content in the future.
○ Follow your visual aesthetic
One way to set yourself apart from the competition and create a more appealing profile is by defining your unique aesthetic. Create a visual style reflecting your personality and choose the right color palette, typeface, imagery, and mood board.
Think of your profile as a brand. This step will make your brand more memorable and easily recognizable. So, when non-followers come across your content randomly, they'll instantly remember you and maybe hit the follow button.
○ Collaborate with other creators
While establishing and perfecting your style matters, partnering with other influencers in your niche and combining your styles is equally important. This will be a mutually beneficial partnership and expand the influence of everyone involved.
Choose creators who share the same values as you. Remember to brainstorm something that showcases the unique style for both of you.
4. Analyze your performance and build a portfolio
You need a stellar portfolio to bag projects with good brands in your niche. Since the competition is higher among micro-influencers, your portfolio will prove your credibility and give brands or marketing teams the right reasons to choose you over others.
Here's how you can create a good portfolio:
Use analytics tools: Track your content performance using analytics tools. These tools provide useful insights into your audience demographics, engagement rates, and reach. You can use these insights to identify what type of content performs well. They also help in building case studies for every project you work on.
Source client and audience testimonials: Social proof is a great way to add credibility to your name. You can earn social proof by requesting your clients for a testimonial. If you don't have enough clients, source positive reviews from your audience. Ask them to share how you've impacted their lives and add these clips to your portfolio.
Showcase your best work: Your portfolio shouldn't just be a set of posts and metrics. Elaborate on your process and thought behind every post or project to highlight your critical thinking skills. Explain the meaning you wanted to convey through individual posts to add more meaning to your work.
You can host your portfolio on a micro-site created on Notion or make a full-fledged website. For example, Mima and Peter are two travel influencers creating content for their Instagram account, auldsouls. They designed a website to detail their story, work, and partnerships.

5. Define value propositions for brand partnerships
Why should brands hire you over tens of other micro-influencers like you? The last step in building a strong profile as a micro-influencer is determining the value propositions you offer brands. These are the major differentiators that give you an edge over the competition.
You can highlight these value props in your portfolio and your Afluencer profile too. Let's look at a few popular ideas you can spotlight for bagging more brand partnerships:
Audience demographics: Give your prospective clients a clear insight into your audience—their age, gender, location, and interests. Build your positioning around this niche audience and target brands catering to this specific group.
Content formats: One of the first considerations for a brand looking for micro-influencers is whether your content aligns with its strategy. So, highlight the content formats you've tried in your value propositions. Showcase examples of each format you've tried so far to make a stronger case for your skills.
Engagement rates: Another attractive point for micro-influencers is their engagement rate. A higher rate promises more exposure and clicks for brands. So, they'll likely make their call based on this percentage. While you strive to proactively engage with your followers, highlight your engagement numbers as a differentiator.
Authenticity and credibility: As we mentioned, one of the biggest reasons for brands to partner with micro-influencers is their genuine connection with their target audience. Show your audience's trust in you by adding clips of their positive messages and comments.
If you're pitching brands for partnerships, aim to include a few collaboration ideas along with your primary value proposition. This will give potential customers a peek into your creativity and market knowledge.
6 Top Skills of a Successful Micro-Influencer
Now that we've covered our roadmap for becoming a micro-influencer, let's break down the six most important skills you need to develop in this role:
1) Audience Engagement
For micro-influencers, their audience is everything. Brands come to you to tap into your engaged audience and drive more conversions. If your followers don't engage with your content, it's an immediate red flag putting you out of contention. So, knowing how to engage your audience is among the top skills for micro-influencers.
2) Storytelling and writing
While most social platforms are visual, you need good storytelling skills to reel in more viewers and create a strong impact with your content. Learn the nuances of storytelling and refine your writing skills to create meaningful content around any topic or brand.
3) Adaptability and creativity
As a micro-influencer, you'll have to work with brands from multiple verticals—even if they don't align exactly with your niche. This means you should be adaptable enough to produce engaging content for each brand and make it relevant for your audience.
4) Social media management
Effectively managing your social media presence is undoubtedly one of the core skills for micro-influencers. You have to be aware of algorithm changes, platform updates, trends, and user preferences at all times to iterate your strategy accordingly.
5) Analytics and data analysis
Actively tracking your performance and monitoring your audience preferences is a big part of the typical micro-influencer role. Explore and pick your analytics tech stack to do this effortlessly and make data-driven decisions to one-up your competition.
6) Business and marketing skills
Building your micro-influencer profile is nothing less than running a business. Besides creating content, you have to find the best ways to market your brand and create systems for repeatable success. Learn these business skills and boost your hands-on marketing knowledge to maintain positive client relationships.
The bottom line: Learning is a constant for micro-influencers. You have to keep upskilling to offer more to your audience and bring better ROI for your clients.
Get Ready to Launch Your Micro-Influencer Career
That's a wrap on our complete guide on how to become a micro-influencer. While taking the first step and setting up your micro-influencer profile is easy, maintaining the right momentum and consistently posting content is difficult.
With this start-to-finish guide, you can unlock the secrets to starting and scaling your career as a micro-influencer. Don't forget to sign up on Afluencer to bag inbound brand projects.