With 77% of brands dedicating a chunk of their marketing budgets to influencer marketing campaigns, it's safe to say that this marketing channel isn't going away anytime soon.
But while becoming an influencer may sound easy and look glamorous on paper, it can be challenging in practice. Influencers have to network with the right people, send cold pitches to relevant brands, and keep a steady inflow of work.
Wouldn't it be great if brands reached out to you for partnerships, and you could just select the projects you wanted to work on? With Afluencer, you can do just that. Afluencer makes it simple for influencers like you to present your interests and get on the radar for top Shopify brands.
We've created this guide to help you set up a well-optimized Afluencer profile that you can proudly promote and bag more brand collaborations every single month. Follow these seven steps to create more interest in your profile and maximize your opportunities.
1. Connect all your social media accounts
When brands shortlist and vet influencers, some key parameters they look for are content quality, engagement rate, type of audience, and similar. All of this is riding on your social media presence.
Your social profiles show brands what you bring to the table. They highlight your personality and convey the rapport you've built with your followers. More importantly, adding your profiles simplifies the shortlisting process for brands since they can jump to your Instagram or TikTok in a single click and check if you're a good brand fit.
So, the first step in optimizing your Afluencer profile is connecting all your social media accounts. The more accounts you connect, the more followers you'll have to your name. The best part? Click on the "question mark" icon next to Facebook/Instagram and TikTok to easily learn how to integrate these profiles into your Afluencer account.
While connecting Instagram to Afluencer can be tricky, it's a must-have for your profile since Instagram is the default go-to for brands.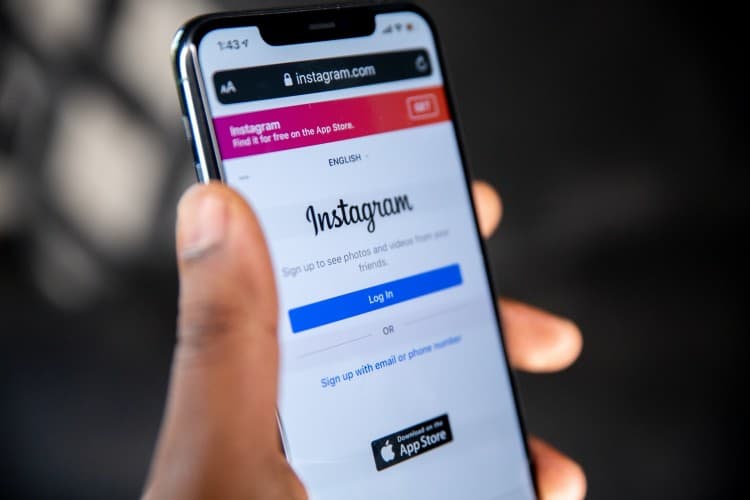 When you're living the online hustle, it's super important that your socials are front and center of any of your shameless self-promotion efforts. Sorta like, "Hey this is who I am and this is where you can find me and my work." [Read More]
2. Select your top interests to feature in search results
How do you get in front of the right brands that match the topics you're passionate about? By picking the right interests for your Afluencer profile.
These filters allow brands to find you because they can filter their search using "interests" as one of the parameters. This shows up in your profile summary in the search results, like in this screenshot.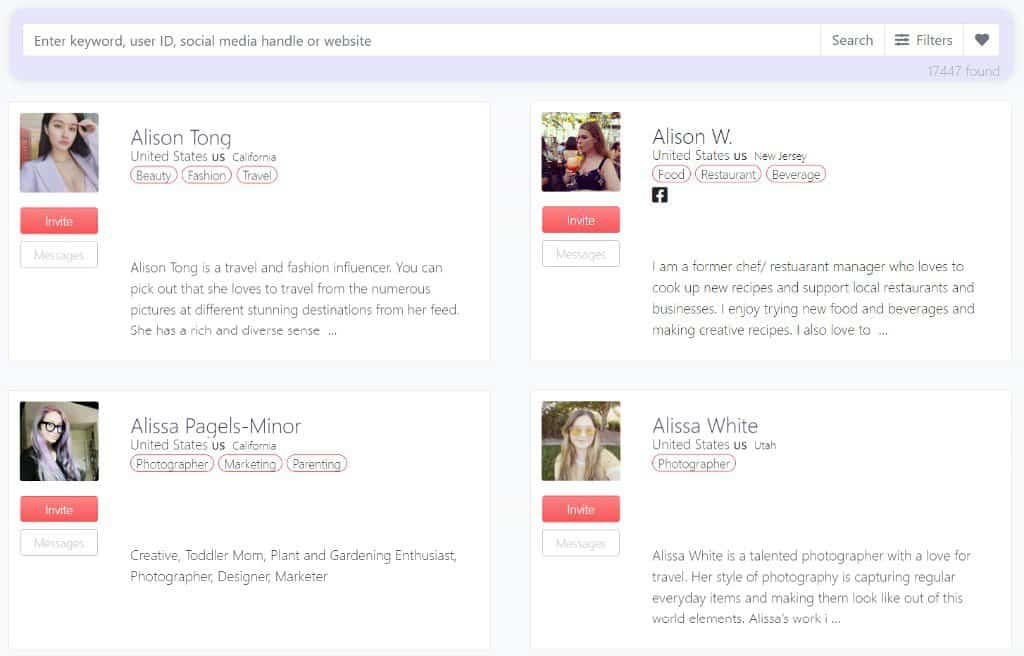 Adding your interests increases your chances of connecting with brands from your chosen niche(s). It adds more authenticity to your paid partnerships and positively impacts your audience. The result? Better ROI for the brands you work with and a stronger portfolio for you.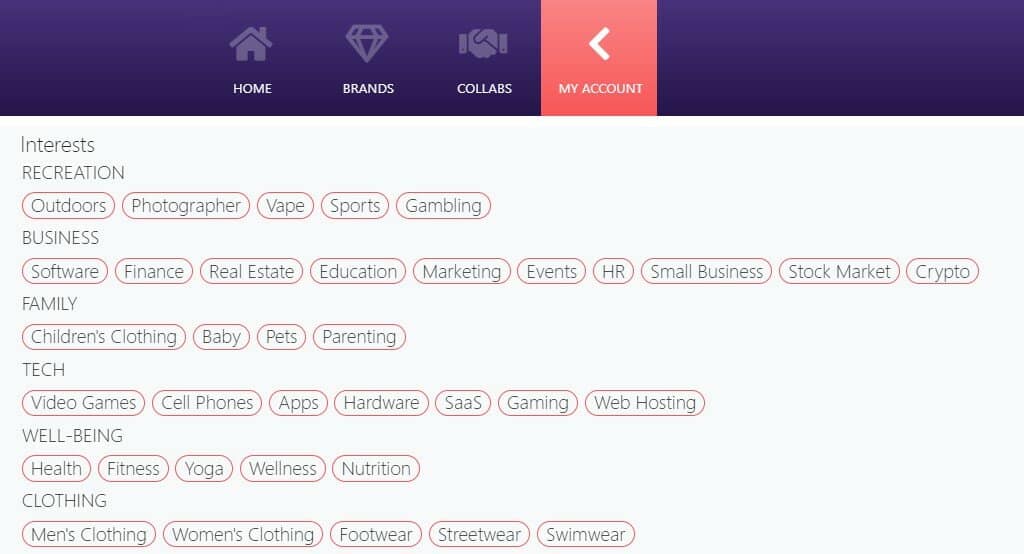 3. Find ideal keywords to fit your profile and optimize
Afluencer's search function is like most other search engines—it works on keywords. Brands can put any keywords to filter our database of over 16,000 influencers. Using relevant and niche keywords gives you added visibility in front of relevant brands.
Cassie Helper, an Afluencer user since 2018, offers her best advice on using keywords:
"Make sure to list all the keywords SEO style in your bio that features your background. Even if you're a plumber during the day, that is still relevant to many brands."
For example, if you're interested in sports or have a background in the field, you can add that keyword to your About section. When brands search for "sports," your profile will feature in the search results.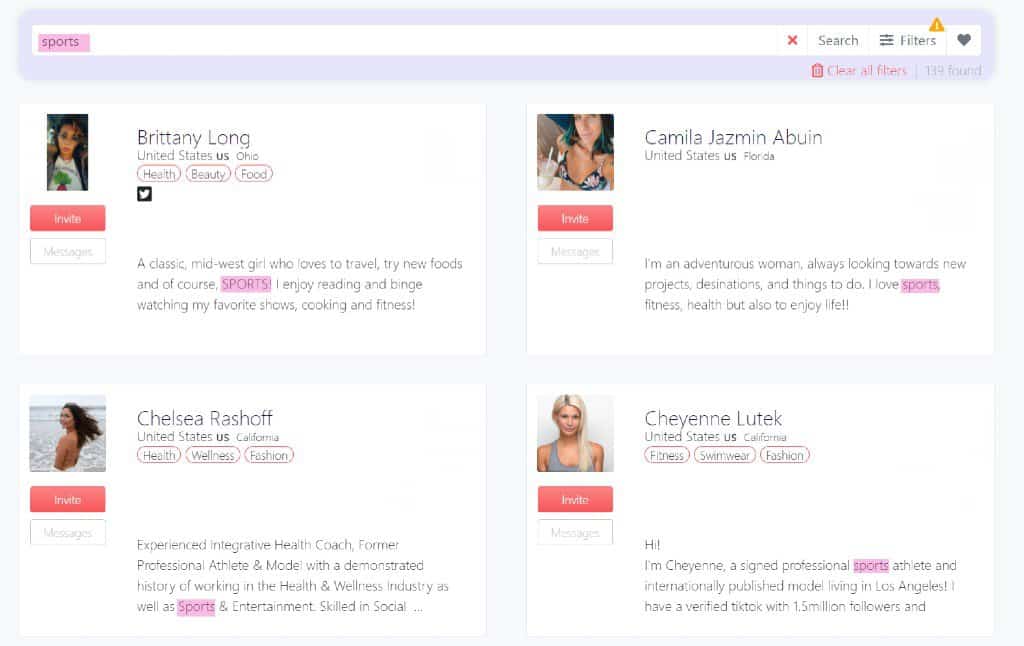 But the bigger question is: how do you find the right keywords for your profile? The answer is easier than you think.
Start by deciding your niche—topics you want to create content around. Dig deeper into your chosen niche to identify audience questions, pain points, trends, and topics of interest. You can use keyword research tools like Google Keyword Planner or spy on your competitors to curate a list of the most popular and high-intent keywords for your influencer profile.
Add these keywords to the About section of your Afluencer and reel more brands for collaboration.
4. Complete your profile page and make it appealing
Fill out all the given fields and create a standout Afluencer profile. The most critical section of your profile is the profile image and cover photo.
Pick the same photo you've used on your social channels as your profile image to create uniformity. Add a catchy and on-brand banner spotlighting what you're known for and what you can offer brands. The goal is to draw the hiring managers in and capture their attention instantly.
You can add your name, birthday, gender, location, and city/region. These are search filters for brands to find the most relevant influencers for their campaigns.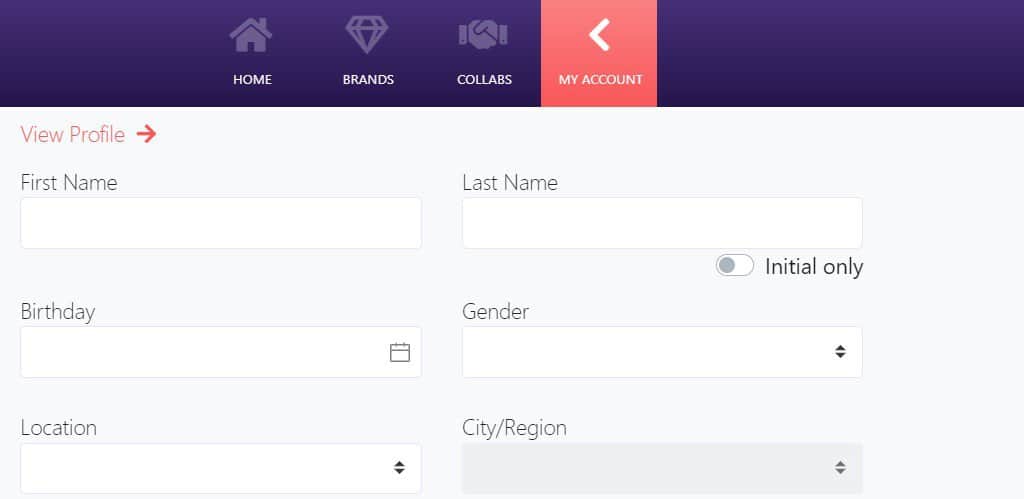 5. Write a compelling and scannable About section
When you're in talks for a potential brand partnership, sharing your social handles won't seal the deal for you. You should make a case for yourself and convince a brand manager why you're worth the investment. The About section on your Afluencer profile is the perfect space for this.
Write your About section to make a solid first impression and convey your experience as an influencer. Emphasize your core value propositions and add a few short snippets of the results you've produced in the past.
"Show numeric results of your work! If you grew a brand's sales by 100X or had X% higher engagement one week, those are the money stats," said Madi. "Curate the best collabs you've done (not necessarily all of them) and include keywords for your niche, too."
But the biggest rule of thumb here is to be your authentic self. Let your personality shine through your bio and make it personable. That's what influencer Cassie Helper has sworn by throughout her career as an influencer:
"I'm always myself, no faking here or pushing crappy products. I honestly believe in the brands I choose to work with and would use their products anyway. I try to keep it cool, light-hearted, funny, and casual – like we're just hanging out and chatting. Sometimes less is more."
Here's a great example of a crisp, impactful, and scannable About section by Amanda Jewell. She talks about her background and the kind of content she creates. She also conveys how she collaborates with brands and all the best ways to connect with her. It's short, yet powerful.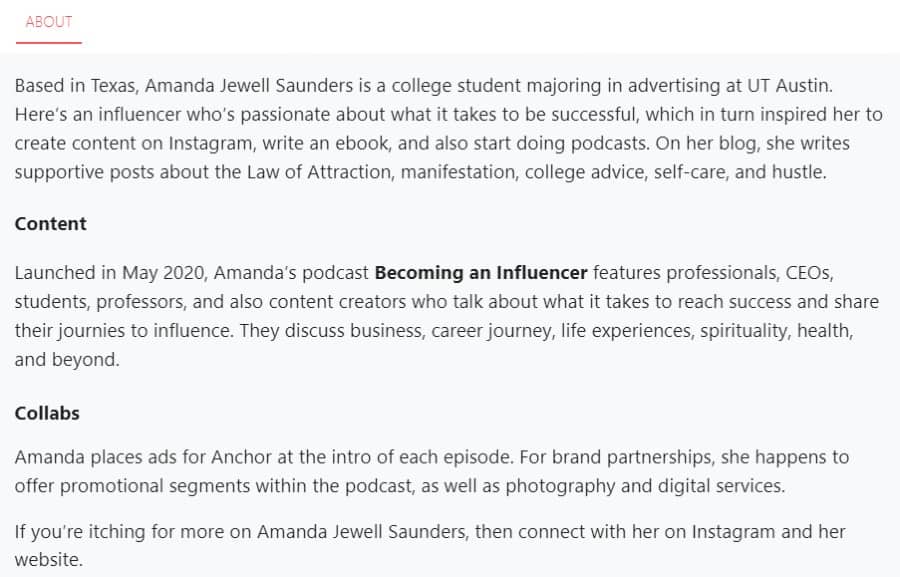 6. Maintain a high response rate to increase your rating
Responsiveness is one of the essential parameters of the client experience you deliver. The quicker you respond, the more seamless it is for brands to work with you.
This is particularly important when brands approach you for an opportunity on Afluencer. Don't keep them waiting, and let the project slide off your hands. Be quick with your responses to show how well you can coordinate with them if you get the gig.
Plus, your response rate can become a huge differentiator on Afluencer. It shows up as an attribute on your profile, giving brands an early sign of what it'll be like working with you. Keep in mind that a low response rating can be a crucial criterion for filtering out influencers from the larger pool.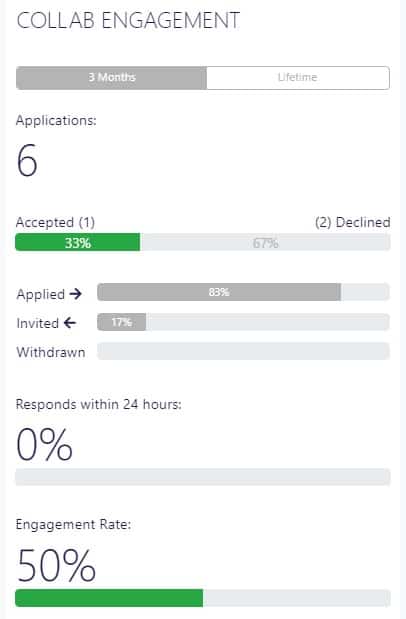 7. Actively log into your account to update your "Last Seen"
The final factor in optimizing your Afluencer profile is your "Last Seen" status. Keep checking into your account to show brands you're actively using it. What's more, you can also apply to one new Collab daily. This will increase your chances of securing a partnership and keep your Last Seen status updated.
5 Best practices to maximize your growth as an influencer
With these seven tips to revamp your Afluencer profile, you're all set to take center stage and win new brand collaborations. But winning new projects is only a small part of the picture. It takes a lot more to succeed as an influencer.
Here are our five tips on making it big in the influencer marketing industry:
1. Nail your positioning around your chosen niche
One of the most common mistakes among new influencers is talking about everything under the sun. Choose a niche and focus solely on positioning yourself as an expert in this niche. A good way to do that is by picking a few content pillars and creating content around these pillars.
This gives people a reason to follow you since they know you talk only about your niche. You can also make your influencer brand more appealing by showcasing your expertise.
"Share a variety of content that represents your style, especially from successful collaborations. I would also recommend that on platforms that allow you to pitch: keep it short and concise and include a link to a digital media kit," said Valerie Alvarez.
Chantelle Roberts presents the perfect example of brand positioning. She's a lifestyle influencer and a mother. So, she calls herself a "millennial mother of four" in her Afluencer bio. Besides, her Instagram feed also covers content around family time, self-care, parenting, and children's foods.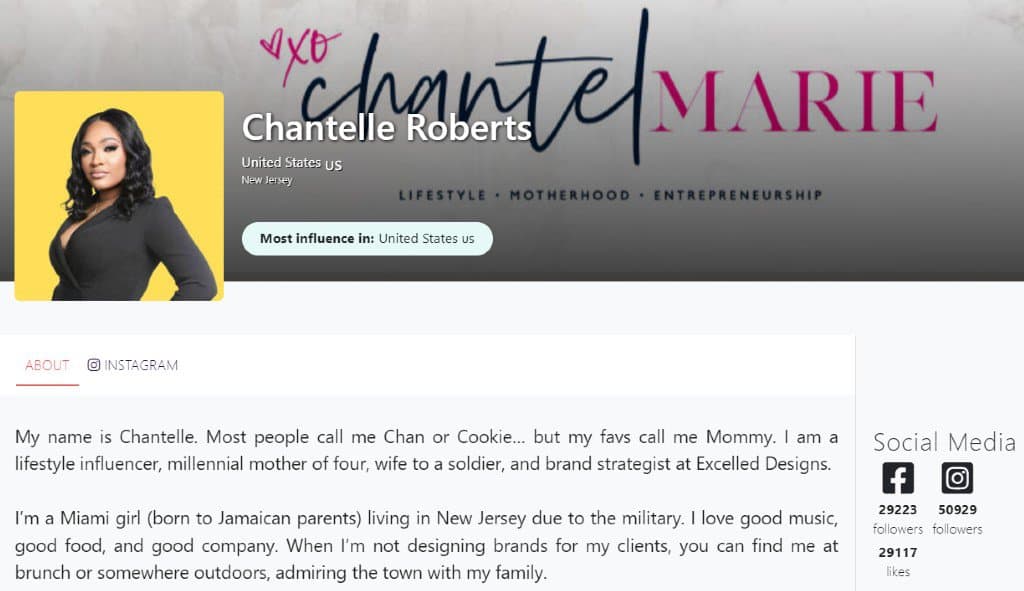 2. Prioritize your community over everything
Becoming an influencer is largely about building a community to influence. You want to earn people's trust and command an influence over your audience to bring results for your brand partnerships. So, invest your effort in building and engaging a community of genuine followers.
With the raging demand for influencers, the number of fake influencers is also scaling rapidly. 62.8% of Instagram influencers were involved in fraud in 2022. Remember that racking up fake followers can immediately tank your influencer career. This is because brands focus on engagement rates over followers to see if you're driving organic results.
The bottom line: focus on delivering genuine value through your content to attract more followers and establish a positive rapport with them.
3. Double down on short-form video content
90% of marketers are increasing or maintaining their investments in short-form video content. That's enough to tell you how important this content format can be for your influencer profile.
Whether it's Instagram, TikTok, or YouTube, people are increasingly inclined towards short and snackable videos. They watch to consume content quickly—with 50% of TikTokers claiming that videos over a minute long seem stressful.
So, creating short-form videos promises more visibility and better reach on almost every social channel. Your followers want to watch more digestible videos, and these videos are also at the top of every marketer's list. It's a win-win!
4. Map your growth curve and set milestones
Most influencers come to the scene with big aspirations but no real roadmap. This can put you on the back foot.
To succeed as an influencer, you need a clear direction of where you're headed and how you will get there. Draw a growth curve and determine an estimated timeline for your influencer brand. Break this down into smaller milestones to track progress and switch gears to increase your performance.
Creating a growth curve helps define what success looks like and measures your growth over time. It acts as your game plan to surpass your competition and maximize your success.
5. Work with discipline and consistency
Two of the most underrated qualities of the top 1% of influencers are discipline and consistency. Whether you're only getting started as a nano influencer or making headlines as a mega influencer, you have to be disciplined in your audience-building approach and consistent with content creation.
Build a thriving influencer brand with a content calendar to post regularly. Remember to engage with your followers to stay top-of-mind and strengthen your influence.
Make your Afluencer profile stand out from the crowd
Influencer marketing is becoming bigger than ever, with a valuation of $16.4 billion in 2022 alone. If you want to win as an influencer and build a stellar portfolio, Afluencer is the perfect platform to hit your goals.
Use this guide to cover all the bases and create a standout Afluencer profile to get in front of your favorite brands. If you haven't tried the platform yet, this is your cue to sign up and skyrocket your influencer brand.