When Coca-Cola launched its raspberry-flavored drinks in Denmark, it took a more grassroots approach to marketing. The brand partnered with 300 micro-influencers in the food and lifestyle niche—averaging 2500 followers each and reaching an audience of 750,000.
Instead of working with A-list celebrities and macro-influencers, the FMCG giant embraced micro-influencer marketing for two main reasons: to maximize audience engagement and cultivate a stronger local influence.
The result? The campaign achieved an engagement rate of 7.5%, far outranking the best results of a typical influencer marketing campaign.
Coca-Cola's story is just one of the many examples of how ecommerce brands can create a more authentic brand image, reach a hyper-engaged audience, and nudge more people towards a buying decision—all without blowing a hole through their marketing budgets.
This article will dive into the details of performing micro-influencer marketing for ecommerce businesses. You'll also find actionable tips for designing your own strategy and the best ways to find micro-influencers for your niche.
What is micro-influencer marketing?
Micro-influencer marketing is a narrower version of influencer marketing where brands partner with small-scale influencers who don't have a massive following. A micro-influencer typically has a follower count between 1,000 and 100,000.
Unlike macro-influencers and celebrities, micro-influencers specialize in a specific vertical and create niche-focused content for a more targeted audience. The biggest differentiator for micro-influencers is the audience loyalty they're able to achieve. This is because they seem more relatable to their followers—a familiar figure most people can relate to and trust.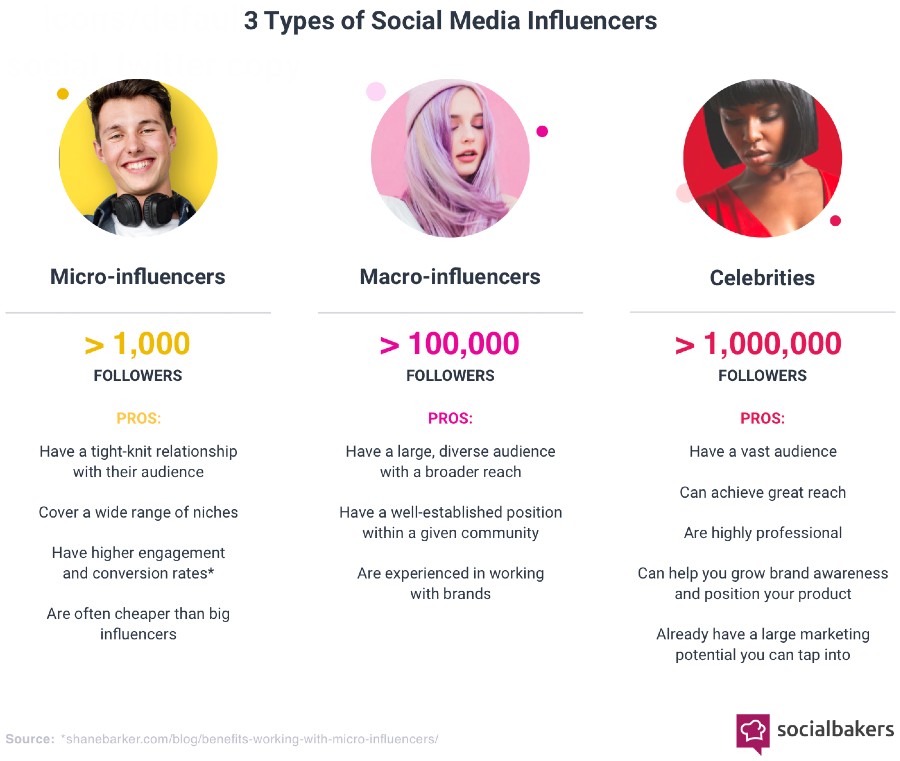 Establishing this level of trust means people are more willing to listen to them and take their word. That explains why 82% of consumers claimed that they're more likely to buy from brands that a micro-influencer recommends.
"Working with micro-influencers is exciting especially because this new generation is so creative and passionate about expressing themselves via social media in a unique manner—and it works! I believe it's essential to focus on micro-influencers. After all, their content appears more genuine because they relate to the everyday consumer."

Michelle Mura, Glow
Consider this: if a beauty brand works with fashion models for influencer marketing, it can reach a massive audience. However, if the same brand hires beauty bloggers with modest follower counts, it can reach a more targeted audience. Since more people trust a micro-influencer than a big-shot celebrity, this beauty brand can potentially drive more sales too.
How can ecommerce brands benefit from micro-influencer marketing?
Victoria's Secret faced public backlash for promoting impossible beauty standards by working solely with supermodels, tarnishing its reputation, and losing audience trust.
On the other hand, its retail competitor, Adore Me, is building a healthy relationship with its target buyers and sending all the right messages with its micro-influencer marketing efforts. The lingerie brand partners with several beauty, fashion, and lifestyle micro-influencers to advertise its collection on Instagram and TikTok.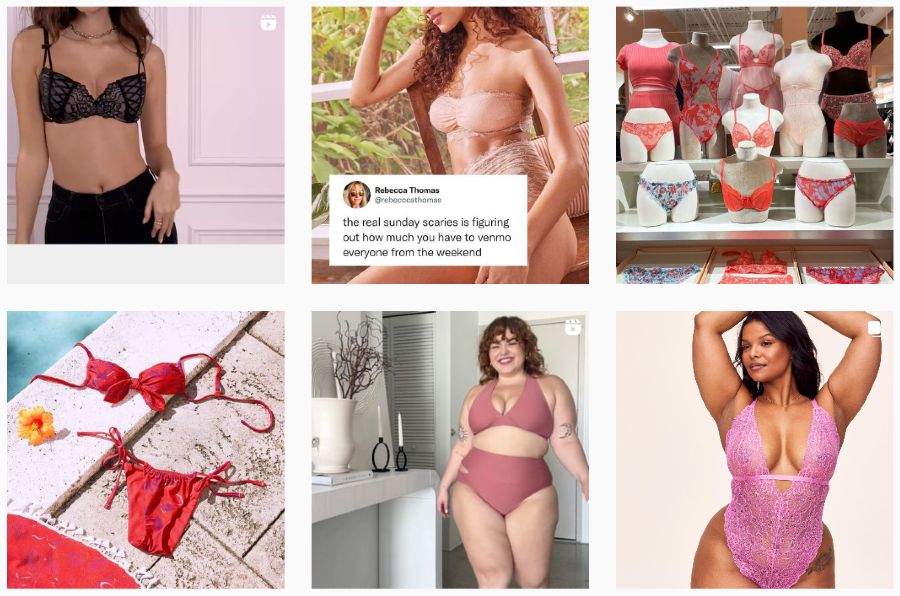 This highlights why your audience might reject influencers with a massive following. Sponsored content from a macro influencer fails to build meaningful engagement and increase conversions because it looks artificial.
But micro-influencer marketing promises starkly different results like Adore Me's campaigns. Brian Hawkins, the Marketing Manager at GhostBed.com, agrees.
"There are many benefits of working with micro-influencers. They're easy to work with, they have a small but dedicated following, and they can be much more affordable than traditional or super-famous influencers. With micro-influencers you have more chances to find a home run, so try a few concepts to see what sticks."

Brian Hawkins, GhostBed
Let's look at five of the most crucial benefits of working with micro-influencers:
1. Connect with a hyper-engaged audience
Micro-influencers target a pocket-sized audience. Since they strictly focus on their small audience's needs and pain points, their content delivers more value and attracts much higher engagement rates.
For instance, Emily is a mindset and wellness coach creating content around ways to lead a more mindful life. She targets a niche audience eager to learn the ins and outs of physical, mental, and emotional well-being.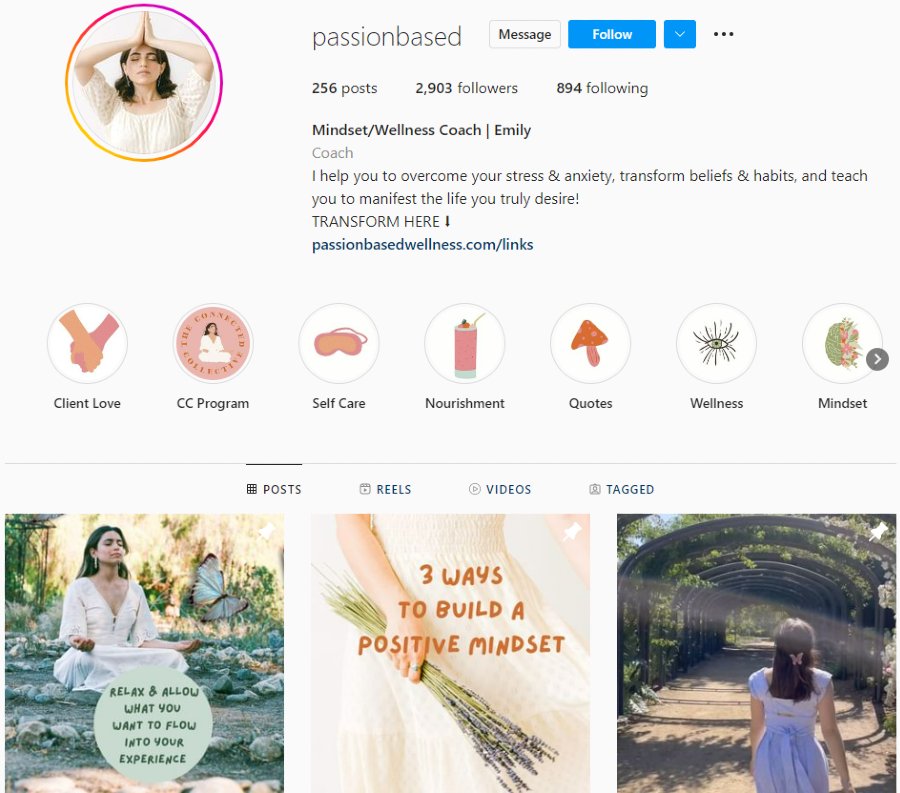 2. Offer stronger authenticity and value
People are more likely to listen to micro-influencers because they deliver genuinely helpful content. They can create strong relationships with their audience by putting themselves out there for others to learn. Sophia and Lior, the founders of Paradigm Media, consider it the key to success.
"When working with micro-Influencers, authenticity is key. Micro-influencers typically have a more loyal audience that appreciates when they partner with a brand they genuinely love and support. You can tell when someone is posting a product they actually use versus posting a product they're paid to promote. This tends to convert better, leading to a stronger ROI."

Sophia & Lior, Paradigm Media
3. Reach a more niche buyer segment
Unlike an A-list celebrity with a vast and equally diverse audience, a micro-influencer focuses on a specific audience. So, you can unlock a niched buyer segment and maximize awareness or sales for this segment through micro-influencer marketing.
For instance, Christine Anez is a micro-influencer in the lifestyle niche, and her partnership with Aurelle Swim can reach a more targeted group—people who follow Christine's content.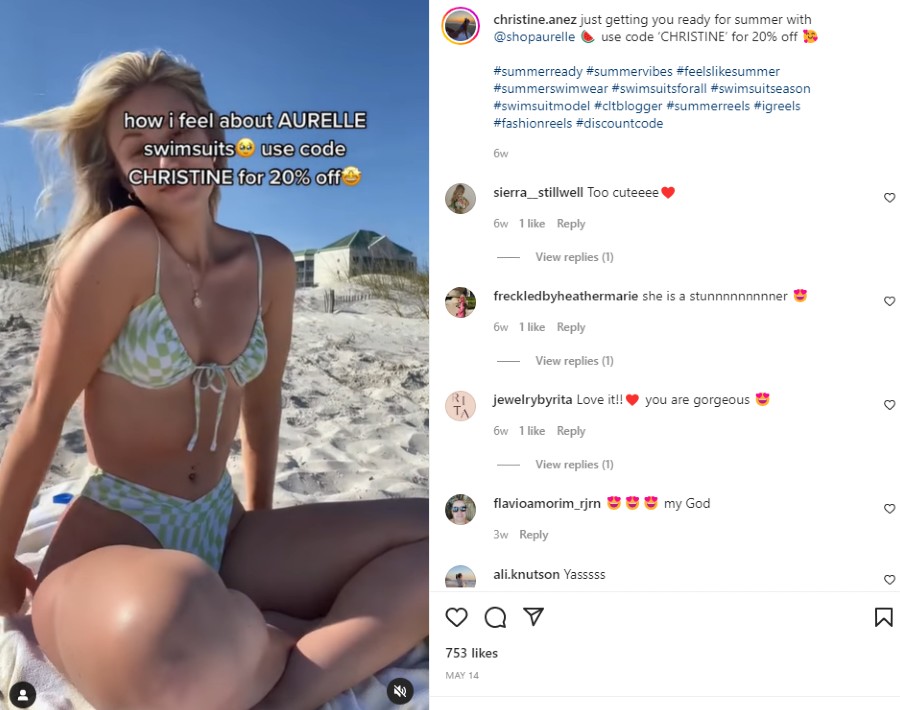 4. Easier to communicate and work with
An underrated benefit of working with micro-influencers is the ease with which you can run a campaign. Since they're still building and growing their audience base, micro-influencers are more eager to work with smaller brands and create long-term relationships.
5. More cost-effective and result-driven
One obvious advantage of micro-influencer marketing is the low investment you need. A micro-influencer typically charges up to $500 for an Instagram post. As for mega influencers, you can expect them to charge more than $10,000. So, working with micro-influencers can produce better results at lower costs.
In essence, a group of niche micro-influencers can do much more for your ecommerce business than a single pricey mega-influencer. So, let's look at how you can best use this tactic and get fantastic benefits.
5 Steps to design a stellar micro-influencer marketing strategy
Now that we've established why micro-influencer marketing is good for you, it's time to understand how exactly you can implement this tactic. Here are five best practices to create a kick-ass strategy for your micro-influencer marketing efforts:
1. Establish the right expectations from the beginning
One step that many brands overlook is setting up proper systems and workflows to nurture a meaningful relationship with micro-influencers.
An influencer can create laser-focused content that sounds and feels genuine to your target buyers only when they are excited about your brand. So, your first step should always be to create a comfortable and frictionless environment for influencers to enjoy their partnership with you.
Here are four proven practices to establish seamless systems for influencer collabs:
Create an onboarding process: The easiest way to streamline your work with influencers is by preparing a smooth onboarding pipeline. Share all relevant information about what's expected from them, who they're targeting, and the metrics for their performance.
Educate them about your brand: Instead of expecting them to figure everything out, tell them more about what you offer, your target audience, and your brand story. Give them all the background information they can build upon and share with their followers.
Make them feel valued: Unlike a mega influencer, a micro-influencer can feel intimidated while working with brands. Especially if the results don't match the expectations. This is where you can develop a strong relationship with them, sending encouragement and recognizing their efforts. Here's what Morgan Swersey from Curbio had to say about making influencers excited about your brand:
"Make them feel like a part of the team. Send them swag, let them know the latest updates, ask for their insights, and occasionally give them a perk (if you can). I can't tell you how above and beyond some of the micro-influencers have been willing to go just because they were invested as a part of the team."

Morgan Swersey, Curbio
Share examples and ideas: One way to get the best out of your micro-influencers is by giving them a direction for what your audience would love. Send examples to explain what resonates with your buyers and ideas that might work for them.
The key to a successful, long-term influencer partnership lies in how well you keep them engaged throughout the association.
2. Optimize their content for engagement
Optimizing your influencers' content is the next best step to enhancing your campaign results. To do that, create a set of guidelines that clearly define what resonates with your audience. Make sure to cover criteria like tonality, topics, visual aesthetics, and content formats.
Here's how Jonathan Simmons from City Of Riches ensures that their influencers create well-optimized content to strike a chord with their target buyers:
"Finding influencers that fit your demographic and actually are a fan of your products work the best. I always request influencers to take a look at my website and find products that speak to them and fit their brand rather than pushing a product on them. Once an influencer chooses a product they find relatable to their market and demographics, this leads to a high potential for conversion and creating long-term relationships."

Jonathan Simmons, City of Riches
So, a part of building these guidelines is analyzing your past content to see what's worked well and what's tanked. You can also evaluate your competitors to identify the content producing maximum engagement for them.
Then ask every influencer to choose products that fit well into their brand. For instance, if a brand like At Home collaborates with a home decor influencer and a gaming influencer, both influencers would pick different sets of products to promote on their feeds. So, let your influencers choose what they'd like to discuss.
Put simply, a set of optimization guidelines helps your influencers produce targeted content to hit the right spot. It can also ensure that their posts don't sound unnatural or sponsored, like those coming from a celebrity. Instead, the posts seem trustworthy to the audience, increasing the chances of the campaign being a success.
3. Run community-led UGC campaigns
Another great way to get the best out of your micro-influencers is by encouraging them to create a community of brand advocates through their content. Micro-influencers can create hashtags to promote a brand and nudge their followers to share their experiences using these tags.
Here's the perfect example of Indie Lee that encouraged its micro-influencers to use #indieleeskincare and nudge people to post content using this tag.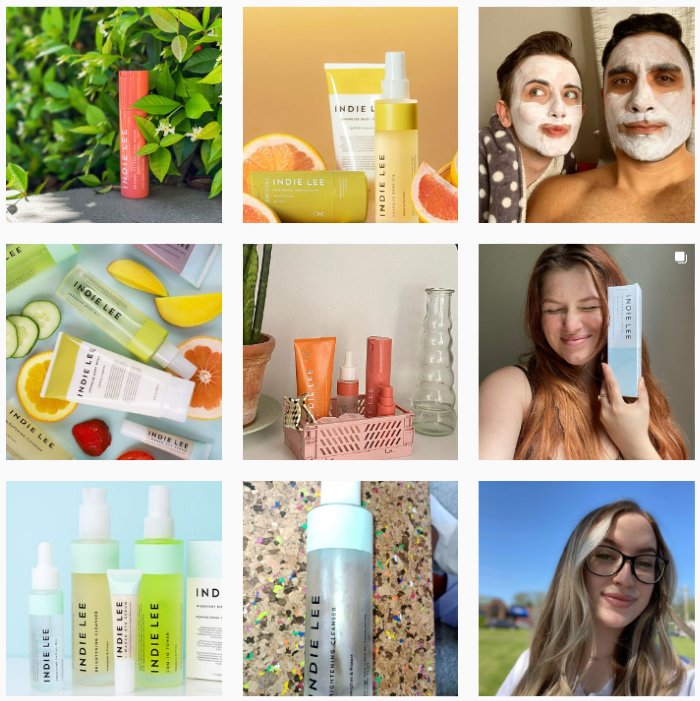 Consumer-led campaigns can significantly increase sales for your business—with 79% of shoppers claiming that user-generated content (UGC) impacts their buying decisions. So, use your influencers' content to maximize UGC and win your audience's buy-in.
4. Build genuine social proof through reviews
Creating social proof is a tested strategy to get the best results through micro-influencer marketing. Given that people trust these niche influencers, the best way to use this influence and trust to your advantage is to produce genuine social proof for your brand.
Collect positive reviews from your influencers—which will build brand affinity for you. Repurpose and share these reviews and testimonials on different channels to maximize the impact.
If you're wondering what's the best way to let influencers come up with positive reviews that don't look made up, Tatjana Apukhtina from Teapro has the perfect answer for you:
"I believe it's crucial to get micro-influencers excited about your product and make them feel like they're part of a bigger movement. It can be helpful to put together a short 1-pager to illustrate your brand's big vision. Also, targeting micro-influencers passionate about the same topics as you will make it easier to build a connection."

Tatjana Apukhtina, Teapro
This is also the place to give influencers creative freedom. Let them choose their reviews' narrative, format, and other details to ensure the result sounds genuine.
Partake Foods shows how it's done. The allergy-friendly, vegan food brand partnered with Lauren, a recipe developer, and food micro-influencer. She created a recipe reel using Partake Foods' choco-chip cookies to tell her followers all the good things about the brand. So, this quick reel allowed the brand to show its product in action and get the nod from a trusted influencer.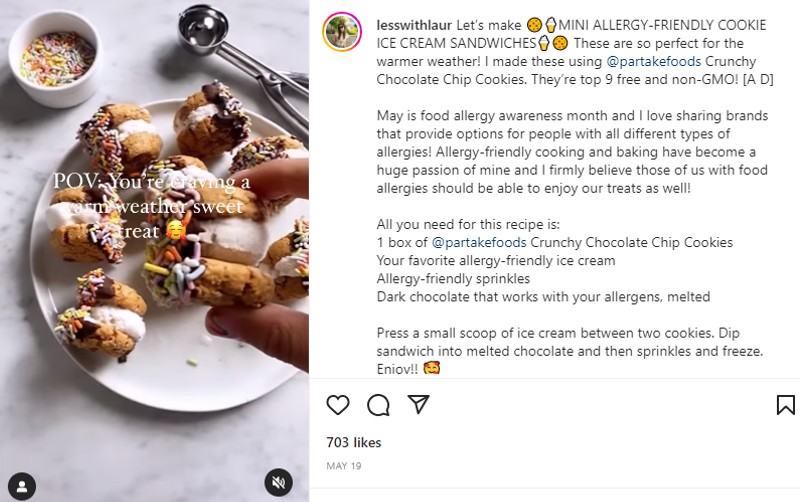 5. Set and measure KPIs proactively
The final step in your micro-influencer marketing strategy is measuring its performance. This part is all about tracking and analyzing the results you've managed to produce using this strategy—and making necessary modifications.
So, before bringing your strategy into action, it's best to list the key performance indicators (KPIs) to determine success and failure. Align these KPIs with your campaign goals to add meaning to the numbers. For instance, if your goal is to build brand awareness, measuring the number of impressions on each post can be a good KPI.
Here are some of the most common metrics you can consider:
Number of conversions: tracked through unique promo codes or trackable links.
Reach: social media analytics dashboards or Google analytics.
Engagement: number of likes, shares, comments, mentions, etc.
Referral traffic: campaign-driven traffic monitored through UTM parameters.
Follower growth: number of followers added since the campaign.
A set of relevant KPIs is critical to testing and iterating your strategy. These numbers will also indicate if there's a need to change your chosen influencers.
How to find micro-influencers for your brand
You know the benefits of working with micro-influencers, and you're all set with the strategy to kickstart your first campaign. The only thing missing from the equation is trusted micro-influencers who are relevant to your niche.
Finding such micro-influencers is no mean feat. You can't just look at somebody's social media feed to decide if they're a good fit. There's a lot to consider on the backend.
We've done the legwork to give you the four most actionable ways to find great influencers and hit the ground running:
1. Leverage social media
The first and most apparent avenue for finding influencers is through social media. But how exactly do you find the right people, and where do you look?
The easiest trick in the book is to look for quality content using the right hashtags. For instance, if you're a travel brand and want to highlight the idea of sustainable travel, use #sustainabletravel on social media platforms to find creators producing content around this topic.
Here's what a quick YouTube search for the hashtag shows: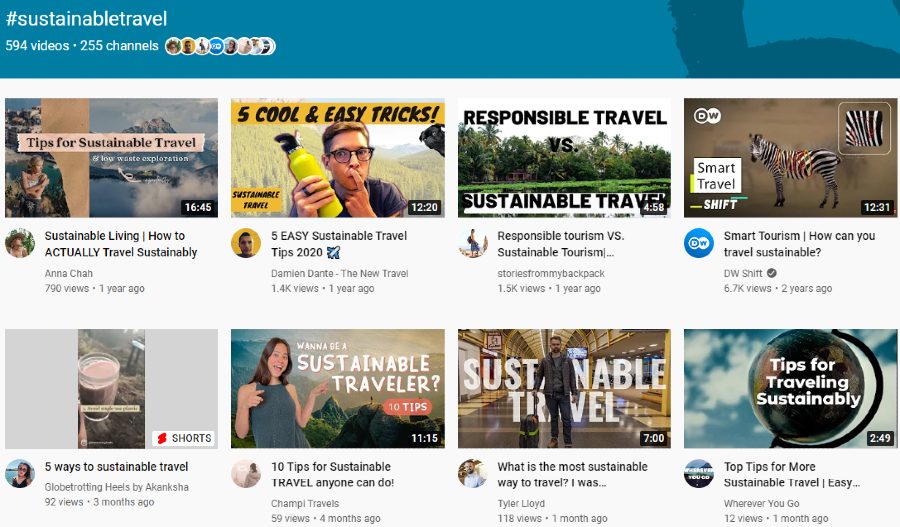 Using hashtags will help you discover potential influencers creating content for your core brand values. Once you're ready with a shortlist, you can carefully review each influencer's feed and select your top candidates based on this assessment.
Here's what Marlee Gauthier from StatSocial includes in her review and assessment process:
"Before initiating any influencer partnership, you should be looking at who your audience actively engages with versus follower counts and engagement rates. You'll likely find several micro-influencers with stronger connections with your audience, ultimately leading to higher sales conversions."

Marlee Gauthier, StatSocial
So, start your search on all social media platforms with hashtags, curate a list of relevant candidates, and then finalize your best picks.
2. Use an influencer database tool
Influencer database software offers a more manageable alternative if you want to skip all the heavy lifting of sourcing and vetting candidates. You can choose from a pool of vetted influencers from various niches and finalize your picks in a few clicks.
An influencer directory platform like Afluencer helps you:
Win back the time you'd otherwise spend on social media apps.
Get a 360-degree assessment of every influencer.
Find contact information and carry your outreach efforts seamlessly.
Afluencer takes all the pain from the taxing process of finding and finalizing micro-influencers to market your brand. Courtney Williamson from Abililife Inc agrees.
"The task of finding influencers to work with my brand seemed so daunting. I reached out to several software platforms, and they all were so expensive (and expected me to commit a lot of time and resources to their platform, which I was unwilling to do.) I really gave up hope of working with influencers until I found Afluencer. I absolutely love how easy it is to use, and the influencers are so talented and passionate about what they do!"

Courtney Williamson, Abililife Inc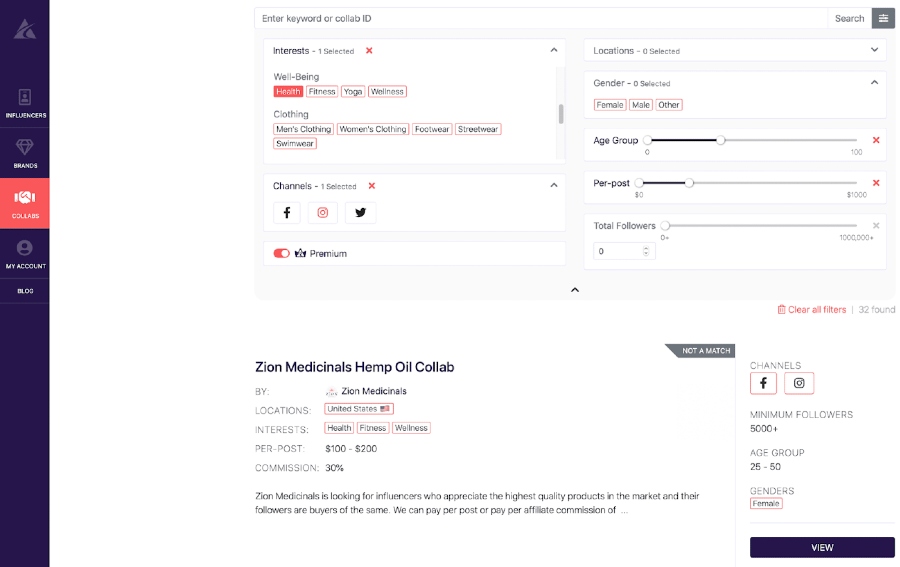 But even when browsing through these directories, it's essential to keep an open mind and shortlist influencers targeting an audience beyond your ideal demographics.
For instance, if you're a clothing brand, you'd ideally want to work with fashion influencers. But if one of your core brand values is to eliminate fast fashion and make clothing sustainable, you can also work with influencers who are into environmental advocacy. After all, in the words of Shefali Sharma:
"The best collaborations are the right match between the values of the brand and the influencer. It is a successful partnership when they fit well and complement each other."

Shefali Sharma, InvestaX
3. Use your own followers' list
Besides searching for people who might be a good fit for your brand, you can always look for people who are already fans of your brand—through your own followers' list.
Look through your social media followers, email subscribers, brand mentions, and customer reviews to find micro-influencers who love your brand and would be interested in a paid collaboration.
This partnership will be more authentic and take comparatively less effort since your influencers already know what you offer and have their own reasons to advocate for your brand.
"I think the best approach is to find those who are already consumers and light them up. They have a natural affinity for your brand and can speak authentically to their audience."

Kathryn Ficarra, SOLO Secure
More tips on working with micro-influencers
Here we have more tips from top brands who share their learning experience from collaborating with micro-influencers.
Diamond Frandsen, InterCoastal Net Designs
Before working with a micro-influencer, set a goal. Micro-influencers can be anywhere so evaluate all possibilities. Micro influences could be previous guests or customers, local businesses, Twitter, YouTube, Instagram celebs, or internal staff.
Meghan Antonetta McElroy, Bambuddha
Make them feel a part of the family; keep in good contact not only for business purposes but for personal interest and care.
Ellie Davies, Awin
Awin's dedicated influencer partnerships team always recommends clients incorporate micro-influencers into their creator strategy. This is a sure-fire way to connect a brand to potential customers, as these influencers know their niche and what will translate well to followers. On our side, we work to foster a great relationship with the creator, interacting regularly to ensure any brand messages fit with their ethos. It's also important to let the partner take creative reign to generate authentic content that flows across their platform. The end goal is not just to generate sales, but to build long-term partnerships and future collaborations with content creators.
Cecilia Holmblad, Winningtemp
Faster feedback loops, and high credibility amongst the audience=more value for money.
Christine Canales, Esprita
Respond to messages quickly and follow up in a timely manner. I have templates that I use to begin the conversations, but then I like to add more personal interactions after the initial messages.
Always be clear about your expectations—what are your requirements, how many & what types of posts you expect, which social media platform are you looking for posts in, are there any specific things you'd like them to include, etc. And make sure to follow up frequently. Build a relationship with the micro-influencer that makes them feel needed and appreciated.
Becky Moore, GlobalGrasshopper.com
Be genuine, honest, and upfront about what you're looking for. Also, add in your expectations and what you'd like to achieve with your campaign so this can be discussed in detail before any work is carried out.
Kevin Paulson, HuntingLife.com
Communication is key to success with all influencers. Having a clear and simple plan makes all the difference.
Priya Florence Shah, BlogBrandz Digital LLP
I usually find micro-influencers in my target market based on the blogs and newsletters I'm already subscribed to. If I resonate with their ideas, it's more likely to be a fruitful collaboration, and their demographics are likely to be similar to the ones I'm targeting.
Ariana Savci, Highline Wellness
When it comes to working with micro-influencers don't pigeonhole yourself into only working with one type of micro-influencer, be open to working with more than one demo and test as many as you can because you never know what might work. As a wellness brand, I never thought that micro fashion bloggers would be our demo, but once we tried it we found great success with their ability to drive conversions. We didn't pigeonhole ourselves to only working with wellness micro-influencers, we were able to bridge the gap between fashion and wellness and that's because we kept an open mind to the kinds of micro-influencers we were willing to work with.
Zoë Braun, TAKUMI
We try to always give brands the education they may need to know the worth of micro-influencers and the audience loyalty they bring. Any creator is really just one piece of content away from virality, so only working with creators with macro reach can be shortsighted.
Helen Christoni, AirDoctor
Relationships are key. Working directly with micro-influencers to give them the tools they need to be successful while marketing products is the best part of my job!
Clifton Parker, Ellev Advertising Agency
Treat them as you would a macro influencer as their audiences are just as important, and you never know when they may go viral and become a macro influencer.
Be clear with what deliverables are being asked for. Communicate professionally. Be respectful of people, their brands, and their time. We're all still trying to figure out how to properly be an influencer and work with influencers. It's a process and showing that understanding, on both sides of the conversation is important.
Analyze the content ensuring that it is fixed to the brand values, in our case, the destination. Also, consider the engagement rate and the credibility of the profile.
Kice, Kice
It's always best to give them as much direction as possible while leaving them to be creative at the same time.
Prerna Kakkar, Ylytic
Let them own their content; they know their audience better than you do. Trust them, but not blindly. Choose diverse individuals and try to experiment with the location/niche/language/gender etc.
Giving our influencers one specific product to promote is a great way for us to spread awareness to our customers, all while showing them many different faces. We strive to give influencers all the tools they need to actually enjoy our products on and off camera, from customer service to offering additional products if they need them.
Ace your micro-influencer marketing efforts
Micro-influencer marketing is changing the game for many ecommerce business owners and small-scale influencers. It's a great way to reach unaware prospects, get them excited about your products, and gradually nudge them down the funnel toward a purchase.
Working with micro-influencers can build a more authentic positioning for your brand and win the trust of your audience. But micro-influencer marketing can't produce the desired results if you only put half-baked efforts into it.
Start by creating a comprehensive strategy with clearly defined goals, workflows, and metrics. Once you've finalized a strategy, tools like Afluencer can do the heavy lifting to find the best micro-influencers for you.