Travel influencers, turn your passion into a profession! I'm sure you've stayed at an Airbnb recently. How sweet would it be to become an Airbnb influencer and earn cash from your travel bug through affiliate and referral links?
Good news – Airbnb now has an affiliate and influencer program that can help you make money. Their partner program is designed for big influencers who have a lot of followers.
If you're just starting out, you can try the Airbnb referral program which also pays but not as much as the affiliate program.
In this Airbnb affiliate program review, we'll talk about the features of the program and if it is worth a try.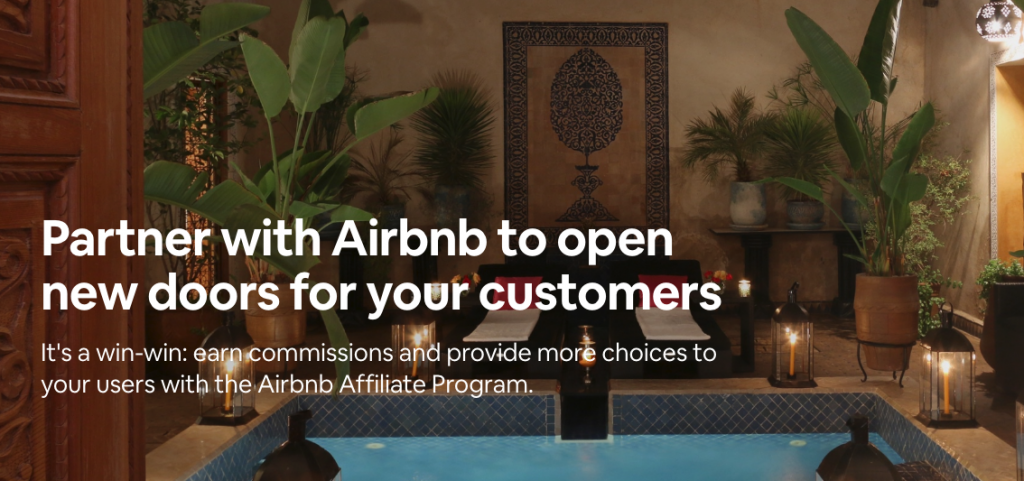 What is Airbnb's Affiliate Program?
The affiliate program is designed to help you (whether you're an influencer or blogger even) make money by promoting Airbnb services.
There are two parts to the program:
1. Guest Affiliate Program
Influencers can feature any Airbnb listing on their site and earn a commission for every booking made through the link. It's a good option as you have the right to choose any listing to advertise.
It can be beneficial for your visitors, too. They can easily pick a good accommodation by following your suggestions.
2. Host Affiliate Program
This system is beneficial for your visitors as it can help them earn more by using Airbnb services. Plus, you will earn a commission for every new user who signs up using your link.
Note: You will earn money only if the new host gets verified or the guest makes a confirmed booking.

How to Become an Airbnb Influencer?
We did a bit of research and found that it is not very difficult to become an Airbnb influencer as long as you have at least 1 million visitors or app hits.
You will find a lot more characteristics on the website that you must have in order to be an affiliate, but based on our experience, the number of followers is the most important factor in order to qualify.
In addition to this, your site or app must be relevant, i.e: fall in the travel and hospitality category.
You can apply to be a member by filling out the online form. You'll be required to provide your business details including your audience demographics and how you intend to promote Airbnb products.
The representatives will get back to you in 2 to 3 business days but it may be longer in some cases.
How Much Money Will I Make as an Airbnb Influencer?
Airbnb Referral Program: The program does not pay in cash and is capped at $5,000. You can earn up to $95 per user.
The details are sketchy and we're not sure if the limit is yearly or lifetime.
Airbnb Affiliate Program: There is no cap on the amount of money you can earn and the overall revenue depends on the number of successful leads.
You can earn up to $100 per lead, taking your monthly total to a few thousand.
How Can I Promote Airbnb Affiliate & Referral Links?
You can do it in a variety of ways.
The company appears to strike deals with celebrity influencers who stay in Airbnb properties and post reviews. This can be a good way to push people into choosing a specific property.
You can share pictures from your trip and talk about how amazing a hotel was with a link to book it.
Moreover, as an influencer, you can write reviews, general articles, etc., and attach your Airbnb referral or affiliate links.
You can do the same if you're an influencer with a strong social media presence. In fact, social media tools can be very effective in promoting Airbnb products.
It's important to be clear about how you intend to promote Airbnb services before you apply as you will have to answer this question during the process.
Plus, invest in SEO.
You can search for Airbnb-related hashtags and keywords to include in content so that you can attract visitors who are interested in signing up for Airbnb services.
Lastly, be careful about the links you promote. Know your audience. If they enjoy luxury stays then link to expensive, luxurious hotels. Similarly, if they enjoy cheap stays then link to cheaper options.
This way you'd be able to generate more leads.
What Are the Cons of Airbnb Affiliate Programs
A major con of the program is the niche.
Travel is a highly competitive niche. There are thousands of travel websites and travel bloggers, hence it can be a bit difficult to generate and convert leads. However, if you have a loyal fanbase then you will not have much of a problem with it.
Other than this, the details are also sketchy. Airbnb gives no information on the payment structure for an influencer and other such factors.
First, sign up and get accepted to find answers to such questions.
Airbnb Affiliate Program Review for Influencers
The Airbnb affiliate program was canceled in 2015 but relaunched a few years ago. It appears to be doing wonders. There's no reason why you should not give it a try.
If you are a travel influencer or a blogger with a website dedicated to travel with one million or more visitors then sign up to Airbnb today.
You can make a decent amount of money by including Airbnb affiliate and referral links in your post and hoping your visitors sign up.