Afluencer is one of the fastest-growing influencer marketing platforms. We designed this brand with one aim – to bridge the gap between influencers and brands and ensure the right brand finds the right influencer.
We have thousands of brands and influencers working with us from all corners with a growing user base. If you're still not sure what makes us such a popular and loved influencer marketing brand then check these eight reasons why influencers love us.
#1 Everyone Is Welcome
At Afluencer, we don't discriminate between talents. It doesn't matter where you live or how many followers you have, we're open to working with everyone.
We don't only have influencers from major hubs like the US and the UK but also from growing markets such as India and the Middle East.
The platform is not only for big influencers but also for people starting to make a mark. You can join as a micro influencer and use our resources to increase your reach.
Hope Perkins, a microinfluencer who loves our platform says that she enjoys "how inclusive it is to everyone!" We believe in diversity and enjoy representing all groups of people.
Nelly, a fast-growing influencer appears to agree with us. She highlights how Afluencer "caters and cares for everyone."
Don't worry if you don't have a lot of followers, you can sign up and grow your reach by getting featured on our website. We have influencers from all walks of life using different social media platforms including Facebook, Twitter, Instagram, Twitch, YouTube, and LinkedIn.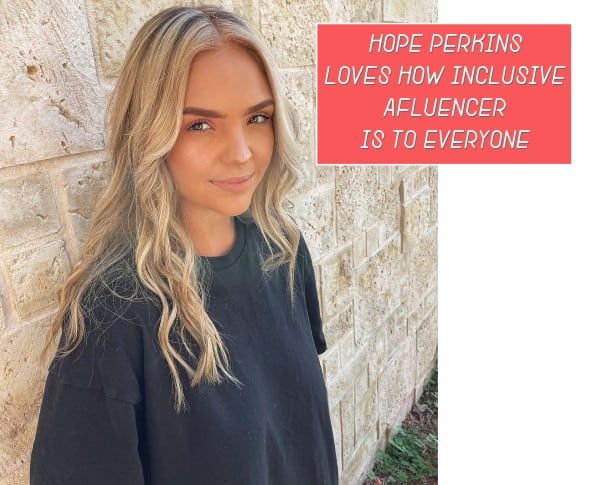 #2 The Platform is Easy to Use
We understand how frustrating it can be to find what you need. Our website has been designed keeping all design elements in mind and is very easy to navigate. In fact, one of our top influencers Megan Hopkins believes that ease is one of the best things about Afluencer.
​​George Arvanitidis is another star who appears to be a fan of the layout and how easy our platform is to use. Our menu is interactive and you will have no trouble finding what you need. Moreover, we also have an app that helps ensure you don't miss out on anything.
The app works well on mobile devices and makes it easier to find what you need. With this feature, you'll be able to check all the happenings on the go.
"I enjoy its interface and how user-friendly it is. Its easy navigation makes for great collaboration opportunities," said Debby Barrientos while talking about things she loves about Afluencer.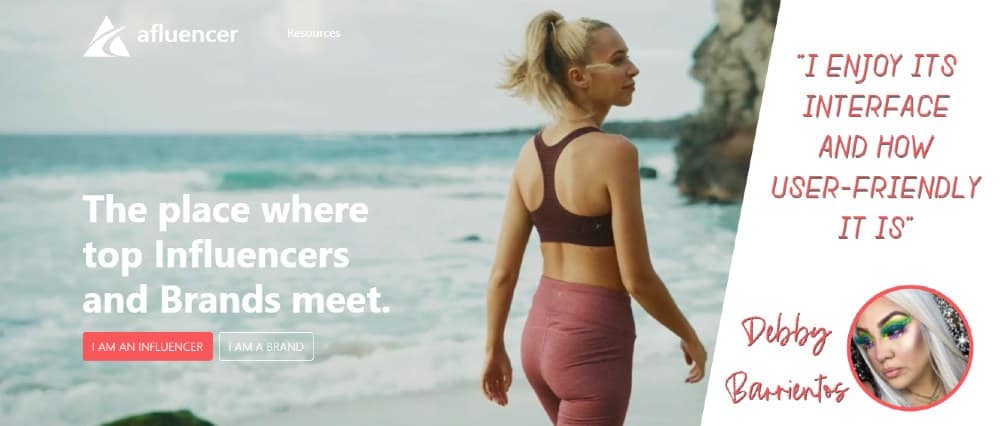 #3 Help You Search for What You Need
With Afluencer, influencers will not have to waste hours looking for a suitable brand or campaign. Influencers can search for relevant brands with the help of filters. You can find top brands, active campaigns, brands in specific niches, etc.
Most of our influencers seem to love the ability to filter. You can even check the latest campaigns to find suitable options.
"I like how easy it is to find opportunities because I don't always have the time to look," said Madison Bergen, a 22-year-old law student with more than 14,000 Instagram influencers.
Some other influencers appear to agree as well. Inshia Slatewala highlighted the search feature and how Afluencer helps her "find suitable brands and apply to collaborate."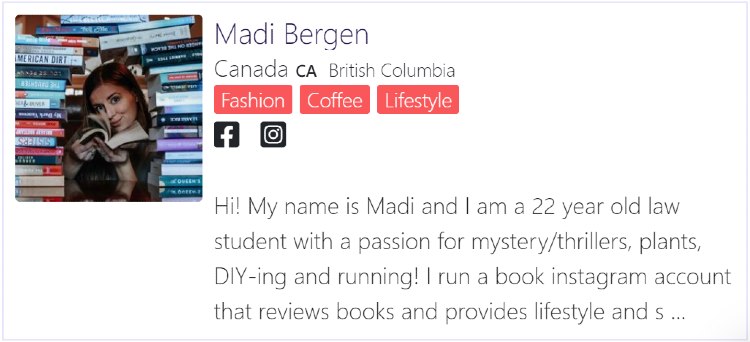 #4 You Get Access to All Kinds of Brands
Afluencer offers all kinds of niches from competitive niches such as health and beauty, fashion, and fitness to growing niches such as cryptocurrency and cannabis.
We understand the importance of influencer marketing and why every brand needs to join influencer marketing platforms.
You will find both big and small brands on the platform. Moreover, we're working on building a solid selection of brands looking for local influencers to ensure microinfluencers get a good opportunity to make money.
Jhilmil D Saha, an Afluencer loyalist, believes that the "huge variety of campaigns" offered by Afluencer is unmatched. We must mention that most influencers use our services to reach more brands for collaboration.
You can also get access to hundreds of brands today by signing up for an account.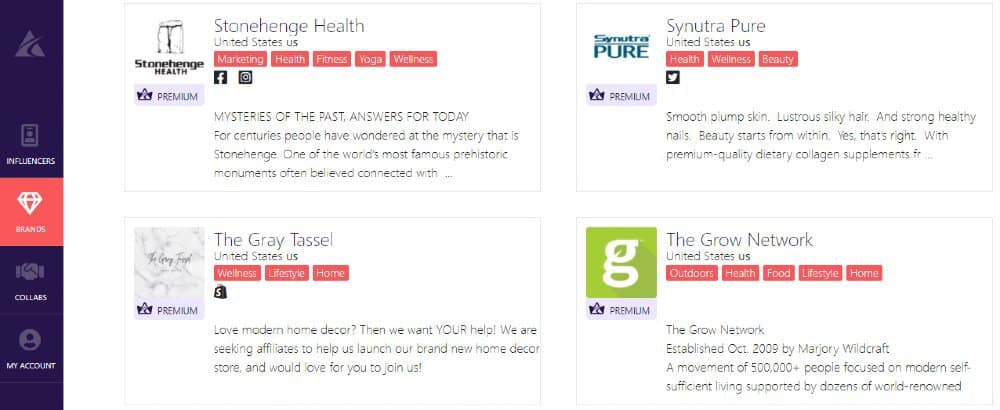 #5 Easy to Identify Reliable Brands
The world of influencer marketing is still growing and influencers don't always know how to differentiate between reliable and unsafe brands. At Afluencer, we think it is our duty to help freelancers find good brands.
We regularly update users about influencer opportunities available and help find deals that they're a suitable fit for.
Inshia Slatewala believes that the ability to "read and evaluate brands" is important as it helps influencers "distinguish between good and bad brands and identify brands that are profitable and a good pick.
At Afluencer, you'll be able to see how long a brand has been active, what kinds of influencers it works with, and its image. These factors can help you identify good names. Influencer marketing often gets called a phony industry. We're working hard with our teams to make it a safe place for everyone.
#6 Everything Under a Single Platform
With Afluencer, you will not have to worry about using a third-party tool to talk to your clients or discuss payments as we offer everything under one roof.
We give people the freedom to communicate with brands looking for influencers. One of our top influencers Zaina believes that the ability to communicate with clients on Afluencer makes influencers "responsive & aligned".
#7 Great Customer Support
"I feel like Afluencer is really invested in their influencers and creators," said Danielle McCormick about Afluencer.
We go the extra mile to ensure all our users including brands and influencers enjoy our services. We offer customized emails and regular updates covering the hottest campaigns to help you find your next big deal.
Also, you can get in touch with us over email, phone, or live chat if you face any trouble.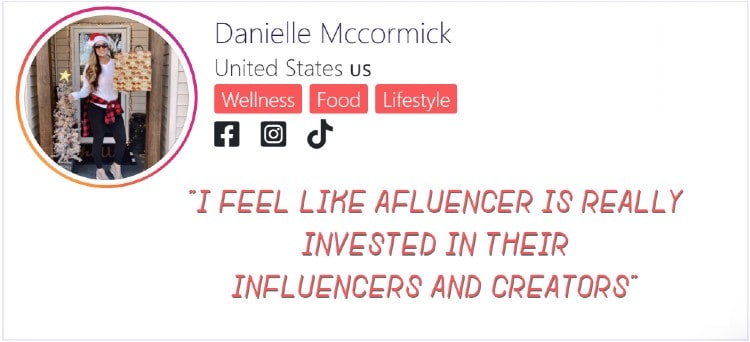 #8 Excellent Resources to Learn
Afluencer has a blog section where you will find information pieces related to influencer marketing. We aim to be a one-stop solution for all your influencer marketing needs.
Browse the section to find the latest deals, go through tips on how to be a successful influencer, identify top trends, etc.
Not in love with Afluencer yet? Check what other users have to say or sign up today to get a taste of what we have to offer.