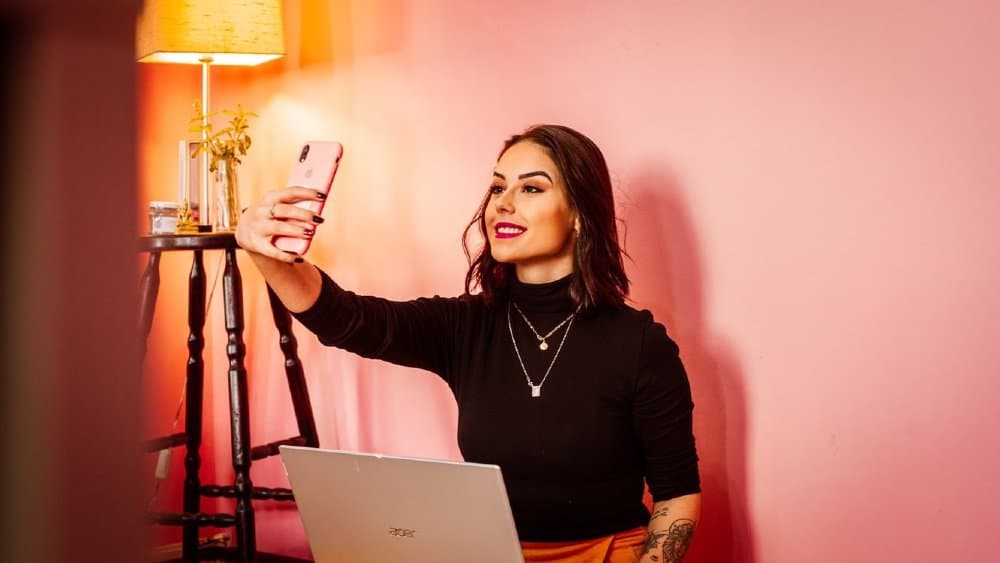 Influencer marketing is one of the most receptive forms of digital advertising. Why? Because it's not intrusive.
Businesses have finally realized what Tom Fishburne, the founder of Marketoonist, said years ago:
"The best marketing doesn't feel like marketing."
As a result, influencer marketing is now a part of most marketing budgets.
However, finding the right influencer partner can feel intimidating. Should you aim for big names with blue checkmarks or focus on micro-influencers? Should you pay, send a free product, or both?
If you're not sure how to start with influencer marketing, here's everything you need to know to discover the best creators for your Shopify store.
What is Influencer Marketing?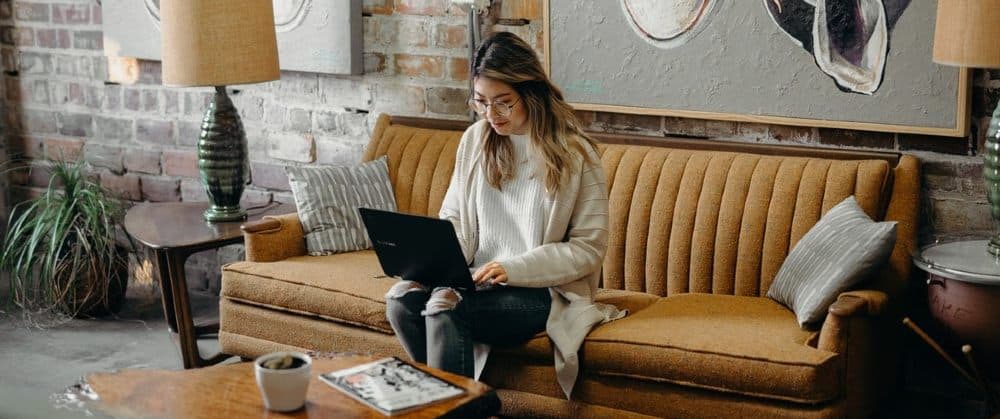 Influencer marketing is a collaboration with influencers (also known as creators) to leverage their credibility and audiences to promote a brand's products and services. It's a form of social media marketing that relies on endorsements and recommendations from influencers and content creators to reach the target audience.
What started as a tool for raising brand awareness has evolved into a well-oiled revenue machine. According to The Drum, the influencer marketing business was worth $9.7 billion in 2020 and is expected to grow to $22.2 billion by 2025. We're in the midst of an influencer marketing boom, and the numbers are mind-blowing. Data from Influencer Marketing Hub shows that the number of marketers who dedicated a budget for influencer marketing grew from 37% in 2017 to 75% in 2021.
The reason? It works. Ninety percent of marketers believe influencer marketing is an effective form of marketing, and customers back this up. As reported by Salesforce, Gen Z shoppers prefer marketing that shows real, diverse customers that are not overly polished.
Enter influencers and creators.
Why do you need influencers?
Wondering why all the buzz regarding influencer marketing for Shopify stores? Let's look at the five key benefits that working with influencers can bring to your brand.
1. Increase brand awareness
Standing out in a crowded retail landscape can be challenging, but marketers have found a tried and true formula for success with influencer marketing. As reported by Influencer Marketing Hub, raising awareness is the main objective for running an influencer campaign for one-third of marketers. The two other reasons (with an almost equal split of respondents) are: increasing sales and building a library of user-generated content (UGC).

By working with influencers and creators, brands are able to reach new, relevant audiences at scale.
2. Reach your target audience
Marketing is all about delivering the right message to the right audience at the right time. But that's easier said than done. The good news: Influencers offer a rare chance to reach a highly niche audience, and according to 72% of marketers, influencer marketing campaigns yield better quality customers than other types of marketing.
Micro-influencers often have smaller but more niche audiences. So in most cases, they are perceived as subject matter experts. This is why it's no surprise that brands partner with micro-influencers 10x more than mega-influencers. (See also: it's more affordable)
The chance to collaborate with a creator that has a specific set of interests (similar to that of your target persona's) is a way to laser focus on your ideal customers. What's more: Data from the Digital Marketing Institute shows that 49% of consumers depend on influencer recommendations. So instead of throwing spaghetti at the wall to see what sticks, you can focus your efforts and maximize the ROI of your marketing efforts.
3. Build trust
Back in the day, customers knew only what brands told them. Today, the customers are the ones in charge. Today, endless access to information gives customers the power to select a brand based on everything from price to ship times to their values and beliefs.
Earning the trust of your customers is a prerequisite for business growth. As stated in the 2021 Edelman Trust Barometer Special Report, 61% of respondents are prepared to advocate if they fully trust a brand, 57% are ready to purchase a new product or service, and 31% are willing to share personal data or participate in activities sponsored by the brand.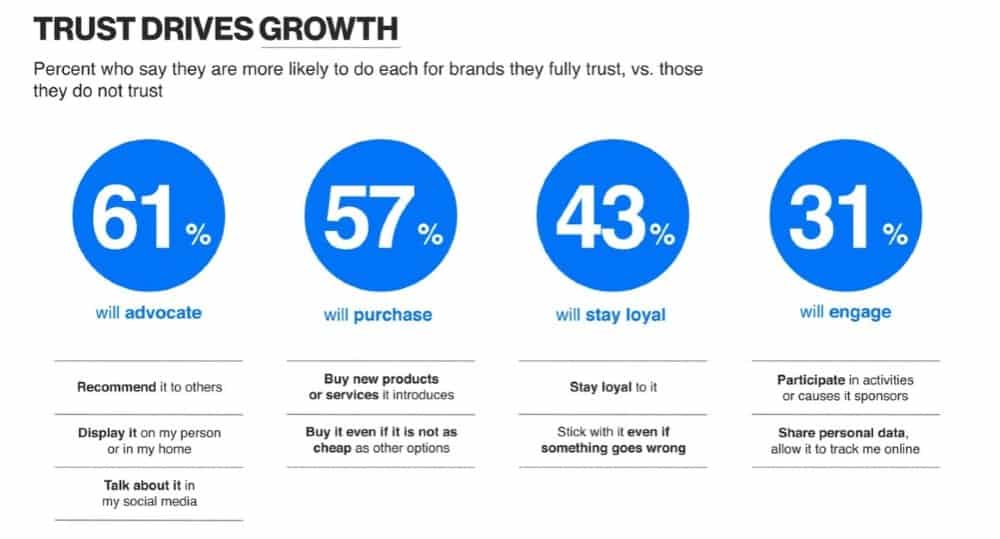 Unlike other forms of Shopify advertising, influencer marketing is built on the trust customers have in the creators they follow on social media. Google found that 4 in 10 Millennials say their favorite influencer understands them better than their friends.
4. Boost engagement
One of the most obvious benefits of working with influencers is more engagement. Likes, comments, mentions, new followers, impressions — influencer marketing can bring you closer to your target audience.
Impressive engagement happens with influencers because their followers feel more comfortable chatting, asking questions, and commenting on their posts because the relationship feels close and intimate. This is especially true for creators with a smaller audience. Micro-influencers have 22.2 times more conversations weekly about recommendations on what to buy when compared to an average consumer.
It works, too: For every dollar spent on influencer marketing, brands generate over five times as many impressions and engagements as paid advertising. To top it off, posts that get traction are even more favored by social media algorithms, ultimately increasing the reach and spreading your brand's message.
5. Get more sales
According to Statista, 54% of Gen Z shoppers and 58% of Millenials think social platforms are a better place to find out about new products than online searches, while a Yotpo study found 89% of respondents said they bought something they first discovered on Instagram. 56% said seeing Instagram photos of a product increases their chances of buying it.
The rise of social commerce and features such as Facebook Shops, Instagram Checkout, and the Pinterest Shop tab has changed the way people shop online. Recently, Shopify even partnered with TikTok to bring organic product discovery and shopping tabs to the social network. Helping creators and merchants deepen their relationships with consumers.
As a result, influencer marketing is even more popular, creating a seamless journey for Shopify customers interested in purchasing. The ability to buy a product without leaving the social media app paves the way to the "add to cart" button.
How to find influencers for your Shopify store
Finding the right influencers can be challenging. But don't worry — here's a step-by-step guide for finding the creators who will meet your business needs.
1. Set goals
The only way to reach your destination is to know where you want to go. Before launching a campaign or investing in any influencer marketing efforts, make sure to have a clear, documented projection of the results you want to achieve.
One of the main reasons you need goals before launching a campaign or implementing an initiative is to have benchmarks to measure against. Marketers who set goals are 376% more likely to report success. Setting up a circular process flow means you always come back to the goals. Which then allows you to optimize for better results and take a data-driven approach.
As stated in Advertiser Perceptions' Branded Content and Influencer Marketing Report, 41% of respondents think influencer marketing will be more important for achieving marketing goals compared to the past.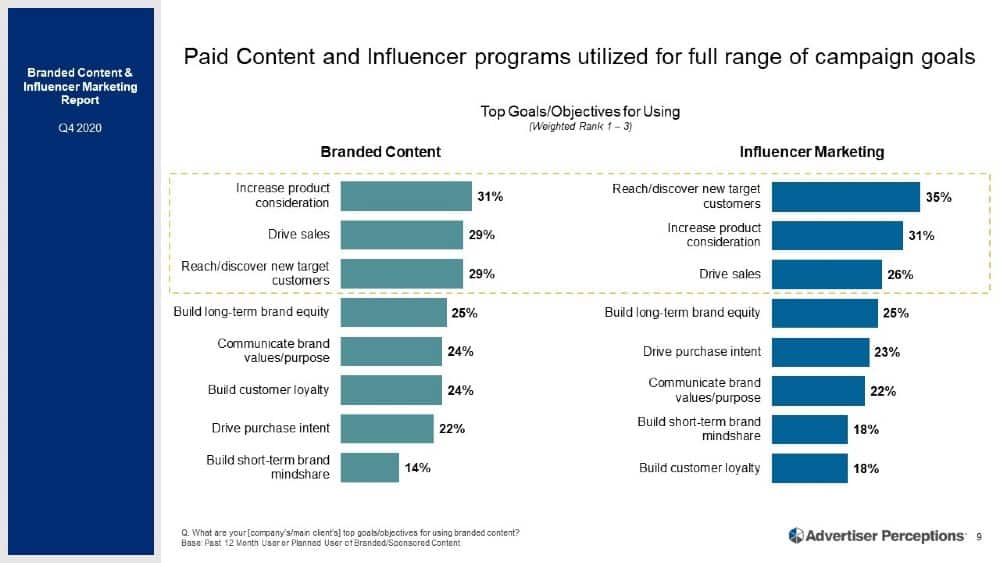 2. Study your target audience
In a recent Ipsos study, 47% of U.S. consumers ages 18 to 24 said they feel a personal connection to a brand when it's used by a creator they like.
The question is: how to find influencers that align with your target audience?
The short answer: get to know your audience.
You can't convey the right message or choose influencers if you don't understand your target audience. Is your target persona a male or a female? What are their interests, hobbies, and consumption habits? What influencers do they look to for recommendations?
Creating a behavior pattern with information about loyalty, engagement, usage, and social media interactions gives you a deeper dive into customers' purchasing habits. You can gather this information through customer surveys.
Another great way to understand what resonates with your target audience is to analyze competitors' approaches to influencer marketing. And to then see what seems to be resonating within their approach.
3. Do your research
You defined your goals, you have the ideal customer profile — Now what? Here comes the tricky part: doing the research and building a shortlist of viable partners.
Almost every research starts with Google. But in this case, the number of search results you will get can be overwhelming. That's why a good rule of thumb is to see who is already talking about your brand. Go to your social media accounts and check the mentions and tags.
"To find your first influencers, look at who's organically sharing/talking about your product." — Nik Sharma, CEO of Sharma Brands
It works, too: The personalized map prints and gifts business Grafomap managed to make $1.5M in revenue largely via influencer marketing.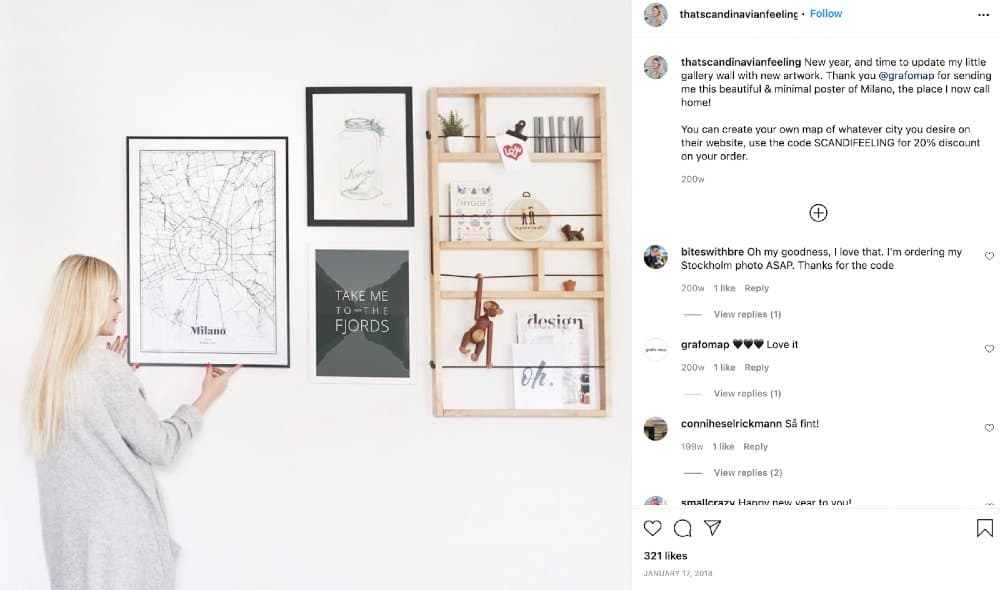 How? They focused on building an Instagram audience, and whenever they noticed a relevant account, they would follow it. Next, they would follow similar accounts based on Instagram suggestions. This way, they were able to curate a list of highly relevant influencers that they could reach out to.
Over the years, they managed to build relationships with dozens of influencers and grow both our revenue and social media following. Founder Rihards Piks is now building new businesses, and he's using the same tactic.
4. Start outreach to your ideal partners
Once you're ready to start doing outreach to influencers for your Shopify store, you'll need to have an influencer marketing budget and a basic proposal that serves as guidelines and a scope of work for these efforts.
Keep in mind that over time, as you increase your influencer marketing budget, you'll need a more streamlined process for this work.
That's where influencer marketing platforms come in handy. Using these go-to directories, you can find influencers, see the number of followers they have, examine their engagement rates, study the number of likes they receive on average, and so much more.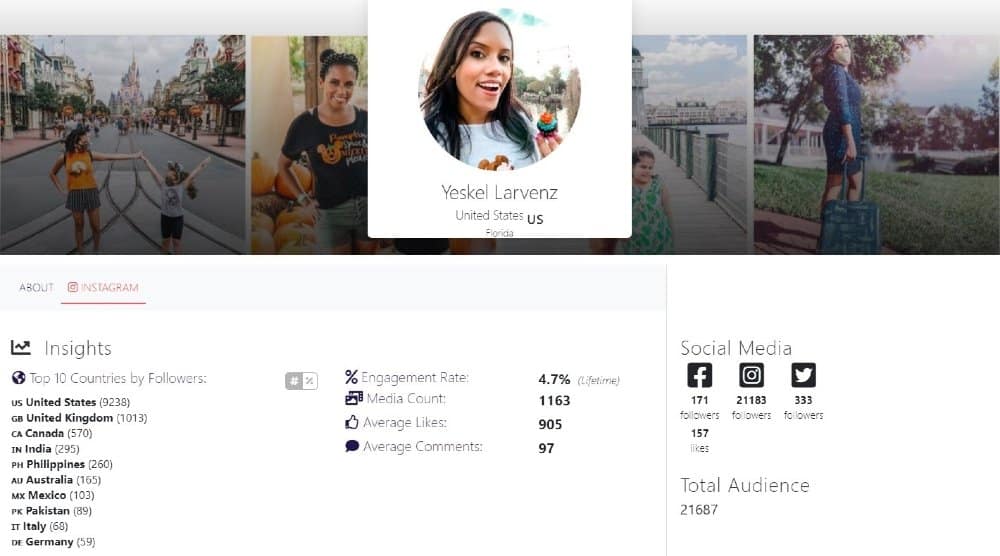 Using Afluencer, it's easier than ever to go through influencer profiles, compare engagement rates against the average, and see a snippet of the performance of their latest posts (including likes, comments, saved posts, impressions, and engagement information).

As you scale your business, the manual process of engaging with influencers can become daunting. Luckily, now you can define criteria based on interests, followers, and channels, and get personalized suggestions for influencers that best fit your needs.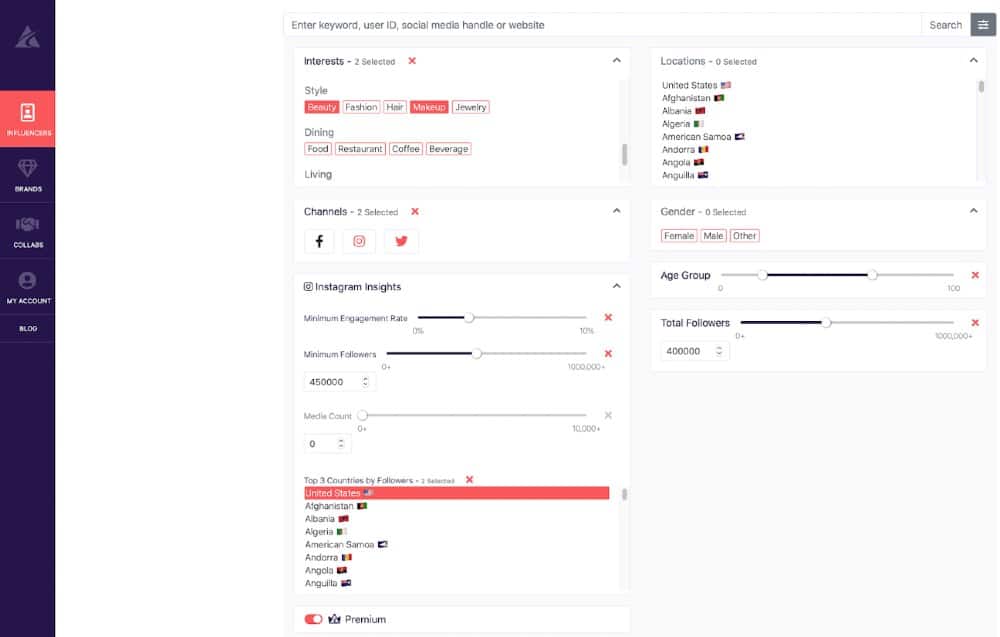 Advanced influencer marketing platforms let you post collaboration with defined criteria and get applications from creators that want to work with you.
Brands on Afluencer
The clean skincare and makeup brand Berla Beauty leverages Afluencer for influencer marketing to reach its target customers. On the platform, influencers can check the brand's profile to find more information, see a product feed, and find a direct link to the Berla Beauty Shopify store.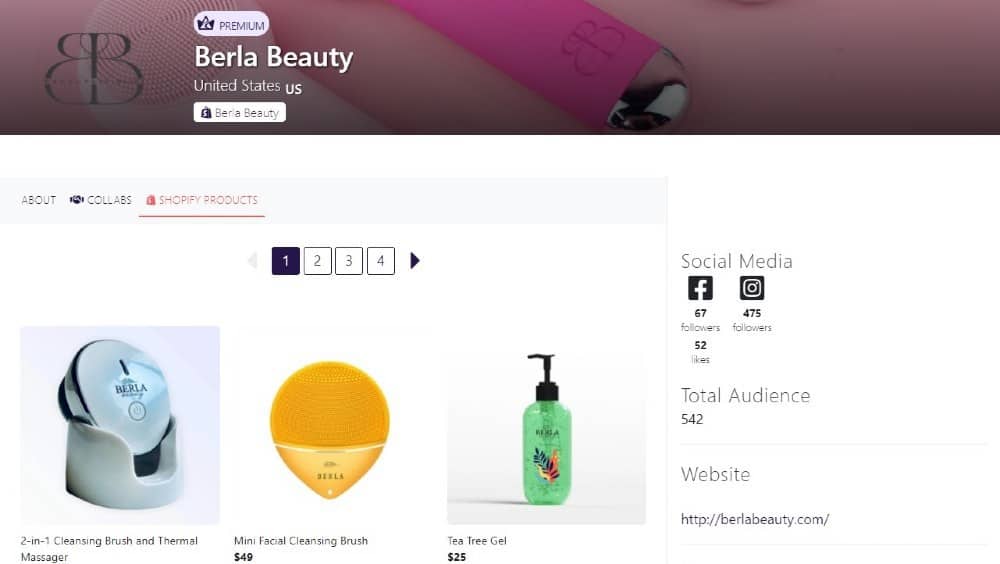 Berla Beauty also posts collaborations on the platform, where influencers can see the criteria/perks and apply if they're interested. Using influencer marketing platforms like Afluencer, Shopify brands can define criteria such as location, interests, channels, minimum followers, age group, and gender. This way, brands can promote their program as a pay-per-post opportunity, an affiliate program, or a combination of the two.
Recently, Berla Beauty posted a collaboration looking for ambassadors who are into skincare and beauty. In the collaboration details, they explained what is expected from influencers, what type of content they are looking for, and what the benefits are for influencers.
The collaboration gives creators the freedom for the creative part but they expect a plug to follow them on Instagram, a mention or link to drive website traffic, and to use the hashtag #berlabeautyme.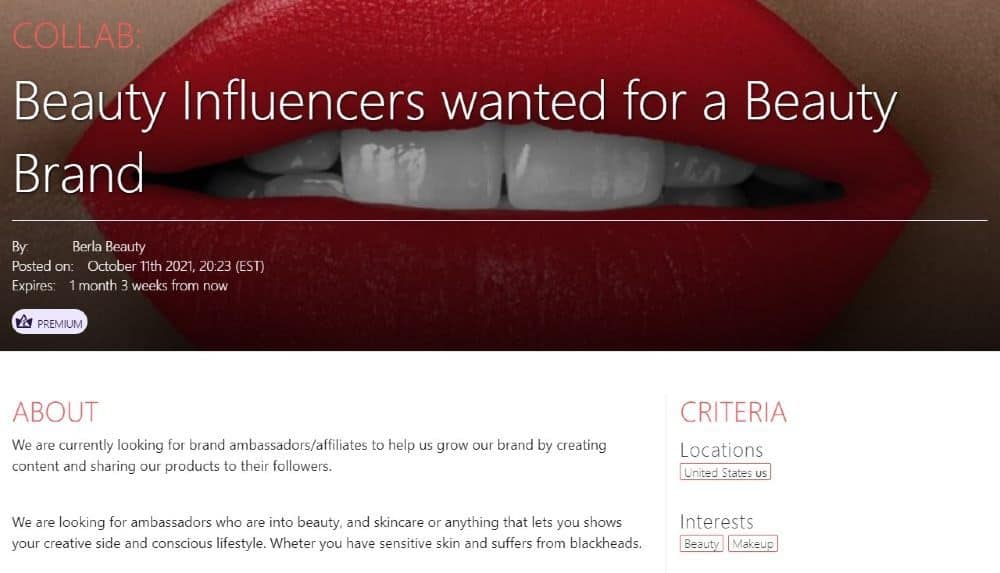 5. Test, measure, repeat
Influencer marketing should be results-driven. Always remember to measure results. Compare with the goals you had in the first place. Then test and optimize again for the best possible results.
You might be surprised, but one-third of marketers don't measure the ROI of influencer marketing. For those who measure success, the conversion rate is the most favorable measure — 38.5% of marketers believe that an influencer marketing campaign should be measured by the conversion/sales it drives.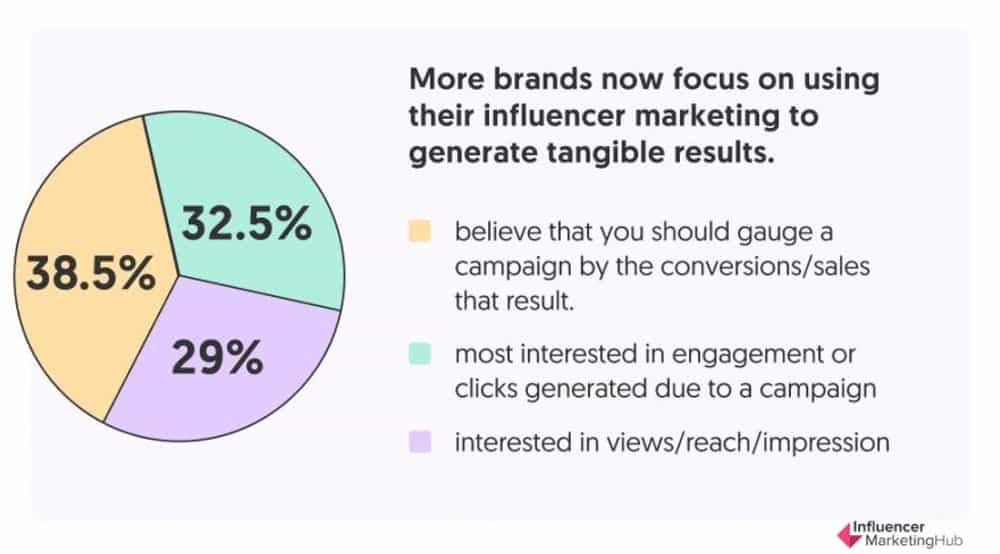 While measuring the ROI can be challenging using tracking links, coupon codes, and affiliate programs can help you get quantitative data.
You should also monitor engagement metrics such as likes, comments, and saved posts. As well as website traffic, as they provide valuable insight into your campaign's reach.
If you decide to use an influencer marketing platform, access to performance data should be one of your top priorities.
"The real secret sauce is finding a partner (tool or agency) that has data and information for how successful historical partnerships have been". — David Hoos, B2B Performance Marketing Manager at The Outloud Group
According to eMarketer, measurement is the number one challenge with influencer marketing. To overcome this issue, Shopify merchants should focus on partnering with a data-driven solution that will deliver performance reports. The bottom line is that if you want influencer marketing to become a credible channel within your Shopify marketing mix, then you have to measure results and ROI.
How Vela recruited more than 100 fitness influencers in just a few months
After developing and producing high-quality fitness resistance bands, Vela founder Raphael Velazquez was looking for a way to help spread the word. As a result, the fitness accessories brand Vela was on the lookout for fitness influencers to promote its products.
Using Afluencer, Vela was able to find more than 100 fitness influencers in just a few months. The access to influencers made it easy to accept potential collaborations and build partnerships.
"Afluencer has helped with attracting influencers from many walks of life. It's been a great way to bridge the gap and connect people to the brand and product." — Raphael Velazquez, CEO of VELA fitness accessories
Afluencer helped Vela build the influencer team and generate revenue from this marketing channel.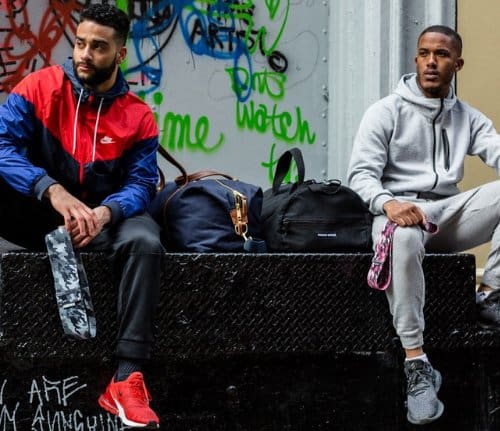 What's next?
There you have it — everything you need to know to find the ideal creators for your Shopify store's influencer marketing campaign. And guess what? We've only scratched the surface when it comes to influencer marketing. Around 73% of U.S. marketers plan to use influencer marketing as part of their marketing efforts in 2023.
Ready to jump on the bandwagon? Now you can unlock the power of influencers without the heavy lifting. Get the Afluencer app for Shopify.