If you search 'negative celebrity influencers' you will come across a number of influencer names who have been at the forefront of some of the worst social media fails over the years. The truth is that you can never be sure of a social media campaign — it can go either way.
For thousands of successful influencer campaigns, there are dozens of failed social media campaigns with fallouts that left brands shattered.
Here are four social media marketing scandals that made people think influencers are a joke.
4 Social Media Influencer Fails
Go through these worst-case scenarios so that you're better preferred to take on similar situations: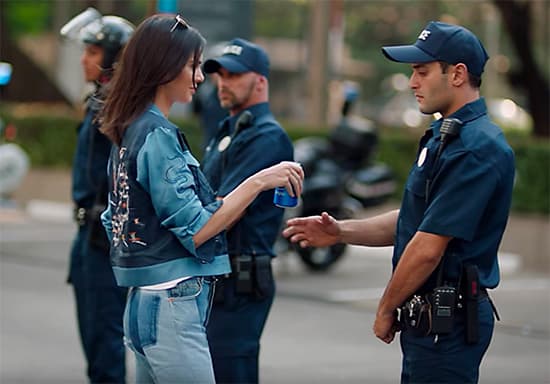 #1 Social Media Influencer Fail
Kendall Jenner and Pepsi
Everyone was excited when Pepsi joined hands with Kendall Jenner to promote the brand. However, the partnership ended up on the failed social media campaigns list due to poor planning.
Pepsi came up with a new social media campaign called "Live For Now". With the aim to connect with the new generation and celebrate the spirit of social protest movements. One of which included the popular Black Lives Matter campaign.
The company's reach exceeded its grasp when it released a promotional video starring Jenner.
In the video, the reality show star and supermodel could be seen posing for photos before turning her attention to a social protest that features police officers facing off against a diverse bunch of young people.
Jenner drops her work and becomes a part of the protest that ends with her offering a can of the popular drink to a police officer as a way to bring peace and end the turmoil.
The police officer accepts the can bringing an end to the protest as attendees start to celebrate and cheer.
It did not take too long for the campaign to receive backlash from all corners. Most criticized the company for insulting protestors and showing that a can of Pepsi can solve world problems.
Many also questioned the decision for the brand to use Jenner as the face of the campaign due to her lack of understanding of the situation. Twitter went crazy with critical messages directed towards Pepsi and Jenner.
The company quickly decided to pull the video and published an apology for missing the point.
What We Can Learn from This:
This marketing scandal highlights the importance of selecting an appropriate influencer, i.e: someone relevant to your cause or business. Jenner might be popular but she has rarely shown interest in social protests.
In addition to this, the company also made the mistake of showing an incorrect message.
#2 Social Media Influencer Fail
Chriselle Lim and Volvo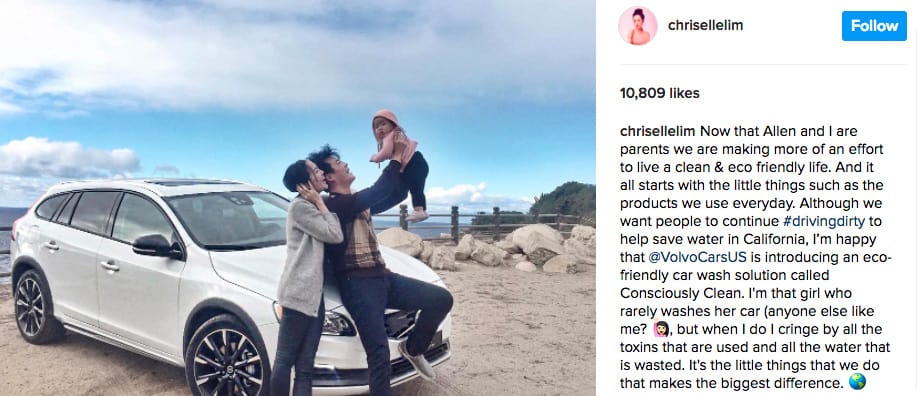 Beauty, fashion, and lifestyle blogger Chriselle Lim joined hands with Volvo to promote the company's latest vehicle to her followers.
She created a very professional video with her family where she talked about the environment and safety. A message that seemed at odds with her usual lifestyle.
Lim's followers were quick to bash her posts that clearly appeared sponsored. Many also questioned Volvo's decision to work with an influencer who did not promote the same beliefs as the company.
What We Can Learn from This:
This failed marketing campaign proves the importance of selecting a suitable influencer and coming up with tactics that don't look staged. It also highlights the importance to stick to something that an influencer is popular for.
Social media influencers fail to bring the required attention if they use content that appears fake or sponsored.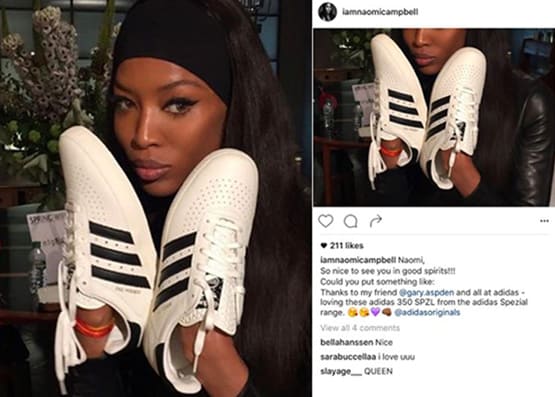 #3 Influencer Fail
Adidas and Naomi Campbell
Naomi Campbell is popular for a lot of things including her sponsored posts that usually generate tremendous results. However, her partnership with Adidas to market its 350 SPZL kicks turned out to be a bad marketing scandal and is still considered among failed social media campaigns.
The company chose the right influencer as Campbell is a fit and healthy person. However, the campaign flopped when Campbell ended up including promotional instructions from Adidas on the actual post. Thus, making it super obvious that it was a paid marketing post.
Many consider this one of Campbell's worst social media posts. However, it wasn't the first time that a social media influencer posted the original message from the sponsored brand. Scott Disick made a similar mistake a few weeks before Campell's blunder that lost Adidas and Campell their credibility.
The supermodel was quick to remove the portions that highlighted the mistake but it was too late by then.
What We Can Learn from This:
You want users to believe that influencers truly love what they market and they're not doing so for the sake of money. It is best to use an influencer marketing platform like Afluencer to communicate with influencers so that there's no risk of the 'wrong' information reaching the public.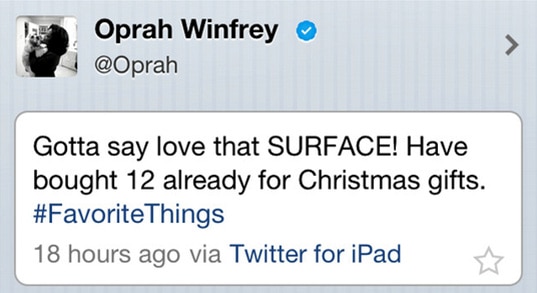 #4 Influencer Fail
Microsoft and Oprah Winfrey
We had to think twice before including Winfrey in this negative celebrity influencers campaign list since she is one of the most loved celebs, but we decided to add her name since the mistake is among the worst social media posts.
Microsoft worked with Winfrey to promote Microsoft Surface, the company's latest laptop. This was looking to be a successful social media campaign until Winfrey's mistake apparently resulted in Microsoft taking a major hit.
Winfrey endorsement the new laptop from Microsoft in a post that clearly plugged Apple's iPad:
What We Can Learn from This:
Microsoft hit the bull's eye when they got Winfrey onboard but the partnership did not prove to be a success due to an innocent mistake that ended up promoting Apple (Microsoft's competitor).
This is why it is important for businesses to work with an influencer who is more careful when posting.
These examples prove that working with very popular names or celebs does not guarantee results. In fact, a large number of social media influencer fails have included big names.
About 61% of companies find it challenging to identify suitable influencers. Check out our previous article to know if your influencer really is influential.