The stock market is both scary and rewarding but we're not here to talk about it. We're here to have a look at some of the best stock market influencers who can help you know what's happening in the industry and which stocks to buy and which stocks to stay away from.
Why Follow Stock Market Influencers
The stock market can make you a millionaire overnight if you take the right steps. There are dozens of websites offering stock market tips including paid and free newsletters.
The interesting thing is that these tips work but not all 'experts' are reliable. We understand that it can be difficult to predict the stock market but there are people who seem to have mastered the art.
Following stock market influencers can help you gauge where the market is heading to. There are many examples of people following stock market influencers and making huge gains. A good example is the meme stock (GameStop) shooting through the stars that helped people get rich overnight. However, similarly, some even lost money.
But this is not all that influencers offer. They can even help you know when to buy, when to sell, and for how long to hold.
More importantly, they can help people stay away from scams. This is important because scams are very common in finance. There are fake investment apps and accounts that rob people of their money.
By following top stock marketing influencers, you can know which app or tool to try and which to avoid. More importantly, these influencers usually provide tips for free.
While some may ask you to buy a paid package and sign up for apps, most provide tips using their social media handles.
25 Top Stock Market Influencers Who Will Help Improve Your Investment Strategy
Let's now look at our top picks. We must mention that not all stock market influencers may give the same tips as some are more inclined to support certain companies or markets.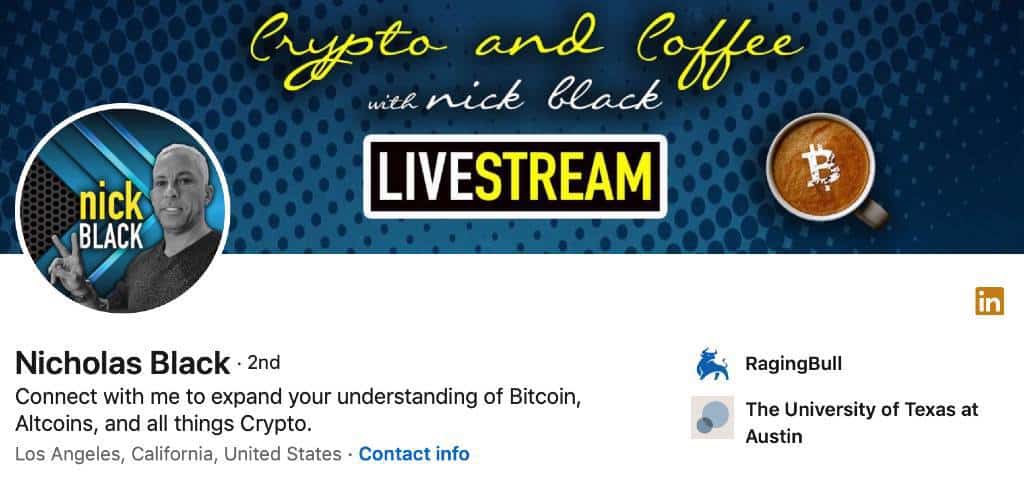 Nick is an influencer who hosts his own show on the RagingBull Investment network. The network enjoys more than a million subscribers who listen to what Nick and other hosts have to say.
Hosted live 3-5 times a week, these shows provide great insights and can be very helpful for people interested in knowing about the latest developments.
Nick mainly concentrates on digital assets as he's a big supporter of cryptos and encourages people to try their hands at virtual coins such as Bitcoin. The man provides analysis on his show BullPen, a show with a live Q&A session.
His success story is quite motivational. The man has made a fortune by trading digital coins and is willing to help people.
---

Allan Mantaring is a speaker, entrepreneur, and author from the Philippines who enjoys having an international audience. He loves sharing his investment knowledge and helping others.
Some of his favorite topics include personal development, public speaking, finance, persuasion, public speaking, and online money-making.
He suggests his followers try different ways to make money, including trying their hands at the stock market. Most of his tips are geared toward beginners.
His story is quite interesting. He discovered the concept of Internet Marketing in 2013 while working as a seafarer. He studied more about digital marketing by going through articles and visiting forums.
The self-educated gentleman wants others to not face the kind of problems he had to face. His tips are very simple and easy to follow. Moreover, he's quite active on social media and enjoys engaging with his followers.
---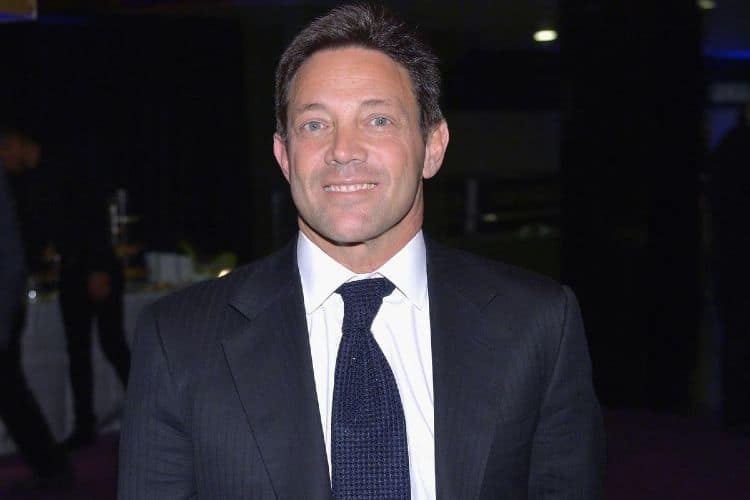 Jordan Belfort is a man who needs no introduction. Anyone who has read the book The Wolf of Wall Street or watched the movie starring Leonardo DiCaprio must be aware of the man who is not just a former stockbroker but also a motivational speaker and author.
Known as the #1 Sales Trainer in the World, Jordan is one of Wall Street's most successful investors of all time. He started as a door-to-door meat and seafood salesman and soon moved to stock trading. A convicted felon, Jordan has turned a new leaf and enjoys sharing his knowledge with his 1.7 million Instagram followers who regularly comment on his posts and engage with him.
He regularly attends finance conferences and podcasts and works with a number of companies. However, his tips appear to be more inclined toward experienced traders.
---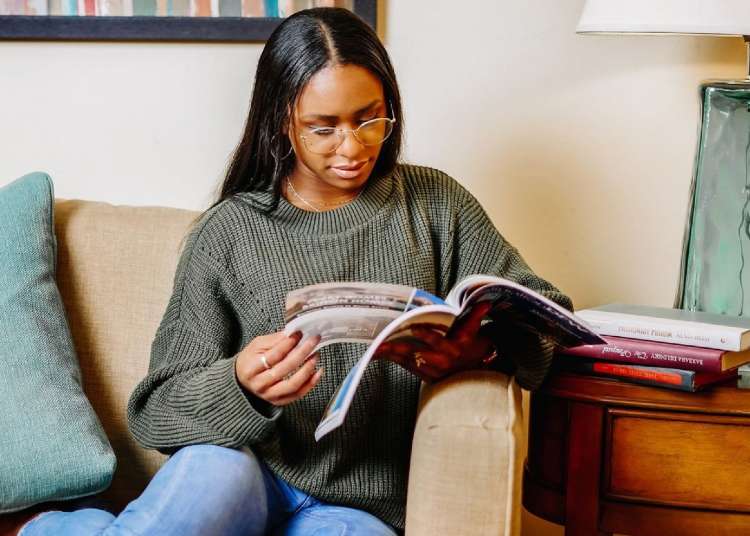 Tangie Seals is an investor who runs her own personal finance blog. With more than 36k followers, she's one of the fastest-growing investing influencers who is best known for paying off $33k of debt in just 18 months.
The star is more interested in helping women build their empires; however, both men and women can follow her investment tips.
She believes in building wealth and focuses on not just stock markets but other investment niches as well including real estate and precious metals. The diva shares long articles with finance concepts to ensure her followers are aware of finance and understand how to improve their wealth and credit scores.
---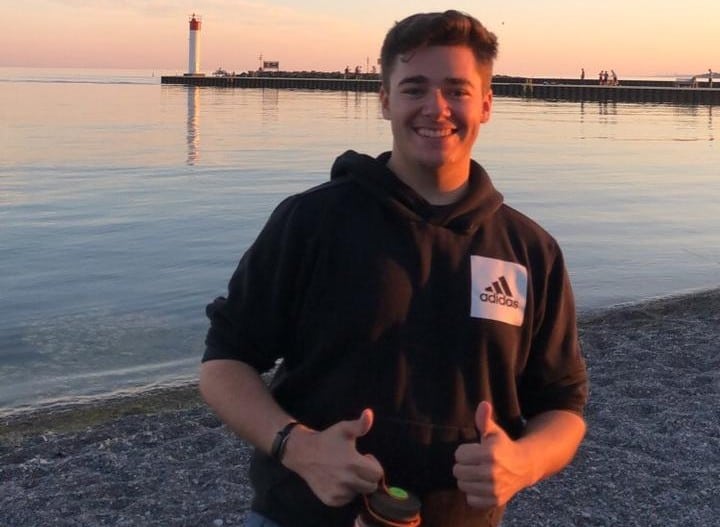 Rowan has one aim – to educate people in a fun and entertaining manner. He operates a finance account on TikTok where he covers multiple saving techniques to help build wealth.
You will find his motivational and real journey – from $0 to $10000 – on his TikTok profile. His followers appear to be very loyal and engaged. They actively comment under his posts and the man is usually fast to respond to queries.
In addition to informative posts, you will also find reviews and sponsored posts on his profile. He works with a variety of brands and likes to cover new products to ensure his followers are fully aware of the latest happenings in the market.
---
Elon Musk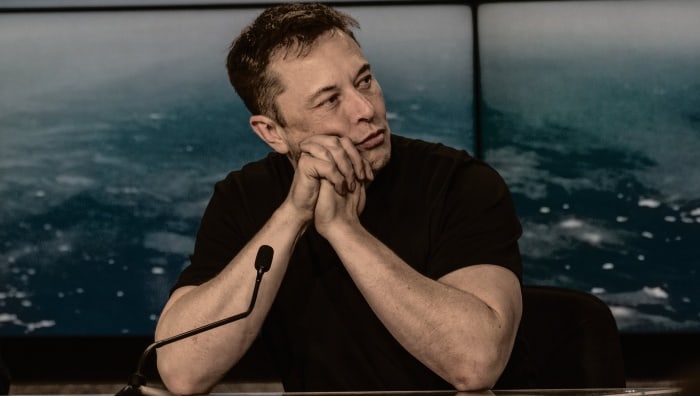 We understand that you didn't expect Tesla's head on this list since he isn't known as an influencer but we cannot decline the influence he has over the stock market.
Some argue that he has too much power as he can single-handedly send a stock skyrocketing. However, some experts argue that his suggestions are not reliable and should be taken with a pinch of salt.
Many credit Musk for sending Bitcoin through the moon and causing its eventual crash. A single tweet from a billionaire can cause stocks to soar or suffer. However, we must mention that Musk doesn't identify as an influencer or analyst and doesn't use his profile to provide investment advice.
However, many investors have benefitted from Musk's tweets. He's known for being very active and having strong opinions on changing situations.
---
Mark Minervini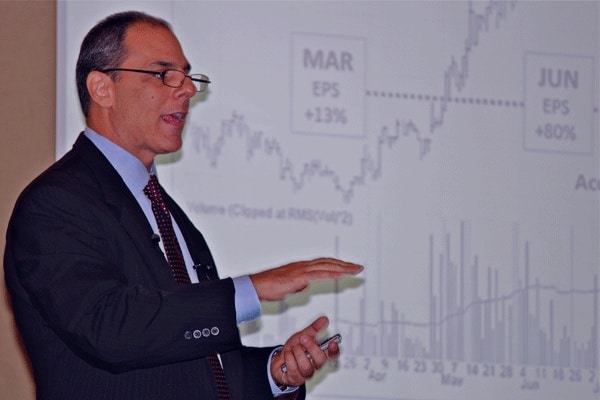 Mark Minervini is one of the most well-known stock market influencers who works as a technical analyst and seems to understand the market better than most people out there.
The man is an acclaimed author and independent trader with more than 30 years of experience. Featured in Stock Market Wizard by Jack Schwager, he enjoys more than 295k Twitter followers who appear to be keeping a keen eye on what he has to say.
His posts are taken as quotes by major publications as his predictions in the past have proven to be true. However, unlike some stock influencers out there, he doesn't just share tips but also uses social media to keep his followers informed about his personal life and hobbies.
---
Vic Scherer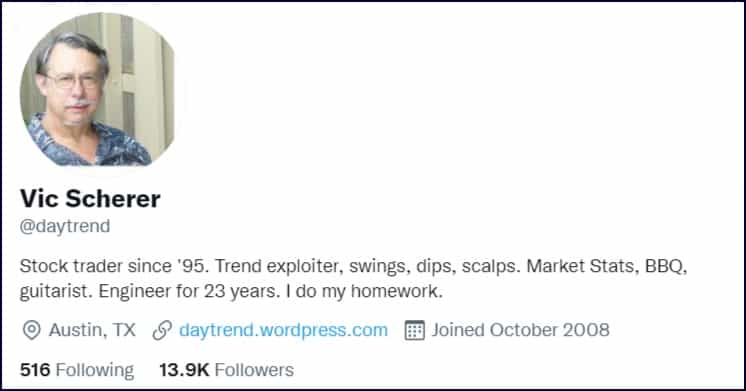 Vic is a stock market trader who entered the industry in 1995 and has been going strong since. A trend exploiter, Vic is known for his predictions. His 14k Twitter followers are his fans. Plus, he has a strong following on other platforms as well including his blog where he posts content from time to time.
An engineer by degree, Vic seems to have an opinion on several things including politics. He doesn't only concentrate on the stock market but also on other ways to earn and save money. He encourages users to study their finances and plan accordingly and not blindly follow influencers or experts.
---
Steve Sturner

Steve Strutner is a technical analyst who likes to keep his followers aware of the industry's happenings. You can follow him for great investment advice.
The man covers various aspects of investment and likes to post tips from time to time. He appears to be following not just the stock market but the commodity market as well.
You can even follow his LinkedIn page for detailed articles including opinion pieces on government policies.
He has been in the business for nearly three decades and has worked for a number of major companies. He has appeared on a number of news channels and is considered reliable.
---
Brittney Castro

You will find a lot of male stock market investors, but let us introduce you to Brittney Castro, CEO of Financially Wise, Inc., who has carved a niche in no time. She enjoys more than 16.5k Instagram followers who appear to be very active and highly engaged.
Brittney is a young trader who mainly targets the youth and comes up with short tips that appear to be designed for new traders. She encourages more women to study finance and try alternative investment options such as digital coins.
The star is fast gaining momentum as the go-to influencer for people looking for some sound advice. She holds relevant degrees and is very good at explaining complex concepts in simple words.
---
Garrett Ashe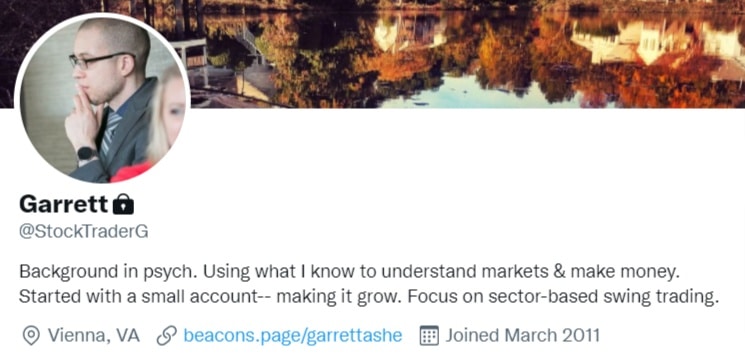 Garrett is a micro-influencer with a presence on all major platforms including Instagram, TikTok, Twitter, and YouTube.
He appears to be most popular on TikTok where he has more than 4.5k followers. He likes to post short videos covering different concepts and explaining the latest industry happenings.
A self-taught investor, Garrett focuses on sector-based swing trading and suggests people take calculated risks. He's open to working with brands; however, his opinions are real and not biased. The man doesn't seem to favor any specific investment and encourages his followers to diversify.
---
Raja Al Mazrouei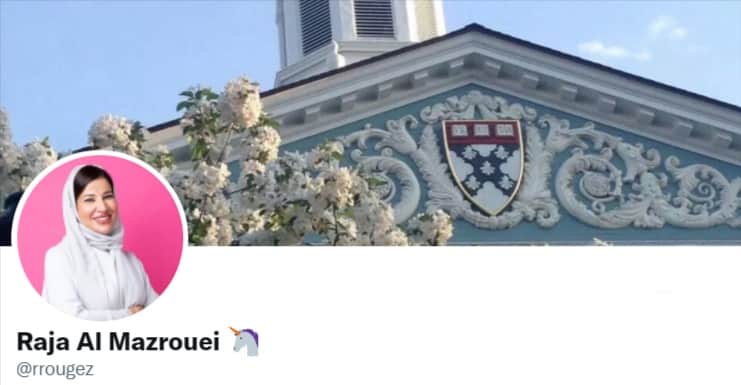 The Executive Vice President of FinTech Hive at the Dubai International Financial Centre, Raja is one of the most well-known Arab influencers.
Her main focus is to bring attention to Fintech and make DIFC a top name. However, at the same time, she enjoys educating people and providing investment tips.
She tweets in both English and Arabic; however, she appears to be more interested in attracting women and pushing them to invest and learn the art of investment.
She regularly posts about industry events and opportunities. Those looking to start a career in finance in the Middle East should also consider following her.
---
Chamath Palihapitiya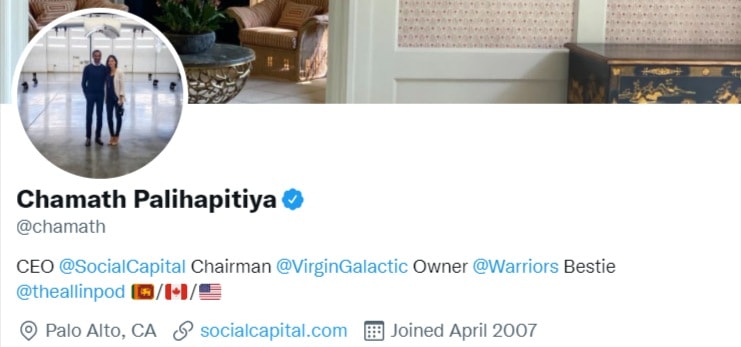 Chamath Palihapitiya is an influencer and investor with more than 1.5 million Twitter followers. He's one of the most popular influencers of Sri Lankan origin who started his own fund after quitting Facebook in 2011.
He regularly tweets about the importance of technology and how it can be used to make smarter investment decisions. The star is known all around the world and currently co-hosts a podcast All In.
He has contributed to a number of platforms and is open to working with brands. Those interested in real knowledge should consider listening to his podcasts as that's where the real information lies.
---
Cathie Wood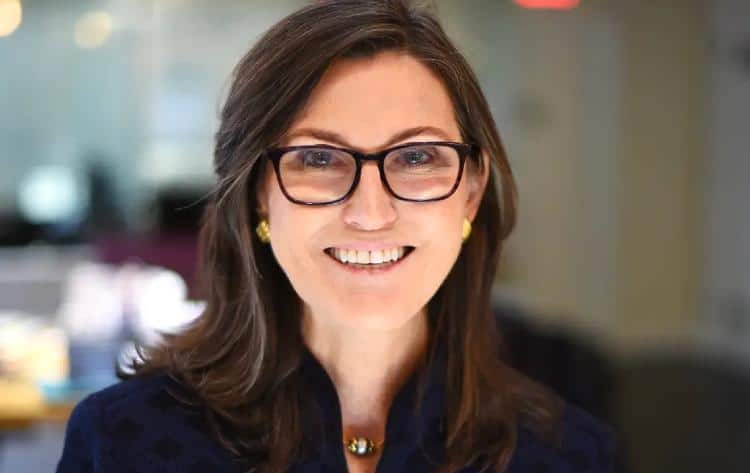 Cathie Wood needs no introduction. The founder, CIO, and CEO of Ark Invest, Wood started as an assistant economist at Capital Group and soon moved to bigger names. She is known for picking growth stocks that offer fast returns.
She got immense fame when she bid on Tesla and claimed it would hit $4000 by 2023. Originally ridiculed for her claim, she got recognition when her prediction came true two years before the date she predicted (on a split basis).
She's one of the few stock market influencers with the power to boost prices just by buying or mentioning a stock.
Selected for the 2021 Forbes 50 Over 50, Wood was called the best stock picker of 2020 by Bloomberg News editor-in-chief emeritus Matthew A. Winkler.
While she doesn't provide much guidance or tips, it might be a good idea to know what she's interested in as the woman has a sharp eye and most of her stock picks have proven to be successful.
---
Dave Portnoy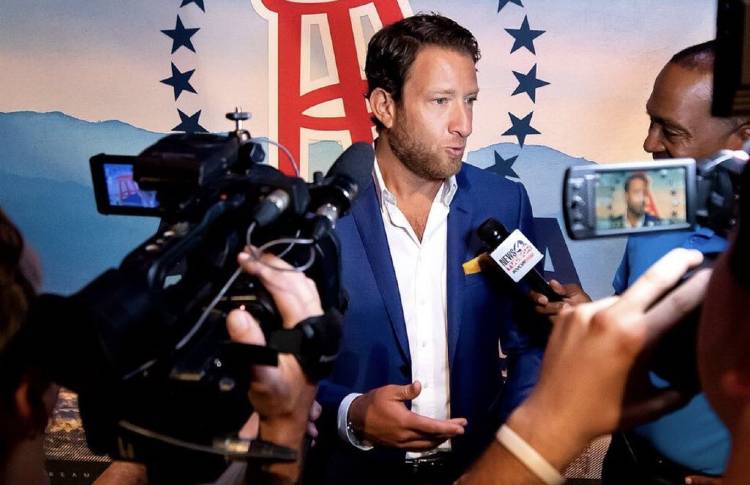 "I own a ton of Penn Stock. I'm not a financial advisor. Don't trust anything I say about stocks", reads Dave Portnoy's Twitter account.
With 2.6 million Twitter followers, he's one of the most well-known stock influencers. The star, however, isn't just known as the man who understands stocks as he does a lot of other things as well.
He is the founder of the sports and pop culture blog Barstool Sports and is often in the news for his comments including controversial remarks. Yet, his predictions have proven to be true and he seems to have a unique way of looking at stocks as he doesn't just invest in big or popular names but growing companies as well.
---
Oliver L. Velez

With 34 years of experience, Oliver is a name to reckon with. He has more than 17.3k Twitter followers and a decent number of visitors on his website where he shares tips in the form of blogs.
These days he appears to be paying special attention to his YouTube page where he has more than 218k subscribers. The man posts new content almost every day and covers a variety of investment-related topics.
He covers everything from stock to digital coins to commodities. You will even find unbiased and detailed reviews on his channel with some very well-explained technical videos.
---
John Bollinger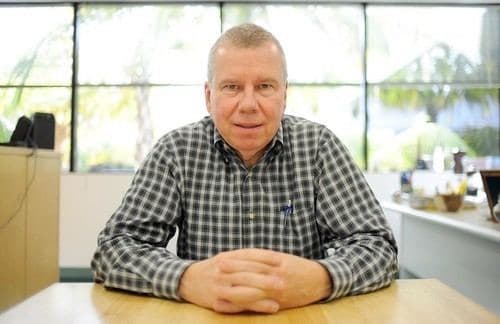 Owner of BollingerCapital.com, John enjoys more than 176k Twitter fans. He makes regular appearances on different YouTube channels and has been a part of different podcasts as well.
The star wants people to benefit from his experiences and mistakes. He is very active on Twitter, however, he mainly uses it to promote his website.
The author of Bollinger on Bollinger Bands is best known for publishing the Capital Growth Letter, a newsletter that covers the financial markets. It started in 1987 and has been going strong since.
---
Robert Ross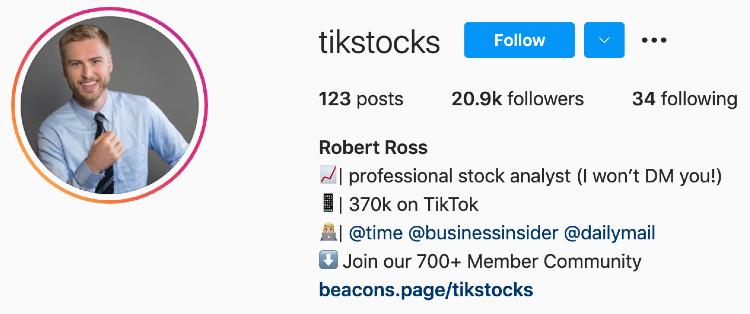 Ross started TikStocks in 2021 April with the aim to help people understand financial concepts and choose the right investments. He has built quite a following in five months by posting creative and fun content. He's known for explaining complex concepts in simple words.
While the star is mainly active on TikTok, where he has over 370k followers, he's going strong on other platforms as well. He has nearly 21k Instagram followers and more than 700 community members on his Beacons page.
The star is known to work with brands and is fast growing as the go-to option for companies looking for investing influencers due to his high reach.
---
Kayla Kilbride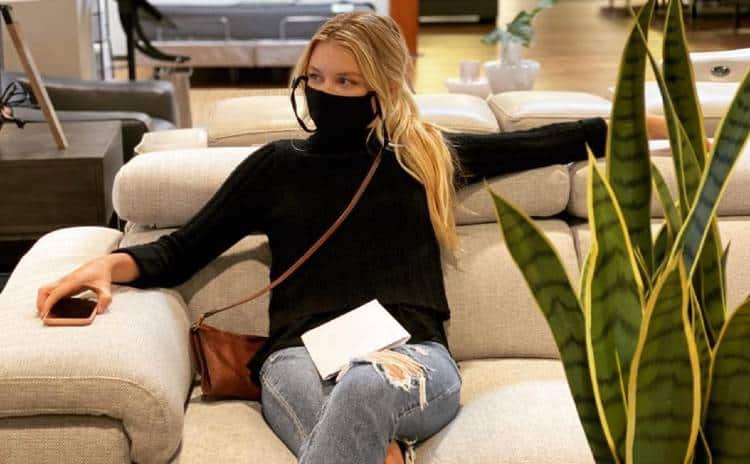 A full-time content creator, Kayla is a TikToker who posts finance-related content. Her aim is to "elevate female voices".
She's available on almost all major social media platforms including LinkedIn, where she shares her experiences and life story in the form of interesting anecdotes.
If you follow her Instagram, you will find that she is more than just an investing influencer. She shares lifestyle tips and posts a lot of photos with her friends and partner. However, her TikTok account, where she has over 200k subscribers, appears to be solely dedicated to finance.
---
Errol Coleman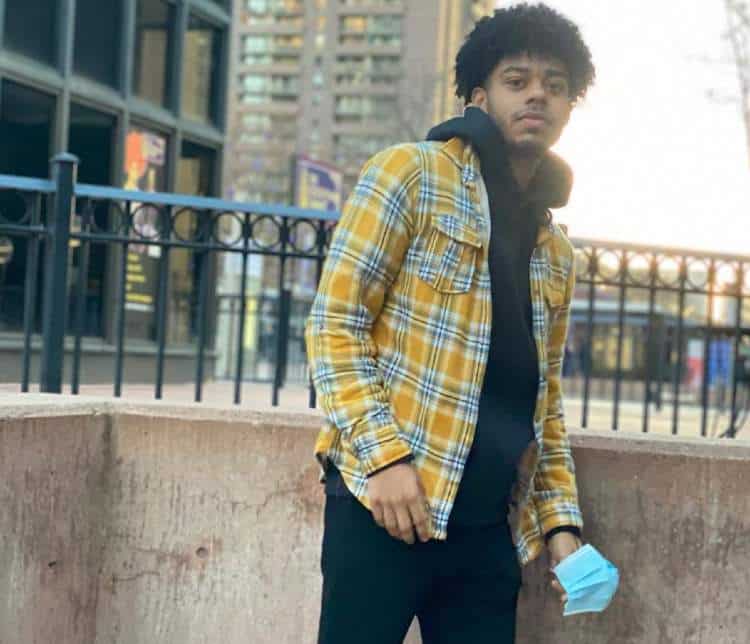 Errol is on "a mission to inspire and educate". The star has more than 8.4k YouTube fans and over 12.3k Instagram followers. However, most of his fans are on TikTok, where he is quite popular and active.
The young star mainly targets the next generation and often shares tips on saving money and investing wisely.
He appears to have formed a connection with his followers as he doesn't claim to be an expert or someone who knows a lot. He's open about his mistakes and accepts the fact that he's a learner.
Eroll's followers are both men and women who actively comment on his posts and seem to be highly engaged.
---
Timothy Sykes

Sykes needs no introduction. He's known for turning $12k into $7 million by trading stocks. His inspirational story has motivated several people to try their luck and invest in stocks.
He's different from other stock market influencers since he doesn't focus on a single market and appears to be a fan of investing in international stocks.
He regularly shares watchlists that contain a list of stocks that are expected to offer good returns. At the same time, he's busy building schools around the world and helping people get educated.
Sykes has been associated with a number of organizations and has over 303k Twitter followers.
Known for being one of the smartest penny stock traders, he started investing while in college and is often in the news for being vocal and criticizing people for promoting "pump and dump" schemes.
---
Kritika Yadav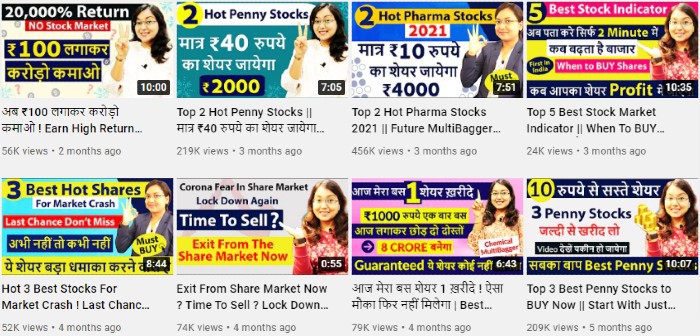 Yadav is an Indian stock market influencer who mainly targets locals. Most of her content is in Hindi; however, her viewers include international investors as India has proven to be a lucrative market in the last few years.
Most of her content includes lists of stocks to invest in. According to her channel, she wishes to help people "understand the basics of money management, budgeting, saving, and debt investing".
---
Trajan King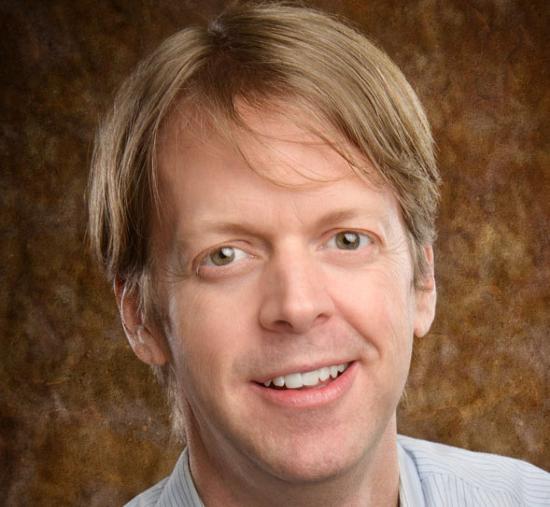 Trajan King is the man behind InvincibleRobots, a website dedicated to investing and personal finance. While he mainly targets businesspersons, his website can be a great place for people looking for investing tips.
You will find detailed articles and guides on the platform covering different aspects of stock trading. He sends regular newsletters and has been a part of several podcasts.
---
Denis Stelmak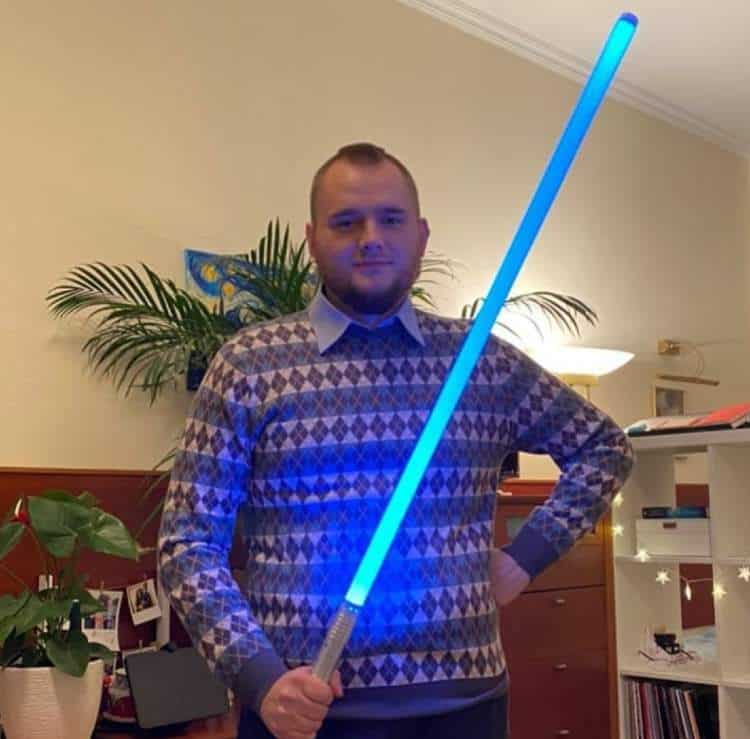 Denis is an asset manager, entrepreneur, and YouTube blogger with 10.6k YouTube subscribers.
Originally from Moscow, Russia, the man is known to have a strong accent that is loved by his followers. He calls himself a long-term investor and mainly covers the US market.
He covers the latest happenings including company changes and predictions. You will find him on most social media platforms including Instagram where he covers different aspects of his life.
---
Patrick Wieland

Patrick is a stock market influencer with more than 151k subscribers on YouTube. He's quite active on YouTube and is popular on Stocktwits as well.
A filmer by profession, his Instagram is dedicated to different things including his love for the outdoors.
The star started young and suggests people waste no time waiting for the right opportunity. He covers not just stocks but also digital coins and is fast to cover the latest happenings.
---
Best Stock Market Influencers: Conclusion
These were some of the best stock market influencers. Sign up with Afluencer to be a part of our upcoming influencer features. Being a member will give you access to great opportunities including dozens of brands looking to work with influencers.
And if you have a brand that needs to recruit the help of a few good influencers, then you should sign up too!