We've been sharing resources on how TikTok can help your brand for a while now. We've covered a variety of topics including Top Buzzing TikTok Influencers Across The World and tips on How to Make TikTok Videos to Get More Followers.
Our aim is to provide all TikTok brand resources under one roof to make sure you do not have to look elsewhere for TikTok brand guidelines.
In this article today, we'll be talking about how brands can benefit from TikTok and use it to reach more people.
If you're reading this then it means you've already heard of TikTok and know how powerful the platform is.
According to HubSpot, the app is "leaking" with opportunities for brands and we certainly couldn't agree more.
Despite having millions of users, TikTok is still not very heavily used by brands as it has recently launched the option to advertise and hyperlink.
If you're planning to be on TikTok and want more resources on how brands can use TikTok then here are some TikTok brand guidelines and ideas:
TikTok Brand Guidelines: What to Do On the App
Brand Guideline 1: Have Your Own TikTok Channel
You can start your own TikTok channel and post content to reach a wider audience. A very good way to reach a wider audience is to use hashtags and also post challenges.
We have covered more about these options in our previous blogs. So if you're interested, then go check them out.
Brand Guideline 2: Get in Touch With TikTok Influencers
Influencers can help you promote your products or services on TikTok. It works like any other social media platform. You find an influencer who works in the same niche as you do and then you reach a deal to post sponsored content that helps bring more attention to your cause.
The different thing about TikTok is how content is posted. Most users want to check creative videos on the platform, hence it is important that you select an influencer who is creative and has a decent number of followers.
You can scan through our directory of TikTok influencers to find someone who meets your requirements.
Brand Guideline 3: Advertise on the TikTok Platform
TikTok's advertising business is in its infancy, we suggest you consider influencer marketing if you want to pay for ads as it offers better results. Nonetheless, you can try the platform's CPM ads.
You will have to create an ad account after which you will get access to the platform. Once in, move to create ads. The system is easy to use. You can define objectives and select your target audience based on gender, location, age, interests, etc.
Brands can also define placement. Available formats include:
In-feed native ads
Hashtag challenges
Brand takeovers (full-screen ads that appear when a user opens the app)
Branded filters
Influencer brand partnership
Top view ads (full-screen ads that use in-feed content)
The ROI can be high if you create the right ad but it may not be the best option since the TikTok advertisement system is still developing. Your best bet is to create original content with the help of influencers and make a mark on the platform.
Companies all around the world are already using the platform and getting great results.
Here are some brands making the most of TikTok resources examples:
3 Brands That Follow TikTok Guidelines
TikTok is still a new platform in the US but it has carved a niche in other parts of the world. You will find several international brands on TikTok but very few American names.
We have covered three US brands to boost your morale. There is a lot you can learn from the TikTok guidelines these brands incorporate.
Let's have a look:
#1 Chipotle
Chipotle is a name that needs no introduction. The Mexican food chain has more than 365 TikTok followers and almost 3 million likes making it one of the most popular food brands on TikTok.
You will find a wide variety of posts on the page including videos designed around unique menu items.
One of our favorite videos on the page is a video posted a few months ago to celebrate one year of the app with the hashtag #oneyearoftiktok.
The video received a pretty good response. It highlights different menu items and uses a mix of songs. However, that's not Chipotle's most popular TikTok video.
The marketers came up with a unique idea when they posted a fun video on National Avocado Day to market free guac. They posted The Guacamole Song's video with a caption that read: "TFW guac is free.
The trick worked and the video caught up big time. It gave birth to the #GuacDance challenge where users uploaded a dancing video with avocado in the scene.
The post worked because it was perfect for the platform. it used music, was silly, and embraced pop culture.
---
#2 NBA
The NBA has more than 10 million followers who enjoy the cool content posted on the page. If you compare the NBA's Instagram page with the TikTok page, you will see how different both are. The company posts serious content on Instagram, whereas TikTok is full of fun videos.
You will find players burning it out in the gym to loud music, taking a break on the court, and going on adventures.
The company's clever brand guidelines use TikTok videos to make its athletes appear more relatable and less serious.
Videos on the platform do exactly what they're supposed to do, promote the league, appreciate the sport, and help followers be aware of the latest happenings but in a fun manner.
Here's a great video that NBA posted on TikTok: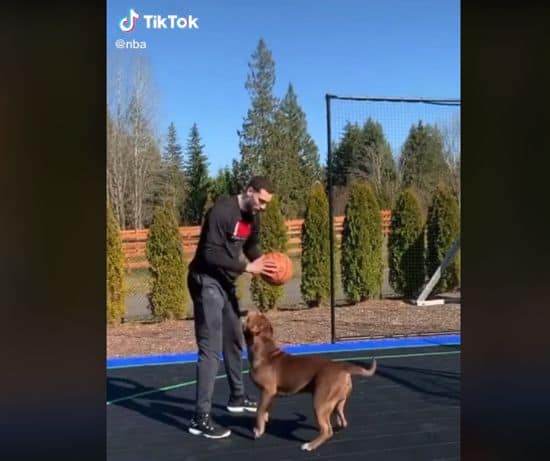 It shows Zach LaVine and his dog having fun. The video has since resulted in many followers posting similar videos with their dogs.
---
#3 Elf Cosmetics
We decided to include this one to show how even small businesses appear to be doing well on the platform. Elf has only 12,700 followers but their brand page is kickass and among the coolest beauty brands on TikTok.
The company was in the news for commissioning a song just for a TikTok campaign that took off and helped it gain more followers.
The song was inspired by a 2018 track 'Ice Me Out' and is called 'Eyes Lips Face (ELF). The company worked with influencers and made popular the #eyelipsface hashtag.
The hashtag generated over 4 billion impressions proving that creativity is all that one needs to be a success on the app.
This is the last part of our TikTok brand guidelines series. If you still need more resources, then feel free to go through our blog section or get in touch to learn more about how TikTok influencers can help your brand.