TikTok – the trendy app gripping hundreds of millions of users since its creation in 2016 (and the source of many popular dance moves) has fast become the platform of choice for content creators all over the world. Why is that?
TikTok Stats
TikTok, a hybrid of its predecessor Musical.ly and the once very popular Vine, is a social media app that enables you to record, edit, and share short videos up to 3 minutes long. It allows you to add visual and sound effects, as well as overlays.
As of December 2021, TikTok had 1 billion monthly active users, surpassing Snapchat and even Twitter.
With an average session length of 10.85 minutes, TikTok is the most engaging social media app, according to Statista – more than double that of Facebook, Twitter, and Instagram.
The highest-earning TikTok influencer, Addison Rae Easterling, has over 86 million followers and in 2020 made over 5 million dollars in just one year.
TikTok Algorithm
Here's another reason to be a TikTok influencer. TikTok's unique algorithm. Other social media platforms use a social graph to recommend content to their users based on who they follow, where they live, etc.
TikTok, on the other hand, measures users' interests based on how they interact with videos. So, the longer you watch a video, the more of that type of content they'll show you. This results in a personalized feed experience for each user.
From a TikTok influencer's point of view, this really emphasizes the point of creating content that is attention-grabbing and fresh so that viewers watch your videos to the end, and therefore watch more of your videos.
This is just a snapshot of why TikTok is the place to be if you want to skyrocket your influencer career goals. But how do you get a piece of this TikTok influencer pie?
Become a TikTok Influencer: Launching Your Career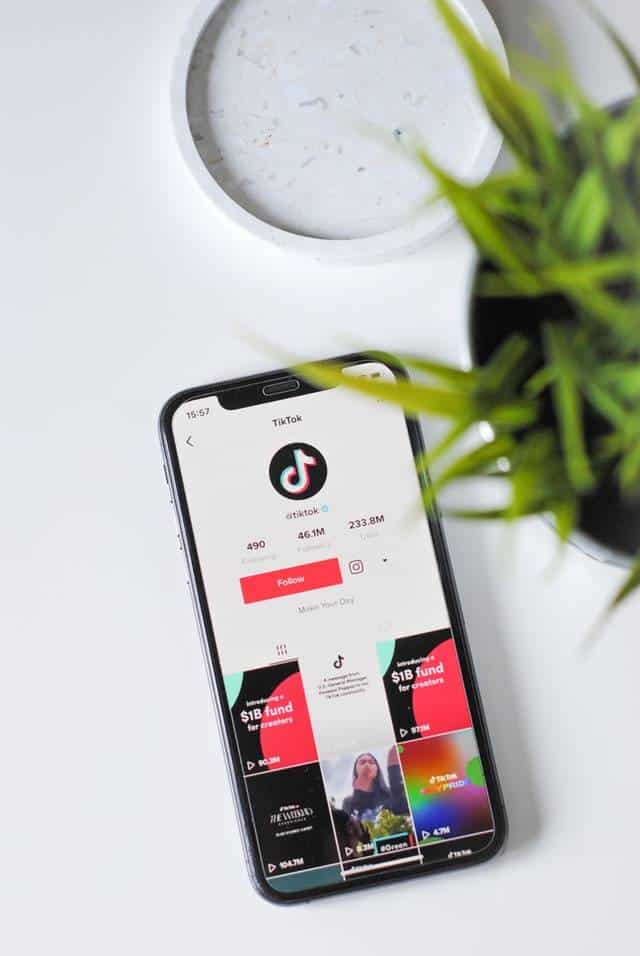 1. Choosing Your Username
Maybe you are going through the signup process and bump into the bit about choosing your username, or maybe you've decided it's time for a change. Either way, you probably won't want to go with what TikTok suggests – a string of numbers randomly generated. 7984432776us32 ain't cute.
Here are a few tips to consider:
Make it Memorable: Generally speaking, long usernames are rarely a good idea. You want users to be able to remember it, spell it, and therefore find you. Simply using a version of your birth name is rarely a bad idea.
Make it Relevant: If you decide not to go with your birth name, this is a great way to connect your username to the type of content you make.
Get Creative: Hey, John Smith. Do you have a really common name? You can still get creative to find a name that gives a window into your content, personality, and identity. Don't feel limited.
2. Discover Your Niche
On your journey to becoming an influencer – any influencer – this is an important step. If you want to stand out, you need to specialize. The more specific, the better.
For example, say you want to become a TikTok fashion influencer. This category is too broad. There are many different types of fashion and the competition you'll face with other fashion influencers will be extremely high. Instead, really narrow it down.
You might be thinking, "How about men's fashion"? Still too broad. Think more along the lines of men's second-hand clothing, for example. Your content could then only feature outfits sourced second-hand and/or budget-friendly. Another good example might be gym wear for plus-size women. Get creative with it – even a wildly specific niche like Middle Earth fashion in the 21st century (hello Frodo in skinny jeans) will have an audience.
Zoning in on your niche is even more important if you want to become a TikTok influencer just because of the sheer quantity of content on this channel. Having a niche will help you stand out. Plus, once you put your content out there, the TikTok algorithm we talked about earlier will do a lot of the work in finding your audience.
Keep in mind that even if you find yourself in a popular niche, you can always present your content in a different way, putting your own unique spin on things.
3. Know Your Market… and Competitors
In order to create content for your audience to enjoy, you need to know who they are. Are they Gen Z or millennials? And yes, there's a difference. According to Hubspot, many people (brands especially) make the mistake of grouping Gen Z and millennials into one category and creating content they think will engage with them both at the same time. However, each of these consumer groups (and others) has its own unique consumer behavior.
Here are a few questions to ask yourself:
What demographic do you want to attract?
What kind of content should you create to attract them?
Why will they watch my TikTok videos?
There are loads of TikTok statistics available on this so make sure you do your research.
While you're connecting with your audience, it's also important to keep an eye on what other influencers targeting your niche and demographic are doing. What type of content are they creating? Are they missing something that you could perhaps provide? The goal here is to find inspiration and adapt. Remember not to get too caught up in competing with other TikTok influencers – focus on your content.
4. Make Use of Trends
While figuring out how to become a TikTok influencer, don't forget to spend some time on the app as a consumer. TikTok trends are hot and constantly changing – you don't want to miss out on a goldmine that could skyrocket your views and/or reach new audiences.
The good news is that many of the trending TikTok videos can easily be adapted to any niche. The goal is to create content that is funny or relatable, and one of these trends could fit in perfectly.
Songs are also widely popular on TikTok. You could also incorporate a trending song in your content to help make sure your videos are pushed into users' For You Pages. Make use of the Discover tab to find trending songs, hashtags, and even effects in your region.
5. Make Use of Hashtags: Create Your Own
Hashtags are a great way to increase your reach and gain more followers when used correctly. As part of the whole "be unique" thing, creating your own hashtags is a great way to do just that. But before we get to that, here's an awesome list and tips from Hootsuite of popular hashtags to use on TikTok. Keep in mind that although popular hashtags such as #fyp, #foryoupage, and #tiktokchallenge get the most attention, they also have the most competition.
Here's a tip: combine popular hashtags with more niche-specific ones for good balance.
Hashtags can also help increase engagement on your TikTok videos – a good thing (flashback to the whole TikTok algorithm thing). If you're going to create your own hashtags you'll need to get creative. No need to try and reinvent the wheel. There are many hashtag generator tools that you can use.
Here's another tip – People don't often go through all the hashtags on a video, so if you're creating a hashtag it's best to focus on one to carry your message. If you're creating a challenge, name it and push that hashtag #greensweaterchallenge, for example. You don't need to create a string of hashtags.
6. Promote Your Content
If you really want to make it as a TikTok influencer you will need to kick things up a notch. Simply uploading your videos to the app won't be enough. You need to promote your content (and TikTok account).
To do this is you can:
Cross-promote across different social media channels. You could include a link to your TikTok account in your Instagram bio, Facebook About page, your blog, and any other social media accounts and vice versa.
Post Your TikTok videos on other social media platforms. Instagram, Facebook, and YouTube and great channels to do this. This method will not only alert your followers on other platforms to follow you to TikTok, but it will also help you gain a wider reach – attracting audiences who may not have found you otherwise.
Team Up with other TikTok influencers in your niche, category, or complementing niche and help promote each other. Who knows, where one TikTok influencer is good – two could be even better. Imagine the type of content you could create!
Mention your TikTok account in any promotional content or encourage your audience to reach out to you there.
7. Brand Deals
The goal of any TikTok influencer who wants to make it big is to score some brand deals. The great thing about TikTok is you don't have to have a large following for many people to view your content (thanks again, TikTok algorithm). And the great thing about brands is there is high demand for nano and micro TikTok influencers. You can check out why that is here.
The short version is that TikTok influencers with a smaller following tend to have high engagement rates – which means a better conversion rate or ROI for the brands.
But how do you get a brand to notice you? While you could reach out to brands directly, we'll just cut straight to the best option 😉
Join Afluencer.
With us, finding brands and getting brands to find you (oh yes, they're looking) has never been easier. You're looking for them and they're looking for you. We bridge the gap.
We've got a large and constantly growing database of influencers and brands – everyone is welcome!
You can find the perfect Collabs for your niche by simply searching using our filter feature – and it's a straightforward shot from there. Our user-friendly app and website design ensure easy navigation. There are also many other features to look forward to!
We won't leave you hanging either – we're dedicated to helping you find the right brand Collab. Our top-quality customer service team is on hand and reachable via live chat, email, phone, and social media.
For more information on getting started as an influencer with Afluencer, click here.
Becoming a TikTok Influencer: Some Inspo
Here's a little insight into some of Afluencer's top TikTok influencers…
Hannah is a beauty content creator from California, USA. She wears many other hats too being a mom, model, spokesperson, and YouTuber. Her makeup skills are clearly appealing to the masses as her follower count sits at 136.2k. She gives excellent beauty and makeup tips, providing her followers with helpful content.
By the way, back to point 1 about choosing a username – check out how she's just used her name as her username and it's worked just fine.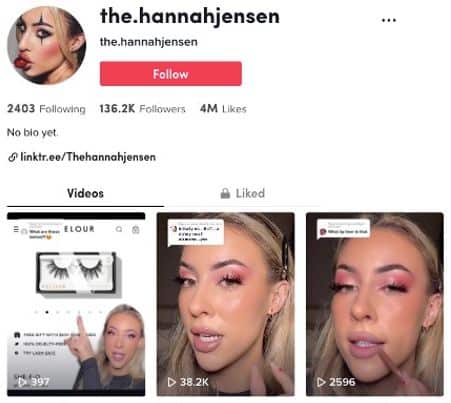 Off the bat @thefitqueen already lets her followers know she's all about fitness "that fits you." Love it! Brittany Noelle does a great job of adding humor to her posts. Are any Harry Potter fans out there looking to get in shape? Check out her video on Dumbledore's Workout – hilarious!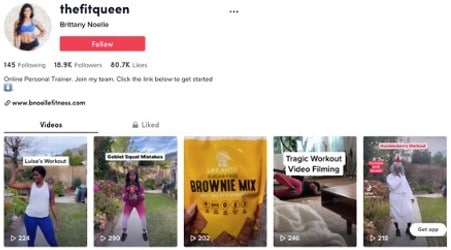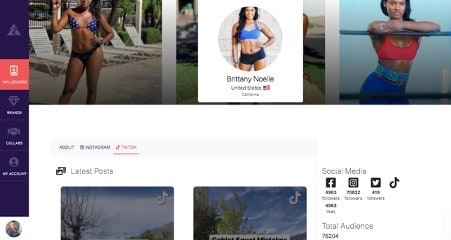 Ryan is based in Australia and has a TikTok following of over 895k. This TikTok influencer and host of the Toni and Ryan podcast does a great job of creating content about everyday life with a lot of humor mixed in that anyone can find relatable. It goes to show just how much relatable content is a hit on TikTok.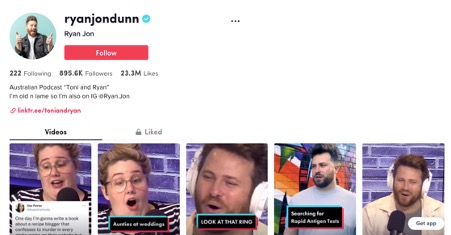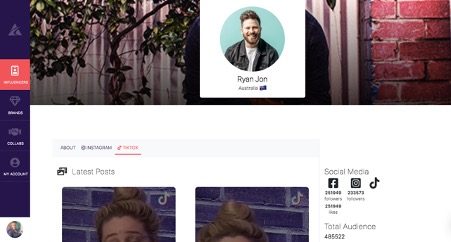 Becoming a TikTok influencer is totally achievable. Even if the competition is high in your chosen niche you can stand out by adding your own unique spin to your content.
Also, remember to:

Post Consistently. TikTok users consume A LOT of short-form content every day. In order to grab their attention, you need to post consistently and post several times a week. Remember to switch up your content as well so your followers don't become bored.
Engage with Your Audience. Don't be afraid to hit up the comments section and let your followers know you're there and you're human.
Love What You Do and Do You. "Success is no accident. It is hard work, perseverance, learning, studying, sacrifice, and most of all, love of what you are doing or learning to do." – Pelé
The road to becoming a TikTok influencer is full of challenges and learning curves. Afluencer is the platform you need to make your road to success a little more of a straight shot.
Thankfully, setting up your Afluencer profile is a breeze!
Get Started with Afluencer and let's skyrocket your TikTok influencer career!