We have already talked about the importance of TikTok in our previous blogs and Why Now Is The Right Time to be a TikTok Influencer. Assuming you've made up your mind to be on the platform, it's time to walk you through the steps to help you become popular on TikTok by teaching you how to make TikTok videos.
How to Make TikTok Videos: 12 Tips That Help
The most important rule is to plan before you make a video. Sit down and think about what you want to present and keep the following pointers in mind to ensure you get more followers:
#1 Pay Attention to Your TikTok Profile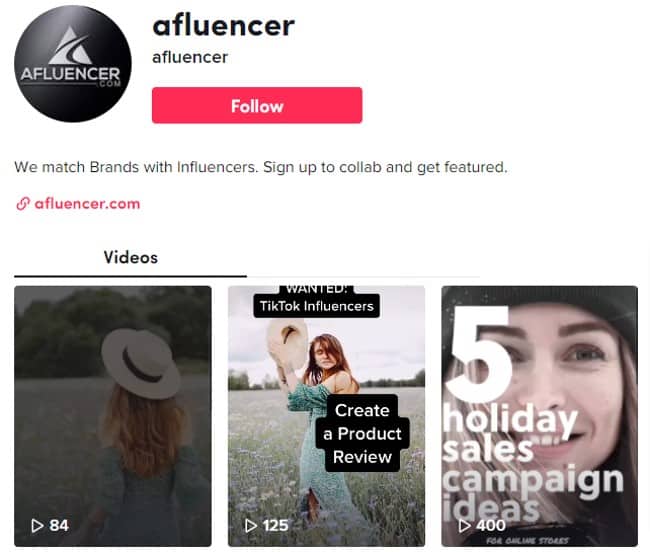 Make sure to fill out your profile completely and make sure to look interesting. Users often judge others based on how their profile appears, hence it's important to look real.
Build a profile according to your niche, for example: if you're going to create funny videos then your profile should clearly tell visitors that you're humorous.
In addition to this, pay special attention to the profile picture. The image must be clear and neat. Moreover, the username is also important. Since TikTok allows users to select customer usernames, you can be creative.
If you're on other social media platforms then we suggest you try to use the same username on TikTok as well. This will help users recognize you. If the username is not available then you can use a variation, for example: from bob_creatives to bob_creatives1.
#2 Make Sure Your TikTok Videos Are Original
Give users a reason to watch your content and follow you. Do not blindly copy others. Come up with content that's original and unique.
Plagiarism is unfortunately very common on the platform and users do not hesitate in calling cheaters out. It is okay to get inspired as long as you give it a twist. For example, lip-syncing videos are a craze on TikTok. You can't change the dialogues but you can present 'em in a variety of ways to stand out.
#3 Hashtags Work on TikTok as Well
Gone are the days when hashtags were solely used on Instagram, they are now everywhere including TikTok. So, work on your hashtag game and include the latest and most trending hashtags to help users find your content.
Be careful about what you choose. Hashtags must be relevant to your TikTok video and 'in demand', i.e: searched for.
It's quite easy to find hashtags on the platform. You can use a third-party hashtag generator or use the platform to identify hashtags. The trick is simple – go to the search menu and type the first keyword. Next, choose the Hashtags tab and you will see a list of hashtags that include your term.
You can select relevant and common hashtags from the list. If you do not find anything interesting or relevant then you can prepare your own keywords as well. This can be a good option if you are promoting a specific idea or product. Branded hashtags are popular and can be used to raise awareness.
#4 Follow and Create Trends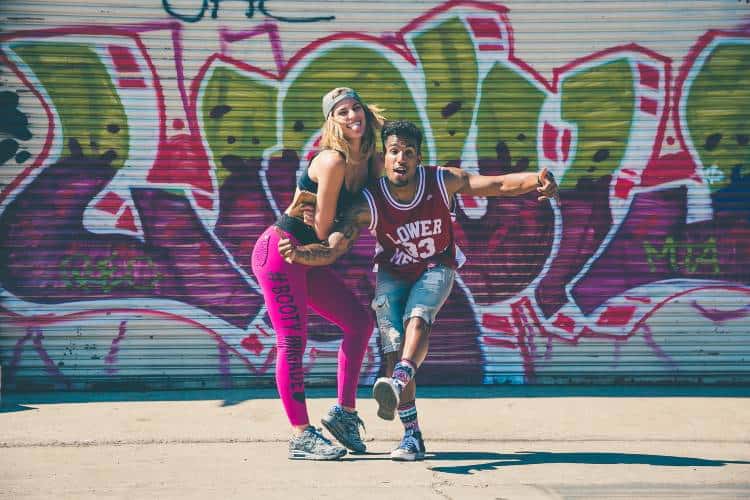 There are two types of people, some who follow trends and some who create 'em. When it comes to making TikTok videos, you need to be both.
It can be difficult to create something popular, hence do not solely concentrate on giving the world a new trend. You should also use your time and energies to follow trends made popular by others.
A trend can be anything, something as cool as copying a dance move to something as unique as showing your regular routine without going all plastic.
Most trends are created by brands, influencers, and celebs. Being a part of these trends is an easy way to gain followers. Once you have enough steam, you can begin to be creative and start your own trends.
#5 Be Active and Communicate with TikTok Followers
People like to follow users who are active on the platform. Hence, make sure to create a schedule and stick to it. Most active users post at least once a day. Also, take time out to take part in regular conversations with followers.
Your followers should feel that you care for them and alike is not all that you want. Listen to what they have to say, respond to their comments, and complete their requests when you can.
TikTok users are known to be unforgiving, they will not think twice before unsubscribing if your channel turns dead or if you never respond to them. They're looking for ways to kill time and if you don't offer them something interesting they'd go elsewhere.
#6 Make Friends and Collaborate with other TikTok Influencers
Even if you did not join TikTok with the intention to make friends, we suggest that you put your shyness aside and open up to other people, especially other TikTok influencers. It's a win-win situation since TikTok allows users to collaborate on projects or post duet posts that can get popular rather quickly.
It's best to duet with others who fall in the same niche and follower range as you do. This is an excellent way to present your content to even more people.
Many TikTokers do not only duet by using the TikTok feature, they even meet, collaborate to come up with new ideas, and end up in the same frame. However, always put your safety first and be careful who you meet.
#7 Make Use of Platforms Other Than TikTok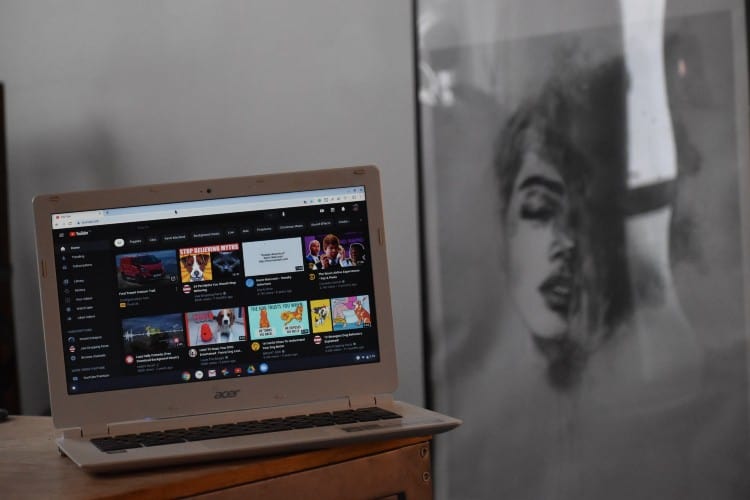 It will take you less time to build a following on TikTok if you're already popular on other social media platforms like YouTube and Facebook. You can ask your current followers to check your TikTok profile out and follow it. However, in order to motivate them to join you on another platform, you must give them something unique such as exclusive content.
Consider posting clips from your TikTok videos to help people find you on the platform. Moreover, posting your content on viral pages and social media sites like YouTube can also do the trick.
A lot of people search for TikTok videos on YouTube, you can create a compilation and put what you have on the platform.
#8 Join In Challenges and Hold Competitions
There isn't much difference between trends and challenges (as you'll also find with influencers vs bloggers) except for the fact that challenges can be difficult to copy. There are all kinds of challenges from fitness challenges to music competitions. Some of the most popular challenges of recent times include the Fake Travel Challenge, Raindrop Challenge, and Haribo Challenge.
You can accept challenges and post your own version or create a new challenge for others to try. In addition to this, you can hold competitions to motivate people to take part in your challenges. For example, sharing the best challenge video or performing a duet with whoever does well.
Perks like these can motivate members to take part in your challenge and spread the word.
#9 Check TikTok's "For You" Page
The 'For You' page is worth exploring. It can help you discover the latest trends, the hottest users, and the brightest of ideas. TikTok is not like other social media platforms, what works on Instagram or Twitter may not work on TikTok, hence it's important to study the platform and gather data to know what works on it.
Most trends and challenges are fads and don't last long, hence be quick if you want to jump on the bandwagon.
#10 Know When to Post Your TikTok Videos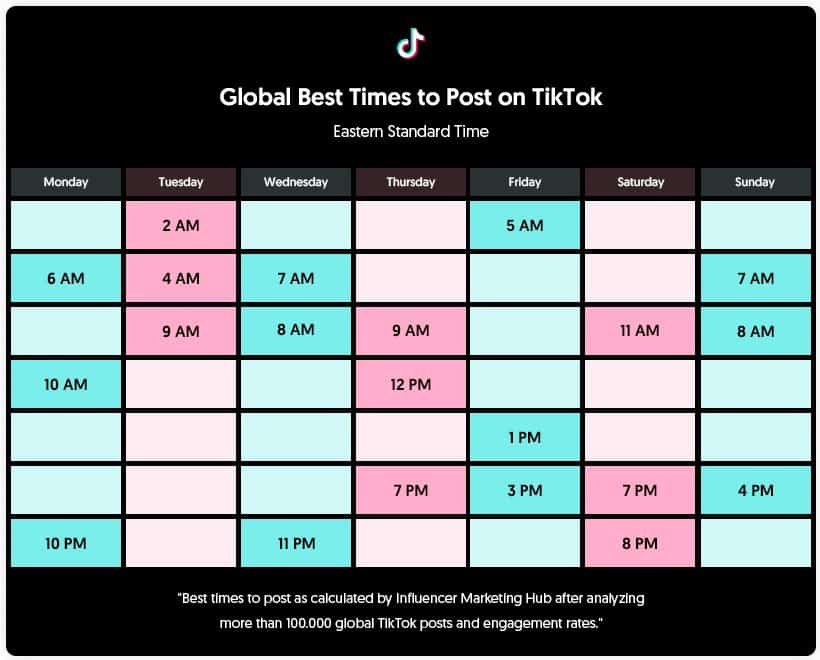 Study your audience, know what they like, and when they like it. Since there is a lot of content on TikTok, knowing when to post can be a difference-maker.
The chart above shows the best times to post on TikTok, however, that may not hold true for all users as it depends on your niche, audience, and geographical location.
Pay attention to the TikTok analytics, see when most people visit your page or when you get the highest number of followers then post accordingly. Do not base your judgment on a single day's number. You should study at least a few weeks' data to reach a conclusion.
#11 Create TikTok Videos That Attract
A good way to know how to make TikTok videos is to watch how others do it.
Your videos need to be attractive and fun for them to gain traction. There are all kinds of videos on the platform including tutorials and parodies. However, TikTok is controversial and may put down videos that are political or religious in nature, hence be careful about what you post.
It may be a good idea to polish your photography and videography skills before you try to be popular on TikTok. Poorly made videos hardly gain attention, nonetheless, you will see a bunch of parody or troll accounts that deliberately create poor content.
This trick works for some people but it will not be very effective if your aim is to be a TikTok influencer.
#12 Look Good But Not Always
On TikTok, it's all about standing out from the crowd. TikTok followers do not expect you to be your Instagram self. They do not want dolled-up faces and fake lives, they're more interested in creative and original content.
You can use filters and other creative elements to look good but know where to draw the line. If you are only interested in posting selfies wearing different outfits then it's better to stick to Insta because TikTok content is different.
We hope this guide has provided valuable insight into making great TikTok videos so you can go out and release viral content. Remember to work hard and give it the time it needs as it can take weeks to begin to gain followers.