These 9 photographer influencers showcase an amazing range of talents. Every single one is an immensely gifted photographer. Although each account below shares a common photography passion each page is unique. One look at each page and you can see their personality shine through their art. We get to view the literal lens through which they view the world.
Below you'll find photos that speak emotion, stimulate thought, and convey stories.
The wide array of images will transport you to the spectacular moments and experiences captured.
From passionate environmentalism that delivers snowy cliffs and glaciers to dessert connoisseurs that bring magical sweet treats. From the ones capturing the little parts of daily life with poise to those traveling the world and taking us all along, in every photograph their talent is undeniable.
These 9 diverse photographer influencers will give you more than just beautiful pictures on your feed, they'll motivate you to go out and capture the photo-worthy moments of your life.
Also for any brand partnerships, they will deliver above and beyond!
So let's go ahead and put the focus on these awesome photographer influencers!
David Christopher Lee is a celebrity photographer who is based in Los Angeles. Since he is a celebrity photographer, his primary niche is the entertainment industry.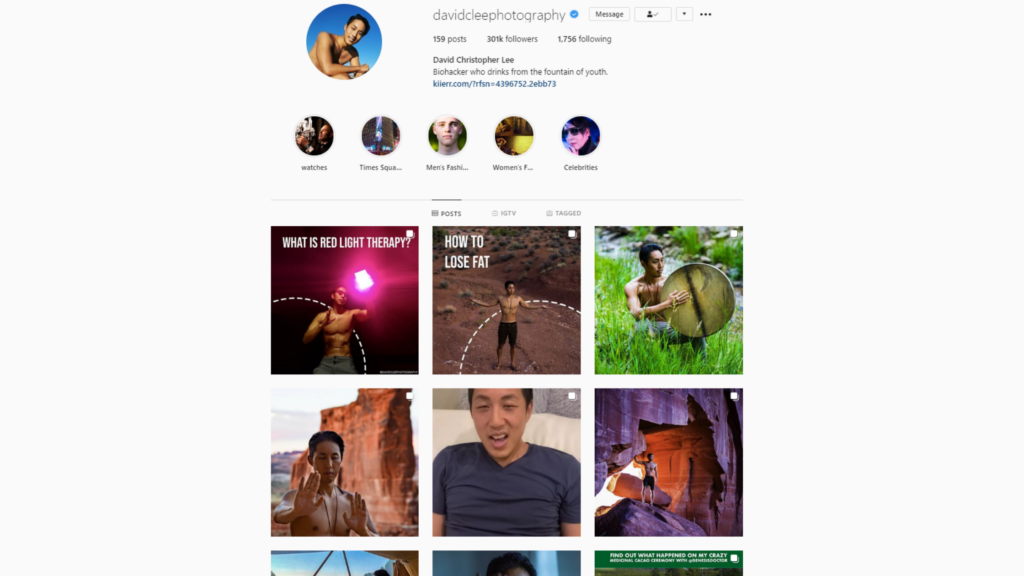 His Instagram is a display of his photography skills, which is a craft he has clearly mastered. David has photos of celebrities such as Grammy-nominated Jon Batiste and Triller CEO Mike Lu to name a couple. He is a wizard at portrait photography, photos of Jaden Smith and Bella Thorne speak for themselves in that department.
You'll also find David's camera in hand ready to capture the moment at actual entertainment events like the red carpet or Nickelodeon Kids Choice Awards.
Lately with the state of the world and the entertainment business on hold Davids shares beautiful images of his own adventures out in nature. Along with well-thought-out captions sharing his journey of inner peace and his physical fitness and health accomplishments.
As his Instagram best puts it, David is also a "Biohacker who drinks from the fountain of youth". His recent health journey brought us a side-by-side photo of him from 37 in 2019 to 38 in 2020 shows, he really may be drinking from the fountain of youth considering the photo evidence proof of him aging backward.
David is living his best life! Lucky for us he is skilled at capturing it all as well! From the prominent events to working on his own life and health, to the many adventures he goes on all with camera in hand getting to further pursue his favorite art medium.
Like many successful photographer influencers, David has worked with some great brands. His most recent collaboration was with Belcampo FARMS.
---
Jason Lee McCall is a very active 35-year-old adventure-seeking influencer with a passion for all things outdoors. It is clear from looking at his Instagram that he has a passion for colors, brands, content, and creativity.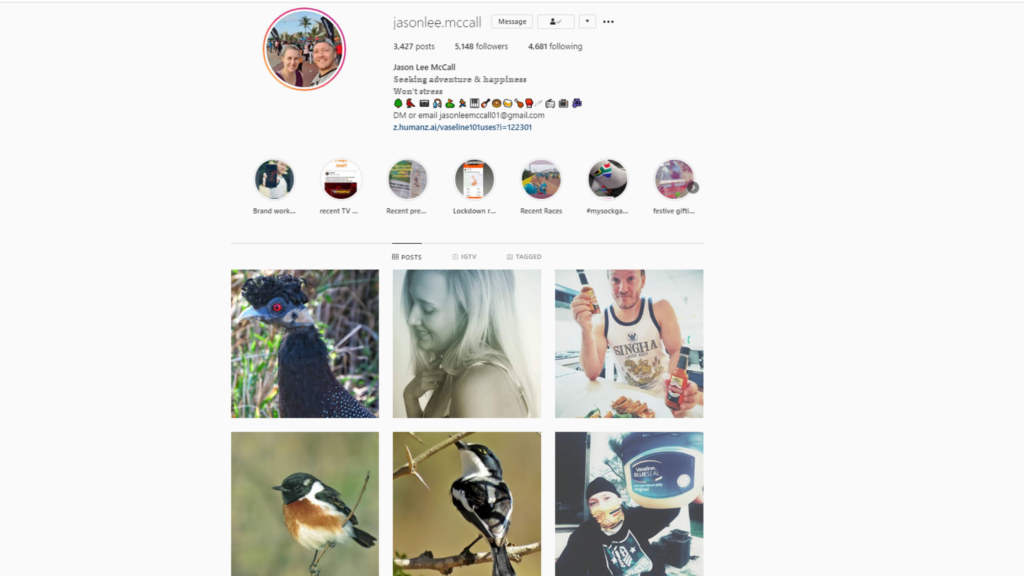 His Instagram is a mix of photos of adventures and all that comes from that. Picture perfect moments of wildlife, boat trips spent fishing, fitness, and health that come along with an active life. When he's not out exploring, he captures moments of gardening, flower finds, and beautiful pictures of the moon.
In between that, we get tidbits of his life, like him proposing to his fiance in a series of adorable picnic photos that make you feel like you are there. His interests are wide but one thing that is the same about them all is he is there with his camera to capture it all with his talented eye.
His most recent collaborations have been with top brands that often seek out talented photographer influencers. They include TymeBank, Domestos, Burger King, Cipla, and many more.
Make sure you check out Jason's Instagram to follow along his journey and see all of his findings.
---
Kalyan Panja is a photographer, travel writer, and influencer who is spreading happiness among an internet-savvy generation. Kaylan's use of vibrant visuals and compelling stories on Instagram is an excellent example of a creative way for a photographer to use media to showcase their work.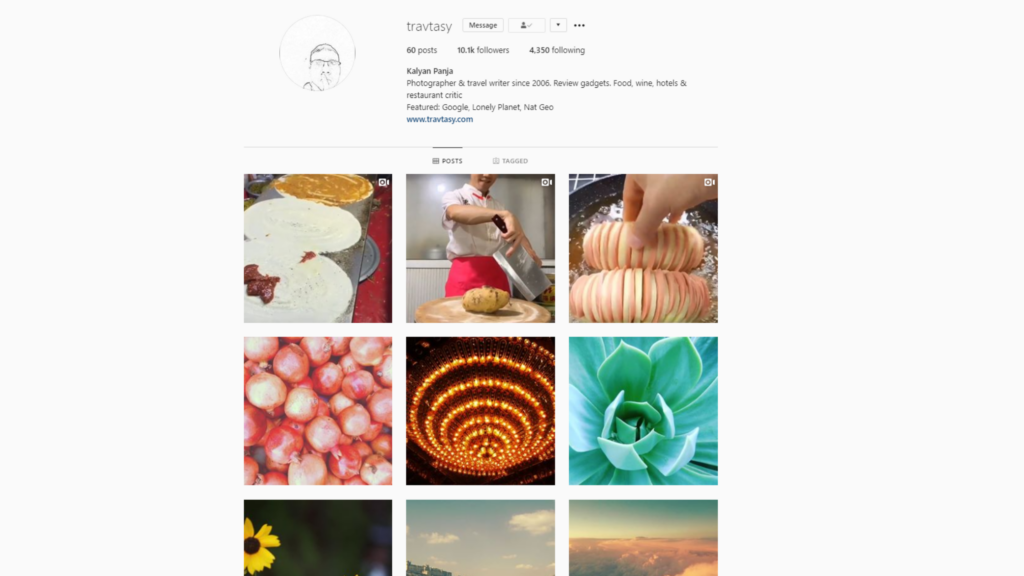 There's never a moment that seems dull with Kalyan's ability to make color pop in even the smallest moment. From vibrant yellow sunflowers to the close-up of a mint green succulent. Kalyan really has a knack for finding the perfect composition and capturing the perfect hue.
Moving away from the close-ups we get the bigger picture moments when Kalyan travels the world. Like the beautiful architecture of Agra or the candid moments of the Monks of Tawang.
Although each photo can stand alone and provoke a thought or inspire an idea you wouldn't want to miss Kalyan's captions he is just as talented as a writer as he is a photographer. Reading his thoughts along with seeing his view of the world through photos is a really special experience.
Kalyan has a gift for spotting special moments, capturing them, and letting us peek into his mind as he experiences them. He has captured the cloudy rainbow skies to the beautiful blue Mediterranean seas and so much in between his adventures throughout the land.
It's clear he has his camera by his side ready because he never misses the remarkable moments. Make sure to give him a follow so you don't miss them either.
He has collaborated with brands that would make other photographer influencers jealous. Such as the likes of Google, Lonely Planet, and Nat Geo.
---
Hannah Jacklyn is the adventurous single mother of a beautiful one-year-old girl. Hannah's use of lighting, color, and composition to create a beautiful feed that shares her story is undeniably brilliant.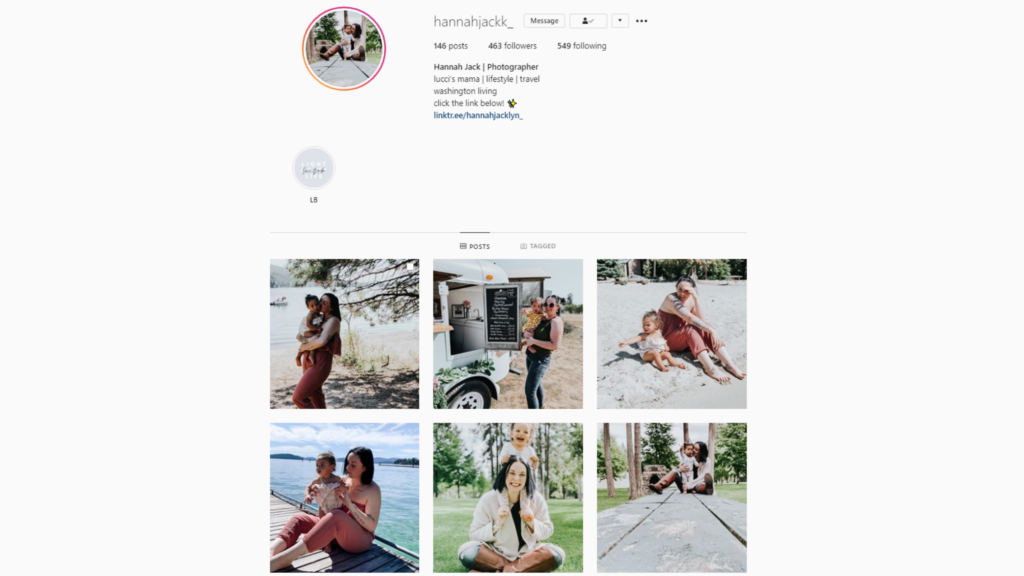 Hannah captures what it's like living in the gorgeous PNW as a nature-loving mother sharing the world with her beautiful baby Lucci. From the joyous lake trips to the cozy mornings in bed each moment looks just as charming as the last through Hannah's lens.
She really documents just how special it all is; after all, raising a daughter is no small task. Each and every minute matters and you can tell how much care goes into her job as a Mother and giving Lucci the best life she can by taking just one glance at her feed.
The thought that goes into the photos like the one of Hannah and Lucci together in a sunflower field and the cohesive editing that glues her entire feed together. Hannah is no doubt talented behind the camera but both of them are extremely gifted in front of the camera too! Their smiles are infectious, and Hannah makes sure to capture an abundance of them.
They are always exploring new places together and Hannah is there to record it all. Follow along as she takes you on the ride-sharing art, laughs, and memories.
So if you like the idea of content created by mother and baby photographer influencers, then you can't miss these two out.
---
Jack Harries – @jackharries
Jack Harries is your passionate documentary filmmaker and environmental activist. An influencer that is making quite the impact.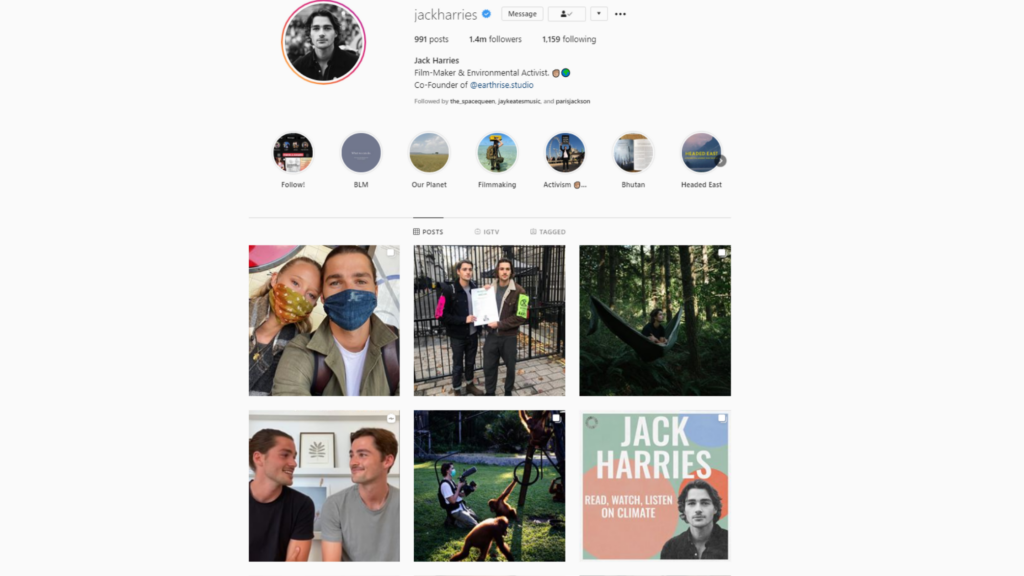 He is a young storytelling traveler with enough bravery to confront current environmental issues. His message inspires millions. He educates anyone who will listen on matters as important as climate change and the well-being of our planet. He is using his voice to help spread the Black Lives Matter Movement.
In all that he does, he makes sure to give some solutions to the problems he is highlighting, along with opening up the conversation to spark new ideas and hopefully new solutions. Whether he's out at a nature reserve, promoting gift purchases for refugees, or in Shanghai reflecting on the future of city living – Jack is all about raising awareness on environmental issues.
It just takes visiting his website to see the extent of Jack's passion through a showcase of his work. He uses his talents in photography to further bring awareness to the topics that matter most.
Jack creates with a purpose. Each post has a message to share or a question to provoke. His captions are just as thought out as the accompanying photography. Jack has a gift and he isn't wasting it he's utilizing it to its highest potential to accomplish good for all of humanity.
Jack has a truly collaborative spirit
Makes sense, considering saving the planet is something that is going to take mass collaboration. His message to care for our home and those living within it has spread all the way to top publications like The Guardian.
Jack's influence began with his YouTube channel, now sitting at over 3.9 million followers. Some of the current big projects that he involves himself in include the Netflix WWF documentary "Our Planet". His recent interview on CNN with Christiane Amanpour about his activist activities is evidence of just how much attention is on him.
A pretty big deal, right?
Speaking of attention, as far as environmental awareness is concerned, Jack's influence has seen him work on campaigns such as the launch of the all-electric Mini. Of course with the environment at heart. Documentary projects such as "The Kingdom", a story about a forest caretaker in the Kingdom of Bhutan, are the kind of work that he's actively involved in. Jack is certainly your guy for environmentally conscious projects and if you're looking for great photographer or videographer influencers.
---
Stephen Bellrichard – @stephenskis
Adventurous ski-loving photographer, meet the influential Stephen Bellrichard.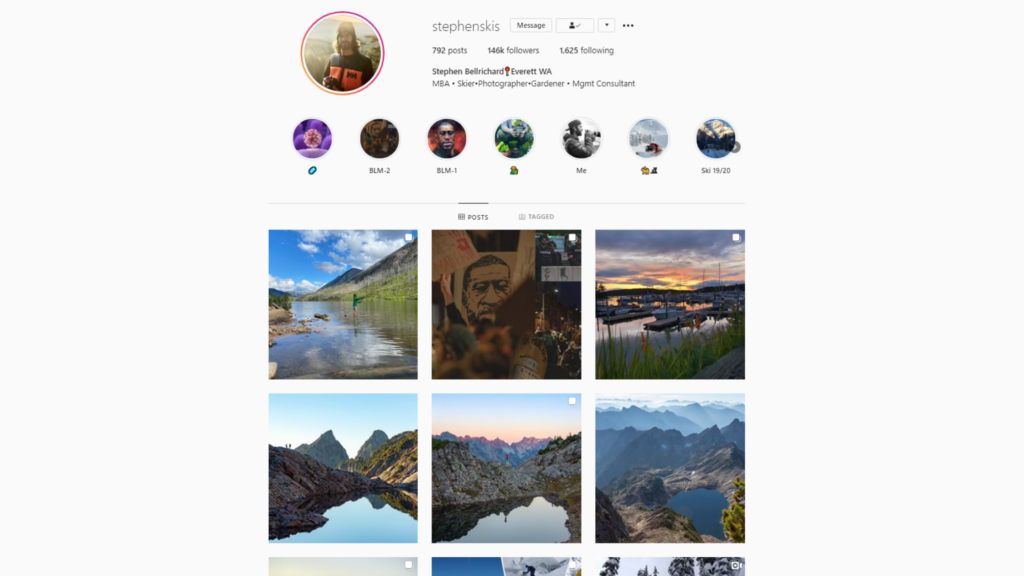 Where there are snow and mountains, that's where you'll find Stephen – with his skis on and of course taking those heart-capturing picturesque photos. From snowy cliffs and glaciers, Stephen makes cold places look "so rad" in the eyes of his followers.
He charms his followers with his trips to amazing places – from Snowbird, Mount Rainier National Park to Everett, Mount Tamalpais, and more. "Off to Minneapolis to re-enter the polar vortex" is pretty much how he rolls on his Instagram.
And you can't help but be captured by some of his incredible landscape photos, such as one he captioned so beautifully, "when the sun is ready for bed, tuck it under a blanket of clouds". Stephen does share a bit of his fun and humorous side by entertaining his followers with posts like the potato cannon shooting star.
Oh and he'll grip you with his fascinating videos like an active volcano or his breathtaking animation of the northern lights at Peyto lake. He is equally as talented at catching the exciting moments of the day like in his moment skiing on a glacier as he is at capturing the whimsical quiet moments of the night sky as he highlights the beauty of our galaxy.
Its no doubt our world is breathtaking and Stephen is there to remind us through his photography.
Stephen is currently a brand ambassador of WESTCOMB. An innovative outdoor clothing brand for men and women that often works with photographer influencers.
---
Linda Lomelino – @linda_lomelino
Enchanting sweet food photographer, Linda Lomelino. If ever in need of an extremely talented food photographer then Linda is your girl.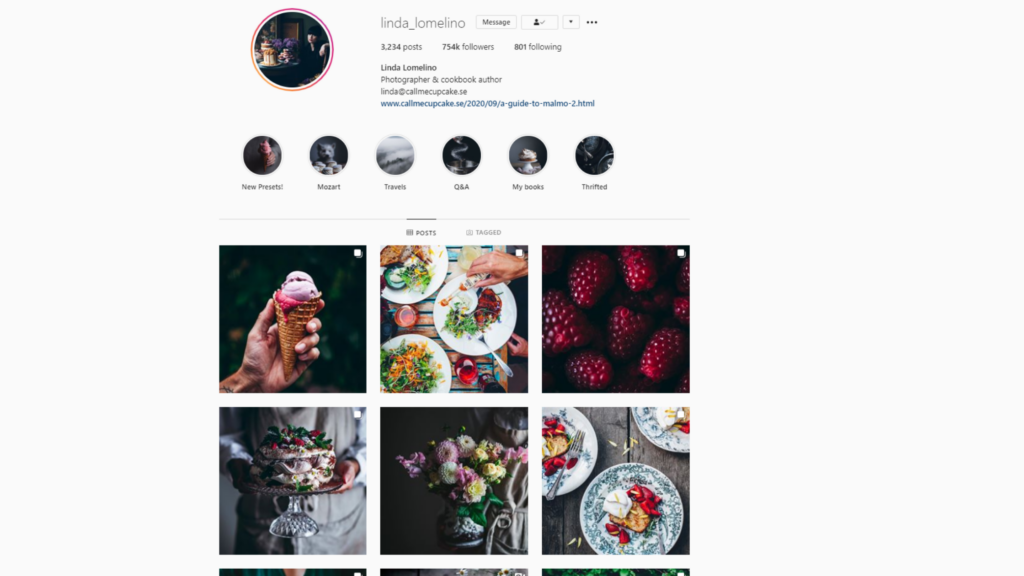 Linda goes above and beyond your average food-loving influencer. Her photos are just magical. One in particular that captured the sweetness in my heart was her vintage gingerbread village with powdered sugar snowing down on the entire display.
She is a food wizard just as much as she's a photography artist. Linda is incredibly creative. "What beautiful shots" is one commenter's thought and trust me this is no doubt exactly how you'll feel as you scroll through her content.
Each picture of her sweet treats is transformed into an enchanting story – from her captivating rustic props to the gorgeous colors in her display. She makes you feel as if you have been placed right into a fairy tale storybook with the scenery being a whimsical forest and the scent being a freshly baked pie. You can't help but be drawn to the well-crafted content that she skillfully produces.
It's no surprise that Linda is a cookbook author considering all of her photos look like they jumped out of a top food magazine.
Visit her website to learn more about her and to find her recipes.
Some of her latest paid partnerships include brands that love working with photographer influencers, Wasabrod, and Sjostrand Coffee Concept.
---
Simone Bramante – @brahmino
From Italy, influencer Simone Bramante is a creative director and photographer.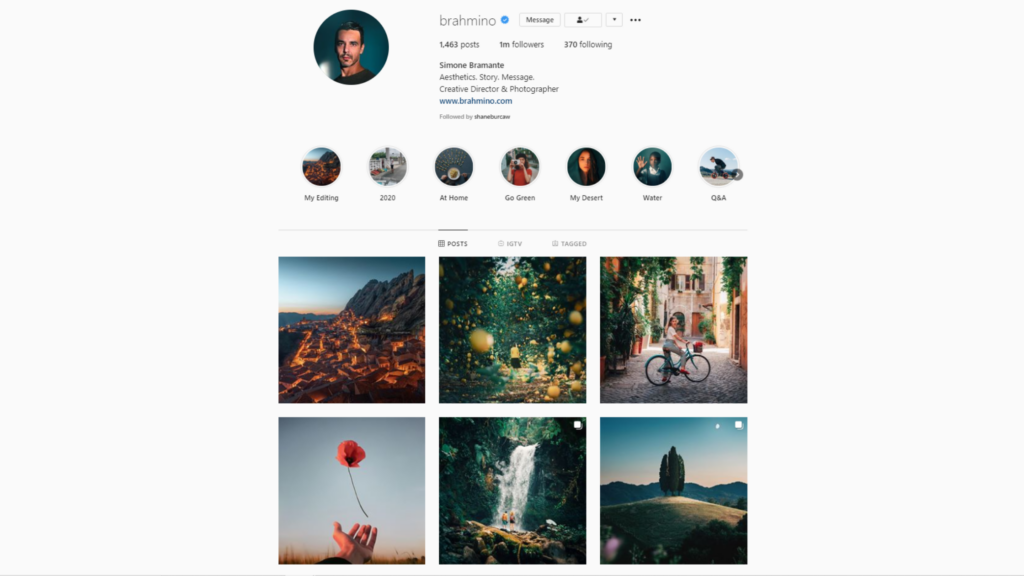 Quoted on Forbes, Simone is a "visual storyteller for whom nature is a constant inspiration". There was no exaggeration there his Instagram is threaded together like one cohesive tale each picture revealing the next chapter. It constantly makes you wonder what he will come up with next while confidently knowing whatever it is it will be breathtaking and captivating.
His creative diversity is splashed throughout his feed from beautiful countryside landscapes, and charming Italian city architecture to amazing holiday retreats, and romantic moments. Simone is a charming narrator with captions like "On a fall day, I meet a beautiful dreamy face to care for. Her name is Rome".
Nothing deserves more double taps and heart eyes than this.
"Unbelievably beautiful" is how his followers' are wowed away. And if you have an eye for photography, then you'll appreciate the execution of his compositions that create his unique shots. Every picture is a masterpiece on its own but together his entire feed is a museum displaying his craft.
Find out more about our Italian photographer influencer and his work on his website.
His latest paid partnership is with OPPO Mobile Italia. Simone has also promoted the electric Nissan Leaf in Amsterdam as well as Play Station Italy.
---
Johan Lolos – @lebackpacker
Johan Lolos is your documentary-focused photographer from Belgium with a passion for the outdoors and wildlife.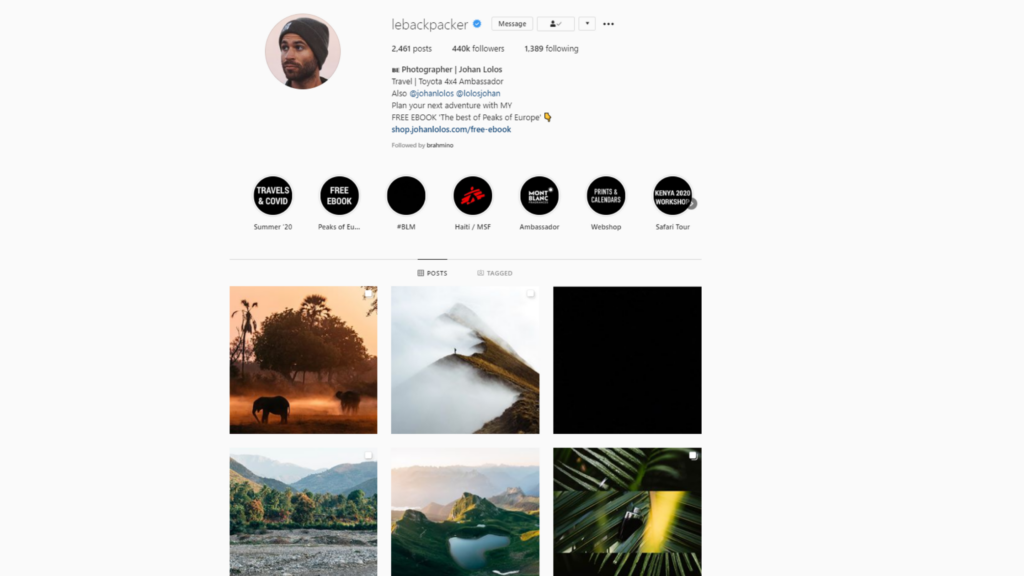 From the beauty of dunes in Namibia, and thrilling volcanoes in Iceland to lions in South Africa Johan is there, camera ready to document the beauty of our world. Following Johan on Instagram feels like you're tagging along with him through his adventures.
At the same time, some of his shots are so breathtaking it makes you wonder how it's possible that it's real. How is this the world we live in?
He really amplifies the perfection of nature and the creators that inhabit it. From the baby cubs to the giant elephants Johan does a wonderful job of capturing the beauty of these animals in their natural habitat. Along with capturing the beauty of their home as well.
Dessert, mountains, ocean, and every corner of the earth that falls in between. Johan has likely been there and caught that picture-perfect moment and shared it on his platform.
The effort that goes into his exquisite feed is impossible to miss. With the cohesiveness of it all and the long thought-out captions, Johan is providing a plentiful amount of value, not following would be missing out.
"Great Milkyway shot…"
"I like your edit. It's not too "fake" like most Milkyway shots on Instagram. Good job" – is one commenter's thought and you'll certainly agree, too.
Johan's authenticity is so likable, the way he lets you into his thoughts in each caption. We get a peak at his outer and inner lens when consuming his content which is not something that can be said for all content creators.
Find out more about Johan, his travels, and also shop for his prints on his website.
Johan is an ambassador for Toyota 4×4. He is also the author of the book "Peaks of Europe" – a 5-month photography journey through Europe.
If you're a brand looking for photographer influencers with a love for the outdoors, then Johan is your man.