Sandy beaches. Snow-capped mountains. Romantic sunsets. Creepy crawlies. Daredevil activities that may leave you thinking, "Oh hell no," but also low-key longing to give said adrenaline-inducing things a try.
If you follow any travel pages on your social media, this (and so much more) is what you'll come across. Travel content induces feelings of "I need to live a little". It is a source of inspiration for your next trip. A glimpse into what else is out there. The other side of life.
In this roundup, we've got a whole host of travel content creators bringing us along on their travel escapades. Each one smoothly integrates their other interests with their love for travel. Fashion and travel? Yes, please. Music and travel? Pump it up! Food and travel? Say no more. We're there.
To top it all off, all these travel content creators are amped and ready for a Collab. Let's dive in!
Kicking off our list is a luxury travel content creator who loves showcasing the different cultures of the places she travels to.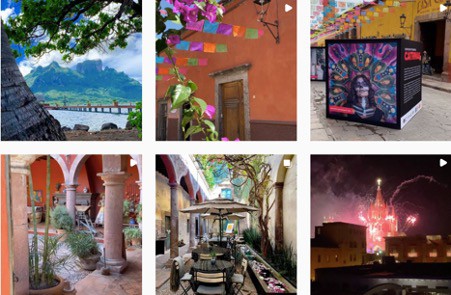 Based in Arizona, USA, Dr. Cacinda Maloney is all about travel and wears many hats! This Doctor-turned-full-time-Travel-Expert (so that's Dr. Travel Expert to you) is the owner and operator of a travel and lifestyle blog – Points and Travel. She's also a brand ambassador and a digital content creator.
Content
Cacinda is a self-proclaimed knower of the difference between luxury travel worthy of the high price tag and places that are just plain expensive. Her travel days look a little something like this – adventure and culture by day, smart luxury at night!
She documents all this perfectly in her blog – which is meticulously organized to help readers find posts by destination.
Over on her Instagram, you'll find beautiful pictures of her travels. Cacinda is always sure to leave a good description of the captured moment – even if there are grizzly bears nearby!
Her Facebook page mostly features attention-grabbing images with links to recipes, blog posts, and itineraries. On Twitter, you can find the same format, but never a repeat of posts. In total, Cacinda has over 164k followers across her social media pages. As a Brand, you may want a luxury travel content creator who knows how to adapt their content for each social media platform – and Dr. Cacinda is certainly one of them.
---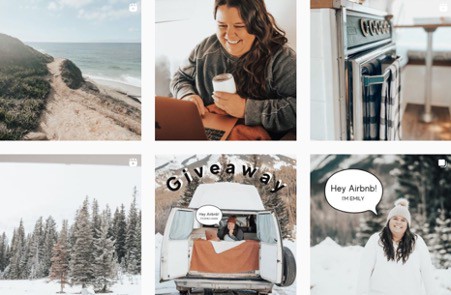 Emily – a single female doing whatever she wants – is an advocate for people to do whatever makes them happy! She is also a social media manager and body-positive content creator sharing her journey of self-discovery. Early in 2021, she made the decision to buy a camper van and now travels throughout North America with her dog/ sidekick/ co-pilot @martytheminidoxie and hasn't looked back!
Content
Whichever video you choose to watch first on Emily's social media pages, be it Facebook, Instagram, or TikTok, one of the first things you'll notice is Emily's amazing personality. You really can't help but smile.
Another awesome thing about Emily's travel content is how real it is. Whether she's showing you coin-operated showers at a campsite; getting work done while parked in a Walmart parking lot; or simply showing you "a day in the life" you can be sure that Emily is going to give it to you straight.
When it comes to Collabs, Emily is not afraid to put herself out there. She's even asked her followers to help her become a travel partner for Airbnb. We love a content creator who has no shame in scoring in the Collab game! Did we mention she has a terrific engagement rate of 5.3%? We love Emily's approach to her life and her travel content creator career. You don't want to miss out on this one.
---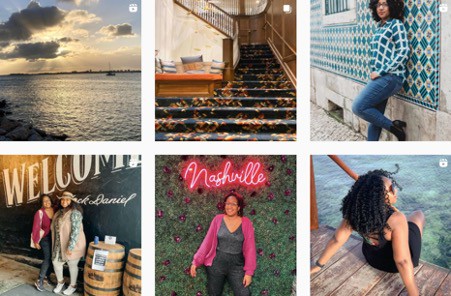 Based in New York, Joanna is an award-winning content creator creating travel, lifestyle, and beauty content. She also founded @blacktravelbloggers – a community of black travel bloggers and travel content creators. Joanna also owns @envoyageboutique and @envoyageswim – offering boho-luxe fashion and quality swimwear. Joanna is clearly busy but loves to highlight the art of balancing life.
Content
Joanna's target market is professional millennial women who love to travel. As a professional herself, this clearly makes sense. Through her content, from the Caribbean to Paris, you get the sense that Joanna is just living her best life.
Can we talk about her fashion posts for a second? Her chosen outfits are simple, chic, and sophisticated. She does a great job of posting outfit details, as well as giving us some vacation looks too.
If you're looking for video content, you can find loads of it mainly on her TikTok and YouTube accounts. However, it's a vibe no matter where you follow Joanna. She's catering to the professional woman and they love it. With a fantastic engagement rate of 2.8% and a total following of over 11.6k across Facebook, Instagram, TikTok, Twitter, and YouTube, this micro travel content creator is definitely one to watch.
---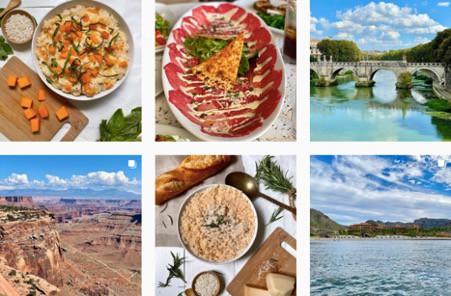 Hailing from Florida, USA, Kelly Stilwell is not only a travel content creator but a food content creator as well. She's visited over 30 countries and has a goal to "bring food and travel together through recipes so you can have a taste before you go".
Content
For more travel content, head over to Kelly's Instagram page where you will find beautiful scenery (and hunger-inducing food) from Colorado in the USA to Rome in Italy and everywhere in between.
On her blog, you will also find international cuisine and more details about her trips. What Kelly also offers, however, is a service that helps you plan your travel itineraries based on places she's actually visited. That's right, her followers get first-hand info from a pro who will advise them on the best places to go so they don't have to waste their time. Nothing's better than a first-hand account!
As far as Collabs go, Kelly is an ambassador for Rocky Mountaineer, a Canadian rail-tour company based in Vancouver that operates luxury scenic trains. If you're a brand looking for a content creator whose offering is a sweet balance between food and travel, Kelly's your gal.
---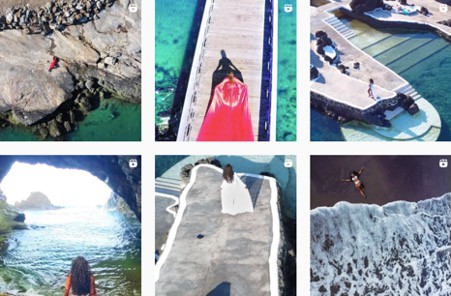 A solo world traveler hailing from New York, Kira (who has been to over 17 countries) is also a commercial drone pilot on a mission to inspire others to become digital nomads. Kira is also the founder of Drones and Dresses – a drone videography and photography company with the goal to capture your life moments from a different view.
Content
Peanut butter and jelly. Mac and cheese. Tom and Jerry… some things were just meant to be. The perfect pair. This content creator pairs travel with photography – what a combo! And drone photography no less. Have to say, her pictures are epic. You are bound to catch the wanderlust holy ghost while scrolling through her Instagram page.
Kira is passionate about coaching her followers on how to travel; how to make money traveling (love it); and how to travel cheaply or for free. This clearly shines through her content. Amongst her travel content, she always makes sure to post opportunities for remote work, travel tips, and even travel competitions that will cover most of your expenses.
It's no wonder Kira has over 20.8k followers on Facebook and Instagram combined, she's a pro at providing valuable content for other solo travelers and digital nomad hopefuls.
A Collab featuring your brand and Kira… another perfect pair.
---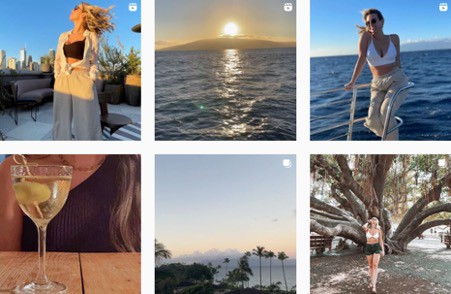 Meet flight attendant Lauren Thomas based in California, USA. She's a self-proclaimed foodie and the lifestyle and travel content creator behind her blog Layovers With Lauren. Her goal? To help people travel smarter by giving insider guidance. Ooooohhh why do we feel as if we're getting secret intelligence from James Bond? 😀
Content
If there's anyone who is the plug for travel inspo, it's Lauren. While her Instagram feed is mainly filled with stunning shots of the USA from Cleveland to Maui, Hollywood to New York, and many places in between, Lauren has also been busy globetrotting.
Her content has a huge focus on wellness and maintaining a positive mindset, and this shines through her content. When she's not giving travel tips, her captions are often uplifting:
"Radiating joy and light this season."
"Choose happiness. Choose it every single day."
"When you start realizing that every day is potentially an adventure or opportunity, who knows the extent of what great things may come your way when you open yourself up to them."
If travel, food, wellness, and positivity are right up your brand's alley, Lauren is the lifestyle and travel content creator you need to Collab with!
---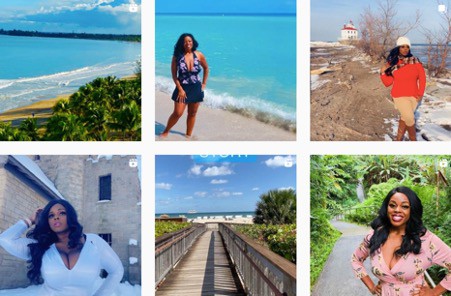 This is Taya Belle from Ohio, USA. Other than being a travel content creator, she is a wearer of many, many hats. This includes model, actress, best-selling author, voice-over artist, and Miss Ohio Plus America 2015. Phew! Her goal is to inspire others to experience the world luxuriously but in an affordable way. Luxury travel on a budget? Where do we sign up?!
Content
First of all, you can find Taya not only on Instagram, but on Facebook, YouTube, and TikTok as well.
Over on YouTube, you'll find short highlights of her travels. On TikTok, you will find a lot of inspiring content among her travel posts, including words of affirmation. This is where you can also find more insight into her personal life.
For more travel content, Taya's Instagram is where it's at. She gives details on the places she's been – such as what to see there and what she recommends. Taya is also a low-key fashionista, dare we say! She's always in a cute outfit with a stunning background.
If you're looking to Collab with a travel content creator who also spreads her wings in a few other categories such as modeling and fashion to name a few while motivating others along the way, reach out to Taya for a Collab.
---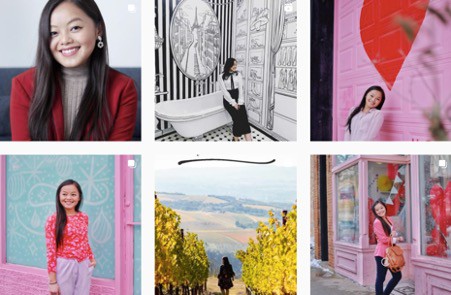 Rachel Kawate is a Chicago-based lifestyle and travel content creator with over 5 years of marketing experience. Through her professional work, she's come to understand what brands are looking for and how valuable content creators can be in helping promote their campaigns. She's worked with brands such as CVS, Dollar Tree, and Always to name a few. Sounds like Rachel is the Collab queen your brand needs.
Content
As well as showing us awesome destinations in her backyard of Chicago (including some indoor destinations to protect you from the brutal Chicago winters,) Rachel also takes us along with her around the USA and abroad. She also loves to encourage a positive, healthy lifestyle with her audience (is it just us, or does travel seem to bring out the happies in travel content creators). Well, she's flashing a welcoming, warm smile in almost all her pictures so, Rachel must be practicing what she preaches!
Rachel's 15.4k Instagram followers can also look forward to traveling tips such as where to go and what to do, all packed into one aesthetically pleasing feed.
---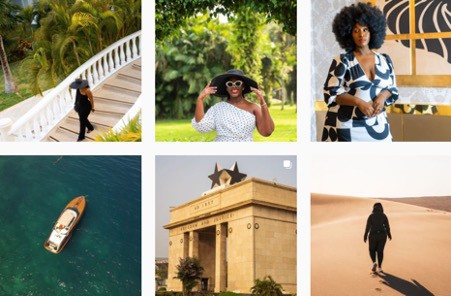 From Pennsylvania, USA is Shinta Brown; a luxury lifestyle and travel content creator, a licensed cosmetologist, and an entrepreneur with a passion for helping people look and feel good about themselves. Yaaasss, Shinta! We love all that you stand for.
Content
You don't need to be told that Shinta is all about luxury travel and lifestyle. Just one look at her Instagram feed will tell you that luxury lives here. She expertly blends her travel pictures with captions designed to make you feel good about yourself, "inspiring you to #liveoutyourbeauty your way".
Shinta is also proudly living that "curvy lifestyle," giving some fashion inspo to other curvy girls out there. The quality of her pictures is top-notch and her smile and personality are infectious- you can't help but be drawn to her content. Her follower count currently sits at 10.5k and we are sure that count is only going to grow.
---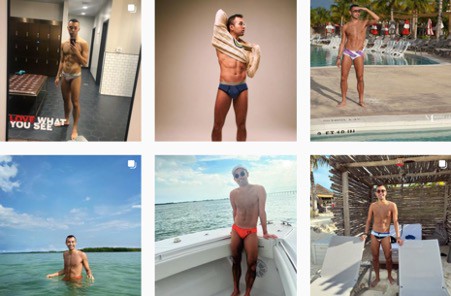 Representing California, USA is Joseph Lucido. He often lives his best life in swimwear and we're here for it. He is the creator of The Lucido Life – a fashion, lifestyle, and travel blog for young professionals.
Content
Joseph's content involves sharing his love for fashion, showing the lifestyle he leads, and the travels he takes as a young professional. Sometimes he's at a spa, sometimes he's poolside at a resort, sometimes he's on a cruise. No matter where he is though, he loves sharing some of the wild and exciting times of his life with his audience. Did we mention he has over 258k followers on Instagram and a great engagement rate of 2.5%? It seems many young professionals relate to Joseph's posts – and relatability is where it's at!
Joseph is no stranger to Collabs… he's partnered with brands in menswear and photography. Are your target market young professionals? Joseph is the travel content creator to help you reach them.
---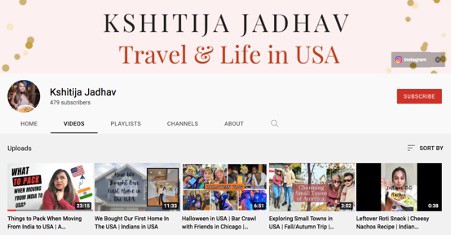 Based in Illinois, USA, Kshitija Jadhav is a self-proclaimed foodie who loves to share her passion with other like-minded foodies. With a total following of just over 6k, this nano food, lifestyle, and travel content creator is just getting started and is on the rise.
Content
As Kshitija says herself, "food is always on my mind" (same, Kshitija, same…) Over on her Instagram @theorangeplates (she has a blog by the same name) is all things foodie – recipes, cooking tips, recommended restaurants, and travel as a foodie.

However, for more travel-related content, you want to head over to her YouTube channel which goes by her name Kshitija Jadhav. As an immigrant from India to the USA, Kshitija loves to share travel content related to that and travel around the United States.
You can find topics such as:
"Things to pack when moving from India to the USA"
"Exploring small towns in the USA"
"Indian camping trip – first time camping in the U.S"
In her vlogs, Kshitija often communicates in both English and her native language, which allows her to reach audiences who speak one or the other.
Here lies an opportunity to Collab with a foodie/ travel content creator with an audience both in the USA and Inda. Don't miss out!
---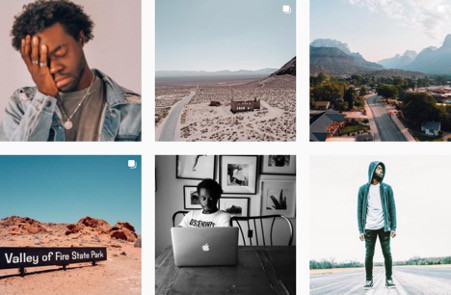 From North Carolina, USA is Jordan Botchway. He's a travel content creator who also has a passion for lacrosse. This digital nomad has worked with brands as an ambassador, representing their companies at large sporting events.
Content
From his pictures to his captions, Jordan's Instagram travel content is minimalistic but always inspirational. No wonder. His goal is to inspire his audience to stay adventurous, live the life they dream of and let them know that it is within reach.
Tell you what, a Collab with content creator Jordan is within reach. You know what to do 🙂
---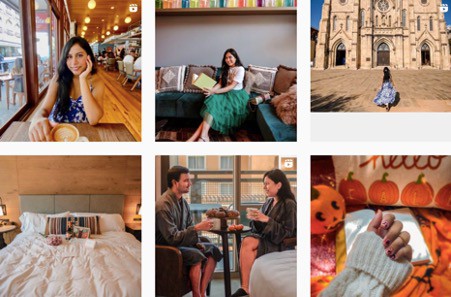 From Texas, USA is Purvasha Sahoo. This travel content creator also has a passion for beauty, fashion, and food.
Content
Before this mom-to-be became a mom-to-be, she was all about that fashion and travel life. Scroll down a bit and you'll see that Purvasha was traveling all over America, showing us some of the best spots to visit.
As a mom-to-be, she's adapted her content a bit for this current season of her life. Still going on adventures but of a different kind. For example, she and her hubby took on a "Great Indoors" challenge – finding ways to have fun at home. Love it!
She's still very much into fashion and travel and has even partnered with brands in both industries – including maternity wear as a mom-to-be. This content creator has a superb engagement rate of 5.5% and isn't stopping anytime soon. Collab with Purvasha and take your brand to new heights.
---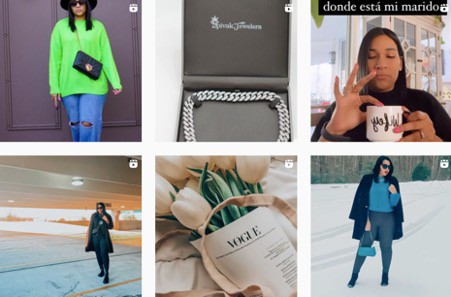 Jaileene is a lifestyle, fashion, and travel content creator with over 58.4k followers across Facebook, Instagram, and TikTok.
Content
This bilingual content creator often posts in Spanish, but you don't need to speak the language to enjoy her content. Ya girl has captured many sites for us to enjoy and has even gone skydiving in Puerto Rico!
She loves a good OOTD (outfit of the day) – of which she has many (thanks for the fashion inspo) and is an advocate for quality skincare and good food!
Jaileene has partnered with brands in the food, beauty, fashion, and health industries to name a few. So she's no stranger to Collabs. If you're looking for a seasoned travel content creator to partner with, Jaileene may be the one you are looking for.
---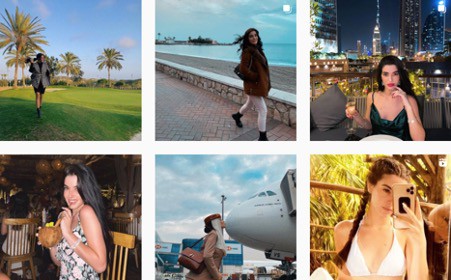 Meet Eila Aragon – an air hostess and travel content creator based in Dubai. She travels a lot due to the nature of her job and clearly has the best time doing it. Her job is her passion and it shows.
Content
In the content creator world, sometimes passion doesn't shine through. That isn't the case here. Whether she's in uniform or swinging into a pool, Eila always looks like she's enjoying herself to the fullest, giving fashion inspo along the way.
She's traveled all over the globe, from Mexico to Moscow and many places in between, inspiring her 28.5k followers to go on their own adventures.
There's an authentic vibe going on with Eila's content and we love it. It's not staged – she's letting us into her air hostess and travel content creator life. It's beautiful and we believe it. With a phenomenal engagement rate of 7.4%, we get the feeling that her followers are on board with it too. This is a Collab opportunity you don't want to miss out on.
---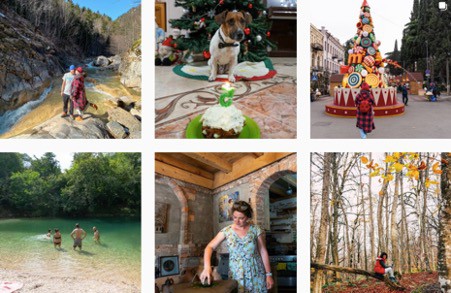 Meet Baia Dzagnidze based in Tbilisi, Georgia. She's a travel blogger, photographer, digital content creator, and author. Baia has a passion for travel, but beyond that, she is determined to inspire people to get out there and travel the world on a budget.
Content
We're loving the look of Baia's Instagram page. It brings about thoughts of a storybook in a way. Her captions are extremely detailed. You'll find not just a picture, but details (sometimes even history) of a certain place or building.
Her blog – redfedoradiary.com – provides useful information, authentic travel stories, and destination information to help everyone travel the world. The good news is that all the information you read on her blog has been tried and tested by Baia herself and based on her own experience. So, you know Baia will not lead you astray!
Across Facebook and Instagram, Baia has over 7.1k followers. However, considering the high quality of her pure travel content, this blogger's reach is only going to grow.
---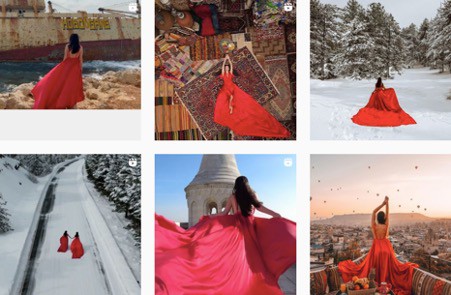 Now we head to Cyrpus, home of Marilena Palazi – a luxury travel content creator. She started her Instagram page to share her travel experiences and detail her epic adventures – all while wearing pretty dresses. Well, Marilena did something right because she now has a growing following of 51.4k and an envious engagement rate of 4.3%. Need more reason to Collab with her?
Content
Marilena loves to show off Cyprus and its beautiful destinations – why not? It is where she lives after all. Marilena also does a great job of showing us breathtaking views of her other travel destinations – from Turkey to Hungary, Paris, Italy, and even Greece.
Back to that pretty dress thing? What a great idea! Who knew that a gorgeous dress against a gorgeous background would enhance the photo? Any fashion brands out there?
If you're looking for a travel content creator who will inspire wanderlust in their followers, Marilena is the creator you should scoop up for a Collab.
---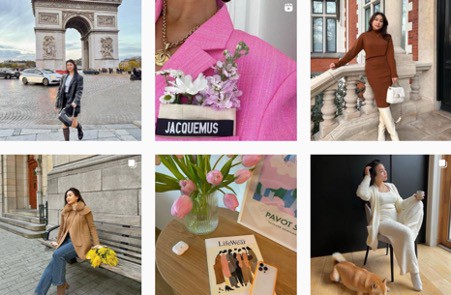 Maya Nguyen is a Vietnamese fashion and travel content creator based in the Netherlands. Through her content, all her passions converge – fashion, beauty, travel, and lifestyle. Plus she's a Marketing Communication graduate. Looks like Maya is on the right career path.
Content
This page is all about fashion and travel – sometimes in the same post!
Scenic background 🗸
Location deets 🗸
Cute outfit 🗸
Outfit deets 🗸
Discount codes 🗸
She also loves posting content that tells a story – which, we're sure, all 10.4k of her followers enjoy. Her really good engagement rate of 3% is proof of that.
Listen. Maya has your fashion and travels inspo covered! Her goal is to inspire women to get out there and travel the world, be confident and be the best possible version of themselves.
This fashion and travel content creator is no stranger to Collabs – having even worked with big names such as Dior. In fact, she's worked with over 30 brands… and your brand could be next in line.
---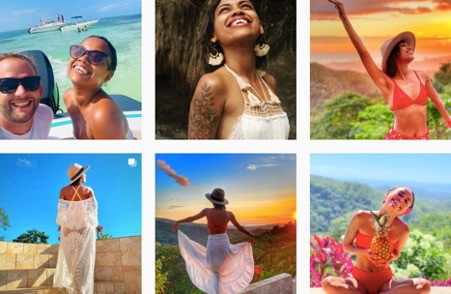 Also based in the Netherlands is Naomi Moussa. This travel content creator loves and embraces adventure!
Content
First off, the light and energy coming through Naomi's pictures are on another level. This free spirit seems happiest when she's traveling and living out her passion. Her smile is contagious – you can't help but feel her joy in travel even if you're scrolling on your couch in the living room.
Her Instagram feed is a joy for the senses. Not only does she pose in front of striking scenery, but her outfits are just as stunning. The editing of her photos though (if any) is first class. They evoke all the vacation feels and inspire us to book that next trip!
If you're looking for a travel content creator whose posts inspire action, look no further than Naomi Moussa. Let's take a look at what her followers have to say:
"This is a great pic! Makes me miss traveling!"
"So cool! What a style!"
"Beautiful!"
---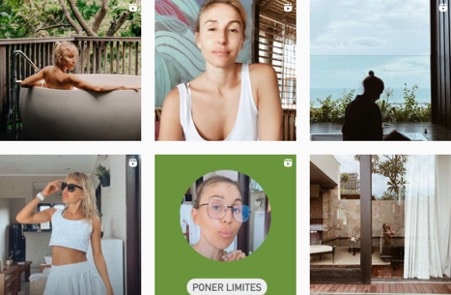 Osiris Martinez is a travel content creator based and living her best life in Bali. This digital nomad owns and blogs at Los Mundos de Osiris where she shares content on freelance travel, lifestyle, and wellness. Four years ago, her life was stressful and somewhat "gray" as she says. All that's changed and now she's sharing her life in beautiful Bali.
Content
She may be in Bali, but her content is in Spanish. If you're a brand in the travel industry targeting a Spanish-speaking market, Osiris is a great travel content creator to go to.
Over on her blog is where you'll find helpful content to help turn your mundane life into one of travel. She left Spain to live in Bali and shares tips on how to make your own version of that reality. By sharing her experiences, Osiris hopes to motivate you to make the change you've been yearning for.
---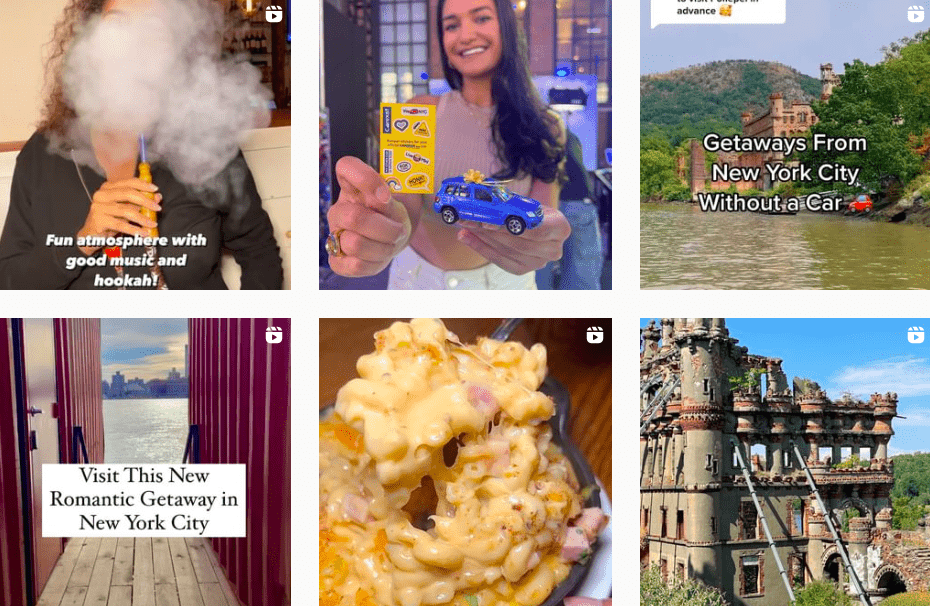 Meet Amorray, a travel content creator and enthusiast from New York who also happens to be an absolute foodie.
Content
Thankfully, food and travel go together like peanut butter and jelly… like hashtags and selfies… like brands and Afluencer 😉
Amorray does a great job of not only highlighting great restaurants in New York but incredible getaways in the city as well. You could say local travel is her specialty. There's no need to leave the country in order to experience some adventure when you've got it in your backyard.
That said, Amorray also takes us outside the USA on occasion.
No matter what she's showing us, Amorray's travel content awakens the wanderlust within us.
If food and travel are up your alley, Amorray is the travel content creator for you. Plus, you can find her on both Instagram and TikTok for double the dosage of food and travel content. Second helpings? Yes, please!
---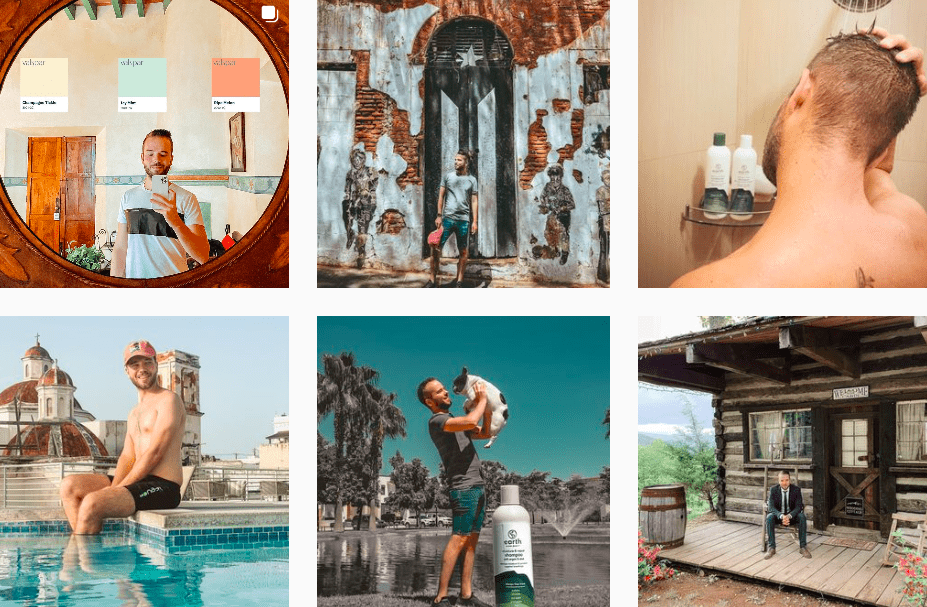 Representing California, USA is Pablo Ortega. This travel content creator has not only written for the global mass media company, Condé Nast but is also the founder of Lyxplanet. This travel platform gives its readers a chance to delve into the unpublished corners of our world and is designed to help people discover their next vacation destination.
Content
Well, our bags are packed and ready! Take a look at the Lyxplanet website and his Instagram page and you'll be doing the same, trust us!
We love the variety on his Instagram page – each picture is different yet equally wanderlust-evoking.
Can we take a minute to mention his Collabs? You will find quite a few of these littered across his page. From partnerships with brands in home decor to hair care, health to travel, and beyond, Pablo is definitely winning at his Collab game. Your brand could also benefit from his genius strategies… Invite Pablo for a Collab!
---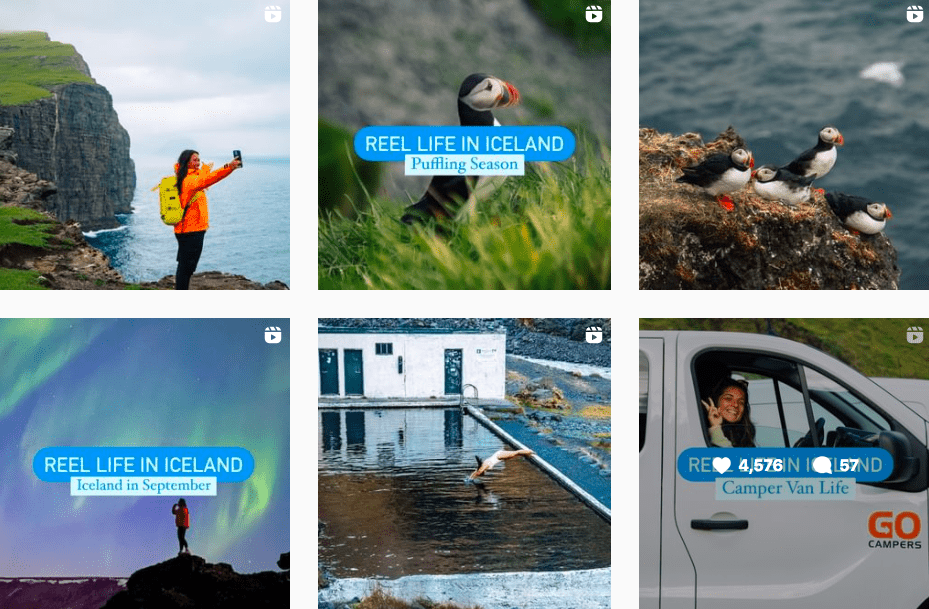 Kyana may be from Massachusetts, USA but she's living it up in Iceland after quitting her 9 to 5 in Boston and selling everything she owned. Her passion for travel content creation and photography has led her to share her adventures with the world and inspire others to get outside and find their own adventure.
Content
Boy, are we glad she did what she did! Even if you're afraid of the cold, you're going to want to visit Iceland once you take a look at Kyana's Instagram page.
This solo travel content creator gives us proper insight into life in Iceland (she's a selfie pro – a skill brought about by solo travel) "beyond the typical bus tour". She's out there rescuing Puffins, going on camper van trips, exploring ice caves, witnessing volcano eruptions, and so much more.
If your life suddenly feels very boring, @kyanasue is the travel content creator to follow for travel inspo. Check out her engagement rate… an astronomical 73.1%… it doesn't get better than that.
---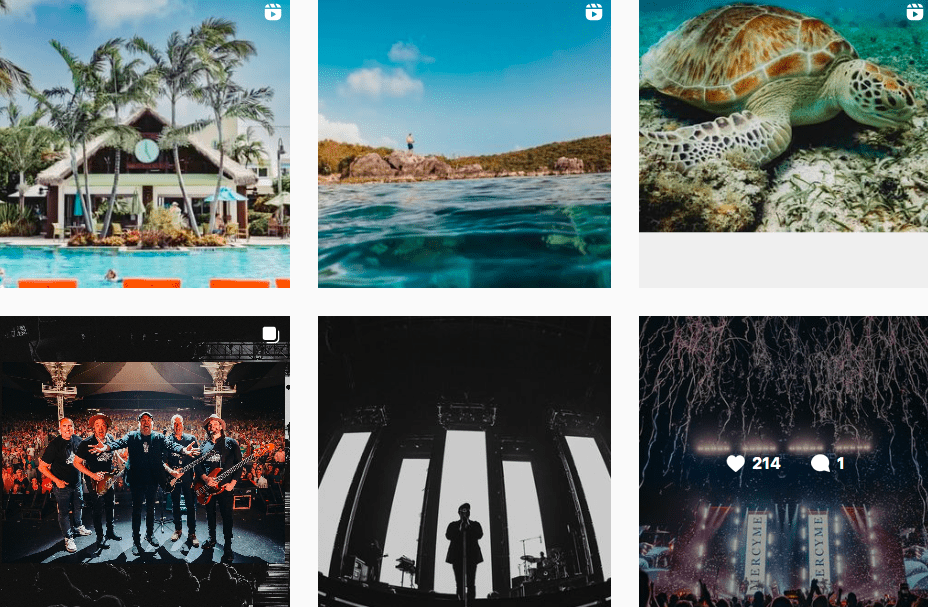 Cole Elder is a travel content creator and photographer from Tennessee, USA. Music and travel are his forte – often traveling with bands to tell a story.
Content
We love the combination of these niches – music, photography, and travel. When you put them together, you think, "Of course!" It all makes sense yet presents a fresh twist in the world of travel content creators.
On his Instagram page, you'll get a glimpse of what it's like to be a traveling photographer for a band. Let me tell you – it looks super cool.
Cole's photography skills also shine when he's capturing vacation pictures. He'll take you through blue waters, exploring hidden caves filled with coral and tropical fish.
While touring with bands and visiting tropical locations are definitely on opposite ends of the travel spectrum, we believe Cole's unique photography skills are what bring all of his travel content together to make for one intriguing body of work.
---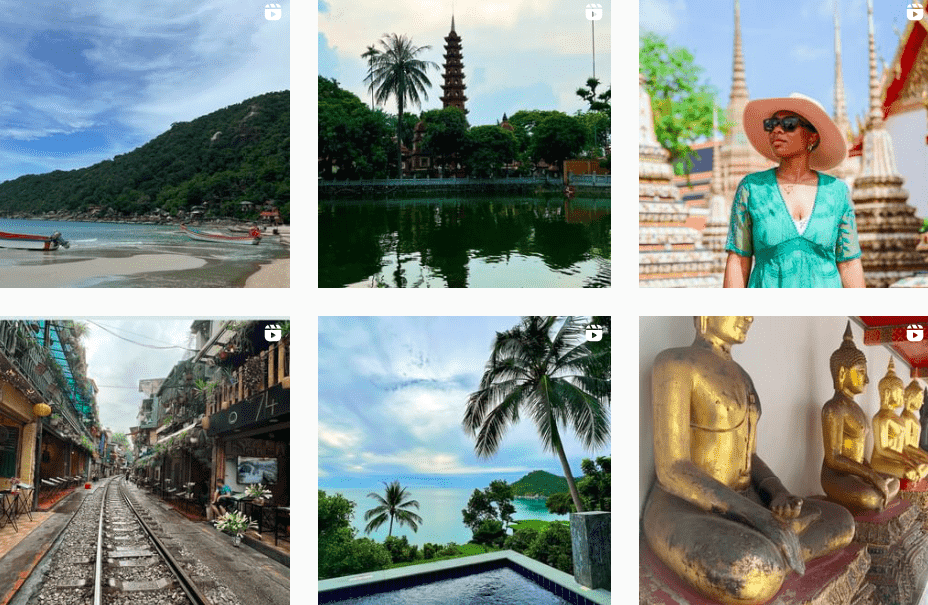 Jay is a travel content creator from South Carolina, USA. This solo traveler is on a mission to help her audience of travel enthusiasts…
Content
… and we think it's safe to say she is accomplishing that mission. Jay is really great at giving travel hacks and tips such as:
Getting an international driving permit
Checking your insurance policy
How to travel cheaply using miles rewards
Always use a virtual private network (VPN)
Never keep your credit cards and cash in the same place
Highlighting new travel rulings her followers may have missed
We also love how Jay shares her own travel mistakes – so you don't have to make them yourself! Jay really has her followers' backs.
Whether she's flying, driving, on a cruise, bus, on a train, or hiking, Jay's content is always insightful and inspiring, and she always keeps it real.
One more tip from Jay Quinn – take that solo trip! Sometimes there will be no one to travel with. Travel anyway!
---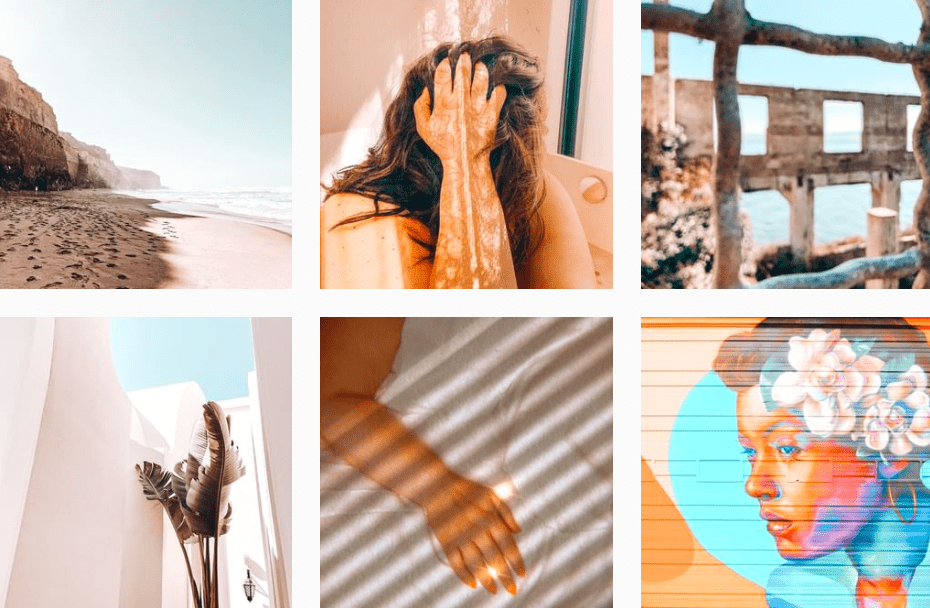 Jaclyn, from Colorado, USA, loves to experience life. She's an explorer of hidden gems and loves to share her passion for travel and lifestyle.
Content
When it comes to Jaclyn's content, think luxury travel meets the (posh) road less-traveled meets solo travel. Her goal is to inspire… "you need it," she says. Well, after looking at her Instagram page, we agree!
Jaclyn's page is the stuff luxury travel magazines are made of. If solo, luxury travel was not on your bucket list, it will be! This is one travel content creator on a mission and succeeding.
When it comes to her captions, we love how Jaclyn adds a personal touch. Whether she's giving tips or recommending where to stay, she'll let you in on her own experience and lessons learned.
For Jaclyn, travel facilitates transformation – becoming a better version of yourself. Sounds like the perfect excuse to see the world.
"When we see the world and understand it, we understand ourselves and the world around us."
---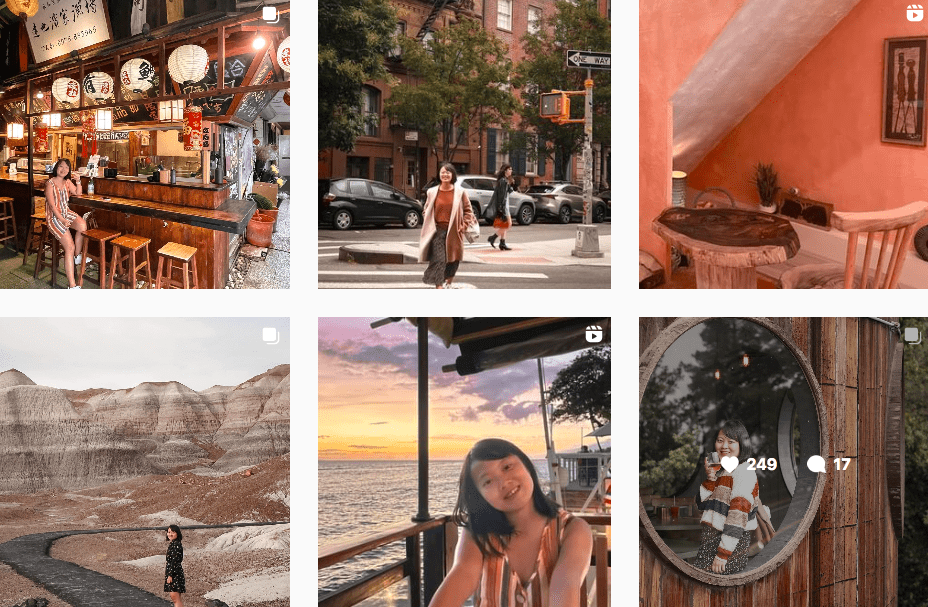 Yueh Wen Lin is a travel content creator from sunny California. Her goal is to give honest opinions about the destinations she visits while creating a bond with her followers.
Content
Yueh Wen Lin's focus is on budget travel. Don't get it twisted though. Budget travel does not have to mean lackluster views and boring activities. She still wants you to see hidden gems, and beautiful destinations, and have fun!
That's where her content really shines. This travel content creator makes sure to give tips, tricks, and hacks that make budget travel super easy, enjoyable, and even addictive! Her reviews are short and to the point but she's sure to give ample photographs and video content so her followers feel as if they are right there with her.
Did we mention that this bilingual travel content creator posts her captions in both English and Chinese?
If you're looking for a travel content creator who can pull in an English-speaking crowd as well as a Chinese-speaking one, hit Yueh Wen Lin up for a Collab.
---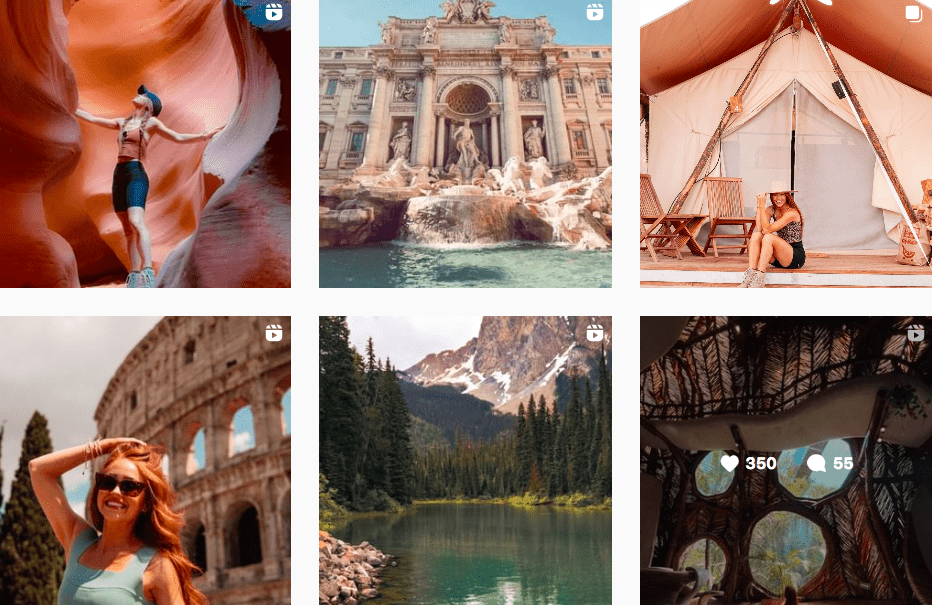 Anna Leigh, a communications graduate from the great state of Texas, is a travel content creator whose travel photography obsession was sparked by her mother's jobs at NASA and American Airlines. She is also a business coach, a part-time therapist at a hospital, and a contract flight attendant for private jets… And she still finds time for her travel content creation! That's what we call dedication.
Content
Sometimes she's relaxing poolside sipping a cocktail, sometimes she's jumping out of a plane or exploring a canyon… get you a content creator who can do both!
No matter what adventure Anna's on, she definitely looks like she's having a good time… and there's no doubt her followers are loving every bit of it.
"What a vibe"
"Girl, you deserve so many more views than you've got, those reels are incredible."
"Rome is epic! Looks incredible, thanks for sharing"
"This video is so cool!"
Anna Leigh has also stacked up a few partnerships with various brands and trust us, this is one travel content creator you WANT to Collab with. You know what to do!
---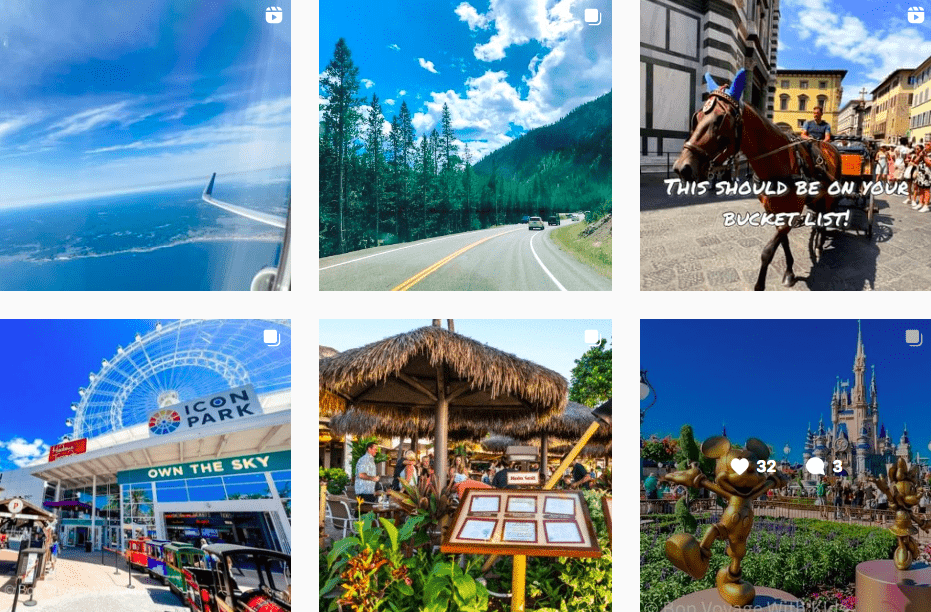 If you've ever been told that travel has to stop once kids are in the picture, you need to follow Keri from Massachusetts. She's a mom of 3 and the founder of the blog Bon Voyage. She is on a mission to show you that your love of travel does not have to get tossed out the window once you have kids.
Content
In case her Instagram handle wasn't an obvious hint, family travel is where it's at here on @bonvoyagewkids. But don't worry, Keri won't let you lose your mind trying to figure out how to navigate it all… She's generous with tips and hacks to make your vacation with the family go smoothly. Keri also gives great suggestions on places to visit that will keep the kids busy and entertained.
Keri has so much to share that you won't find much repetition between her Instagram and TikTok content. Plus, for more details we suggest visiting her blog – it really is the plug for family travel.
This is one travel content creator with a lot to offer her followers and who is definitely worth Collabing with.
---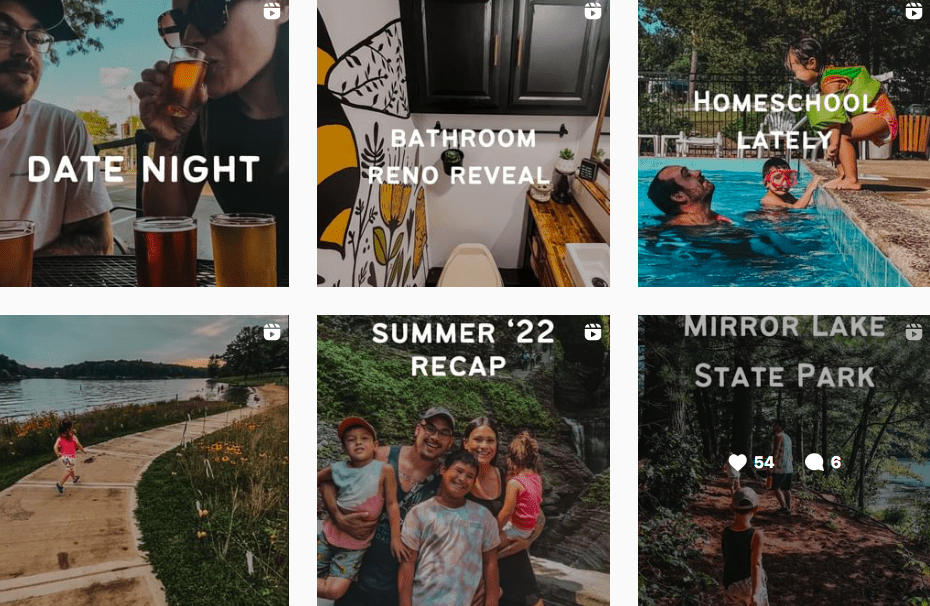 The Andreuccetti family are from the USA and are self-proclaimed full-time travelers and family travel experts.
Content
When they say full-time, they mean it. The Andreuccetti family quit their 9-5 jobs, sold 90% of their belongings, and moved into an RV.
If living a life on the road sounds like the stuff dreams are made of, you need to follow this family. They've been showing us some of their RV renovations (extremely inspiring, FYI), homeschool life on the road, RV life in general, and their travel destinations, of course… even how to squeeze in date night when you're constantly on the road!
From travel to home decor/reno, education, kid's entertainment, and beyond, there is so much potential for a Collab here. And if you simply need the inspiration to make a big life change and fulfill your travel dreams @raisingontheroad is one content creator to follow. Family travel is doable, y'all!
---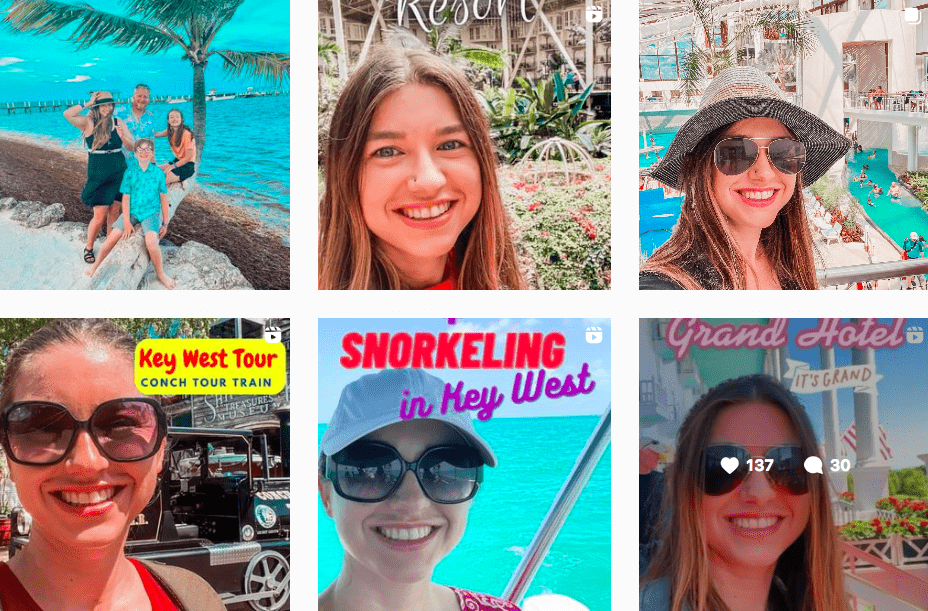 We've got another family of travelers on the list! This is the Andrews family from Ohio, USA. Travel-happy Amanda and her travel-happy family – which includes her husband and 2 kids – are big on family adventure.
Content
If you still need convincing that family travel is not only doable but enjoyable, take a look at Amanda and her family. Have you ever seen so many smiles?
Amanda not only doles out fantastic family travel hacks but showcases vacation destinations and resort reviews so you have a good idea of what to expect for your next trip. Thanks for doing all the hard work, Amanda!

Prepare to experience some travel envy and be inspired at the same time! Here's what some of her followers have to say:
"That is a gorgeous hotel. Like wow."
"I'm ready to go."
"This looks like the most fun tour ever!"
"That looks and sounds like an incredible time."
As far as Collabs go, Amanda has partnered with brands in travel. This travel content creator has a lot to offer, helping to bring family travel to the forefront. They could also help bring your brand to the forefront. Get in touch with Amanda!
---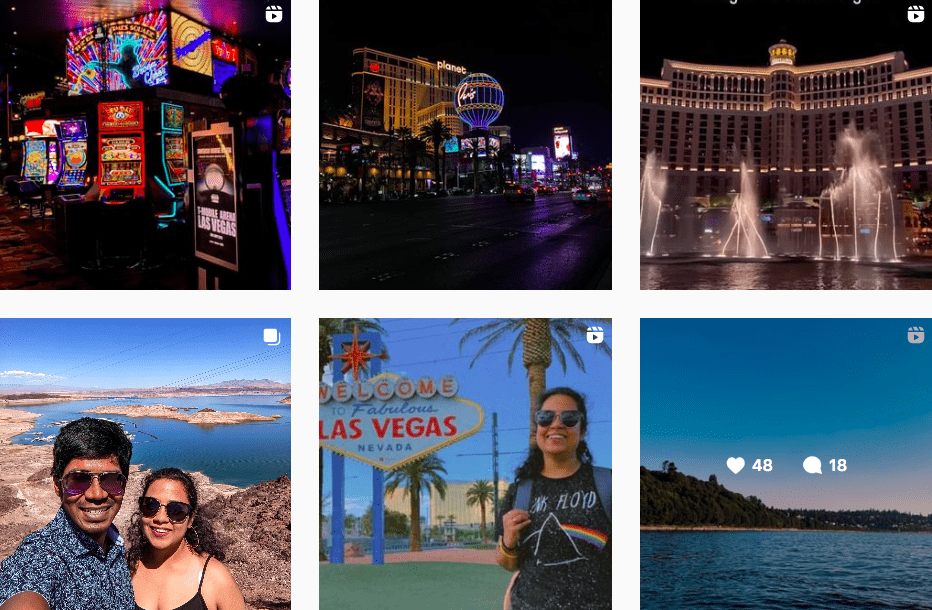 Meenakshi, hailing from India but currently based in Seattle, is a lifestyle and travel content creator whose specialty is budget-friendly travel. She is also a lover of photography, food, and birding.
Content
This globetrotting travel content creator has taken us along her journey from India to Morocco to the United States (and a few other places in between). Details of her various global trips can be found on her blog – Backpacking With My Lens.
Now that she's currently in the USA, Meenakshi is focussing on travel within the States – whether it's in Seattle (she's a strong advocate for being a tourist in your own city), Las Vegas, or anywhere in between.
Not only does she give suggestions of places to see and her reviews, but she also shares content on various restaurants to try (that's the foodie in her), as well as photography content and a glimpse into her birding passion.
We love how well-rounded Meenakshi's content is and strongly believe that a Collab here would be a solid investment.
---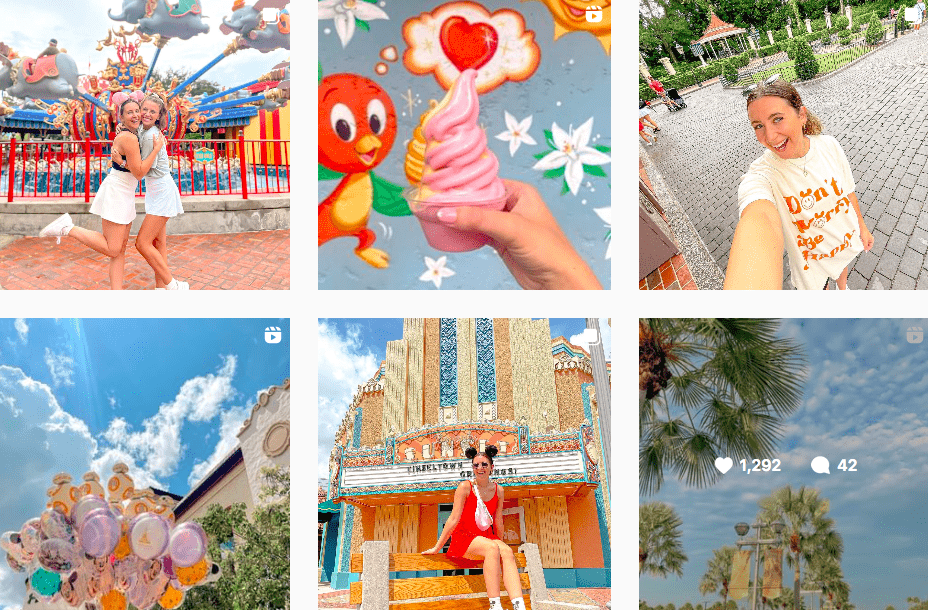 Danielle, a 20-something-year-old from upstate New York, is always ready for an adventure. She's a lover of all things Disney and always likes to look at the bright side of things…
Content
Once you take a look at this travel content creator's Instagram page, you too will soon find yourself looking at the bright side of things. This is a page of absolute joy and positivity.
It's Disney all the way here. Disney trips, Disney outfits, Disney merchandise, Disney snacks, Disney drinks, and so much more Disney!
Sure, she does let us in on other trips, as well as some of her favorite restaurants… but if Disney magic is what you're looking for, Disney magic is what you're going to get! Bibbidi bobbidi boo!
Danielle also has many Collabs under her belt. She's partnered with brands in clothing, haircare, luggage, and health. She may be all Disney, but she knows a good Collab opportunity when she sees one…
---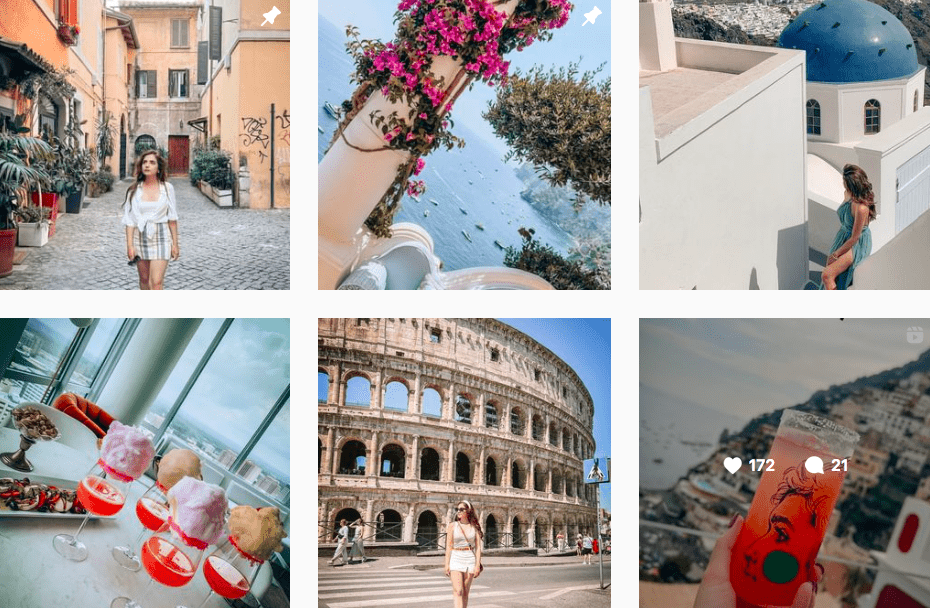 Beautiful destinations and good food. Those are Aliyah's addictions. Hailing from Washington, USA, this foodie, and travel content creator is on a mission to share her love for food and travel with you.
Content
We ain't mad at Aliyah's choice of content… food and travel have always been a perfect match and Aliyah does a great job of combining the two niches.
Whether she's showcasing a restaurant or a travel destination, Aliyah's images and videos are really top-drawer. Consider your wanderlust activated!
Prepare yourself for gorgeous scenery, informative captions – which also happen to be posted in both English and Persian, and some of the best cuisines the world has to offer.
Warning… major FOMO may be experienced. Here's a look at what her comments section looks like:
"Omg I want it all"
"Wow this restaurant looks amazing!!"
"I loveeee this so much. Stunning reel"
"Love all the locations you share."
Don't miss out on a Collab with @lapetitemangeuse!
---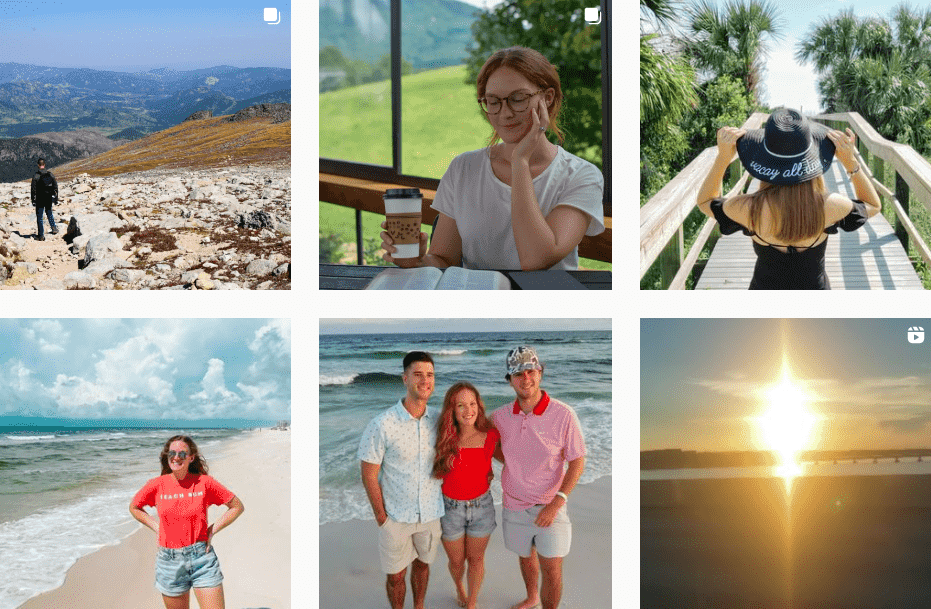 Meet Katie, a marketer by day and beach bum on weekends 🙂 She loves the ocean, having recently lived in Puerto Rico, and is now currently based in Florida. She also loves all things coffee and travel. Excellent choice!
Content
Are you like many of us and can't wait for the weekend to begin? So is Katie… as she says, "Sometimes the weekend just can't come fast enough." We feel you girl.
Katie is another travel content creator who is a believer in exploring the state or country you're in. While she was in Puerto Rico, she took us around and helped us #discoverpuertorico alongside her. Now, she's in Florida and not only showing us around the state but taking us to other destinations in the USA as well.
She can also assist with travel itineraries… more information about that is on her website.
When it comes to Collabs, Katie has experience with that too and is keen and ready to add more to her portfolio… could it be your brand up next?
---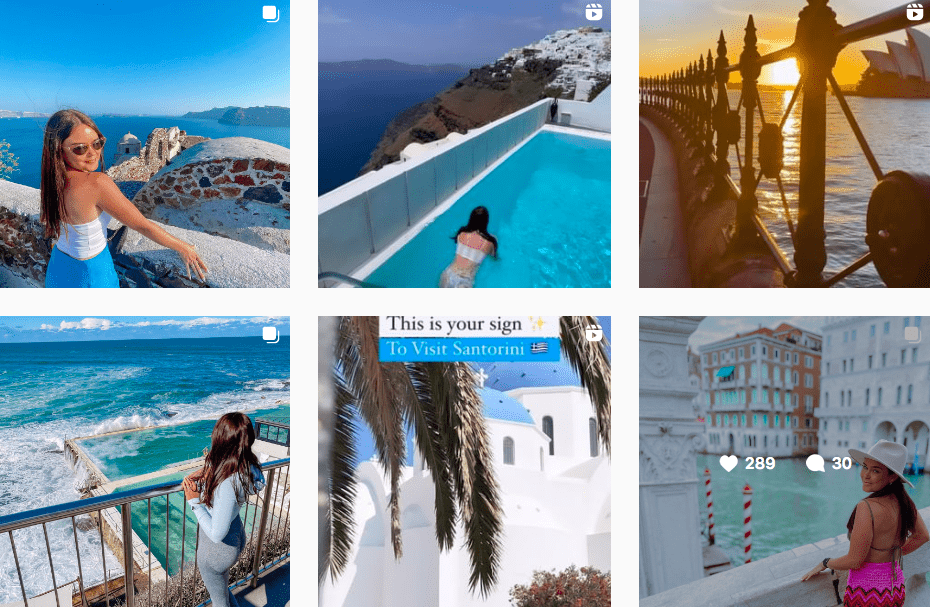 Meet Colleen Deere. She's an Irish girl living out her Australian dreams! Her longing for adventure and exploring sparked the idea to create her blog – Mizzdeereious Travels. Her life motto? Carpe Diem! Seize the day!
Content
Colleen's focus is on exploring our "mysterious world," and part of her content focuses on travel tips, adventure, and city breaks.
We mentioned that this travel content creator is living her Aussie dreams. That's because she's living in Australia and exploring as much of it as she can! Australia has A LOT to offer, so rest assured Colleen's content is the gift that keeps on giving.
Whether she's exploring wormholes or soaking in the beauty of cherry blossoms, Colleen shares it all.
That's not it. Colleen also shares content on other countries she visits – her home country Ireland, as well as other dreamy destinations such as Venice, Santorini, Milan, and more.
Collabs? Colleen's a pro… you can see her long list of partnerships on her Afluencer profile. Your brand should be on it. 😉
---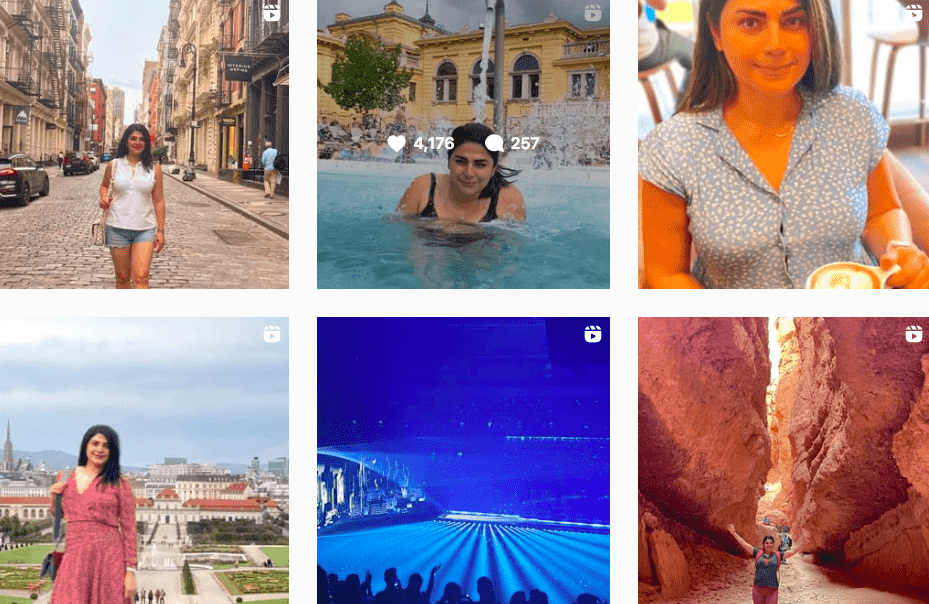 "Explore with emotion," says Mastaneh Yashini, an engineer-turned-travel-content-creator based in Canada. Her goal is to encourage others to follow their passion and live their best life.
Content
We love how Mastaneh's content is all about the experience and not about flaunting material things. Traveling for the pure love of it… we can get behind that.
Her Instagram page has an excellent mix of images and Reels, ensuring her followers never become bored with her mode of delivery. She also has a great sense of humor, with comedy intertwined in some of her posts. How refreshing!
Mastaneh also makes sure to show you different types of destinations – from Hawaii to the archeological site of Chichen Itza in Mexico, to Munich, Switzerland, and more, it's almost like "where will she go next?"
Mastaneh is another one of our travel content creators on this list whose captions are in both English and Persian. If the Persian market is on your radar, Mastaneh could help you tap into it with a Collab or two!
---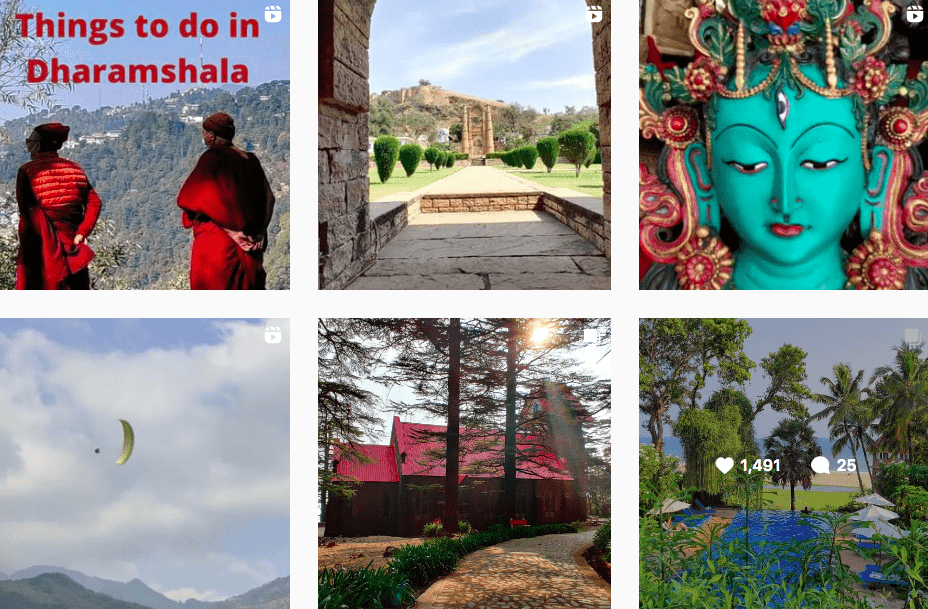 This couple has travel running through their veins – even before they met each other. Now that Sandy and Vyjay are together, it's double the passion for travel. They quit their corporate jobs, said goodbye to their fat salaries, and embarked on a limitless journey of travel content creation.
Content
If you've ever wanted to travel to India, @imvoyager18 should be your go-to resource for what the beautiful country has to offer: Buddhist monasteries, sports stadiums, Gothic churches, tropical forests, holy rivers, festivals, and SO much more.
Sandy and Vyjay do an excellent job of celebrating the beauty of their country while living the travel life they've always dreamed of… inspiring followers along the way.
"That's just superb."
"This is the best thing on the 'gram today."
"Beautifully captured."
"An absolutely magical place indeed."
"Wow would love to visit there."
The comments section speaks for itself… their followers are soaking up every bit of content Sandy and Vyjay deliver and keep coming back for more. A big plus in a potential Collab partner, right?
---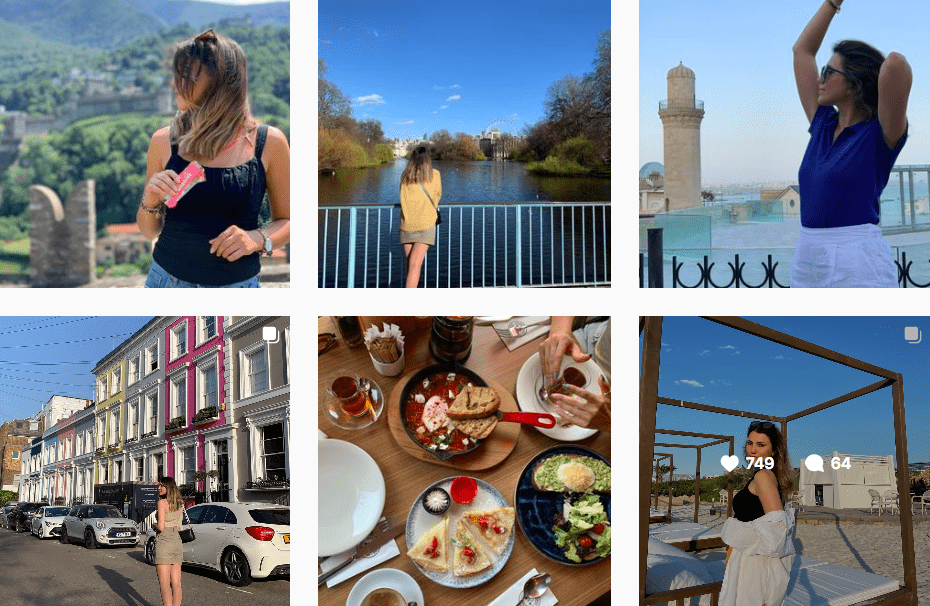 Meet lifestyle and travel content creator, Gunel, based in Germany. When it comes to content creation, she believes that love for what you do adds more value to your audience. We couldn't agree more…
Content
Gunel ain't really about that solo travel life. As she says, "it's more fun with friends." We say, "to each their own!"
She also says that a summer spent without getting tanned is a wasted summer in her opinion… We love her approach to life!
Gunel shares snapshots of her various trips; to Azerbaijan, Switzerland, and London, to name a few. The vibe here is of a woman doing her and bringing her travel dreams to life.
When it comes to Collabs, Gunel has many to showcase. She has partnered with brands in clothing (hello, Fabletics partner), accessories (is that you, Pandora), and even health and is ready to add more brands to her list. Don't miss out!
---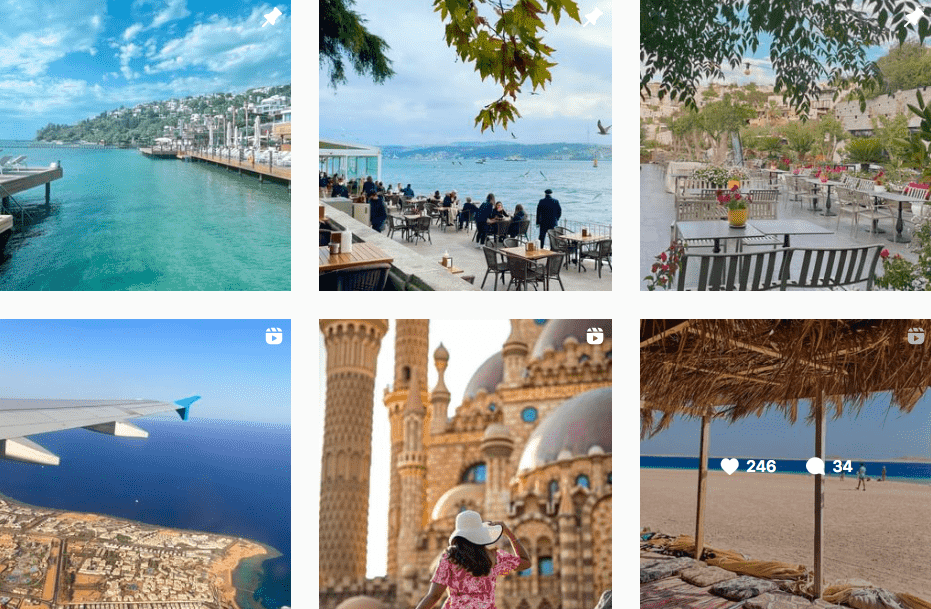 Meet Danah from Kuwait. She's a lifestyle and travel content creator with one big mission. Ladies, listen up, this one is for you… She wants to… inspire women to travel!
Content
This is another goal we can get behind! Ladies, if you've been bitten by the travel bug but aren't sure about solo travel as a woman, you need to follow Danah for inspo. Once you see her living her best travel life, you're going to want to hop on the next flight anywhere!
Danah's Instagram page is littered with Reels showcasing her various destinations. Listen, sometimes an image doesn't capture all that needs to be seen! Her Reels come with awesome background music… it's a vibe over here, ladies!
She also loves the phrase, "Dolce far niente," which, loosely translated means, the sweetness of doing nothing. Sounds like something we could all do with now and then!
We could go on and on… and clearly, as a woman myself, I'm inspired to travel. Thanks, Danah! We're also sure that you, dear brand, are motivated to invite Danah to Collab.
---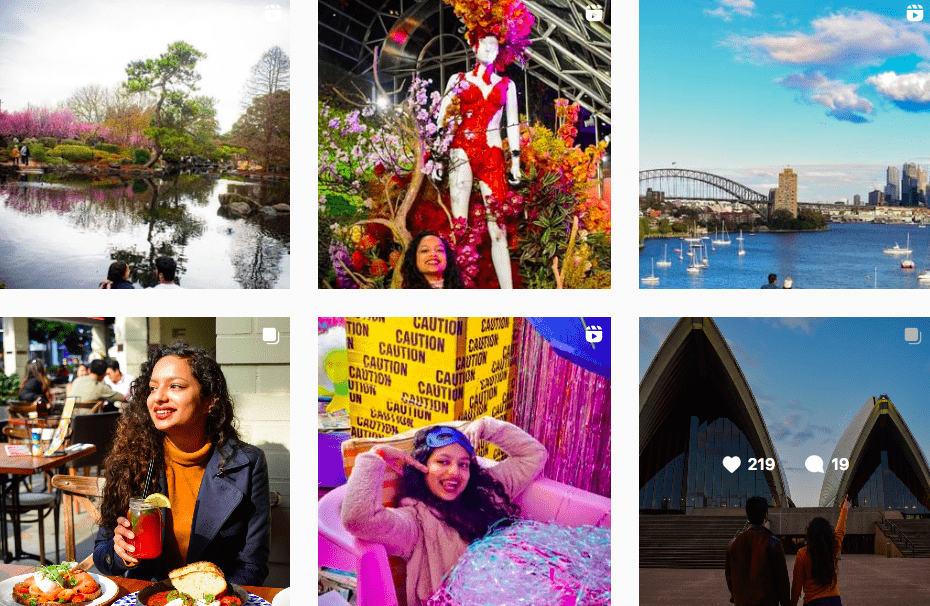 Meet Alisha and Blesson from Australia. They're a young couple determined to experience something new every weekend… who says you have to wait for the big trip to travel?
Content
We're loving these #couplegoals. Plus, they're inspiring other young people to get out and explore new places, even if it's within walking distance from their homes.
This couple's focus is on exploring Sydney as well as smart travel in Australia in general. We've mentioned before that sometimes you don't need to leave your city or country in order to indulge in your passion for travel. Sometimes hidden gems are right around the corner. Alisha and Blesson show us exactly that through their content.
They give suggestions on what to do in certain towns or places (we're talking long lists), ideas for date nights, and even restaurants to visit. They pretty much cover all bases so your weekends will be booked for a long time to come.
The lovely couple has secured quite a few Collabs and we have a feeling they're only getting started.
---
Wow! What a round-up of travel content creators! What do we love about them? Other than their travel-inspiring content that is expertly blended with other interests, they are all pouring out large quantities of positivity. What a happy bunch! Look no further than this talented group of creators for a travel-inspired Collab.