Most people spend the holiday season glued to their screens, looking for the best brands and deals to power through their shopping lists. On the flip side, ecommerce brands compete against thousands of brands, and social media ads to get in front of their audiences and drive conversions.
But here's the bitter truth: running ads alone will not cut it when your target buyers consider many factors like discounts, delivery dates, and reviews to finalize a single purchase.
However, retailers can cut through this advertising noise and win their buyers' trust with influencer holiday campaigns. With Deloitte forecasting an 11-15% year-over-year growth for ecommerce sales this holiday season, you can meet and exceed your sales targets with the right influencer partnerships.
This guide will help you plan and execute an influencer holiday campaign from start to finish. We've also curated a list of handpicked holiday influencers to Collaborate with.
How Influencers Can Impact Your Holiday Ecommerce Sales
Buyer behavior has changed dramatically since the pandemic. People are now less inclined to make impulse purchases and prefer spending more time on research. In fact, at least 42% of shoppers start planning for Christmas shopping as early as February.
With buyers leaning more towards browsing over buying, retailers have to rethink their holiday marketing strategy to win people's trust rather than hard selling. Influencers fit well into this equation.

Unlike ads, influencer holiday campaigns offer a non-invasive way to interact with your target audience. Not just that, working with influencers can also accelerate holiday sales because 25% of US shoppers are likely to buy a product faster if promoted by an influencer.
Here's more research that highlights the impact of influencer marketing on ecommerce brands:
Sell to a hyper-engaged community: Over 82% of customers are likely to consider or buy something a micro-influencer recommends.
Win more first-time buyers: Approximately one-third of shoppers turn to social media influencers to learn about products.
Boost brand awareness: The #tiktokmademebuyit hashtag has over seven billion views, making it one of the most powerful channels for brands to reach a bigger audience and boost discovery.
These numbers show people turn to social media for product discovery and purchase decisions during the holidays. Add a bunch of niched influencers to the mix, and you're ready to skyrocket your sales!
5 Steps to Design Holiday Marketing Campaigns That Work
You've run several holiday campaigns in the past, some even with influencers. But for all the effort invested into these campaigns, the results have always been disappointing. Does this sound familiar?
Lack of fail-proof planning is one of the biggest reasons why ecommerce brands fail at holiday marketing. A holiday influencer campaign can quickly derail if you don't plan the timelines, goals, and systems.
Thankfully, you don't have to look far to create an airtight plan. Below you'll find our 5-step framework for designing a result-driven holiday influencer campaign from start to finish.
1. Start strategizing early on
Holiday shopping is stressful—56% of Americans agree. There's a lot of pressure around buying the right gifts at the best prices, managing time between work and home and sticking to a budget.
If there is one way buyers plan to overcome this anxiety, it's by starting their holiday shopping way before the season kicks in. That explains why 61% of shoppers started their shopping sprees as early as November 2021.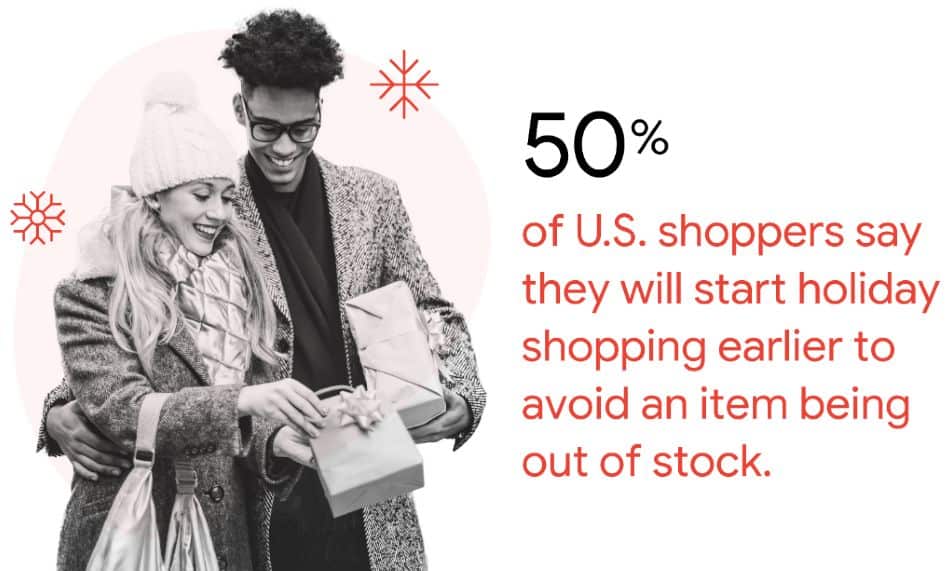 For ecommerce brands, this shift in buyers' preferences means only one thing: they have to start their holiday marketing prep a lot earlier than usual. Instead of giving yourself a 2-month timeline to launch a campaign in November, start running it from October itself. Eric Dahan, CEO of Open Influence, agrees.
"Make sure to get ahead of this and plan on time. Influencer marketing is very different from Google ads and paid social. You can't just turn on the tap. You have to really plan ahead because influencers get locked up really quickly for the holiday season."
– Eric Dahan, CEO, Open Influence
Introduce new products, bumper sales, and curated gift hampers. On top of planning your best offers for the holidays, you also have to shape your influencer campaigns.
Here's a handy list of factors to consider for a solid influencer holiday marketing strategy:
What are the goals and results you want to achieve?
What's your maximum budget for these campaigns?
What kind of influencers do you want to work with, and how many?
What products/collections do you want to spotlight in these campaigns?
How will you cross-promote influencers' content to maximize reach?
Shoppers want to avoid last-minute panic and tick off their shopping list before the holiday frenzy sets in. So, if you have an influencer campaign on the table for this season, don't sleep on the planning anymore.
2. Find the right influencers for your niche
Once you're done with the legwork to strategize a campaign, it's time to find, vet, and recruit the best influencers.
Even if you have a clear idea of who you want to work with, what type of content you need, and how you'll measure success, here's the catch: finding niche influencers that fit with your brand identity is no cakewalk. It's a time-consuming and often frustrating process that doesn't guarantee the best results.
So, instead of shooting in the dark, follow a few best practices to find the best holiday influencers:
Go for keyword search: Research and create a list of brand-aligned keywords. Use this list to search for influencers posting relevant content for your brand. Keyword search is available on all social media platforms, increasing the chances of finding good prospects.
Look at brand mentions: Another great way to find influencers organically is to check people tagging or mentioning your brands on social media. These people are already happy customers, and an influencer partnership with them would seem more authentic.
Try influencer database tools: If you want to skip all the trouble of manually sourcing quality influencers, an influencer database tool like Afluencer is just what you need. Afluencer brings you a curated list of influencers from different regions. You can filter this list using options like follower count, channels, niches, and more.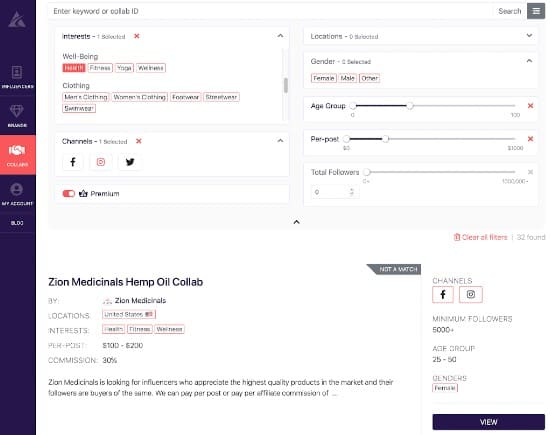 When vetting your shortlisted influencers, check their audience, engagement rates, and content quality. Closely review the comments they receive and do a quick background check to verify their identity.
Kate Oakley from Social Styles Marketing shares her take on finding and finalizing the right influencers.
"Before we do anything for finding the influencers or picking the right keywords to find the influencers, we've to understand internally who the target market is. Because if you're reaching out to a blanket number of people and you have no strategy, that's not going to amount to anything special."
– Kate Oakley, Social Media Marketing Expert, Social Styles Marketing
3. Identify your unique value propositions
The success of your holiday marketing strategy relies heavily on what you're selling. No matter how well-planned, your campaigns can fall flat if your main offer isn't enticing enough.
So, the next step in building your influencer marketing campaigns is finalizing your unique value propositions. The way you communicate your brand value can become a huge differentiator and drive sales this holiday season. That's exactly what helped Allbirds maximize their sales from the start.
Allbirds, purpose-driven footwear, and clothing brand entered an already saturated market in 2016 to compete against the likes of Nike, Adidas, Reebok, and Puma.
But the brand's eco-conscious and sustainable approach to creating its products became a USP and won people's attention. The Shopify brand also worked with micro-influencers—termed social ambassadors—to drive conversations around this USP.
Here's an example of their value-focused influencer campaign from Christmas 2021.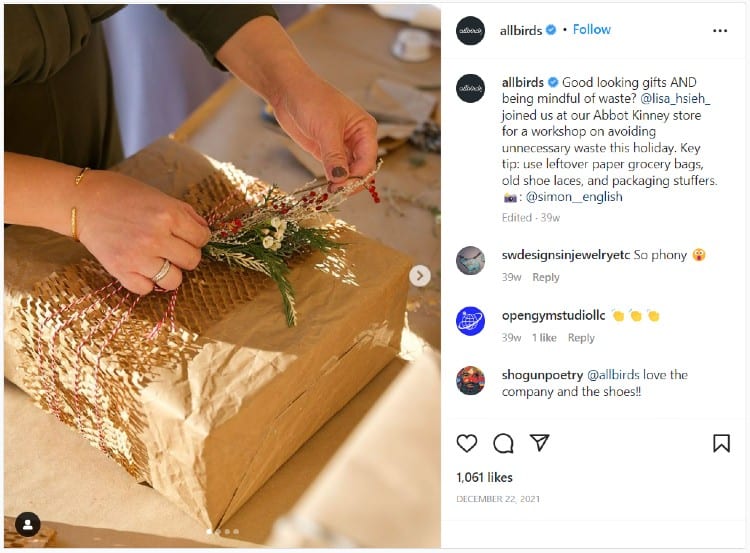 4. Finalize your content strategy for the campaign
Working with influencers brings you massive scope for creating content across platforms. You can conduct giveaways, run whitelisted ads, do an account takeover, or host a live-stream shopping show—the possibilities are endless.
But these endless possibilities can also complicate your campaign strategy. If you're clueless about what your audience enjoys or prefers, you might miss the mark and get no results.
So, create a research-backed content strategy to resonate with your audience and make your campaign successful. If you're short on inspiration, take a page from Luxy Hair Extensions' book. The Shopify merchant created a Christmas-themed to promote its signature product through a select few holiday influencers.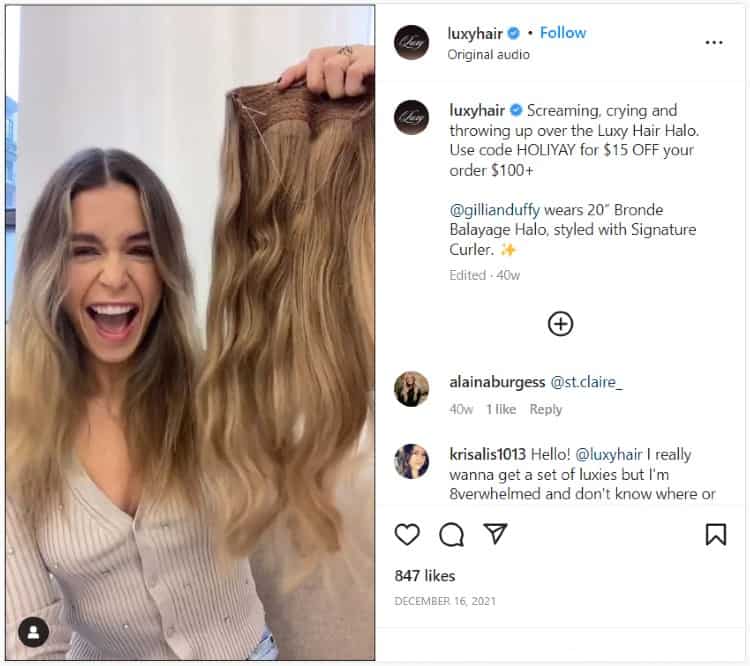 5. Build a framework to analyze and attribute ROI
Measuring your campaign's success and each influencer's performance can be tricky. While some brands consider the number of sales as the primary metric, the ideal way to gauge success is a full-funnel approach. You might not always see an immediate spike in sales. But if you notice a hike in traffic or brand searches, it's a fair measure of your campaign's success.
So, Look at your campaign's impact from the entire funnel—building awareness, enhancing consideration, and bringing conversions. Choose KPIs for each funnel stage and determine an influencer's effectiveness based on these metrics.
10 Holiday Influencers to Work With in 2023
We know how much effort and planning it takes to find holiday influencers that align with your brand's personality. So, we curated a list of the 10 best influencers to consider for your holiday campaigns this year.
Niche: Parenting and lifestyle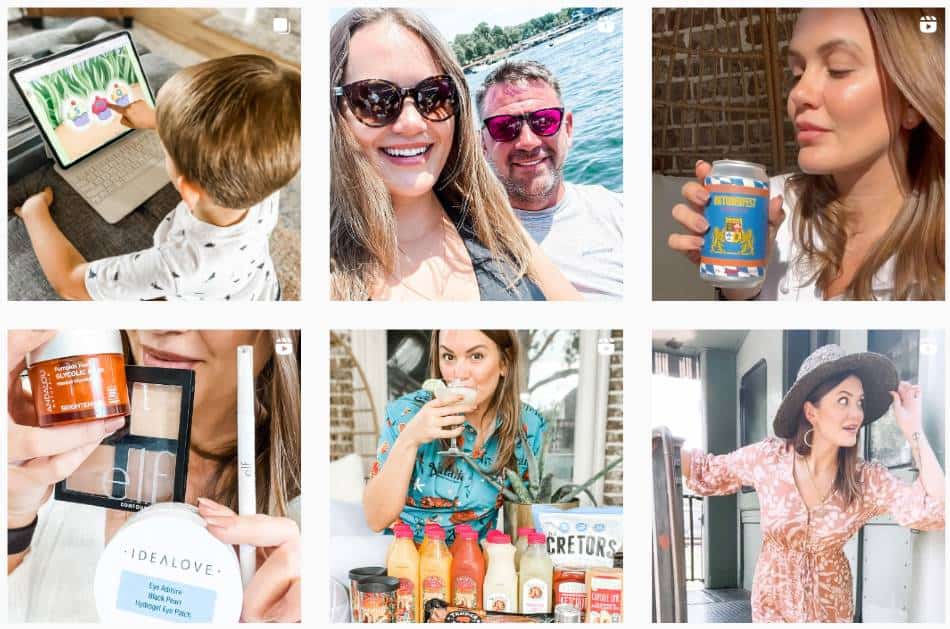 Alexandra Nicole is a published author, entrepreneur, and lifestyle blogger. With a following of close to 200K users on Instagram, she's among the most sought-after influencers for lifestyle brands.
Coming from Tennessee, Alexandra posts a unique mix of content about her lifestyle—from her choice of makeup to the foods she prefers for her children. Her IG feed is a balance of her personal posts and brand Collabs.
So far, she's Collaborated with a range of small businesses, like NABISCO, iHerb, and Clio. She actively publishes reels, feeds, and stories to engage with her audience.
---
Niche: Fashion and lifestyle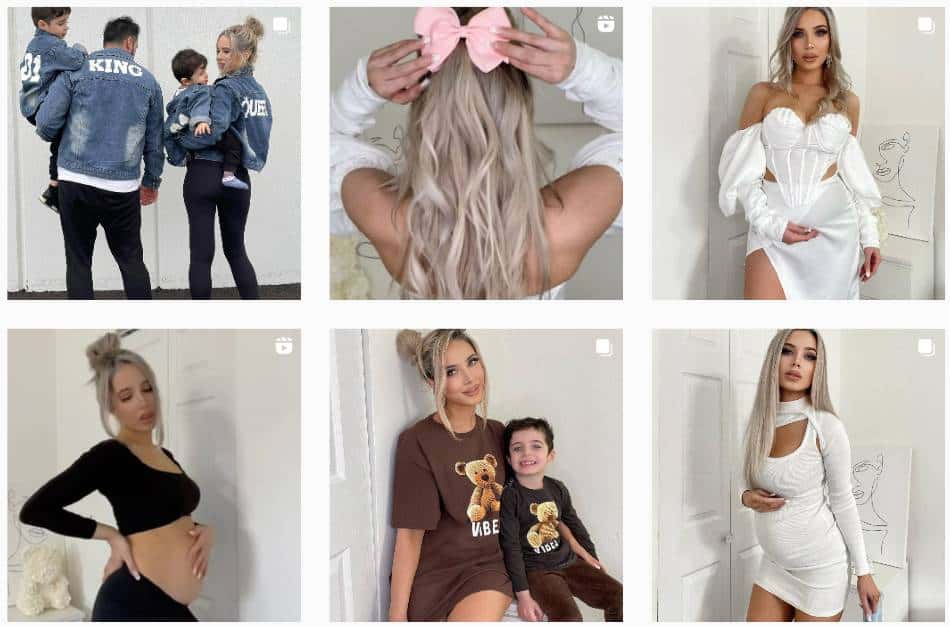 Ellene Pei is a lifestyle blogger and fashion influencer from New York. She's the brand ambassador for brands like Loving Tan and FashionNova.
As a mother of two, Ellene also documents her life as a mother and Collabs with parenting brands to share their products. Her content focuses on fashion tips and makeup product recommendations. She's also created story highlights for the two brands she represents as an ambassador.
With a following of 102K Instagram users, her content enjoys a high engagement rate with positive comments. As a new mom, brands from the parenting niche can build an authentic partnership with Ellene this holiday season.
---
Niche: Fitness, health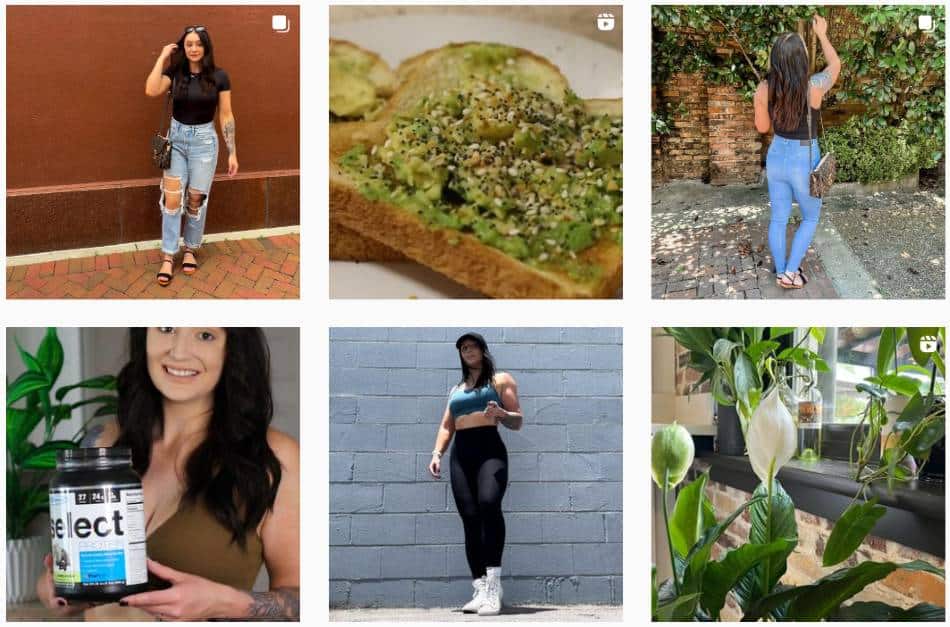 Kelsey Grace is a fitness and lifestyle influencer with 225K followers on Instagram. You'll find a consistent theme across her IG account—posts and reels featuring her workout sessions. She also shares healthy recipes and fitness tips occasionally. Followers can find all her recipes and advice in dedicated story highlights.
Most of Kelsey's brand Collabs are with fitness brands, like PEScience, HydroJug, and Tilyoucollapse. Since she's a body-positive influencer, she focuses on building partnerships with mission-driven brands—like Tula.
The best part about her IG account is the variety of guides she's created to curate her content neatly.
---
Niche: Tech and travel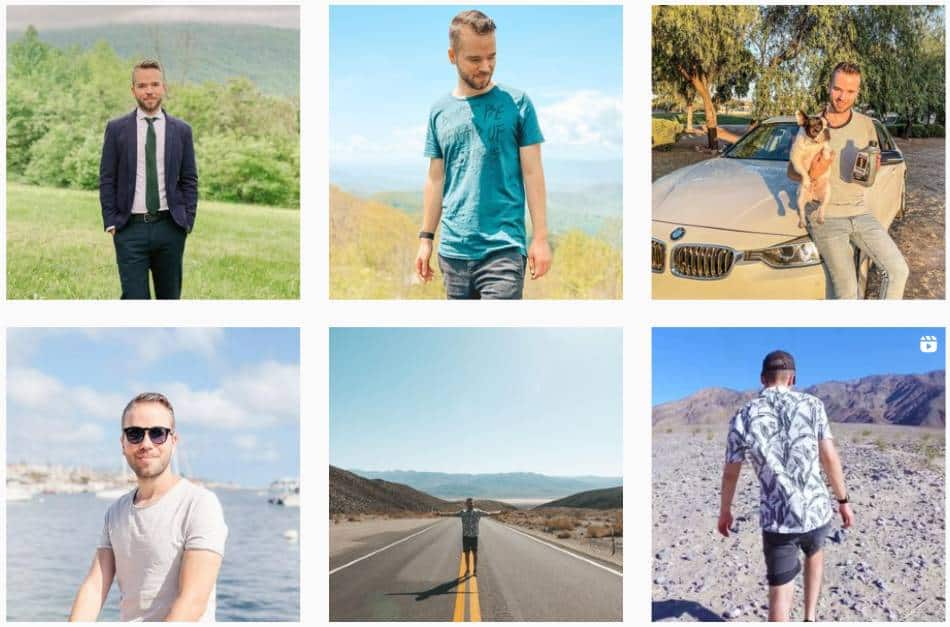 Pablo Ortega is a tech geek and a travel writer for Condé Nast Traveler & Founder of Lyxplanet. He's also a content creator with over 50K followers on Instagram.
Pablo's IG feed mostly features photos and videos from his trips worldwide. Given the diversity of his niche, he has Collaborated with a unique mix of brands—including Mobil1, a motorsport brand, Earth Clean Beauty, a beauty brand, and The Social Good Foundation.
He creates content around his travel itineraries with picturesque photos and reels capturing his journeys.
---
Niche: Lifestyle, parenting, home decor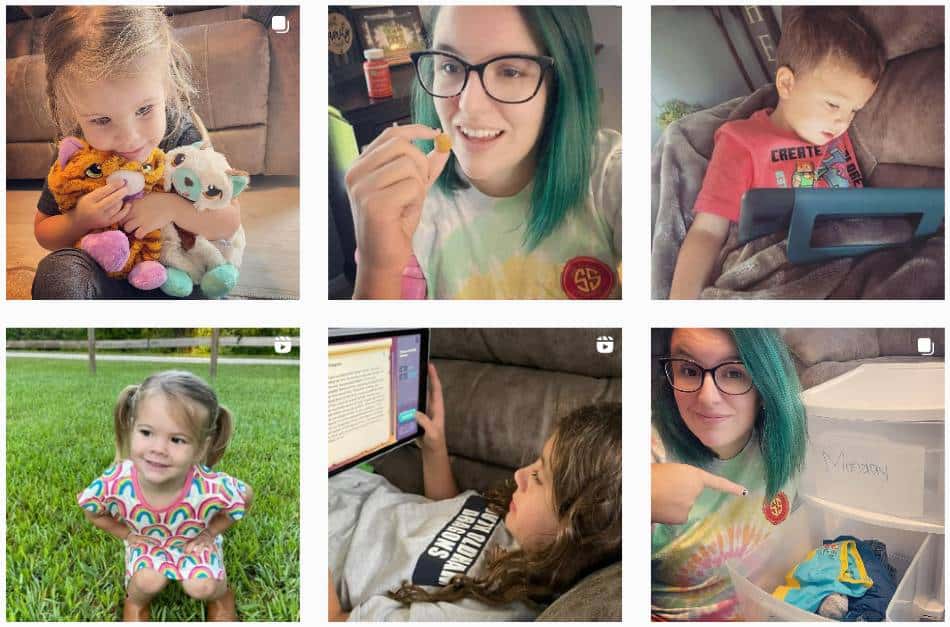 Taylor Franklin is a Florida-based content creator-cum-influencer. She has a following of 142K people on Instagram and creates content around her life as a foster mother, traveler, and home manager.
Taylor's content has a decent engagement rate and a lot of positive comments. She keeps it real with a mix of funny memes, family photos, and anything that interests her. She's also collaborated with various brands, such as Aqua Vault, Target, and travel resorts.
---
Niche: Yoga and wellness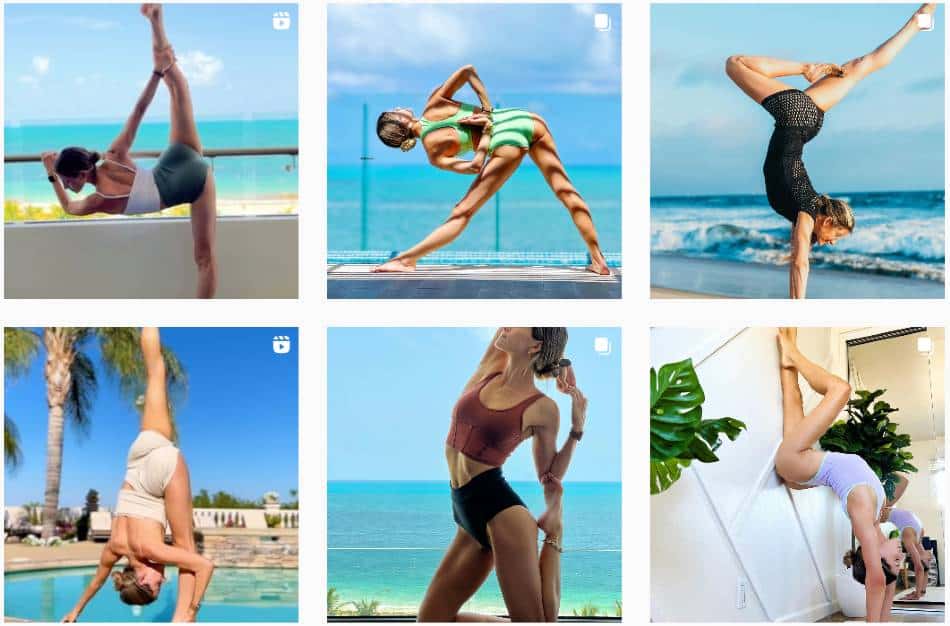 Kylan Fischer is a sports and yoga instructor. She's also a wellness influencer with over 300K followers on Instagram.
Kylan's content focuses solely on her journey as a certified yoga practitioner and plant-based health coach. She shares tutorials, workout tips with her followers, and vegan recipes for healthy living.
She carefully chooses her Collabs with brands that align with her values. If you're a plant-based brand in the wellness or fitness space, Kylan can be a good fit for your holiday campaigns.
---
Niche: Fashion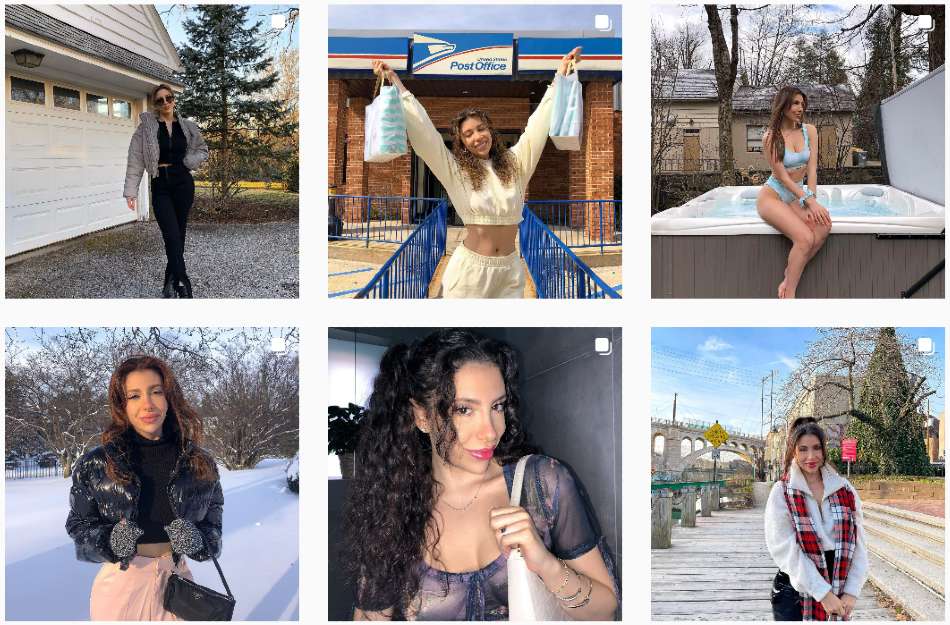 Julia Gilman is an entrepreneur and fashion influencer based out of Pennsylvania. She has an Instagram following of 195K people and shares fashion-related content.
Most of her reels are about her own lingerie and swimwear brand. However, she's also partnered with beauty brands, like Kate Somerville Skincare, Benefit Cosmetics, and Briogeo. She also puts up her outfits for fashion inspiration.
---
Niche: Home and wellness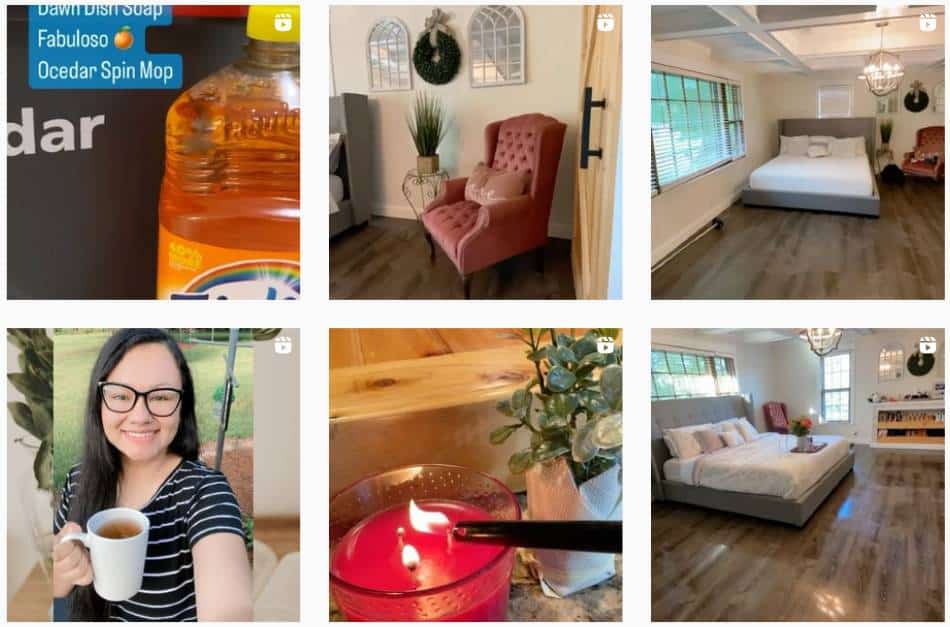 Claudia Acuna is a wellness influencer with 161K Instagram followers. She helps moms and homemakers improve their space with better organization and cleaning.
Many posts on Claudia's IG feed focus on cleaning, arranging, and improving the house. She shares tips and tutorials on how to sort out different spaces in your home, like the kitchen, bathroom, porch, and more. This is an excellent opportunity for brands in the home furnishing and decor space to build a Collab with her.
---
Niche: Food
Maria Hammonds is a self-taught cook turned content creator and food influencer. With a massive following of 215K on Instagram, Maria is the perfect fit for brands in the F&B space.
She's curated multiple guides to give her followers a quick peek into her recipes per category. Her posts and reels get great engagement, with views reaching as high as 300k in some reels. She posts actively and engages with her community through live streams and stories.
---
Niche: Food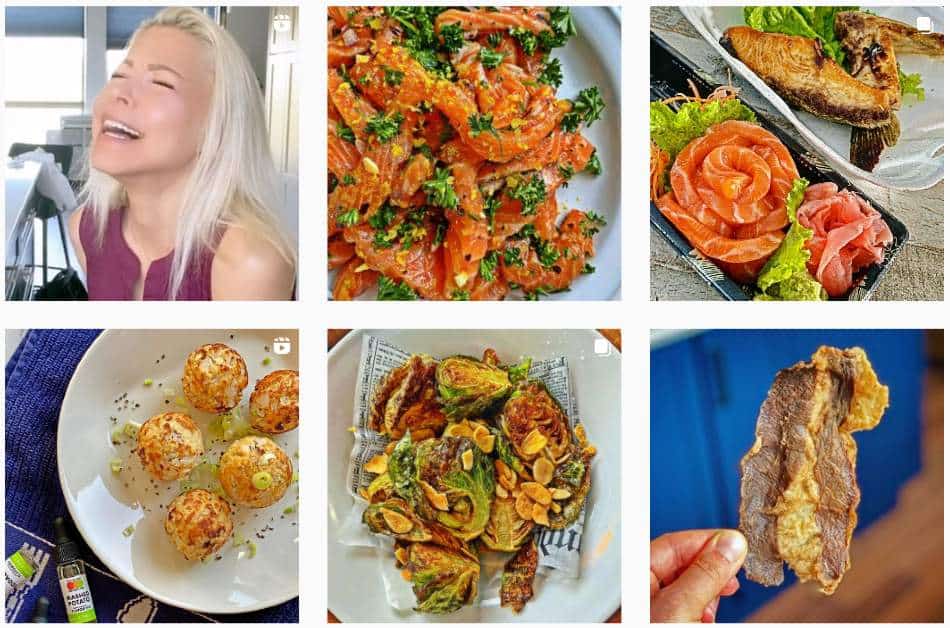 Genevieve Ashworth is a competitive sportsperson and a food creator. She gave up snowboarding and horseback riding to become an allergen-friendly cook and influencer.
Her Instagram account is very animated, with over 369K followers and over 3000 posts. Popularly known as The Salmon Queen, Genevieve is a top choice for food, fitness, and lifestyle brands.
She has previously partnered with brands like empowerDX, OOOFlavors, and Carnivore Crisps.
---
Ramp Up Your Retail Sales This Season with the Best Holiday Influencers
The holiday season can make or break your profit milestones for the entire year. The good news is, you can hit all your targets—and then some—with the best holiday influencer campaigns.
Use this guide to create a well-rounded strategy backed by research. Start by planning the timelines and building some groundwork for your campaigns. The next steps are finding the right influencers and creating a framework to assess their performance.
Afluencer can come in handy for establishing meaningful partnerships with brand-fit holiday influencers. Install our Shopify app to set your brand up for dominating this holiday season. Or, come through our "front door" and get started with our generous free trial for Brands.