After spending thousands of dollars on Facebook and Google ads for your Shopify store, if you're still not getting meaningful results, the reality is that your strategy needs to change.
Enter influencer marketing.
Last year, spending on influencer marketing was over $3 billion, a 33.6% rise from 2020. The total spending on influencer marketing is projected to reach over $4.6 billion in 2023 in the US alone. This spending continues to rise, showing rising confidence in influencer marketing.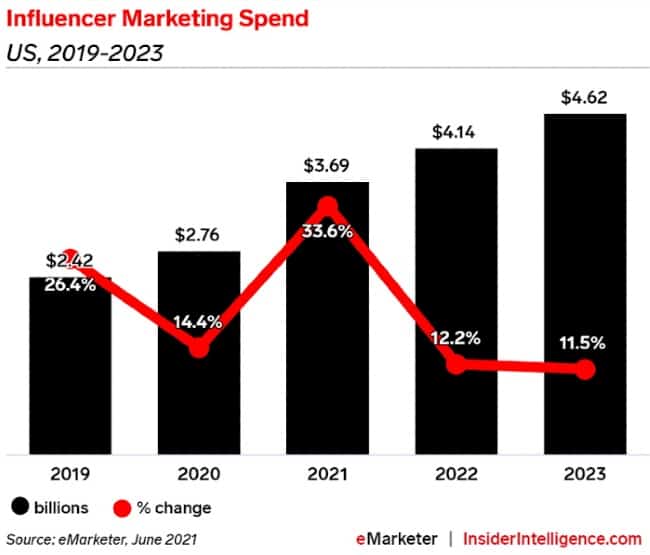 Beyond the proven ROI of influencer marketing, it also often offers higher engagement rates, warmer leads, and improved brand loyalty.
The question is: How do you get started with it? And how do you do it at scale?
Over 60% of Instagram accounts have more than 10,000 followers. If you're thinking of sorting through the sea of influencers out there, it can take up a lot of your time. Reaching out to them, getting them on board, and planning the campaigns will also take time.
Instead of manually building an influencer marketing campaign from scratch, it makes sense to leverage Shopify influencer apps. These are designed to help you find influencers and create a campaign, so you can focus on the creative and the business side of things instead of spending hours on a spreadsheet.
What are Shopify influencer marketing apps?
Influencer marketing apps for Shopify stores are software that helps build influencer marketing campaigns from scratch by streamlining your workflow. This includes tools that help simplify communication with influencers, find potential influencers, and track campaigns, as well.
Some influencer marketing apps work by matching you with the best-fit influencers and helping you kickstart conversations. For example, these tools can have multiple filters (such as demographics, follower count, and industry) to help you find ideal influencer partners quickly.
Other influencer marketing apps help you turn your existing customers into influencers with the power of affiliate marketing, referral marketing, and more.
The difference between influencer marketing agencies and influencer marketing apps
Influencer marketing apps are entirely different from influencer marketing agencies. Influencer marketing agencies have creatives working behind the scenes to find suitable influencers for you to design campaigns, and track sales—based on their deliverables.
With influencer marketing apps, you can choose the influencers you want to work with, create campaigns and brainstorm content ideas, track ROI, and more.
So why should you choose an influencer marketing app over an agency?
While it completely depends on your bandwidth and budget, remember that more than 68% of influencers prefer to work directly with brands instead of agencies. Some agencies take a cut from influencers, delay the payments of influencers, and can also delay the project.
For your brand, it can be cheaper to work with influencers directly via an influencer marketing app, as the agency will likely charge a hefty fee or take a percentage of your sales. With influencer marketing apps, you also have more creative control and can form stronger relationships with influencers (which definitely matters in the long run).
Benefits of Shopify influencer marketing apps
If you're still on the fence about using influencer marketing apps for your Shopify brand, here are four benefits that make them a no-brainer to use.
1. Using data to identify ideal partners
Think of your influencers as your brand representatives. The audience will associate your brand with the influencers you choose to onboard. This is why the most challenging part of influencer marketing is finding the right influencers: someone with the target audience you're after, that's aligned with your brand values, and who can represent your brand properly.
While the right influencer can increase brand loyalty, engagement, and revenue, the wrong one can confuse your audience and damage your brand image.
To find the right influencer, you need to check the posts they've been sharing, their past sponsorships, how they talk with their audience, and so much more. If you're doing this at scale, it can take a lot of your time to review the profiles of hundreds of influencers.
With influencer marketing apps, you get matched with the right influencers almost instantly. From there, you can filter through interests, followers, and more. With an influencer marketing app like Afluencer, you'll get to cherry-pick the perfect person for your campaigns.
INSIGHTFUL READ: Content Creator vs Influencer: How to Pick the Right One

2. Communicate directly
When building an influencer marketing campaign manually, you'll have to reach out to influencers (after shortlisting them) individually. Even if it's a template message, keeping track of ongoing communications in your inbox can be a pain.
However, most influencer marketing apps let you communicate through their platform, which makes keeping records much easier. You'll save time and get definitive data on your outreach efforts without ever losing track of a conversation.

3. Let influencers approach you
Some influencer marketing platforms feature brands so influencers and creators can approach them directly if they align with their values.
For example, Afluencer features brands in its newsletter that goes out to thousands of influencers. Not only that, but brands can also showcase their needs to a growing influencer pool of more than 13,000 active influencers.
This works because influencers, like your brand, are on the lookout for a good brand to partner with. As much as you need influencers who align with your brand image, influencers and content creators want to associate with brands that represent their values, too. Influencers have spent years building and nurturing their audience, and therefore most influencers don't want to sabotage their image with the wrong partnership.
4. Protect your brand from fake followings
With the ease of buying followers in today's world, you can never be sure who real influencers are based on their number of followers.
Influencer marketing apps like Afluencer help you find influencers not only based on their number of followers, but also on how their past sponsorships have performed, engagement rates, and more. This helps ensure you don't waste your money on influencers with large followings that turn out to be fake.
READ MORE: How to Recognize Fake Instagram Accounts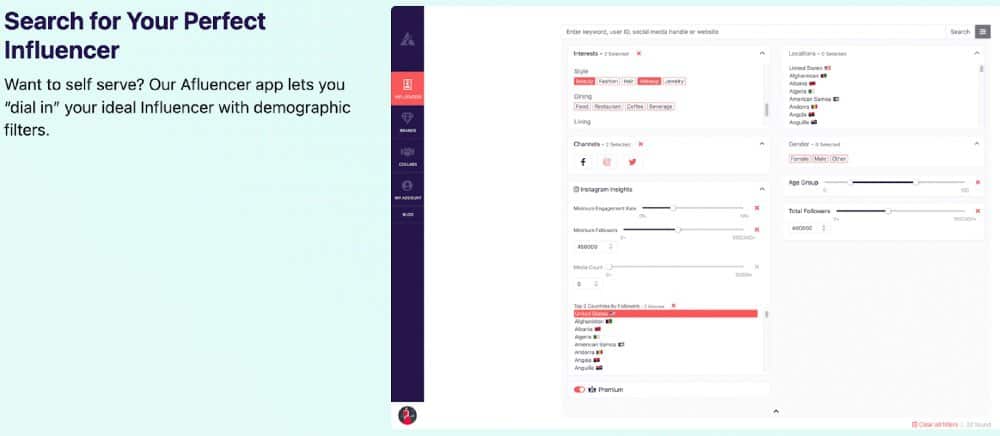 Top 6 Shopify influencer apps
Here are six influencer apps for your Shopify store with different features.
Whether your store has pet products or lifestyle items, you can place your Shopify brand in front of more than 13,000 influencers. With Afluencer, you're guaranteed to find ideal influencers and creators with the same target audience as yours.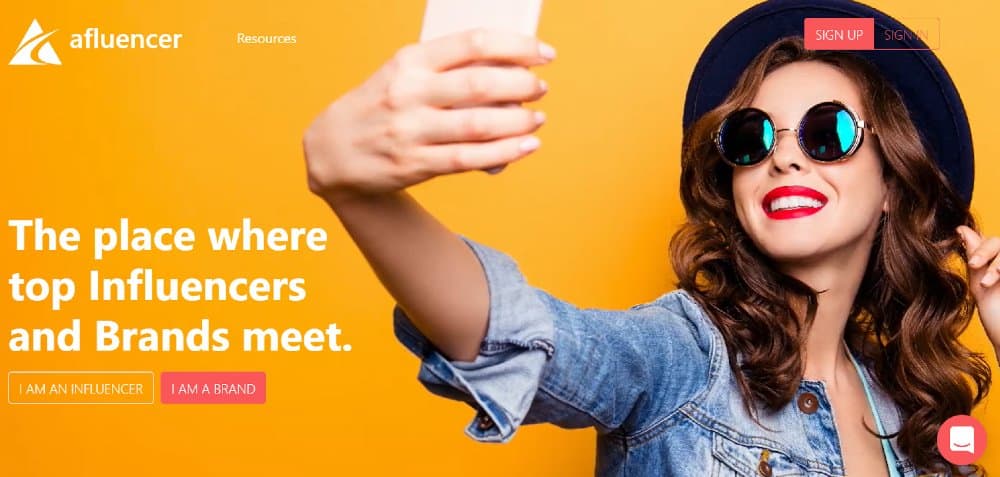 To make your search even more specific, you can place demographic filters to find the perfect influencer for your brand. For example, suppose you want to create awareness for an upcoming fashion event you're organizing in Washington. You can set Washington as the location filter and find influencers in that area that can bring more people to your event. This becomes handier if your store currently serves a specific region as you can target local customers.
Plus, you can find influencers for your campaigns on all the social platforms—TikTok, Instagram, YouTube, Facebook, and Twitter. This ensures you don't have to switch marketing platforms if you're running campaigns on multiple social media platforms.
The next step in the process of influencer marketing—contacting the influencers—doesn't need you to log in to your social media accounts either. You can quickly exchange messages with them in the chatroom of Afluencer and strike deals easily.
If, on the other hand, you want influencers to reach out to you directly, all you need to do is post your project requirements in a collab showcasing your interests, channels, products, and values. You'll be able to get a feature in the exclusive newsletter, putting you in front of thousands of influencers. This saves time for you in the long run as you don't need to be on the lookout for the best-fit influencers—those who align with your values and products will reach out to you independently.
Afluencer is your all-in-one influencer tool that can not only find the right influencers for your Shopify brand and facilitate conversations but also get your brand noticed.
The best part? You get these features at only $49/month with a 30-day free trial.
2. UpPromote
Existing customers can be the best brand advocates if they like your product or service. UpPromote helps you turn your customers into influencers for your brand with the help of affiliate marketing. You can not only reach a wider audience through these affiliates, but you can also drive repeat sales to your Shopify store with referral rewards.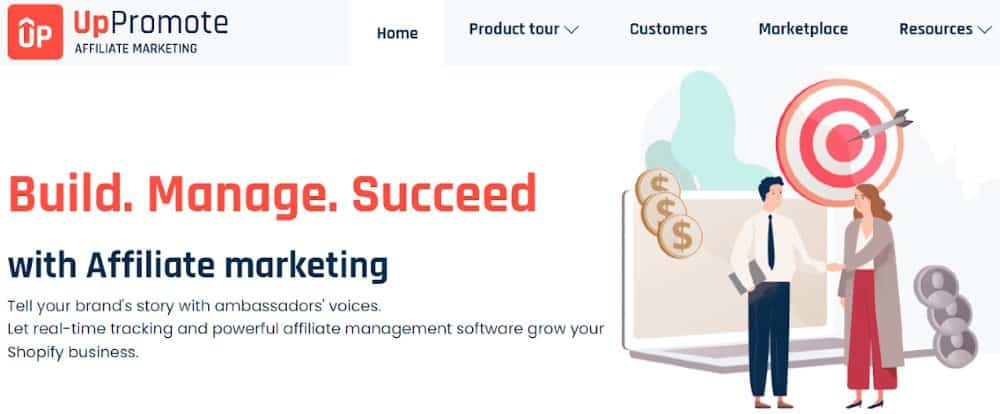 With this tool, you can easily create affiliate links, customize campaigns, and communicate with affiliates through email or chat. If you're worried about generating coupon codes and offers manually, the tool does that too. The tool has several automatic functions you can enable like auto-tier commission, auto-discount, and auto-generate coupon.
The tool also takes care of the analytics and reporting part for you. Whether you want to check which customers have brought in the most referrals or the most popular products that were being referred in the last marketing campaign, you can know it all.
While this tool takes care of everything from start to finish when turning customers into brand advocates, it is not a full-fledged influencer tool that will help you find the top influencers in your niche.
3. ReferralCandy
ReferralCandy, as the name suggests, is yet another tool that helps you grow your Shopify store sales by turning customers into brand advocates.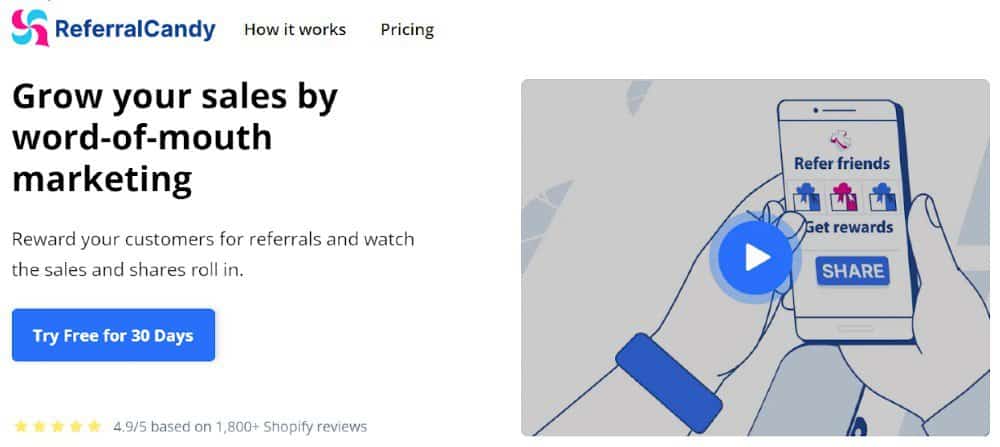 Every time a customer purchases something, you can send automated invites asking them to join your referral program. Once they join your program and make successful referrals, you can send multiple reward options in the form of store discounts, cash rewards, and custom gifts.
It does not stop here. You even get access to insights and key metrics such as referred traffic to your website, revenue from referrals, number of customers who joined your referral program so that you can gauge the success of your referral program.
One unique aspect of this tool is that you can even identify and ban suspicious transactions — such as referral codes that are leaked on coupon sites, a high volume of referrals in a short period, and so on.
4. Linkr
Linkr helps you reach out to influencers and creators in your niche. While they don't have a large pool of influencers you can choose from, they provide you with filters and key metrics to narrow down the pool of influencers.

You can then reach out to these influencers through their chat system and discuss the details of your campaign. This makes sure you don't have to go through the back-and-forth email communication that takes days on end.
Other than that, you can choose from various compensation options such as sales commission, barter deals, bidding, or performance-based rewards.
All in all, Linkr is a great tool, albeit with a lesser pool of influencers to pick from.
5. Refersion
Refersion helps you create influencer marketing campaigns from start to finish. You can plan an entire campaign with a series of posts and see which ones are bringing the most conversions. You can even test different ideas and post formats with Refersion.
For example, you can create a series of reels, posts, and stories with a beauty influencer on the subject of "How to choose the best skin products according to your skin?"

You can even track these campaigns with Refersion. If you're collaborating with 50 or 100 influencers at a time, the tool's tracking and reporting features come in handy. Based on these analytics, you can pinpoint campaigns you need to expand and those you should cut back on.
Along with these features, the tool makes it easy to approve conversions and pay your influencers.
6. Gatsby
Gatsby helps you turn your community into ambassadors for your Shopify brand. They have unique features such as each time a customer with more than 1,000 followers publishes UGC, the customers are given a discount code.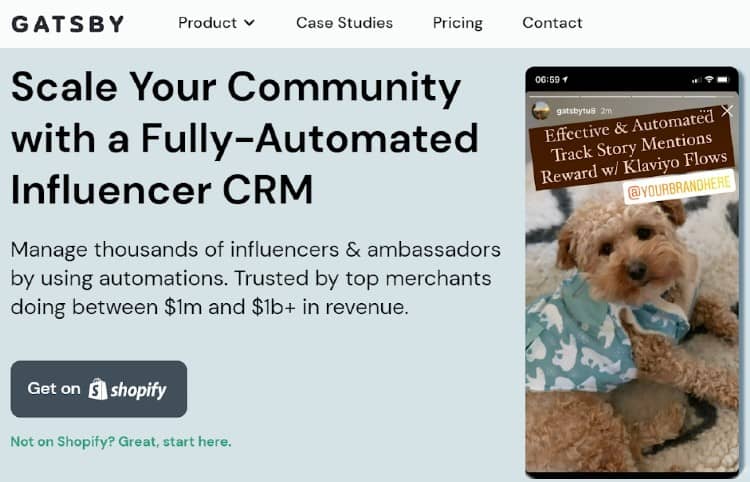 This not only turns your community into loyal fans but also encourages repeat purchases.
You can even automate certain processes of influencer marketing by making use of automation features in Klaviyo. Other than that, they also have integrations with LoyaltyLion, Attentive, Stamped, and more.
For your affiliate marketing campaigns, you can collect Instagram and TikTok handles from these ambassadors and you have in-store various social insights on your target audience.
Gatsby is thus the perfect platform for your brand if you're looking to run a referral marketing campaign.
How to select the best Shopify influencer marketing app for your brand
We have listed the best influencer marketing apps for your Shopify store above. But how do you select the right one for your brand?
The priority can always be budget if you're on a strict marketing budget. But most of the listed platforms will fall within your budget with the pricing being less than $100 per month. Once you have the budget out of the way, ask yourself the following questions to find the best platform for your brand specifically:
1. Define your goals with influencer marketing
Different influencer platforms are available for different needs. Before you start your search for the platform, make sure you have your marketing needs laid out:
The platforms you'll be targeting
Expected KPIs
Measurement of ROI
Type of influencers needed
If your target goal is to increase sales for a newly launched product, an app with a built-in link tracker might be suitable. If your goal is to form long-lasting relationships with influencers who align with you, an app with a wide range of influencers and creators can be the right fit.
2. Identify your strengths and weaknesses
Lay down the resources you already have, the team members you have, and what their responsibilities are. Based on what you're missing, the choice can be easier.
Once you have identified what you need and don't you'll be able to understand the features better.
3. Vet the platform based on your target influencer type
Some influencer marketing platforms might cater to a particular platform or a niche type. If you're a wellness brand, you don't want to subscribe to a platform specializing in the beverages niche. Or if you want to target YouTube creators, you want to check if the platform hosts such creators.
Next, check the quality of influencers the platform hosts and the relationship between the platform and the influencers. You need to associate with real influencers with a proven track record of sponsorships, and if you have a pool of unverified influencers, you risk ending up with a failed campaign.
4. Check the relationship management tools
While the quality of influencers on the platform matters a lot, you also need to check the quality of the platform itself. Does it provide the features you need?
As the listed platforms above show, every platform is different with its unique set of features. Here are some features you can check:
Communication tools: A huge part of influencer marketing is communication with influencers. A platform with in-app communication features will keep your communication records in one place and be easy to fetch.
Back-end tools: Some platforms help you create contracts, pay the influencers, and track the results. This can be helpful if you want to automate the entire process. Else, you can manage these aspects with your finance team, if you have one.
5. Ease of use
The influencer marketing platform will add to your existing tech stack that you use frequently. From finding influencers to designing campaigns and tracking results, the platform will be your go-to.
For this reason, you need to ensure that the platform is fairly easy to use by all your team members and doesn't take hours to learn. Otherwise, you might end up spending a lot of your (and your team's time) on getting used to the platform.
Make sure it's intuitive and doesn't need a lot of technical understanding to use. If you have any questions, take a demo or the free trial before investing.
Increase your ROI with Shopify influencer marketing apps
The ROI of social media and Google ads continues to fall. On the other hand, the investment in influencer marketing and the returns generated by them is still on the rise.
If you're worried about the time commitment, with influencer marketing apps like Afluencer, one of the biggest hurdles of finding and contacting influencers is also taken care of. It's high time to reach a wider audience, increase your brand awareness, and boost revenue with influencer marketing.
Install the Afluencer app for Shopify here and avail a free 30-day trial to get started.