Picture two individuals: one is a fashion model posing with the new shade of lip color from a beauty brand on her latest Instagram post, nudging her followers to buy it. Another is a beauty vlogger sharing styling and makeup tips for the same product on her YouTube channel.
The fashion model uses her influence to build brand awareness and drive conversions for the brand. On the flip side, the beauty vlogger uses her content to educate the audience and persuade them to buy.
This thin (and often blurry) line differentiates influencers from content creators.
Brands and marketers often get confused between the two profiles because of the similarities involved. But both roles serve different goals. So, picking the right one can significantly impact your marketing strategy, and the results you see with your campaigns.
This article will walk you through the differences between a digital content creator and an influencer to draw a clear distinction between the two. Stay till the end to see which one's better for your brand.
What does a Content Creator do?
A content creator produces meaningful content following a specific genre for a niche audience. Every creator shares content to engage, entertain, or educate the viewers. They produce and present information by putting their unique spin on it.
For instance, Ali Abdaal is a content creator famous for his podcasts and YouTube videos. He shares insights on productivity, entrepreneurship, healthy living, and life lessons. Ali's content is diverse and available in multiple formats, like videos, podcasts, articles, and newsletters—earning him thousands of followers across several platforms.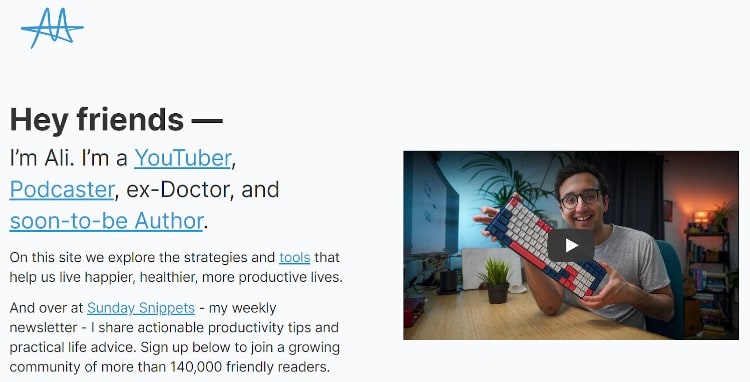 Like Ali, most digital creators create content in one or varied formats, covering a select set of topics. A trait common to all successful creators is the top quality of their content—it's professional, unique, and easily consumable.
Working with creators gives brands an organic way of meeting their audience where they are. That explains why 48% of brands surveyed by CreatorIQ are willing to spend an annual budget of over $100,000 on creator marketing.
Let's look at some significant benefits driving brands toward creators:
Strong rapport: Creators share a meaningful relationship with their audience. So, people are more willing to trust their favorite creators and make buying decisions based on their recommendations.
Content marketing: Creators produce high-quality, brand-aligned content that marketers can repurpose and distribute across platforms for an extended period. A single creator partnership can tap into the many benefits of content marketing.
Expert collaboration: Given that many people trust digital creators, brands can enhance their image and build positive word-of-mouth with creator marketing. It's a great way to solve your audience's problem through an expert and win more buyers.
Working with creators allows brands to reach highly engaged audiences through content they actually want to consume.
What does an Influencer do?
An influencer is an individual with the ability to reach and persuade a huge number of people solely because of their massive following and fame. Influencers primarily rely on their brand authority and community-focused approach to bring results for brand collaborations.
For instance, Emma Hill is a fashion designer and blogger with millions of followers on Instagram and YouTube. She's worked with big fashion brands like Gap, Marc Jacobs, and Vogue. Besides running her design business, she caters to a niche audience of fashion enthusiasts, positioning herself as a relevant influencer in this domain.

Emma is one of the many influencers that leverage their following to influence people's buying decisions. Instead of creating on-brand content, these influencers simply endorse a brand and encourage their followers to take the desired action.
Influencer marketing can produce incredible results for businesses—17% of marketers agree and are willing to spend 50% or more of their annual marketing budget on influencer campaigns.
Here are the benefits they go for:
Boost other tactics: Influencer marketing can amplify your brand voice and bring more prospects into the funnel. It works in sync with other components of your content strategy—like ads, social media marketing, and promotions—to produce better results.
Multiply sales: Since 49% of consumers base their buying decisions on an influencer's recommendations, it's an effortless way to double your conversions. Unlike ads, influencer content also reaches a bigger and broader audience.
Enrich brand image: Influencer marketing allows brands with a smaller following to tap into an influencer's network and gain recognition. It's a cost-effective and guaranteed way to enhance brand awareness.
Working with influencers can put your brand right in front of your audience and generate the desired buzz to ramp up sales.
Content Creator vs Influencer
The biggest differentiator between influencers and digital creators is their strategy and style.
While an influencer focuses more on building a bigger and more targeted audience, a creator prioritizes a solid content strategy that strikes a chord with their audience. Similarly, influencers work on getting engagement + sales while creators make organic content to promote a brand's unique selling points.
Let's dive deeper into content creator vs influencer with these three broad points:
Skills
Creators' and influencers' skill sets differ significantly but also overlap. Put simply, a creator has to be skilled at ideating and creating relevant content that engages with the audience, while an influencer has to focus primarily on brand building and audience management.
Influencers build their audience based on how well they demonstrate their expertise in their industry. They also create content to establish a rapport with their followers. However, they don't have to focus on content creation so much once they reach a threshold.
On the other hand, creators have to nurture a strong knack for storytelling and content marketing. Their success is tied to the quality of their content and how well it resonates with the audience.
Strategy and goals
When strategizing a branded campaign, influencers and digital creators follow starkly diverse approaches. Influencers primarily post the required content and work more on promoting the post to drive engagement and click-throughs. Creators, on the flip side, work on audience analysis, topic research, and content creation and promotion to produce results.
Besides, both roles work towards achieving diverse goals. An influencer aims to increase brand mentions and sales, while a creator strives to build credibility and brand affiliation.
Tools
An influencer and a creator also use various tools to fulfill their part in a brand campaign. An influencer focuses more on researching a brand's reach and influence to target relevant audiences. Their kit includes tools like Sprout Social, Crowdfire, UserGems, Mention, and Loomly to stay on top of audience engagement analytics.
On the other hand, a creator needs relevant tools for research, brainstorming, creation, and finetuning their content. These tools can be Google Trends, Podia, Beacons, BuzzSumo, and PlaceIt, among others, to produce laser-focused content.
Which is better — Content Creator vs Influencer?
Now that you have a better idea of both profiles, let's tackle the big question: which one's better? The short answer—it depends.
There's no one-size-fits-all approach to influencer vs content creator marketing. The decision to work with either of them depends on your marketing goals, budget, audience, and resources. Let's look at the three most important considerations for picking one for your campaigns:
1. Marketing and campaign goals
Your campaign's purpose is the first factor to consider when making the call between influencers and digital creators. Depending on your campaign idea and marketing objectives, you can decide whether you want to work with one or both profiles.
Influencers are the best pick for you if your campaign goal is to:
Generate interest
Build publicity
Get more sales
Let's take HelloFresh's influencer marketing campaign with Mandy Moore. The brand caters to a predominantly female audience, with 80% of its buyers being female. So, it collaborated with influencers like Moore to appeal to the persona of working mothers and busy professionals and ramp up sales with a discount code.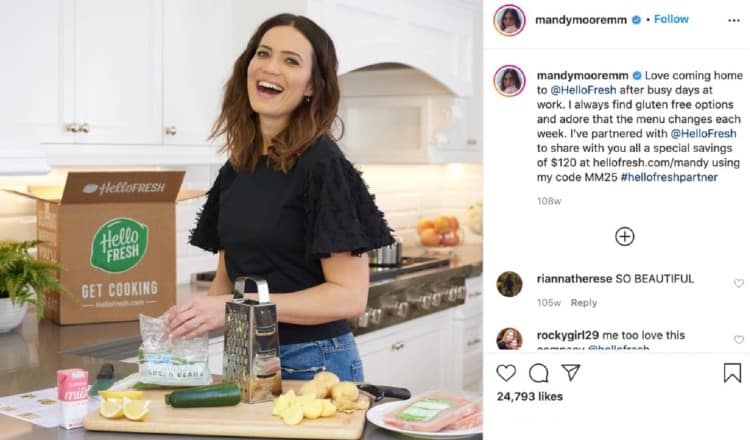 Content creators will work well for you if your campaign goal is to:
Win audience buy-in
Lift brand consideration
Get more traffic
Logitech partnered with Instagram influencer Kevin Parry to spread the word about its new PC. Kevin is a video producer and animator with over a million followers eager to learn about his setup and devices. So, Logitech could target a niche audience of video editors and increase its credibility through this endorsement.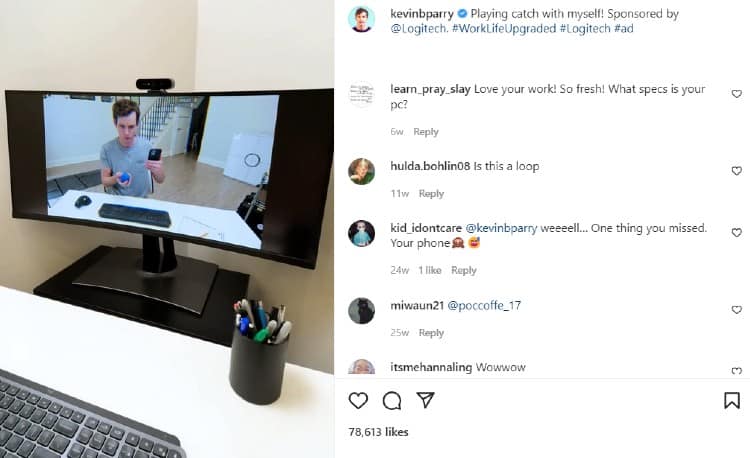 2. Quality and purpose of the content
The kind of content you want for your campaign also impacts your decision. Influencers focus less on the substance and value of their content because they already have a big enough following to drive engagement. On the other hand, creators take great pains to produce top-quality and value-packed content to address your audience's pain points.
A prominent case is how Dunkin' Donuts managed to multiply its followers on TikTok, thanks to the exciting content from TikTok's most-followed creator, Charli D'Amelio.
The brand gained massive buy-in from the audience because of this collaboration and launched a new drink in Charli's name. Unsurprisingly, the drink's launch day saw a 57% increase in app downloads.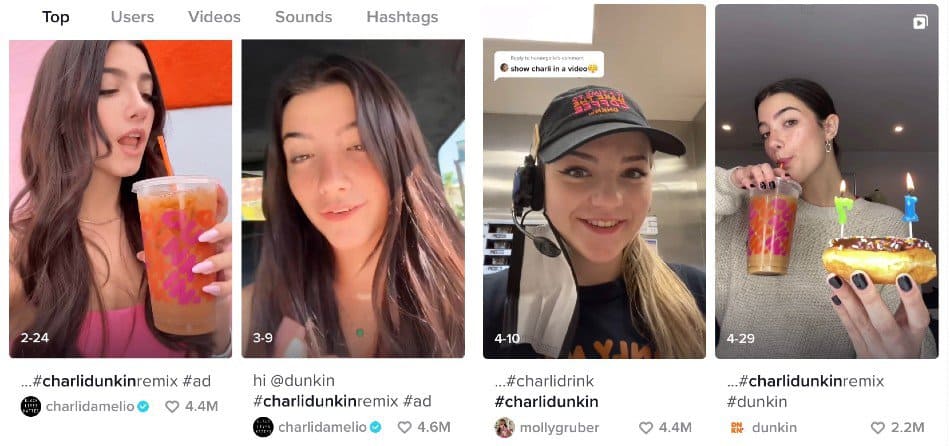 So, when you're listing your campaign goals, chalk out your expectations for the content. Identify how you want your audience to feel after the campaign and make your decision based on which profile can deliver these emotions better.
3. Budget
Lastly, your choice between influencers and creators depends on your spending capacity.
Working with big influencers can cost you more than collaborating with successful creators. This difference can be attributed mainly to the bigger following of a famous influencer. The costs for influencer marketing will depend on the channel, influencer reach, number of posts, and type of content.
Creator marketing, on the other hand, costs significantly lower. The pricing will depend on the creators' following, quality of content, engagement, and number/format of posts.
Since there's no standard rate card for either profile, the pricing will mainly depend on the type of people you reach out to or the agencies you work with. Make sure that you outline your budget for every campaign before choosing between the two roles. A well-defined budget can make your choice more straightforward and effective.
Unlock the power of influence and content
Before you set out to collaborate with an influencer or a digital creator, it's best to know the difference and decide which role can take you closer to your goals.
An influencer does precisely what their title says—influence people. A digital creator also influences people through the quality of their content and audience engagement. This difference—although not very prominent—can make or break your marketing campaigns.
When you're juggling a choice between influencer vs creator, first lay down your goals and content expectations. Then set a realistic budget for the campaign. Finally, evaluate these factors collectively to make your pick.
Infographic: Content Creators vs Influencers
Before we send you off to venture into your next collab opportunity, we leave you with an infographic by Tatianya Rocker Katz. Included are the main points of the article and also a comparison table that highlights the differences between Content Creators and Influencers.
Enjoy!