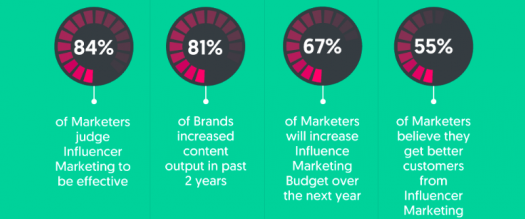 First, before we get into this whole deal about Influencer Marketing. Did you know 80% of millennials don't trust ads? Did you know 26% of Americans use AdBlocker to hide unwanted ads?
Digital marketers are in disbelief after they spend tons on ads, and commercials and never reach their expected ROI.
Over the last decade, consumer behavior has been changing day by day. And people are spending even more time on the internet. I know a lot of people who have not even seen actual paper money since last year! Everything seems to have gone digital!
So, the opportunity to sell digital products emerges. And billion, trillion-dollar companies like Amazon, Alibaba, and eBay make an entrance into the scene. Ruling the whole e-commerce industry. But the snag between millennial and traditional online ads is growing higher. Annoying Google ads and affiliate banners are getting blocked by modern browser extensions.
But then how do you attract your customers? This is a big challenge for marketing managers and they can't just sit with their hands in their pockets! So they came up with a solution that is "Influencer Marketing" and thus they can reach a target audience.
What is influencer marketing?
Wikipedia states: Influencer marketing is a form of marketing in social media, by social media influencers. Also known as influence marketing or social media influencing.
Influencer content may be framed as testimonial ads. Where they play the role of a potential buyer or they may even be third parties. These third parties exist either in the supply chain (retailers, manufacturers, etc) or so-called value-added influencers. Such as journalists, academics, industry analysts, and professional advisers.
So we are pretty much going through a transformation in digital ad spending strategy. And have identified 3 key factors for marketing experts to put more budgets on Influencer Marketing in 2019.
1. The Emergence of Social Media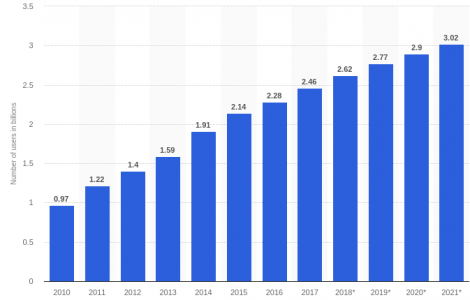 This statistic shows the number of global social media users from 2010 to 2016 with projections for 2021. In 2019, it is estimated that there will be around 2.77 billion users around the world. That's up from 2.46 billion in 2017.
Influencer Marketers Target Social Media Users
The invasion of social networks is ever-increasing. In 2017, 71% of internet users were social media users and these figures are expected to grow. Social networking is one of the most favored online activities with high user engagement rates and expanding mobile prospects. North America ranks first among regions where social media is highly popular, with a social media penetration rate of 66%.
In 2016, more than 81% of the U.S. population had a social media profile. As of the second quarter of 2016, U.S. users spent more than 215 weekly minutes on social media. They do this via smartphone, 61 weekly minutes via PC, and 47 minutes per week on social networks via tablets.
The increased worldwide usage of smartphones has opened up endless possibilities. Giving way for increased influencer marketing features such as location-based services like Foursquare and Google Now. Most social networks are also available as mobile apps. Whereas some have been optimized for mobile browsing. Thus, enabling users to snugly access visual blogs such as Tumblr and Pinterest via a tablet.
With over 1.86 billion monthly users, Facebook is currently the market leader in terms of reach and scope. The site has been shaping the social media landscape since its launch. And has been an important factor in discussions about users' privacy.
Social networks not only enable users to communicate beyond local or social boundaries but also offer possibilities to share user-generated content like photos and videos and features such as social games. Social advertising and gaming are two major points of revenue for these networks.
2. Influencers are more trustworthy than Google Ads

People are more prone to buy a product endorsed by their idols. As more people spend more time on social platforms, they tend to follow the opinion leader's advice. These influencers test the product first, then they share all the pros and cons and it is effective marketing for the creation of brand awareness. On the other hand, Ad-sense is losing its appeal and is less effective for creating brand awareness among millennials. Whose endorsement will you take for a cosmetic item for the following images?
3. People not only purchase products but also experiences
Consumer behavior has changed in the last two decades. Before buying a product, people check reviews. Then based on the review, they decide to buy or not to buy! Basically, the rise of the internet and the creation of netizens has brought about such consumer psychology.
From 2017 to 2018, digital marketing experts have spent a remarkable amount on influencer marketing. Currently, it's a $10 Billion market and by 2020 it'll be a $16.6 Billion market.
Are you a marketing manager? Then you must by now see the huge advantages of influencer marketing. If you aren't already partnered with influencers to execute your marketing campaign – then it's not too late.
Get in touch with us, Afluencer – we will help you reach out to influencers perfect for your business.
Additional References:
https://www.emarketer.com/content/global-digital-ad-spending-2019
https://influencermarketinghub.com/the-rise-of-influencer-marketing/