If you are serious about leveraging Instagram then it is important to switch to a business account on the platform. Influencers are technically not running a business but the good thing is that you do not need a registered business in order to have a business profile on Instagram.
The company introduced this feature in 2016. Since then, many businesses have made the wise decision to switch from a personal Instagram account to a business account. However, some individuals are still hesitant of doing so due to a lack of information on the benefits of owning an Instagram business profile.
Let's have a look at some reasons why it may be a good idea to convert your personal profile into a business profile.
Note: It is recommended only if you're an influencer or business. There is no need to convert your profile if you only use it for personal reasons.
Are There Side Effects of Moving Over to a Business Profile?
No, there aren't.
A lot of people think they will reach fewer people if they shift their personal Instagram profile to a business one. The myth exists mainly due to the algorithm on Facebook where business pages find it difficult to reach more people.
This is far from the truth. Running a business page will not affect your reach in a negative way.
With a business account, however, you will lose the ability to:
Make your account private. All your posts will be live for the public to see. However, you will still have the option to delete, edit, or archive posts. Plus, you will still be able to remove followers or block users.
Connect multiple Facebook profiles to an account. Your account will be linked to your Facebook page only. You will not be able to change it to a personal profile.
If you think about it, you aren't really losing anything. Why would a business want to have a private profile or why would you want to link your page to a different Facebook profile?
All in all, there are no damaging side effects of moving to an Instagram business profile.
Benefits of Turning to an Instagram Business Account
Let's now have a look at the advantages of switching to an Instagram business account:
1. Access to Valuable Instagram Insights for Free
If you are using Instagram to grow a following or become an influencer, you would want to know all the facts and figures related to your account and followers.
There are many paid and free Instagram tools that you can have to get the stats but Instagram Insights tops the list.
The feature is only available for Instagram Business profiles and offers great insights into your posts and followers.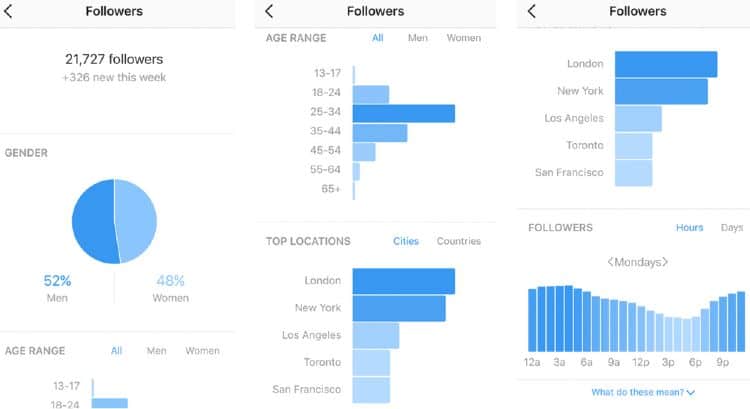 As an influencer, it will help you plan posts and gives you valuable information about your target audience. Such information can help you understand what kinds of posts your followers enjoy more.
Plus, you will also get demographic information including:
The age of your followers
The geographical location of your followers
The gender of your followers
Some companies would also like to know such details before they hire you as an influencer.
2. Companies Will Know You're Available
Businesses are more likely to get in touch with an influencer who has a business profile.
A business profile indicates you're out there to do business and that you're open to promoting products and services. Plus, you can also place a contact button on your profile if you have a business profile.
Clicking the button would allow people to know more about you, including your phone number, email address, and office address.
3. More Ways to Earn Money on Instagram
Users with a business profile can include links when they post a story. These links can be very effective in marketing your services since they are clickable.
This can be beneficial from a marketing point of view since there is no way to add links when you make a traditional post. Plus, the number of people who see a story is higher than the number of people who engage with a post.
This is why it may be a good idea to go for a business profile. After all, about 75% of Instagram users take action after going through a story or post. However, you need to have a minimum of 10,000 followers in order to be able to add clickable links to stories. Learn how to grow your Instagram followers so you can take advantage of clickable links.
4. Use Instagram Sponsored Posts
You need a business account in order to advertise on Instagram. Since most influencers make promoted posts, it is important to have a business account so that you can leverage this feature.
You can get more eyeballs by advertising your post or profile on Instagram. The platform uses the same tool as Facebook and is very easy and affordable to use.
How to Move to an Instagram Business Profile
Before getting started, make sure to create a Facebook business page for your account and make your Instagram account public.
Next, follow these steps:
Open your account and go to the profile page.
Click on the Settings option (the gear symbol)
Scroll down a little and click on the Switch to Business Profile option. 
Link the account to your Facebook business page.
Fill in the required details including contact information.
Done.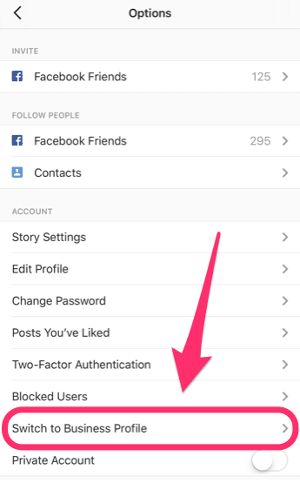 Instagram Business Account: Frequently Asked Questions
Can I Revert Back to a Personal Profile?
Yes, you can. The process only takes a few minutes. Go to settings, Business Account, and choose the option to revert back to your personal profile.
Do I Have to Pay to Get a Business Account?
No, it's a free feature. However, some features, such as sponsored posts, are paid.
Can I Have a Separate Business Profile?
Yes, you can. However, make sure to use true information when you create a new account.