In this round-up of influencers, we're headed to Canada. Did you know it's the second-largest country by area? So you know there's gonna be a lot of talent going on here. We've got beauty, fashion, sports, and so much more going on in this list. Some humility, some attitude, and a whole lot of positivity. These Canadian influencers are the cream of the COLLAB crop.
Let's dig in!
Our tour starts with an influencer who has a penchant for taking us out of Canada…

Representing Ontario is "country-loving gym rat" (her words, not ours), Michelle. Her passions include fitness, food, and travel. This Canadian influencer also has an honors degree in English and Teaching and travels the world working at schools and with the youth of different nationalities.
Content
Let's kick things off with a visit to Michelle's Instagram page @messnamedmichelle. If it's travel content you're after, this is where you will find it. On one post you'll find her in France, in the next she is roaming the streets of Lisbon, Portugal. This 23-year-old is undoubtedly living the travel-lover's dream.
Her TikTok page, under the same handle, shows us more of Michelle's fun-loving personality, as well as some confidence-boosting tips, relatable captions, on-trend challenges, and more.
Collabs
Having already worked with brands in the fitness and recreational industries, to name a few, Michelle is ready to expand her reach to help brands grow their businesses. She currently has a fantastic engagement rate of 10.7%, so you don't want to miss out on a Collab opportunity with Michelle. You know what to do!
---

Meet Michelle, a Canadian makeup artist who is also into skincare and fashion. She's an advocate for mental health, body positivity, and being 100% you.
Content
Michelle is another one of those Canadian influencers with a feed that clearly shows what she's offering. Her makeup is extremely creative – bold eyes being her fave. Her fashion posts are amazing too. She often looks like a regular girl trying on clothes in the mirror and we love the relatability factor. She's also documenting her weight loss journey and even has a paid partnership with @flattummyco as well as skincare brands.
With well over 12k followers across Facebook, Instagram, and Twitter, and a high engagement rate of 4.5%, Michelle could be the Collab partner you've been looking for.
---

Team Canada, stand up! Taylor is a Canadian Beach Volleyball player who has won seven Canadian national titles! Outside the world of sports, Taylor is a microbiologist and an animal shelter volunteer.
Content
Taylor may be closing out our list of Canadian influencers but she's top of her game. She's shining in the world of sports but is down to earth when it comes to caring for animals. It's clear to see that she's an animal lover – her dogs are consistently featured on her Instagram pages. We get a very wholesome, homely vibe mixed with an (obviously) active lifestyle. It's awesome.
She's also got a few partnerships with brands in food and skincare. This sports star is one Collab partner not to miss.
---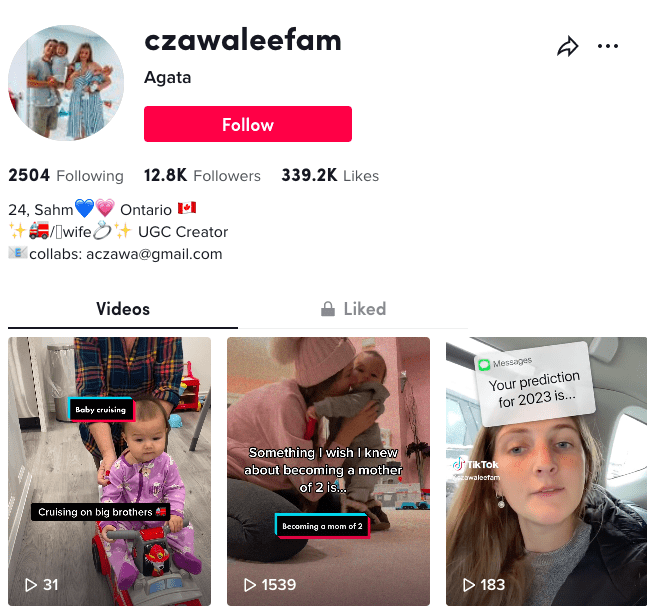 Meet Agata. She's a parenting, lifestyle, and travel Canadian influencer sharing her journey with the world.
Content
If you are all about family and parenting content, Agata is the one to follow. This military wife brings us into her life sharing pictures and clips of her lovely family with her husband and 2 kids. Agata also does a great job of sharing tidbits of info and makes sure to keep things real. She gives some advice to other moms out there, too. We love how relatable Agata's content is.
For more insight into her family, you should follow Agata on TikTok. For top-quality snapshots of her life, Instagram is the place to be… and if you don't want to miss out on Agata's content, follow her on both platforms!
Collabs
This 24-year-old stay-at-home mom is always ready and open to Collab opportunities, having secured some already. If you want to partner with a Canadian influencer whose focus is family, invite Agata to a Collab today.
---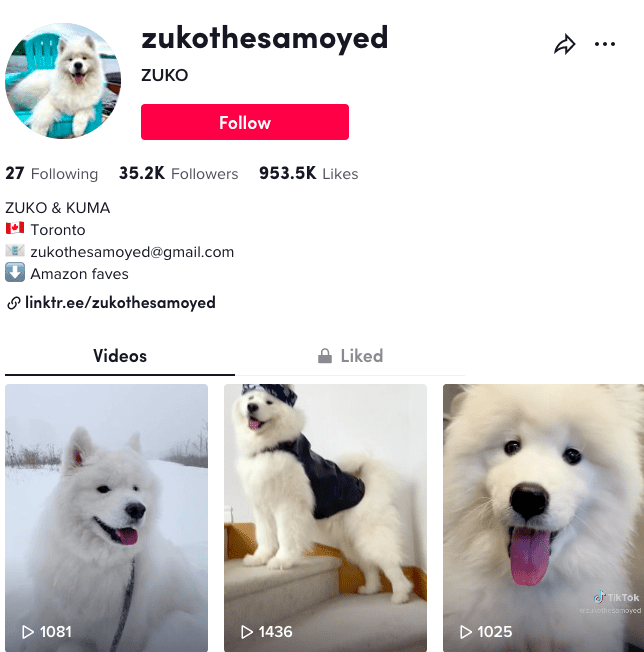 Meet Zuko… he's a Canadian dog influencer. With a face this cute, it comes as no surprise that Zuko draws a lot of attention minding his own business walking down the street!
Content
Are you prepared for extreme cuteness, a whole lot of dog humor, dog tricks, and more? If not, prepare yourself because Zuko will have you awww-ing in a matter of seconds.
With a combined total audience of 143k and growing, as well as an engagement rate of a whopping 19% that many influencers strive towards but never reach, Zuko clearly knows how to capture an audience.
As a brand looking for a dog influencer based in Canada, you cannot afford to miss out on this level of engagement. Zuko could be the dog to take your brand to the next level.
---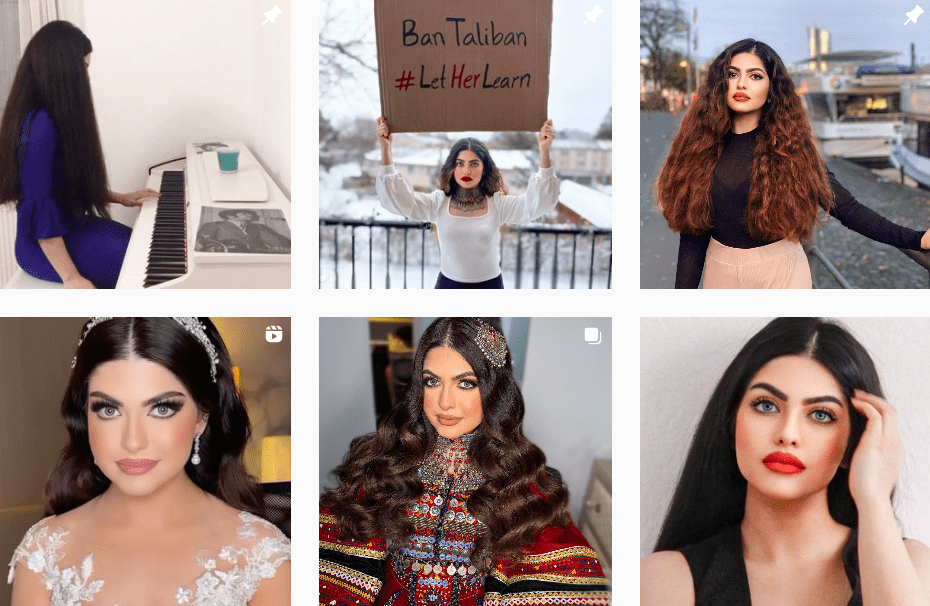 Yalda is an Afghan social media activist, writer, pianist, and artist currently based in Canada. She is also a lover of fashion and beauty. Phew! Talk about having a full plate!
Content
What we love about Yalda's content is that her passion clearly shines through for all to see. Whether she's playing the piano, speaking up on human rights in Afghanistan, proudly dressed in traditional Afghan outfits, or simply showing us her favorite skincare products, there is a depth to Yalda's delivery of content that keeps us coming back for more.
Additionally, Yalda founded her own traditional Afghan fashion brand. It's clear to see how proudly Afghan, Yalda is.
Collabs
It's not often that brands are lucky enough to find an influencer who is extremely passionate about what they do, throwing themselves wholeheartedly into projects that align with their interests. That's why we think Yalda should be next on your list of influencers to partner up with.
---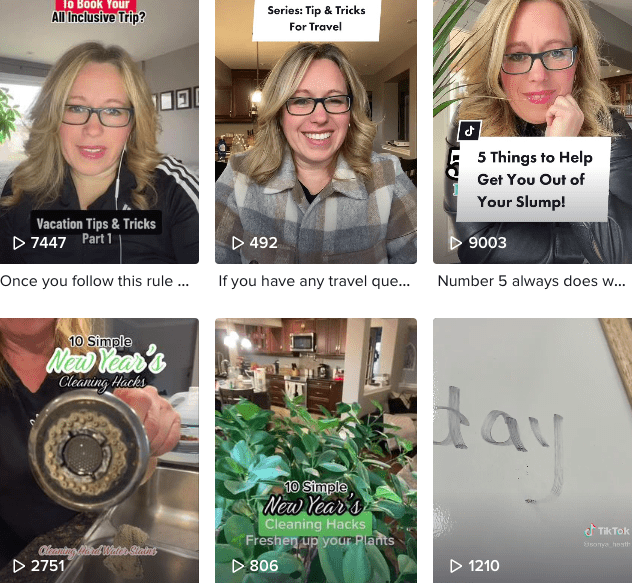 Sonya is a fun-loving mom of 3 with the best bio we've seen in a while… "Living a FULL LIFE in an empty nest!… Wife to 1 very patient man…" Yes, mama! We already love Sonya's vibe.
Content
Once we make it past that awesome bio (hey, the kids are out of the house and Sonya is living her best life – we are here for it), we get to Sonya's content which grabs your attention almost instantly.
Do you ever wish you could get some insider travel tips? Well, Sonya is a travel agent and she does exactly that. Across her Instagram and TikTok, you will find travel tips and tricks from how to book an all-inclusive trip, information on what a last-minute deal actually is, and more.
Then there's another side of Sonya… again, she gives great tips for the home which anyone would be grateful to know. From cleaning hacks to ideas for stocking stuffers over Christmas, she has it all.
With a current following of 138k and an engagement rate of 5.2%, Sonya brings a fresh perspective to her content which her followers are absolutely in love with.
---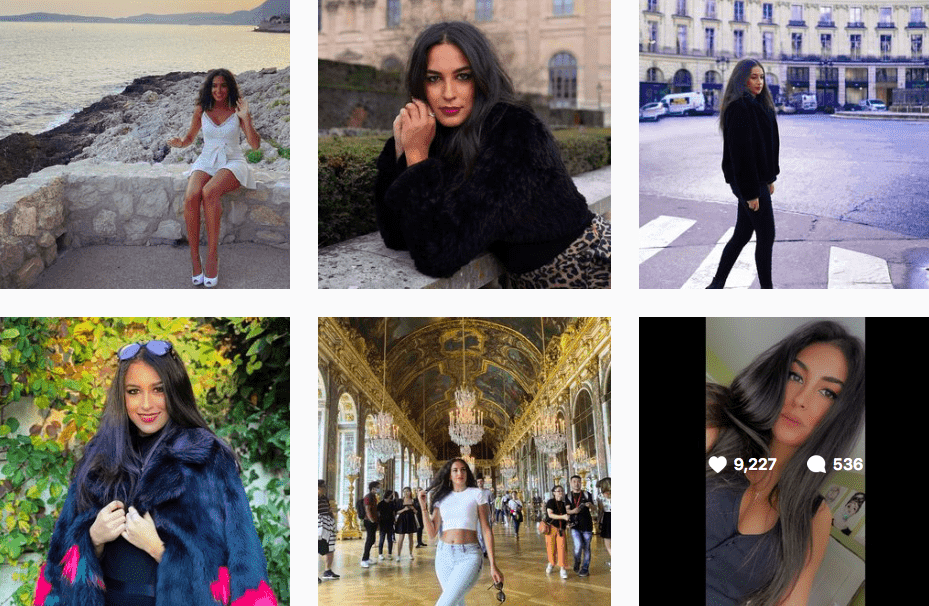 Representing Quebec, Kristel is an influencer sharing outfit inspiration, travel, and lifestyle content. Her motto is, "There's more to life," reminding us to remember what's really important.
Content
With just shy of 218k Instagram followers and an engagement rate of 4.7%, Kristel's content is clearly a winner amongst her followers. Fashion is definitely her forté. She's flawlessly dressed in every picture! Even in just a bikini, best believe it's a super cute bikini. I don't know about you, but if I'm going to go to anyone for fashion inspiration, Kristel is top of my list.
Let's take a look at what her followers have to say:
"So beautiful and amazing look. Love the photo"
"Killing it, dear"
"Thank you so much for the discount"
"Awaiting to get my purchase!"
"I love that coat"
Collabs
As you can see from some of the comments above, Kristel definitely has some influence over her followers. What she wears, they want to buy! With brands such as Shein under her belt, Kristel certainly knows how to rock a look. Fashion brands, this is the Collab to boost your sales.
---

Representing British Columbia, Canada is Debbie. While the rest of us struggle to just leave the house on time with 1 child, Debbie somehow manages to not only get her family of 6 out of the house but around the world as well, capturing it all for us to see.
Content
Her content has all of the wow factors you'd expect to see of a successful travel influencer – awesome views, adrenaline-inducing adventures, romantic sunsets – leaving us all consumed by wanderlust. However, her Instagram feed could just as easily pass as a family photo album – authentic, warm shots of the family with everyone clearly having some good ol' quality family time. This combo of wow and family is clearly working as her social media following totals almost 54k across Instagram and Facebook. Her good engagement rate of 2.3% might have something to do with it…
Her captions are always pretty detailed and she's sure to let you know what to add to your bucket list! Something that should definitely be on your bucket list is a Collab with @worldadventurists.
---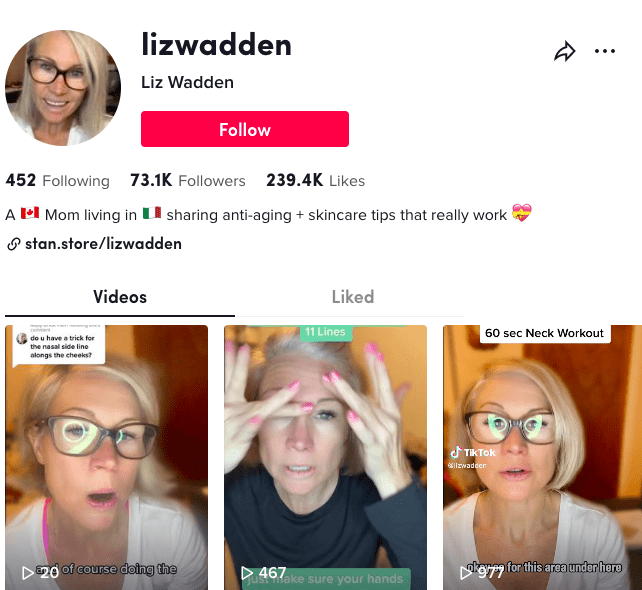 Liz, a Canadian influencer living in Italy, loves sharing her passion for anything health and wellness – face yoga in particular – as well as travel and beauty.
Content
Most of her following is on TikTok, so let's head over there. If you're in need of anti-aging skincare and tips that really work – Liz can hook you up.
Here you can look forward to learning skills such as a neck workout, how to reduce, diminish, or prevent fine lines, lip care, and other skincare tips. It's a gold mine of skincare knowledge over here – no surgery needed!
You will also find a few snippets of her family life in both Canada and Italy with her daughter featuring often. If you are considering living between 2 countries, or simply relocating to another country, Liz is the person to follow.
Collabs
With most of her followers falling in the age range of 35 to 54 and over, Liz is a fantastic Canadian influencer to Collab with if you're looking to reach that demographic.
---

The next talent from our list of Canadian influencers is based in Saskatchewan and has a passion for beauty, skincare, and wellness.
Content
No arguments there. A quick glance at her feed will tell you it's clear to see what Kelsey is all about. Judging by her bare-faced skin, she knows what she's doing. She's like the skincare whisperer! Plus, her posts are super detailed, highlighting the benefits of the products, prices, and so much more. She's got 10k+ followers and a superb engagement rate of 5.9%.
With all these products featured on her page, you know ya girl is killin' the Collab game. If you're a skincare or makeup brand and you're experiencing some FOMO right now, best get in touch with Kelsey!
---

Also representing Ontario, is beauty and lifestyle influencer, Mahnoor. She's also a lover of fashion and spreading positive vibes.
Content
Every one of this Canadian influencer's interests blends to form an Instagram page that keeps her followers engaged. Her content varies from fashion hauls (look forward to some great what I ordered vs what I got) to get-ready-with-me's, to restaurant visits, skincare, makeup looks, lifestyle content, advice on getting rid of the negative people in your life, and SO much more.
Collabs
Other than her amazing content, another thing that sticks out in Mahnoor's posts is the amount of paid partnerships she has going on. Ya girl certainly is not sleeping on those Collab opportunities! They are just as varied as her topics of interest and include brands such as Shein, Ole Henriksen, and other brands in different industries.
If you're looking for a Canadian influencer who is serious about her Collab game, Mahnoor may just be the one for you.
---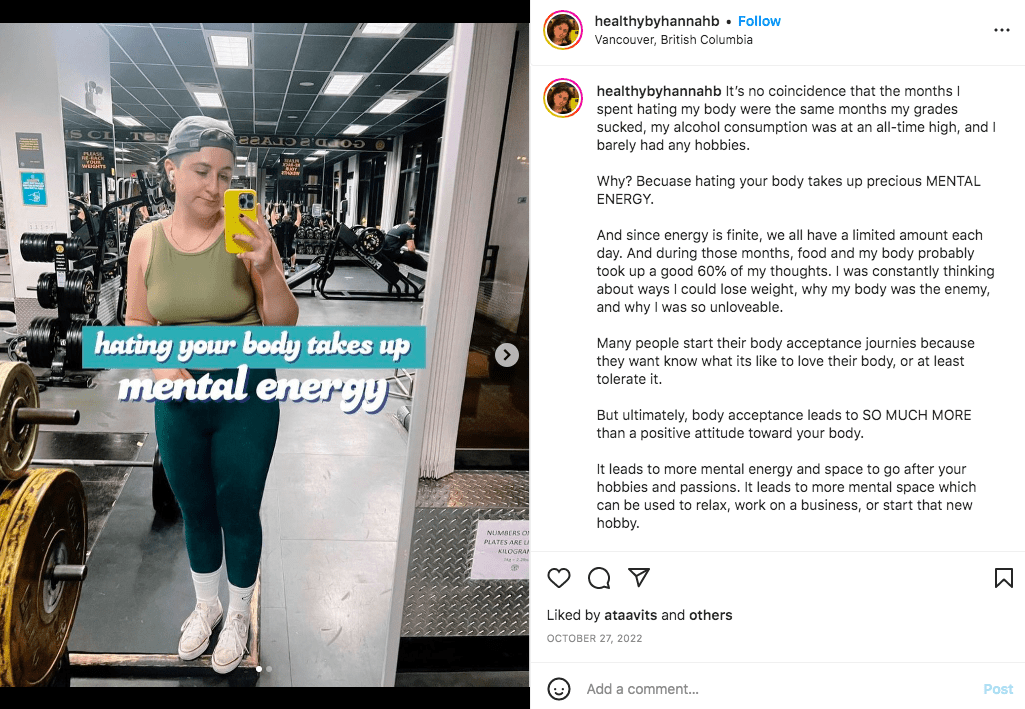 Hailing from British Columbia, Canada is Hannah. She's a Confidence Creator and Educator on a mission to inspire you to find and maintain your inner confidence. Hannah, we're sold. Where do we sign up?
Content
Well, you can find Hannah's confidence-boosting content on her Instagram page @healthybyhannahb.
We love Hannah's open-book approach, sharing how she was diagnosed with 2 chronic illnesses as a child, her upbringing, how she recovered from an eating disorder, and the steps she has taken to become the confident-mindset junkie she is today. There is no doubt that she has helped and continues to help many of her followers.
Hannah delivers her message in perfectly-sized doses of both video and pictorial content, ensuring that her followers stay happy.
This Canadian influencer is another one whose passion shines through her content – a key factor, especially when you're trying to boost people's confidence, don't you think? This is one Collab partner you want on your team.
---

From Quebec, we've got Cyrine. She's a software engineer, lifestyle content creator, wife, lover of travel and adventure, and fashionista.
Content
Based on that intro, this Canadian influencer has a lot going on. However, she does a fantastic job of putting it all together and roping in her 19k+ Instagram followers along her journey. More like JOURNEYS though coz Cyrine travels a lot. Sometimes she's exploring Canada, other times she's overseas.
What we love about her feed is that it doesn't feel staged. It's her life as she's living it and she's living it in the best way. No bad vibes here, just fun light energy. Love it! Looking to Collab with Canadian lifestyle influencers? Cyrine's your gal.
---

From Alberta is this Canadian influencer, Naaz. Her passion for beauty and fashion is clear to see 'coz she be serving lewks!
Content
Wow. Just wow.
Confidence ✓
Variety of looks ✓
Sex appeal ✓
Great captions ✓
High engagement rate ✓
Naaz sure knows how to deliver. Whether she's got a beat face or a bare face, covered up or showing some skin, she nails it EVERY SINGLE TIME. She's also got quite a lot of partnerships going on too with brands in the beauty, fashion, jewelry, and skin care industries – so she's a Collab pro.
All I can say is "Yassss Naaz. Yaaaassss". Excuse me while I throw out everything in my wardrobe.
---

Based in Ontario, Vivian loves boosting the confidence of her followers by emanating her own confidence and expressing herself through fashion.
Content
Self-love, self-care, and inner peace mixed with a bit of IDGAF – that's what Vivian's Instagram feed says and it's perfect. Her outfit choices are trendy, her poses full of confidence, and her captions are straight to the point. Leather pants, bright orange outfits, afros, thigh-length braids, and walking shots as if she's been photographed by the paparazzi. LOVE IT!
I'm sure her 13.8k Instagram followers would agree that Vivian's feed is a vibe. Come on over and experience it for yourself. And if you dig working with confident Canadian influencers, then invite Vivian to your collab program.
---

Based in British Columbia, Madi is a law student and bookworm with a passion for mysteries and thrillers. "Life's more fun with a little mystery". Got that right!
Content
Well, this is refreshing. It's not often you come across a book influencer – or maybe I just need to read more. Point is, this is something a little different from the more popular influencers and to add to Madi's quote above, "Life's more fun with a little mystery and variety".
Her feed looks AMAZING and inspires those scrolling through to look for a good book to read. "What should I read," you may ask. Thankfully Madi shares what she's reading as well as the corresponding synopsis so you don't judge a book by its cover 😉 Her followers can also look forward to honest book reviews and recommendations.
She's also one of the hosts of @wineandcrimebc, a bi-monthly true crime book club! So many opportunities for Collabs with Madi – she's done a few already. Don't miss out.
---

Another Canadian influencer representing British Columbia is Eleni Chountalos. She's a makeup guru who also enjoys sharing fashion inspo. She's also an advocate for body positivity – something we all need no matter our size!
Content
Ok, let's talk about her makeup first because wow this beauty influencer is talented! She's great at using makeup to enhance her beauty, but she also creates characters and alter egos with it. Her creativity and skill are off the charts!
Eleni also has a goal to help people feel good in their own skin. How is she doing that? By putting herself out there and showing her own journey to self-love. WE LOVE IT. What a great way to lead by example.
If you're looking for an influencer actively promoting beauty and fashion with an emphasis on body positivity, Eleni is the one to choose. I'm sure all of her 27k+ followers would agree.
---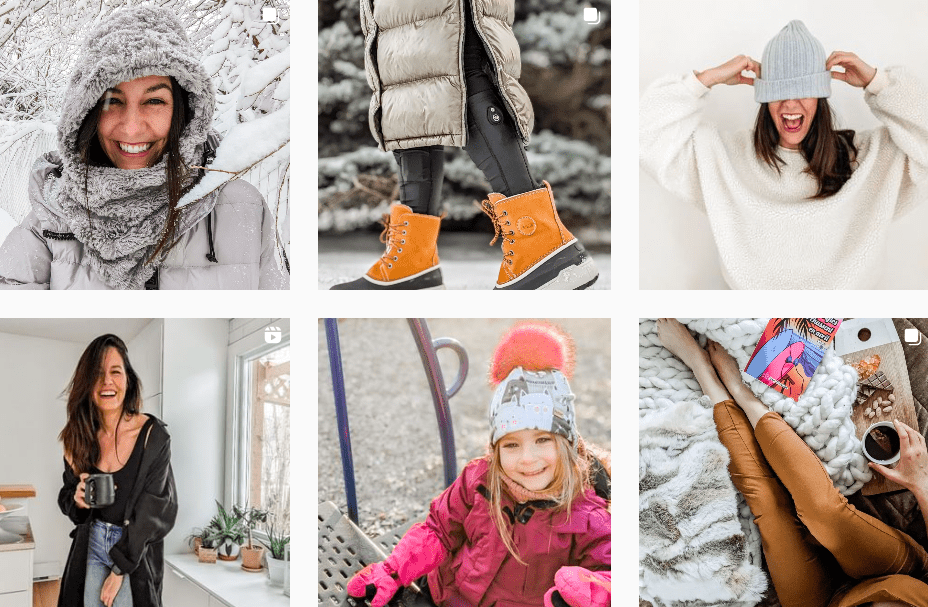 Quebec, stand up! Kim Williams is a mom, lifestyle influencer, and radio influencer who is all about chasing your dreams and girl power.
Content
Sometimes you come across an Instagram page that's great to look at. @kimoune is one of those pages. Before delving deeper into her content, one of your first thoughts is, "wow, what a good-looking Instagram page!"
Of course, we have to delve deeper and we still like what we see! Her captions are mostly in French and often detailed whether she's sharing fashion content, proudly showing off her strong-willed daughter, or sharing other lifestyle content.
We love how Kim's personality comes through not only in her pictures and video but through her captions as well. There's something genuine, real, and relatable that immediately captures your attention.
As a brand, if these are qualities you look for in a Collab partner, Kim Williams should be top of your list of Canadian influencers to reach out to.
---

A fashion and beauty blogger from Toronto, Tasmin serves up a great mix of content for her almost 117k Instagram followers. With a fantastic engagement rate of 4.6%, it's no wonder Tasmin's influence keeps growing.
Content
On this Canadian influencer's feed, you won't only find beauty and fashion but humor, inspirational posts, tips, hacks, and 100% truthin'! Everyone needs at least one of these things in their life. When it comes to fashion, inspiration is a-plenty. She effortlessly transitions from everyday looks – leggings, jeans, cute dresses – to looking like a goddess in her cultural wear.
Oh and let's not forget swimwear.
From video to pictorial or written content, Tasmin has her feed on point. In our opinion, here lies a Collab goldmine.
---

Madison is based in Ontario and is a mom influencer/ parenting influencer with a joyous approach to life – a little humor and positivity don't hurt anyone. We completely agree.
Content
Madison's infectious smile and her baby's cute little face have me SOLD. You cannot help but feel all warm inside witnessing that unfiltered, pure relationship between a mother and child.
Other posts to look forward to include fashion, food, and (more) family. What more do you need? We love the authenticity of this Canadian influencer's feed. She's also got her Collab game locked down, featuring multiple partnerships with brands in different industries. This mom is getting things done.
---
Say hello to Mr. Gay Canada 2019, Josh! He's also an amazing travel influencer and an underwear model at the age of 44! Love it!
Content
If you search for the definition of 'Gay Pride,' Josh's Instagram feed is sure to pop up! And we can't help but love this kind of in-your-face this-is-who-I-am take-it-or-leave-it vibe. When it comes to his travel content, a lot of it has an LGBTQ angle to it such as, "My Visit to 3 LGBTQ-friendly Cities in Britain" or highlighting an LGBTQ river cruise.
There's so much positivity emanating from Josh and his content, that you're going to want to Collab and tap into all the Canadian influencer has to offer.
---

Tanvir is a Canadian influencer based in British Columbia. She loves sharing content about a few of her favorite things – skincare, perfume, and high-end accessories.
Content
Ah, the finer things in life. Tanvir's Instagram feed looks like I imagine it to smell like – romantic, pretty, calm, if such scents exist! She's a self-proclaimed dreamer and romanticizer of life – and it shows. From a Marc Jacobs compact to Gucci shoes, face rollers to perfumes – it's a lifestyle and she's living it.
She generally recommends products she has tried for herself, and she's very active in the comments section (her engagement rate is a whopping 6.1%) – something her 11.1k Instagram followers will surely appreciate. Another thing followers can look forward to? Discount codes! Thanks to her partnerships with various brands.
---

Next up in our roundup of Canadian influencers is Emma. Based in Ontario and she's not only passionate about supporting local businesses but ethical brands as well. Her goal is to "spread awareness of how we can all lead sustainable lives and help local and ethical brands grow and reach their full potential".
Content
First of all, kudos to Emma for helping support the little guy – the local business people. And as a micro-influencer herself, she understands the importance of this. Her feed is really bright and positivity-inspiring. She features local and ethical brands, giving her followers tips on where to go, where to eat, and so much more. For entrepreneurs, she gives business tips such as how to go grow on Instagram.
She's also got a few Collabs in her pocket. If local and/or ethical businesses are right up your alley, this could be a great partnership for you.
---

Next in our round-up of Canadian influencers hails from Ontario—Emily Durham aka "The Straight Shooter Recruiter". She works as a recruiter (duh) sharing her experiences and extremely helpful tips with her almost 209k followers.
Content
If you've got a job interview lined up you're going to want to check Emily's page out and not skim through this one (we see you, skimmers). Emily isn't the Straight Shooter for nothing. Her posts are extremely helpful and straight to the point – from how to fake confidence to long-standing career advice you probably should ignore; from phone interview tips to relatable problems such as how to tell if an interview went well (spoiler alert, you can't).
Here's a glimpse into her comment section:
– "This is the truth that everyone lies about."
– "Saving this to watch 10 minutes before my interview."
– "Hah. Ain't this the truth."
– "Yassssssss!"
Need we say more? Real talk right here.
---
These Canadian influencers are all on the rise in their respective categories. Something worth mentioning is the thread of positivity that connects them all. We love the vibes they're sending out – their influence is sure to increase. Prime Collab opportunities right here. Canada, this was a blast.