From the world's most stunning coastlines, rejuvenating getaways, steamy colorful springs, to beautiful cityscapes and dreamy starry night skies – discover the world alongside these passionate travel influencers.
What more could your wanderlust need?
How about a dose of fashion-loving travel bloggers hopping to island festivals in style. Ice cream and summer-loving in the Maldives. Santorini in a cherry dress. Sunkissed holidaying in Hawaii. And under mystical waterfalls in a beautiful red dress.
This great lineup of adventurous travel influencers of 2022 is the perfect companion for all your destination planning and exploration around the world.
And in addition to that, (for all your brands), these travel influencers are ready and keen to collab!
So if you need a stylish influencer (or two) with tremendous passion for travel to jump on board your marketing campaign, then we have the perfect candidates for you!
Afluencer's talent scouts have dug up 25 of the most passionate and stylish travel bloggers and content creators that will inspire all the wanderlust in you.
From spectacular travel destinations to stylish outfits, let's take a look at what these fashionable travel influencers have to offer.
But first, here's a sneak peek at every travel influencer and blogger that we will be featuring:
24 Most Passionate Travel Influencers Coming at You in Style
So are you ready for these influencers, bloggers, and content creators to inspire you with amazing travel adventures and stylish fashion choices?

Wanderlusting from Wisconsin, USA, is macro-influencer and travel lover Colleen Roden that leaves no adventure waiting. Because you'll find her exploring the world with hashtags like #bucketlist, #exploremore, #islandlife, #instatravel, and #worldtravel.
Feel inspired, pack your bags, and get ready for your next fun travel exploration with Colleen.
Content
Join Colleen's beautiful free spirit at Red Rocks Park and Amphitheatre. Let her welcome you to fabulous Las Vegas. Get lost somewhere in the middle of Hudson, Colorado, in a Teepee. Experience an enchanting chapel in the woods. Set your happiness into the skies with summer sunsets and hot air balloons. And discover what could be the clearest water in the USA at Lake Tahoe.
She's so much fun too. Step into The Office with Colleen in Chicago and capture your own #TheOfficeExperience.
Because travel and food are awesome together, alongside Colleen's adventures, she shares good food and dining tips with her followers like where to go for the freshest fish.
Colleen's Instagram feed gives her followers a passenger's seat into her adventures—not leaving you behind but giving you so much inspiration to join her travel-loving spirit.
From travel hacks, must-have beauty products, to supporting a healthy immune system on the go—Colleen shares all-inclusive content around her travel lifestyle.
Collabs
Colleen is a great match for brands looking to reach travel, lifestyle, beauty, and wellness influencers with a large audience.
---

From British Columbia, Canada, is adventure-loving travel and lifestyle influencer Tasha Ryland.
She's a nurse with a lively spirit for the outdoors and a love for fashion that loves sharing her travel activities with her followers.
Content
With an inspiring Instagram bio that reads "you belong somewhere you feel free" and a moving quote "it's already yours" – The Universe, Tasha is an instant inspiration to go out on an adventure and live your life in fullness.
With the motivating travel hashtag #getoutside, she'll inspire you with East Coast Trail ocean views, paradise in British Columbia, scenic mountain views, river reflections, snowy walks, trails in the woods, and wherever her wanderlust takes her.
Tasha's Instagram profile feels like a gallery of beautiful landscape postcards—from river rapids to roads less traveled in a spectacular white winter wonderland. You wish you were there.
Whether grand or small, followers will always be inspired to explore and find happiness in the simple things like "a fresh cup of coffee and your favorite book".
Tasha will truly inspire you to "live a life you will remember".
Collabs
With a fantastic engagement rate of 7% and a following of mainly 25-34 year olds, Tasha Ryland is an ideal micro-influencer match for travel and lifestyle brands.
---

If there's an epic travel buddy that you've got to take on your next adventure, it's got to be Jamison Murray. If not, he better be on your social media feed—especially if the US is on your itinerary.
From New York, USA, Jamison is an adventurous adrenaline junkie with a passion for travel.
Content
From scenic views to fun trips and thrilling activities—Jamison's Instagram profile is an inspiring gallery of someone living the most out of his life. And just as he says, "I live for living", Jamison will inspire you to do the same.
With his feel-good organic posts on social media that connect you to his life, Jamison feels like a friend you always want to check in on for some adventure inspo.
Rainy days at a pumpkin orchard, scenic views at Owasco Lake, sunsets in Cali, storms in Palm Desert, Hollywood walk of fame, and skydiving in California. Jamison's travel spirit is nothing short of exciting and definitely worth story-telling.
Collabs
You can only love Jamison more as you discover his passion for promoting sustainable brands—from environmentally-friendly outdoor clothing to "Save the Fishes" water bottles.
---

From Florida, USA, Jackie Mesa is a fun and adventurous travel and lifestyle influencer that is passionate about sharing the things and experiences that she truly loves.
Content
Jackie is all the magic you need to feel on an exciting travel Instagram feed.
Her lively outgoing youthful energy is an instant love at first post.
From posing at Hollywood studios to epic Jurassic shots at the Island of Adventure—Jackie's content creativity will get you hooked and scrolling for more.
She's a talented creator and influencer—sharing valuable travel info videos like "Visiting All Four Disney Parks in Orlando", "Best Places For Pictures at Magic Kingdom", "Visiting Key West Florida", and more.
And you've got to love Jackie's whimsical Disney-themed content—from castles to her impressive Mickey Ears collection. She certainly knows how to make magic on social media.
You simply can't get enough of her fascinating Instagram feed that's full of her travel and lifestyle experiences.
With an Instagram profile so bubbly, you've got to check Jackie out on TikTok too.
Collabs
Jackie is an awesome match for lifestyle and travel brands looking for fun micro-influencers.
She also has an Amazon shop—perfect for Amazon collabs too.
---

Based in California, Haley Dasovich is an accomplished YouTuber, impeccable content creator, and an inspiring go-getter with an adventurous heart for travel.
And she happens to be quite the techie too.
With a profile as rich as hers, it's no surprise that Haley's enthusiasm for lifestyle challenges has a contagious effect on those that catch a glimpse of her exciting world.
Content
Whether she's exploring the exotic coast of Mexico, breathtaking lagoons in the Maldives, majestic Giza Pyramids, or a dreamy oasis in Tunisia—Haley's travel content is a master composition of beautiful images and videos with charming captions.
And it doesn't stop there because her stirring background story of how she left her 6-figure salary to pursue her passion will leave you feeling motivated and empowered.
"You're always one decision away from a totally different life" – Haley.
This seasoned macro-influencer definitely has a talented hook on her followers.
YouTube Channel
598K+ subscribers later and Haley Takes On the World has undeniably lived up to her YouTube channel name. From airline reviews, must-know destination travel tips, "How to Travel the World for FREE", to "4 Jobs You Can Do From Anywhere"—Haley's YouTube presence is loaded with hot travel content.
Collabs
From travel and hospitality companies to lifestyle products—Haley's is a talented macro-influencer match for brand collaborations that fall within her interests.
---
Vale – @vval_e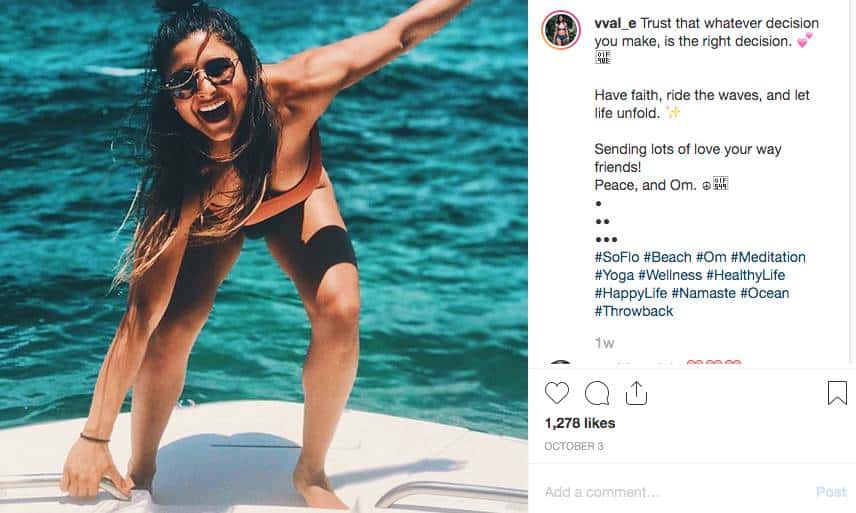 Holistic life-loving fitness explorer and writer, Vale @vval_e.
Based in the United States, Vale is your girl that will inspire you to live your best life. She's a certified holistic lifestyle coach that is passionate about finding harmony. A harmony that motivates her to escape to reviving local sites.
Content
From beachside meditations, lakeside yoga, hiking through the mountains to retreating to unreachable cabins and also wandering through the woods.
Her mindfulness takes her as far as her nature-loving desire will take her. Even if it's just to hug a giant tree log in the most beautiful way you could imagine.
Her local travel retreats combined with her health enthusiasm will surely influence you enough to live a better, balanced life.
Wellness seekers can be filled with life-improving messages and stories found on her blog.
Collabs
Our inspiring travel influencer promotes mostly health and wellness products on her social media channels – some of which include CBD products.
Want to know more about Vale? Then go look up Vale's Instagram handle, @vval_e.
---
Stefano Cicchini – @stefano_cicchini

Featured as one of the 250 Best Italian Content Creators by Buzzoole (a top marketing agency in Italy), Stefano Cicchini is a seasoned travel and food blogger with compelling creative storytelling talents.
Content
Stefano's flattering dusty-toned Instagram profile is enriched with lively sparks of what travel is typically all about.
From connecting with the locals in Thailand, diving into the icy Baltic Sea, dining over the beautiful cityscapes of Bangkok, to strolling along the banks of the Danube in Budapest.
Beyond his appealing images, Stefano documents and shares practical destination tips that travelers would find valuable. Like where to go for breathtaking views if you'd like to skip the long lines to the London Eye.
Stefano is, without a doubt, a bookmark source for all the practical details of your travel plans.
Stefano's content is mostly in Italian. But I must admit that his posts are so fascinating that you'll be tempted to translate. Especially once you discover the hidden nuggets of info.
Blog
If you're thirsty for more beautiful pics and stories about his travel and food experiences, then visit the Stefano Cicchini blog. Indulge in captivating posts like "The City That Breathes Music" and "Christmas in London: 10 Things You Absolutely Must Do".
Collabs
Stefano has teamed up with multiple European tourism bodies. One notable sponsorship was a campaign that he took part in for the first Formula E Grand Prix based in Rome.
---
---
Sofia – @sofiakrarad

Traveling the world for a living as a flight attendant, Sofia lives the life that most only dream of. But "always chase your dreams", she says.
Content
Travel, beauty, makeup, and lots of FOMO.
Sofia's Instagram profile is a tasteful spread of experiences around the world. While she may not mass publish content like other mainstream influencers, Sofia's posts are full of quality and nothing less.
Skiing through snowy mountains. Scouting Switzerland from the sky in a chopper. Camel rides through a safari. Beach tanning. Bubbling through colorful Morocco. And how about those iconic experiences like a spa soak in the Dead Sea and a mesmerizing dip at Tibumana Waterfall in Bali.
Wherever the skies take her, you'll certainly have that I-need-to-book-that-trip feeling as she shares the highlights of her amazing adventures.
Collabs
Sofia has had success with her collabs as a travel influencer with a number of tourism companies and restaurants in Saudia Arabia.
---
Best Beaches in The World (by Leonid) – @worlds_beaches

For the ultimate experience of the world's most stunning coastlines, Best Beaches in The World is love at first sight.
Content
Warning: you may suffer from a serious case of wanderlust. But that's ok, 'cause it's nothing that a holiday to any one of these amazing beach destinations can't fix.
Sandy beaches, blue oceans, colorful beach umbrellas, and all the sunshine your soul could ever need.
From sunbeds on white sandy beaches in Mexico, thatched cabins in the Philippines, beautiful Barbados, resort perfect Fiji, crystal blue waters in Puerto Rico, vibrant coastal lines of Kenya, calming rocky beaches of Seychelles to the ultimate beach life in the Maldives.
Hawaii, Anguilla, Cook Islands, Thailand, Cayman Islands, US Virgin Islands, and any other perfect paradise – Best Beaches in The World will take you there.
Picture perfect beach landscapes and drone footage that will wow you away.
"Take me there" is all you'll be feeling, post after post.
Collabs
The Best Beaches in The World is an ideal match for brands looking for top travel influencers to help reach the global audience of beach lovers.
---
Crystal Egan – @castawaywithcrystal

From Australia, Crystal Egan is a travel blogger that loves to inspire the extraordinary power of travel.
Crystal also calls herself an animal whisperer and tree hugger among many other charming titles – all invoking curiosity to know more.
Content
Crystal's Instagram profile is a calming and reviving source of slow travel. Soaking in outdoor and cultural experiences wherever she goes.
Incredible hiking trails, beautiful highway passes, steamy vivid colorful springs, remote road trips, tiny uninhabited islands, and not to mention those unusual destinations.
Crystal will certainly inspire you to experience places beyond mainstream tourism. Soak in the awe-inspiring handcrafted floral motifs on the interior walls of the Taj Mahal. Wander through enchanting lantern markets in Turkey. And then set yourself free under a hidden waterfall in Mexico.
Soulful travel couldn't feel anymore rewarding than this.
Blog
For more about her meaningful travel adventures, visit Crystal's blog. Here you'll get advice on deals, guides, adventures, cheap travel, eco-tourism, culture, and more.
Explore many places and learn about interesting things like "How to See Turtles Nest And Hatch in Mexico" and so much more.
Collabs
Crystal quite rightly deserves a feature spot amongst the other top travel influencers, having partnered with great brands that include Red Lodge and Sudio.
---
Ava Roxanne – @spatravelgal

From the USA, Ava Roxanne is a seasoned luxury travel explorer inspired by the finest spa experiences across the world.
Ava is also a USA Today Spa Expert and a travel writer.
Content
Top destinations, luxury spas, fluffy robes, fine dining, and also not forgetting those spectacular views. Ava's Instagram profile is a rich showcase of her luxury travel experiences.
Eating a Quiche Lorraine on a French canal cruise. Pampering spa days in VIP lounges. A perfect soak in an infinity pool. A high-class afternoon tea in a grand hall overlooking the breathtaking mountains of Switzerland. Serene sunsets in paradise. And the ultimate private island experience.
Travel with Ava is nothing short of extraordinary.
Blog
On Ava's blog, followers can explore more of her experiences and knowledge on spa travel, luxury travel, and wellness travel.
Collabs
Some of Ava's brand collabs as an influencer include the likes of Travel Birds, Babbel, as well as a number of hotel brands.
---
Suzanne Jones – @thetravelbunny

From the UK, Suzanne Jones is an inspiring influencer in all things travel, food, and adventure.
Content
Amazing destinations, culinary experiences, and thrilling adventures. Suzanne's love for travel captures your heart as you indulge in her Instagram pictures and stories.
Crooked houses, cobbled roads, a 12th Century old haunted inn, an enchanting lighthouse, a walk into mystical woods, dreamy sunsets in Santorini, European historical architecture, cultural heritage sites, and a retreat on a yacht in Spain.
Travel through Suzanne's eyes will stir up a unique sense of mysterious adventure.
Suzanne does more than satisfy her followers with just a standalone destination post. Instead, she shares the depth of her experiences in each location with multiple posts at a time. Allowing her followers to absorb inspiration from many views of travel.
Blog
Let your wanderlust carry you away into Suzanne's blog with irresistible posts like "An Epic 2-Week Vietnam Adventure", "The Art of Armchair Travel", and more.
Collabs
Suzanne is a great fit for brands looking for travel influencers to promote destinations, tourist sites, and unique places and activities.
---
Lisa Niver – @wesaidgotravel

From the USA, Lisa Niver is an impressive award-winning travel expert and writer that has explored 101 countries and 6 continents.
One of her recent accomplishments was her nomination as a finalist for the 62nd Southern California Journalism Awards including the 2020 Online Journalist of the Year.
She is also an on-camera host at KTLA TV where she talks about travel.
Lisa has sailed the seas to exotic locations for 7 years, and she has also embarked on a self-reinvention journey of herself as she backpacked through Asia for 3 years.
With such an outstanding profile, Lisa is a notable influential travel professional.
Content
On Instagram, Lisa's content is organically presented – sharing her life travel experiences with thoughtful and inspiring captions.
From cultural experiences with local children in Indonesia, a visit to the world's biggest Buddhist monument, temples in Cambodia, skiing in Utah, to brave snorkeling with jellyfish in Palau.
With images and videos, Lisa's travel content will certainly captivate you enough to inspire interest to explore these places and live these experiences for yourself.
Blog
For more depth into Lisa's global adventures, visit her We Said Go Travel blog. Here is where the strength of her travel influence can be found. Home to her blog are stories, adventures, and travel info. Like her "Tell Me More About" series, and posts like "I Remember When: We Went Cruising", and "My Sonoma Adventure: Redwoods, Hiking & Wine".
YouTube
On her YouTube channel, Lisa shares a series of stylish videos on each place she visits – providing aspiring travelers with more than enough inspo on where to go, what to do, and where to stay. You bet videos like "Dive with Volcano Island Divers" will influence your own adventure to Tanna, Vanuatu.
Collabs
Among many features, Lisa has been published in top travel publications. Such as American Airways, National Geographic, Robb Report, Saturday Evening Post, Scuba Diver Life, Sierra Club, and Ski Utah – just to name a few. It's no wonder she made it to our list of top travel influencers!
---
---
Wendy Song – @wenwensong

Based in Los Angeles, Wendy is a travel photographer with a passion for the outdoors and sustainability.
Content
Travel in the eyes of a photographer always feels like an adventure. And that's exactly what you get when you're on Wendy's Instagram.
Her love for the outdoors couldn't get any more inspiring. From hiking up the Canyon Falls Trail, catching fading bioluminescence, toasting up at Sunset Beach in Malibu, view gazing from the Desert View Watchtower in Grand Canyon South Ruin, touring the Los Angeles County Museum of Art, to the classical dreamy starry night sky in California.
Exploring the world through Wendy's camera lens is certainly a wonder. But her profile feels delightfully organic and not all full of "picture-perfect" shots. She posts some personal snaps of herself with blog-like captions – storytelling and also sharing travel info along the way.
Blog
Wendy's travel explorations are detailed in her blog with destinations including America, Maldives, and Iceland. "Exploring Grand Canyon" and "Hunting for the Northern Lights" are just some of the adventurous posts you can expect from her.
---
Ruth – @tanama_tales

Based in Southern California, Ruth is an explorer and blogger that loves inspiring meaningful experiences.
She also has a love for wild beaches, piers, and ethnic neighborhoods.
Content
Ruth is a relaxed traveler, that's for sure. Sightseeing and easy-going is how she rolls – a pleasure indeed for those that enjoy seeing the world this way.
On Instagram, Ruth shares travel experiences and activities in and around Southern California. If you're in this area, then she's a must-follow for inspo on things to do and places to see.
But she'll also venture beyond the seas and oceans to Euro destinations like Germany and the Czech Republic.
Museums, architectural sites, "lunch over the canal", tower views, bridges, and also charming "riverside houses in Frankfurt".
Her posts will certainly stir new travel interests and get you googling up on these stunning places.
Blog
Curious followers can indulge in more of her content on her Tanama Tales blog. With intriguing posts such as "Easy Day Trips from Palm Springs, California", "Things to Do in the Salton Sea, California", and "Things to Do in the Little Tokyo, Los Angeles".
Collabs
Ruth's recent collabs have been with top brands known for working with travel influencers such as USA State Parks and Everyday Wanderer.
---
Yari – @beautybackpckr

From London, Yari is an uplifting solo traveler who loves sharing destination guides and beauty tips from around the world.
Trips and lipsticks is what Yari's itinerary is all about.
Content
Global destinations, chilling spa breaks, and also everyday beauty and makeup are the highlights of her Instagram profile.
From unforgettable sunsets in Costa Del Clapton, picturesque landscapes in Norway, artistic streetwalls of Brooklyn to the mystic Taj Mahal in India.
And if there are colorful crumbling walls and doors insight, Yari certainly won't miss snapping one of her signature shots.
Could you be any more inspired to travel solo?
Blog
On Yariella's The Beauty Backpackers blog, entertain your wanderlust with hot blog posts such as "The Ultimate Packing List for Backpacking Your Way Around the World".
YouTube
Yari's adventures get more exciting on her YouTube channel, especially when she creates video content like "A Backpackers Paradise" and "Amazon Rainforest".
Collabs
Travel and tourism brands looking to collab with top nano travel influencers, Yari is indeed the perfect match for you.
---
---
Alizee Paradis – @electricalizee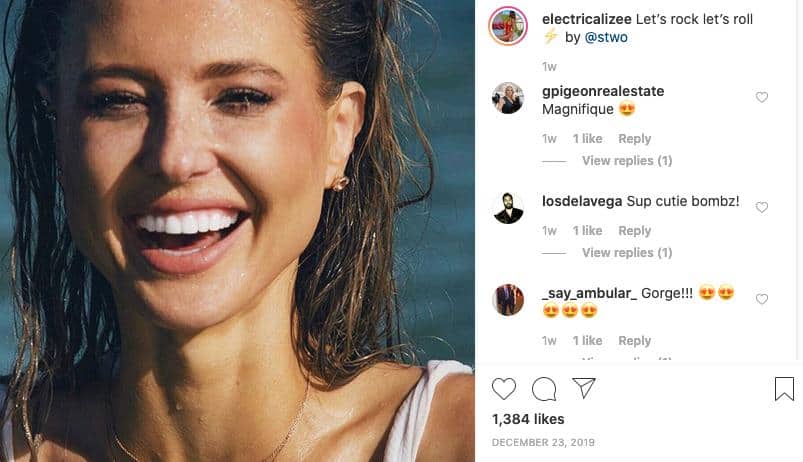 Alizee Paradis is a gorgeous model influencer that will take you on her travels around the world in 2022 with fashion and music at heart.
But there's so much more to Alizee. She's a retired pro and D7 tennis player, she has a master's degree in finance and she's also an owner of a seasonal Italian hotel. Alizee certainly comes with a pretty impressive profile, doesn't she?
Content
With a smile so bright and a bikini body so perfect, you'll catch her on a luxury yacht, soaking in stunning ocean views, sipping on cocktails by the beach, or buzzing at an island festival. Of course, all in style – just as a fashion-loving entertainment adventurer does.
Pulling in audiences across the U.S, Canada, and Italy, Alizee has a blooming social media influence with a noteworthy engagement rate of 4.57%.
Collabs
Some of her collaborations have been with big-name brands such as LA Fashion Week and Louis Vuitton X Museum, all of who love working with stylish travel influencers and bloggers. She's most certainly your 2020 influencer girl for those sleek and stylish paid partnerships.
While Alizee's main influence is on Instagram, she does also have a presence on Facebook, Twitter, and Snapchat.
---
Fahira Fazlic – @zlicc – Fashion Mixed with Adventures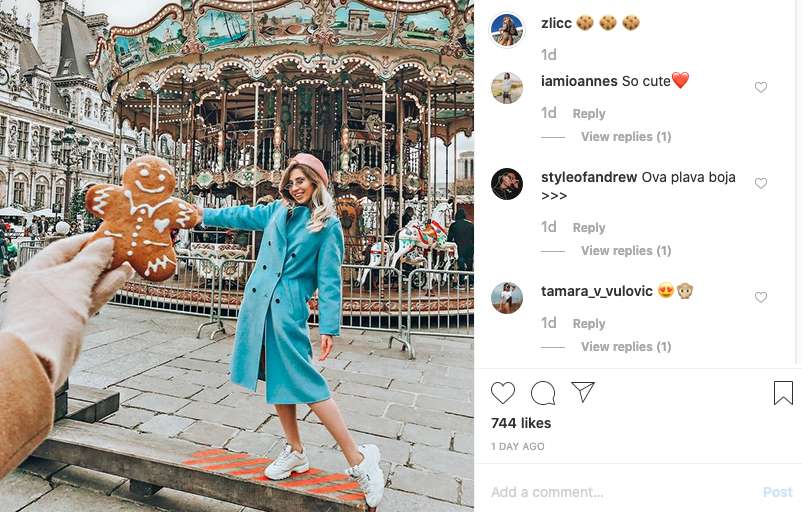 Fahira Fazlic is where fashion and travel lifestyles create a beautiful feed of adventures across the world. And seriously, more than enough FOMO to make you visit booking.com about your 2020 dream getaway.
From France, Fahira is also the founder of an online gift service business, LuvBox Paris.
Content
Someone, please wake me up. I must be dreaming. Because I feel like my heart has just traveled the world with our influencer, Fahira.
Fahira will charm your summer-loving soul with ice cream in the Maldives; she'll dazzle you with city skyscrapers in Moscow; warm your heart with elephants by a waterhole in Sri Lanka; give you a cultural taste of Nepal; and so much more.
Doing it all in gorgeous swimsuits and stunning dresses.
Collabs
Fahira's latest paid partnership was with Jungle Travel (no stranger to working with influencers), where she promoted several travel features.
---
Darling Coco – @darlingcoco – Fashion Blogger Goes Travel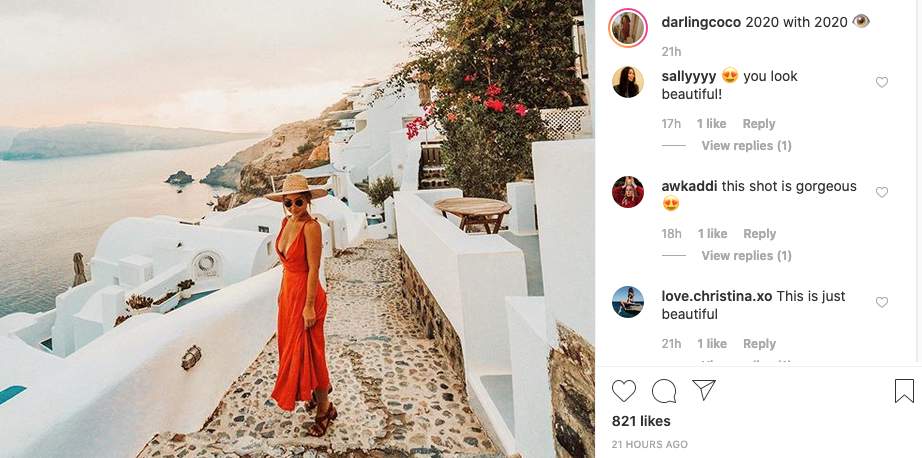 Darling Coco is your 2022 professional photographer turned fashion blogger with a passion for travel.
From travel guides to style finds, Darling Coco turns these two worlds into one with her charming social media presence.
Content
With a bright cherry red dress, the classic Santorini white resort could not look any more gripping with Coco. She'll take you on a travel exploration into the city of Barcelona, to the top of NYC, or to the Grand Canyon in beautiful style.
From relaxing in an exotic nest in Mexico, getting lost in sand dunes, to chasing waterfalls in Yosemite – Coco will make your wanderlust heartbeat.
With soft neutral color tones to her feed plus her sophisticated style, Coco's social media profile is a breath of fresh air to the modern mature audience.
On her website, she blogs about her travel adventures, her style passions, and also other interesting stories about her lifestyle – like her latest journal entry about her proposal story. Followers can also shop in her closet, too.
---
Chelsey PeCoy – @chelseypecoy -Hawaiian Fashion & Travel Blogger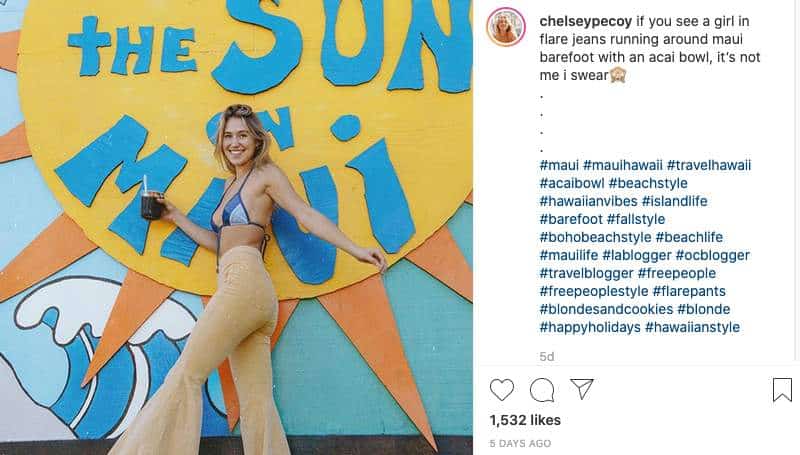 Leisure travel, vegan lifestyle, and a whole lot of sunshine – Chelsey PeCoy is your 2022 freelance model influencer with so much happy and fun vibes to offer.
Currently based in Los Angeles, Chelsey is growing her modeling career while fulfilling her passion for travel.
Content
From holidaying in Hawaii with funky flare jeans, sunkissed swimsuit beauty, lovely casual boho style by the beach, to cowboy vibes in Arizona. Chelsey is an adventurer in her style just as much as she is in travel.
"Where is this?" and "OMG those pants" is how she gets her commenters buzzing about her content.
Then her bubbly personality comes all out on her YouTube travel vlog where some of her posts include "My Weekend in Mexico City" and "Moving to LA alone".
---
Monisha B – @aqualibrantraveler – Travel & Fashion Blogger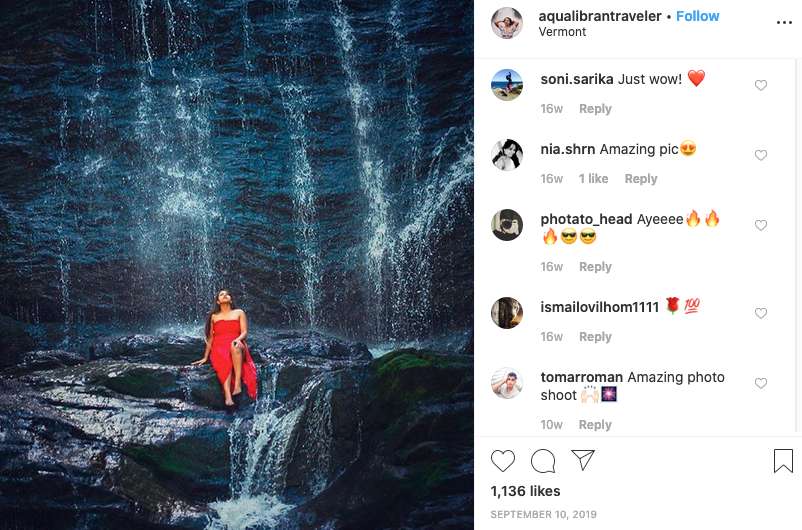 Monisha B is a devoted travel blogger with a very stylish and vibrant fashion sense.
Based in Boston, Monisha certainly knows how to make her content pop and wow her followers away.
Content
With spectacular destination images in eye-popping color styles, it's rather difficult not to notice Monisha's posts. And it's difficult not to like or drop a comment either. Her high content engagement rate of 9.49% certainly says it all.
Monisha, in a gorgeous red outfit under a mystical waterfall. A pretty vintage dress in an old town. Flowing long summer dress in an ocean cave in Puerto Rico. And a stunning sheer black dress at the beach. From hiking spots to mountain cabins.
Dresses and dresses. Wanderlust and wanderlust.
Her followers react with, "what a spectacular place" and "absolutely stunning". Charmed by her travel adventures and charmed by her vibrant style.
You have to see her travel posts for yourself and you'll fall in love with this vibrant influencer.
---
---
Chris Burkard – @chrisburkard – Photographer Extraordinaire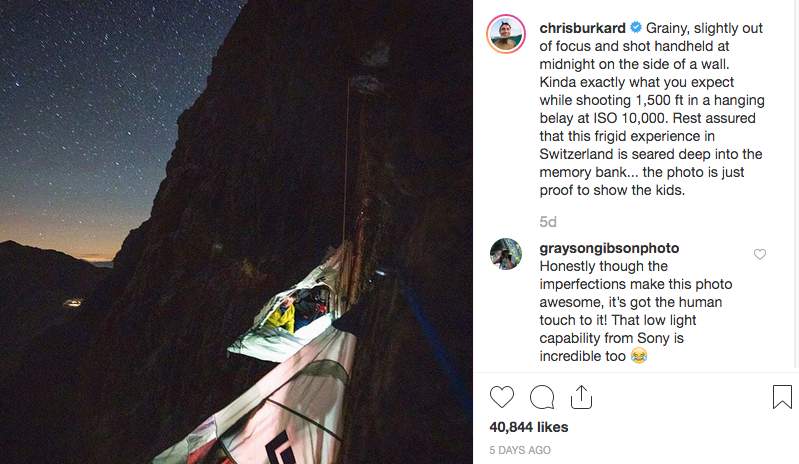 Earth-loving awe-inspiring traveling photographer, Chris Burkard.
From the U.S.A, Chris is an award-winning photographer and also a social media influencer. Traveling through all corners of the world, all year round, his mission is to visually capture stories to inspire people to connect and love the earth.
He also passionately advocates the preservation of the wild.
Content
Followers of Chris see the beauty of the earth like never seen before.
Breathtaking natural landscapes that will move your heart and probe you to want to see more.
Rare magnificent sunsets in New Zealand. Canoeing through the energetic mountains of Italy. Flying over glacial rivers in Iceland. Overlooking the enchanting arctic sky. Parachuting through waterfalls. Erupting Raikoke volcano in Russia. And a magnificent family portrait of whales that will flood your heart with emotion.
These are just a few of his many remarkable explorations.
Some so incredible that this inspiring influencer will even share raw travel footage off his phone, good enough to blow you away.
His images speak volumes. But that's no surprise coming from a professional photographer.
Followers can shop some of the best images from his website as well as get info on his upcoming workshops and events.
Collabs
Chris certainly deserved to be on our list of travel influencers that inspire, having collaborated with big-name sponsors such as Sony, prAna, PolarPro, Medterra, and SmugMug.
---
Chelsea – @chelseakauai – Hawaiian Explorer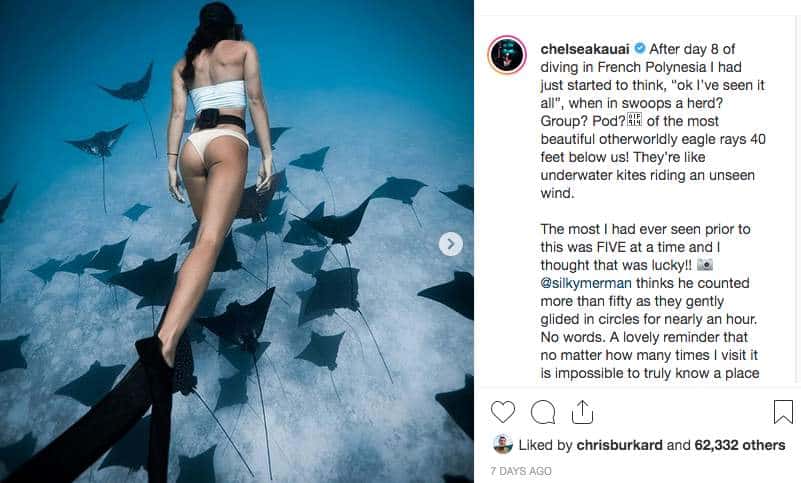 Water-loving adventure traveler, Chelsea.
Diving. Surfing. Snorkeling. Hiking. Plus captivating photo and video memories across 53 countries worldwide.
Based in Hawaii, Chelsea is the adventure-seeking traveler that will give you enough FOMO to book that once-in-a-lifetime holiday you've always been dreaming about.
Content
Hammocks. Rainbows. Treehouses. Deep ocean blues. And exotic tropical greens.
From snorkeling through coral reefs under waves in French Polynesia, swimming in Bora Bora with the most eagle rays your eyes could ever see, observing a baby humpback whale, water diving in the Philippines, to desert dancing and stargazing in Indonesia.
Chelsea's images are pretty surreal. And her drone video footage gives her followers a real sense of her adventures.
She's daring enough to walk on the edge of a building in an exquisite dress for a mesmerizing shot of the Eiffel Tower like you've never imagined. And her playful pics with giraffes shows enough of her quirkiness to make you smile.
If you seek more inspiring travels, then our awesome influencers' well-presented influencer blog will satisfy your craving. Followers can also catch her on her growing Youtube channel.
Collabs
Some of Chelsea's sponsors include Canon and Adobe while her latest paid brand collaboration is with American Express.
---
Eric Rubens – @erubes1 – California Dreaming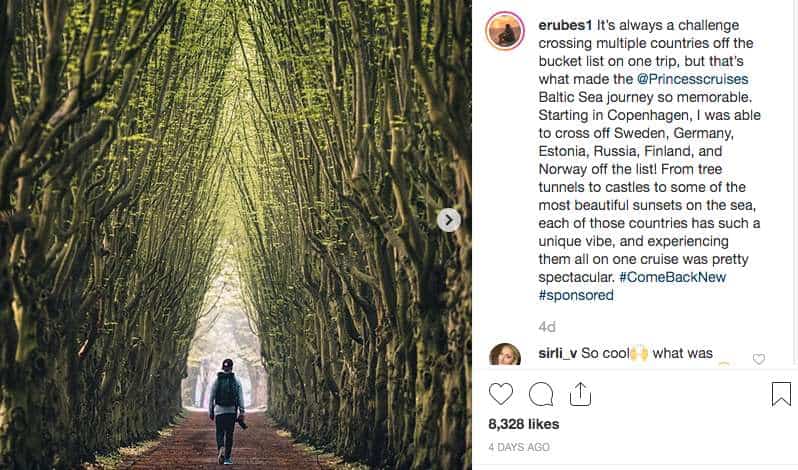 Mesmerizing photographer and videographer, Eric Rubens.
Based in South Carolina, Eric's skillful photography plus his passion for travel has seen him make big lists like Business Insider's Top Instagram Travel Influencers at #3.
Content
Mesmerizing moments. Pretty cool travel experiences.
Winter wonderlands in the mountains. Camping in the middle of nowhere under the mystical milky way. Canoeing through the caves of Croatia. Exploring the beautiful sunrise coastlines of New Zealand. Lost in fall cabins in New Hampshire. And approaching the edge of cliffs.
Where else would you rather experience the wow factor of all that travel has to offer?
Following Eric only gets more captivating when you visit his growing Youtube channel where he shares some of his stylish video travel campaigns.
Collabs
Eric's work features some big-name brands in the travel industry such as Ritz-Carlton Hotels, Air New Zealand, American Express, T-Mobile as well as photography sponsor, Sony.
He has produced some outstanding campaigns from Visit Jordan, Conrad Bora Bora, Sony Alpha Collective x British Virgin Islands, and Travel Alberta – just to name a few.
Eric's work is certainly nothing short of a high standard.
---
Jannik Obenhoff – @jannikobenhoff – German Roamer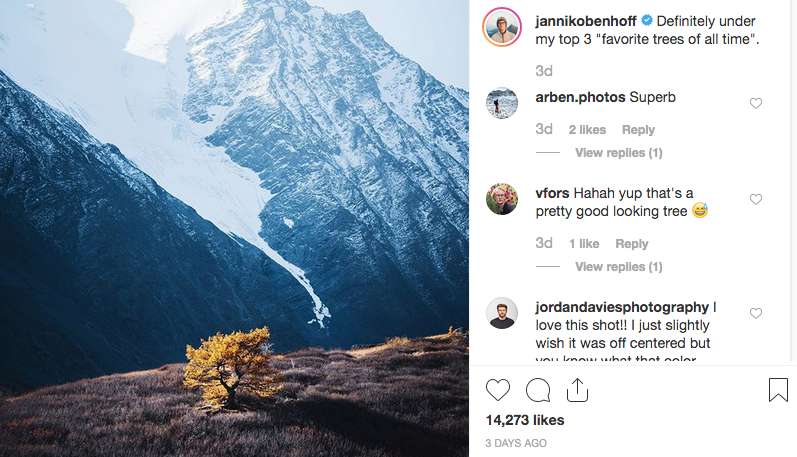 Peculiar German photographer roamer, Jannik Obenhoff.
One of the 14 members of German Roamers, the biggest photography community in Europe, Jannik loves to share the diversity of the world in a not-so-typical way.
Content
His different perspectives of the world will certainly have you moved by the unexpected beauty of the earth.
From a lonely tree in the grand mountains of Altai Krai in Russia, unreachable lava valleys, chilly cabins of Norway, rainy endless bridge walks to misty mountains and cloudy landscapes.
This amazing influencer will inspire you to see and travel the world in a different way and certainly inspire unconventional experiences. Something his European audience is charmed by.
If you need to live more of his experiences, then check out his Youtube channel for some of his inspiring travel memories.
Collabs
Some of his travel work features Iceland Travel, Visit Abu Dhabi, and Visit South Tyrol.
You can also find out more about Jannik's inspiring influencer work on his travel website.