Creating inspiration, dropping entertainment, and sharing a whole lot of love for their passions. These amazing influencers to watch in 2023 are making an outstanding social media impact in their industries.
Here with Instagram influencers, YouTubers, bloggers, podcast creators, and TikTok'ers.
We will be introducing you to a wide range of influencers and content creators from fitness coaches to yoga masters. Here are the various category of influencers you will meet today:
You can meet and even invite these influencers and creators to Collab right here on Afluencer. So let's go check them out.
Top Fashion Influencers of 2023
Follow these influencers this year if you want to know what's hot and what's not in the world of fashion. And if you're looking to partner with fun and stylish content creators, they have experience in that department too.

Afluencer's Top Fashion Influencer of 2020 and still going strong. Olga Ferrara has been flourishing on the social scene lately with outstanding content (as always).
From hot partnerships with brands such as payment card LANISTAR for the ultimate shopping spree to chic outfit hauls for stylish inspo that wow her fashion fans to shop away, click after click. Because that hot pink plush jacket with glossy black leggings is guaranteed to make a thumb-stopping appearance on your feed.
Dropping Parisian designer intros, Olga's sophisticated fashion influence continues to make a statement.

Underneath the masks that have become part of the outfit, fashion-loving Jasmine Jones has been a light-hearted fashion inspo to her followers—showing the fun and bright side of the everyday mom life with her girls.
"Start today with a grateful heart" she captions. Do you know what else helps? A flattering denim shirt dress with suede nude knee-high boots. And don't forget to accessorize with your gorgeous smile.
Yup, Jasmine continues to serve moms with pretty style and bright smiles on her Insta feed—just what we need.
---
Top Beauty Influencers of 2023
Get in on the latest gossip and beauty tips when you follow these social media influencers. They have audiences that adore them! A collaboration with these creators will surely increase awareness of your brand and products.

New season, new beauty treats. That's what your lovely everyday girl, Kathleen Dougherty, has been whipping up in her makeup purse.
Keeps her followers treated with must-have skincare and beauty essentials for the cold weather. From intensive healing lotion, and cruelty-free honey silk facial serum, to sweet lip treats, and warm eyeshadow pallets.
And also seductive giveaways to celebrate her growing fans! Lots of goodies and TLC for Kathleen's followers.

Beautiful Hayley Hall has been showing up on Instagram with enough feel-good and look-bright content to uplift your spirits.
From movie nights in with pampering eye masks to fun stocking stuffer ideas like Lapland body cream, lip balm, hair ties, toilet spray (LOL), and magnetic lash extensions. All this plus pretty outfits.
Lots of FOMO if you're not engaged with her yet.
---
Top Fitness Influencers of 2023
Start your journey to improving your fitness by following these inspiring influencers. Find these influencers on our popular platform, and start a rewarding Collab with them today!
Andy Anneville (@andyanneville) – Fitness Coach

Just in case you lost your motivation in the past year, fitness coach Andy Anneville is a super-powered reminder to keep hustling for those gains.
"…don't let minor setbacks keep you down" – Andy.
From sharing his inspiring post-injury fitness milestones, sporting hot fitness apparel and footwear, to dropping epic workouts and motivating captions—Andy is guaranteed to keep you moving forward.
And he's just launched an exciting 1:1 training program.
---
Top Podcast Influencers of 2023
Turn your speaking up and tune in to these entertaining podcasts. Follow these legends as they share stories and interview experts in various fields. Want to forge a fruitful partnership with these podcast creators? Then jump onto the Afluencer App, where you can directly reach out to them.
Nick Trueman (Winning With Shopify Podcast) – Podcast Influencer

The e-commerce entrepreneur podcast of the moment has got to be Winning With Shopify. A must-listen productive companion for your coffee, jog, or drive.
The latest episodes are loaded with value: Scaling Your Growth With Pinterest Advertising, Growing Your Shopify Store With Facebook Ads, Build Great Revenue From Google Shopping, Going International On Shopify, and an epic Google Ads Masterclass.
If you have an online business to build, then you'll find so much to learn on this Podcast.
---
Top TikTok Influencers of 2023
These TikTok creators really know how to entertain their audiences. Everything from experimenting with new dance moves to creating comedy sketches. These influencers are key if you are looking to promote your products to younger audiences.
Alondra (@alondradessy) – TikTok Influencer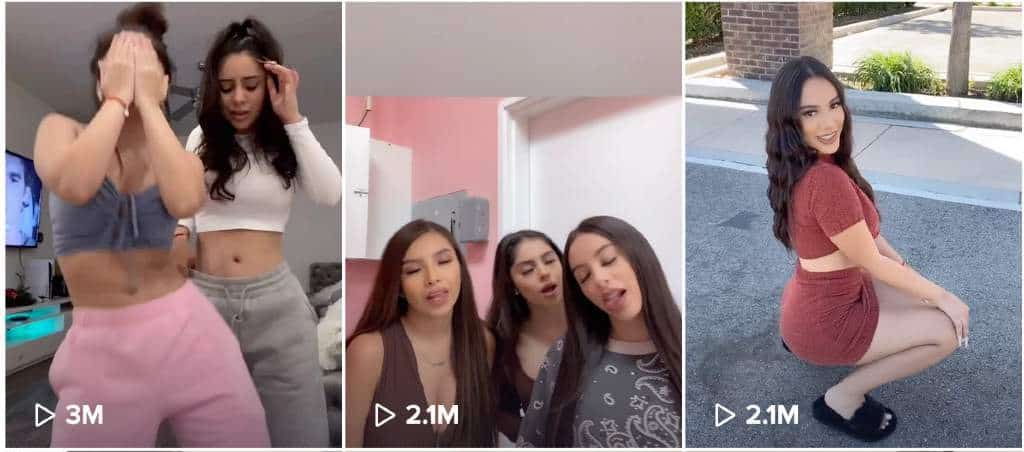 What's been going on with sassy Alondra on TikTok? Well, she's gained almost half a million additional followers.
This gorgeous lady has been keeping up with funny TikTok trends and dancing it up with fashion outfit hauls—dropping partner coupon codes as she entertains away.
And on Instagram, this pop culture macro-influencer is blowing up her feed with fast fashion, racy lingerie, and hot swimwear.
---
Top Lifestyle Influencers of 2023
One look at a single post from these genius creators gets you inspired for days! Check out their amazing content pieces and if any of them tickles your fancy, then just reach out to them. You can easily reach out to them through our Afluencer App. If you already have an influencer program running on our platform, then hey, even better! Invite your favorite influencer to Collab!
Want to know more about setting up a Collab on Afluencer? Read this article.
Alexandria McMillion (@alexandriamcmillion) – Lifestyle Influencer

Alexandria has been a delightful source of lifestyle inspo. This small-town home and lifestyle influencer has grown by a few thousand followers since we last checked in with her. And she's keeping her Instagram feed exciting with awesome bits and pieces.
Gift ideas, cute black and white animal print ankle socks, teeth whitening, tech for the home, and cool stuff like a mystery scratch-off book filled with adventure challenges. Alexandria's posts are packed with lifestyle goodies you do not want to miss out on.
---
Top Wellness Influencers of 2023
We all aim to work harder and become more successful in life. But what is the point of great success if our overall wellness levels are super low? These influencers create inspiring content to guide us toward a healthier body and mind. They are also available to collaborate with brands. So hit them up if you have a product or service that needs the attention of a wider audience.
Erin Christ (@bodybybreakfast) – Wellness Influencer

Months of lockdown and several extra pounds later—you know what we all need? Some good food, self-love, and positive vibes from Erin Christ. And that's exactly what she's been serving her followers lately.
In her "how to start loving your body" series, Erin inspires self-love affirmations, giving thanks to your body, dressing your body with love, filtering your social media feed, and doing something that makes your body feel good.
Making happy Sundays for positive Mondays and enjoying peanut butter Snickers cookies is what wellness is all about—well, at least in Erin's world.
---
Top Health Influencers of 2023
With all the bugs going around, we need to make sure that we keep our immune systems strong and healthy. These creators share everything they know about maintaining a healthy lifestyle. I guess you can call them health experts. They have dedicated followers who respect the advice they offer. These audiences can be your audiences when you spark up a partnership with these influential folks.
Check out their Afluencer profiles to learn more about them and to invite them to Collab with your brand.

From sharing chapters of the "Tao Teh Ching" book to inspiring journaling of your mind. As always, Marc Ryan is home to a wealth of support and inspo for thyroid health.
Lately, this licensed acupuncturist and functional medicine practitioner has been sharing his in-depth research findings on thyroid hormone testing, coupled with informative illustrations.
And you've certainly gotta love his regular "Hashimoment" posts where he goes on to share mindful thoughts—the latest has been on the importance of forgiveness.
---
Top Food Influencers of 2023
Yummy treats ahead! These influencers love their food! Whether they be traveling across the world or simply dining out at a local restaurant, they'll always bring their followers along for the trip. So get ready to have your salivary glands working over time!

Good food and lots of laughs—this is all happening at TASTY! By Brandon & Jorge.
From the most delicious vanilla bean scone treat, chocolate chip pound cake, French apple cake, and cheezy pizza bread to Christmas Ale under the tree. And also yummy guacamole giveaways and seafood restaurant gift cards.
TASTY! By Brandon & Jorge have been whipping up fun video recipes in the kitchen that your tastebuds certainly can't miss.
Ashley Alexander (@gatherandfeast) – Food Influencer
Just when you thought food couldn't possibly get any more spectacular, Ashley Alexander continues to serve show-stopping recipes—post after post.
From a chocolate and beetroot layer cake with an avocado cacao fudge frosting, a lemon raspberry cake, to an exotic bagel grazing board you simply can't wait to share with your loved ones.
You can almost taste the food through her pictures—they're that good!
---
Top Travel Influencers of 2023
Are you ready to virtually travel the world and witness the gorgeous sceneries through the well-crafted posts of these amazing influencers? Then slip on a comfy pair of shoes 'cause the train is about to leave the station!
Eric Rubens (@erubes1) – Travel Influencer

For a big travel content creator, Eric Rubens has been keeping it real with his followers about how travel has indeed slowed down. But as long as he can and it's safe to do so, Eric's wanderlust hasn't gone away.
From wallpaper-worthy drone shots of California beaches, surfing, and sunsets to footage of a pod of orcas in Alaska and a heart-warming pregnancy reveal with his wife in scenic Bora Bora—Eric is a reminder of how beautiful the world is.
Eric's picturesque escapes and outdoor experiences are still inspiring for the travel-loving soul.
Chelsea Y (@chelseakauai) – Adventure Lover

Hawaii-born adventure lover, Chelsea, has been keeping her travel-loving spirit alive and sharing just enough to make you forget all your troubles.
Dream trips. Turquoise waters. Exotic beaches. And palm trees. From diving with whales to swimming in mystical blue waters—Chelsea's social media feed is nothing short of magnificent. But before you feel like these trips are out of reach, she's running amazing travel giveaways like the island-hopping dream to Palawan in the Philippines.
You'll also catch Chelsea making pictures indoors at home and sharing her challenges and inspiring her followers with uplifting captions.
---
Top Yoga Influencers of 2023
It's time to relax. Slowly lower yourself to the floor. Get into the lotus position. Then close your eyes. And start taking in deep, long breaths. Inhale. Exhale. Now if you want to learn more about yoga, and become a yogi master, then these are the influencers you want to be following.

For yogis like Peter Walters, yoga is more than just about a stretch and a pose. It's a mindful wellness lifestyle.
Peter has been sharing poses with perpetual peace messages, much-needed pandemic meditations, and mindful thoughts about current events.
".. experience the total and utter completeness of what's right in front of and within you" – Peter.
Cathy Madeo (@cathymadeoyoga) – Yoga Expert

Yoga expert, Cathy Madeo, has been inspiring the use of Mudras in her practice lately. Like the Gyan Mudra to focus better, increase energy, and also elevate your mood.
She's also been keeping her community of yoga instructors busy with challenges, fantastic yoga Reels, and helpful videos like how to hold a handstand balance longer.
And you can't help but love her earthy-toned yoga apparel spread throughout her Insta feed.
---
Top Parenting Influencers of 2023
Some would argue that being a parent is the hardest job in the world. Others would laugh at that and say, "parenting is NOT a job". The influencers you are about to meet are awesome parents. And they have been ever so lovely to go and share their parenting life with the world. For the parents out there, this one is for you!
If you have any parenting or children's products you need to promote, these influencers have the ideal audiences to entice.

Taylor Franklin has been so much inspo to moms lately. Her Instagram has been full of goodies from shopping gift card giveaways to some pretty awesome product finds that will certainly bring smiles to your little ones.
Fantastic toys like flower pot dolls, activity-packed DIY craft projects for the kids, fun toilet sprays, lovely ideas to personalize gifts, and also some healthy mom-life inspo with a dose of daily superfoods like coconut milk powder in your morning smoothies.
And in case you can't keep the kids down at naptime, then Taylor has the perfect no-nonsense book to get your little ones to nap.
---
Top Pet Influencers of 2023
The pet industry is booming more than ever before! Some say the global Covid lockdowns were the cause for more people bringing animals into their lives. Others say that the world is just getting softer and everybody just wants to have a cuddly little pet snuggled up to them while they binge-watch Netflix or Disney+.
Whatever the reason, it is also bringing about fresh creators to the social media scene. And this brings greater opportunities for pet brands to go big on influencer marketing.

Nika & Kira are sleighing it on Instagram this holiday season. Christmas hats, lights, reindeer gear, and selfies will certainly wow you all season long.
From mesmerizing holiday photos to river adventures—these huskies will without a doubt light up your feed and your heart. It doesn't get any merrier than this folks.
All you need is love, a husky kiss, and I suppose a cute dog love hoodie would also be nice.
---
Top Influencers Over 50
It doesn't matter how old you are, anybody can be a successful social media influencer. And these lovely influencers are living proof that this feat can be achieved. Come check them out as they show you why life begins at 50!

Checking in with one of our fav 50+ influencers, and Zippy Sandler is still inspiring her followers to live better and brighter lives—kinda what we all need right now.
From cleaning up your credit report (take it from her), a good outdoor yoga session, pampering skin routines, and art-inspired jewelry, to positive messages, shared all over her social media through the little bits of her daily life.
She's in fact totally cool too—I just caught her promoting a smartwatch.
---
Top Entertainment Influencers of 2023
From teaching you how to pull off that latest dance move to getting you to sing along as they nail those high notes, these influencers are born to entertain. You can find them hyping up the crowd on top social platforms like TikTok and Instagram.
If you're looking for influencers overloaded with energy to lead your marketing campaign, then you'll want to check out the profiles of these powerhouses!
Salice Rose (@salicerose) – Entertainment Influencer

Salice Rose hasn't stopped dropping her sassy energy on Instagram—entertaining her followers daily.
From comical Reels and TikToks like "when you at someone's house and the toilet won't flush" to raw relationship pep talk, her big personality is always felt. Catch Salice glammed up with dramatic eyelash extensions, bright beautiful locks, extravagant nails, and badass hoops—even if she's at home most of the time (as most of us are).
And you certainly gotta love her eye-catching hair vitamin partner promos.
---
Top Photography Influencers of 2023
Anyone can just pick up their phone and snap a picture these days. But these content creators take their photography to the next level. They capture images you would never have imagined in a million years. These influencers know the true art of photography and they're humble enough to share their beautiful moments with you.

The last couple of months have been full of changes, and photographer David Christopher Lee has taken the opportunity to work on a personal transformation.
Since beginning his fitness journey, he has had a new appreciation for nature—inspiring a beautiful image gallery of ancient abandoned reliks in energetic national parks, spectacular views of the Evergreen Lake, and off-the-grid remote experiences.
David has also been documenting his wellness journey, which has been welcomed by his followers.
---
Top Cannabis Influencers of 2023
With 18 states in the US now having legalized the recreational use of weed, we are starting to see an increasing number of cannabis influencers hitting social media. But it's not just about smoking a joint. There are tons of CBD-infused products beginning to flood the market. And who would be best fitted to promote these products?
Bess Byers (@imcannabess) – Cannabis Influencer

Bess Byers has been sharing a good dose of cannabis on her Insta feed. Totally living up to her self-named #cannabess hashtag for sure.
Bright smiles, "Save Our Planet" tees, cannabis-infused cookies, the casual joint, trips to cannabis farms, and also fun weekends away. And of course, mental health check-ins with her followers because it's been a wild year.
---
Wrapping Up The Top Influencers of 2023
We all know that these top lists are forever changing. Influencers lose traction or new players come into the game. But one thing you can be sure about is that we will always be here to give you the latest lowdown on the best creators in town!