Influencer marketing is one of the top tools brands use to reach a wider audience—and it's on the rise. In 2023, the influencer marketing industry is valued at $21.1 billion, a 28.7% increase from last year.
However, with a huge number of brands vying for attention, the competition is stiff, and it's getting increasingly harder for brands to stand out in a crowded marketplace. That's where influencer marketing platforms come in. These platforms help brands find new social media influencers at scale while streamlining the management of campaigns from start to finish.
Afluencer is a leading influencer marketing platform that connects brands with real influencers and creators to reach their marketing goals. Almost 5,000 brands use Afluencer to find and work with leading influencers across 71 industry segments and interest areas. While many brands consider Afluencer one of the best online platforms for influencer marketing, there are several other platforms you can try.
In this article, we've handpicked the best influencer marketing platforms you should consider. We'll first dive into a few critical questions, including:
What are influencer marketing platforms?
Why should you consider working with an influencer marketing platform?
How do you pick the right influencer marketing platform?
Let's get started.
What Are Influencer Marketing Platforms?
Influencer marketing platforms are digital platforms that facilitate a relationship between businesses and influencers. These platforms act as intermediaries that allow brands to sort, filter, and then connect with highly relevant influencers who have established credibility and a dedicated following.
How influencer marketing platforms work: They maintain a comprehensive database of influencers across different niches, take into consideration a company's requirements (such as the number of influencers, region, demographics, history, and budget), and then recommend the most relevant influencer or content creator based on those needs.
With the rise of social media and the increasing influence of individuals on across platforms, businesses recognize the value of leveraging influencers to promote their products or services. Influencers and content creators, in turn, look to influencer marketing platforms to collaborate and monetize their followings via brand partnerships that grow their revenue. It's a win-win.
How Can An Influencer Marketing Platform Help a Business?
An influencer marketing platform provides several benefits to a business beyond merely connecting it with potential partners, including things like:
Streamlined campaign management: Influencer marketing platforms often have built-in tools and features that simplify the process of managing influencer campaigns. You can use them to create and track campaigns, communicate with influencers, manage content approvals, and analyze campaign performance.
Efficiency and cost-effective advertising: Influencer marketing platforms can offer cost-effective advertising options compared to traditional advertising methods. Working with influencers via platforms can often be more affordable and efficient than running traditional ads and doing one-to-one outreach, especially for small businesses with limited budgets.
Enhanced brand awareness: Leveraging influencers' large and engaged social media following can help increase your brand's visibility and reach. Influencers can create authentic and engaging content that resonates with their audience, effectively spreading awareness about your business.
Improved credibility and trust: Working with trusted and respected influencers in their niches can enhance a brand's credibility and trustworthiness. When influencers promote a business's products or services, their followers are more likely to trust and consider those offerings because of the social proof they provide.
Greater audience targeting: Each influencer has a specific audience that follows him or her. By partnering with influencers in a specific niche, brands can reach relevant audiences who are more likely to be interested in those products or services, thus increasing your chances of converting them into customers.
At Afluencer, brands can access a wide range of influencers and brands, from micro to macro-influencers and from multinational firms to startups. Considering shifting trends and the rise of micro-influencers who will be the new stars in 2024, this is a unique advantage. Plus:
At the end of a campaign, Afluencer provides you with metrics to gauge its success.
How To Choose The Right Influencer Marketing Platform
Here's a basic four-step guide to choosing an influencer marketing platform that best fits your brand's needs you can use to guide your influencer marketing strategy for the upcoming holiday season and beyond.
1. Define your goals and target audience
Before selecting an influencer marketing platform, you must clearly define your goals and target audience. Determine your campaign's objectives, whether it is to increase brand awareness or drive sales. Also, identify your target demographic, including age, location, interests, and social media platforms.
2. Research available platforms
Once you have defined your goals and target audience, research available platforms (more on your options here in a bit.) Look for platforms that offer the features you need to achieve your goals and engage your target audience. Make sure you consider the number of influencers and the types of campaigns that each platform can offer.
3. Evaluate pricing and features
Influencer marketing platforms can vary significantly in pricing and features. Some platforms charge a flat monthly fee, while others charge by the campaign. Consider your budget when choosing a platform. Be sure to compare the features offered by each platform to determine which one best meets your needs. Also, consider the level of customer support they provide.
4. Read customer reviews and testimonials
Customer reviews and testimonials can give you an insight into each platform's strengths and weaknesses. You can also contact their customer service team and ask them any questions you may have to understand their services better. Check the social media platforms or even search in forums to see what influencers say about the platform they are using.
Best Practices For Leveraging An Influencer Marketing Platform
Done right, leveraging an influencer marketing platform can simplify the process of finding the right influencers and managing your brand campaign. Here are some of the best practices to help you make the most of your chosen platform for your next influencer marketing campaign.
Set clear campaign objectives
Before beginning any influencer campaign, it's important to clearly define your objectives and the KPIs you will use to measure success. Are you trying to increase brand awareness, create buzz and excitement for a new product or service, or drive conversions? Your objectives will guide your influencer selection process and ensure your campaign is purpose-driven.
For example, if your campaign objective is to increase brand awareness, you may prioritize influencers with a large and engaged audience; they have the ability to reach a wide range of potential customers. Likewise, by collaborating with influencers who have a strong influence over their audience, brands can leverage their recommendation and endorsement to encourage their followers to make a purchase.
Conduct thorough influencer research and vetting
Take the time to research and vet potential influencers before working with them. Consider the influencer's audience demographics, engagement rates, and content quality. Ensure their personal brand aligns with your brand and that they haven't been involved in any controversies.
For instance, brands like CoverGirl and Makeup Revolution have partnered with James Charles, a popular makeup artist and beauty influencer known for his creative makeup looks. Chris Burkard's personal brand as a photographer and The North Face's brand as an outdoor apparel company is another example of an excellent influencer-brand fit.
You may also want to check the influencers' track record of delivering on previous partnerships.
Negotiate fair compensation and contracts
When compensating influencers, it's important to negotiate rates that are fair for both parties. This could be a monetary payment or a product exchange. You will also want to have clear contracts outlining the scope of work, deliverables, timelines, and payment terms. Here are a few common influencer compensation models:
Performance-based pay: An influencer posts recommending a product. The brand pays them when their content converts a customer or triggers a successful event like a purchase, booking, download, or newsletter signup.
Fixed-rate + performance bonus: The influencer is paid a base sum for each post and must generate sales to get additional pay.
Gifting & credits: The influencer tries out your product first and — if they like it — they promote it on their account.
Pay-per-post: The influencer is paid for every post. The cost depends on the platform, influencer's follower count, audience engagement, content type, and other factors.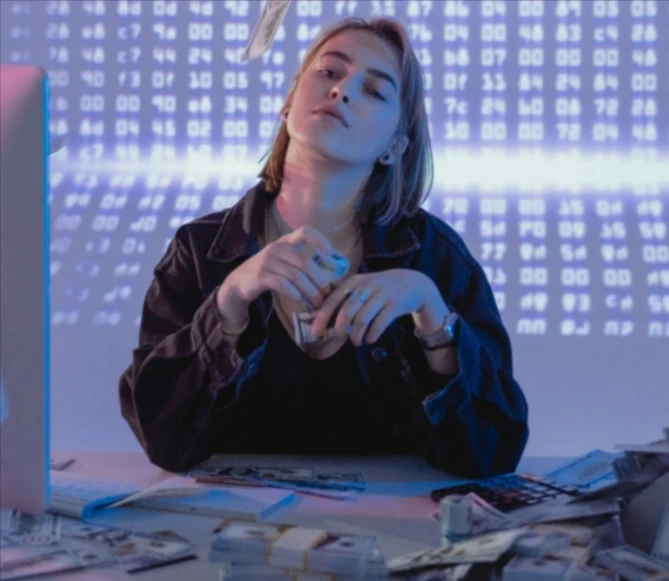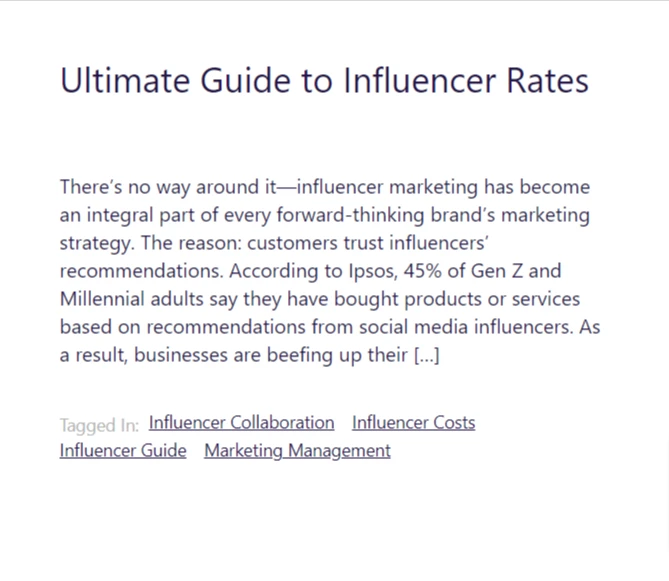 Track and analyze campaign performance
During and after an influencer campaign, you should be tracking and analyzing the performance data. This will help you determine your campaign's ROI and identify any areas for improvement. Work with your influencer marketing platform to access valuable data that can help you understand how much your influencer campaign has moved the needle on key KPIs.
Maintain open communication with influencers
Communication is key when working with influencers. Make sure to keep them informed about campaign updates, provide any necessary guidance, and be available to answer their questions. This will help to build a better relationship between you and the influencer and ensure the success of the campaign.
Successfully Using Influencer Marketing in Innovative Ways
Influencers can collaborate with brands in a variety of inspiring and exciting ways.
For example, Sony's influencer marketing campaign in Canada for PlayStation VR deployed Canadian tech and gaming mid-tier, micro-, and nano-influencers like @karlconrad, @stalman, @justin.tse, @canoopsy, and @the.girly.geek on Instagram and YouTube. The campaign was a massive success, resulting in a total audience reach of 2.66M, 1.85M impressions, and 592K engagements.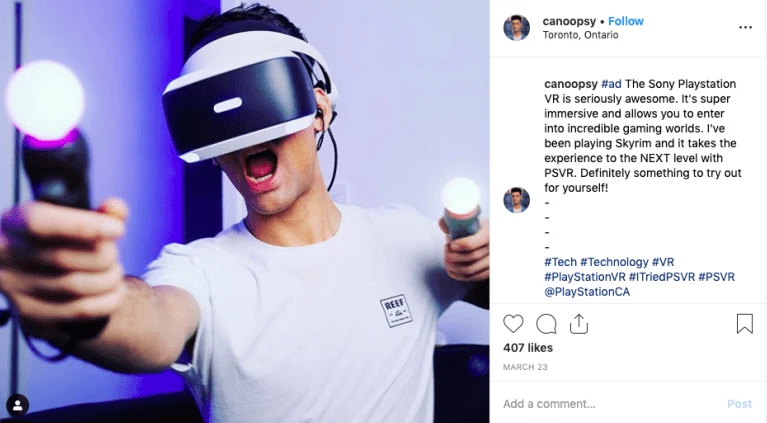 But not all campaigns have to be so traditional when it comes to influencer marketing. Some brands are getting creative in how they work with influencers, including event-based Live shopping, for example.
For footwear brand Aldo's inaugural live shopping event, the brand co-hosted a partnership with celebrity stylist Mimi Cuttrell and TikTok influencer Nate Wyatt. Wyatt and Cuttrell shared fashion tips and showcased their favorite Aldo products while viewers simultaneously browsed the brand's spring collection during the livestream. The campaign resulted in an impressive engagement rate of 308%.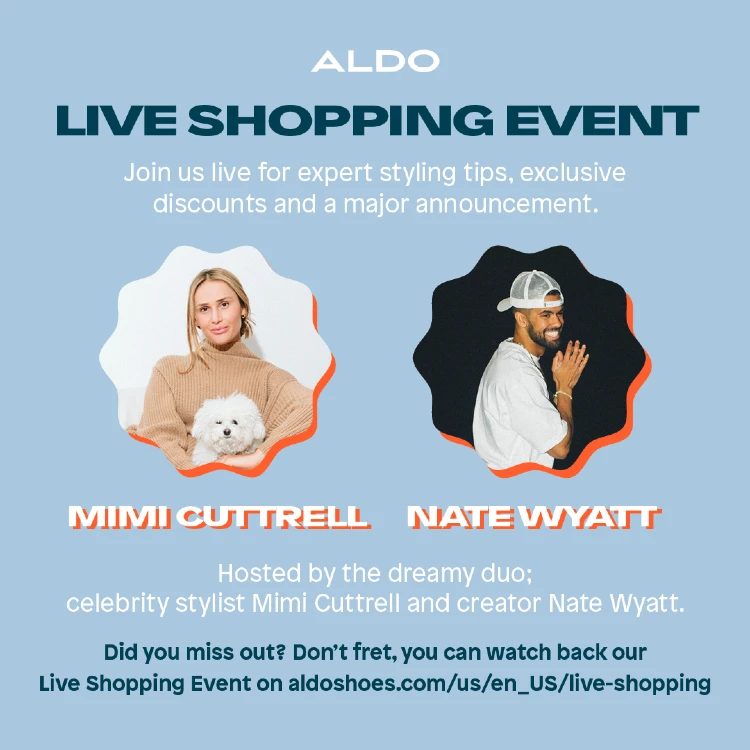 Influencers are ideally situated to be part of live shopping campaigns: They are used to talking live on their social media, and thanks to their experience with live streams, they can create a fun and authentic experience for your customers. What's more, they can have a real impact on your bottom line. According to McKinsey & Company, live commerce-initiated sales could account for 20% of all ecommerce by 2026.
The possibilities for leveraging influencers continue to grow, but in order for them to work, there needs to be a strong match between brand and partner.
Many leading brands work with influencer marketing platforms to identify the right influencers and manage their campaigns from the get-go. Ready to launch your first influencer marketing campaign? Explore a comprehensive list of social media influencers to get started.
Want Help Growing Your Brand?
Sign up for Afluencer's bimonthly emails and get insider advice for working with influencers. Unsubscribe anytime.
25 Best Influencer Marketing Platforms For Influencers and Brands
In recent years, major brands and companies have flocked to online influencers as a means of marketing their products, but the influencer market is still largely untapped. Only 17% of companies spend over half their marketing budget on influencer marketing. This number will no doubt increase in the years ahead. A prediction for 2024 is that marketers will collectively spend over $7.14 billion on influencers, while influencer marketing spend on TikTok alone is predicted to exceed $1.3 billion.
If you're looking to harness the power of influencer marketing and want a one-stop solution to manage your campaign, consider the following influencer marketing platforms as a place to start.
List of the Top 25 Influencer Marketing Platforms
Now let's explore the finer details of each influencer marketing platform on our list.

Afluencer is your one-stop-shop, whether you're a brand marketer looking for an influencer or an influencer looking for a great brand to partner with. The website and social media publisher produce the leading content for influencers anywhere online.
Influencers can create an Afluencer account to get featured and connect with brands. Influencers will also be the first to learn about great partnership opportunities with the best brands in their industry.
Brands can also submit their brand info to gain access to Afluencer's influencer marketing platform. Brands will receive complimentary influencer coverage and be able to reach out to Afluencer's very own influencer marketing experts.
Afluencer is most certainly a reliable online marketing platform that makes special connections between brands and "Afluencers"!
Take advantage of growth opportunities as a new social media influencer and set the stage for a future full of marketing prospects!
Afluencer works with a number of brands to help them reach their target audience. Submit your brand details or call +1 888 340 6425 for more information on how Afluencer can help you.
#2 HYPR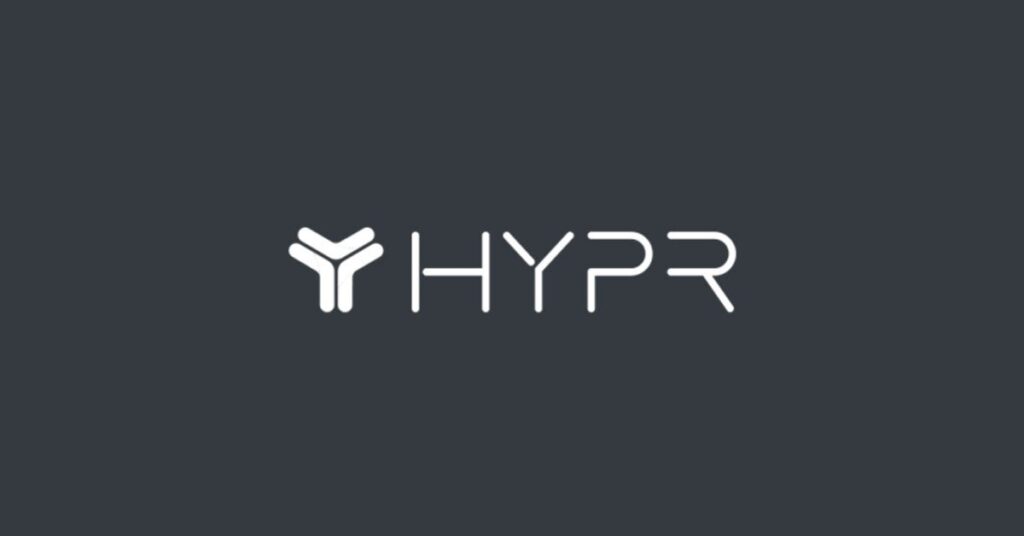 HYPR is quite a well-known platform offering real-time analytics including geographic data and demographics. With over 12 million influencer profiles, it is among the largest marketing platforms out there.
You can find direct contact details on the website and get in touch with influencers.
This NYC-based firm started in 2013 and claims to work with over 30 percent of the leading agencies and brands. Some of the major brands it works with include Pepsi, Time INC, and Microsoft.
HYPR has a custom pricing model but you can start with a free trial.
#3 Upfluence
Upfluence is known for providing customized services to agencies and brands but it also caters to influencers. You can search for influencers based on social networks, languages, geography, and topics.
One of the biggest strengths of this AI-powered marketing tool is the ability to send bulk messages to influencers.
Upfluence has a custom pricing model but you can start with a free demo to test it.
#4 Popular Chips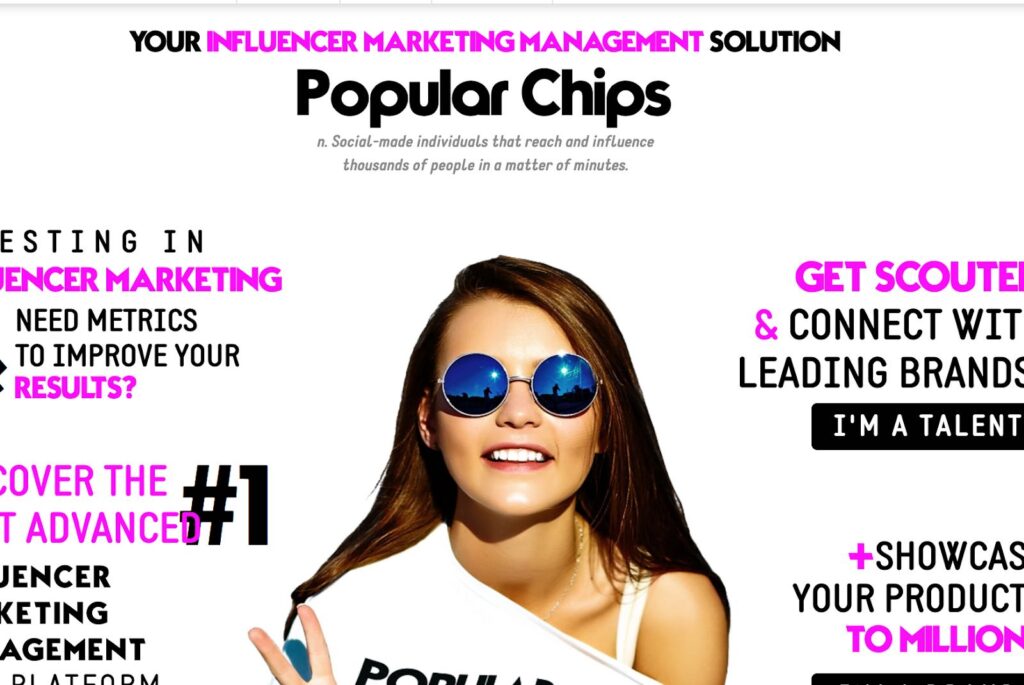 Popular Chips can be a great option if you are looking for a free influencer marketing platform.
It offers free custom reports that can be quite helpful in improving your KPIs. Plus, you can even use these reports to know your competitors and how you can improve your social media game.
The report contains the latest demographic distribution of the followers of any influencer on a number of platforms.
#5 Shoutcart

Shoutcart is different from most influencer marketing platforms out there. It's the marketplace to buy and sell shoutouts.
The platform mainly works with Instagram influencers and can be a good pick for businesses who want to work with a local Instagram celebrity.
Shoutcart is easy to use with little to no waiting times. Select an influencer according to your needs, make the payment, upload your content including the photo or image with the caption, and the company will take care of the rest.
You can even select when you want to get the post published. The overall cost will depend on the nature of the post and the kind of reach an influencer has. However, the good thing is that there are several influencers and you can also easily become a part of the company's growing database.
#6 Social Bond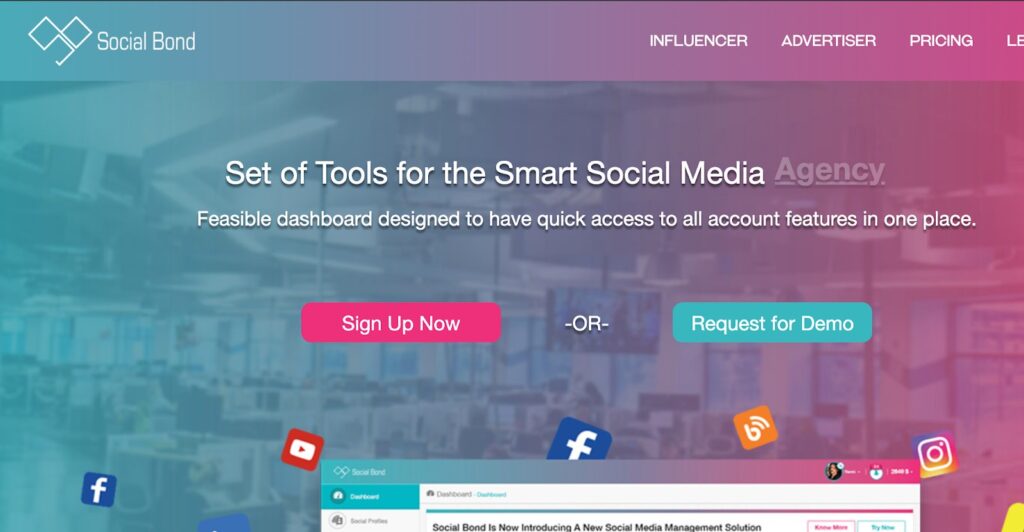 Social Brand is among the most advanced influencer marketing platforms. It offers everything businesses and influencers need to find success on the web.
You can create and launch marketing campaigns for specific audiences by working with reliable influencers. It generates detailed reports and only works with verified influencers.
One of the app's biggest assets is its social media management tool that allows you to publish posts simultaneously on a number of platforms. It also has a kickass Android and iOS app.
Influencers can join it for free but there is also a paid version starting as low as $9 per month.
Businesses can choose from three packages – starting as low as $50 per month. The most expensive package, which comes with more features, goes for $250 per month.
#7 NeoReach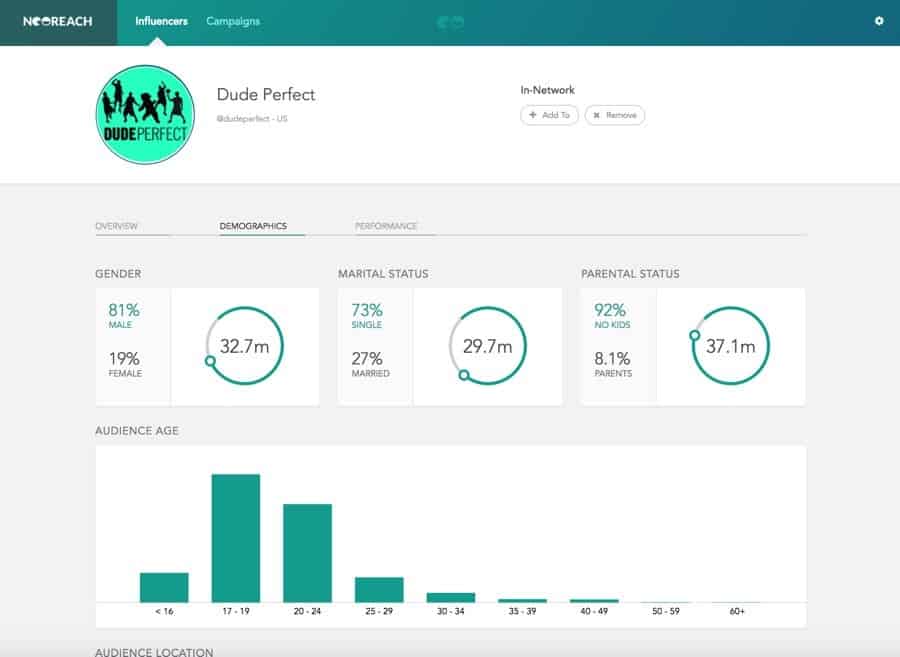 NeoReach is among the easiest platforms to use thanks to a reliable marketing automation system. It offers excellent customization options. Plus, you can choose from 40 filters to find what you need.
The marketing platform also allows businesses to import their own list of influencers.
NeoReach has a custom pricing model. You'll have to contact the company for details.
#8 Grapevine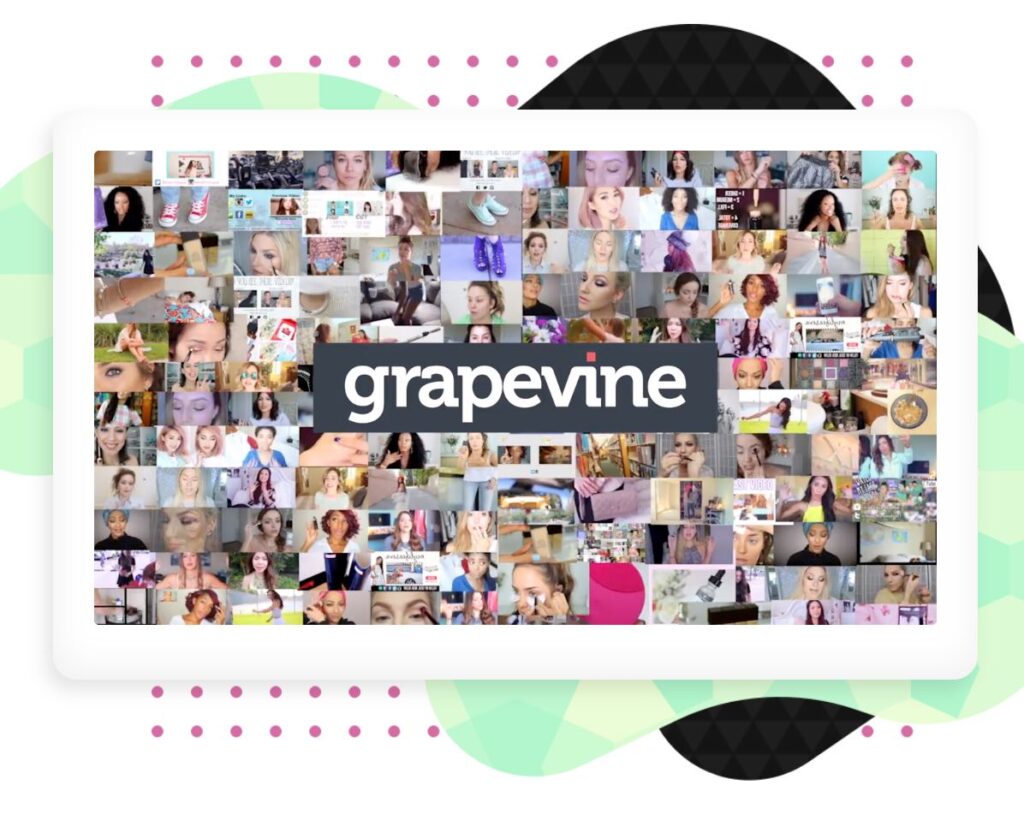 Grapevine originally started as a marketing platform dedicated to YouTube influencers but now it also includes Instagram and Facebook influencers.
It works by allowing agencies or brands to submit briefs based on their requirements. These briefs are for influencers who can then make pitches. Brands and influencers can discuss the price and even negotiate.
Once an influencer gets selected, a contract is formed. Brands can see performance via Grapevine's built-in dashboard.
#9 Traackr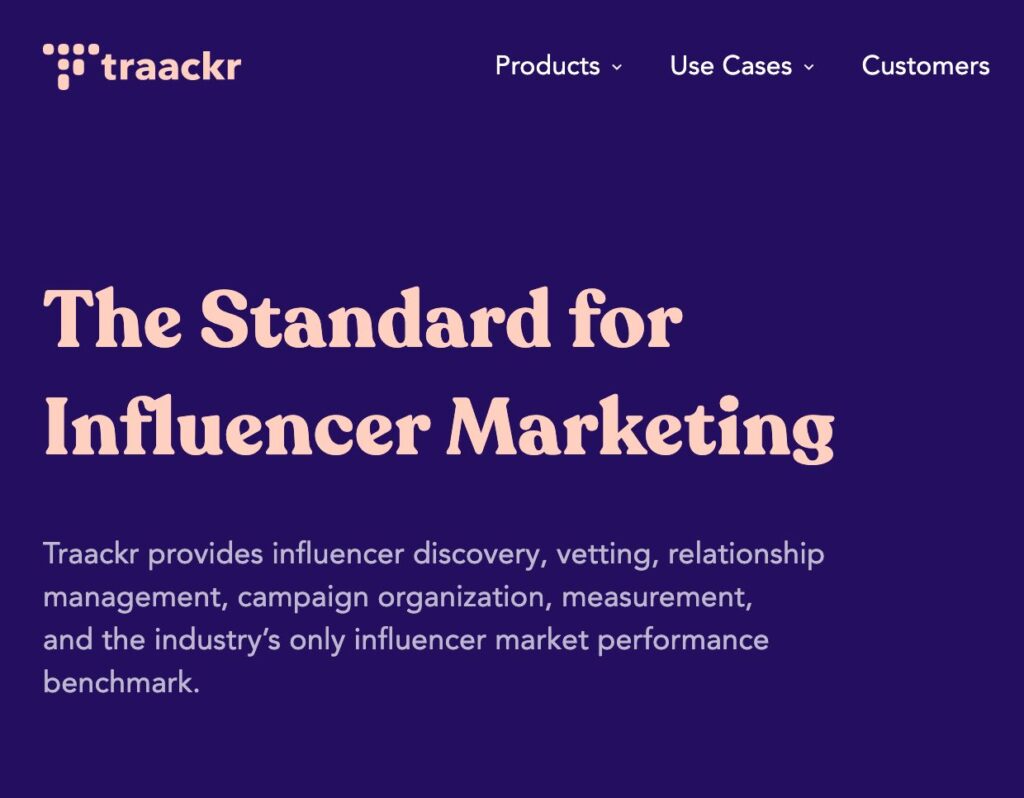 Traacker promotes itself as an 'Influencer Relationship Management' tool by allowing businesses to build and manage relationships with influencers. This is an important factor as good relationships can be very important in the world of online marketing.
#10 AspireIQ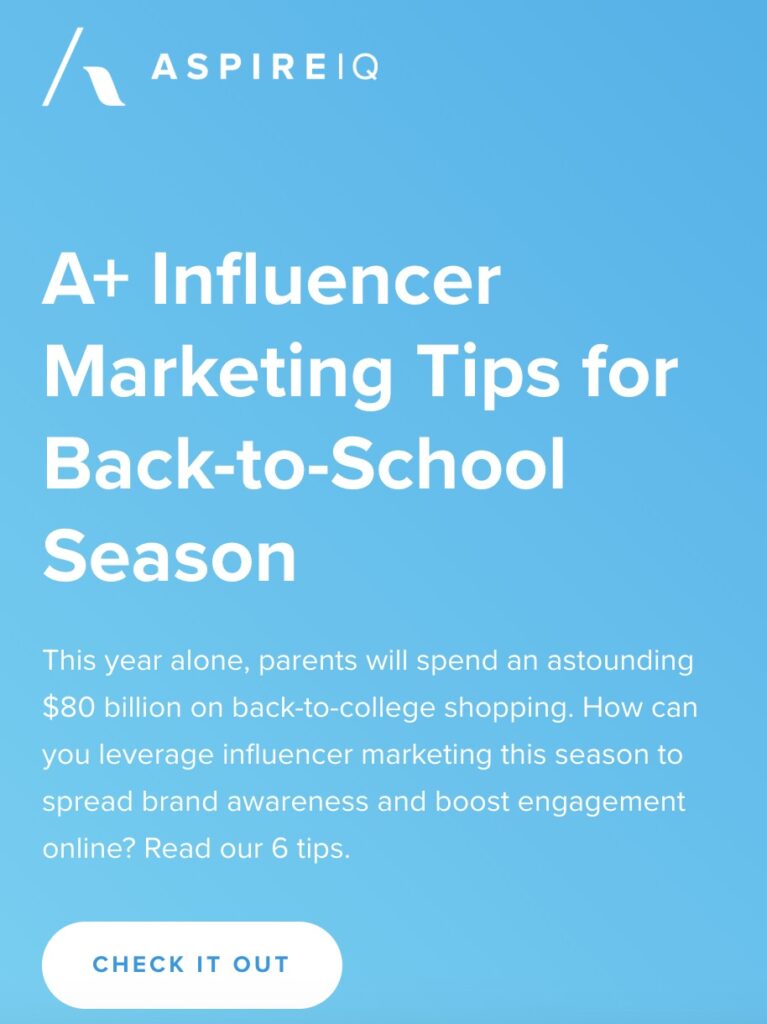 Originally known as Revfluence, AspireIQ works with over half a million influencers and uses AI to create reports.
Unlike other influencer marketing platforms, this one will gather information from your social media handles and let you create your own profile to display your work.
Its recommendation engine uses profiles to recommend influencers to potential clients. Plus, it also has a content library that can help influencers store content in one place.
Upfluence's platform has three different pricing plans, each coming with a demo.
#11 Wearisma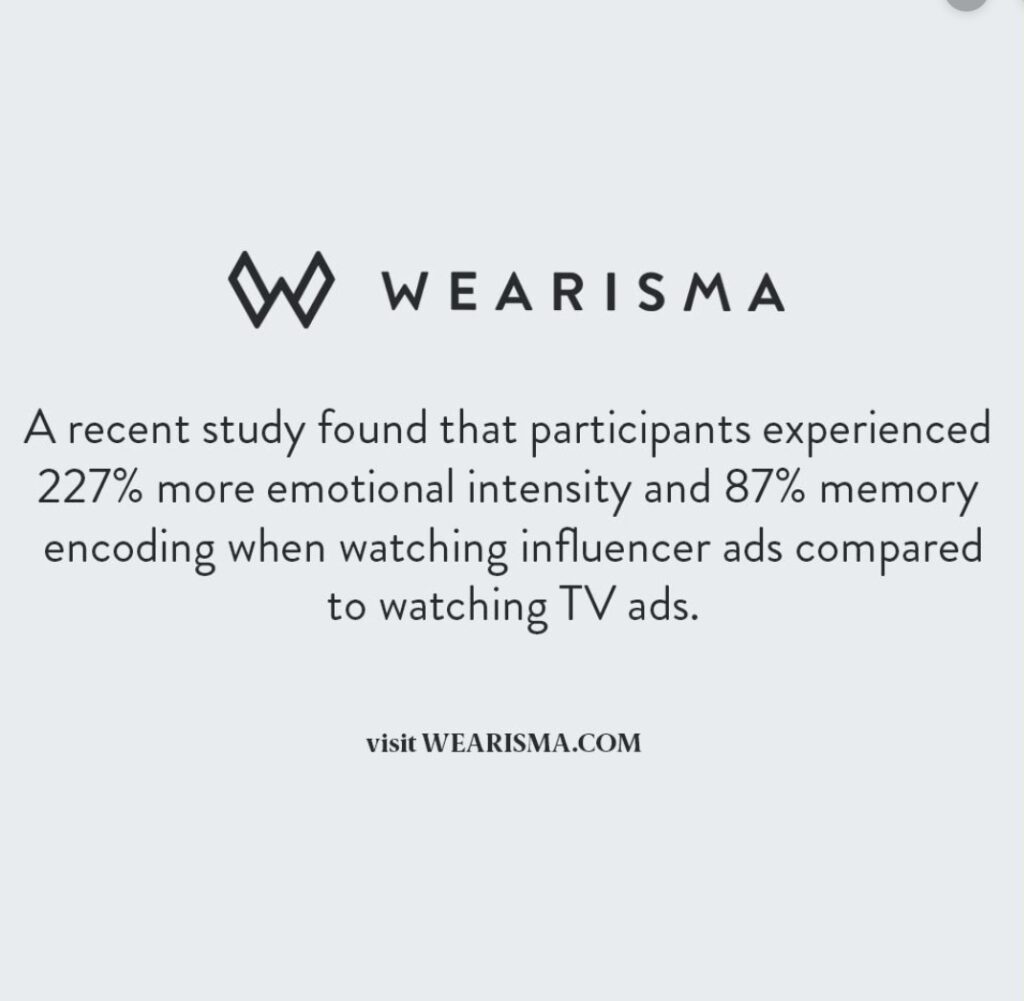 Wearisma claims to be one of the fastest-growing influencer marketing platforms. It works with freelancers in about 50 countries and is among the most technologically advanced tools.
It offers transparency that helps build trust between influencers and brands. The company uses intelligent automation and analytics with human efforts to create highly rewarding campaigns.
The platform is quite ahead in terms of research and releases timely reports on the changing scenario of influencer marketing.
#12 Mention Me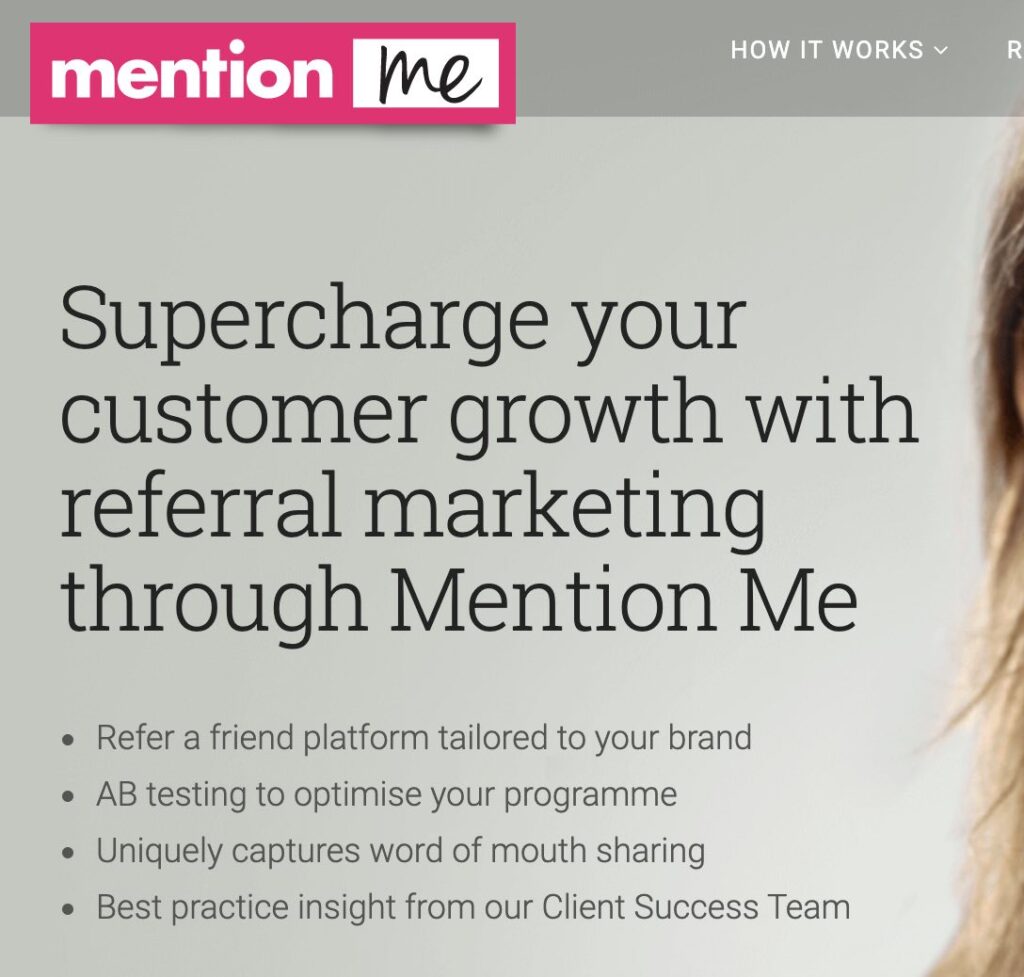 Mention Me works differently than the ordinary influencer marketing platform. It is essentially a referral platform that allows brands to win more customers by using referrals.
This is very important since about 80 percent of customers will trust a referral, especially if it comes from someone they know or trust.
The platform offers A/B testing, an educational program, and other amazing features. It can help you gain up to 30 percent more customers with its easy implementation.
Mention Me has a unique cost-per-sale model, i.e: you'll pay based on how much you make.
#13 Shopping Links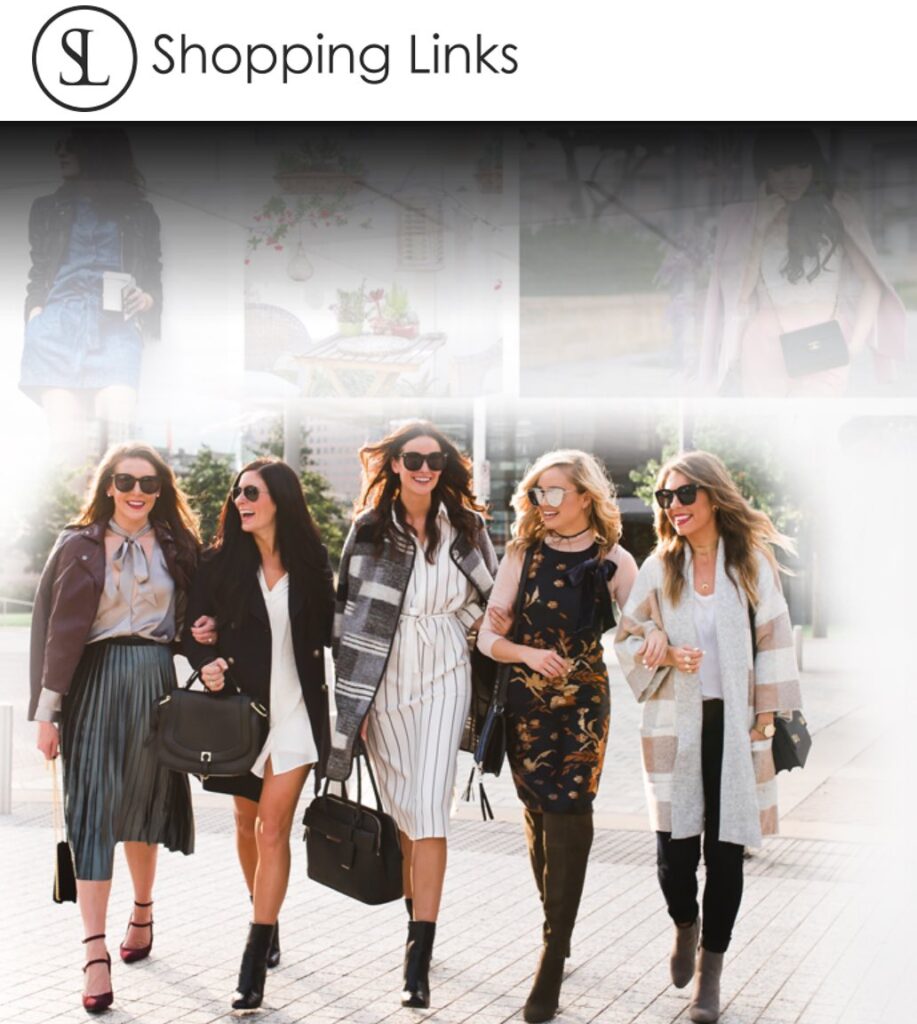 Shopping Links allows businesses to get access to valuable data that they can use to make informed decisions. It lets brands send free gifts to influencers in return for shoutouts and reviews.
The cheapest plan starts at as low as $2,750. The most expensive plan is worth $10,000. Other than this, it also identifies itself as a management firm.
#14 Influencer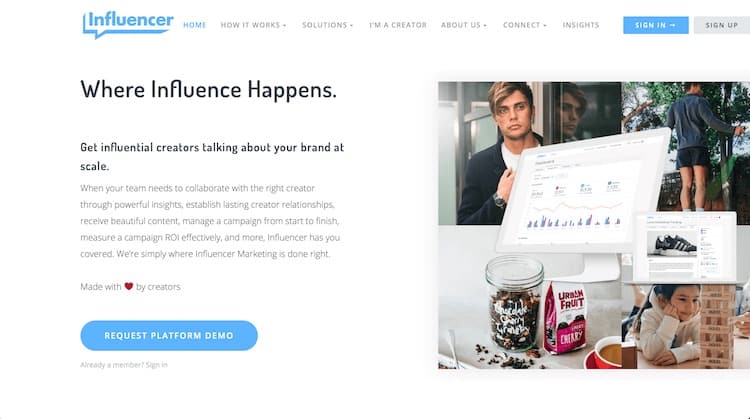 Influencer can be a good platform for businesses looking for an option to manage their influencer marketing campaigns that is fast and easy. Its unique match-making features can easily help you get in touch with suitable options.
The company vets all influencers and creates complete reports with the latest data.
You can choose from one of the three payment plans. Get in touch with the company to get a quote.
#15 Speakr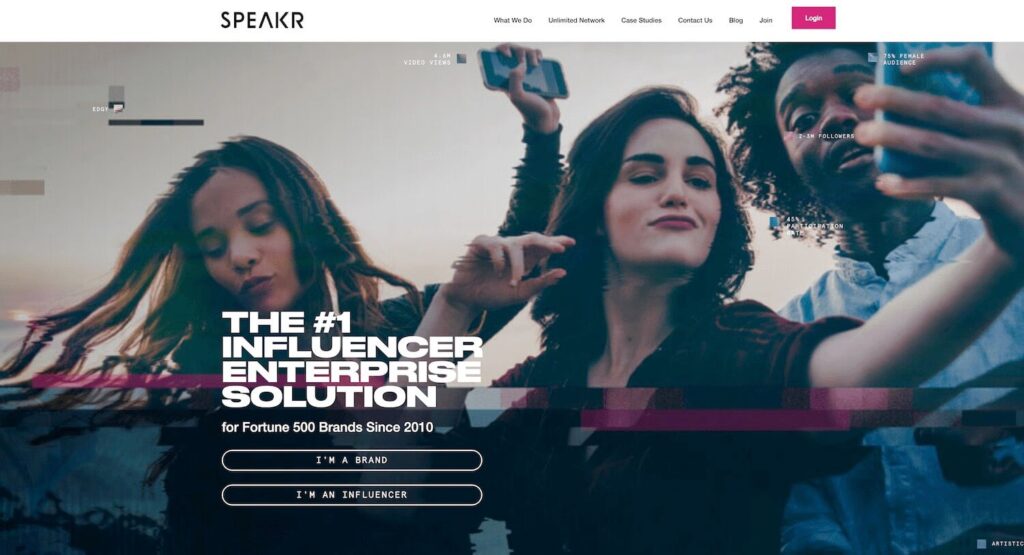 Speakr is known to work with big names including several Fortune 500 companies and popular brands like Disney, Samsung, Fox, Warner Bros, and Sony.
It can be quite difficult to get listed on their marketing platform as it works with pre-selected influencers. Speakr currently boasts of only 37,000 influencers, all known in their fields.
Get in touch with the company for the pricing model.
#16 Lefty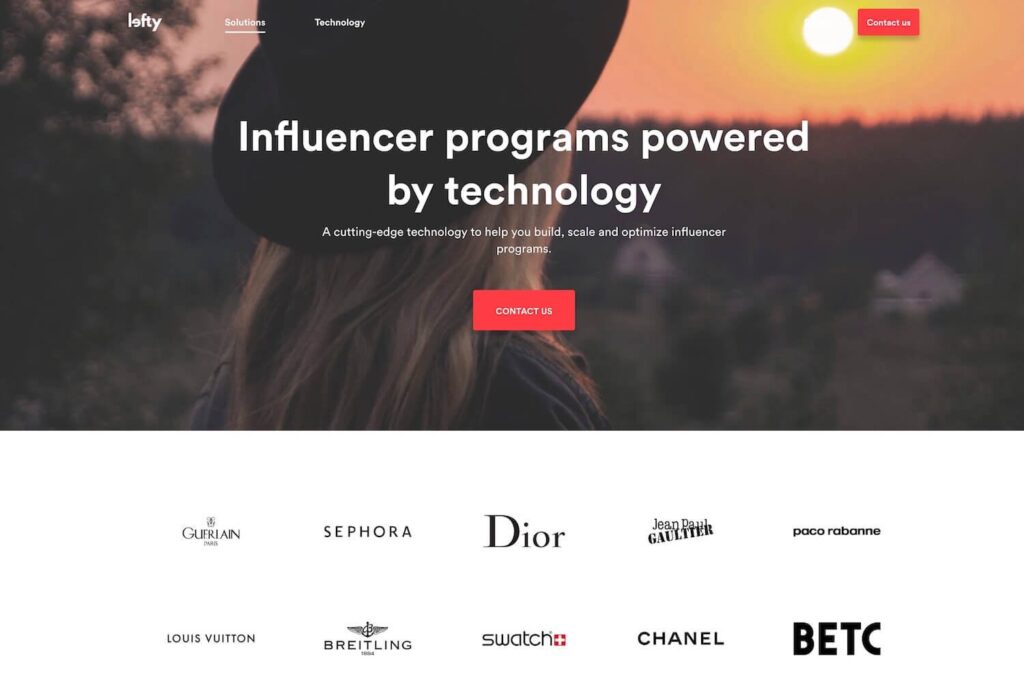 Lefty is more than just an influencer marketing program. It's also a creative agency helping businesses come up with creative plans to create kickass campaigns. They have over 6 million influencers on the list and they work with a number of known brands such as Airbnb, Uber, and Hilton.
Lefty will do all the hard work including crafting the contract and creating the brief.
There are four plans, get in touch with the company for more details.
#17 Sideqik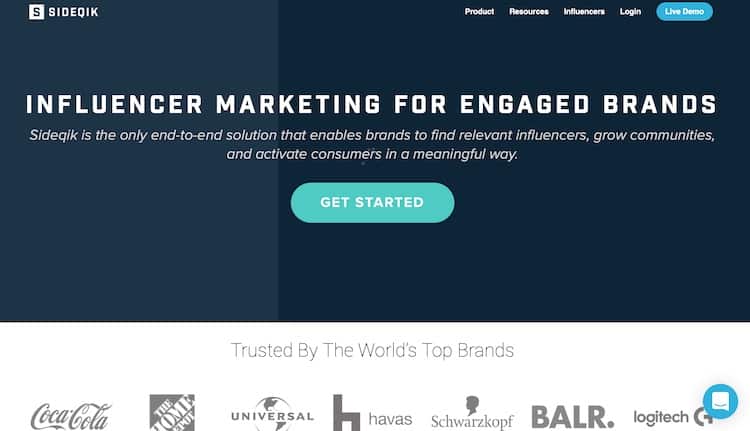 Sideqik offers world-class insights and data to help companies make educated decisions. It also has built-in software to help brands manage campaigns.
While not the most popular marketing platform anymore, it has worked with some well-known names like Coca-Cola and Logitech.
#18 Fohr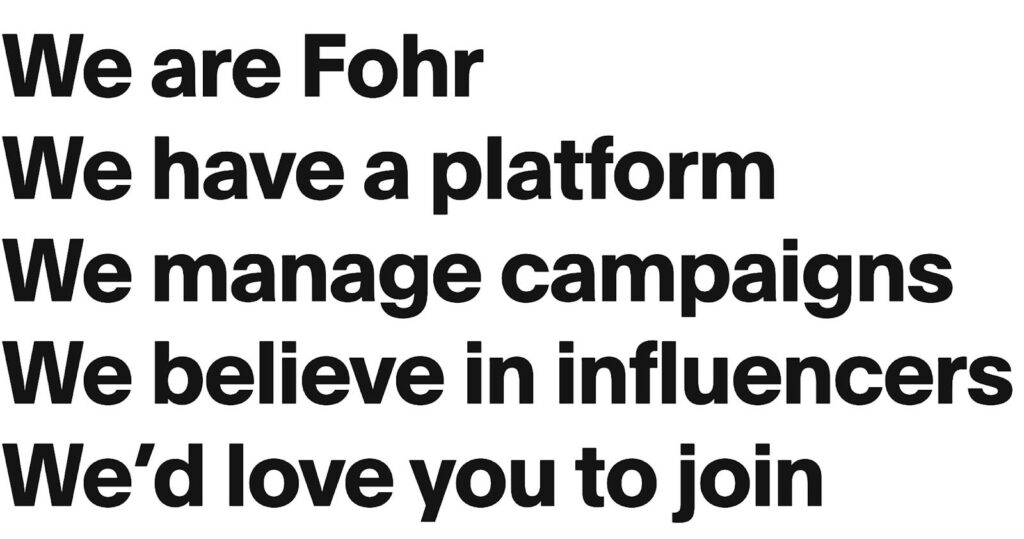 Fohr allows you to search for influencers based on location, niche, and the number of followers. It also lets brands make pitches and send offers to their chosen influencer based on comprehensive reports available on their marketing platform.
These reports are known for giving insights into content performance.
It is one of the few platforms to offer education to influencers to help them grow.
#19 Fanbytes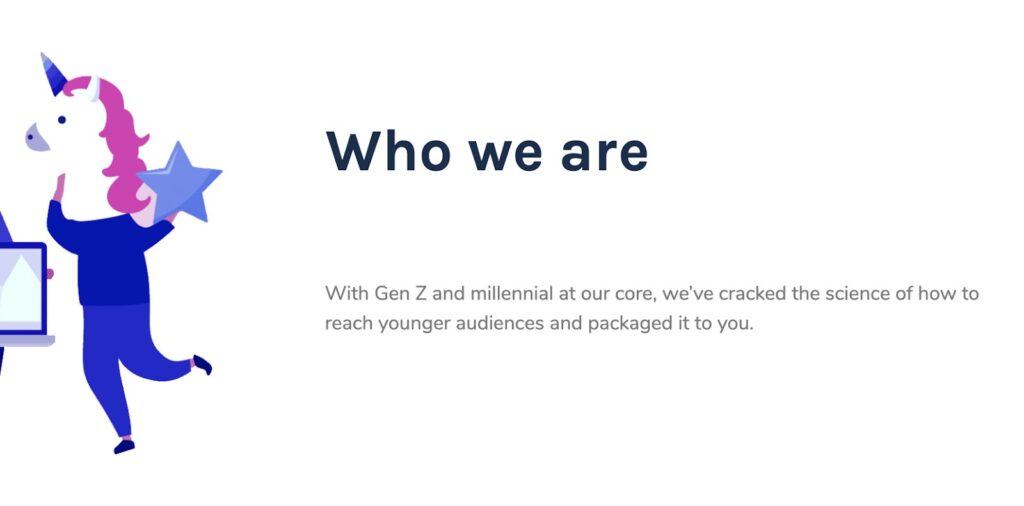 Fanbytes can be a good pick for brands looking to target Generation Z. It works with young influencers on Snapchat, Instagram, and TikTok. It's also known for special Augmented Reality Lenses programs.
It is one of the only platforms to target influencers on these apps. It mainly aims to provide entertaining content to followers to achieve good results.
#20 BrandSnob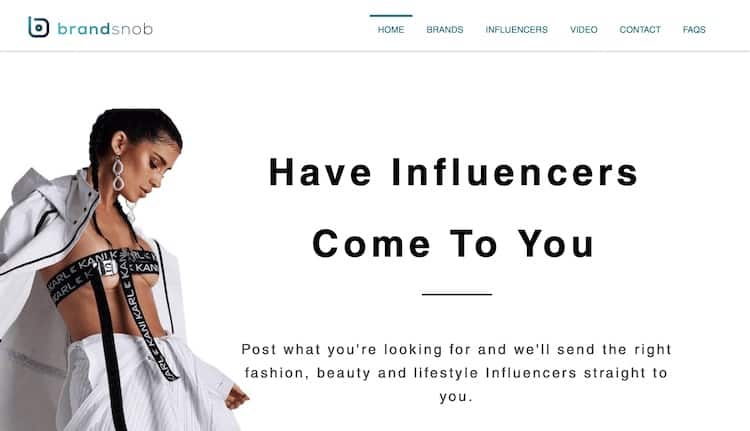 With offices in Melbourne, Sydney, Las Vegas, and London, BrandSnob is among the most well-recognized influencer marketing platforms. However, it only works with selected influencers and has only about 10,000 influencers in its database.
It is known for excellent customer support and reliable AI programs that help brands find the right influencer.
#21 INFLUENSI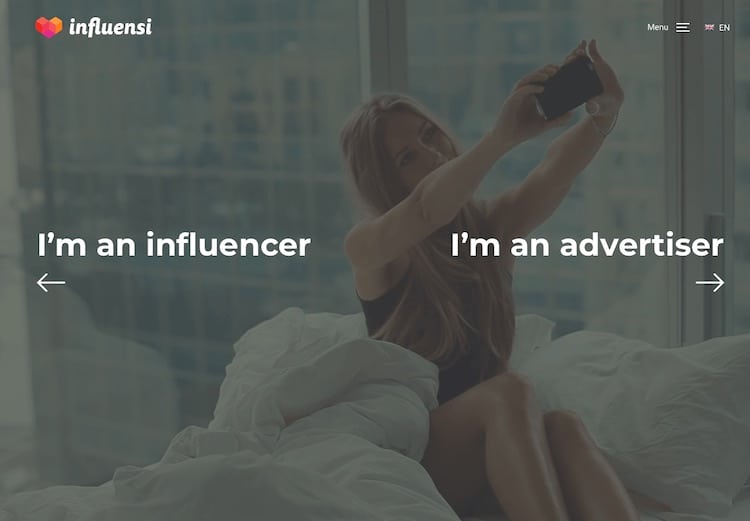 INFLUENSI is known for offering real ROI to help businesses calculate returns. It is one of the few platforms that cater to both influencers and brands like a pro.
In addition to this, the platform offers consultancy and event management services.
#22 SocialBakers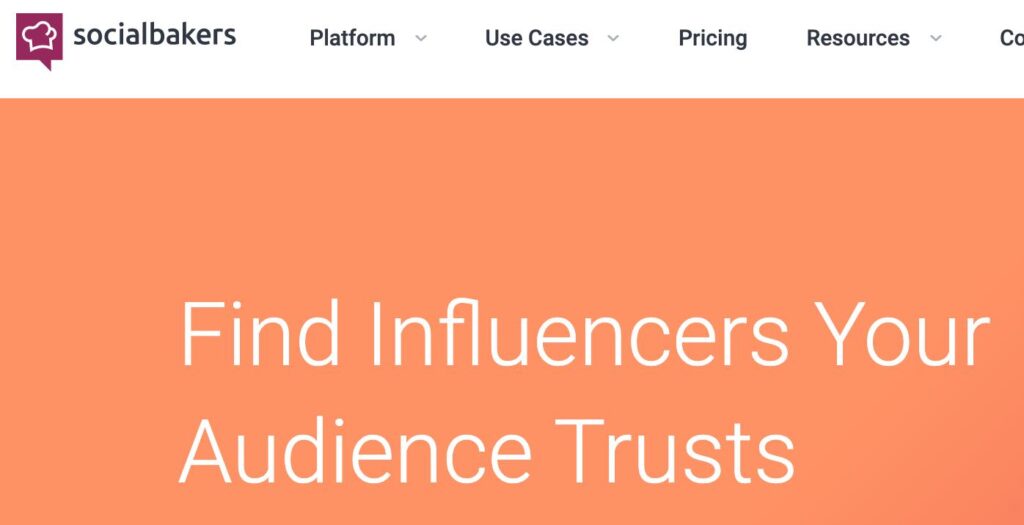 SocialBakers started as a social media management company. After finding success in providing analytics, it introduced an influencer marketing platform where businesses can search for reliable influencers.
#23 Tidal Labs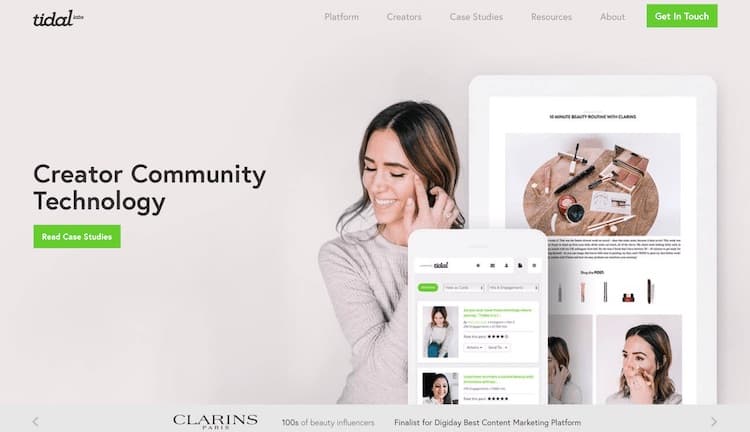 This platform makes use of a proprietary platform to provide brands with what they need.
It offers excellent customization options to help businesses choose the right influencer. Plus, it's easy to use and has excellent customer support.
It can automate your workflow and allow you to get more in less time.
#24 Tribe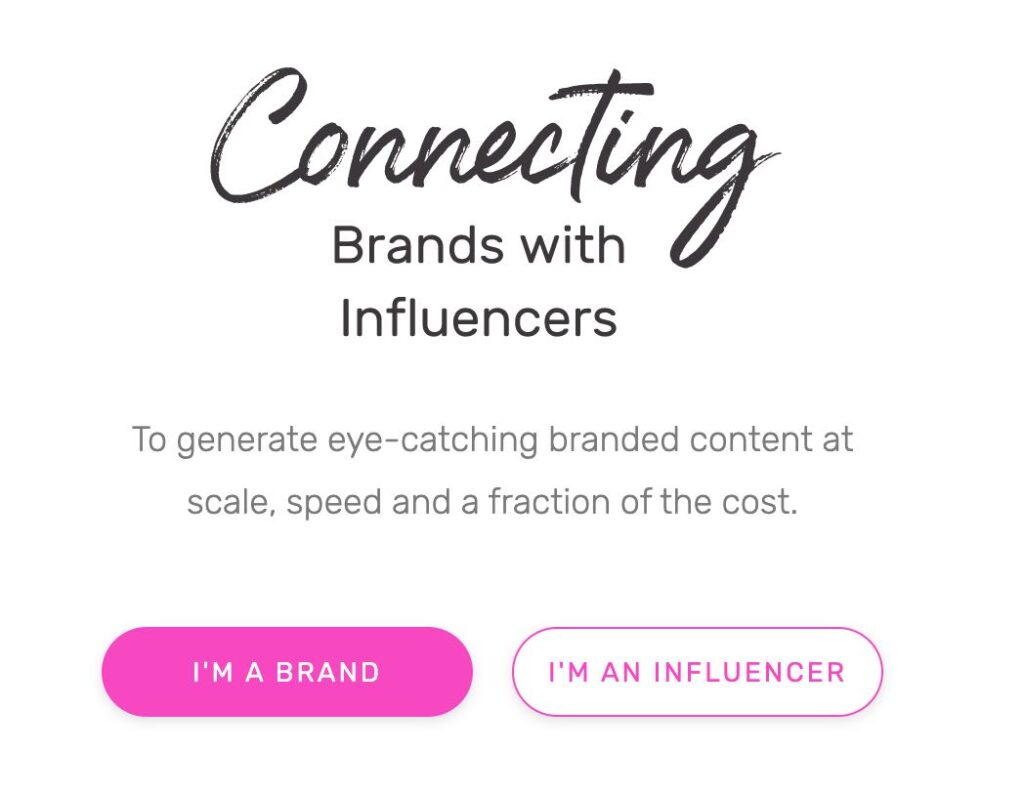 Tribe is a self-serve marketing app that helps bring influencers and brands under one roof.
Originally founded in Australia, it is now a global name with offices in the UK. The platform mainly works with big British clients such as HSBC and can be a good pick for influencers with a large number of UK followers.
#25 Peg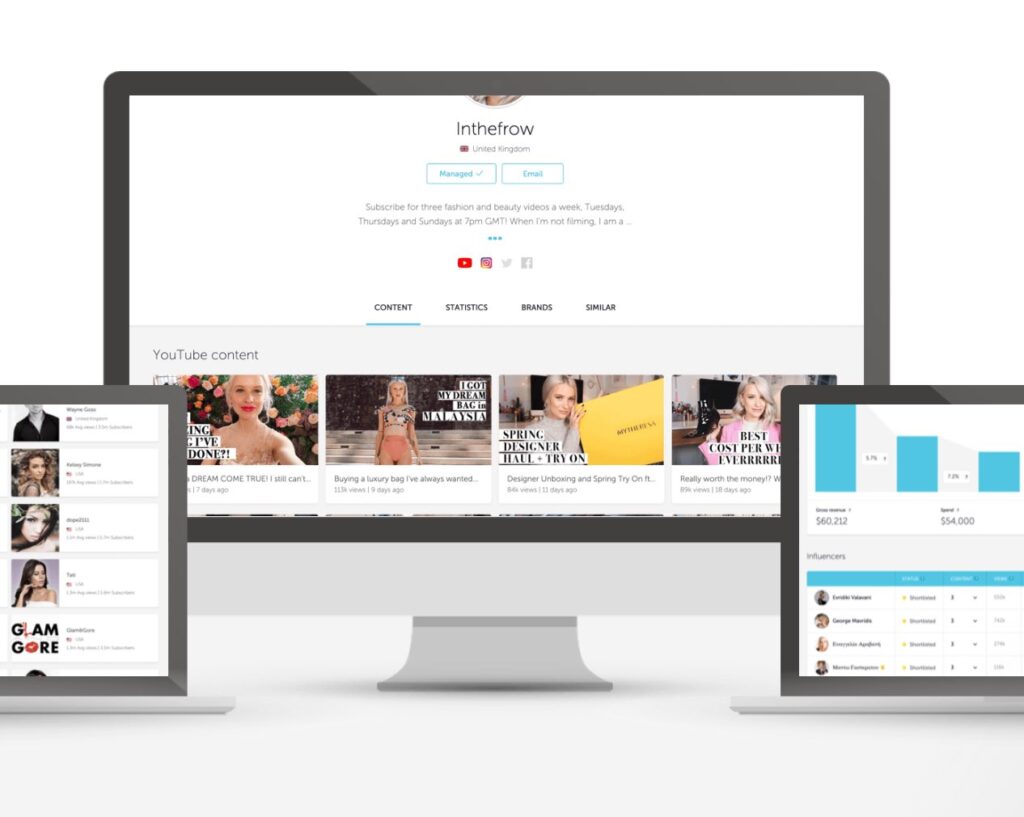 Peg mainly works with Instagram and YouTube influencers from all over the world. It has close to 6,000 clients including some major brands like Nestle, Google, Universal, and Uber.
Unlike most platforms, Peg concentrates on performance-based marketing and not campaigns designed to increase brand awareness.
The platform has a custom pricing model but you can try a free demo to know how it works.
---
These were the 25 best influencer marketing platforms for brands and influencers. Let us know your thoughts and please share any experiences you've had with these platforms. If you have used another influencer marketing platform that is not on the list—we'd love to hear all about it!