Exquisite handmade men's shoes. Boots for days. The canvas shoes of your dreams. Sophisticated luxury footwear. Super hot athletic footwear. Lovable casual sneakers. And fun retro-style sneakers made in Italy.
Plus you – the fashion-raving influencer that's sitting at the edge of their seat ready to get your next Collab flying off into the social media universe.
There's no time to relax when you have these trendy footwear brands looking for Fashion Influencers in 2023:
Ready to get your feet into these Brand Collabs?

Loom Footwear is working to bring a revolution to footwear by introducing waterproof sneakers that look good.
Criteria
Eligible Country: Worldwide
Age Criteria: Any
Social Media Platforms: Instagram and YouTube
Minimum Number of Followers: 10,000+
Preferred Gender: None
Loom Footwear features innovative waterproof sneakers that combine fashion with functionality. The brand is for everyday use and offers some very sturdy products.
Whether you're running on wet pavements or walking through a snowy path, you can feel at ease knowing your shoes won't get wet. The company is looking for international influencers as it believes that its products have a worldwide audience.
The idea is to promote these products as fashionable but useful.
Benefits
You will receive a free pair of Loom sneakers to try out and post about. Additionally, the brand also offers a 15 percent commission to influencers on every sale. Moreover, a 10 percent personal discount can also be availed by the influencer if they wish to make purchases from the brand.
If you have a decent number of followers, you may even receive a personalized code.
---
DARA Shoes

We're kicking off this influencer program dish with a brand that is styling men with luxury shoes. DARA Shoes is made for men with an exquisite fashion sense. From luxury boots like the Asti suede boots in sudan brown or oxblood red – to top off your stylish winter looks. To LUCCA sneakers in black and white for a tasteful casual statement. And then the sophisticated leather loafers in gorgeous colors like oxblood red are absolute must-haves.
Influencer Program
Are you a stylish and adventurous fashion influencer?
DARA Shoes has an impressive influencer program for you to join.
As their brand ambassador, you'll receive five free pairs of footwear per year, a discount of 15% to share with your followers, a 15% commission on sales, sponsored photoshoots and so much more.
---
Thursday Boot Company
By the time your eyes set sight of Thursday Boot Company, you'll be sure that all your feet need is that perfect pair of boots. And you'll absolutely find them at Thursday Boot Company. In fact, expectations may be exceeded as you discover their full collection. Particularly the charming Captain collection – the toe boot handcrafted with quality materials. Available in men's and women's boots.
Influencer Program
College students, this brand collaboration opportunity is here for you to get your feet into!
If you're fun and smart and would love to grow the Thursday community at your college, listen up.
You'll get access to new merch and gain valuable experience with a growing footwear brand.
But you must be able to commit to a full semester for this gig.
---
BANGS Shoes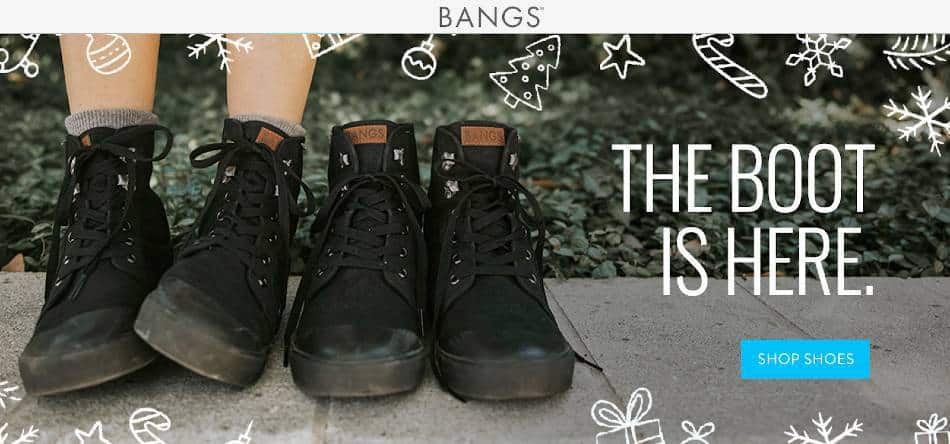 Then every fun life-loving guy or girl needs a pair of BANGS Shoes. This classical canvas footwear brand will send your feet off on fun adventures with high tops, low tops, and slip-ons. In classic colors and wonderful designs like the Sahara Sand Floral, Sahara Sand Tree and Old Pine Sunflower. These canvas shoes will certainly put smiles on your face and comfort on your feet.
And BANGS Shoes support starting businesses with 20% of their net profits.
Influencer Program
If you're 16+ years old and you'd love to rock BANGS Shoes too, then this opportunity is for you.
You'll earn discounts and prizes for promoting BANGS Shoes. You must commit to 24-hour response time and this collaboration is on a 3-month term.
---
Valénti

It's not every day you come across a luxury brand that handmakes footwear to order. Yes, tasteful fashion lovers, Valénti will sweep you off your feet with their top collections. From the attractive Bastian Chelsea Boot, the sleek Harry Balmoral Boot, the impressive Elon Full Brogue to the classical Gareth Derby and Bateman Exford Shoe.
Each pair is handcrafted by a 3rd generation workshop in Spain – a quality 10 hours spent per pair.
Influencer Program
Sophisticated fashion lovers worldwide with 20,000+ social media followers can apply for this influencer program.
Influencers are required to create brand excitement, engage with customers and also share brand knowledge.
---
ROVUX Footwear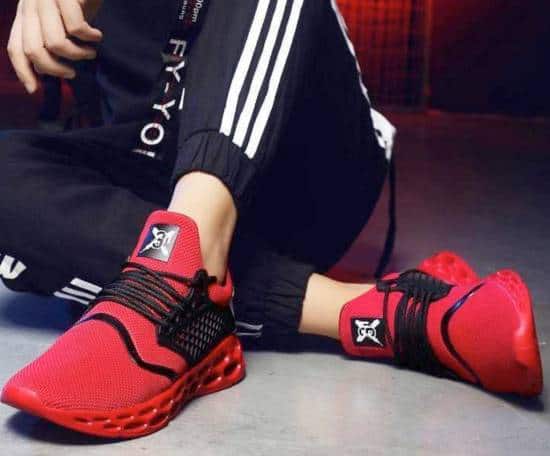 Warning. The shoes you're about to see may increase your heart rate and cause you to grab them for yourself ASAP. ROVUX Footwear is where the worlds of fashion and fitness collide to create sensational modern athletic shoes and apparel. Picture how the Women's ROVUX Zoom pair of sneakers will sass up your leggings look. And for the men, the ROVUX Blast in red will blow your mind. So So Hot!
Influencer Program
Fitness influencers and athletes with 25,000+ followers on Instagram can apply for this opportunity.
Your influencer feed is waiting for this hot footwear brand collab.
---
INKKAS Global Footwear

Just when you thought that casual sneakers couldn't make you happier, you discover INKKAS Global Footwear. These sneakers are classical but they show off attractive detail that you won't be able to resist. Like the forest moon camping boot. Or the future is female camping boot. Or the vibrant range of slip-ons. And then there's the Star Wars collection. Galaxy confetti slip-ons couldn't make you happier.
Collections are available for men, women, and children.
Influencer Program
Are you adventurous enough to spread the word about INKKAS Global Footwear? Are you passionate about protecting the earth?
Influencers earn discounts, commissions, free merch, and more. You'll also be expected to help plant trees.
---
J Marie Shoes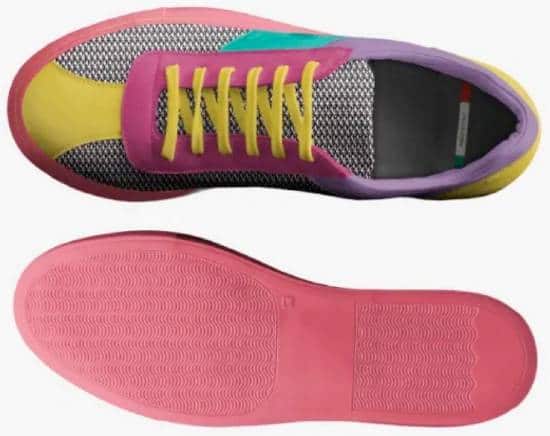 For the love of sneakers, J Marie Shoes is about to up your style with luxury leather athletic footwear. This premium sneaker brand boasts handcrafted collections from Italy. Once you've clicked on shop, and once you see the Born in the 80s Retro Running Trainers, your sneaker-loving spirit will start levitating. It's love at first sight. It's those or the Minimal Low Top Crayola in multi-colors that will make your eyes pop.
Influencer Application
This opportunity is perfect for a fun and vibrant personality that will be excited to create content, show up at events and promote J Marie Shoes with passion.
Influencers also get a free pair of sneakers every month. Whooooaaaa.