The COVID-19 outbreak had many people worried about their health and forced them to reconsider their fitness habits. Data from Parse.ly shows that total pageviews in the Health & Fitness category grew by 307% year-over-year in 2020.
The good news: this is just the beginning. As reported by CBInsights, fitness is one of the twelve industries that will benefit the most from Millenials' prime spending power.
Millennials represent 35% of all health club memberships in the US, the single largest generational cohort by a significant margin, according to the International Health, Racquet & Sportsclub Association (IHRSA).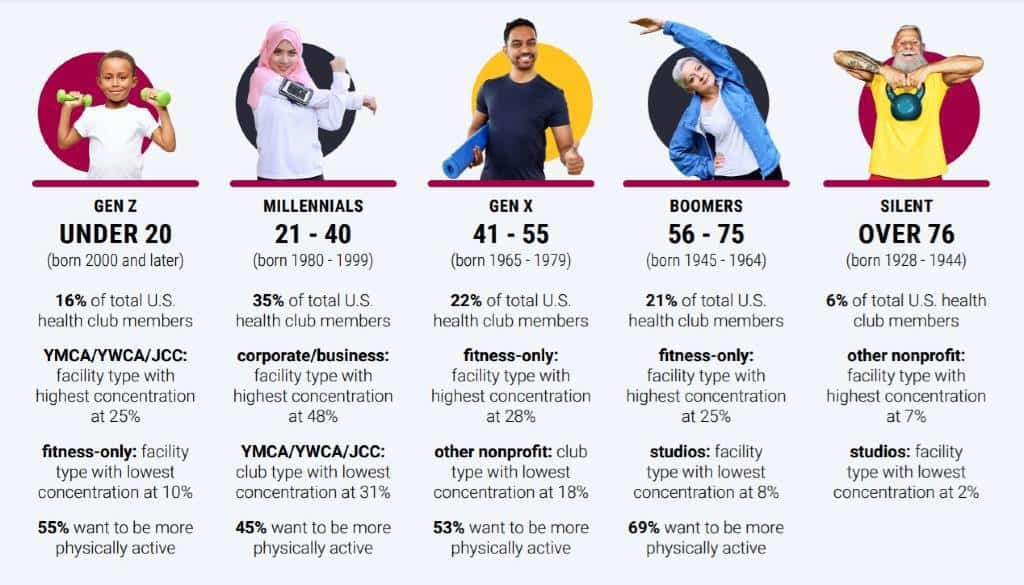 This begs the question: What is the best way to reach your target audience?
The short answer: Influencer Marketing.
Digital natives are increasingly spending time online, and according to Sprout Social, 72% of millennials state that social is an essential part of their lives.
If you're looking for fitness and wellness influencers to promote your business check out these successful content creators.
Crushing it in muscle tanks, yoga, and laughs, to all things fitness and everything in-between with these energetic influencers.
Dolphin poses, squats, workouts, kettlebell training, and just moving never looked and felt this good on your social media feed.
Here are influencers in the fitness space who you can follow and Collaborate with in 2023:
Let's get movin'!

ACE-certified group fitness instructor, Jackay Frank, is about to pump you up and lift you up—one free-spirit jump at a time.
High intensity, high energy, and lots of fun are what Jackay is all about.
Content
Jumping rope and jumping on a trampoline never looked like this much fun. Jackay is all the inspiration you need to literally jump out of your funk and jump into happiness—because her Instagram feed will get you that motivated.
From scenic jumps by the beach to jumping along to dance music by the roadside, Jackay's posts are more than just bounce cardio. They are full of feel-good vibes. She's a reminder that it doesn't take much to feel amazing about life. All it takes is a jump.
Besides sharing her fun jump routines on Instagram and TikTok, followers can expect content to feed their wellness too. Books that changed her life, like "Low Tox Life", "Power Snacks", "Women's Wellness Wisdom", and "First We Make The Beast Beautiful". Jackay is an uplifting source of inspo for anyone on a wellness journey.
Bikinis, beaches, trampolines, music and scenic jumps—Jackay is a must-follow fitness and wellness influencer that's full of upbeat energy.
Collabs
Fitness and wellness brands – Jackay Frank is a micro-influencer match that would make a fun and uplifting Collab.
---

Supercharging the internet with power reps straight out of Ohio, USA is women's health and fitness expert Storm D.
She is all things fitness, nutrition, and wellness for women.
Storm is a sports psychologist, biohacker, and owner of a 3000-member all-women's gym—nothing short of dynamite here for this macro-influencer.
Content
Ready for a kick of adrenalin? Because Storm's Instagram profile is pumped with power workouts with badass music that will get you up on your feet and hustle for that muscle.
From powerful kettlebell workouts to small space workouts—whether she's in the gym or at the beach—Storm keeps her followers motivated with her training videos and encouraging captions.
"You can let life beat you and smack you around every time you face a challenge or you can welcome every challenge as an opportunity to grow and find more of yourself. The choice is ALWAYS YOURS." – Storm.
And what do her followers think?
"Killing it" with flame emojis is how it's dropping in her comments.
And if you're a fan, then you'll absolutely love her fitness gear too. And of course, Storm will drop a link to what she's wearing, because everyone wants to know where she got "those leggings" from.
Collabs
Storm is the perfect match for health and fitness brands looking for influencers to them reach a large female audience.
---

From Colorado, USA, Lisa Anne is a passionate personal trainer and holistic competition prep coach that loves taking a "naturalistic approach to most things".
With quite a diverse athletic background in figure skating, rollerblading, yoga, weight-lifting, and hiking—Lisa's path to personal training comes with compelling experience in fitness.
Content
Post after post, Lisa's attractive fitness aesthetic on Instagram is a true representation of her empowering active lifestyle.
And she's all about "building beautiful bodies from the inside out".
From her inspiring fitness pictures and motivating workout videos, client spotlight before and after pics, to powerful captions like "a daily hour workout is only 4% of your day. MAKE IT HAPPEN", Lisa is an uplifting source to her community of fitness enthusiasts.
Keeping up with the current times, she shares convenient home workouts with minimal equipment—just what we all need, right?
Creating no room for failure, Lisa shares valuable resources like the "how to set your day up for success" worksheet and golden educational nuggets about nutrition.
Collabs
Lisa's recent collaborations include promotions for Calm Gummies and gorgeous competition bikinis.
She's an ideal fitness micro-influencer for health and fitness brands looking to tap into her community.
---

Based in California, USA, Jessica Suzanne is a vibrant health and fitness enthusiast that is passionate about helping other women grow their businesses in the industry.
She also loves inspiring her followers with fitness, fashion, beauty, and wellness content.
Content
Jessica's bright and motivating personality is hard to miss.
Summer sunglasses, cherry red lipstick, a happy smile, and so much feel-good energy.
From walking on the beach with a booty band, her 7-minute booty band burn workout, and weekend outfit fashion hauls, to soaking in a fluffy bathtub because it's National Bubble Bath Day—Jessica's images and videos are full of amazing uplifting vibes.
And if you love her, you'll only love her more as she shares inspiring captions like "confidence is not about becoming someone you are not… You do not need to get rid of any uniqueness that makes you, you… Unshakable confidence is about embracing who you are."
Jessica embodies wellness, inside and out—because looking good and feeling better are goals best achieved together.
Her radiance says it all.
Collabs
From fashion to vitamins and liquid collagen, Jessica has a number of brand collaborations under her profile.
She's an awesome micro-influencer match for fitness, wellness, fashion, and beauty brands that would love to reach her community.
---

Abhish Desai is a dedicated fitness enthusiast from Atlanta, Georgia. He is a functional trainer at the PlayBook App, where the world's top trainers, athletes, yogis, and instructors create their workouts and coach their clients.
Abhish is very dedicated to sharing invaluable information on fitness, meditation, and motivation, so it's no surprise he has more than 509,000 followers on Instagram. What makes Abhish different from other influencers is his level of attention to detail. He wears many hats — he's a creative director, content creator, producer, photographer, videographer, editor, and more.
Besides sharing workout videos, Abhish is a great storyteller and keeps his followers engaged with posts packed with motivational messages and valuable advice.
---

Alexandra Brodsky is a Colorado-based vegan and fitness influencer who shares her routines to inspire her followers. She promotes a healthy lifestyle through high-quality content.
The moment you open her social media accounts, you'll notice her love for running. Her Instagram posts are a diary of her journey where she shares the love of marathon running.
Alexandra's content is all about health, fitness, and wellness, and she's a great motivation for everyone getting ready for a marathon.
---

The New Jersey-based lifestyle and fitness content creator, Ashley Darling, aims to inspire her followers to live a healthy lifestyle and have a positive mindset. She has a passion for going to the gym, eating healthy foods, and wearing cute activewear. Ashley has more than 5,300 followers on Instagram and a mind-blowing engagement rate of 16.3%.
Her followers can get practical advice on workouts, stress control, mental health, and daily reminders to stay on the right track. She already has successful collaborations with health, fitness, and wellness brands, promoting supplements, activewear, and more. Ashley often shares discount codes that her followers can use to get the products she promotes.
---

Bernard Cunningham is an NGA pro-Bodybuilder, ASFA personal trainer, S&D Fitness Training Camp owner, and promoter of the NGA S&D southeastern natural fitness competition. He has been training for three decades and has been competing since 2004.
His dedication and consistency have helped Bernard figure out a way to build the best physique, and now his training program, workout, and meal plans are available to help individuals get in shape.
If you are trying to reach fitness influencers with a niche audience interested in bodybuilding, Bernard can help you spread the message and promote your brand.
---

Deanna Lorea is a transformative wellness coach and mindset mentor, passionate about helping women elevate their bodies, mind, and soul. She has more than 178,000 followers on Instagram, and she is also the host of the Beneath her Surface podcast, where she talks with fitness gurus and women leaders to inspire her audience.
Deanna is also leading the ALIGN Community, where she offers 1-on-1 coaching, live stream classes, Q&A sessions, insightful developmental workbooks, and more. Her dedication to building a strong mind and body has made Deanna a truly healthy lifestyle ambassador.
If you're in the fitness and wellness niche and looking for influencers to promote your brand, Deanna might be the perfect fit for your business.
---

Allen Walters is the owner of RealDad53 – a blog for men's health, fitness, and diet. He shares workout plans, health and stress management tips, and helpful lifestyle advice.
Allen has a passion for learning, and his goal with this blog was to share his experiences and lessons with others who might find them useful. He explores lots of different topics on his blog and takes readers along the journey with him.
Besides the blog, Allen's career has revolved around technology — he does web development, business systems analysis, and SharePoint administration.
---

There's always that one person that will bring energy to any party.
I feel like Shana Meyerson is that person. Between her contagious smile, bubbly personality, and quirky humor – she's a must-have dose of feel-good vibes.
And if she says do dolphin pose, you bet you'll roll your yoga mat out and spring into action. With lots of laughs, and maybe even some wobbles, you'll have an amazing experience with Shana.
I'll take laughs any day.
Based in Los Angeles, Shana is a private yoga instructor and founder of YOGAthletica where you'll find her teaching funky flows that will, without a doubt, leave you smiling and feeling great.
"You are my constant inspiration even in the hardest time ever" – is pretty much the epitome of how she makes her followers feel.
In 2002, she also pioneered the children's yoga industry with mini yogis. She'll uplift the whole family.
Shana founded her online influence in 2010 around people that love yoga and appreciate how life-changing it is. (She's a yoga vet, teaching adults since 2002!)
This teacher has me hooked on her buzzing YouTube channel. Her most popular video is "yoga handstand for beginners who are afraid of handstands" and her hilarious unboxing videos have left me in stitches for days.
I'm excited to handstand around all week!
Some of Shana's collaborations have been with brands that partner with fitness influencers often, such as Manduka, Nuzest, Skëdagø, Graze, and Yogi Surprise.
If you love yoga and would love to smile a little more, then Shana Meyerson's content is certainly worth checking out.
---

Based in Los Angeles, Brittany Noelle is a virtual fitness coach that is passionate about helping people achieve their goals. According to Brittany, she does "fitness that fits you". Gotta love her already.
Content
Need some fun and upbeat inspo to get moving? Brittany is your girl.
Her Instagram profile is pumped with all-around fitness content with her twinkling personality being the highlight.
From workouts, and meals to awesome product and service recommendations – Brittany has an authentic way of delivering value to her followers.
Over and above her vibrant images, her athletic physic, and her natural charm, Brittany's captions are rich in depth and value.
"Debunking food myths", "improving bone density", and "no equipment workouts" are just some of the many interesting topics she shares through her detailed captions.
Blog
With a content-rich social media presence, it's no surprise that Brittany is a committed creator on her fitness blog too.
Her blog has a wealth of hot posts like "quarantine workout series" paired with lively pics.
YouTube
Brittany has a fairly new YouTube channel, but she's pumping workout and meal prep videos out constantly.
Collabs
Brittany is the ideal match for brands (in various segments: nutrition, apparel, equipment, and fitness-related products) looking for fitness influencers.
---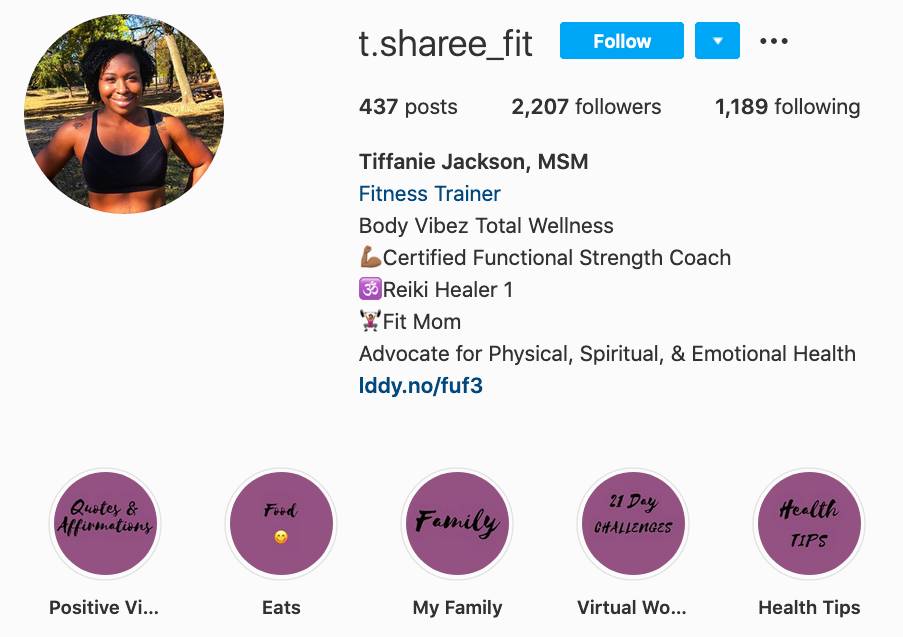 Fitness inspo is as real as it gets when you follow influencers like Tiffanie Jackson. After all, we all need to connect to that one person with a real-life transformation journey to be inspired.
From Oklahoma City, Tiffanie is a certified functional strength coach. And she's also a reiki healer – which is no surprise considering how passionate she is about the wellness of the mind, body, and spirit.
Tiffanie is a single mom – extra inspo for all her mom followers – and she's been sharing her fitness story for over 5 years.
Between her live class videos, at-home workouts, and her regular before and after photos – through her Instagram and Facebook profiles, she powers her followers up with the motivation to stay active. Even her "COVID burpee challenge" will shove you off your couch in quarantine because she makes it look so doable.
And because we could all feel a little less intimidated by mainstream perfection, she shares the highs and the lows of her fitness journey since her abdominal surgery.
"Girl I had a blast thanks so much for the workout" is how she fires up her followers.
Lately, Tiffanie has been promoting CBD and skincare products.
---

From Australia, Sydney V Smith is a beautiful health enthusiast and inspiring fitness fanatic with a model-like aesthetic.
She also calls herself an "unordinary girl in an ordinary world" – a bit of mystery we're all curious to learn more about.
Content
Sydney's Instagram profile is an easy like and follow for all those that stumble across her. Pretty pictures, inspiring stories, and motivating workouts at first glance.
But beyond her posts are personal insights into her health and fitness journey.
"Many of you don't know this, but I spent most of my life hating my body…"
No matter how great you may feel about yourself, everyone connects to this level of realness about self-body image. So when Sydney shares her personal stories, her openness is pleasantly welcomed by her followers.
From charming selfies to energetic workout videos, Sydney's posts are paired with firey captions like "live your life the best way you know how, even if it doesn't match what others want you to be".
On her growing YouTube channel, Sydney has published a few hair and makeup videos – it's here that you appreciate her willingness to experiment with various niches that serve her female audience.
Collabs
Sydney has collaborated with several brands that often work closely with influencers to promote CBD, fitness, and beauty-related products.
---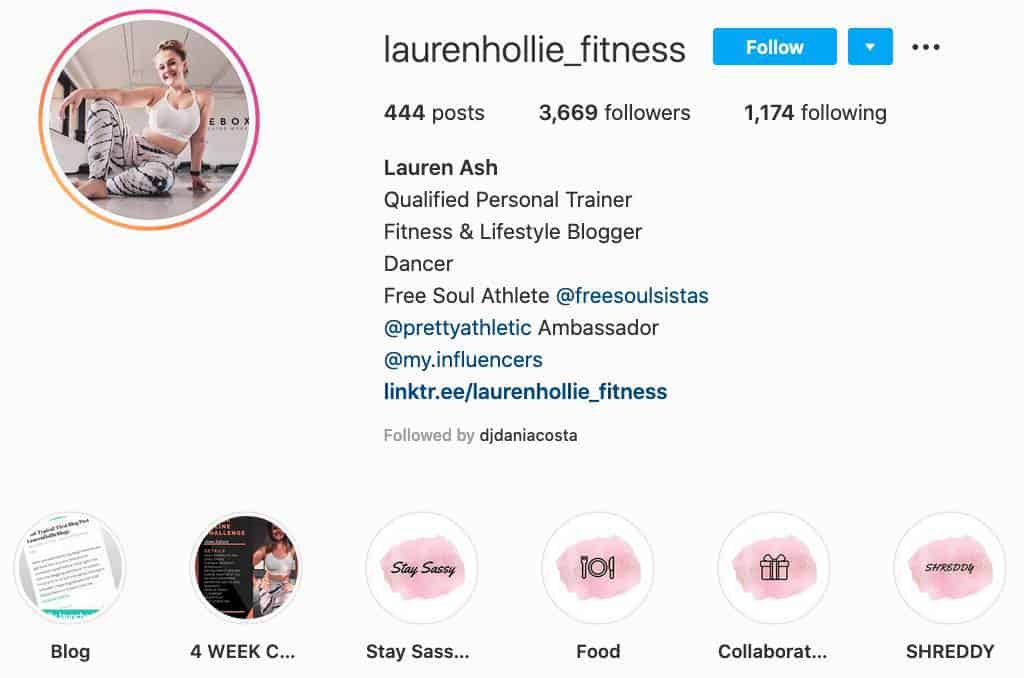 Feeling dissatisfied with the way you look? You're not alone.
From the United Kingdom, influencer Lauren Ash started her fitness journey during her first year of university and she's been sharing her journey on Instagram since 2018.
Lauren is a qualified personal trainer and fitness instructor, and she's also a full-time dance student.
On her Instagram profile, her lovely personality bubbles through her fun dance videos, and of course her must-watch easy home workouts. And she'll keep her followers grounded with reality through thoughtful captions like "it's ok to gain weight" as she motivates people to focus on looking after themselves even during difficult challenging times.
You'll also catch her sharing healthy meals too like her yummy vegan quesadillas. Hmm.
Lauren's website has an interesting Q&A fitness series where she shares the amazing fitness journey of others. More on "Keeping fit in Isolation", "How to HIIT Effectively", "Loving You: Define Love in Your Life", and more.
Some of her fitness collaborations include brands that love working with influencers, like Free Soul, Pretty Athletic, and Organic Basics.
---

What's better than living an active lifestyle? It's doing it while traveling the globe.
Based in Budapest, Nathan Sado is a full-time world traveler and elite trainer. Different from other influencers, he'll inspire fitness and wanderlust in you with his thrilling passion for adventure.
He's also a speaker at various travel conferences around the world. With his experience since 2013, it's no surprise that people are keen to listen to what he has to say.
Whether you catch his active adventures on his visually captivating Instagram profile or read about his explorations on his blog, Nathan will get you to experience travel with fitness in mind.
After all, "if we were meant to stay in one place, we'd have roots instead of feed" – right?
Posts like "what to do in Dubai for adventure" and "7 best hikes near Seattle" will get you hooked on this lifestyle immediately.
While travel may be on hold for now, fitness with Nathan isn't. He just started the Facebook group Social Distancing Bootcamp Community, where he posts live-streamed classes to keep his followers active during this period.
His Facebook group community is buzzing with positive feedback. "Fabulous core and abs workout" and many more fab comments are dropping.
Some of his Brand Collabs include Glacier Country Tourism, Swan Mountain Llama Trekking, Sicily By Nature, and Etna Bike Tours.
---

From Texas, Mark Dilworth is helping people through the toughest fitness challenge of all time.
Weightloss.
Mark is a certified lifestyle and weight management specialist that has been helping people lose weight through his influence since 2010.
From his buzzing Twitter profile to his motivating private Facebook group, Mark keeps his followers going through posts like his "backyard exercise" and "Mark's superfood green smoothie".
On his blog, he keeps his followers informed with "refocus your weight loss goals during coronavirus", "3 weight loss methods that won't work", and more.
Pumping his followers with weight loss content, Mark also runs his "Transform from Fat to Fit" podcast dropping episodes including "stop yo-yo weight loss and regain", and "your body transformation is closer than you think", among many more topics.
Mark's influencer journey has seen him collaborating with brands including Isolator Fitness, One Body One Life, and Sitka Salmon.
---

From Arizona, Cassie Hepler is the influencer to connect with if you're all about working hard and playing hard.
Whimsical Cassie is also a model, actress, journalist, photographer, and travel enthusiast – phew, and I'm out of breath!
Her followers can keep up with all the interesting parts of her life through her social media and blog.
And because we're all here for fitness, Cassie will inspire you to exercise "away your stress to positively channel that negative energy" – from boxing classes to yoga.
She's also a hiking enthusiast that will move you to trek up for those gorgeous mountain views.
To remind you how real of a person she is, she has scoliosis. Despite having a physical ailment, she keeps on going strong, which inspires her followers to do the same.
Looking for authentic, hard-working fitness influencers? Then Cassie Hepler is your gal!
---
Forest Vance – Fitness Trainer & Gym Owner

What to do when the gym is closed?
You follow master personal fitness trainer and influencer, Forest Vance – to keep it real and keep you moving. Wherever you are.
Based in Sacramento, California, Forest is the founder of Forest Vance Training – a small group and personal training studio.
Forest is also a former pro football player, a multi-sport athlete, as well as a kettlebell expert and you can't help but feel a sense that you're in the right hands. Whatever your fitness goals.
"No gym? No Excuse!" because his followers can get moving with his 15-min challenges, his 6-week bodyweight-based workout plan, and more.
Stay connected, inspired, and entertained through his Facebook page, or dive deeper into his fitness blog with virtual challenges, follow-along workouts, and the much-needed "Daily Routine to Stay Focused, Positive, and Strong".
You might not physically be in Forest's gym, but you do feel personally included through his Facebook page – wherever you are. Double hearts and star eyes on his posts for sure.
Want to build peak fitness anywhere? Then get inspired by Forest Vance's content. And if you're looking for fitness influencers that can create inspiring content like Forest, then you know whose DM you want to slide in.
---
Andrea Metcalf – Celebrity Fitness Influencer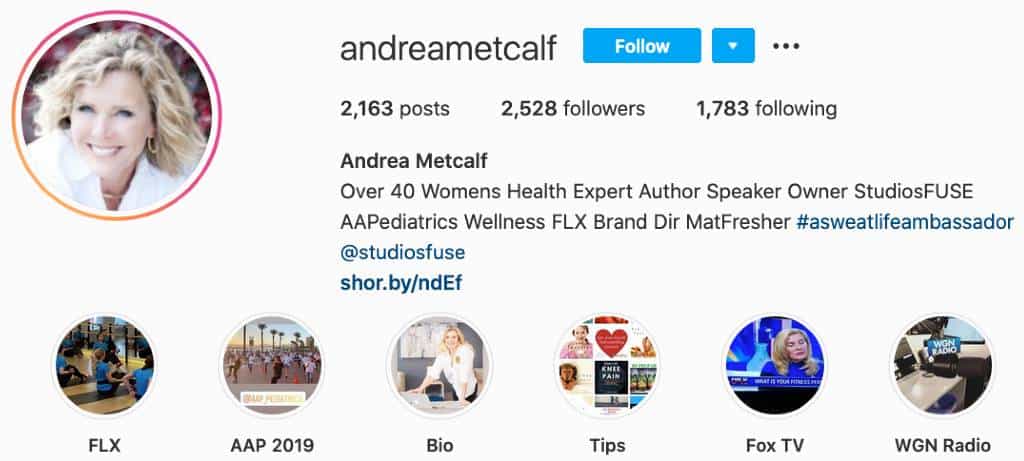 You've got to take a moment to listen closely when fitness influencer, Andrea Metcalf, has something to say.
With over three decades in teaching and educating people on fitness, Andrea is an extremely credible source of fitness support.
She's a celebrity fitness expert, best-selling author, speaker, and trainer as seen on the NBC Today Show.
Speaking of being an author, in 2012 she wrote "Naked Fitness". What's especially interesting is that she also piloted a program of 30 people to practice the guidelines set in the book. You'll catch the inspiring video footage of the results on her social media – like Mike that lost 26 pounds in 30 days.
Andrea's accomplishments and wealth of experience in the industry have earned her the title of "expert".
And her social media content shows proof of her expertise. With valuable posts like "Sitting at your desk all day? Try this next time you find yourself thinking about exercise" that will take you straight to her "The Desk Workout" YouTube video.
From live online classes to workout videos to helpful posts on her blog, Andrea will inspire her followers to lean into mind, body, and life.
She certainly has her 35-65-year-old female audience glued in.
Some of her brand collaborations include Quaker Oats, Vitamin Wold, GNC, and Chobani.
Get working out and go check out Andrea Metcalf's stuff on social media, or explore the rest of our fantastic fitness influencers.
---
Andy Anneville – @andyanneville – Epic Fitness Influencer

From the USA, Andy Anneville is a super muscle-powered fitness coach with an amped-up social media presence.
Content
Andy's profile needs no intro. At first glance, his Instagram profile says it all. Andy is a super-charged source of men's fitness.
From gym training, home workouts, his "go-to bicep workouts" and his "best pre-workout" to the poolside – he shows and tells it all in an eye-catching way.
Muscles and workouts, post after post. Andy's sleek images stand out and are an epic representation of men's fitness.
In his followers' words "perfect body and beautiful smile" and "looking solid man". We couldn't agree more.
But Andy certainly is all that and more. His motivating captions like "crush goals this week" are all a fitness enthusiast needs to see on their feed to be inspired.
Collabs
Some of Andy's brand collabs include Staunch Supplements, Rovux Footwear, JustCBD, and more.
Andy is a hot match for fitness brands, especially for those looking for influencers to get them some epic product shots.
---
Hire your next fitness influencer today
The fitness industry is gaining traction as more people become aware of the importance of health. While the competition in this industry is fierce, influencer marketing is one of the tools that can help you reach your goal.
Whether you're searching for micro-influencers or popular content creators, this list will help you move the needle and reach your target audience.
Ready to get your brand in front of thousands of verified influencers? Install the Afluencer app for Shopify here and start leveraging the power of influencer marketing.
If you are a non-Shopify fitness merchant, you can register here.