You follow them with your heart and closet.
They style their feed with fashion that will surely give you heart-eye emojis for days.
And they leave you daydreaming about how pretty amazing you'd look in "that" too.
These 11 top fashion influencers from around the world, are certainly the epitome of style inspiration. We have their style, influence, and everything in between covered especially for you.
So brands and influencers, ready to discover and connect to the world's top fashion voices around the globe?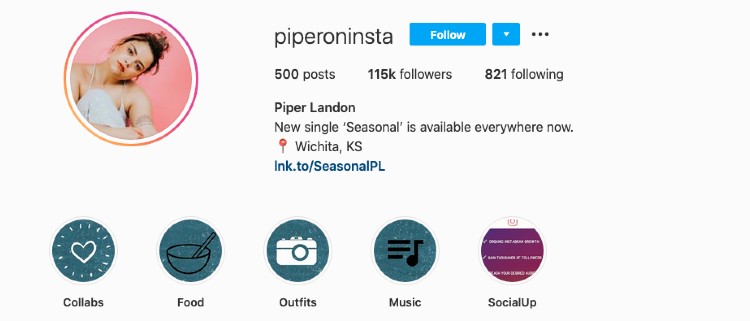 Piper Landon is an influencer that will blow you away with her blooming show of talents.
It's pretty rare to come across a multi-talented influencer, but Piper is a sweetheart that will capture your heart – from singing, performing, blogging, to her photography work.
From pretty little rompers to lovable knits and casual weekend shorts and jeans – Piper's feel-good and feel-pretty fashion style is as sweet as she is.
If you love Piper, then you'll love her music too.  Pop your headphones on and go listen to her latest beautiful single "Seasonal".
Her creative talents don't stop there. Piper is also a photographer that "loves to make you feel as confident and beautiful as possible" – and her camera skills show off all so beautifully on her Instagram feed.
And if you'd like to peek further into her life, check out her blog where she posts all things life, style, and some travel.  From thoughtful posts like "The Trap of Lonely In a Social Media Age" to exciting "Las Vegas – Where to Stay, What to Eat".
Piper's latest fab promotions include clothing, hair products, health products, and more. She's an awesome all-rounder for diverse brand collaboration opportunities.
She's a stylish gal with a charming smile and a lovely personality.  Piper feels like a good friend that you wouldn't want to miss checking in with daily.
Estée Lalonde: Cosmopolitan Style Fashion Influencer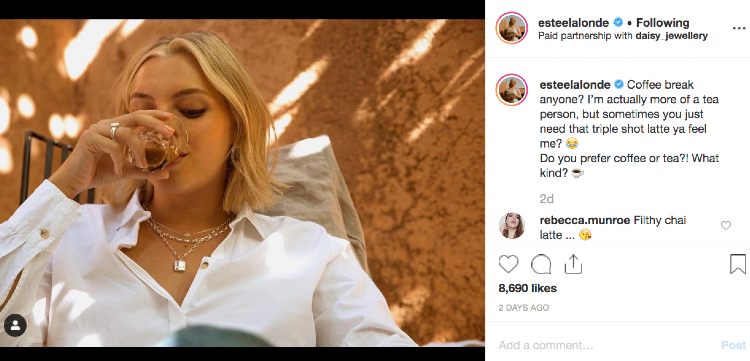 Sophisticated true-to-life Estée Lalonde.
Born in Canada. Then moved to the United Kingdom. From her refined cosmopolitan style to her charming personality that permeates authenticity – Estée is irresistibly lovable.
Building her primary influence through her Youtube channel (over 1 million subscribers), Estée has certainly established a loyal community throughout her entire well-built online presence.
Professional videos, images, and podcast episodes – Estée consistently delivers top-quality content in fashion, beauty, and lifestyle – a commitment that earns the respect of other influencers.
Estée's influence is well-respected by top brands, from her brand ambassadorship with Adidas to her appearance at top industry events such as 'Inspiring Women in Fashion' by Vogue.  Not forgetting her very own jewelry collaboration collection with Daisy Jewelry.
Her voice in the fashion industry is rock solid with well-earned credibility.
There's so much more to say, but we'll let her polished content do the rest.
Emily Ann Gemma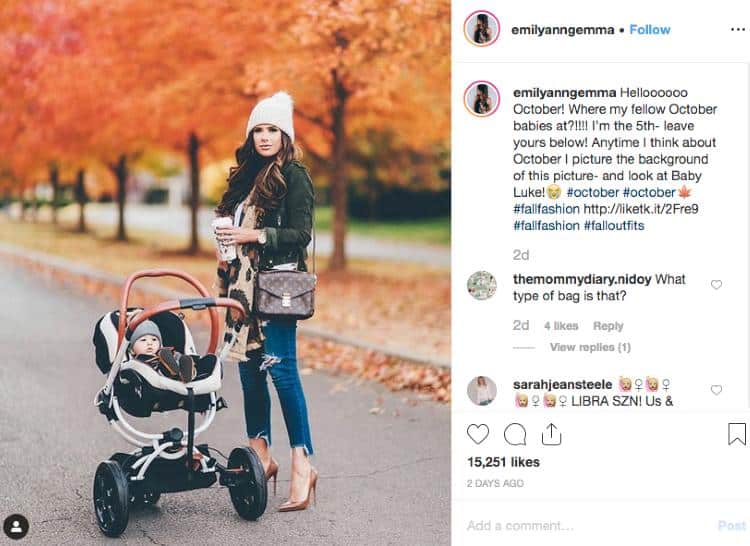 The Sweetest Thing: gorgeous fashion-forward mom, Emily.
Stunning. Classy. On-trend. Picture after picture. Her content is nothing short of crisp.
Her captivating style is certainly apparent by the hundreds of commenters posting questions about her outfits – which she pleasantly delights in responding to.
Most of her posts bubble over into her LiketoKnow.it profile (which is no surprise considering how contagious her style is), where her followers can get into her wardrobe and also shop products from there.
And the sweet cherry on top is without a doubt her blog – where her outfits come to life with interesting short stories.
Emily is an irresistible charm and so you'd be crazy not to connect with her.
Steph Ahn: Chic Style Fashion Influencer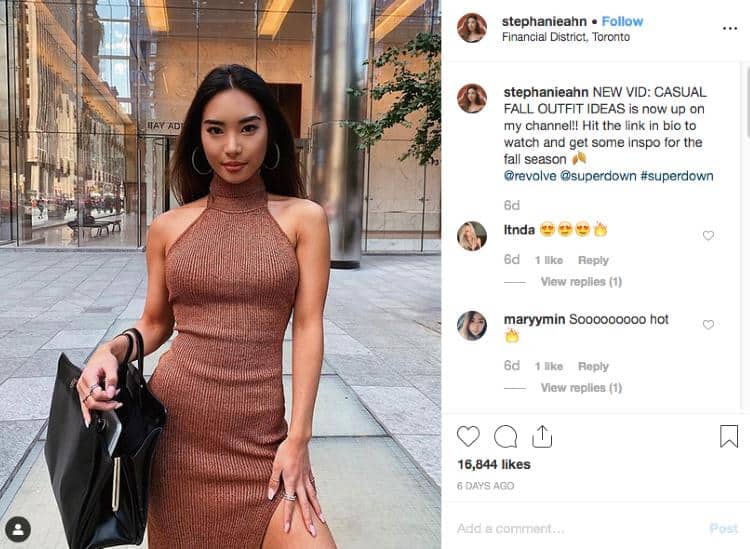 Casual chic sweetheart, Steph Ahn.
Based in Toronto, Steph is certainly the Korean darling every young woman will want to tag along with.
And speaking of tagging along, her latest brand ambassadorship is with top designer clothing retailer, Revolve – which she effortlessly represents with her beautiful posts.
Whether she's out for her regular coffee, out in the city, or holidaying in Hawaii or Paris – her followers adore her pretty chic style. "Love this dress", "in love with your top" and also lots of heart-eyes is pretty much how her commenters light up.
Her 23.9k subscriber Youtube channel flaunts a committed production of minimalistic fashion and beauty videos.  Above all, Steph's biggest video hit yet is her 20 Back to School Outfit Ideas video, which has surpassed 550k+ views.
With a personality as pretty as she is, it's so easy to fall in love with her.
Minnahigh: Badass Fashion Influencer
Soulful badass Minnahigh.
Sassy style. Sexy monochrome. Edgy tattoos. And certainly a whole lot of delicate heartfelt captions.
Based in Germany, Minnahigh is where the contrasting worlds of badass impression and gentle connection come together so beautifully.
Her latest collab, like many other top fashion influencers, involved the iconic millennial watch brand, Daniel Wellington.
Gorgeous bareback bodysuits. Flattering crop tops. Boyfriend jeans. Sneakers. Studded belts. Leather jackets. Layered jewelry. All with her signature round retro sunglasses.
Endless looks you'll surely love and want to shop through her 21Buttons profile.
Distracted by her enthralling style, Minnahigh's followers rarely get a full sight of her face. But when they do, wow. Her mysterious beauty is a knockout.
"So what's next? You heal. You grow. And you help others." – Minnahigh
Style plus a potent personality, Minnahigh is most certainly a solid package that will not go unfelt.
Nada Adelle: Fashion Blogger and Model
Head-turning model of allure, Nada Adelle.
Based in the United Kingdom, Nada is a fashion blogger and model that has seen her collaborating with top brands like Puma.  She has also been the face of the activewear brand, IVY PARK – co-founded by Beyoncé.
Being featured in industry magazines is no surprise considering her alluring style plus how the camera just loves her.
Her social media presence shows off a sleek feed of seductive blacks, whites, and neutrals.
You'll see Nada effortlessly go from sophisticated casual wear, tasteful lingerie, and contemporary activewear to glamorous evening wear.
She has the model body and she certainly knows how to visually inspire the mood for every post she creates.
So if you want to be inspired by influencers with top fashion content, then you should be following Nada.
Kirandeep Kaur: Fashion, Beauty & Travel Influencer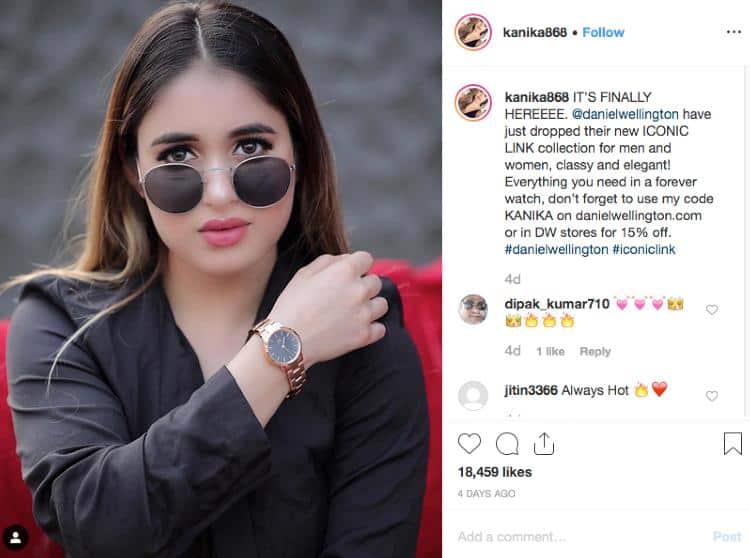 Confident fresh-faced Kirandeep Kaur.
From India, Kirandeep is a young fashion blogger that's certainly not afraid to be as adventurous in her style as her outgoing personality.
Her Instagram feed features diverse styles from sporty, contemporary, and elegant to the girl next door.  Not forgetting her heritage, you'll also get to see some beautiful splashes of Indian fashion too.
Her latest brand collaboration is with Daniel Wellington.
What is certainly prominent throughout her social media influencing presence, is her beautiful fresh face.
She's not afraid to show her adventurous spirit on camera as you'll see in her TikTok videos and also her video dance challenges like the #kikichallenge.
Kirandeep has a presence on Snapchat and a growing Youtube channel where she shares short fun videos of herself and her boyfriend.
With over 743k Instagram followers, this young social media star certainly has a sizable audience that cannot be ignored.
So while waiting for other influencers – go follow top fashion girl, Kirandeep Kaur.
Magda Jankowska: Fitness Style Fashion Influencer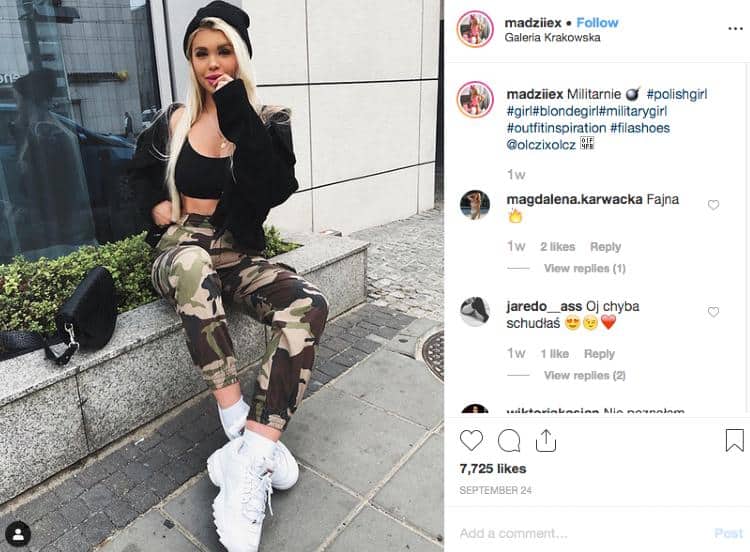 Racy blonde and beautiful Magda Jankowska.
Silky blonde hair. Luscious eyelashes. Manicure on fleek. Pouting lips. Figure-eight body. Hot crop tops. Body-hugging dresses. And enough sass to rock luminous outfits for days.
From Poland, Magda is the diva with a style that will certainly make your eyes pop.
Whether she's in the city, in the park, or at the beach – her voluptuous style cannot go unnoticed.
One of her notable long-term brand collaborations is with Daniel Wellington.
You will occasionally see her posting with her girl squad – which, to no surprise, are all as fab as she is.
Nikki Glamour: Real Girl Fashion Influencer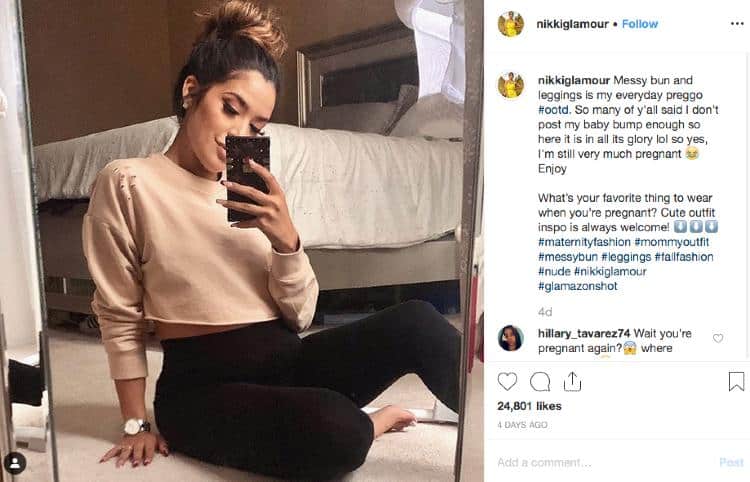 Free-spoken blooming Nikki Glamour.
Popular through her Youtube channel (with over 600k subscribers), Nikki is your shameless real girl from the U.S.A with a relatable everyday fashion aesthetic.
She's a mom. But she's also your sister, cousin, and bestie – as she warmly introduces in her bio.
She's not afraid to get all upfront and personal with her followers – and this is pretty much at the forefront of her identity.  She's known to drop juicy storytime videos such as "The Time I dated a Celebrity Son" which pulled over 1.6 million views.
Now, her massive engagement rate of approximately 19% cannot go unmentioned.  She certainly knows how to get her followers buzzing – so much so that she's named them Glamazons. Definitely deserves to be recognized as one of the top fashion influencers of today.
Consuming her social media content, one can't help but get "Real Housewives" vibes. She's interesting. She's outspoken. And she has a personal style that is blooming.
From her crop top sweaters, and oversized tees to her pretty dresses – with her hair and makeup on glam, you can't help but fall in love with her.
Rainie Tian: Vintage Style Fashion Influencer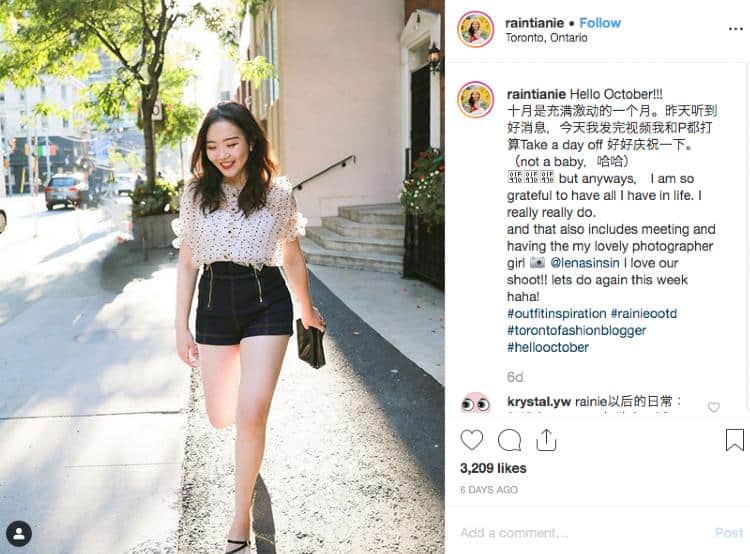 Romantic vintage-loving Rainie Tian.
Based in Canada, Rainie has a way of charming her Chinese-speaking followers with her lovable vintage style.
Polka dots and polka dots. Classic Chanel bags, girly tops, and pretty dresses. This is the typical beautiful romance of her social media feed.
From wandering into a beautiful field of sunflowers, daydreaming in the park, and strolling in the city to being caught up in a whimsical scene of a colorful array of huge balloons – her smile, vintage dress, and summer hat are all it takes to make your heart smile.  And of course, you can't resist but want to live those moments with her.
Rainie's main spotlight is on her Youtube influencer channel with 380k subscribers (and growing!), where she publishes all things fashion, beauty, and inspiration.  Her video hit to date is her "how I lost 22lbs in 40 days" video that has over 1.6 million views.
"You are the most beautiful and powerful when you are yourself" – Rainie Tian.
The more you know her, the more you love her.
Helena Coelho: Sophisticated Instagram Influencer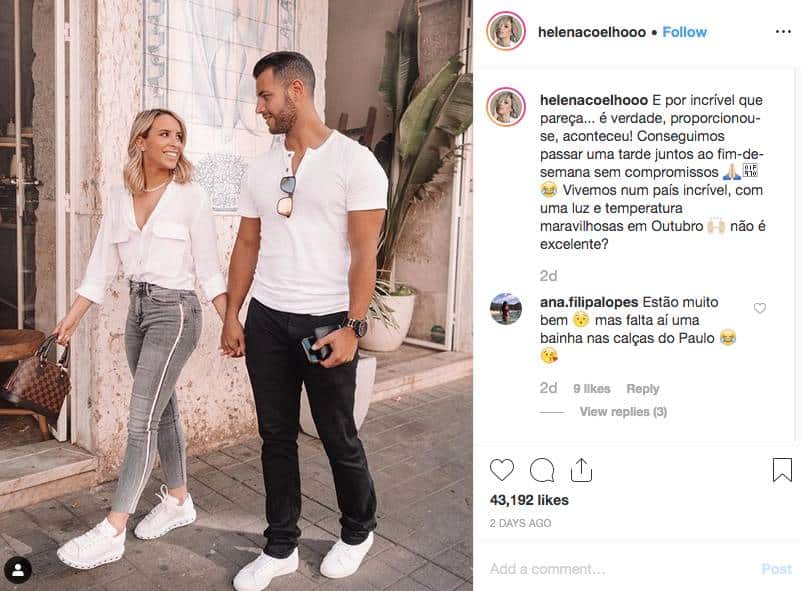 Smart urban-casual Helena Coelho.
Sophisticated whites and neutrals plus a whole lot of sun-kissed beauty.  Helena's signature style is her jeans, sneakers, and classic blazer look – which is literally as pretty as a picture. Picture after picture.
Based in Portugal, Helena recently launched her own sneaker collection "Helena Collection", in partnership with Cubanas Shoes.
She loves fashion, beauty, fitness, and also travel. And you can also catch her in video action on her rising Youtube channel (230k subscribers as we write this) – where she's mostly doing fashion looks or makeup hauls.
Her style is certainly as refreshing as she is.
So go ahead and follow Helena and don't forget all the other top fashion influencers.