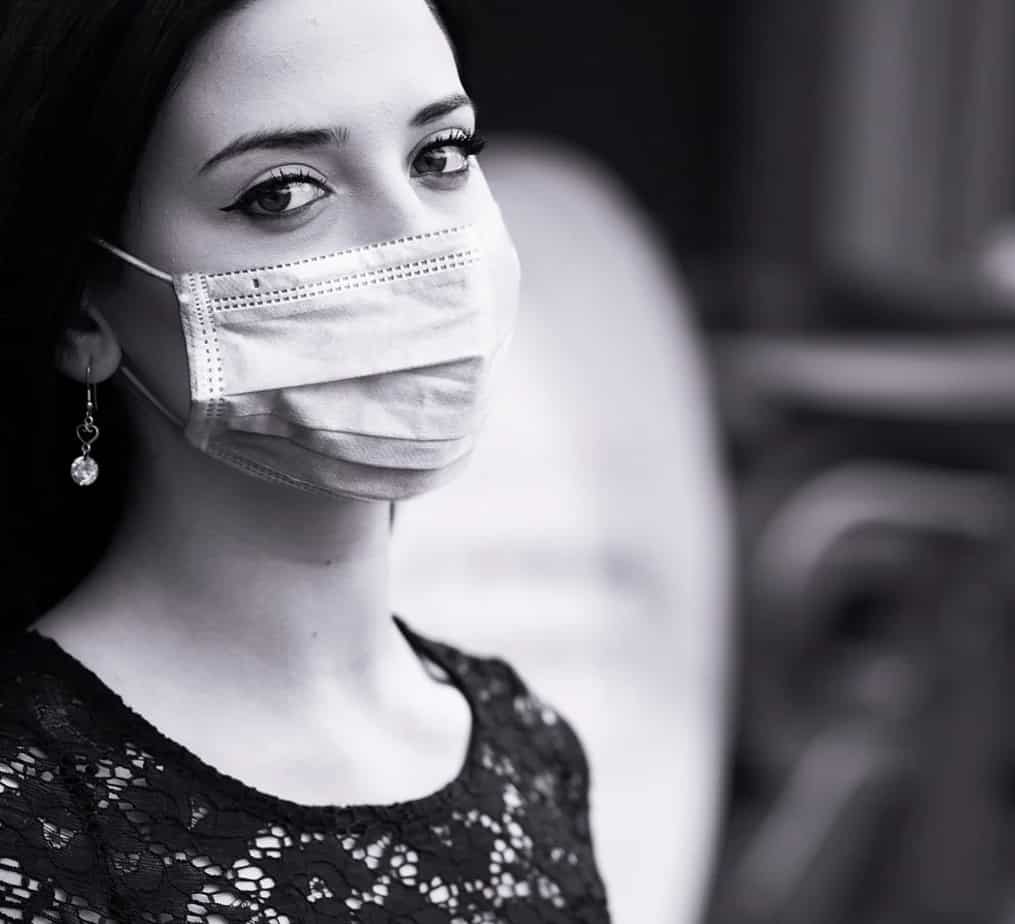 Coronavirus has slowed down industries but it will be a while before we find the actual effects of the pandemic on businesses and influencer marketing.
According to reports, unemployment has reached an all-time high, and businesses all around the world have started to shut down.
Every industry has been affected by the result of global social distancing and the influencer marketing industry is no different. Influencers have already started to see major shakeups.
Some have lost sponsorship deals due to budget cuts and some had to cancel live events. Influencers have to adapt to the changing scenario to ensure they remain ahead in the game.
In this influencer coronavirus article, we'll talk about what you can do to stay afloat.
Let's Get Started with 5 Influencer Marketing Tips to Practice During Coronavirus
Tip #1: Create Your Own Opportunities
The industry is already pretty competitive but now with more people working from home and fewer business investments in influencer marketing, you will have to be more careful in approaching clients and seizing opportunities.
Some niches have been very hard hit such as travel. Influencers who make money traveling the world and posting content have no option but to repost old clicks as international and domestic travel have taken a major hit due to travel bans.
Oneika Raymond, a well-known travel influencer said:
"I think a lot of people in the travel industry are holding their breath… Companies are reluctant to take on anything new and therefore that is impacting the income of creators".
For how long can one continue to post old content? Influencers will have to think out of the box and come up with creative content that keeps their followers entertained.
It may be a good idea to shift your model a little and post travel-related content that does not require actual travel. Influencers can make interview-style content and share it on their platform. They can talk about different aspects of travel such as selecting a hotel during a pandemic, how to pack in such a situation, etc.
Tip #2: Stay Connected with Your Brands and Audience
This may come as a surprise to some but since more people are now using the internet, engagement in sponsored content has gone up in the last few weeks. However, that does not necessarily mean more work for influencers or money for businesses.
But, it does mean one thing – businesses are taking notice.
If you are an influencer with sponsorship deals, now may be a good time to let your current or potential sponsors know how their sponsored posts are performing during the pandemic.
It's a nice way to let them know influencer marketing is still effective without coming too strong. Do not push them to invest more in influencer marketing. Now is not the time. You can let the numbers do the talking.
Create a kickass report or presentation and highlight growth potential. This may be enough to motivate brands to continue to invest in influencer marketing during coronavirus.
Tip #3: Do Not Feel Depressed
Do not let the darkness affect you.
"I think focusing on the long term, and setting adjusted and realistic goals every day to keep you focused and not distracted by short-term blues, helps me a ton", said Christina Vidal, an Instagram influencer.
Many influencers have talked about feeling depressed due to a lack of work and opportunities during this period.
If you're feeling the same then you need to remind yourself that it's just a phase.
Instead of feeling sad and depressed, concentrate on positive news.
Tip #4: Work With Influencer Marketing Agencies
If you cannot find work on your own then you need to join a platform like Afluencer to help you connect with businesses looking for influencer marketers during coronavirus.
We've seen growth in the number of brands looking to hire influencers in the last few months. They want to work with new and old influencers to talk about the influencer coronavirus connection and promote their products.
Some other platforms appear to be seeing similar trends.
Due to the sudden decision to shut down production companies, many brands have started to turn to influencers to create kickass ad content.
Influencer marketing firms have recorded a 33 percent increase in the number of brands looking to create content.
"In a surprising turn of events, brands can no longer afford to produce big-budget ads", said Shad Hussein, co-founder at Michael Words, an online marketing agency. "YouTube content creators have shown that we do not need big budgets and expensive tools to get the job done, with the right skills we can create professional-grade content".
Tip #5: Monetize Your Content
Since more people are online using platforms like YouTube, you can earn more money by monetizing your videos.
If you are an influencer making it hard to earn money during this period then it's time to concentrate on platforms that let you monetize content.
However, do not lose touch with your other social media handles. You must continue to remain active, or you'd begin to lose followers.
So, What Influencer Niches are Working During Coronavirus?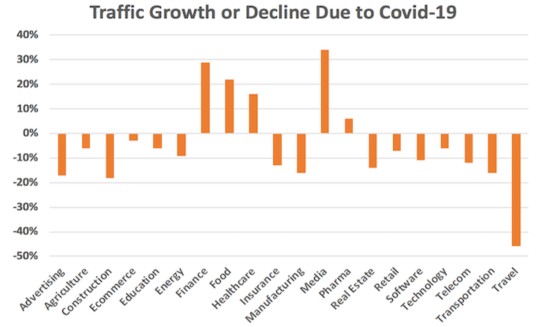 The influencer coronavirus chart above shows how traffic has increased or decreased during the pandemic. As evident, there's bad news for some industries like software, technology, and finance. These industries have taken a hit. But, some industries are growing during this time such as finance, food, healthcare, media, and pharma.
The reasons are obvious, users want to know more about how to make money or secure their future during a crisis. They're looking to buy food online and prepare delicious meals at home since going out can be risky.
Healthcare and pharma are on the rise as users want to know how to improve immunity, order medicines, etc. Lastly, the media industry has seen a major jump as well since most people are out of options to do things.
Streaming and gaming platforms are a few of their options. They're looking for new shows to watch to kill time.
Check our Top Influencer Marketing Niches During COVID 19 article to know more about the best performing fields.
Does it Mean I Need Change My Niche?
No, it doesn't. Don't even think about it.
You should stick to your niche but change how you create content. There are always things to do no matter what your niche is.
For example, if you are into fashion you can create videos on how to make DIY masks or wear makeup that is easy to take off if you're not going out.
The Influencer Coronavirus Connection: Is the Culture Dead?
Influencers have a need to "influence", but they're running out of advice to share. But, it doesn't mean the industry is dying. It's here to stay and will begin to grow in no time.
In fact, some experts argue that influencer marketing may get bigger post Coronavirus as businesses begin to realize the importance of being on the web.
More entrepreneurs may try e-commerce, which means there will be more chances for influencers in the future.
As multinationals begin to pull back, smaller businesses will have the opportunity to build relationships with influencers. Plus, for a little while, it may end up being more affordable to advertise through influencers due to the shift.