One of our favorite things about social media is its ability to give all kinds of influencers and creators a chance to be heard, to tell their stories, and hopefully inspire others in similar situations.
That's why we decided to highlight our top influencers with disabilities. They are doing it just as big as any of our featured influencers and we love it!
Makeup. Astrology. Fashion. We've got all that and more lined up in this roundup of influencers with disabilities. Representation certainly matters. So, if you are looking to work with a diverse array of Influencers prepare to be inspired. Let's get this roundup rolling!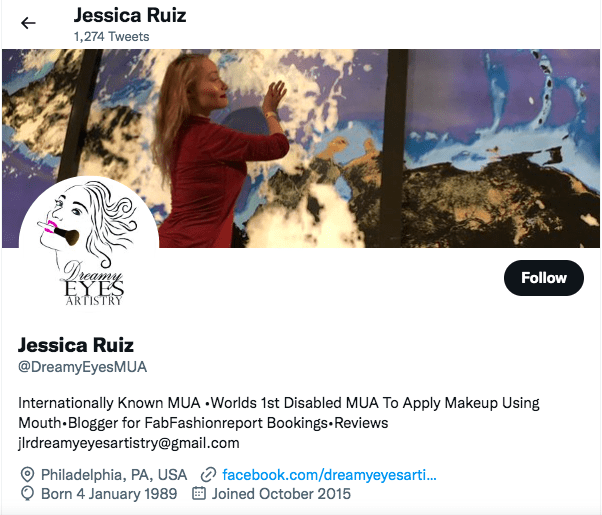 Model. 1st internationally known disabled professional makeup artist. Owner and Head Makeup Artist at Dreamy Eyes Artistry. These are just some of the titles Jessica Ruiz has racked up over the years.
Despite being born with arthrogryposis, a congenital birth affecting the joints so that the use of the arms and legs is limited to none, Jessica Ruiz was determined to live out her goal of becoming a makeup artist. So, she taught herself to apply makeup using her mouth! Trying to follow a makeup tutorial is hard enough using your hands, am I right? So, imagine the skill required to use your mouth. Respect.
Content
Want to see this makeup guru at work? Check out her YouTube channel – Dreamy Eyes Artistry. She's also on Instagram and TikTok @dreamyeyes_artistry where she shows us a bit of her personality. Turns out Jessica has a great sense of humor!
Collabs
If you check out her Afluencer profile, you'll see that Jessica has already scored some Collabs. This is one beauty influencer you need on your team.
---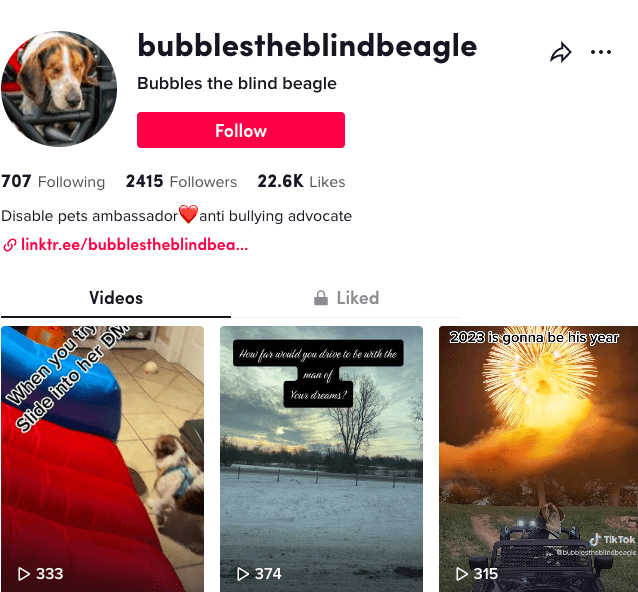 Meet Bubbles the Blind Beagle. He may not have eyes, but he's no less cute. Together with his mom, they represent and advocate for disabled pets. Additionally, these inspiring influencers are on the frontline bringing awareness for disabilities in younger children and taking action against bullying.
Also, he gets around in style – in a pimped-out, modified Jeep fit for a dog taking on the world.
Content
Over on Bubbles' TikTok page, @bubblestheblindbeagle, you'll find him cruising in said Jeep (of course), addressing the haters, having some playtime with the other dogs in the house, rocking some cute outfits, a glimpse at his family, a whole lot of dog humor, and so much more.
This disabled dog influencer's TikTok page is certainly well-rounded and entertaining.
Collabs
If you're a brand looking for a dog influencer who is already doing big things, Bubbles the Blind Beagle is definitely worth partnering up with.
---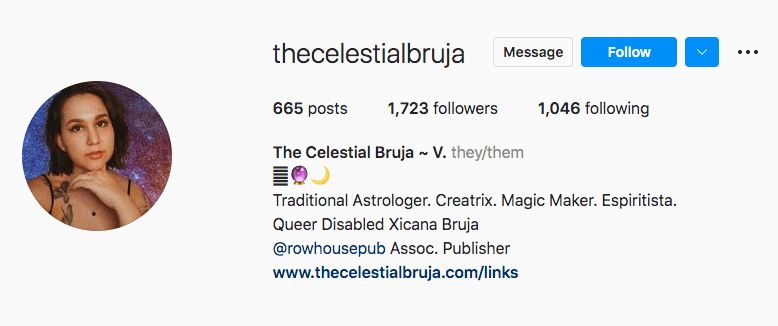 Next on our list of influencers with disabilities is Vee Ruiz. She's queer, disabled, and into Spiritism. We love how connected she is to her inner self, as well as how she is unapologetically herself. #goals
Content
As you can see from her bio, Vee's interests blend well together. From traditional astrology to her connection to her creative power as a woman, the end result is a wonderful brew of intriguing content.
You'll also find a good mix of video and photo content. Sometimes Vee's on camera, other times she's giving great bits of information, mini horoscopes, or highlighting guest practitioners who specialize in different areas of spirituality.
Collabs
Being disabled, Vee is very much conscious of creating content and using language that is inclusive and socially conscious. If you're looking for an influencer who prioritizes this, Vee should definitely be the next influencer you reach out to.
---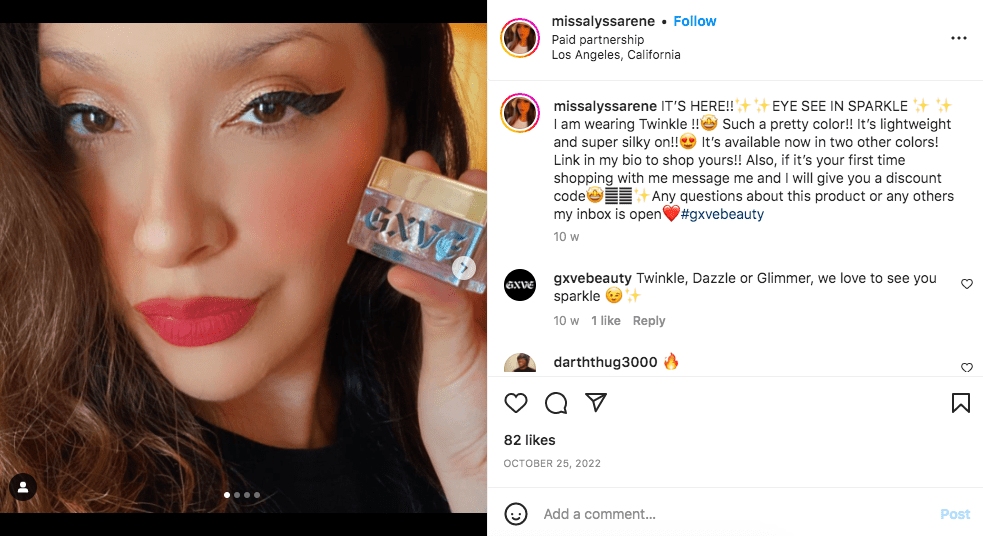 Bringing fashion and more beauty content to this list of influencers with disabilities is Los Angeles-based @missalyssarene.
She is a firm believer in looking your best, even when you don't feel your best. That's one sure way to turn your frown, upside down. Living with multiple chronic illnesses, Alyssa is always on the lookout for products that work for her as someone living with disabilities.
Content
From eyeshadow to pajamas and turtleneck sweaters, every look which Alyssa showcases is flawless. Her reviews on products will make you want to run to your closest beauty supply store so you can try them yourself. That's what we call influence.
Alyssa also has interests in lifestyle topics, travel, cooking, and more… all of which you'll also find on both her Instagram and TikTok accounts.
Collabs
Another thing you'll notice about this beauty influencer is the number of discount codes she hooks her followers up with. That means she's got a good amount of Collabs secured under her fashionable belt. Your brand could be next.
---

Jason Kesler, based in Texas, has racked up quite a bit of experience. Not only does he have 15 years of experience in the nursing industry, but this disabled Marine Corps combat veteran is also a former EMT-I/Firefighter.
Content
Jason has a wide range of interests, from PC gaming to politics, animals, and more. His content reflects this and what we get is an awesome visual representation of Jason's personality (he's got a great sense of humor by the way).
Collabs
Jason has worked with a number of brands in various industries but has more Collab experience in the PC gaming world. He has also Collab'd with other content creators. What we love about Jason is his experience, and you know what they say about experience – there is no better teacher.
---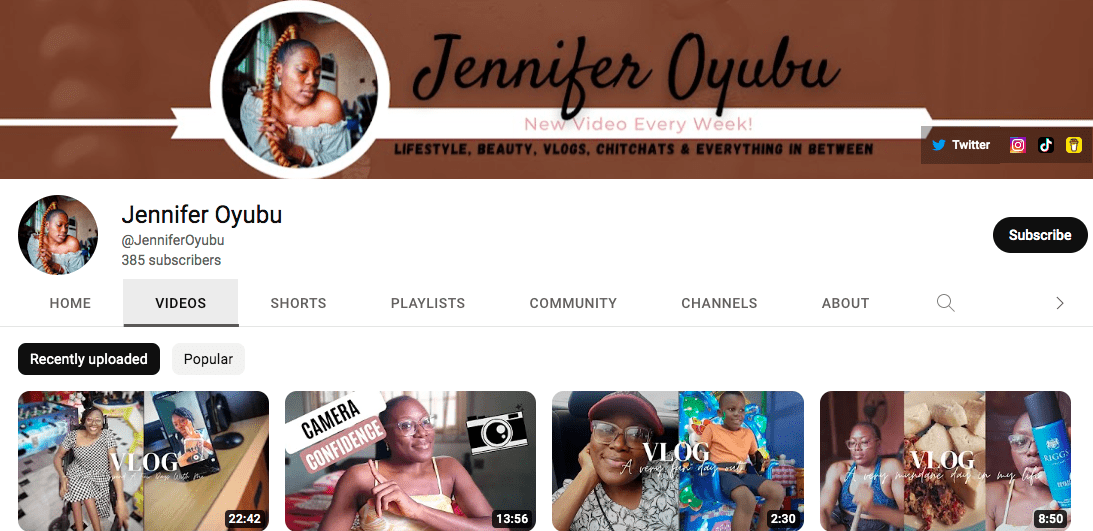 Meet Jennifer. She's from Nigeria, loves everything beauty and lifestyle, and does not let her disability get in the way of our talented influencer showing us her dance moves! We already love her vibe.
Content
Jennifer loves talking about her passions. Yes, beauty and lifestyle for sure but she also loves a bit of everything. So, grab your tea and expect to find some awesome (and juicy) conversation topics. Her chit-chats are definitely worth a watch – undiluted vibes as she likes to call them.
Jennifer also gives fantastic advice and has recently started vlogging, letting us get to know her a little bit more and showing us what life for someone with a disability is like. We love how she can confidently be in front of the camera without makeup sometimes. This is the realness we never knew we needed!
Jennifer brings something unique to the table – her ability to effortlessly connect with her audience. She is definitely another influencer you need to reach out to.
---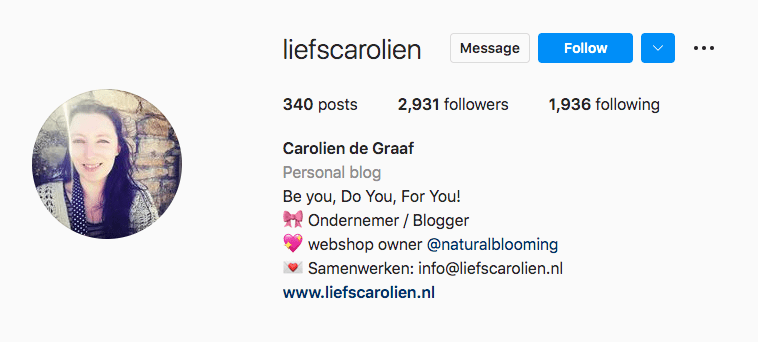 Representing The Netherlands is Carolien. She started blogging as a hobby, but quickly realized how much she actually loved it… turning it into a part-time job! Regarding her disability, she's feeling better than ever and is determined to be seen as more than that. In other words, she does not want Crohn's disease to define her. We love her positive attitude!
Content
Carolien shares a bit of everything in her life, letting her followers in on her interests, day-to-day life, future plans, and more. It's chilled-out vibes over here – a comfortable space to just "be you. Do you. For you." Gotta love that motto.
Carolien also has a web store called Natural Blooming, which sells a wide variety of good-quality gemstones and minerals at affordable prices. Carolien certainly has no plans to slow down anytime soon!
With a few Collabs to boast, we believe that Carolien has all the makings of a star on the rise – reach out or miss out!
---
Representing the great state of Texas is Gina. This disabled veteran, single mom, and teacher is on a mission to empower women; challenging them to take control of their mental health, build confidence, and love themselves again.
Content
Gina clearly has a passion for teaching, loves her students, and is devoted to giving them the best she can. Since becoming a teacher, her Twitter page is dedicated to them. She's initiated and promoted fundraisers for them. Talk about committing to the cause!
If you're looking for influencers with disabilities to inspire the education space, Gina should certainly be your go-to. Her passion for teaching is genuine and infectious.