The beauty industry has seen a large increase in sales in recent years, up from $483B in 2020 to $511B in 2021 with an annual compounded growth rate of 4.75% worldwide. What's more—it's predicted to exceed $716B in sales by 2025.
So how can beauty brands stand out in this increasingly crowded and noisy niche?
Look to beauty influencers.
According to data from the Digital Marketing Institute, 70% of teens trust influencers more than traditional celebrity endorsers, while 49% of consumers depend on influencer recommendations when shopping for products. Even more compelling: 86% of women, the dominant consumer segment in the beauty industry, turn to social media for purchasing advice.
Translation: Influencer marketing should be a large part of your beauty brand marketing strategy. To make influencer search easier for you, we've compiled this list of successful beauty influencers you can choose from.
From Fifty Shades Darker-inspired makeup, confidence-boosting skincare, eyes that wow, beauty and booze, and a whole lot of humor and mascara – we bring you a grand roundup of the top beauty influencers for this year.
Dazzling photos, fab tutorials, captions full of lipstick emojis, and empowering hashtags.
These hot beauty influencers will inspire you to feel beautiful, glam you up, and entertain you through your makeup purse (and they're open for Collabs too):
Ready for these top beauty influencers to give you a beautiful makeover?

From the USA, Kathleen Dougherty is an authentic beauty and fashion lover – keeping her followers drawn in with fascinating finds.
Content
Between her lively personality and her eye for interesting products, Kathleen is the everyday girl that you'll want to stay connected to because you might just discover an awesome product on her feed.
From videos to photos, the value she shares in her content is what you'll especially love about her. Drawing you into her fascinating world of beauty and fashion products. From hair growth supplements, unique jewelry, and epic lashes to glowing moisturizers straight out of Hollywood.
And you can expect her to drop a wow product too – like a stunning handcrafted mirror embellished with charms and pretty bling. Instant add-to-cart kind of posts.
Her Instagram profile feels organic and friendly – as relatable as your friend's.
"Thank you for telling me about this website" – some of the comment actions on her posts.
Organic product snaps, pretty flat lays, and awesome giveaways. Lots of giveaways actually. Kathleen certainly knows how to nurture her followers and keep them drawn in.
On her newly launched YouTube channel "Unbox & Review with Kate", followers can expect her authentic unboxing reviews.
And over on Kate's Beautiful Journey blog, she takes her readers inside her personal journey of being an influencer and shares her love for beauty and fashion.
Collabs
Some of Kathleen's brand Collabs include Everence, Ultra Bellus, Grandpa's Emergency Immune Support, and more.
---

From Pennsylvania, USA, Jessica Ruiz is probably the most inspiring professional makeup artist, model, and brand ambassador that you'll ever come across on social media.
Content
At first glance, Jessica's gallery of eye-catching makeup posts appears conventionally familiar. Until you realize that there's something remarkably different about her.
Jessica is the first internationally known disabled professional makeup artist.
Due to a congenital birth defect affecting her joints, Jessica has limited mobility in her hands. But that didn't stop her from following her passions. Jessica's love for makeup inspired her skillful use of her mouth for makeup application—that will no doubt blow you away.
Jessica's artistic talents are spread throughout her social media—from gorgeous exotic eyeshadow looks, and new makeup pallet updates, to beautiful before and after client looks.
Promoting beauty inside and out, Jessica shares a collagen post captioned with "The best way to keep my skin looking supple and still have a natural glow at 32"—charming her followers to learn more.
With an inspiring personality like hers, Jessica also actively empowers and uplifts the disabled community.
Collabs
Some of Jessica's promotions include cosmetics, skincare products, and jewelry.
Jessica Ruiz is an inspiring micro-influencer match for beauty, fashion, and lifestyle brands.
---

From New Jersey, USA, Melanie Ferla is a mom influencer with a love for beauty and fashion. As she goes by the title mompreneur, Melanie is all about self-care and everyday style for moms.
Content
With a beautiful gallery of Instagram images and videos, Melanie's feed feels like a cosmetic purse full of goodies. Looks good and feels great vibes here.
Pretty bohemian dresses, summer hats, charming makeup, and fun energy. That's what Melanie is all about.
From getting her face made up by a makeup artist, and getting dressed up with her sweet daughter, to exciting giveaways, product reviews, and fantastic makeup videos—Melanie's content is nothing short of appealing.
She certainly knows how to keep her followers entertained with videos like her whimsical manicure and a look inside her beauty subscription box.
And the best part about Melanie is that she keeps it real with her followers.
It's comments like "I appreciate the realness. Thanks for showing the good AND the bad. You're awesome!" that prove her authenticity felt by her followers.
Collabs
With a growing micro-influence following, Melanie is a fantastic match for parenting, fashion, and beauty brands looking to reach moms.
---

Based in California, Olya Mosendz is a gorgeous beauty and lifestyle influencer on Instagram and TikTok with a large Ukrainian and Russian audience. She's also a professional hairstylist and a mom!
Did I mention that she's a macro-influencer? Her content will blow you away.
Content
Gorgeous. Head-turning. And exotic. Olya's content will stop your scroll, post after post.
From nude tones to black and white color pallets—her exquisite magazine-worthy Instagram gallery exudes her outstanding cosmopolitan chic style and radiating beauty.
With sunkissed skin, her youthful appearance, her striking model-like aesthetic, and her lush long hair—Olya is an unforgettable magnetic beauty influencer.
Did Olya just put carrots in her hair? Yes, she did. No curlers? No worries. Be as exotic as Olya by curling your hair with carrots.
On her professional website and blog, Olya shares face and body beauty product reviews.
She's gorgeous in a red hot bikini, she's lovable when she shares adorable mother-and-daughter moments, and she's an outstanding beauty product model.
Collabs
From luxury skincare and hair styling products to designer perfumes—Olya boasts a credible portfolio of brand Collabs.
Beauty and haircare brands, Olya is an accomplished macro-influencer to Collaborate with that will particularly create outstanding product photos and of course, reach her large audience of followers.
---

Micah Angela Kim is a lovely Filipino mom living in South Korea with a love for beauty, lifestyle, fashion, and travel.
With her charming sweet nature, it's not long before you fall in love with her content.
Content
Micah's Instagram gallery is gorgeous. Captivating compositions, stunning photos, and exciting discovery of K-Beauty products.
Thumb-struck.
From plump hydro cream, youth face water, and pore-minimizing cream to vegan avocado cream—Micah is a credible go-to source for Korean skincare products.
What do we love about her the most?
Her photo reviews are everything a prospective customer would want before purchasing a beauty product. From the bottle packaging, a close-up of the consistency of the product, to showing before and after product results.
Together with her great informative product feedback like "no stickiness" and "gives a dewy-glossy finish", Micah is all a beauty enthusiast needs for a trusted source of inspo.
And you bet, she'll have you convinced with that pore-minimizing cream review.
In every sense of the word, Micah is a true beauty influencer—from creating quality content to influencing product decisions with her detailed reviews.
YouTube Channel
On her 12k+ subscriber channel, Micah shares all things lifestyle, personal wellness, beauty product reviews, and mom life videos.
Collabs
Lately, Micah has been promoting many skincare brands making her an experienced influencer fit for this category. She's also a great match for beauty brands looking for quality product photos and product reviews (including videos).
---

Aislynn is a self-care enthusiast who lives in Richmond, Virginia. She's a proud wife and mom, as well as an influencer marketing coach at Impact Academy, where she teaches women how to make money by leveraging their social media influence.
Her approach to content creation is authentic and highly relatable, making it a great choice for brands looking to connect with the everyday consumer. In the past, she's promoted products for beauty brands like First Aid Beauty, Ever Eden, and Lansinoh within her beauty and self-care routines.
---

Aja Allen is a beauty and cosmetic influencer who lives in Los Angeles, California. She has successfully grown her audience across multiple social media platforms for over 10 years, garnering more than 15,000 followers on Instagram. Aside from being a beauty influencer, she also runs her own business, It's The Write Place, where she writes resumes for job seekers.
Aja drives audience engagement around her beauty content via interesting polls in Instagram stories that spark conversations with her followers. To date, her content has caught the eye of brand partners like Kitsch, Drmtlgy, Nueboo, and Kiehl's.
---

Alena Switzer is a skincare enthusiast based in Ohio who educates her audience about the importance of clean beauty and herbal skincare products. Being an herbal dynamics educator, she prides herself in promoting products by brands like Herbal Face Food and Hempz that focus on eco-friendly practices and ingredients.
Alena knows how to spur engagement with her audience by sharing high-quality photos of beauty products and honest reviews that don't hold back. This approach has led to partnerships with beauty brands like Boxycharm, Youth to the people, Farmacy Beauty, and Tru Alchemy.
---
Aakanksha Singh is an international skincare and haircare macro-influencer based in Mumbai, India. Along with influencer marketing work, Aakanksha is the founder of Atariyaa (a beautiful outdoor cafe) and Armoire (an initiative to generate charity money from selling her used clothes).
She's built a massive audience by sharing wanderlust-inspiring pictures in different travel locations and trustworthy beauty product reviews. As a beauty enthusiast, Aakanksha promotes products for beauty brands like Dyson Hair, The Light Salon, and Hyperice.
---

Ariel Manigault is an American beauty and skincare influencer who switches between residences in both New York and Florida. Her Instagram content revolves around self-love, self-care, and maintaining great, clear skin. She's an entrepreneur, too: Along with her growing Instagram following, Ariel also has a personal business, Onestopshopxoxo Collections, where she sells fashion accessories.
Ariel promotes a wide variety of products for brands like New Smile, The Coldest Water, and Goli Gummy. She is a perfect fit for brands looking to work with a skincare influencer who shares a positive message and promotes self-care across various verticals.
---

Bedgine is an African-American beauty micro-influencer and content creator based in both New York City and Florida. She enjoys being on screen and creating captivating videos such as the ones on her YouTube channel.
Along with sharing interesting video content like tutorials and product reviews on hair care, makeup, and skincare videos, Bedgine is also a business owner. She runs two businesses: Zbedgine Shop (where she sells premium virgin hair and hair products) and Butter Sxin (A skincare brand focused on natural homemade skincare products). To date, Bedgine has promoted products for beauty brands like L'oreal, Sespring Skin, and Klorane.
---

Brooke Snider is a Midwestern micro-beauty influencer based in Indiana. She enjoys making practical, easy-to-execute how-to videos that guide her audience on how to use different beauty products. Her Instagram feed is jam-packed with colorful product shots and visually-striking product unboxings, making her feed a go-to destination for beauty product discovery.
Her approachable style has made her an ideal partner for beauty brands like Function of Beauty, Influenster, Lumene USA, and Whind.
---
Kicking off our list of top contending beauty influencers is London-based Yuliya Oleynykova. A charming Russian confidence-boosting beauty influencer.
Because beauty can't exist without cultivating self-love, Yuliya is passionate about helping her followers feel beautiful and confident every day.
Content
She has a unique authentic persona about her that makes her captivating to watch.
Yuliya shares her beauty knowledge, tips, and experience on her feel-good Instagram profile.
Even though she's a certified makeup artist, she keeps it real with her followers. "I tend to do my own makeup in less than 10-15 minutes because a girl is busy".
And as you get into her makeup videos, you'll soon learn about great products that "blur the pores", how to apply lip liner to get fuller lips, and more.
But it's the realness she brings to her posts that makes her so relatable. With thoughtful messages like "when you find your favorite products, you don't need to waste your life trying to look good. Neither your money. Your favs will stay with you for years". Her influential content certainly resonates with many women.
"Looks a bit messy but once you apply mascara everything will be fixed" for much-needed reality and humor in any beauty feed.
YouTube Channel
Over on her YouTube channel, you really see her content creation talents blossom with videos like her charming film-like Anastasia Steel-inspired look from Fifty Shades Darker.
Blog
And yes, this highly active influencer also has a fashion and beauty blog. All things skincare, makeup, body care, pampering, and haircare.
Collabs
Some of her Brand Collabs include Foreo, Femme Luxe, NARS, and more.
---

Hayley Hall is a beauty expert, fashion lover, traveler, and a "Top 10 UK Blogs" award-winner.
She is where plus-size women over 30 will find inspo.
Content
Life-improving beauty, pretty dresses, and a whole lot of chic.
Hayley's Instagram profile is a beautiful gallery of warm lovely-looking images with some videos. Indoors, she shares her personal beauty and skincare routines; and outdoors, she snaps away at her gorgeous outfits.
She'll make her followers feel good about life at home as she inspires "looking after your own wellbeing and indulging in a little pampering me time".
Hayley's social media content is not only well-presented but is educating too. She creates content on topics like "five alternatives to face wipes" and "why wipes are so bad for your skin".
Blog
Hayley's content-rich blog is just as delightful as she is. With a published post every two days, her posts feature "Polished to Perfection: Top Five Pro Tips for the Perfect At-Home Manicure", "11 Easy Beauty Tasks to Tick-Off During Lockdown", and more.
YouTube Channel
For more into the influencing world of Hayley, she's also an amazing video content creator over on her 2k+ subscriber YouTube channel. Subscribers can get a look into her "Everyday Lockdown Skincare Regime", or learn more about the "Microblading Effect Pen" and more.
Collabs
Some of Hayley's Collab history includes fashion and beauty brands known for working with influencers such as Simply Be, Very, Soft & Gentle, and Lola's Lashes.
---

Valeriya is a renaissance beaut based in The Netherlands.
She's an experienced model, actress, and beauty enthusiast, and she's also a mom.
Content
Valeriya's Instagram profile is a fascinating picture-rich gallery of her model photoshoots, experiences, and personal life. She documents her life all so beautifully in an organic way. In fact, she'll go from gorgeous glam to the casual hoodie and jeans vibes – sharing feel-good inspo with her followers all the way.
YouTube Channel
On her 12k subscriber YouTube channel, Valeriya shares her trips around the world, photoshoots as well as beauty pageant content.
Collabs
Valeriya's most recent beauty Brand Collaboration was with Swiss Perfection.
A further look into her profile and you'll be surprised that her influencer portfolio features beauty product ads and she was also featured on a JLo commercial – pretty impressive, right?
---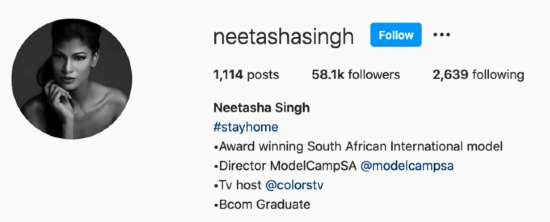 Neetasha Singh is an award-winning South African international model with a passion for beauty, fashion, skincare, and women empowerment.
She's also the director of Model CampSA, a model training program that empowers and uplifts women to create a supermodel mindset.
Also on her list of titles is the TV host of Colors TV.
Content
On Neetasha's Instagram profile, she takes her followers along modeling adventures around the world. From photoshoots to events and runways such as the Milan Fashion Week.
She indulges her audience with beautiful lifestyle-inspired product flat lays, always creating enough curiosity in her followers that they want to know more in the comments. And when they ask, Neetasha demonstrates what it takes to be in the ranks of top beauty influencers by maintaining a great engagement as she responds and participates in conversations.
Whatever Neetasha is glammed up for, she has a way of empowering and inspiring women with uplifting messages like "dreams are possible" and "sometimes the king is also female".
Following her fascinating life and adventures will get you scrolling and scrolling for more.
Collabs
Neetasha's following includes women as well as aspiring models so she'd make an ideal influencer candidate to promote beauty and skincare products that serve these audiences.
---

From The Netherlands, Melissa Oosterwolde is a beauty enthusiast and top fashion designer with sass.
In her words "beauty is how I feel inside and reflect it in my eyes". And you surely can't miss how beautiful this lovable influencer feels inside.
Content
Melissa's Instagram feed is certainly as bold and as beautiful as she is. Her sassy aesthetic cannot go unnoticed – whether it's online or offline. Her shaved platinum blonde hair with her edgy style is how she rolls.
"I love how you play with loud colors", a follower comments on Melissa's influencer content.
Yes, she's loud but the result is so beautiful.
She'll make you want to click on that mascara video on her feed.
With her content mostly in Dutch, she has built a niche audience in this demographic.
YouTube Channel
For a fairly new YouTube Channel, Melissa is building momentum with her notable video content talents. Her lively personality lures her followers in. So, of course, you'll really want to watch her at-home hair coloring.
Melissa loves to always remind her followers that "every woman is a queen".
Collabs
Some of her brand Collabs include Caption and Kliniek3.
---

Based in Toronto, Mikayla Kuehn is a lover of style and beauty. And she also happens to be fully committed to the color pink.
So, this is a warning—loads of pink content coming up that will influence your color decisions.
Mikayla is also a digital marketing manager and her skills couldn't be any more fitting for her influencer work.
Content
Did I also mention she has an insane love for pink? I feel like I needed to mention that again because her Instagram is a sweet pink gallery of her very pink life and her charming vintage style.
A particular highlight of her social media to point out is her gorgeous nails. Pastel, tropical, fruity, and just so lovable.
Mikayla's nails certainly won't go unnoticed. "I love your nails, so fresh and summery". "Can't get over how cute your nails are". And you too will agree when you see them.
From her fav makeup looks to her fav products, her content flows so beautifully with her pink, pastel, and vintage theme.
In addition to that, let's not forget her growing TikTok account where the pink fun continues.
Blog
Mikayla's love for pink would not be complete without The Pink Life blog. With her vintage-style images, some of her posts include "I Got It From My Momma, 7 Important Things Mum Taught Me", "Skincare Routine for Oily Skin", and also her "NIU BODY Review".
Collabs
Mikayla's Brand Collabs include NIU BODY, Vo Beauty, and Femme Faire. So she's the perfect partner for brands looking for top beauty influencers with exceptional references.
---

Based in Texas, Wendy is all the beauty and humor you need in an influencer to feel good. In her words, she "loves teaching others the art of beauty through comedy".
Content
Makeup and also a ton of laughs are what Wendy's Instagram is made up of.
Followers enjoy her funny makeup tutorials like "when I asked myself why I'm still single I realized this video explains it all" and her feel-good inspo posts like "quarantine is the time to get to know yourself" with eye-popping pink and blue eyeshadow, of course.
Her content is in both English and Portuguese.
YouTube Channel
With a funny personality, Wendy could only humor the world more with her YouTube channel. From her "5 Min Easy Makeup for Mommy", "My Monday Makeup Routine", and her entertaining makeup transformation face choreography videos.
Wendy is quite the entertainer.
Collabs
Some of her Brand Collabs include Local Cookie Company (you wouldn't expect them to work with beauty influencers, right?).
---

Based in Las Vegas, Juliana Kiener is a Brazillian born with a passion for health, fitness, and beauty.
Content
Juliana carries a happy vibe on her influential Instagram profile. Because she's also passionate about health and fitness, you'll notice that her beauty content is wellness-inspired.
Such as beauty content that teaches how vitamin C is essential as it helps replenish and protect the skin. And in case you haven't tried it, she'll inspire you to use an exfoliant with glycolic acid to reduce lines, minimize the appearance of pores, and help renew your skin cells.
From curling her hair, showcasing amazing yellow makeup brushes, indulging in fun bath bomb treats, to sharing interesting products like hair vitamins – Juliana's health and wellness twist to beauty is appealing.
Whatever she's doing, Juliana's vibrant energy will certainly put a smile on your face. And one of her follower's words "your smile makes everyone happy".
Collabs
Juliana is certainly a top influencer pick for Collabs with beauty brands that have wellness influencers in mind.
---
Dorina and Cristina are the sweetest beauty, fashion, travel, and lifestyle sisters from Romania.
Content
Their social media profiles are as pretty as a picture – literally. Whimsical landscapes, romantic outfits, inviting warm colors, and darling personalities. Dorina and Cristina share their beautiful adventures and the things they love with their followers.
From makeup, body, and skincare products, to fragrances – their charming social media aesthetic on Instagram and Facebook makes them completely lovable.
Blog
The duo's whimsical pictures come alive on their blog with posts such as "Our Favorite Maybelline Products", "Rose Scents for Summer", "Spring Scents", "The Newest Full Hair Trend", and more. They publish a mix of both English and Romanian content.
YouTube Channel
Over on their 7.2k subscriber YouTube channel, Dorina and Cristina share beauty product unboxings, drugstore favorites, and reviews – mostly in Romanian.
Collabs
Some of their brand Collabs include Dove, L'Oreal Paris, Bioderma, The Body Shop, and more which regularly team up with beauty influencers.
---

Almina is a rising creative beauty, fashion, and lifestyle influencer that is inspired by art and expressing herself.
Content
If there's one word to describe Almina's Instagram profile, it's artistic. Spread all over her feed, her art-inspired makeup looks most certainly draw her followers in.
Her pictures and videos speak for themselves. Rich in detail. Creative. Transforming. And glamorous. What's more to say when you present an outstanding butterfly-inspired eyeshadow look? Almina's profile is more show than tell.
The only thing left to tell is the makeup products she uses for each look.
"Wow insane" and "OMG this is so creative" are all the reactions she gets to her posts. With a 14% engagement rate on her profile, once you see her content for yourself you'll understand why.
Collabs
Almina is an ideal fit if you're looking to Collab with top beauty influencers to promote your brand's makeup and hair products.
---

Khadija is a top Indian influencer and blogger who regularly shares beauty content.  She's also a social media marketer and engineer-biotechnologist, and she calls herself a procaffinator.
Content
Khadija's Instagram profile is a lovely gallery of product images, with her beautiful hands-on show—yes, her hands. If there's such a thing as beauty hand influencers, then Khadija is the perfect match.
From cleansing creams, bath salts, and coffee-based body scrubs, to face wash products – Khadija creatively presents beauty products. Her hands are certainly the perfect props for her images.
Blog
From "How to Do a Manicure at Home" to "7 Homemade Oatmeal Face Masks" – check out Khadija's blog for so much more beauty content.
Collabs
Khadija's top brand Collabs include Bioderma, Sigma Beauty, Pixi Beauty, L'Oreal, and more.
---
Naima – @thesassylondonista

Naima is a makeup artist in the UK with a sophisticated luxury aesthetic to her content.
Content
Luxury eye-catching makeup and looks are beautifully spread all over her Instagram profile – from sleek photos to transforming videos.
If it's "housed in a state-of-the-art case, delicately scented and embossed" then Naima will be the beauty influencer to tell you all about it. Yes, all the luxury brands like Jimmy Choo, Christian Louboutin Beauty, Gucci, and Chanel are up on her feed.
From coffee and Tom Ford lippies to skin care for stretch marks (because she's also a mom). Naima will most certainly wow you away.
She inspires her followers to try those sparkly sapphire eyes because that's "the only blue" she's feeling these days and it couldn't look any more spectacular.
Blog
For more glam, followers can indulge in Naima's The Blush Works blog for all things beauty, makeup, skincare, tutorials, celeb-inspired content, and more.
Naima drops posts like "Beauty Fridges – Do We Really Need Them?". If you didn't know beauty fridges were a thing, now you do.
Collabs
Some of Naima's top beauty Brand Collabs have been with brands that love working with influencers, such as Sephora and Tarte Cosmetics.
---
Asa – @laceandperlsblog

From Seattle, USA, Asa is passionate about clean beauty and is all about helping women who struggle with their personal style.
Content
She shares beauty and skincare tips with a bright smile and an uplifting personality. Her happy social media aesthetic is filled with crisp professionally presented images. Beautiful makeup product flat lays, outfit snaps, and bright smiles are splashed all over her Instagram profile.
"Okay, I want all of these shades", a follower enthusiastically comments. She certainly knows how to make products look appealing.
Thanks to her organized Linktree page, her followers will find it easy to shop her promoted products and navigate through to more content.
Blog
Beautiful images with a bright personality make Asa's Lace & Pearls blog. With her pleasantly organized content skills, her followers can indulge in all the important product info and inspo with posts like "Eyes That Wow", "Beauty Products for Oily Skin", "Drugstore Volume Mascaras", and more.
Collabs
Asa's Brand Collabs include Sephora, Ulta Beauty, Pixi Beauty, Neutrogena, and more.
If you're a brand looking for top beauty influencers to grow your product image catalog, then Asa is a perfect match to deliver those stunning glossy product images.
---
Victoria Osafo-Nkansah – @victorialebenee

From Ghana, Victoria Osafo-Nkansah is a popular actress as well as a skincare and beauty enthusiast. She also owns a natural and organic skincare brand.
Content
With a following built around her career influence, Victoria's lifestyle is of hot interest. And she certainly sets the bar for other influencers with her natural flair for keeping her beauty-loving audience engaged. She shares videos of glamming up behind the scenes and snaps of her stunning looks – from glamorous makeovers to red carpet events like the "Golden Movie Awards". Keeping up with Victoria is what her Instagram is all about.
Colorful eye-popping looks and outfits in diverse styles from trendy to beautiful African styles, Victoria's photos keep her followers scrolling and scrolling for more.
Collabs
Victoria's promotions include skincare products and hair services.
---
Doniya Malik – @doniyabeauty

Doniya Malik is a talented makeup artist with luster spread all over her Instagram profile.
Content
Big on Instagram, Doniya shares makeup looks and tutorials. Smokey eyes and nude lips, post after post, Doniya certainly knows how to wow her followers away with her talent and her striking aesthetic.
"Smokey eyes with blue in the waterline" couldn't look any more electrifying. Keeping it real, she's happy to share unedited pictures of her makeup looks making her pretty credible.
Whether she's making up a model, sharing cool stuff like a sweet 16 makeup cake, out getting her hydrafacial, or sharing her product journeys through her skin breakouts – Doniya keeps her followers glued in.
Collabs
If you're on the hunt for top influencers who promote skincare ointments, beauty treatments, teeth whitening products, and more, then Doniya's the one for you.
---
Adde – @edadde

From Bucharest, Adde is a Romanian beauty influencer, fashion blogger, and YouTuber.
On a journey of self-discovery, Adde's journey looks as beautiful as her content.
Content
Adde is a micro-influencer you certainly need to keep your eye on. Her content presentation and execution are beyond impressive – that of an experienced influencer actually.
She creates charming skincare and makeup product flat lays paired with content-rich captions – creating lovely well-crafted post themes throughout her Instagram feed.
Adde also shares her skin progress with acne treatments.
Like other hard-working beauty influencers, Adde is also starting to build a following over on TikTok.
Blog
Yup, Adde is without a doubt a committed content star. On her beauty, fashion, and lifestyle blog she shares content like "self-isolating skincare" and "skin scans".
YouTube
If that wasn't enough, you can also catch more of Adde on her YouTube channel. From unboxing videos, and Italian beauty hauls, to event videos like the Party NYX Face Awards.
Collabs
Adde is a sought-after beauty influencer and has Collaborated with top brands such as Miniso and Bonprix.
Since most of her content is in Romanian, she'd make a good fit for brands looking for beauty influencers to help reach this niche audience.
---
Manjeet – @thatgirlshorty_x

Based in Sheffield, Manjeet is a fashion and beauty lover with a trendy crisp aesthetic.
Fresh, blacks, whites, nude tones, smokey eyes, and pouty lips are what Manjeet's feed is made of.
Content
Showing off gorgeous shoulder-down outfit looks post after post, Manjeet certainly knows how to spice up her feed when she does drop a pouty selfie.
She loves sharing beauty favs with her followers, such as her fav lipstick, Skinkissed Vitamins, and even the face masks that helped her breakouts.
Her product promos are also thoughtfully crafted with useful tips. Check out her facial rollers post that's "like a workout for your face, leaving me feeling instantly refreshed" and if you need a really good wake-up in the morning just "pop it into the fridge".
And she certainly knows how to take care of herself and her followers with influencing posts like her "coconut butter pampering Monday".
She's more than just a pretty face with a pretty look, her post content is quite valuable too. That awesome 7%+ engagement rate surely says it all.
Collabs
Manjeet's brand Collabs include Lounge Underwear, Femme Luxe Finery, Pretty Little Thing, and so much more.
---
Netta – @naturallynetta_

From the USA, Netta is a growing influencer in entertainment, beauty, and health.
She's a social butterfly that inspires people through humor, art, passion, and travel.
Content
Lately, Netta has been sharing her entertaining TikTok content on her Instagram profile. From social media challenges to a wowing makeover she gave her mother for Mother's Day.
Since she began her natural hair journey, she's been sharing her "real hair flourishing" progress with her followers.
From inspiring quotes to photoshoots and behind-the-scenes of her acting career, Netta's influence is promising with all of her talents.
Collabs
Some of her Brand Collabs include L'Oreal, Shoe Dazzle, The Roots Naturelle, and many more top brands that regularly work with beauty influencers.
---
Katie McBroom – @martinisandmascara

Katie McBroom is an award-winning content creator and beauty expert and she's also a retired Disney princess.
Judging by her username @martinisandmascara, the idea of booze and beauty couldn't sound any more interesting.
Content
Katie's social media presence is packed with a pleasant sense of humor. From quirky quotes and status' to her everyday life, Katie's content approach is beautifully organic.
"I've been in my apartment for 19 days straight and I'm extremely close to filming a Joe Exotic makeup tutorial rn". She certainly knows how to chuckle up her audience.
Hair makeover videos and skincare favs with practical captions like "it's a must-have, especially if you're like me and you sit in front of a computer screen all day". Katie's sweet nature is a breath of fresh air.
Blog
For more into her life of beauty and booze, in an unexpectedly tasteful way, you must check out her Martinis And Mascara blog – from travel essentials to personal care essentials.
YouTube Channel
Katie's bubbly personality on all things beauty can be enjoyed on her well-produced YouTube channel. Her professional videos such as "The 3 Best Concealer Brushes", "How to Use Dry Shampoo Like a Pro", "The Best Lip Plumper", and "Hiding a Hangover" show just how brilliant she is on camera.
Collabs
With a professional portfolio of content creation and also her performance talents, Katie is your go-to beauty influencer to deliver on expert Collab campaigns.
---
Megan Coates – @raincoatesbeauty

Megan Coates is an inspiring makeup artist turned MS survivor and advocate.
If there's anyone to inspire you to feel a little brighter about yourself, Megan is certainly your girl.
Content
It's difficult to separate her makeup talent from her MS story because it all comes together with a life-transforming message about beauty.
She shares well-presented product flat lays with insights into her personal experiences. Like her basic makeup favorites for easy application due to her impaired eyesight.
From skincare to makeup, Megan's content is professionally presented.
Her content creativity is notable with posts like "Celebrating May 4th" featuring an ever-so-fitting Star Wars lipstick.
YouTube Channel
Makeup declutters, easy glam tutorials, makeup palettes, easy everyday makeup, and also more about her personal story with MS, check out Megan's YouTube channel.
Blog
Megan's video and social media content are complemented very well with stories and posts on her blog—from makeup tutorials to monthly favs.
Collabs
If you're looking for top beauty influencers for makeup and skincare Collabs, then Megan should be at the top of your search.
---