When Lena Sarsour and Akram Abdallah started Nominal, their Shopify jewelry brand, they didn't have enough money to pay influencers. Instead, they gifted their jewelry to a few influencers and found visibility when these influencers posted positive reviews of their products.
And guess what? It paid off. Today, Nominal is a seven-figure business and is growing with influencer marketing as one of its three core avenues for success.
Influencer marketing is more than just a buzzword for ecommerce brands. The market was valued at an incredible $16.4 billion in 2022 with limitless possibilities for brands with Shopify stores. In this article, we'll share the five most crucial things to know about influencer marketing for Shopify to help you kickstart your efforts today.
5 Reasons Shopify Influencer Marketing Should Be A Top Priority
Influencer marketing can be a time-consuming and effort-intensive channel, but those efforts will eventually materialize into worthwhile ROI. That's why 54% of all businesses investing in influencers are ecommerce brands, many of them operating on Shopify.
Let's look at five ways influencer marketing can prove valuable when working to promote your online business.
1. Connect with a niche audience and drive conversions
If you run a niche brand on Shopify with a small target audience, you know how difficult it can be to get in front of the right people and convert them into customers. This is one of the biggest reasons Shopify brands run influencer marketing campaigns: the opportunity to build a stronger rapport with a niche audience. Research confirms that educational influencers—those who aim to inform their audience rather than entertain—can bring warm leads and sales by endorsing a brand online.
Here's one example: The niche superfood-focused brand Blume was able to reach the right audience in a single influencer collaboration with Healthillie, a creator in the fitness space. With this festive marketing campaign, the brand positioned itself as a great option for healthy cooking at home by having the influencer share a recipe that included their product. Not only did this validate the product with social proof, but it also gave a use case that showed the product in action.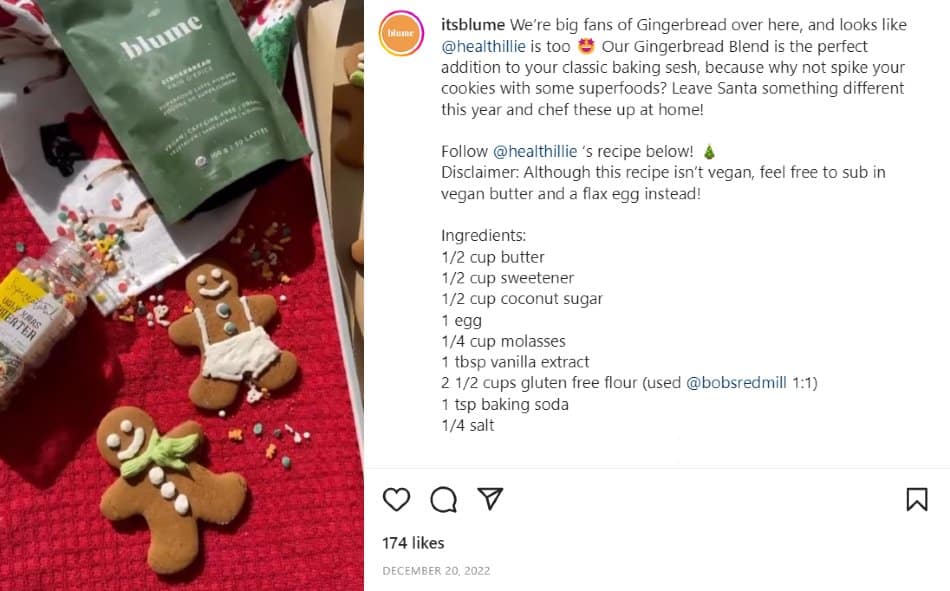 2. Refresh your content strategy with quality content
Another advantage for Shopify brands working with influencers relates to content strategy and production. Organic content produced in-house can only get you so far; you need some social proof and user-generated content to mix things up. Research by Aspire indicates brands that prioritize influencer content over professional photo shoots and repurpose this content across social channels perform better than those that don't.
The good news: you can level up your content strategy with a mix of paid partnerships and product seeding.
Here's a great example from Nature Made. The brand actively features influencers on its Instagram feed to showcase the different benefits of its health products. You'll notice these influencer posts are mixed in with product photos and informational content to break things up.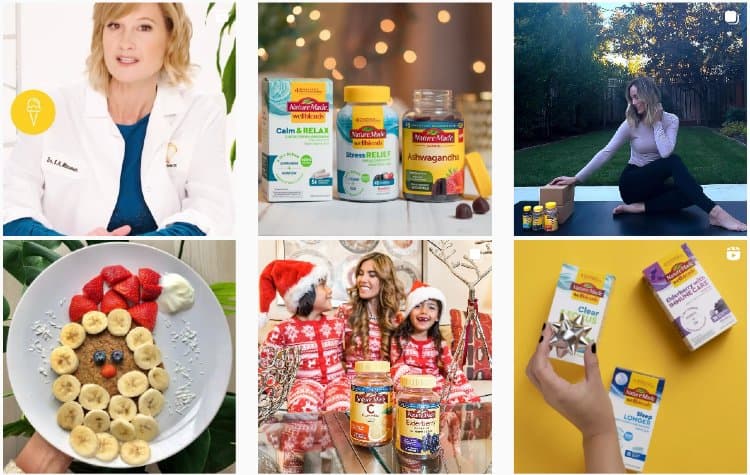 3. Get more bang for your buck with a higher ROI
One study concluded that businesses make as much as $6.50 for every dollar they spend on influencer marketing. Not bad, right?
That's not all. HBR's latest study on influencer marketing revealed that a 1% increase in your influencer marketing spend can increase engagement by 0.46%, indicating a positive ROI. These numbers can be a lot higher depending on your choice of influencers. The same study identified seven factors as the main determinants of your influencer marketing success.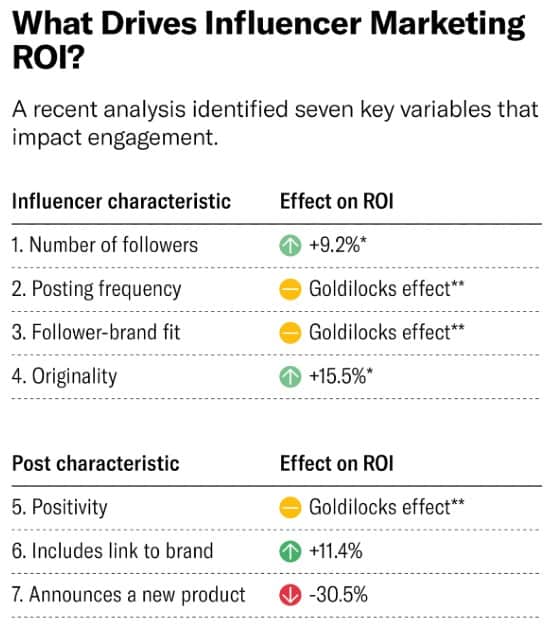 Once you have a solid influencer marketing strategy (more on that shortly), you're on the path to multiplying your sales and hitting those revenue targets thanks to higher engagement and greater visibility on social media.
4. Create a halo effect to increase your credibility
Shopify brands working with influencers bring the benefit of the "halo effect." What is it? When an influencer talks passionately about your brand and vouches for you, their followers trust you simply because they trust the influencer.
This works well for brands new to a market or vertical looking to build a good reputation. Partnering with the right influencers can establish trust and inspire their followers to buy from you: Data shows 37% of buyers trust influencers over brands to make their shopping decisions.
5. Scale your following and traffic
The most obvious benefit of running influencer marketing campaigns for Shopify is the massive reach you get from featuring on an influencer's profile. Social media is a goldmine for Shopify brands and working with influencers will give you that extra boost to gain new followers and maximize awareness. In fact, one study concluded that if brands spent just 1% more on influencers, they'd gain a meaningful increase in engagement.
You can also optimize these campaigns with a Shopify influencer app to increase traffic to your website or landing page, redirect new followers to your website, and enhance your SEO performance.
5 Things to Know About Influencer Marketing for Your Shopify Store
Launching and scaling an influencer marketing campaign isn't easy. However, if you do it the right way, it can help you build social proof, generate awareness, and create a community of buyers. Here are five essential things to remember when planning your influencer marketing strategy:
1. Start by defining strategic goals and channels
Not establishing your goals and channels for your influencer marketing strategy is like running blindfolded through a minefield. You're setting yourself up for destruction. Without the right goals, your influencer marketing campaigns are a gamble wherein you might win or lose all your investments. Instead of leaving it all to chance, brainstorm with your team to identify what you want to achieve through a campaign and set benchmarks that indicate success.
Your influencer marketing goals can be:
Winning new followers
Getting more conversions
Increasing brand awareness
Improving audience engagement
Building credibility and confidence
Attracting a new segment of the audience
With goals in place, you can start to build your strategy. Look where your buyers hang out the most and study different channels to identify the ones that will help you hit your goals.
2. Create an ideal influencer persona
Once you've outlined your goals and channels, it's time to visualize who you want to work with—the ideal influencers to fulfill these goals for your Shopify influencer marketing efforts.
This is tricky if you're running a campaign for the first time since you might not have enough performance data yet to identify the key qualities of your ideal influencers. Regardless of whether you have this data or not, here are a few factors to consider when defining your brand-fit influencer persona:
Audience demographics
The success of your campaign ultimately boils down to the kind of audience you're reaching. Prepare yourself to hit the jackpot with a list of the demographic characteristics of your target buyers, like age, gender, income, and more. Use this data as one of the criteria for filtering influencers.
Engagement rate
A large or small following isn't a genuine indicator of an influencer's potential. Sometimes a micro-influencer with 10,000 followers can bring you more clicks or sales than a mega-influencer with thousands of followers. Check their engagement rate to understand how well each influencer's content resonates with their audience.
Content type
The content you want to promote depends on your choice of channels. If you focus on Facebook and Instagram, you likely need influencers to post short-form videos and stories more than feed posts. This is because short, snackable videos are easy to consume for your buyers, and short-form video is the top lead generation and engagement tactic today. Identify the top-performing content formats for your chosen channels and shortlist influencers accordingly.
Personality
A less objective factor to consider for your ideal influencer persona is their personality. This should closely align with your brand values to add a more authentic appeal to your campaign. For example, if you're a millennial-friendly brand with an outspoken brand personality, work with millennial influencers known for their unabashed honesty.
Type
You need to know what type of influencers will best suit your campaign goals and fit within your budget. Here are the four main types of influencers and their rates:
Mega-Influencers: These are stars with celebrity status and a massive following. They charge above $10,000 for a single post on Instagram.
Macro-Influencers: These are influencers with a follower size between 500,000 and 1 million. They are more professional than micro-influencers but not as expensive as mega-influencers. Their charges are $5,000-$10,000 per post.
Micro-Influencers: These influencers have just over 10,000 followers and work at a smaller scale. They can charge anywhere between $100 and $500 for a post.
Nano-Influencers: These are the smallest scale influencers with low follower counts but high engagement rates. They charge $10-$100 per post.
With these considerations, you can profile your ideal influencers and move on to the next step of vetting and hiring from the talent pool.
3. Design a vetting, hiring, and onboarding workflow
The most important part of developing your influencer marketing strategy for Shopify is finding the right candidates. It's not as simple as searching a few keywords on TikTok, finding decent candidates, and sending them a pitch. Doing this will, at best, get you some high-budget influencers on every competitor's radar.
Instead, try multiple methods to build a solid list of potential candidates. Here are a few methods to try for expanding your influencer search:
Use an influencer database tool
Afluencer is the perfect place to start your search for brand-fit influencers. The tool gives you access to a massive influencer database of 16,000 influencers with powerful filters to source only the most relevant talent for your campaigns.
The best part? You can save your search setting to avoid the hassle of creating a new search every time you start shortlisting influencers. Once you've found the right candidates, chat with them immediately and take the conversation forward.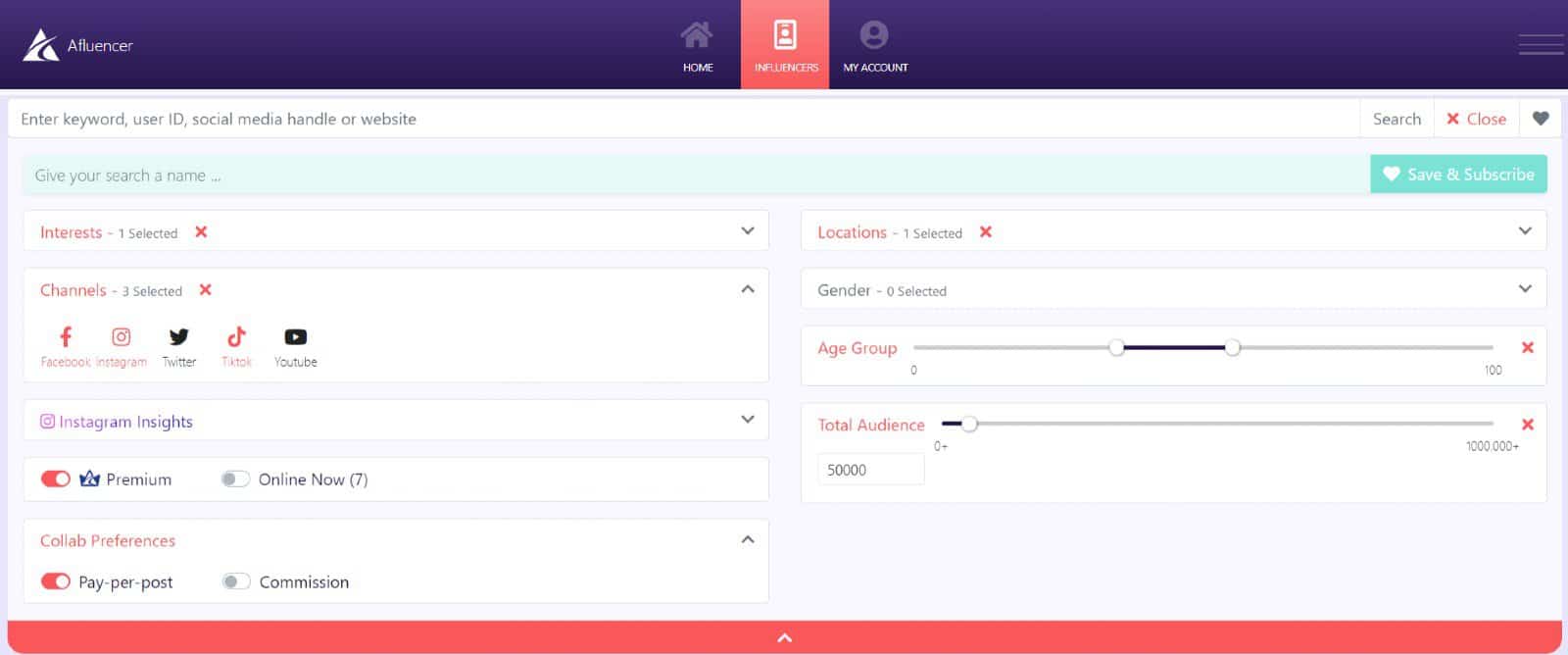 Perform hashtag research
You can manually look through the hundreds of influencers on different platforms by searching relevant hashtags. This method is time-consuming, but you can hit the jackpot by closely reviewing every influencer's profile yourself.
Check your customer roster
There's nothing better than turning your existing customers into advocates. Go through your list of followers to see if there are already creators with a network you can tap into. If not, see if any of your followers stand out regarding content creation. Since they already use your products and follow your brand, they're more likely to accept your pitch.
Look at your competitors' talent
A quick way of finding brand-fit influencers is by studying your competition and reaching out to the influencers they work with. This can work well if you want to work with nano and micro-influencers since they sometimes don't have restrictive contracts. However, if you're going to poach talent from a competitor, be sure the content they create for you is original and very different so it doesn't seem copied. Also, check to see if the influencer has any standing non-compete agreements!
Browse through creator marketplaces
Creator marketplaces on Instagram, Snapchat, and TikTok will also give you a great group of candidates to pursue. These are designed to connect brands with creators and build mutually beneficial relationships for stakeholders.
Finding influencers can be challenging. However, once you've shortlisted your top candidates, go back to your ideal influencer persona to find the best-suited influencers from your shortlists. When you're ready, it's time to onboard them to your influencer marketing program. The onboarding process should give them clear guidelines on:
Your brand vision
Campaign goals
Your expectations
Their deliverables
Timelines
Payments
Remember to lay out your workflows and guidelines as part of the onboarding process, as this will minimize friction in their experience working with you and your team.
4. Decide how you want to collaborate with influencers
You can collaborate with influencers in many ways. But the trick is in choosing the right ways that suit your goals, budget, and target audience. Here are a few of the most common techniques Shopify brands use when it comes to influencer marketing:
Giveaways
Host a contest with the influencers to win more followers and get more traction on your page. Here's a straightforward example of how this could work from Sunset Snuggles.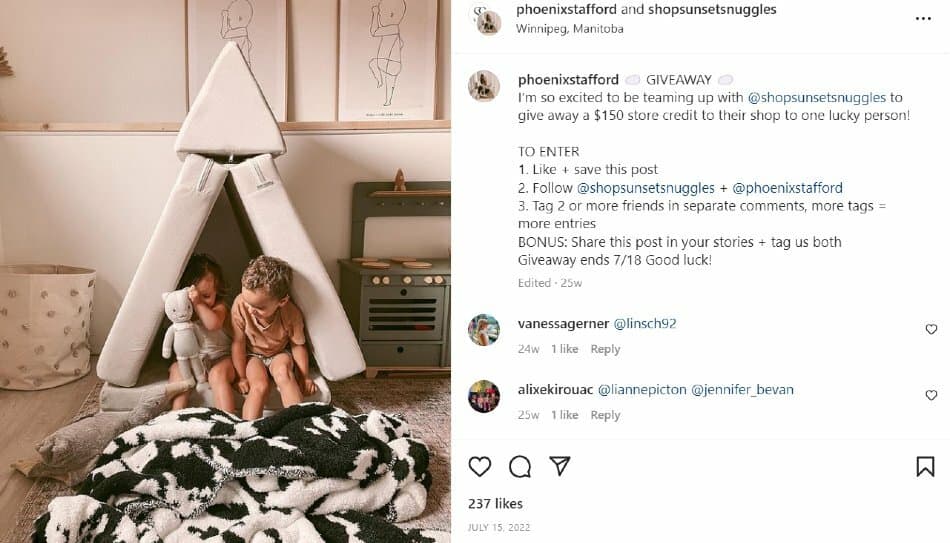 Collaborations
Song of Style's social media Collabs with owner and influencer Aimee Song is the perfect example of an influencer-branded collection. By leveraging her audience and influence, these products get in front of an engaged audience.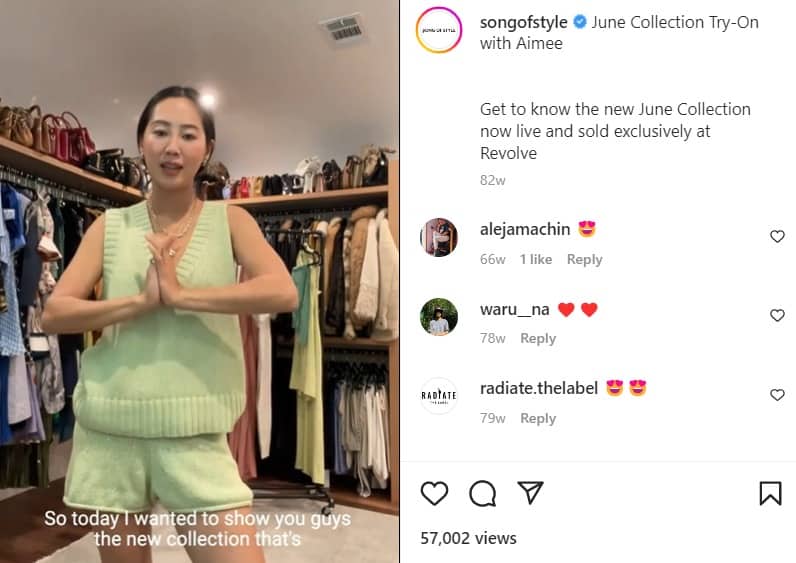 Product seeding
Send your products as gifts that influencers can post on their profile. It's not a paid partnership but focuses on word-of-mouth marketing instead.
Briogeo sent its hair mark to beauty influencer Mikayla Jane as a gift, and her post garnered close to 80,000 likes on Instagram. That's the power of product seeding, where brands don't pay influencers and only send a gift instead.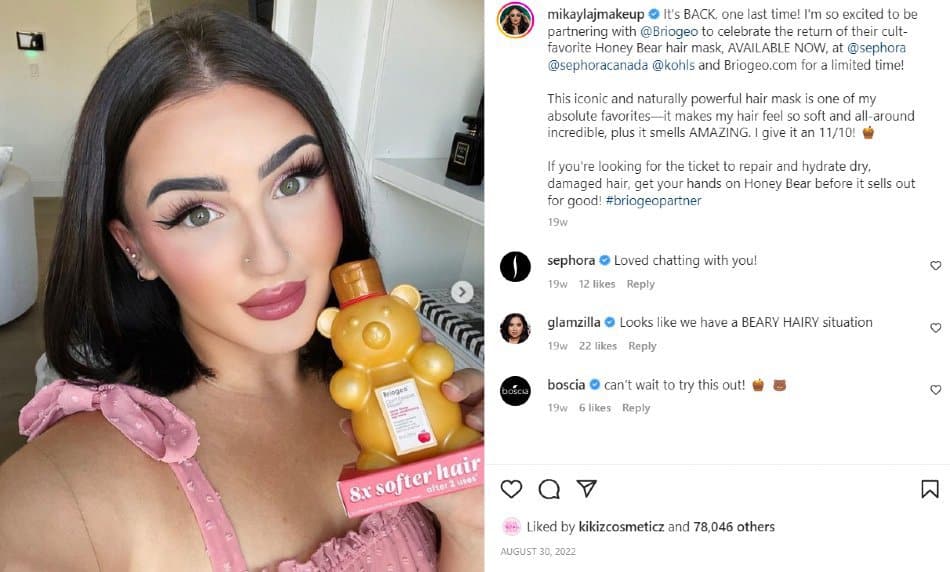 Account takeovers
Let influencers take over your social accounts and interact with your followers. They'll also invite their audience to jump to your page to increase engagement.
This is an example of when Full Psycle invited Peach, a micro-influencer, to take over their Instagram account and go behind the scenes with her day.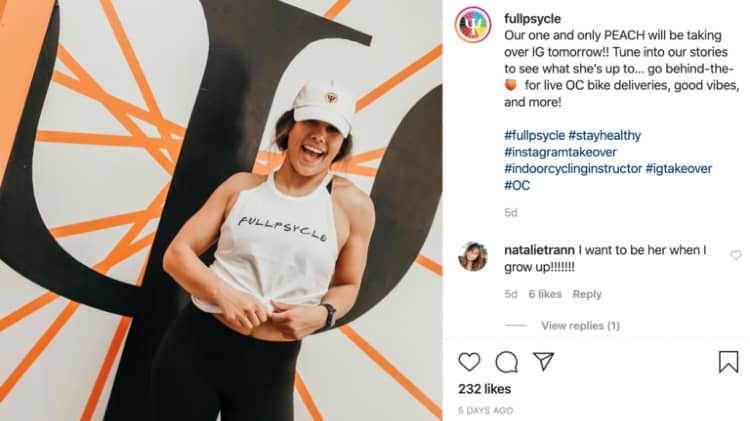 Whitelisted content
Whitelist influencers' content for your brand and run it as ads from your business account. Here's an example by Factor Meals: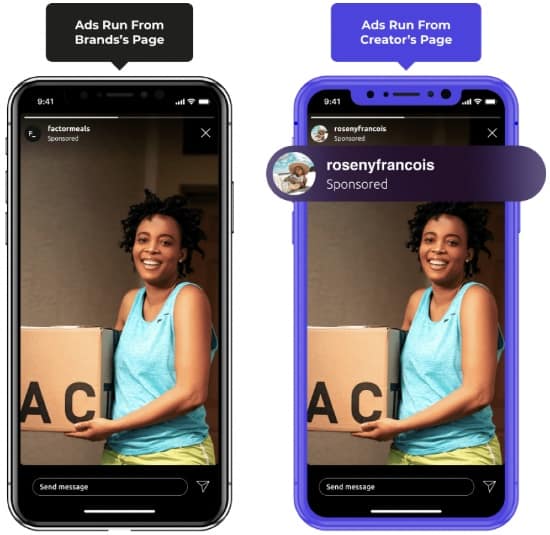 Affiliate partnerships
Share discounts or promo codes with influencers and encourage them to get sales through an affiliate partnership. Decide on a commission structure and pay for only what you earn.
As part of this, be sure to set up all the necessary workflows to offer them a seamless experience.
5. Create a system for tracking and attributing ROI
Your influencer marketing efforts are difficult to measure if you don't measure the impact of your strategy and optimize it. To track performance, select high-level KPIs to assess your campaign's results and decide on ways to review individual influencers' contributions.
Track page views, likes, comments, unique visitors, and other such metrics to calculate the earned media value you've won. This will help you identify the monetary value of the reach you could buy through these influencers.
Here are a few tried-and-tested methods to track individual performance:
Review post-performance through in-platform analytics.
Create and track personalized promo codes‍ for every influencer.
Use UTMs to track sessions and sales coming from every influencer.
Create unique landing pages to measure the traffic generated by different candidates.
Attributing ROI to the right influencers is important to separate the best performers from the low performers. You can focus on retaining these candidates for long-term partnerships.
5 Examples of Influencer Marketing for Shopify
Now that you're all set to design and execute a failproof influencer marketing strategy for your Shopify store, take a look at these five brands doing everything right to win with influencers:
100% Pure
100% Pure is an organic cosmetics brand with a sizable audience on social media.
Most influencer content showcases how to use different products, like this one in collaboration with Nikki Rodri. The beauty influencer uses various 100% Pure products to show her makeup routine and tells viewers how these products look on her face.
Other influencer collaborations also talk about the benefits of their products in different contexts, like self-care, routine skincare, and more.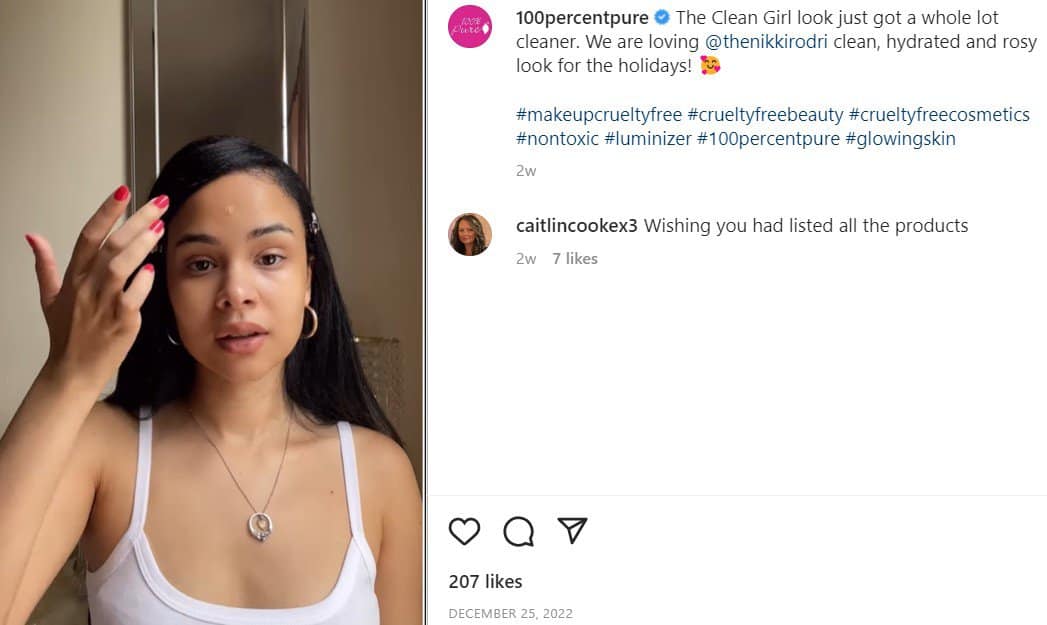 Tula
Tula is a probiotic skincare brand competing in a saturated market. The brand places influencers at the core of its content strategy and proactively partners with them to create impactful content. They run product-focused campaigns, spotlighting only one product per campaign.
For example, the brand has been pushing its new launch, 24-7 Moisture Cream with the help of influencers. These influencers have complete creative freedom to promote Tula products in their own style, without making them look too artificial.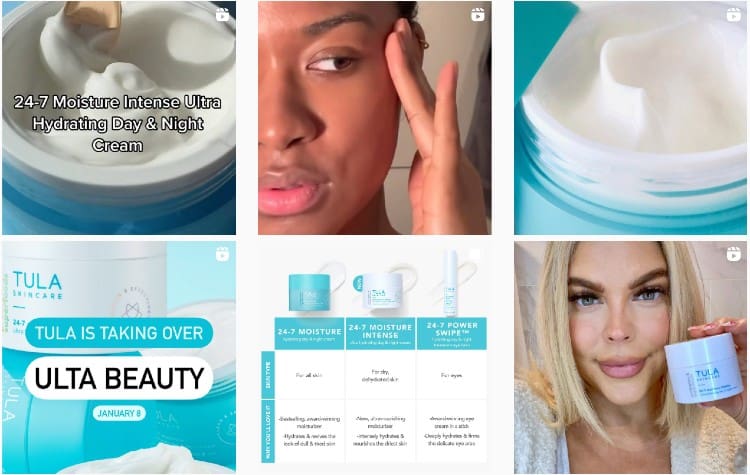 Vitruvi
Vitruvi produces diffusers and blends to make your space more fragrant. Since they're a niche brand with a specific target audience, they collaborate with lifestyle influencers to spread the word about its products.
To buy a fragrance-related product without actually smelling it, buyers would definitely need a recommendation from a person they trust. This collaboration with a home decor blogger, Wendy proves just how it's done.
Brands like Virtuvi can partner with influencers to create social proof and gain their prospects' trust.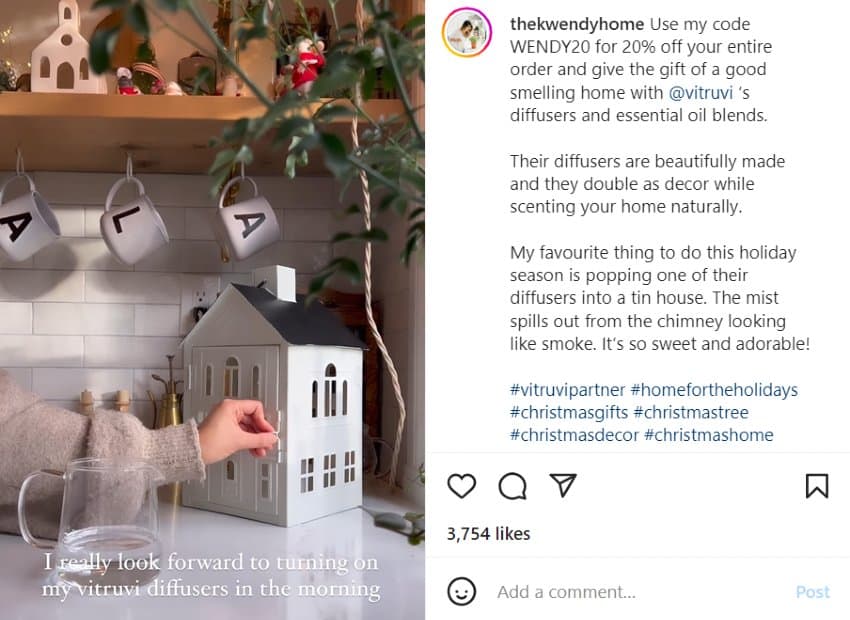 Vuori Clothing
Vuori, an athletic apparel brand, consistently features influencers on its social profiles. With over 500k followers on Instagram, the Shopify brand showcases customer photos paired with influencer content for maximum reach.
Here's one such post by a fitness influencer, Paul Wright where he gives viewers a tour of the Vuori Clothing store in LA. It's a complete look at the brand's catalog along with Paul's take on the products he likes.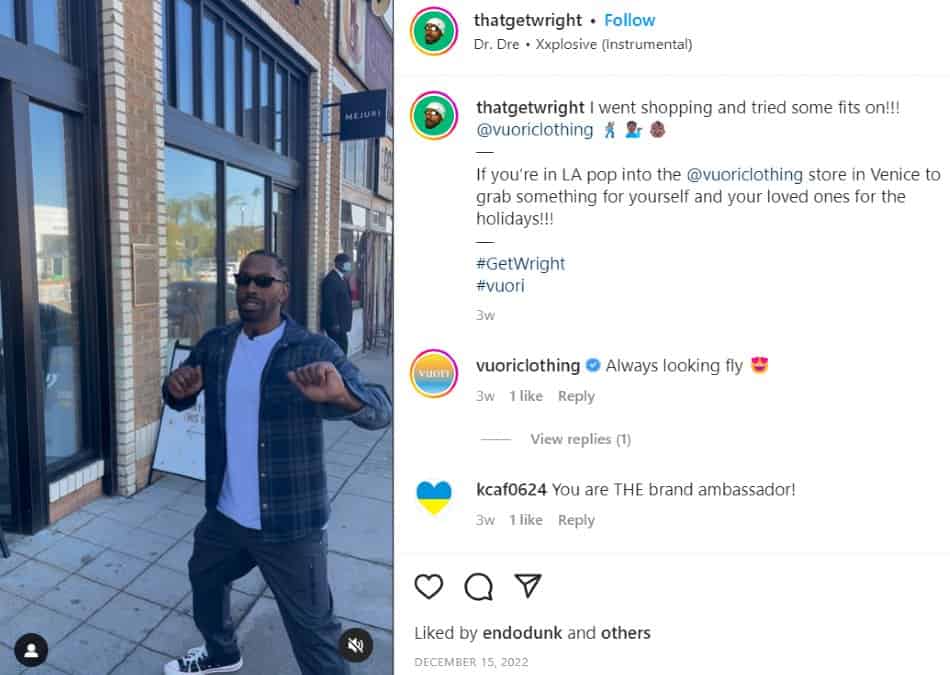 WLO Wood
WLO Wood sells crates for pets and they collaborated with dog influencers to cater to their target audience. In fact, their entire Instagram profile features happy customers standing next to their crates—combining customer advocacy and influencer marketing.
Here's a giveaway contest they hosted with Scout to get more people to know about the brand and maximize the festive shopping sprees.
Plan Your Shopify Influencer Marketing Campaigns Effortlessly
With that, you're all set to experiment with influencer marketing and take your Shopify store to new heights. But remember: this guide is only the tip of the iceberg!
The next step is about making sense of all the moving parts—managing partnerships, processing payments, reviewing deliverables, and more. Create an airtight plan to figure out these details and learn as you go along. Start by searching for the right influencers on Afluencer—sign up today!