You know that they say—the early bird gets the worm. In this round-up of teen influencers, you'll discover young adults on the path to greatness (yes, it sounds like part of a speech from a movie but it's true). Some have hundreds of thousands of followers, others are at the beginning of their influencer journey. One thing that links them all – they're tackling the influencer game with confidence and putting in the work at an early age.
Here are our teenage stars in no particular order of influence:
Are you ready to tap into our younger selves and check out these teen influencers ready for a Collab?
Let's go!

Repping Illinois, USA is Megan Stacy. A 16-year-old content creator whose love for fashion shines through her social media posts.
Content
This teen influencer sure knows how to serve looks! From cute flowy dresses to comfy jeans and sweaters, cheerleading outfits to formal wear, Megan covers it all on her Instagram page. With over 155k followers and an engagement rate of 3.6% on her mom-monitored account, there's no doubt that her self-expression through fashion has connected with teens and young adults not only in the USA but all over the world.
Need to know where she gets her clothing from? Thankfully, Megan shares all the outfit deets in every post so followers everywhere can rock the looks too! Her captions are almost always positive, uplifting, and inspiring, giving us much-needed reminders of how awesome we are: "You are made of magic.." Yes, I am!
---

A fashion content creator from New Jersey, USA, Francesca is a budding teen influencer with a total follower count of 3,343 across Facebook, Instagram, and Twitter. She will soon be majoring in Fashion Studies and minoring in Pre-Law – with a goal to become a fashion attorney and/or start her own clothing line. Talk about a girl who knows what she wants and is working to make it happen!
Content
First off, what a bright Instagram page this is – in the best way. Francesca executes her wish to "add a pop of positivity to uplift anyone who may need it" through her choice of bright colors, infectious smiles, and encouraging captions.
She may only have 71 posts, but this determined teen influencer is already working the Collab scene. She's partnered with ThirdLove – a lingerie company, Case Co – an ethical phone accessories company, and a few others. She's partnering with brands across industries yet her content still flows and makes sense. Francesca is a force – getting things done in a short amount of time – what more could you want in a collaboration? Boss vibes all the way.
---

This 18-year-old from California may be a teen micro-influencer, but she's also an entrepreneur doing big things. She's the owner of Belloire (@thebelloire) – a cosmetics, clothing, and jewelry brand – which she considers a dream come true.
Content
Are you lacking style inspiration? Does your closet need revamping? Consider @officallylinh your go-to lookbook. Scrolling through this teen influencer's feed feels like flipping through a fashion magazine with like totally doable outfits. You can also find pieces not only from her business, Belloire but from other stores and lines as well (which she mentions in her posts, thanks Linh).
Also, can we take a moment to appreciate her hurricane-causing false eyelashes – also by her brand? We're blown away.
---

Madison Wilkins, from Indiana, USA, is a content creator with a passion for sharing what she loves – fitness, fashion, and self-care.
Content
Teen life moments – beautifully captured. For us not-so-spring-chickens, Madison evokes a sense of nostalgia for our teen years. Prom, friends, family. Madison's content feels authentic and relatable. She's really into cheerleading, gymnastics, and skiing. Judging by her comments, she has many offers for Fashion Collabs and has even been gifted activewear by a brand. With 1,744 Instagram followers and a whopping engagement rate of 18.7%, it's clear that this teen influencer has major potential.
---

This Toronto-based content creator is focused on styling outfits & accessories, hair, and makeup, as well as lifestyle and wellness.
Content
This teen influencer definitely has a certain vibe that's clear as soon as you visit her page but hard to put your finger on at the same. Whatever it is, we feel like it's her personality shining through and we like it. She clearly loves fashion – her cute outfits are testament enough. However, she's also secured paid partnerships with brands in skincare, clothing, jewelry, nutrition, and mental health – topics close to her heart.

She's got 1,426 followers on Instagram, a fantastic engagement rate of 11.6% and is clearly no stranger to good Collabs across multiple industries. It's safe to say that if you're not partnering with Danielle, you could be missing out on a rising star. Actually, you're definitely missing out.
---

Also out of Ontario, Canada is clothing and lifestyle enthusiast, Aliyah. This fun and fabulous 15-year-old is living her best life through fashion as a young girl of the Muslim faith. We love this much-needed representation.
Content
With her keen sense of style, Aliyah shows the world that you can be modest, trendy, and true to your religious beliefs all at the same time. We love her undeniable confidence (and flawless skin, yaasss girl what's your secret). In all this, she's just a normal teen going about her life. From relatable posts about her love for oversized hoodies (the best!) to partnerships with beauty and clothing brands to her phenomenal Instagram engagement rate of 14.6%, Aliyah is certainly one of the teen influencers to keep on your Collab radar.
---

Coming to you from Gauteng, South Africa, Tendani is a teen influencer whose content focuses mainly on makeup, fashion, and hair.
Content
Talk about confidence! We love seeing teens do what they love while being unapologetically themselves. Tendani is definitely doing something right – she's got almost 14k followers on Instagram and 54.6k on TikTok (@tendinm). Let's break it down.
When it comes to hair content, ya girl has you covered with easy-to-do natural hair tutorials and looks to inspire. She also really rocks braids like no other.
Real cute. Real simple. That's what we love about this teen influencer's fashion choices. She's even partnered with clothing brands to give her followers 15% off deals. This girl is ready for another Collab!
Her makeup content is where it's really at. Tendani sure knows the meaning of a beat face! From bold eyes to bold lips, and creative makeup looks to the no-makeup-makeup look, there's lots of inspo to get you going. She's even started a page on Instagram dedicated to makeup – @makeupbytendani, which, although she's only just created it, already has 226 followers. Judging by what she's done already, this new page is sure to be a hit.
---
Natural beauty enhanced by the right skincare products – that's Adele's philosophy. This 19-year-old from Belgium loves sharing beauty hacks and fashion styling tips.
Content
What a philosophy. And so simple! Judging by her skin, it appears to be working. Skincare never looked so easy. We love how Adele lives by her statement of enhancing natural beauty through skin care. She only recommends products she uses herself (which amps up the trust factor for anyone looking to follow her. I'm sure all 5,100 of her current followers would agree!) She also has partnerships with beauty brands that benefit her followers – hello discount codes!
This teen influencer also covers fashion that's as simple (yet stylish) as her skincare routine. We're talking hoodies, jeans, and sneakers. Staples in any wardrobe. However, if there's one glam thing she can't do without – it's getting her nails done. We love her approach to life! All in favor, say I!
---

Hansa Soni, a 19-year-old teen influencer from India, not only loves beauty and fashion – which she's amazing at, by the way – but she also loves motivating and uplifting people. A quality we definitely admire.
Content
Hansa is a style queen! When scrolling through her timeline, it's easy to see how effortlessly she blends culturally inspired looks with western fashion – and she looks great in all of them whether she's wearing edgy outfits, cute dresses, business attire, or jeans and a white tee. It's enviable. However, no hate here – not with those motivational posts littered throughout her feed.
While Hansa may be front and center in her posts, many of her photoshoots are in stunning locations, adding dimension to her feed. No matter what she's posting there's an air of confidence in the most modest yet regal way. Does it make sense? No. Do we love it? Absolutely.
---
Gina Lee is a commercial model and micro-influencer based in Lisbon, Portugal. She has a love for health, wellness, and sustainability – all of which she shares with her almost 2.7k followers on Instagram.
Content
A quick look at Gina's feed make's it clear that she's all about living a healthy lifestyle. Here you'll find easy-to-follow recipes that can just as easily be modified to accommodate gluten-free or dairy-free lifestyles.
You'll also find beauty hacks like how to get rid of a nasty pimple in 2 days (people everywhere can relate) as well as some style inspo and life advice. Did we mention that she is the founder of a handmade, minimalistic skincare line? Oh yeah, it's called Allure Haven (@allurehavenskin) and it's plant-based and cruelty-free.
She's the perfect teen candidate for brands looking for influencers in the beauty, health & wellness, and fashion industries.

Is there anything this teen influencer can't do?
---

From the Philippines, Sheneil has a goal and that's to help empower people of any age or gender and she's doing that through her Instagram and YouTube channels.
Content
On her Instagram, you will find Sheneil being herself – a normal teenager. The power in that is showing everyone that we can connect on many levels, no matter who you are or where you come from.
Her YouTube channel features a bit more variety – from makeup looks to clothing hauls and even driving lessons – things teens everywhere can relate to. We love her fun-loving energy and ability to show that there is power in being yourself.
So if you're a brand looking to partner with relatable teen influencers, then Sheneil's your girl!
---

Viraj, a teen video creator from India, is a self-proclaimed 'memer' with a fantastic sense of humor and a love for health and skincare.
Content
The only male to make our teen influencers list, Viraj is a master at the Collab game. He has several featured partnerships throughout his feed with brands in the health, skincare, fashion, and phone accessories industries to name a few. While he definitely injects his infectious sense of humor with his over 7k Instagram followers, Viraj's message of living a healthy life is first and foremost. Did we mention his great engagement rate of 5.6%? Viraj is constantly interacting with his audience and we love that!
From their unique personalities to their approach to content delivery (not to mention already establishing themselves with partnerships with brands), it's clear that these teen influencers are on the rise and can only get better from here.
---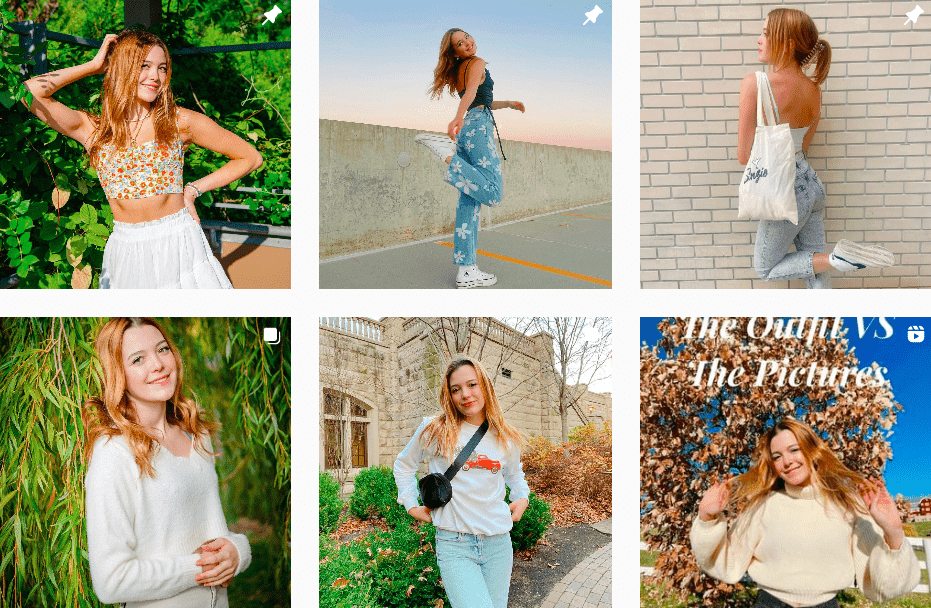 Meet 18-year-old Amber from Wisconsin. When it comes to content, her interests lie in fashion and lifestyle. With her engagement rate sitting at an excellent 6.9%, we'd say this is one teen influencer you want to keep in mind for a Collab.
Content
You can find Amber Marie not only on Instagram but TikTok as well (under the same handle).
If you're looking for fashion content, check her out on Instagram. From bikinis to summer dresses and cute sweaters, this fashion teen influencer shows off every fashion must-have a teen needs.
If it's lifestyle content you need then Amber's TikTok has got you covered. Look out for clips that are totally relatable, funny, and real.
That said, Amber's content is so delightful, you are going to want to follow her on both social media platforms. You have been warned!
If your brand is looking for a teen influencer who knows how to keep her audience happy, Amber is your girl.
---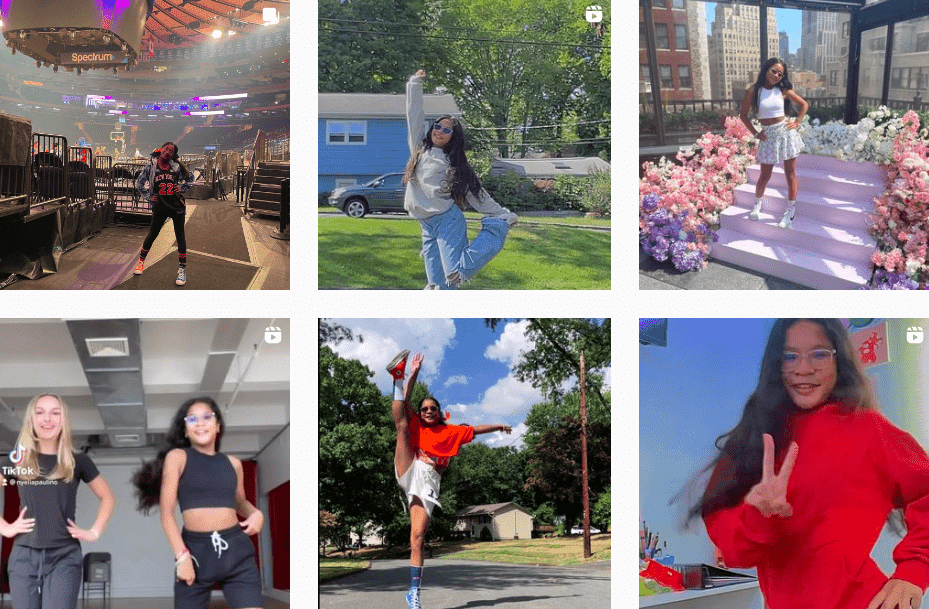 Representing New York City is Nyelia Paulino. She loves everything dance! From various styles of dancing to making dance content, and spreading positivity and kindness through dance, Nyelia has a passion for it all.
Content
Just one look at any of Nyelia's Instagram reels and you'll see this passion for dance shine through! This 13-year-old also has amazing energy and the personality to match. Her followers take in every bit she posts… her engagement rate is an astounding 36.3%! Even grown influencers would kill for such stats.
Let's take a look at what her followers have to say:
"I love your energy!"
"… I love seeing how you pursue dancing, it's truly a beautiful thing :)"
"Soooo cute!!!!"
"So cool! So happy for you!"
"Wow wow wow! Keep crushing it, my friend"
It's clear to see that Nyelia is a star who is only going to keep shining! Don't miss out on a Collab opportunity with this teen influencer.
---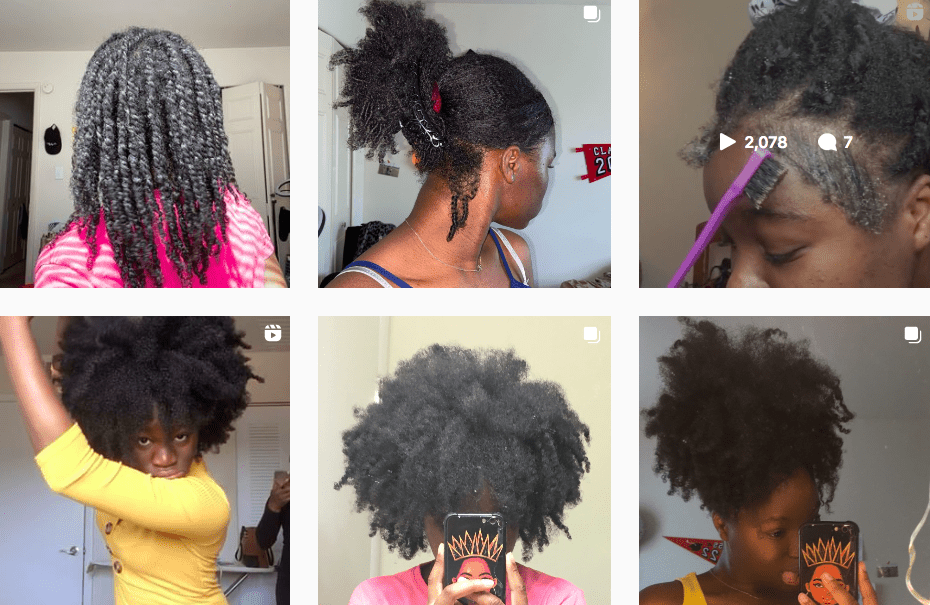 Fey is a natural hair teen influencer from Maryland who finds joy in sharing her content with other naturalistas!
Content
For those seeking natural hair inspo, Fey should be their go-to. She posts different types of hairstyles that you can implement any day of the week – without repeating! Now that's saying something.
Whether she's rocking her afro, twists, a ponytail, bun, or with her hair straight, Fey confidently and proudly shows off her natural hair, inspiring other teens to do the same. It looks like they're paying attention: Fey's engagement rate is a superb 6.9%. And with most of her followers falling in the 18-24 age bracket, it looks like Fey is indeed reaching her target audience.
We love the authenticity of her posts… no glammed-up videos here. It's just Fey showing you how it's really done.
Is your brand in the hair care industry? Collab with Fey for a chance to reach her super-engaged audience.
---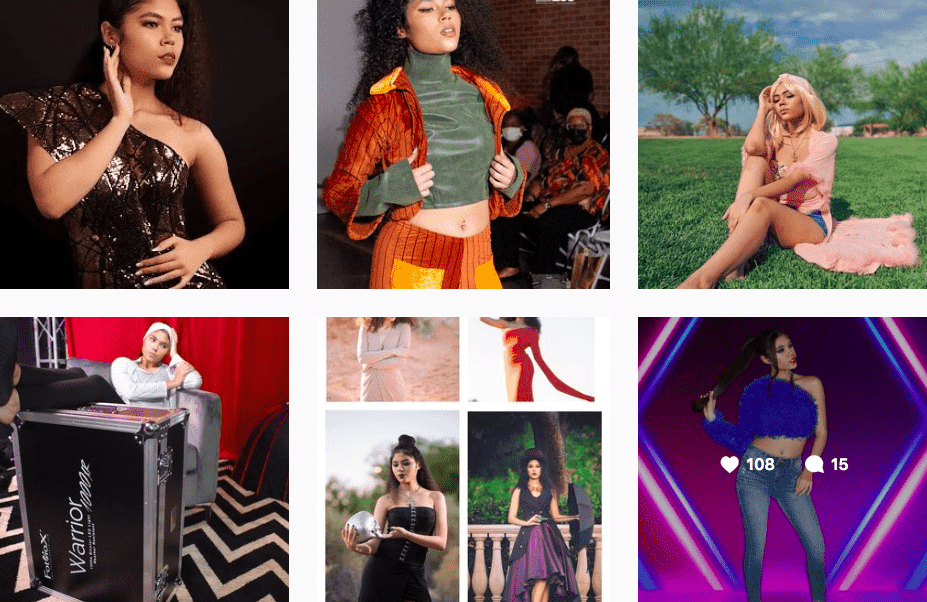 Nevada brings us, Sydney Webb. She's a teen influencer and fashion model who has been working with brands for 3 years. In her own words, she "understands how important it is to promote a brand in the way that they want to be seen."
Content
Sydney's content is a mix of some of her professional highlights, a bit of her personal life, and a dash of some good old motivational content. We love how well-rounded her page is – giving us just the right amount of each bit of content.
What we love most is how Sydney's personality is at the forefront of her content. Not many of us would dare to wear a sunflower dress and pull off the look (but you best believe Sydney does).
She's a teen influencer who delivers amazing content, appears to know what she wants, knows what brands want, and has the experience to prove it. A Collab with Sydney should not be missed out on.
---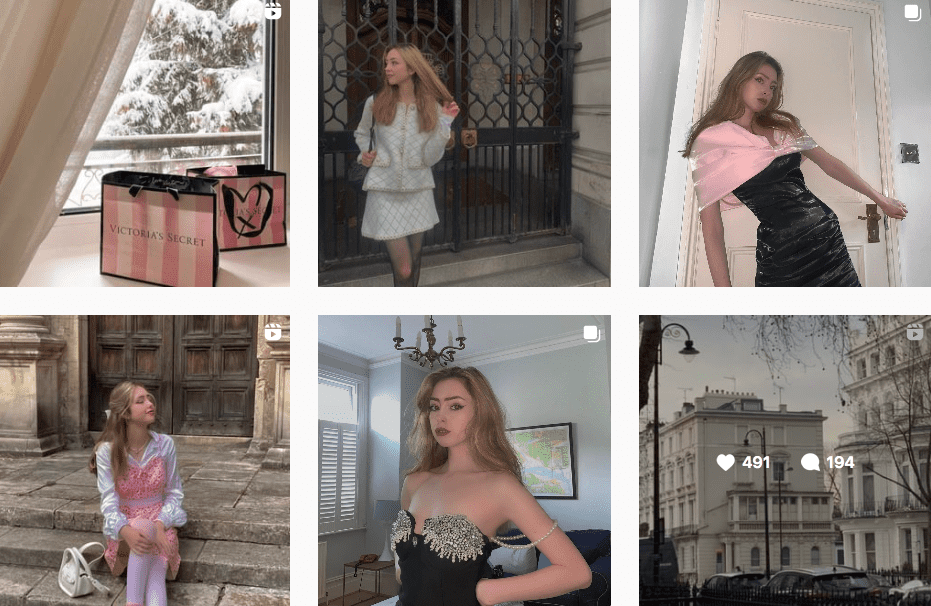 Next up is Anna and she's based in Manchester, UK. She also goes by the name Pixia and has a passion for fashion, beauty, and music.
Content
Primarily a singer-songwriter (you can find her music over on @pixiamusic on Instagram) who has amassed over 300,000 Spotify streams and who has been featured on the BBC, Pixia's music career has skyrocketed since launching her career in 2021.
With a growing audience, she's decided to also share her love of fashion and beauty. That certainly was not a mistake as they're loving it almost as much as they love her music!
"Princess your set is so beautiful. I'm in love with this color, everything is perfect…"
"Elegant and so beautiful. Love this cute outfit!"
"Obsessed with your beautiful outfit. Your style is so gorgeous, love it very much."
The praise goes on and on… it's clear to see that her followers love everything she does.
You are sure to love everything Pixia does too. She's got the Midas touch… pure Collab gold right here! Don't miss out on this opportunity. You know what to do!
---