Despite what everyone says, the cannabis industry is growing at a rapid pace and offers huge potential for brands and influencers. The market is expected to be worth $73.6 billion by 2027 and this doesn't take into consideration the illegal or black market that's said to be worth a lot more.
CBD brands have more money than ever. It has turned out to be one of the most 'in-demand' products during the pandemic, hence it doesn't come as a surprise that top cannabis influencers are suddenly in demand.
In this article, we'll talk about some of the high-in-demand cannabis influencers that are available for CBD brand partnerships.
Is It Legal to Hire Cannabis Influencers?
This question makes a lot of sense since CBD brands have to face several restrictions on marketing.
In simple words, yes, it is fully legal to hire top cannabis influencers to market CBD products for as long as the products are legal.
There is no ban on hiring YouTube, Facebook, or Instagram CBD influencers but you need to be careful about how they market your products.
Most marketing platforms including Facebook, Instagram, and Google Ads are very stringent when it comes to marijuana-related products. This is one of the major reasons why top cannabis influencers are so much in demand.
Businesses have no option but to hire internet celebs to spread the word. This provides businesses with the opportunity to reach a wide audience without having to spend a lot.
Working with top cannabis influencers is more affordable than other marketing methods due to a lower number of them and fewer CBD brands competing for them.
Several CBD brands are already on our platform working with some of the best cannabis influencers on the scene.
Here are some of these superstar cannabis influencers:
8 Top Cannabis Influencers You Will Want To Partner With
#1 Bess Byers | Motivational and Marijuana-related Content Creator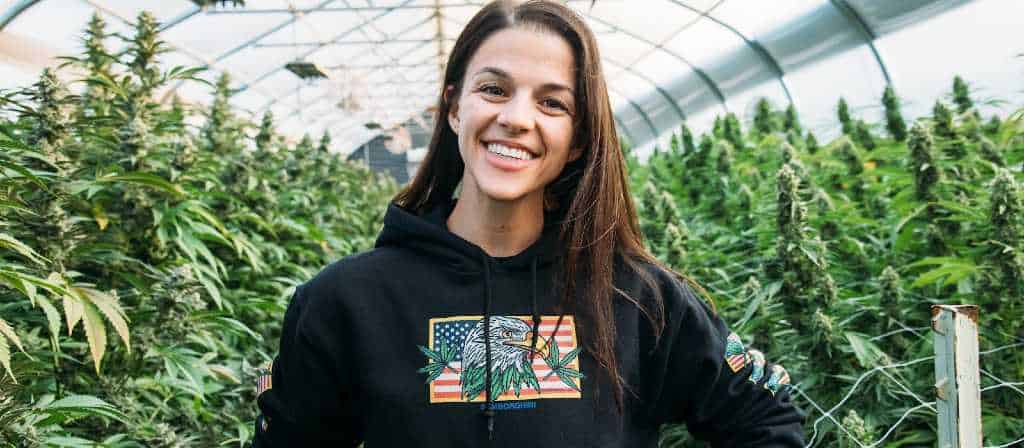 Seattle-based CBD influencer Bess Byers has more than 94,000 followers on Instagram making her one of the most popular cannabis influencers.
She's the founder of @BlaiseCreative, a digital agency working with online businesses.
Her page is for adults (21+). She's into politics and shares content related to a lot of topics including debt. You will find a nice variety of posts on her account including motivational content and marijuana-related news. This makes her one of the best cannabis influencers.
"Pot is very political, you know, in terms of just economic revenue and job creation. Those are things that really aligned with my values and things I'm passionate about," she said while talking about her endeavors.
---
#2 Steve DeAngelo | Top Influencers in the Cannabis Industry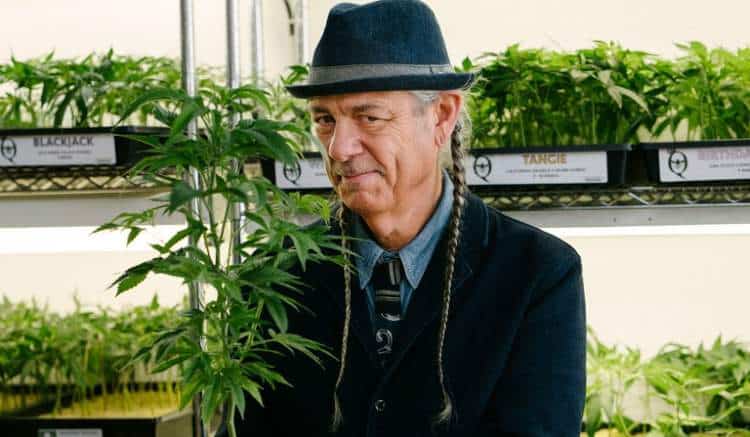 Steve DeAngelo is one of the few popular cannabis influencers on Instagram with his own Wikipedia page. He has more than 30,500 followers who actively communicate with him under his posts.
DeAngelo was called the 'Father of the Legal Cannabis Industry' by former Speaker of the California Assembly, Willie L. Brown, Jr. He is known for advocating the legalization of marijuana in the country.
DeAngelo won the 2015 High Times Lester Grinspoon Lifetime Achievement Award and he is one of the most influential men in the industry. Fortune named him one of the seven "Most Powerful People" in the country's cannabis industry in 2016.
A Marijuana Business Daily inaugural Hall of Fame inductee, DeAngelo is the chairman and co-founder of Harborside, an Oakland-based dispensary chain. He was one of the first US companies to make a legal cannabis sale in the country.
He posts a lot of controversial content on his blog and page and is believed to work with very few CBD brands.
---
3. Dr. Michele Ross | Lifestyle and Cannabis Coach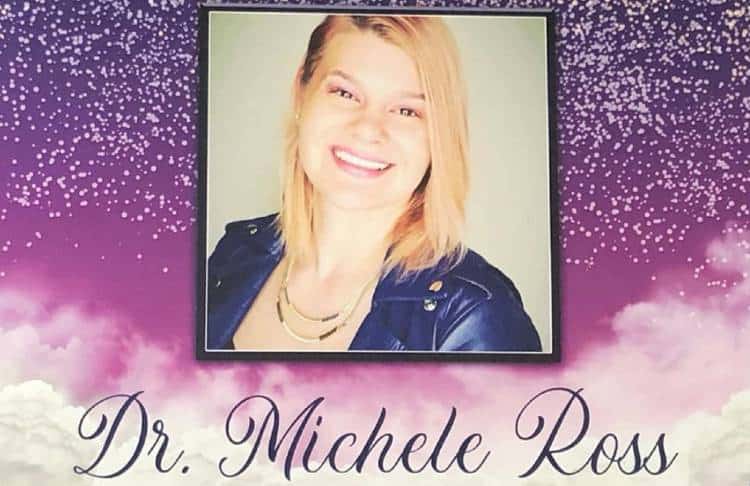 Dr. Michele Ross might not be the most popular Instagram public figure but she makes it as one of the top cannabis influencers due to what she does. She currently has more than 13,500 followers on Insta.
Her bio defines her as a "neuroscientist building cannabis, mushroom & tech startups."
Ross has authored several books and holds a Ph.D. degree. She very actively works with CBD brands and is among the most popular Twitter cannabis influencers with more than 76,000 followers.
Ross uses her social media accounts to help people and is a big supporter of natural, plant medicines. She educates and helps users through her firm Infused Health.
Ross enjoyed national fame when she appeared in Big Brother as Michele Noonan and is considered the best cannabis influencer by many.
---
#4 Trippy Treez | Content Creator Supporting Cannabis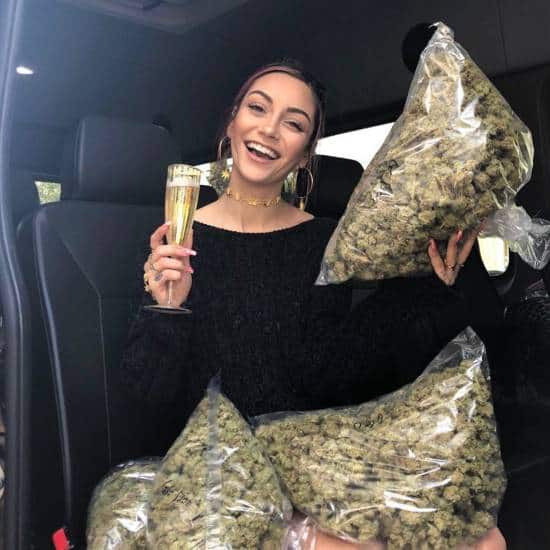 Looking for Instagram cannabis influencers with a wide range and a huge number of followers? Look at Trippy Treez. With more than 232,000 followers, she's among the best marijuana influencers.
While we don't know her real name, we know that she can be very useful for CBD brands looking for influencers as she's one of the few top CBD influencers with a huge YouTube following.
Her 80,000 subscribers are very active and interested in her posts. Unlike other names out there, she identifies as a content creator and works with a variety of brands.
The LA-based model is a proud vegan and a big supporter of weed.
---
#5 Wiz Khalifa | Superstar Cannabis Advocate
Wiz Khalifa is an international star who needs no introduction but do you know that he's a big cannabis supporter?
You will have to spend a lot to get to work with him but it might be worth the money. After all, the rapper has more than 30 million followers on Instagram. Plus, he is big on other platforms as well with nearly 22 million subscribers on YouTube.
The 32-year-old star has his own strain named 'Khalifa Kush'. You will find a lot of cannabis-related content on his social media profiles. He has also dedicated songs to his love for cannabis. Listen to 'Weed Farm', 'Stoned', and 'Bake Sale' to know where we're coming from.
---
#6 Koala Puffs | Hilarious Cannabis Influencer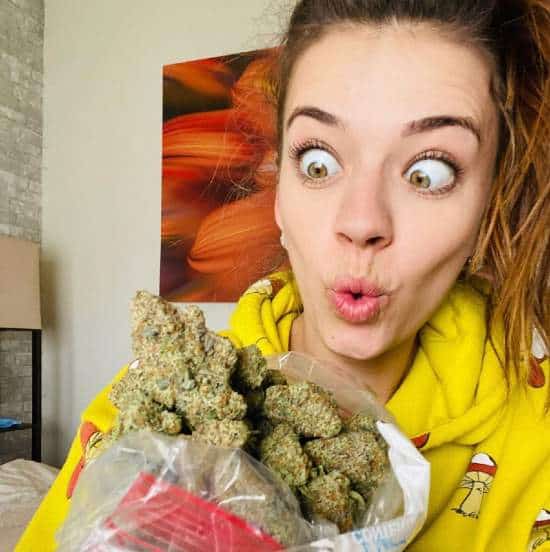 Here's another internet star who doesn't like to use her real name on the web.
Koala Puffs posts hilarious videos to keep users entertained. With more than 712,000 followers, she's one of the most popular cannabis influencers on Instagram.
"My followers are from all over the world, and it's inspiring to see all the pictures and videos of the ways people smoke in Russia, Chile, Brazil, Canada, etc. But that also shows me I need to make sure a diverse audience is able to relate to my videos," she said while talking about her reach and followers.
---
#7 Big Mike | Cannabis Industry Veteran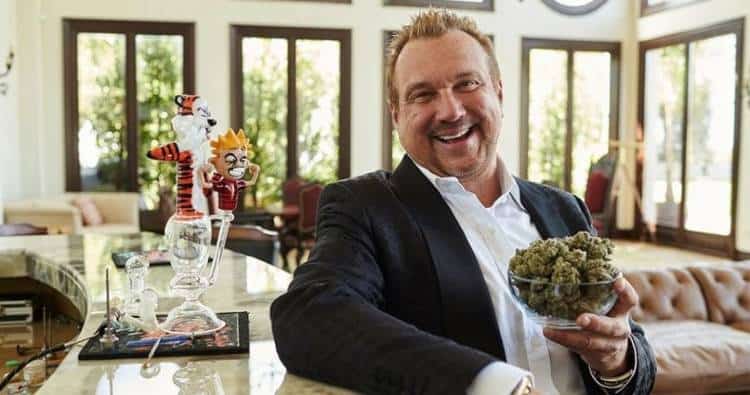 Mike Straumietis, more popularly identified as "Big Mike ", is best known for being the founder and CEO of Advanced nutrients and BigMike's Blends.
He's an industry veteran with more than 2.7 million IG followers. The ganjapreneur's page highlights his larger-than-life and charismatic personality.
He proudly flaunts his infamous Ferrari and posts informative pieces on weed.
The man seems to be serious about his motto: Making Cannabis an Acceptable and Everyday Part of Healing Humanity.
He was recently in the news for planning to produce a show inspired by "The Apprentice" to help industry professionals.
---
#8 Krishna Sai Andavolu | Weediquette – The Cannabis Show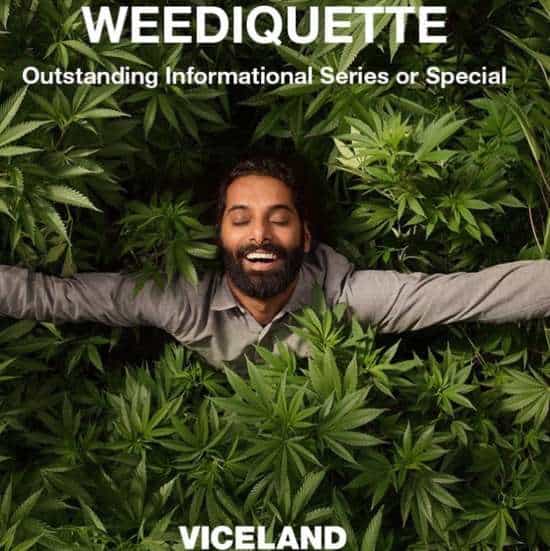 Andavolu can be a great option for CBD brands looking to promote healthy CBD products. He's the man behind Viceland's marijuana-based hit show, Weediquette.
His show is about marijuana and its impact on different industries in the US. It mainly revolves around the medical benefits of marijuana.
He's considered authentic and has a decent following on both Twitter and Instagram (above 20,000) making him one of the top cannabis influencers.
---
Best Cannabis Influencers: Conclusion
These were some of the top cannabis influencers that can offer the best coverage for brands. We covered all corners from Instagram to YouTube cannabis influencers.
Compare these options and come up with the right plan to market your CBD products on social media with the help of influencer marketing. Sign up today to look at some of the best cannabis influencers in the business.