Paid partnerships flying all over social media, thousands of views and likes, followers bubbling with "WOW I love this, I'm ordering it right now" kinda comments, and here you are with a little FOMO and a whole lot of tenacity to figure out how to find and book influencers — for your own big collaboration gig, right?
Alright, you're ready to join the rave and start booking influencers for your brand.
But where do you find them and how do you book them?
So many questions.
In this practical guide, you'll learn important steps plus key tips to help get you started with your influencer campaign. With ease. Because why would you spend lengthy time on social media platforms, sending hopeful DMs to no avail, when you can successfully get it all done on one platform?
And that's what we'll be uncovering for you here.
Who Is This Guide For?
Now, just a heads-up. This guide will be useful to the following:
Influencer marketing newbies. If you've never collaborated with influencers before and are clueless about where to start, you're on the right page.
Tried but failed marketers. Have you attempted booking influencers but failed? No stress, you'll learn some valuable tips in this guide to help get you on track.
No time to waste marketers. If you're looking to launch your influencer campaign ASAP with no time to waste, this is for you. The great news is that by the end of this guide you'll know how to find influencers and how to book them—in a matter of clicks.
Businesses looking to scale their influencer marketing. Whether you're looking for a few influencers or more, we'll uncover how easy it is for your collab to reach thousands of influencers all over the world.
Brands looking for a simple solution to their influencer marketing needs. No complicated processes, just easy and convenient solutions to work with influencers—right here in this guide.
Brands with any kind of budget. Whether you have a generous or limited influencer marketing budget, you'll learn how to find and book influencers that are a match for your budget.
Let's get started.
Firstly, What Influencers Are Your Target Audience Following?

In a social media universe that's crowded with an abundance of creators, it can be tempting to venture out into a collab with any and every influencer along the way. Partnering with the wrong influencer is often the biggest culprit of unsuccessful campaigns.
Why?
Because working with the wrong influencer means you're reaching the wrong audience. And the wrong audience has no interest in your brand and what you offer.
So, marketing basics: reach the right audience for your business.
What does this mean in the influencer realm?
You have to understand what kind of influencers your target audiences are following.
Here are some demographic points to consider:
Location
If your business serves a specific country, then you should partner with influencers that have an audience in this location. Be careful not to assume that because an influencer is based in the US that their audience is US-based too. This is not always the case. Influencers may have diverse audiences across the world that may not be a match for your brand.
Gender
Are your customers male or female? If you're selling a product for men, such as a beard grooming set, then you should partner with influencers that have a male audience. Remember though, that you can get female influencers with a male majority following and vice versa.
Age
If your products are targeted at a specific age group, then it is crucial to have an audience age match with influencers you decide to team up with.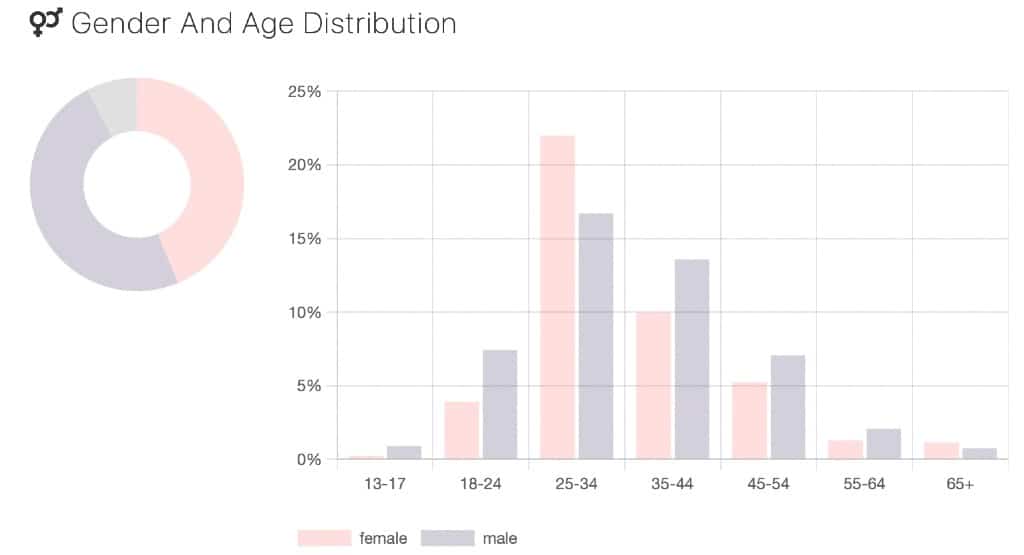 Interests
Did you know that primary interests could overlap with secondary interests?  What do I mean by this?  Let me give you a practical example.  Say you sell baby-related products.  While it might be obvious to just target parent influencers and call it a day, you might be missing out on other opportunities with creators that could very well have a network of followers that match your target audience.  Such as family health care professionals, and early child and baby care providers in the education segment.  So, do consider secondary interests in your targeting as well.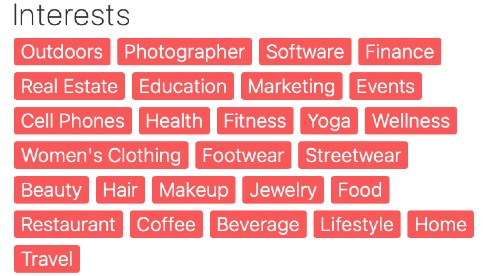 Platform
Each social media platform tends to have a unique demographic of users. If you're targeting baby boomers, they're usually hanging out on Facebook. Millennials on Instagram, Gen Z on TikTok, professionals on LinkedIn, and female DIY'ers on Pinterest. But then you have a diverse audience on platforms like YouTube and Twitter. Also do remember that as time progresses and platforms mature, the audiences do change and develop on these channels too.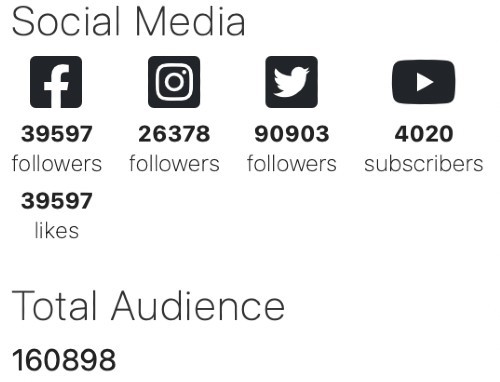 So, the lesson of this section is to know your target audience in detail. That way you are not blindly booking influencers and instead, you're successfully reaching the right influencers that match your brand.
Great, now where and how can you get these super cool influencer insights? Keep reading, we'll dive into that.
Macro or Micro-Influencers? The Big Budget Question
No.  You do not need to work with a one-million-follower influencer to have a successful campaign.  Why, because macro-influencers tend to have lower engagement rates and less specific audiences.
Why does engagement rate matter?
The engagement rate is determined by the actual interaction of followers versus the total number of followers an influencer may have.
For example, if an influencer has 500,000 followers and an engagement rate of 0.5%, this means that there are only 2,500 (0.5%) engaging followers. Whereas on the flip side, an influencer with only 20,000 followers but with a high engagement rate of 5% surprisingly has 1,000 engaging followers.
And that's why the engagement rate is a dealbreaker.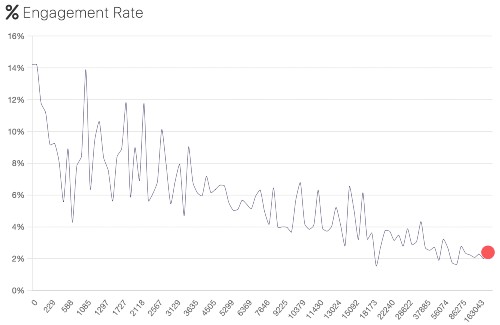 As you can see from the graph above, the engagement rate declines as the follower numbers increase.
Want to know a secret?
The bulk of successful influencer marketing campaigns is found in the social media profiles of micro-influencers.
Benefits of working with micro-influencers:
High engagement rates.  While micro-influencers may have a smaller community of followers, they have higher engagement rates than their macro counterparts.  This essentially means that if you collaborate with a micro-influencer, you'll get better value in reaching engaged followers.
Affordable.  If you have a limited budget, micro and nano-influencers (<10,000 followers) are an affordable option.
Accessible.  Micro-influencers are easily reachable and responsive to opportunities—which means less time spent waiting to hear back from in-demand high-follower accounts.
Scalable.  Just in case you're planning on reaching a sizable audience, the show can still go on with a micro-influencer strategy.  Running a campaign with 10 or 20 micro-influencers will get you in front of large audiences without the macro-influencer price tag.
But when is a macro-influencer a good option?
If you want to drive a grand brand awareness campaign and want to reach the masses at once, then booking macro-influencers will help you achieve that—budget permitting, of course!

In just a few clicks on Afluencer's audience search filter, you'll be able to discover influencers that match your audience preference.
Find Influencers: Start Your Search On Afluencer
As you've now already learned, influencer audience insights, as well as audience size, are important considerations to make in your search. And I'm sure you've figured out by now that a manual search on social platforms just isn't enough to achieve this.
Relax.
If you're a brand looking for influencers, your search will be a breeze on the Afluencer app.
Check it out: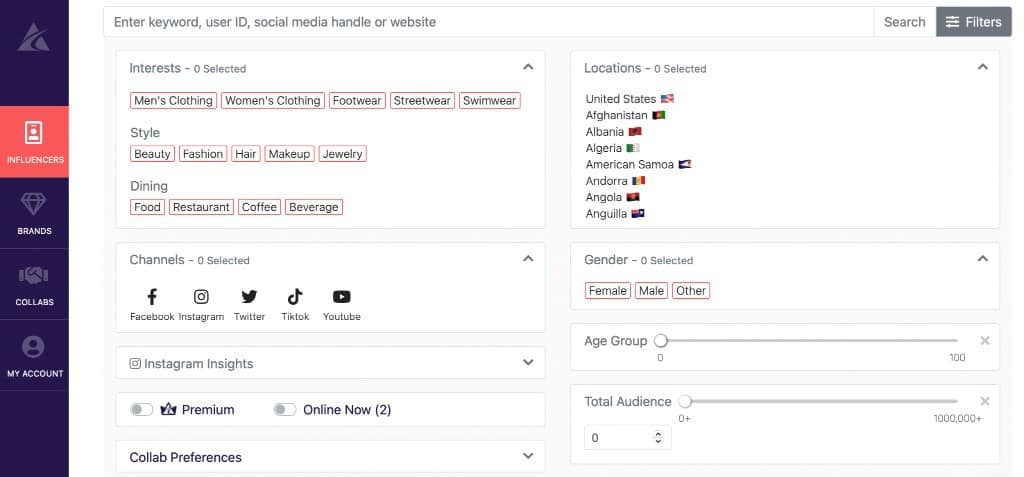 And just like that, after a few filter selections, you can easily search through our database of 6,929 (and growing) influencers across various categories.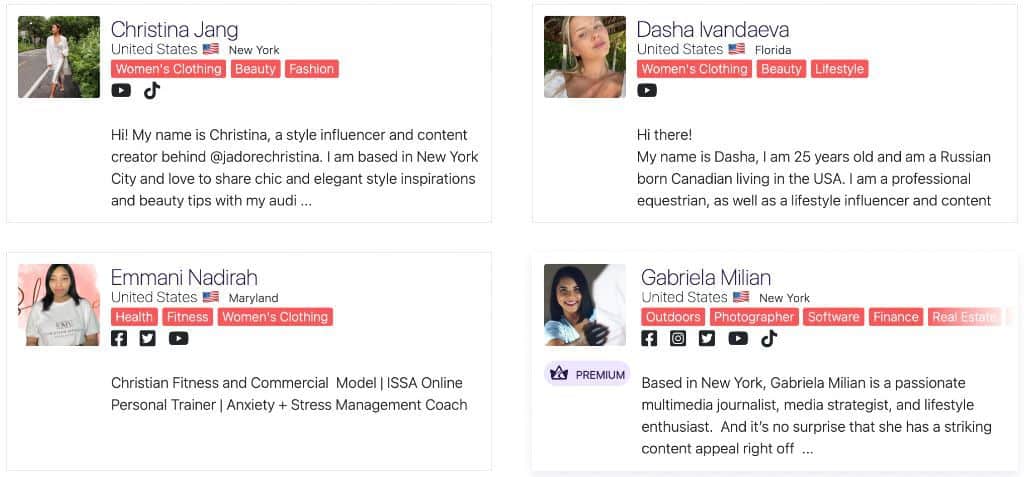 Get Discovered By Influencers: Post Your Collab
The fastest way to get your brand in front of thousands of influencers is to create your collab on Afluencer.
Here's an easy quick-step guide:
Sign up as a brand on Afluencer.  Oh, and if you're a Shopify merchant, be sure to connect your store through the Afluencer Shopify App—so prospective influencers can view your products too.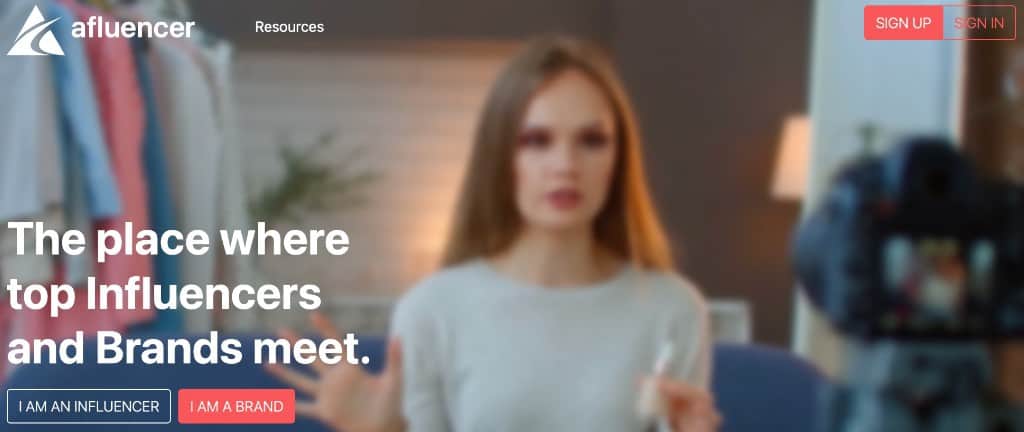 Create a collab to get started. Name your collab and provide information about your brand and campaign to give influencers an overview of your expectations.
Set your influencer criteria. In order to match with the right influencers, set target demographics such as location, interests, social media platform, follower numbers, age group, and gender.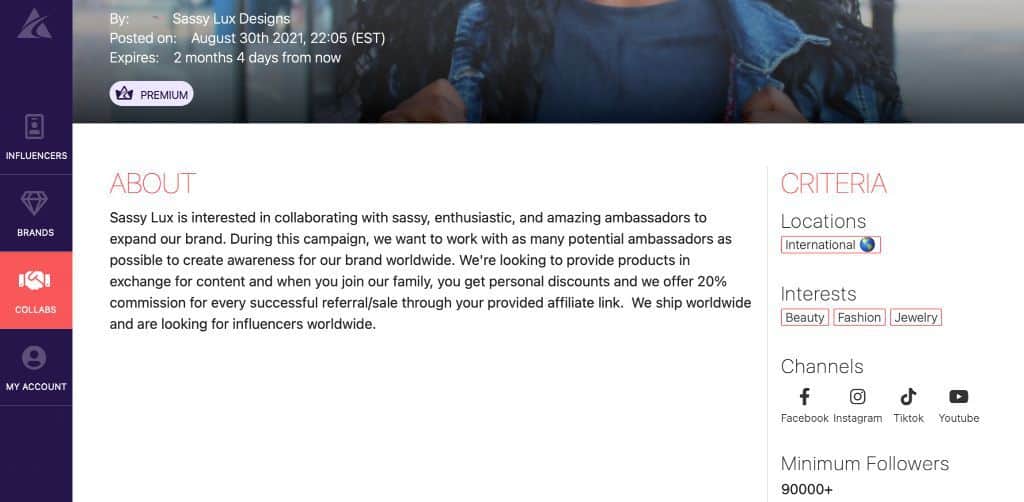 Highlight your influencer offer. In other words, what are you paying influencers for the collab?  You can set your pay-per-post budget, a commission offer—or both.  Don't know what to pay influencers?  $10 per every 1,000 followers is the industry standard, however, there are many variables at play depending on the nature of the collaboration and the influencer's skills. There is always room for negotiation with micro-influencers, more so with nano-influencers.  A budget of $25 per post for a nano-influencer with 5,000 influencers is also acceptable.  However, the larger the following and the more experience an influencer has, the more competitive it will be to make an attractive offer.
Once you've posted your collab, the Afluencer algorithm will get cranking to get you in front of thousands of influencers.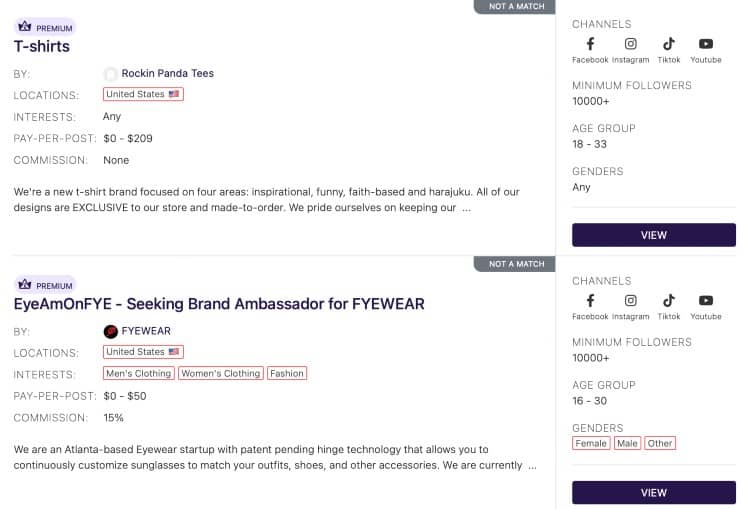 From this point, you can sit back and let influencers apply or you can swiftly search through the database and invite influencers to your collab—conveniently on the Afluencer platform.
Match, Chat & How to Book Influencers
Onto the exciting stuff. Booking influencers to promote your brand is now only a few steps away.
As soon as your collab is live on the Afluencer platform, influencer applications start rolling—or flooding in (depending, of course, on how interesting and competitive your collab is). And the best part here is selecting matches that you'd like to work with.

It's at this stage that you can accept or decline applications based on your preference.
Once you've approved applications, you can begin chatting with influencers to discuss the details of your campaign and agree on the terms.

Speaking of terms, here are some important expectations you'll need to discuss and agree on:
Content deliverables.  Do you want the influencer to post a picture, video, or story, or write a blog post?  What platforms do you want coverage on?  Do you need them to mention specific details in the content?  And if the post is time sensitive, you need to communicate the specific date or time you expect the content published.
Lifespan on content.  Clarify your expectations on the minimum duration the influencer should have your post live for.
Content rights.  If the influencer will be creating custom content for your brand, it's important to state your expectations regarding the ownership of the rights to use the content.  This is important especially if you'd like to repurpose the content on your brand's social media platforms, websites, and any other marketing material.
Payment terms.  And finally, agree on the payment terms of the collaboration.  What you're paying, how they'll be paid, and when they'll be paid.
If there are any other details, such as brand guidelines you feel your influencer should be aware of, do discuss this before the campaign goes live.
As you can see, laying out these terms to your influencer will not only facilitate a smooth collaboration but will also ensure that your campaign is successful.
Once you and the influencer have agreed on all the expectations, you're now ready to conclude and book the influencer for the collaboration.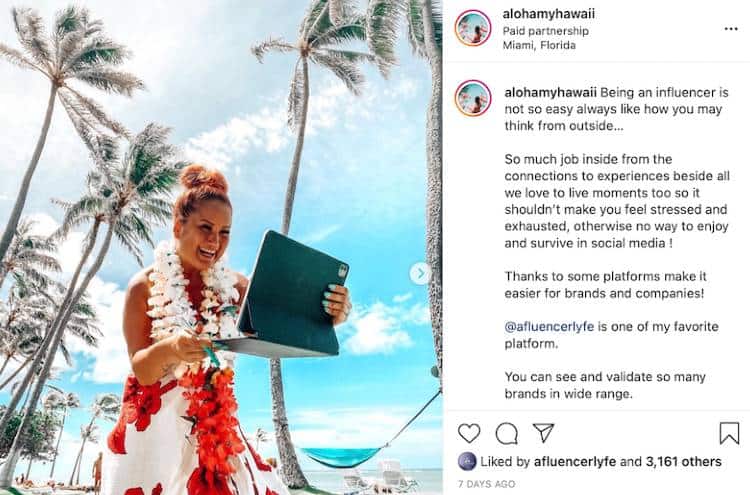 Start Booking Influencers on Afluencer
Between the ease and convenience of finding influencers to work with, and the quality of the diverse influencer database you'll have access to—booking influencers on the Afluencer app will help make your influencer marketing a breeze.
Whatever your niche—whether you're looking for macro or micro-influencers—sign up as a brand on Afluencer, post your collab, start chatting, and get collaborating.