Finding the right influencer to boost awareness about your brand can be challenging—brands need creators with the right following (including the number of followers and demographic), content creation style, and so much more.
But why start from scratch when so many others have paved the way? We compiled a wealth of tips from merchants with a track record of successful influencer Collabs to see how they structure their partnerships, what's included, and more.
Here's what they had to say.
Experts speak on successful Influencer Collabs
Eight pros offered insight into writing influencer Collabs, including CEOs, brand managers, and SVPs in industries like hospitality, consumer goods, health, and real estate.
We ran a survey tapping into agency leaders who've conducted successful influencer Collabs time and time again.
The goal: distill their insights and responses so you can identify what ingredients make a successful collab.
Below, you'll see some of our top questions. Here's what these marketers had to say about how they handle collaborations and pitches when working with influencers.
Q&A: Insights from top-performing marketers
What is the secret to a successful influencer pitch?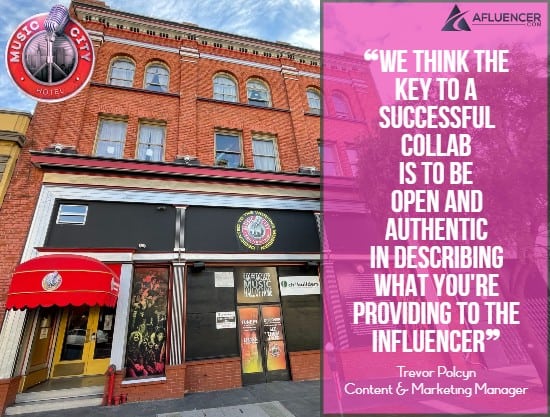 For three of these marketing pros, successful influencer pitches come down to transparency, collaboration, and creativity. They consider a successful pitch one that produces a mutually beneficial, long-term business relationship.
According to Trevor Polcyn, content and marketing manager at San Francisco's Music City Hotel, the secret to a successful influencer pitch is transparency.
"We think the key to a successful collab is to be open and authentic in describing what you're providing to the Influencer and being direct and clear with what you expect from them in return," says Polcyn. "It's about starting a professional conversation that can evolve into a relationship that ultimately provides benefit and value to everyone involved."
Laura McCann, CEO of mindful perfume company ADORAtherapy, seeks out a positive relationship with prospective influencers by emphasizing the value of collaboration.
"At ADORAtherapy we're looking for meaningful connections with creators," says McCann. "We express the desire to co-create. We want to go beyond a successful collab, which looks like a blog feature, posts, and stories. Strive for what we call ILV (influencer lifetime value), which we measure as a longer-term relationship."
For Madison Moore, founder of plus-size lingerie brand Kinky Confessions, a successful influencer pitch needs creativity. And you can't rush creative flow.
"Creating an outstanding influencer pitch takes time and creativity," says Moore. "Sometimes thinking of the root purpose and/or product can feather a wind of inspiration."
So the secrets to a successful influencer pitch are transparency, collaboration, and creativity. But how do you incorporate those three values into your actual writing?
What do you include when writing an influencer pitch?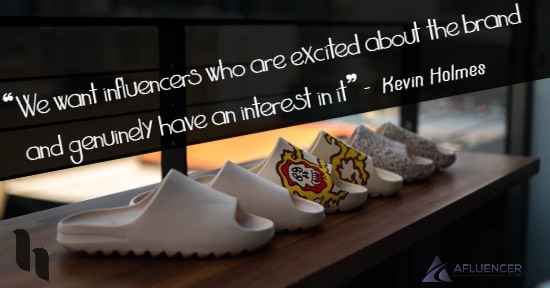 Afluencer's collab format includes an "about" and a "criteria" section. The "criteria" section lets influencers know whether they can reach your target audience. This includes social media channels, age range, minimum followers, and gender.
Now comes the meat of your influencer pitch. The "about section" is your chance to sell your company and brief the influencer on the scope of the project. Michelle Jader, SVP at digital nutrition platform Monj Health, recommends beginning by asking yourself, "What's special about what we're offering, what need will it fill, and what's in it for [the influencer]?"
Kevin Holmes at Honcho Slides wants to make sure his company finds the right fit (shoe pun not intended). He writes influencer pitches with Honcho Slides' goals and products in mind.
"First, I want to let them know what the goals are for my brand and what the brand is about," says Holmes. "We want influencers who are excited about the brand and genuinely have an interest in it.
"Second, I want them to start imagining the content they could create around the brand as they read the collab, so they should be able to see themselves wearing the products and how they would pitch them to their followers. So it's important to show the product so they can see themselves wearing it."
You have your hook. Influencers are thinking, "Okay, I like it. Now what?"
Diamond Frandsen at InterCoastal Net Designs, a web development and digital marketing team that works with vacation rentals and real estate companies, shared seven elements to consider when writing an influencer pitch:
1. Enticing opening
Just like Jader and Holmes, Frandsen is a proponent of reeling the influencer in with a solid opening. "Provide a link to your website/about us page/rental you could put them up in," says Frandsen. "Don't make them do work to research you." You could think of this as writing down your brand's unique value proposition.
2. Transparent content expectations
"What is the influencer expected to create for you? Single post? A daily vlog of their stay? A review of their experience?" Don't waste your time or theirs. Most influencers have a content niche that goes beyond the industry.
There are bloggers, YouTube vloggers, TikTok influencers, Instagram influencers, and more. You don't want a TikToker to apply if you need blog content. Ensure they know the scope of the project before they invest time in applying.
3. Timeline
"What dates should the content be published by? What is the frequency of posting you are looking for during a multi-day stay?"
Establishing a clear timeline from the start can help with efficiency. Influencers have the opportunity to consider how the work will fit into their schedules.
4. Compensation
"Clearly specify how they will be compensated."
It's important to provide influencers with this information before your collaboration. Include how much they will be compensated, when they will be compensated, and how they will be compensated.
You don't want to haggle over their compensation at the end of the process. Show you value their labor before they even apply.
5. Content Lifespan
"How long does the content need to live on their social platforms? 1 month? You don't want it posted for 1 day [only to] be deleted the next."
Picture this: you collaborate with an influencer. You like the content. You're getting good traction. But the influencer deletes the content less than a week later, cutting off your progress.
Establish content lifespan to avoid confusion.
6. Exclusivity
"If you want to work with an influencer in the future, make sure to have the first right of refusal in their contract. You don't want an influencer that you have been cultivating a relationship with to go to a competitor of yours."
You partner with an influencer to raise awareness about your clean skincare brand. But that influencer then partners with Youth To The People the next month. That content could overshadow your brand.
But more importantly, it tells the influencer's audience that they aren't devoted to your brand. It's a wishy-washy look.
7. Content Usage Rights
"Have open communication and documentation on how long you can use the content created by the influencer after their time with your brand/company."
Not all influencers want their names or platforms to be eternally attached to your brand. And most influencers want to be fairly compensated. If you have unlimited access to their content, you should pay more.
Have a conversation about usage rights.
Can you share one of your influencer pitches with us?
If you have your eye on a specific influencer, Shelley Scott-Mahoney, a self-proclaimed "startup slayer" and chief communications officer at PainXPro, shared an example of an influencer cold pitch:
I'm reaching out to you because I would like to collaborate with you. Our product is great for everyday people who want to stay active but sometimes suffer from mild pain related to working out or doing everyday things. We think you would be a perfect fit for our brand! We would like to showcase PainXPro and you on our blogs and social media."
But for influencer pitches, Music City Hotel, Monj, and Hemplily are here to give you some stellar examples. Be on the lookout for enticing openers, transparency, and other previously mentioned components.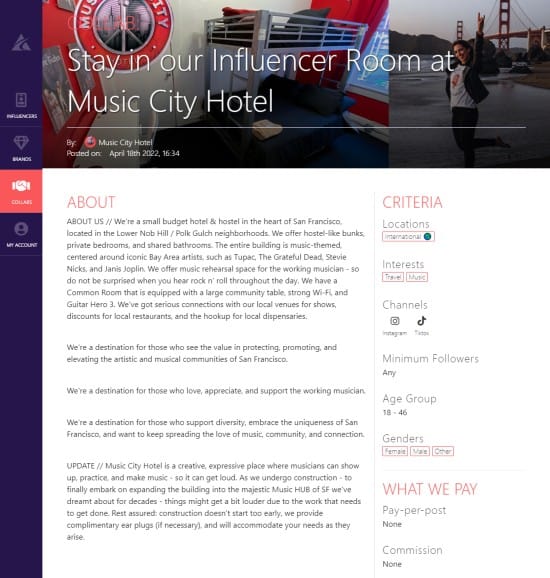 "We're a small budget hotel & hostel in the heart of San Francisco, located in the Lower Nob Hill / Polk Gulch neighborhoods. We offer hostel-like bunks, private bedrooms, and shared bathrooms. The entire building is music-themed, centered around iconic Bay Area artists, such as Tupac, The Grateful Dead, Stevie Nicks, and Janis Joplin.
We offer music rehearsal space for the working musician – so do not be surprised when you hear rock n' roll throughout the day. We have a Common Room that is equipped with a large community table, strong Wi-Fi, and Guitar Hero 3. We've got serious connections with our local venues for shows, discounts for local restaurants, and the hookup for local dispensaries.
We're a destination for those who see the value in protecting, promoting, and elevating the artistic and musical communities of San Francisco. We're a destination for those who love, appreciate, and support the working musician. We are a destination for those who support diversity, embrace the uniqueness of San Francisco, and want to keep spreading the love of music, community, and connection.
Music City Hotel is a creative, expressive place where musicians can show up, practice, and make music – so it can get loud. As we undergo construction – to finally embark on expanding the building into the majestic Music HUB of SF we've dreamt about for decades – things might get a bit louder due to the work that needs to get done. Rest assured: construction doesn't start too early, we provide complimentary earplugs (if necessary), and will accommodate your needs as they arise.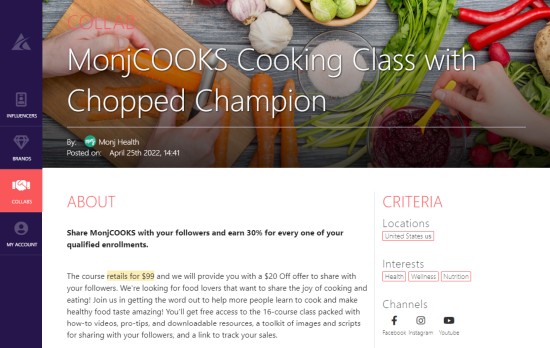 "Share MonjCOOKS with your followers and earn 30% for every one of your qualified enrollments.
The course retails for $99 and we will provide you with a $20 Off offer to share with your followers. We're looking for food lovers that want to share the joy of cooking and eating! Join us in getting the word out to help more people learn to cook and make healthy food taste amazing!
You'll get free access to the 16-course class packed with how-to videos, pro-tips, and downloadable resources, a toolkit of images and scripts for sharing with your followers, and a link to track your sales."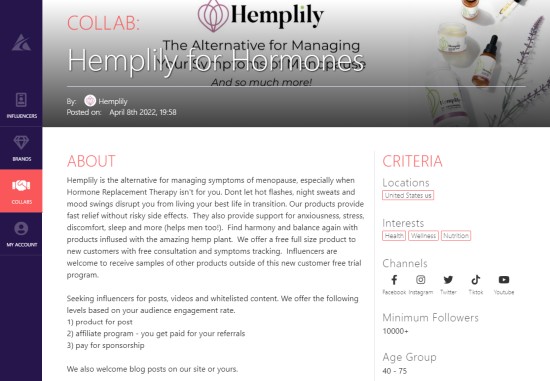 "Hemplily is the alternative for managing symptoms of menopause, especially when Hormone Replacement Therapy isn't for you. Don't let hot flashes, night sweats, and mood swings disrupt you from living your best life in transition.
Our products provide fast relief without risky side effects. They also provide support for anxiousness, stress, discomfort, sleep, and more (helps men too!) Find harmony and balance again with products infused with the amazing hemp plant.
We offer a free full-size product to new customers with a free consultation and symptom tracking. Influencers are welcome to receive samples of other products outside of this new customer-free trial program.
Seeking influencers for posts, videos, and whitelisted content. We offer the following levels based on your audience engagement rate:
1) Product for post
2) Affiliate program – you get paid for your referrals
3) Pay for sponsorship
We also welcome blog posts on our site or yours.
How has collaborating with influencers positively impacted you and/or your brand?
Wondering if partnering with an influencer is worth it? The pros are here to tell you how their successful Collabs have boosted brand awareness, from growing their following to increasing site traffic.
Madison Moore at Kinky Confessions collaborated with an influencer for a fashion show in 2021, which grew the brand's following by 20%.
Diamond Frandsen at InterCoastal Net Designs had a similar experience during an influencer campaign geared toward increasing a specific audience on Instagram. The account's following went from 14.6K to 16.2K during the influencer's stay on a vacation property.
Laura McCann at ADORAtherapy shared how an influencer pitch helped grow her long-term professional connections and use those connections to showcase her brand.
"Recently I met a writer, coach, and lovely entrepreneur who is in the IVF fertility space," says McCann. "We connected and developed a wonderful campaign. We've written blogs about each other, posted about it, done one IG live (more to come), and she's now an ambassador. Our audiences are perfectly aligned, and our desire to tell stories of healing gives us so many opportunities to share. These authentic collaborations feel like friendships, not work!"
Shelley Scott-Mahoney discussed how PainXPro's broad demographic makes partnering with influencers straightforward.
"A lot of people are very familiar with our type of product and love how the main ingredients work for resolving a whole host of issues," says Scott-Mahoney. "A previous collaboration went well, as it helped boost our visibility online and bring traffic to our site."
Whether your goal is to bring a wider audience to a product launch, raise your conversions, or build your brand's community, you'll need an outstanding influencer pitch to attract the right collaborator.
Other things to know about writing a successful influencer pitch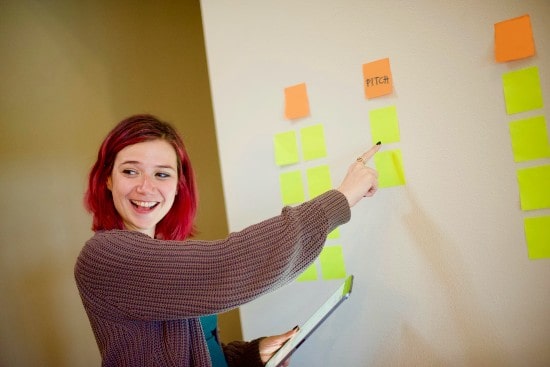 According to Shelley Scott-Mahoney at PainXPro, your actual collab is down to the influencer: "It all depends upon how appealing and convincing the influencer is and how committed they are to try the product to give a genuine review about their experience."
But if they aren't committed, it's not always their fault. The fault may lie with your influencer pitch. It's your job to convince them your product is worth their time. A subpar influencer pitch isn't convincing or unique, and its content will reflect that.
Make sure the influencer can answer these three questions by reading your pitch:
What problem does this product or service solve?
If that isn't clear in your pitch, then your collaboration won't be compelling to an audience.
Will that solution appeal to my following?
The audience means the difference between a campaign flop and a campaign triumph. If you market your product or service to people who don't need it, you won't get traction.
Does this brand/company align with my values?
In the year of our lord 2023, cancel culture is rampaging at full throttle throughout the internet. Influencers need to trust you to feel comfortable in your collaboration. Be transparent. Know your values and make those clear.
Don't worry, you don't need to include a political rant in your influencer pitch. Just make sure you're transparent. If you value accessibility, say that. And if you value sustainability, say that too.
If influencers can answer these questions and say yes to all three, they'll come running. The right collaborator is an exciting one.
Next steps for your collab
Want to try your hand at writing an outstanding influencer pitch of your own?
Post a Collab on Afluencer by following these steps. You can check out Collabs from other companies for further guidance. But ultimately your pitch should be your own.