You know influencer marketing is getting big when all these crazy myths start popping up! If your scales are still not quite tipped toward jumping on the bandwagon because of all the negative facts, then listen up.
Now is the best time to get your foot in the influencer marketing pool. The number of social media users and the time spent on these platforms skyrocketed during the pandemic. What do you expect? Nobody went to work or left their homes. How else were they supposed to burn away their precious seconds?
What happened next?
The headcount of influencers began to rise at an incredible rate. It was as though EVERYONE wanted to be an influencer. And so it brought all kinds of influencer pedigrees.
You have the individuals who THINK they were influencers. Then you have the folks who do actually influence their audiences but they refuse to be called influencers. And then you have the scammy characters who PRETEND to be influencers.
So, everyone is talking, writing, thinking, singing, screaming, and walking influencer marketing. And as you would expect from a planet full of influencer-related content, there are going to be misguided facts out there.
Therefore, without further ado, we present to you the 10 most ridiculous myths about influencer marketing.
Influencer Marketing Myths: The Truth Revealed
Here's a quick look at the myths we will be talking about today:
#1 Makeup Artists Have All The Success
While makeup artists are very popular on social media (in particular Instagram and TikTok), you can still find success in other niches such as:
And that barely scratches the surface of all the potential industries you can get your influencer hands mixed up in. Remember, people seek advice and entertainment for all sorts of things.
Not too long ago, the term, "just Google it" was always on the tip of everyone's tongue. Now you tend to hear a lot of, "try checking on Instagram". And that's not just for watching funny pet videos, people are turning to social media to check out restaurant reviews, buy wedding outfits, master a new recipe, learn to change a light switch, and just pretty much anything!
And so the influencers arrive!
Just hop on over to our app and browse our catalog of talent influencers who you'll find creating all kinds of content on social media.
Take Gabriela Paxton for example. A loving parent and wife, who's also a proud business owner and also submerges herself in the land of beauty and fashion.

#2 Instagram Is The Only Platform You Need
Instagram is one of the most active social media apps out there. And the inclusion of #hashtags really does make a difference when it comes to promoting content.
However, it's not the only platform you need to focus on in order to be successful with influencer marketing.
Take some time to explore other options such as:
TikTok – exploded in the past couple of years.
Facebook – still dominates the top of the castle.
LinkedIn – growing fast and is used by many business professionals.
YouTube – continues to control the majority of the video content market.
There are loads of creators on Afluencer who build their influencing empires on multiple social platforms. And if you check out our app, you'll notice that they get to share their social media handles in their profiles. We actually strongly recommend that you do that because it allows us to extract valuable follower and engagement insights.
Why is it so important to display your social media insights?
BRANDS.
They want to see this data. It helps them to compare influencers and ultimately find the perfect person to partner with. So when you sign up to Afluencer (we have both free and premium options), don't forget to connect your socials!
Casey-Michelle does a fantastic job of managing multiple platforms as she influences her audiences with content on lifestyle, wellness, and travel.

You need to carve a niche on the platform that you are most comfortable using and where you find the most of your followers.
YouTube, for example, can be a good platform to start if you are good at making vlogs or video tutorials. In fact, many influencers merely post previews on Instagram, asking followers to watch the entire video on YouTube.
This is because YouTube generates more traffic (and also revenue in some cases) as it is now the second-largest search engine out there.
#3 Fake Followers Are A Must To Do Well
Let's face it. It isn't easy to spot a fake account. Even when you do suspect foul play, can you ever really be sure? When it comes to fake accounts, most people talk about Instagram. So let's follow through using the Instagram platform as our guinea pig.
What sorts of things classify an Instagram account as being fake?
There are four main things that raise red flags:
A fake bio (a random picture of somebody or something will often be used).
Stolen posts (both images and videos).
Fake followers (usually bought online).
Likes and comments are generated by computer programs aka bots.
There are still loads of people out there trying to get their hands on fake followers and even fake accounts. But don't be fooled by the notion of a pot of gold at the end of the rainbow. There is absolutely nothing good that will come out of growing an IG account with a whole load of fakeness.
You WILL get busted. And all those brand partnerships that you've been dreaming of… down the drain!
Brands have a huge selection of tools at their disposal to help them spot a fake Instagram account in the haystack. Many of these tools are free to use and pretty accurate.
The whole deal with fake followers is one of the main reasons why many brands refuse to work with influencers. They are just not ready to lose a great deal of time and money should they land a fake.
So if you're looking to make a career out of being an influencer, then don't tarnish the name. Stay away from fake followers, comments, and the rest of the lineup.
Grow your social media accounts organically. Yes, it may take longer than buying bots, but in the long run, you will be standing at the top of the hill.
If you want to know more about spotting fake accounts, check out the article below.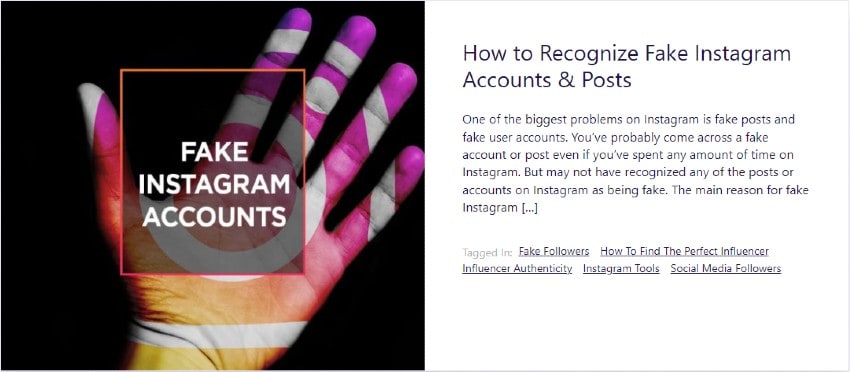 #4 Global Audiences Are A Necessity
Technically speaking, the more followers you have, the better it is for your business. And having a global audience does indeed help to expand those numbers. However, the idea that recruiting international audiences is one of the pillars of a successful influencer marketing campaign is just another myth.
Having a niche presence, for example, is very powerful when it comes to growing your following. Major brands like Puma and DHL have used local influencers (with local followers) in order to market their products.
So don't feel overwhelmed by the thought that you are going to have to climb every mountain, and swim every river to bring success to your influencer mission.
It's just not true.
#5 You Can't Handle It On Your Own
Influencer marketing can be a full-time job but it doesn't mean you need to assemble a crew to take it on. Pure passion, creative skills, and sheer hard work will be your winning qualities.
However, like any thriving business, you will at some point need to start hiring extra pairs of hands. Perhaps you'll be looking to employ managers to look over your many social media projects or a web developer if you decide it's time to build an online store.
But regardless of how insanely busy your business becomes, remember to never stop connecting with your followers. That personal connection holds more value than anything else.
If you're looking for a great way to manage your valuable time while looking for brand Collabs, your best bet would be to register with Afluencer.
We are home to loads of great brands waiting for you to manage their influencer marketing. Check out Frazy below. They run the world's first virtual cafe. How awesome is that?!
They're looking for coffee influencers and are ready to pay up to $150 per post. But hey, if coffee is not your jam, there are other great brands for you to consider.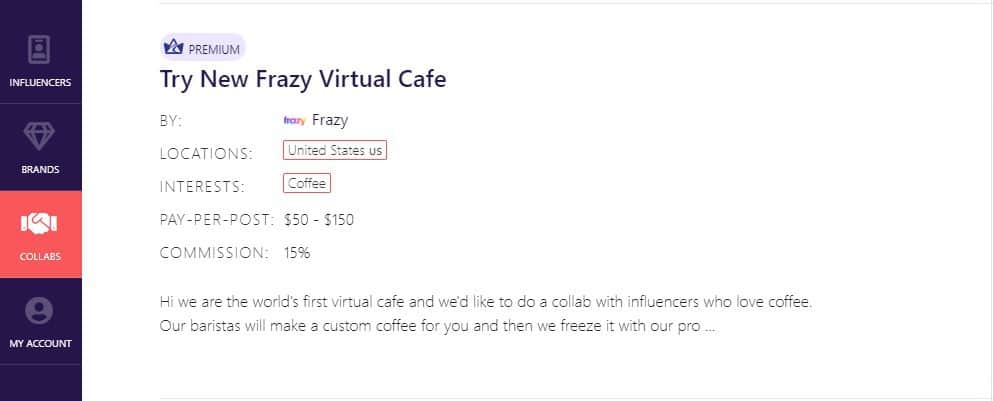 #6 Text Is So Last Year
There is one thing in life that makes us all equal. We all have 24 hours in our day. So it is understandable when the world gets busier, for us to find information that's quick and easy to digest.
And that is why there is this whole myth about people only being interested in looking at images and watching videos. Nobody has time to be reading those essay-length Instagram captions, right?
Wrong!
The reality is that people LOVE to read. They crave those detailed IG captions. They're there for the 7-paragraph response in the comments section. Surprisingly, people DO actually have time to read what you have to say.
So when you travel to the island of St. Lucia in the Caribbean and post on Instagram a picture of yourself sunbathing on the gorgeous beach – don't just drop, "beach" in the captions.
Go crazy! Tell your followers what it feels like. And don't miss out on the opportunity to share the deliciousness of the seafood platter you gobbled down only 2 minutes ago.
We love to read. You're reading this, right?
The other important thing about using text is that it helps with the whole algorithm of social media. You do want these social platforms to boost your posts to the top, don't you?
#7 Start An Online Store
The likes of Huda Kattan and Bradley Martyn may inspire you to open your own store. But if you're starting as a micro-influencer or even a nano-influencer, taking on an online store is not going to be an easy feat.
Firstly, you need to have an idea about how the mechanics of a store works. And even when you do get to grips with the whole operation, you have to remember, now you have a store to run AND followers to entertain.
So yeah, sure enough, there are pros to opening up a shop – like the added income it delivers, but it is also heavy on the cons. For example, what happens if your online shop gets hacked? And what if you put in all those sleepless nights but you're just not landing those sales?
If you have a huge number of potential buyers (like your loyal followers on social), then go for it. But take your time before jumping on that store. Have a few sits downs and walk through the whole idea of running the store. And once you are truly ready to take that leap, then open those shop doors!
You know, before influencer marketing started to become a big deal, it was all about affiliate marketing. And with affiliates, it was all about setting up shop. But now with the growth of social media, you can sell your own items or promote the products of a brand in a single Facebook post.
So this whole myth about making it big in influencer marketing by opening a shop, that's just crazy talk!
#8 Losing Followers Means Game Over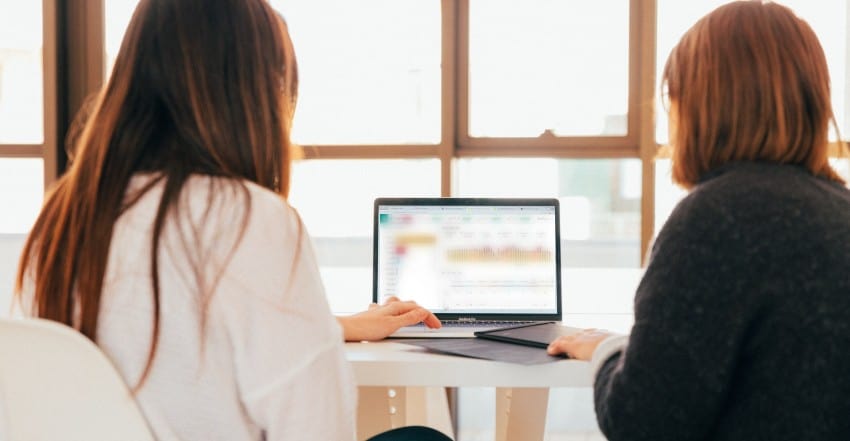 It's okay to lose followers – everyone from Kim Kardashian to Dwayne Johnson loses followers. It's a part of the game.
It is certainly a good idea to keep an eye on your social media analytics. But just don't let the number get you down. Consistency is the key to success. As long as you are consistently creating the content that both you and your followers dig, then there's no reason why you should fail.
By the way, did you know that most of these celebrity influencers have a huge number of fake followers? So don't go comparing your follower numbers with others. Play your own game.
However, if you notice that your follower count is consistently going down, then it may be a good idea to sit down and look at your strategy. Maybe it has nothing to do with your efforts. It could even be a glitch on the social platform that you are using. But either way, any alarming data pertaining to your influencing efforts need to be addressed.
#9 A Game Only For Business to Consumer
Influencer marketing is intended only for business-to-consumer – myth or fact?
Myth! It's for everyone. Whether you're an individual or managing a business-to-business gig, influencer marketing can be configured to work in your favor.
Yes, we're going to talk about the Afluencer app again. Just take a look at the diversity of brands and influencers. For example, did you ever know that HR influencers were a thing?
We created a content piece on our HR influencers which you can check out HERE.
Companies are always on the lookout for all kinds of influencers. Some want to reach consumers and others want to reach businesses. So you can expect collab requirements to vary tremendously between brands.
The kind of attention you get largely depends on your personal/brand image and the number of followers backing you. Work on carving a niche that suits you and your desired audience and you will have no reasons to worry.
#10 Wait For Brands To Reach Out
Brands will not know you exist unless you are big. That is a fact. That stuff you read about having to wait for brands to contact you for your influencer marketing gig – is a myth.
So please don't sit around waiting for those brand deals to drop on your lap. You need to make the first move. Especially if you're only just getting your foot into the door. But maintain a professional approach. Take some time to plan your sales pitch.
Let brands know why they should have you as their online brand ambassador. Make sure to highlight factors such as your reach and followers.
We strongly suggest that you create an influencer media kit. What is that you ask? How do you create a media kit?
Glad you asked!
Go study our guide, What is an Influencer Media Kit?
There you have it! Next time you hear some crazy story about influencer marketing, remember, it may just be a myth. Take any advice you read or hear about with a pinch of salt.
Now go out there and grow your business!